Learning how to invest in NFTs (non-fungible tokens) has surged in interest over the past year – with good reason too.  Earlier in the year, famed auction house Christie's set a record for the highest-selling NFT ever. $69 million in Ethereum for an NFT representing a piece of digital art. 
If you too want to know more and learn how to capitalise on this hot, new, growing trend for investors then this 'How to Invest in NFTs – Beginner's Guide' is for you!
How to Invest in NFT – Quick Steps
Below is a quick, four-step process on how to invest in NFTs for those of you eager to get started. The process is explained in even more detail further down this guide. 
1. Open an account with eToro
As NFTs are priced in cryptocurrency rather than fiat currency, you will need a top crypto broker. eToro has one of the easiest and best platforms around to purchase cryptocurrency.  You can open an account with eToro in just a few minutes.
2. Purchase Enjin or Ethereum
Once you have opened your account, you now need to purchase cryptocurrency so you can begin to invest in NFTs.  From the eToro platform, search for Enjin or Ethereum (ETH) in the search box at the top of the platform and then click trade to buy your cryptocurrency. 
3. Connect to an NFT marketplace
Now that you are armed with the right cryptocurrency to invest in digital tokens, you need to find the right NFT to invest in!  This can be done by connecting to an NFT marketplace such as OpenSea or Rarible which shows you all the NFTs available to invest in. 
4. Invest in NFT tokens
Once you have chosen the best NFT to invest in (we'll show you how to find this further down this guide), you are now ready to invest using the cryptocurrency you own. 
Most NFT marketplaces act like an auction place similar to eBay. Once you've put your bid in and it is accepted you have now successfully invested in NFT tokens. 
68% of retail investors lose money trading CFDs with this provider.
Now let's have a look at a more detailed explanation of all of these steps. 
How to Invest in NFT – Step by Step Tutorial
Non-fungible tokens are set to be the next big thing in the financial markets. So far this year, sales of NFTs have exceeded $2 billion – much higher than last year's $250 million!
It's worthwhile going through each of the steps in detail so you can invest in NFTs safely and securely. 
Step 1: Sign Up to eToro to Buy Enjin or Ethereum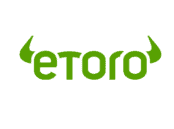 Most of the best NFTs to invest in are built on the Ethereum blockchain technology. This is why buying Ethereum (ETH) and having it ready in currency is essential to buying the most popular NFTs. 
Where is the best place to buy Ethereum and other cryptocurrencies like Enjin? Without a doubt, it is eToro. Why? Because you can buy cryptocurrencies 100% commission free with low spreads. 
Furthermore, by opening an account with eToro you will automatically get access to the eToro Money Crypto Wallet. This app will allow you to easily buy, sell, store, receive and transfer more than 120 cryptocurrencies. 
The eToro Money Crypto Wallet also gives you your own private key and on-chain address with extra layers of security. This includes protection against DDoS attacks and multi-signature facilities to keep your crypto market funds secure.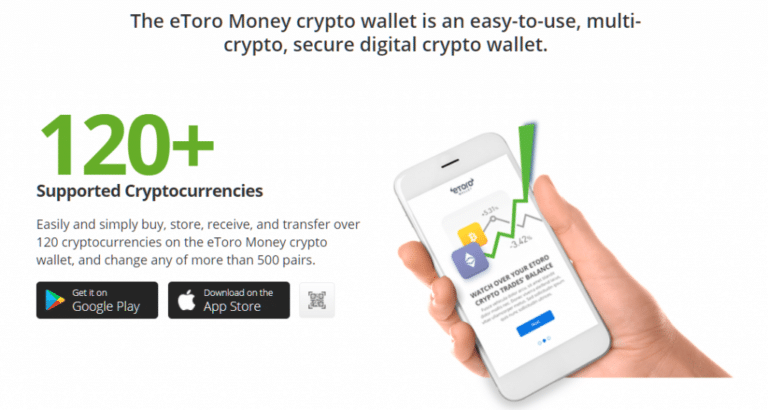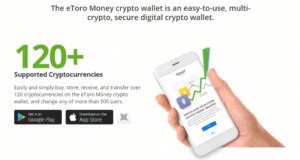 The eToro Money Crypto Wallet is also regulated by the Gibraltar Financial Services Commission (GFSC), providing an extra layer of protection that is essential in the crypto world. 
With eToro, you can also invest in other asset classes as well such as commodities, indices, fiat currencies, and a whole range of cryptocurrencies and stocks from all over the world. You can buy Bitcoin and invest in all of these other assets 100% commission free too!
Where eToro really stands out is the fact it is the world's largest social trading and copy trading platform in the world. You can see the performance of more than 20 million other investors and if you like what you see have their exact trades copied onto your own account!
An account can be opened up in minutes (as you'll see in the account opening steps outline below), with only a $200 minimum deposit which can be funded through bank wire transfer, credit/debit card or PayPal.
Create Your eToro Account
To open your account, click here to take you to the eToro website fill in your personal details on the application page. This will include your name, email address, financial information, etc.  
Deposit Funds
To purchase your cryptocurrencies like Ethereum or Enjin, you will need to deposit funds first. This can be done at the click of a button with most methods providing instant funding.
Deposit methods include:
Bank wire transfer

Debit/credit card

Neteller

Skrill

PayPal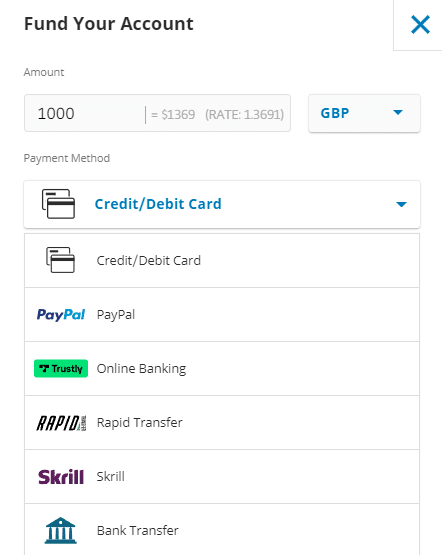 Purchase Enjin or Ethereum
Once you have deposited your funds you can now purchase your cryptocurrencies such as Enjin or Ethereum. 
From the search box at the top of the platform, start typing in ETH or Ethereum. It will then present you with a list of options such as ETH/USD, ETH/GBP, etc. Click Trade and then Open Trade to confirm your purchase.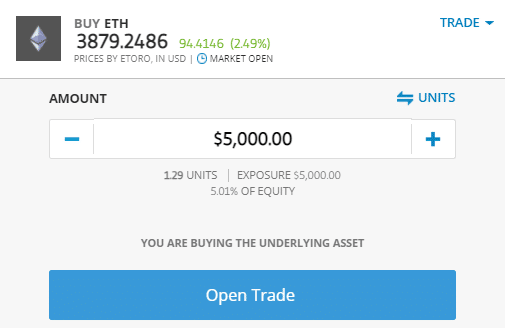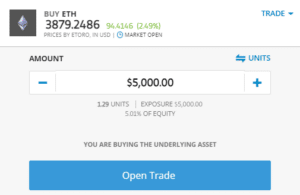 Remember you can buy cryptocurrency like Ethereum, Enjin or even Bitcoin (BTC) 100% commission free! You can then use the free eToro Money Crypto Wallet app to transfer funds when you have chosen the correct NFT marketplace. 
67% of retail investors lose money trading CFDs with this provider.
Step 2: Choose an NFT MarketPlace
In order to invest in NFT, you need to access an NFT marketplace that lists one of a-kind available NFTs to invest in. These marketplaces operate like eBay. Individuals will upload their digital work to the marketplace with a price in crypto for investors to buy or bid on.
Some of the most popular NFT marketplaces include OpenSea, Rarible, Nifty Gateway and MetaMask. Opening an account with these marketplaces will involve filling out an application form and providing personal details such as name and email address. 
OpenSea – More than 15 million NFTs are available to buy or sell. 

NBA Top Shot – Collect and trade 'digital' moments from the top NBA games.

Mintable – Purchase NFT tokens covering domain names, art, photography, videos, collectibles, real estate, trading cards, etc and create NFTs too.

Sorare – NFT tokens are soccer player cards that you can collect and use in online competitions in this crypto based fantasy soccer league. 
The list of NFT marketplaces is constantly growing. One of the world's biggest crypto exchanges Coinbase has announced plans to create its own NFT marketplace. This is why so many investors are learning how to invest in NFT today – to stay ahead of the curve. 
Step 3: Choose an NFT to Invest in
Now that you have access to an NFT marketplace you need to choose the best NFT to invest in. NFTs can represent a wide range of digital work such as a piece of music, a video game, a piece of art, video clips of special sports events and more. 
The range of digital assets is growing exponentially and it is showing in the prices as well. For example, in September 2021 the Bored Ape Yacht Club sold a set of 101 NFTs of cartoon apes for $24.4 million. 
Of course, it's unlikely the majority of investors would start at this level. It's best to find newer pieces from some well-known artists or creators that have a good chance of rising in value over time. 
For example, an NFT of one single cartoon ape when it first launched was around $200 in Ethereum whereas now it sells for $3 million on the marketplace.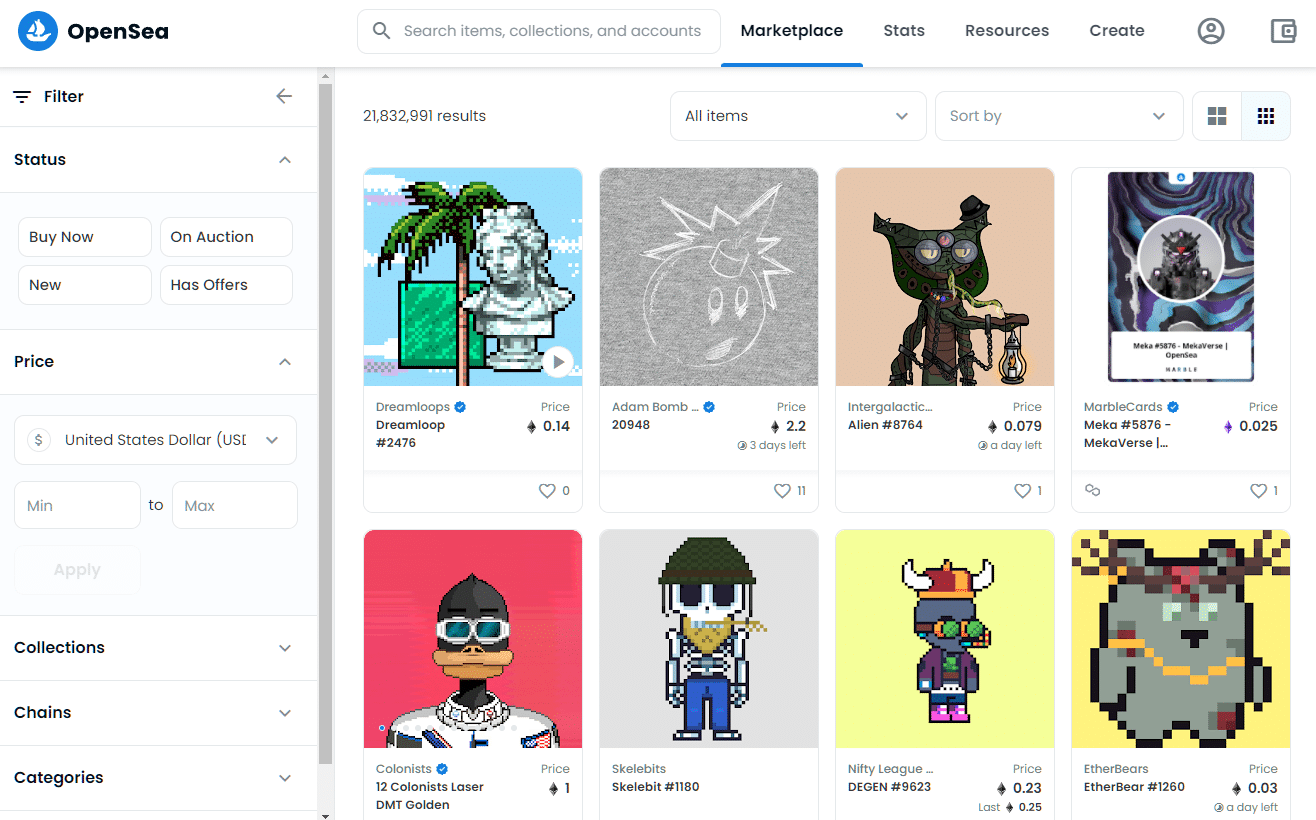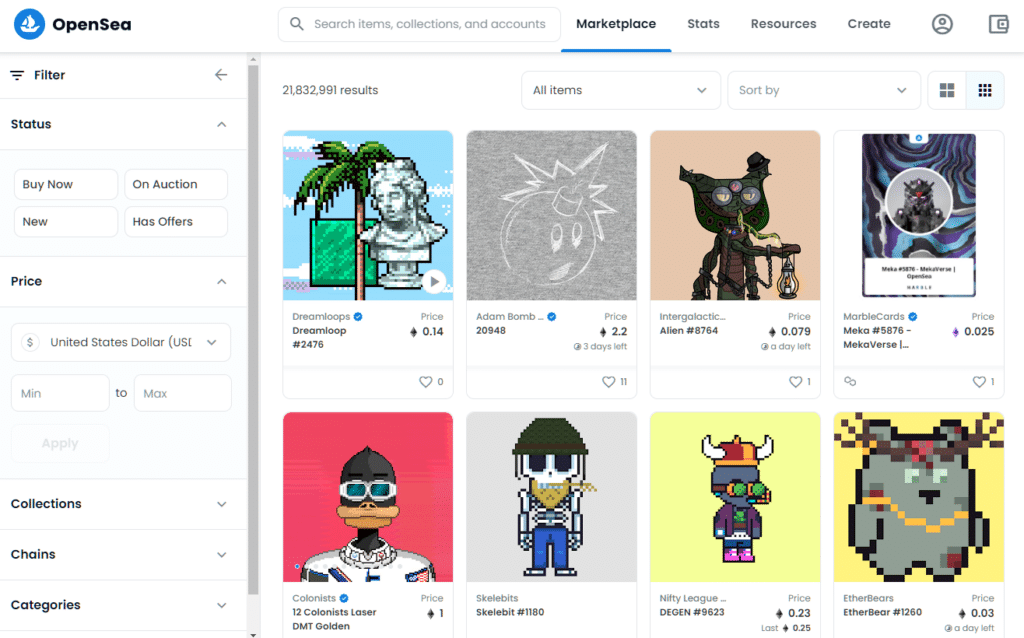 Step 4: Invest in NFT
To invest in NFTs from the marketplace all you need to do is click the Buy Now button. The price is likely to be set in Ethereum and some NFT marketplaces will show you what the equivalent value is in US dollars. 
You can also make an offer if you want to buy it at a lower price. The creator may accept it if no one else has come in at a higher offer or bought it instantly.  If there has been a lot of offers, you can also see a price trend of the non-fungible token.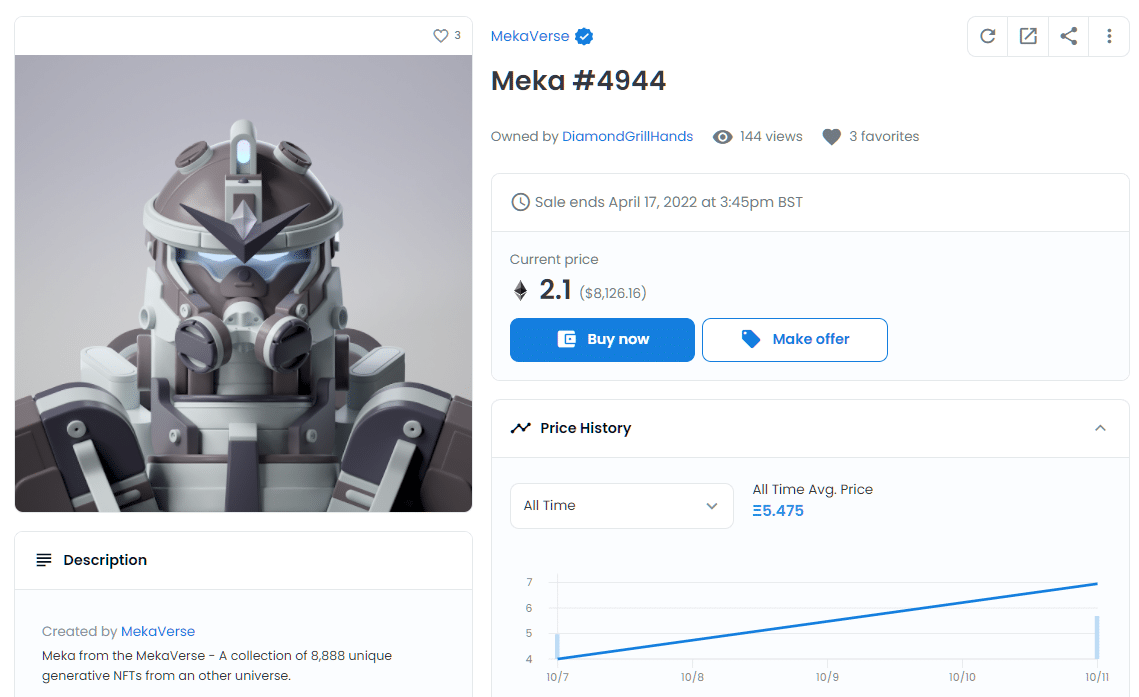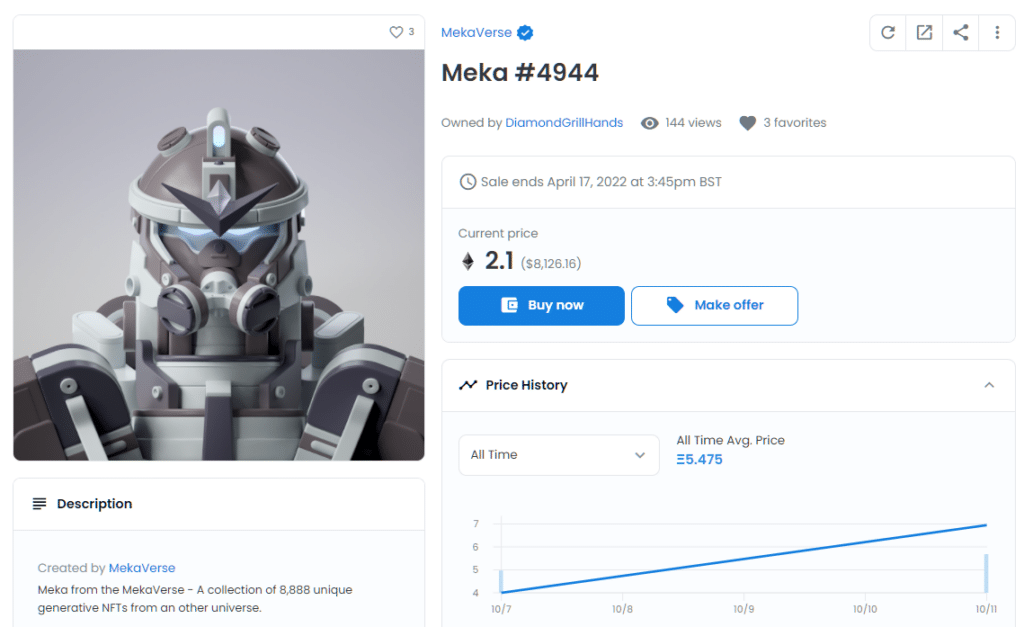 Are NFTs a Good Investment?
Non-fungible tokens can be a good investment if you pick the right one! With every winning story, there is likely to be a few losing stories so your research in finding the best NFT to invest in is essential. 
Many famous music artists like Jay Z and Katy Perry, as well as famous digital artwork creators, are planning on putting their work online across different NFT marketplaces. Buying the NFT tokens of these pieces are likely to only rise in value making them strong potentials for a good investment. 
The artist Beeple, real name Mike Winkelmann, had his artwork sell for $69 million at Christie's auction house. This made him the world's third most valuable artist ever. As more and more stories like this come out, it only helps grow the current interest and demand in current NFTs. 
So, while the trend is there, make sure you do thorough research when investing in NFTs. Most marketplaces will provide good filters for you to access when searching for the best NFT to invest in. 
If you're interested in leveraging your NFTs, you might want to check out our best NFT lending platforms guide.
Buying NFT Tokens vs Investing in NFT Stocks
While buying NFT tokens has soared in demand and interest, it is still a relatively new concept. Some investors have considered buying NFT companies to invest in instead. These have a much looser connection to NFT tokens but could be worth considering depending on your risk profile. 
NFT stocks to invest in fall into different categories and come from a variety of sectors. For example, eBay is planning to allow the sale of some NFTs on its current online platform but is less likely to disrupt the market as it's not keen on using cryptocurrency for purchases. 
You then have NFT stocks that are not only launching an NFT marketplace but are also selling the NFT tokens. For example, sports gambling company DraftKings has launched an NFT marketplace for sports athlete related NFTs. Instead of collecting player cards, you can collect NFTs of your favourite players. 
More and more companies will be trying to get in on the action so it is definitely a trend to watch. It's worthwhile remembering that picking the right NFT token is more likely to grow a lot faster than an NFT-related stock but it's another avenue open to investors. 
NFT Companies to Invest In
While most companies are planning to get in on the NFT action, some are already well-positioned to do so. This includes:
DraftKings

eBay

Cloudflare

Twitter

Mattel
So, how do you go about investing in these NFT stocks? Well, if you have opened an eToro as mentioned in the first step above, then you are also ready to buy NFT stocks!
This is because eToro allows you to invest in thousands of different instruments covering stocks, cryptos, commodities and more. All of the five stocks listed above are available to buy on the eToro platform. 
All you need to do is open your eToro platform, type in the stock in the search box at the top and then click Trade. This will open a ticket for you to put in your investment size and set a stop loss and take profit level if you wish.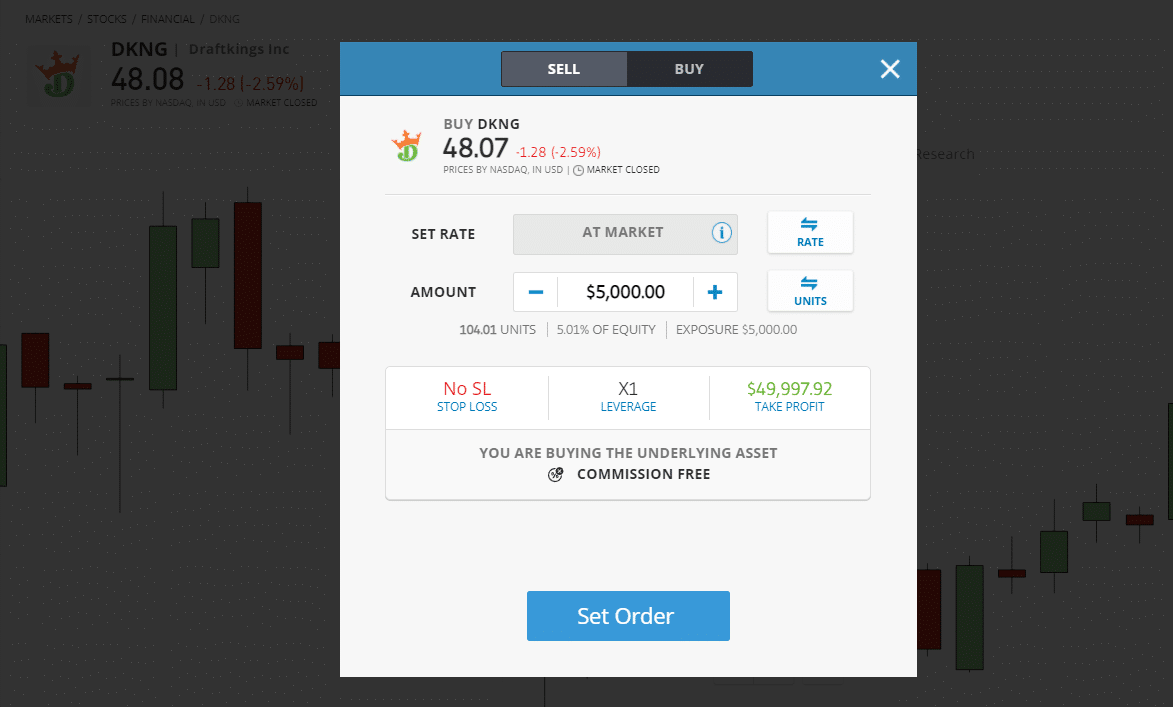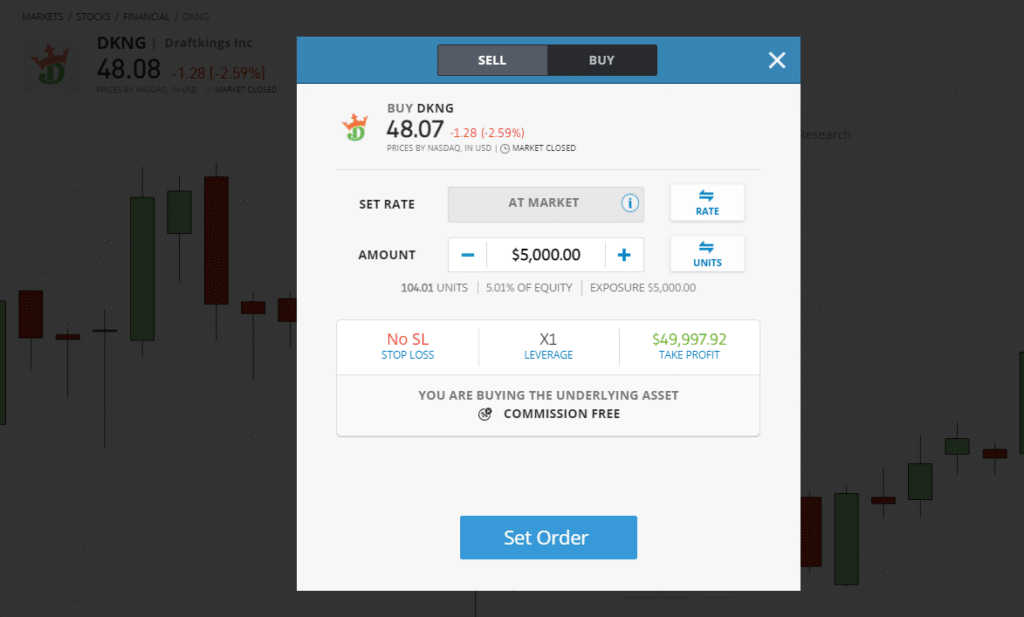 With eToro, you can invest in thousands of stocks 100% commission free. There is also a ton of research tools available for live account holders such as free access to TipRanks so you can see the insider buying and selling. 
67% of retail investors lose money trading CFDs with this provider.
What to Look Out for When Investing in NFTs
As investing in non-fungible tokens is relatively new to most investors, here are a few things to look out for when starting out. 
Do Your Research Before Investing in NFTs
Buying a non-fungible token as an investment is like buying a stock. You want to make sure there is a high chance of it increasing in value over time. Finding the best NFT token to invest in will be key to making sure your investment capital is put to work properly. 
Try to keep up to date with all the current trends in the NFT market. Most NFT marketplaces provide filters for you to search for NFT tokens. There are tools like Google Trends that can help identify trending real-world NFT searches. 
Keep an Eye on the Big NFT Names
More and more digital artists, founders, co-founders and entrepreneurs are planning to sell their first NFT. Jay Z, Katy Perry, Paris Hilton, Snoop Dogg, Jack Dorsey and many others already have NFTs for sale and looking to increase their offering. 
These NFTs are likely to perform well as long term investment as they are from established artists. However, these can sell out fast so keep your ear to the ground to know when they will be releasing and how to purchase them. Then make sure you are ready!
Store Your Crypto Safely While Waiting to Purchase an NFT
While it may take a bit of time to find the best NFT token to invest in, or wait for your favourite artist or sports team to release an NFT, you need to have your crypto ready to purchase it. Things can move very quickly in this hot and growing sector. 
It is important you store your crypto safely while you are waiting to purchase an NFT. There have been many stories of hacks and people losing their private address keys. 
Fortunately, with the eToro Money Crypto Wallet app, you can store your crypto such as Ethereum safely. There are some strong security protocols in the app and it is easy to access. This means you can quickly transfer your crypto from your digital wallet to purchase the NFT you want to invest in. The blockchain will then keep this transaction to prove authentication of your NFT.
How to Anticipate NFT Price Changes
The key to any successful investing is to try and recognise price changes in an asset. While NFTs are new to the market, there are ways to help identify potential price changes in a non-fungible token. 
First of all, keep up to date with the news in the NFT market. When there are more people talking about NFTs – especially a release from a well-known artist – then this will likely increase the price of the NFT. 
Make sure to keep up to date with new companies that are launching their own NFTs. These are likely to be priced low as not many people will be researching this type of investment. However, over time, as NFT investing becomes more common and mainstream what you buy now will likely increase over time. 
The NFTs of well-known established companies are also ones to watch as well. This is because if the company does offer them, they are likely to keep the price higher which gives more value to any new NFT launches they have in their pipeline.
Pros & Cons of Investing in NFTs
While NFT investing is growing rapidly, there are some pros and cons to know about. 
Pros:
Investing in NFTs is now very simple due to the launch of NFT marketplaces.

As NFT investing is relatively new, there is potential for huge growth over time. 

When buying NFTs you are also helping talented artists to grow and be seen. 

Investing in NFTs which cover your favourite sports team or video games can be fun.

NFTs are now being adopted by established artists and publicly listed companies. 
Cons:
Finding the best NFTs to invest in takes time to research. 

You need to store your NFTs safely just in case you get hacked.

Some NFTs are already expensive or may never rise in value. 
eToro – Buy ETH or Enjin for NFTs
The growth in some NFTs means that this sector can no longer be ignored. More and more established artists and publicly traded companies are adopting NFTs. 
This provides huge growth potential for investors right now. This means getting setup today, could serve you very well in the long run when NFT investing becomes more common. 
However, it's important to store your NFTs and crypto safely and securely. The eToro Money Crypto Wallet is by far the best place to do this. 
With eToro, you can buy your cryptocurrency to purchase NFTs 100% commission free, store it safely in the eToro wallet until you are ready to transfer it and invest in NFT. 
Open a free account and see for yourself today!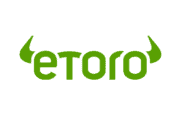 67% of retail investors lose money trading CFDs with this provider.
FAQs
How do I invest in NFT art?
Are NFT a good investment?
Where do I invest in NFT?