If you're looking for an online platform to trade stocks, forex, cryptocurrencies and other CFD products, it might be worth considering Capital.com.
Not only does the broker allow you to trade on a 0% commission basis, but spreads are market-leading. Crucially, you will also benefit from the protections of the FCA.
In our Capital.com review, we explain everything there is to know about the CFD provider. We explore key metrics surrounding fees, commissions, tradable assets, payment methods, security, and more.
What is Capital.com?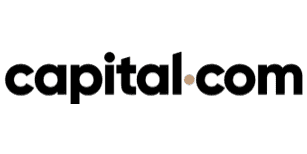 Capital.com is an online CFD provider that has a strong presence in the UK trading scene. The platform gives you access to thousands of financial instruments, including over 2,700 stock CFDs. This covers markets from 15 markets, including the UK, US, Italy, France, and Canada.
Outside of the stock CFD department, you can also trade currencies, indices, cryptocurrencies, and commodities. You won't, however, be able to invest in stocks in the traditional sense at Capital.com. Nevertheless, the platform allows you to trade with leverage, as well as choose from buy and sell positions.
Irrespective of what asset class you wish to trade, Capital.com is a zero-commission broker. On top of this, you will also have access to market-leading spreads. For example, some of the most popular shares like Facebook and Amazon can be traded with a spread of just 0.08 and 1.75, respectively.
In terms of the specifics, Capital.com allows you to open an account and deposit funds in a matter of minutes. You can do this with several UK payment methods, such as a debit/credit card or bank transfer. In terms of its regulatory standing, Capital.com is licensed by the FCA.
What Type of Assets are Available at Capital.com?
As noted above, Capital.com is a specialist CFD provider, so you won't be able to buy shares in the traditional sense. But, if you want to 'trade' assets on a short-term basis, then the platform is likely to have a financial instrument for you. This includes:
Stock CFDs
The most comprehensive Capital.com trading section is that of its stock CFD department. Put simply, you will have access to over 2,700 equities. In the UK, this covers some of the largest FTSE 100 shares in the space. For example, you will be able to enter buy and sell positions on the likes of Royal Mail, BP, and HSBC.


Outside of the UK trading scene, Capital.com covers 14 additional markets. In the US, this covers the most prominent companies listed on the NYSE and NASDAQ. This includes the likes of Apple, Netflix, and Tesla.
You can view the full list of supported stock markets below:
US
UK
Germany
France
Hong Kong
Italy
Norway
Russia
Spain
Sweden
Switzerland
Norway
Ireland
Canada
Indices
If you want to trade the wider stock markets, Capital.com hosts a staggering 34 indices. In terms of major markets, this includes the Dow Jones, FTSE 100, S&P 500 and DAX 30. You can also trade less liquid indices, such as the Spain 35, Singapore 25, Netherlands 25, and Italy 40.
Forex
If you want to gain exposure to the multi-trillion pound arena of forex trading, you won't be disappointed at Capital.com. This is because the CFD provider offers over 140+ currency pairs. This actually makes Capital.com one of the most comprehensive, at least in terms of tradable pairs.
By opting for a forex trading strategy at Capital.com, you will be looking to profit from ever-changing currency exchange rates. For example, if GBP/USD is priced at 1.3209 – you need to predict whether this price will rise or fall in the short-term. At Capital.com, you can trade forex with leverage.
This stands at up to 1:30 when trading major pairs. As such, a £200 stake would translate into trading capital of £6,000. If, however, you decide to trade minor or exotic pairs, then your leverage limits will be reduced to 1:20. Nevertheless, this still allows you to access trading capital at a rate of 20 times what you have in your Capital.com account.
Commodities
Capital.com is also strong in the commodities department. In particular, the platform covers three sectors – hard metals, energies, and agricultural products.
To give you an idea of some of the commodity trading markets you can access at Capital.com – check out the list below.
Hard Metals: Gold, Silver, Palladium, Platinum
Energies: Various markets tracking Oil, Natural Gas, Carbon Emissions
Agricultural Products: Sugar, Corn, Wheat, Cocoa and Arabica, and more.
The most popular commodity instruments at the platform – in terms of trading volume and liquidity, are gold and oil. Both of these asset classes can be traded with competitive spreads at Capital.com – alongside leverage. In fact, if trading gold CFDs at the platform, you will get a whopping 1:20 leverage.
All other commodity instruments – such as oil, gas, and wheat – can be accessed with leverage of 1:10. This still means that a £200 balance would permit a maximum trade size of £2,000 – which is huge.
Cryptocurrencies
If you have a slightly higher appetite for risk, then Capital.com allows you to trade heaps of cryptocurrency pairs. Interestingly, this covers both crypto-to-fiat and crypto-to-crypto pairs. Regarding the former, this includes the likes of BTC/USD, ETH/USD, and XLM/USD, and regarding the latter, ADA/BTC, STTEM/BTC, and TRX/BTC.
Crucially, it is somewhat surprising that a traditional CFD platform like Capital.com has such an extensive list of cryptocurrency pairs. Ordinarily, you would need to use a conventional cryptocurrency exchange to access such a large number of digital currency markets.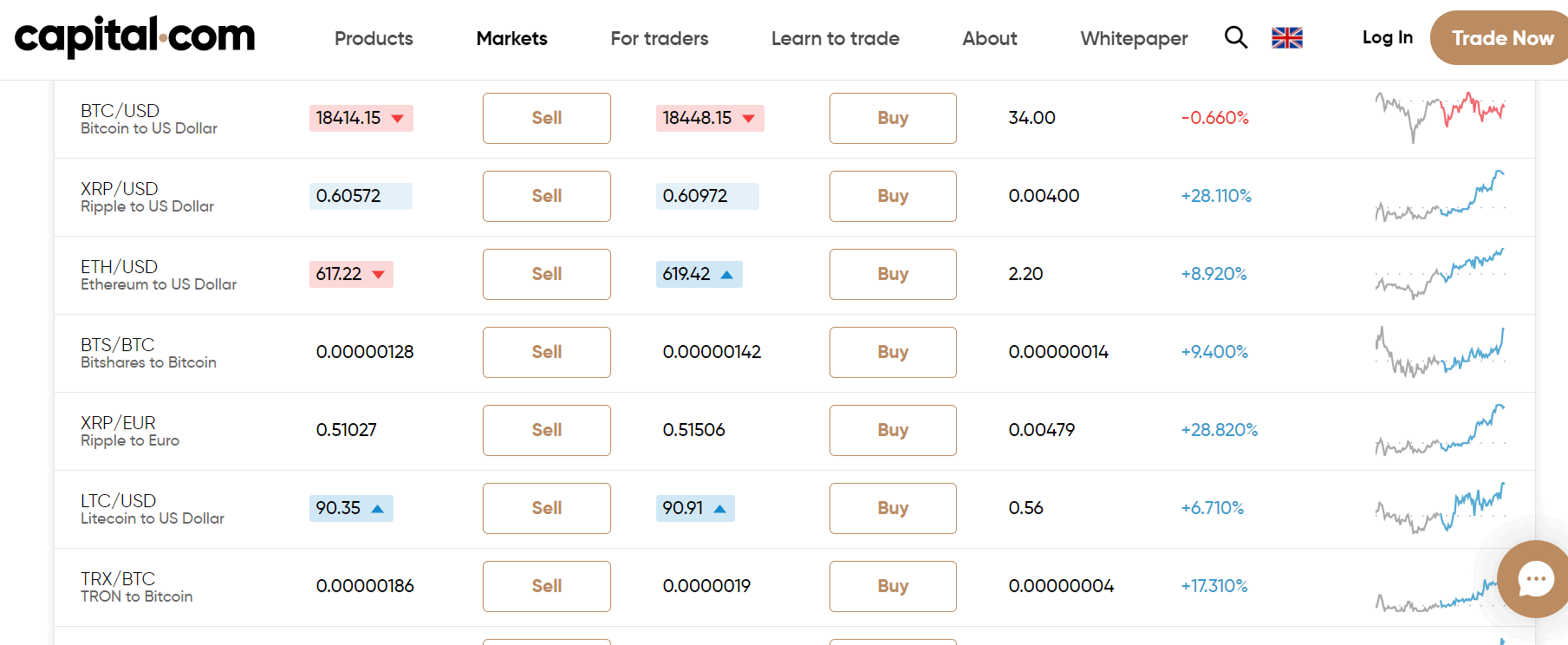 With that said, we would argue that CFDs are much more conducive for online cryptocurrency trading. This is especially the case when using Capital.com. For example, you'll be able to buy and sell crypto-pairs without paying any commission. Spreads on major pairs – such as BTC/USD and ETH/USD – are very competitive.
In addition to this, all UK traders at Capital.com can access cryptocurrencies with leverage. Your limits, however, will be capped to just 1:2 – meaning you can double the size of your stake. This is because cryptocurrencies operate in a  high-risk battleground, so limits are there to protect you as a newbie trader.
Upcoming IPOs
Capital.com doesn't allow you to buy traditional shares – so you won't have direct access to initial public offerings (IPOs). However, not only does the platform keep you up-to-date with upcoming IPO listings, but it typically offers the stock CFD in question within a couple of days of the launch.
This allows you to gain exposure to new and exciting public-companies without needing to own the stock. At the other end of the spectrum, if you feel that the IPO was overvalued, you short-sell it at Capital.com.
Spread Betting
If you're based in the UK or Ireland then you will have access to the Capital.com spread betting facility. This works in a very similar way to CFD trading – insofar that you need to speculate whether the asset will rise or fall in price. You can also apply leverage and you will still benefit from the platform's commission-free offering.

However, the overarching benefit of using the Capital.com spread betting platform is that none of your profits will be liable for capital gains tax. This is in stark contrast to CFD trading, which follows the same taxation rules as traditional stocks.
As such, spread betting is a tax-efficient way to access your favorite financial instruments.In terms of what you can trade, the Capital.com spread betting facility offers virtually the same markets as found on its CFD platform. This covers a wide variety of stocks, forex, commodities, indices, and cryptocurrencies.
Capital.com Fees, Charges and Commissions
As extensive as the Capital.com trading arena is, it is important to have a firm understanding of what fees you are likely to encounter before opening an account.
As such, below we give you a breakdown of Capital.com fees.
0% Trading Commissions
The stand-out selling point of Capital.com, at least in terms of fees, is that all of its 3,000+ financial instruments can be traded on a commission-free basis. Whether its CFDs in the form of stocks, indices, or cryptocurrencies, this allows you to access the respective market on a cost-effective basis. Crucially, this suits traders of all sizes, especially those that wish to trade small amounts.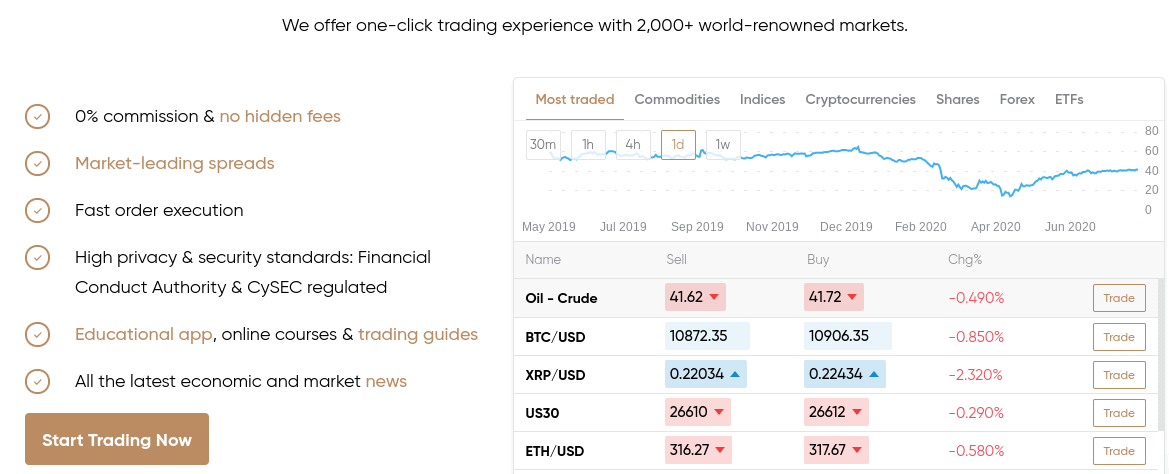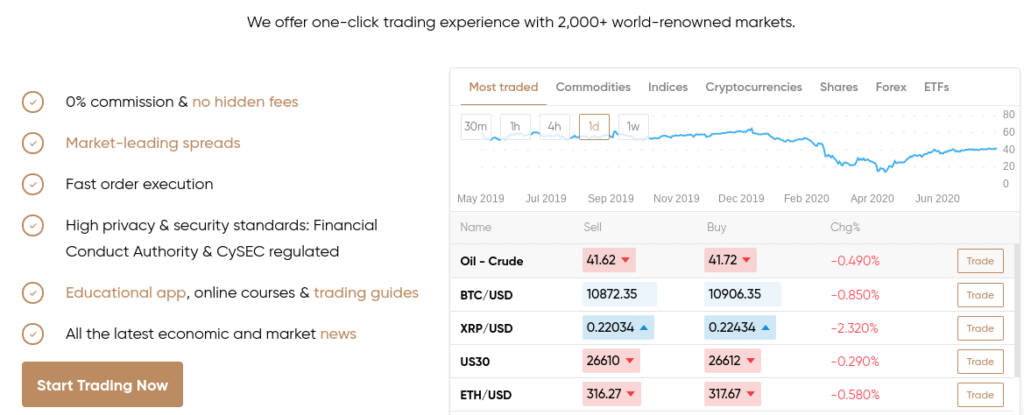 This is in stark contrast to other brokers in the UK stock trading scene. Several platforms will offer low commissions, but then have a minimum fee in place. One such example of this is IG. Sure, at a commission of just 0.10% on UK stock CFDs, this is competitive. But, the minimum charge per trade is £10. This ultimately makes it unviable if you seek to trade low volumes.
Tight Spreads
An additional common occurrence that you often find in the online CFD broker space is that platforms will offer 0% commissions, but then bulk up the size of their spreads. For those unaware, the spread is the difference between the buy and sell price of an asset.
The larger the gap in pricing, the more you are indirectly paying in fees. In the case of Capital.com, the platform actually offers decent spreads in the space. The size of the spread will, of course, be dependent on a number of variables.
This includes:
The type of asset you are trading
Whether you are trading during or outside of standard market hours
Current market conditions (volumes, liquidity, etc.)
With that being said, it's probably best that we give you a few examples so that you can see just how competitive Capital.com is in the spreads department.
Major stocks like Netflix can be traded at a minimum spread of 0.12. On average, this is more in the region of 0.36.
Major forex pairs like EUR/USD come with an average spread of 0.00006, although it can be as low as 0.00005.
When trading major cryptocurrencies like Bitcoin, you can get the spread down to just 34. Ethereum is also competitive at a minimum of 1.39.
Crude oil can be traded with spreads of just 0.007, while Gold stands at 0.5.
If trading major stock indices like the S&P500, you'll pay a minimum spread of just 0.3.
Take note, the spreads noted above can and will fluctuate throughout the trading day.
Overnight Financing
Our Capital.com review found that if you plan to trade with leverage and you keep your position open overnight, then you will pay overnight financing fees. The specific interest rate will vary depending on the asset.
However, Capital.com stands out in this respect, as it bases its charge on the amount of leverage that you apply, and not the total value of the position. This ensures that you can trade on margin without being hit with unreasonable fees.
Capital.com Leverage
Irrespective of what asset class you wish to trade, all financial instruments at Capital.com come with facilities. This ensures that you are able to target small margins, even when your available capital is low.
If you are a seasoned trade in the UK, then you will likely know that your leverage limits will be capped. This falls in-line with the regulations put in place by the European Securities and Markets Authority (ESMA).
For those unaware, this stands at:
30:1 for major currency pairs
20:1 for non-major currency pairs, gold and major indices
10:1 for commodities other than gold and non-major equity indices
5:1 for individual equities and other reference values
2:1 for cryptocurrencies
The only exception to this rule is if you are deemed to be a professional trader. You will need to submit some documentation to Capital.com to prove that you fall within this category. If you do, your limits will be amplified to:
1:500 for major currencies
1:200 for major indices
1:200 for commodities
1:20 for shares
1:20 for cryptocurrencies
As always, tread carefully when applying leverage at Capital.com and never trade with more than you can afford to lose.
Captial.com Trading Platforms and Tools
When it comes to the trading platform itself, Capital.com does not support third-party providers like MT4, MT5, or ZuluTrade. Instead, Capital.com offers its own proprietary software that was built from the ground up. Everything is facilitated online, so there is no requirement to download any software.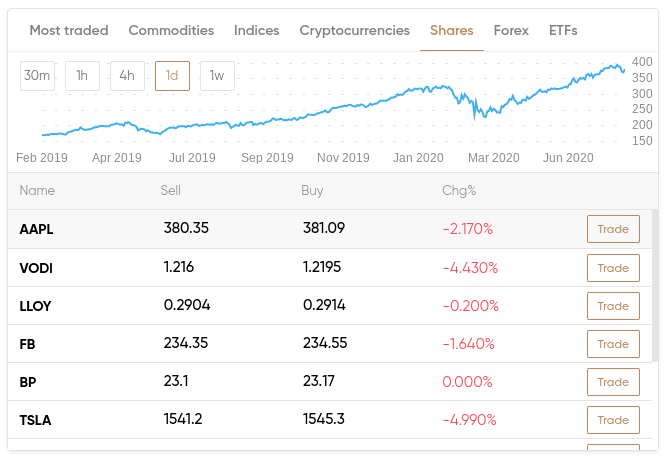 This makes it convenient to trade at the click fo a button. It also means that you can access your Capital.com trading account when you are away from your main desktop device.
Below we list some of the remain features that the Capital.com trading platform offers.
The Capital.com platform supports over 70+ technical indicators
You can also make use of drawing tools
Multi-chart toggling allows you to utilize up to 6 trading tabs
You can add your favourite financial instruments to a watchlist
Buy and sell positions allows you to hedge with ease
Several chart layouts like Heikin-Ashi, Candlestick, and Line
Ultimately, the Capital.com trading platform gives you access to all of the tools and features you will need to trade effectively. On the flip side, a lack of support for MT4/5 means that you won't have the ability to deploy CFD and forex robots. As there is no Copy Trading feature either, you won't be able to benefit from passive trading at Capital.com.
Order Types
When it comes to setting up an order at Capital.com – you will have access to various options.
This includes the following:
Buy and Sell Orders
One of the main reasons for using a CFD trading site like Capital.com is that you can always choose from a buy or sell order.
While a buy order simply means that you think the asset will rise in value, a short-selling position allows you to speculate that the instrument will decline in price. This is something that you won't find at a traditional stock broker.
As such, some UK investors will open an account with Capital.com purely for the ability to short-sell. For example, let's suppose that you have been researching BP stocks and think that at current prices – the shares are overvalued. All you need to do to profit from this at Capital.com is place a sell order.
Risk Management Orders
Capital.com also offers a small selection of order types that allow you to trade in a risk-averse manner. This includes that all-important stop-loss order. For those unaware, this allows you to limit the amount you can lose from a specific trade. For example, you might be trading Royal Mail shares and want to limit your potential losses to 1%.
Additionally, Capital.com allows you to lock in your gains with a take-profit order. Sticking with the same Royal Mail example discussed above, you might decide that you want to target 4% gains. As such, all you need to do at Capital.com is set up a take-profit order at a price that is 4% higher than your entry price.
Market and Limit Orders
The Capital.com platform also allows you to determine how you enter a trade. For example, if you spot a last-minute trading opportunity that needs to be acted on right away  – you simply need to opt for a market order. This means that Capital.com will execute your position instantly.
Alternatively, you might not want your order executed until a specific price has been met. For example, you might be trading HSBC stocks at Capital.com that are currently priced at 380p each. However, you might decide that you want confirmation from the markets that HSBC is a buy – and subsequently wait to see if the stocks hit 400p.
Instead of having to sit at your desktop computer for hours on end waiting to see what happens with the price action on HSBC, Capital.com allows you to set up a limit order. In doing so, your order will only be executed by the platform is HSBC shares hit 400p on the London Stock Exchange.
Capital.com App
On top of its native web-trading platform, Capital.com also offers a mobile trading app. The Capital.com app, which is available to download on both Android and iOS devices, has been fully optimized for smaller screens. This means that you will have access to most of the features found in the main desktop version without being hindered.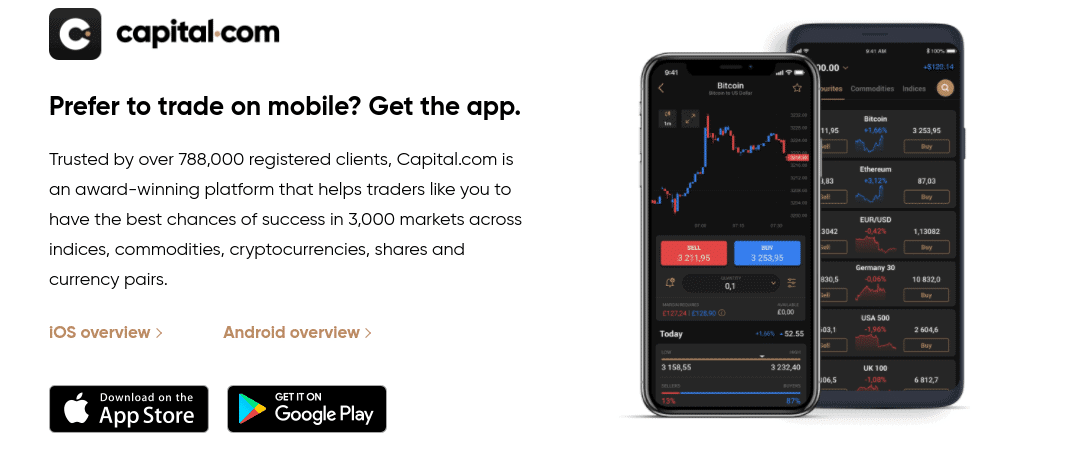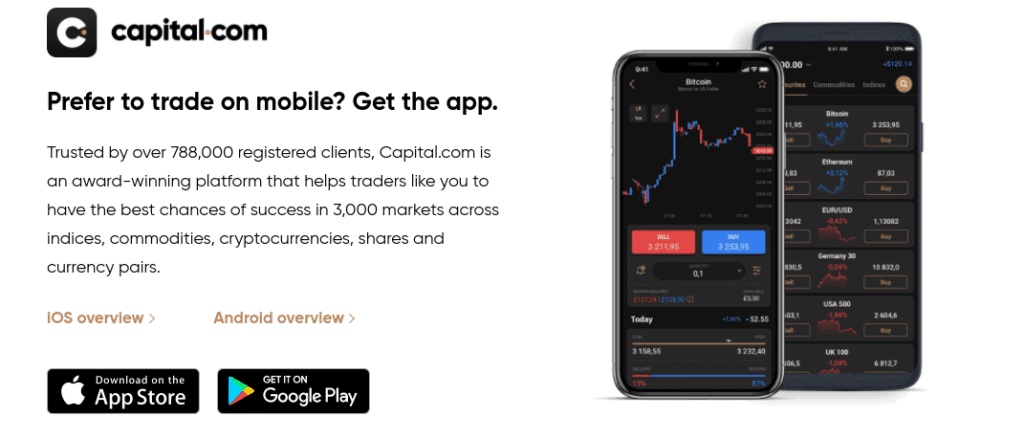 Some of the main use-cases for the Capital.com app are:
Place buy and sell orders
Perform technical analysis
Check the value of your portfolio in real-time
Deposit and withdraw funds
In terms of general feedback, the Android app has a Google Play rating of 4.4/5 across just under 4,000 ratings. The iOS version is at 4.9/5, albeit, this is across just 89 individual reviews.
Investmate
On top of its main trading app, Capital.com also offers a mobile application called Investmate. Put simply, this is an educational app that is designed for newbie traders. It allows you to set education goals, such as "Refreshing your knowledge of finance" or "Becoming an expert in CFD trading". The app also comes with 30+ guided courses, which is for improving your trading-related skill-set.
Education and Research at Capital.com
When you first access the Capital.com website, you can see straight away that the platform is tailored to newbies. That isn't to say that experienced traders can't use the broker. On the contrary, the platform offers everything a seasoned trader would need. With that said, if you are just starting out in the world of online trading, you will be pleased to know that Capital.com offers an extensive education department.
In what it calls "Learn to trade with Capital.com", you will have access to:
Mini-courses covering everything from an introduction to the financial markets to the ABCs of derivatives
Trading guides on all of its supported asset classes
A glossary on key trading terms
A regularly updated blog
Our Capital.com review found that stock broker also is suitable for research. For example, the platform runs regular webinar events, which is for tapping into the mind of an experienced trader. There is also a fully-fledged news department. This ensures that you are kept abreast of key market developments that have the potential to influence your chosen asset.


On top of fundamental news, Capital.com also offers technical analysis insights. This is where an in-house trader will analysis a specific asset with respect to historical and current chart trends.
Deposits and Withdrawals
In terms of funding your account, Capital.com has one of the lowest minimum deposit thresholds at just £20. This is ideal if you are new to online trading and wish to start off with smaller amounts.
Don't forget, you can trade with leverage of up to 1:30 as a UK retail client, so a £20 deposit would permit a maximum trade size of £600. Capital.com allows you to deposit and withdraw funds with heaps of payment methods.
This includes:
Debit cards
Credit cards
Bank Wire Transfer
Sofort
iDeal
Giropay
Multibanko
Przelewy24
QIWI
Webmoney
Trustly
2c2p
AstropayTEF
Take note, if you plan to deposit funds with a bank account transfer, the minimum deposit is £250. Regardless of which payment method you opt for, Capital.com does not charge any deposit fees.
Is Capital.com Safe?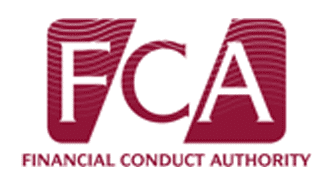 Although Capital.com was launched as recently as 2016, the platform has a strong regulatory standing. At the forefront of this is its license with the Financial Conduct Authorty (FCA).
This ensures that:
Client funds are held in segregated bank accounts. In theory, this means that your money should be safe in the event Capital.com ran into financial problems.
Capital.com will need to have its accounts audited
Each and every client at the platform is required to submit identity documents
The risks of trading must be clearly highlighted
The broker's full FCA regulatory standing can be found below:
Capital Com (UK) Limited is registered in England and Wales with company registration number 10506220, authorised and regulated by the Financial Conduct Authority (FCA) under register number 793714
Most importantly, Capital.com is a member of the Financial Services Compensation Scheme (FSCS). Put simply, this means that were the broker to collapse, your funds would be protected up to the first £85,000.
We should also note that Capital.com is also regulated by the Cyprus Securities and Exchange Commission (CySEC), and that it is fully complicit with the Markets in Financial Instruments Directive (MiFID).
Capital.com Review – The Verdict
Our Capital.com review found that there is much to like about the FCA-regulated broker. You will have access to over 3,000+ CFD products, all of which can be traded on a commission-free basis. Spreads are tight, security is reliable, and you can get started with a deposit of just £20.
Sponsored ad. Your capital is at risk.
Frequently Asked Questions about Capital.com
When was Capital.com launched?
Does Capital.com offer shares?
What trading platforms does Capital.com offer?
What is the minimum deposit at Capital.com?