In the past decade, the value of global ETFs (exchange-traded funds) has surged to more than $9 trillion. While these funds have traditionally given investors access to a broad range of markets, there is a new type that has investors very excited.  Cryptocurrency ETFs and Bitcoin ETFs are now the hottest commodity in the market. The ease of access ETFs provides investors and the huge potential price swings in cryptocurrencies have caused a surge in demand for crypto ETFs. 
But, what is the best Bitcoin ETF and cryptocurrency ETF UK? What are some of the risks and where you can invest in crypto ETFs?  In this, 'Best Bitcoin ETF UK,' guide we answer these and more!
---
Best Bitcoin ETF UK 2022 List
While Bitcoin ETFs are relatively new to the market, their popularity has increased exponentially. Here are a few of the best Bitcoin ETFs this year:
Not all of these Bitcoin ETFs will be available to individual retail investors, with some only available to institutional investors. However, further down this guide, we go through several ways you can access ETFs and some great alternative ways to invest in crypto ETFs.
---
Best Bitcoin ETFs UK Reviewed
Let's have a look at the top five best Bitcoin ETFs in more detail and then look at some alternatives that you can start investing in today. 
1. Purpose Bitcoin ETF – Best Bitcoin ETF
The Purpose Bitcoin ETF was the first Bitcoin ETF to be created. It only began trading on the Toronto Stock Exchange in February 2021, showing just how new crypto ETFs are. The fund is the first crypto fund to be physically settled in Bitcoin.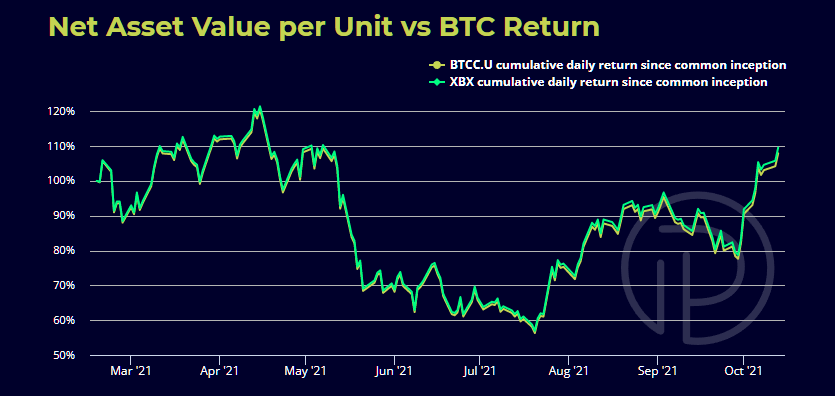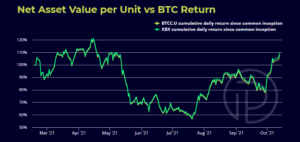 This means you do not need to have any wallet or digital keys to store. The fund is also backed by real Bitcoin, rather than Bitcoin futures contracts. The management fee of the fun is 1.00% and the fund trades on the Toronto Stock Exchange in Canada. 
Currently, the fund holds 21,712.117222 Bitcoins. 
2. CI Galaxy Bitcoin ETF – Top Rated Bitcoin ETF based in Canada
CI Global Asset Management offers the CI Galaxy Bitcoin ETF as well as the CI Galaxy Ethereum ETF. The fund has a low management fee of just 0.400% and is audited by Ernst & Young LLP. 
The fund holds Bitcoin in US dollars (BTCUSD) which is stored in a cold wallet. At the time of writing, the total net asset value of the fund was CAD $466,219,964.02. The company aims to help investors gain exposure to Bitcoin but does state it is only suitable for those that can tolerate high risk. 


3. Evolve Bitcoin ETF – Top Rated Bitcoin ETF with BTCUSD Held in Cold Storage
Evolve is one of the smallest ETF providers with only $2 billion in management. However, they have become very popular as they provide a simple way to access the price of Bitcoin through their ETF with a management fee of 0.75%. 
The fund itself holds real Bitcoins with the fund tracking the price of Bitcoin against the US dollar. The holdings are priced based on the CME CF Bitcoin Reference Rate which is a once a day benchmark index price for Bitcoin denominated in US dollars.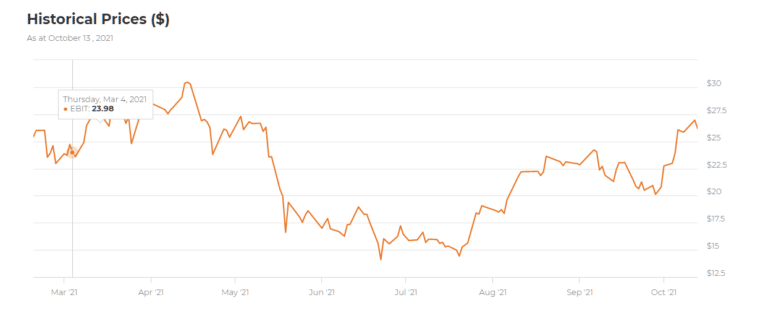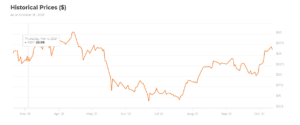 4. QR Capital Bitcoin ETF – Top Rated Bitcoin ETF based in Brazil 
QR Capital is a blockchain investment firm based in Brazil. In June 2021, the company launched the QR Capital Bitcoin ETF which is also backed by real Bitcoins. There are also plans for a QR Capital Ether ETF which could help lift the price of cryptocurrencies as more fund providers buy real coins to back their offering. 
The funds follow the same index used by the Chicago Mercantile Exchange (CME) and will have custodial services provided by Gemini, the crypto exchange founded by the Winklevoss twins. 
5. VanEck Bitcoin ETF – Awaiting SEC Approval
VanEck is probably one of the world's most well-known ETF providers with more than $60 billion in assets under management. Currently, the asset management company provides investors access to the VanEck Bitcoin Tracker Fund LP. 
However, this partnership fund is only available to accredited US investors and qualified offshore investors with a minimum $100,000 investment. Redemptions can also only be made quarterly so it's only for those with a long-term view. 
VanEck has submitted proposals to the SEC to convert this LP fund into an ETF that can trade on regular exchanges in the US and be made available to retail investors. So far, the SEC has not authorised any crypto funds in the US but it may just be a matter of time. 
Best Alternatives to Bitcoin ETFs
Most of the world's current cryptocurrency ETFs are located on exchanges in Canada and Brazil, making them difficult to access for some investors.
However, there are some great alternative ways to capitalise on the growth in Bitcoin and other cryptocurrencies through ETFs and other ETF-style products. Let's take a look at a few that are available to invest in today for all retail investors from the popular eToro brokerage platform which is regulated by the FCA, CySEC, ASIC and FINRA.
1. ARK Fintech Innovation ETF
The ARK Fintech Innovation ETF is an exchange traded fund that trades on the New York Stock Exchange ARCA. It is an actively managed fund from the ARK Invest team, led by famed investor Cathie Woods. 
The goal of the fund is to pick winning investments in financial technology including the blockchain technology that underpins Bitcoin and all other cryptocurrencies. This is why the ARK ETF for Fintech Innovation is a popular choice for investors wanting to capitalise on the growth of cryptocurrencies.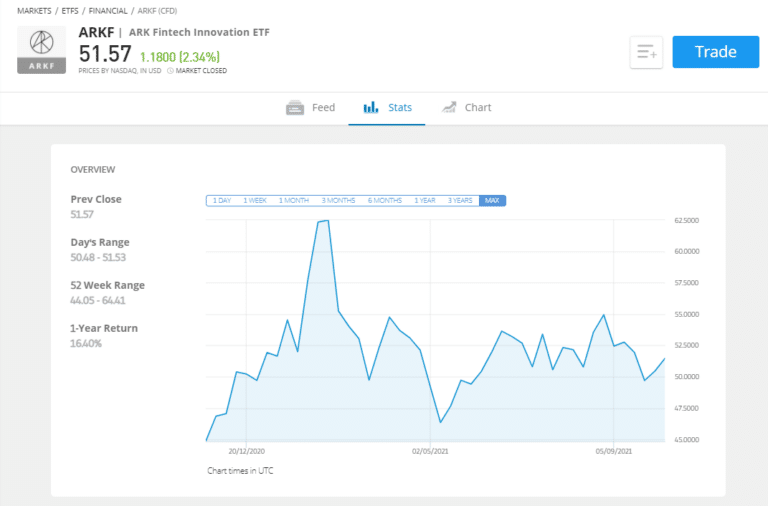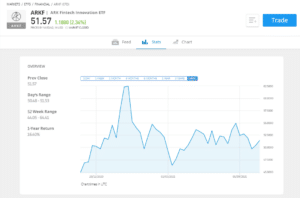 One of the firms biggest holdings is in Coinbase – the world's biggest cryptocurrency exchange and most popular crypto trading platform. As Coinbase recently announced the launch of a crypto NFT platform, a boost in the company's share price will also likely boost the ARK ETF as well. 
The ARK Fintech Innovation ETF is likely to perform well as a long term investment, as more and more companies adopt blockchain technologies. One of the benefits of these types of cryptocurrency ETFs is the fact there is a management team actively trading the portfolio which means they can stay ahead of – and capitalise on –  any new trends. 
You can actually invest in the ARK Fintech Innovation ETF through the FCA regulated eToro trading platform, 100% commission free!
67% of retail investors lose money trading CFDs with this provider.
2. eToro Crypto Equal Portfolio 
eToro provides investors access to a range of Copy Portfolio themes that work very similar to an ETF. An ETF is simply a way to invest into a basket of different assets that track an underlying theme. For example, a Global Gold Mining ETF would invest in a basket of global gold mining stocks, an Asia Technology ETF would invest in a basket of technology stocks listed in Asia. 
The eToro Copy Portfolio allows you to do the same thing. You can invest in a portfolio that holds a basket of securities that track an underlying theme. For example, the eToro Crypto Equal portfolio allows you to invest into a basket of crypto assets but with just one investment.
In fact, the eToro Crypto Equal portfolio invests in all of the cryptocurrencies available in the eToro platform, including Bitcoin. However, you can just simply invest in the portfolio without buying all of the individual investments yourself – one of the key selling points of ETFs.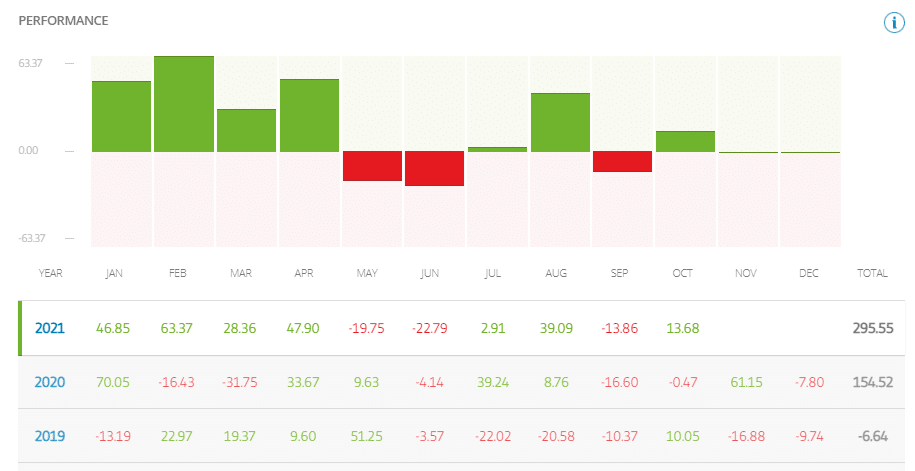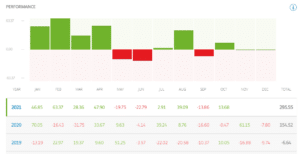 There are more than 10,700 investors who have bought the portfolio and you can too at the click of a button. The performance statistics are also shown in the platform just like any other crypto ETF UK. 
The eToro Copy Portfolio feature is a great alternative way to access Bitcoin ETFs and crypto ETFs. Not only is eToro regulated and transparent, but it also provides a lot of detail on what the portfolio tracks. You can access crypto ETF-style investments such as the eToro Crypto Portfolio, CryptoTakeover Portfolio, DeFi Portfolio, Bitcoin Worldwide Portfolio and many others.  
This is a much safer way to invest than traditional crypto ETFs which can be unregulated and based offshore in low transparency jurisdictions. This is at least until the first SEC Bitcoin ETF gets approved which analysts say are still some way off.  
67% of retail investors lose money trading CFDs with this provider.
What is a Bitcoin ETF?
A Bitcoin ETF is a security that tracks the underlying price of Bitcoin. ETFs are investment products that help investors to buy a single security that tracks a basket of many securities following a certain theme. 
You can buy ETFs just like stocks buying and selling with ease (depending on the ETF in question). Most ETFs track some type of index. For example, a Global Mining ETF may track the Bloomberg Global Mining Index. 
In the case of Bitcoin ETFs, the ETF would track the underlying price of Bitcoin. So, as the price of Bitcoin rises, the price of the ETF would also rise. If the price of Bitcoin falls, the price of the ETF would also fall. 
It's important to note that most ETF applications will have a disclaimer that will state you do not own the underlying securities the ETF holds. For example, in a Bitcoin futures ETF, you do not own any of the Bitcoin futures contracts held inside of the ETF but rather a portion of the ETF entity.  
Are Crypto ETFs a Good Investment?
The interest in crypto ETFs are gaining exponentially but it is important to remember that these investment products are still very new. Most Bitcoin ETFs and crypto ETFs won't be accessible to retail investors just yet but there are a few in Brazil and Canada. 
One thing to bear in mind is that most of the crypto ETFs available now are based offshore or in low regulated jurisdictions. This makes them much riskier than buying Ethereum or Bitcoin coins directly with a regulated broker, or through an alternative ETF. So, it really does depend on your risk appetite. 
However, as discussed earlier there are some alternative ways to invest in crypto ETFs that are much safer and more transparent. For example, the ARK Innovation ETF can provide investors exposure to the blockchain technology that underpins cryptocurrencies. The fund is regulated, transparent and can also be bought through a regulated broker like eToro. 
Crypto ETFs are products to watch for the future though. Many institutions, mutual fund managers and Bitcoin Trust providers such as Grayscale, Gensler, Invesco, VanEck and other financial institutions are waiting for Bitcoin ETF approval. 
Many applications have been submitted to the U.S Securities and Exchange Commission (SEC) for a Bitcoin ETF or crypto ETF in USD. While they have been turned down, it will just be a matter of time that they will be more mainstream and safer to invest in.
Buying Bitcoin vs Investing in Bitcoin ETFs
Another alternative to investing in Bitcoin ETFs is buying Bitcoin directly. After all, this is what the ETF provider will do for you but you won't own any of the Bitcoins the ETF holds. The Bitcoins held in the fund are owned by the ETF provider and are usually put in cold storage. 
As the purpose of investing in Bitcoin ETFs is to capitalise on the increase in value of Bitcoin, some investors may find it easier to simply buy Bitcoin themselves. Regulated platforms like eToro make it very simple to do so and you can also take advantage of fractional share ownership where you can purchase 0.001 of a Bitcoin. 
In fact, fractional ownership of Bitcoins is great for people with low investment funds as on platforms like eToro you can start buying crypto with just $50. Even though one Bitcoin is worth more than $60,000 (at the time of writing). 
Where to Buy Bitcoin ETFs, Coins & Alternatives
When it comes to trading and investing it is always advisable to stick to regulated, well-known brokers that are based in highly-regulated jurisdictions. 
Below is a list of brokers that can provide you access to alternative Bitcoin ETFs and cryptocurrencies for direct investment. Plus there is also a range of other features that you will find of value. 
1. eToro – Overall Best Bitcoin ETF Provider for Alternatives & Coins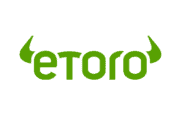 eToro is by far one of the best cryptocurrency brokers around. More than 20 million people around the world choose the platform to invest in ETFs, digital assets and other asset classes like stocks (real and derivatives like CFD trading for using leverage), indices and commodities. 
This means you can invest in crypto ETFs like the ARK Fintech Innovation ETF (ticker ARKF), as well as crypto-related stocks like Coinbase and Microstrategy and a whole range of individual cryptocurrencies such as Bitcoin (BTC), Ether (ETH) and many others. 
Furthermore, for any cryptos you hold, eToro provides a crypto wallet for your to store, send, receive, buy or sell a whole range of cryptocurrencies. With the range of products available from the eToro platform, you can focus on the right investment objective for you and find the best asset class to invest in for your volatility levels.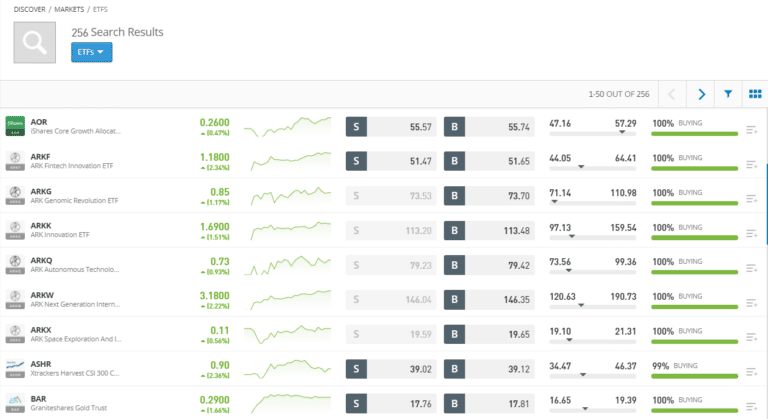 However, where eToro really excels is through its social trading and copy trading platform which is the largest in the world. You can find other stock, ETF and crypto investors, view their performance and have their exact trades copied onto your own account. 
The eToro Investment Committee has taken this concept one step further and has provided ready-made investment portfolios that work similarly to ETFs. The Copy Portfolio feature allows you to invest – with just one single transaction – into a basket of different securities that track a market theme. 
For example, some of the ready-made Copy Portfolios include Crypto Equal, China Car, DefFi Portfolio, Digital Payments, Drone Tech, CyberSecurity, Crypto Takeover and many others. Each one of these portfolios will hold a basket of securities tracking the theme in the title. 
You can invest in the theme with just one transaction, even though the portfolio might own hundreds of stocks or ETFs or cryptos.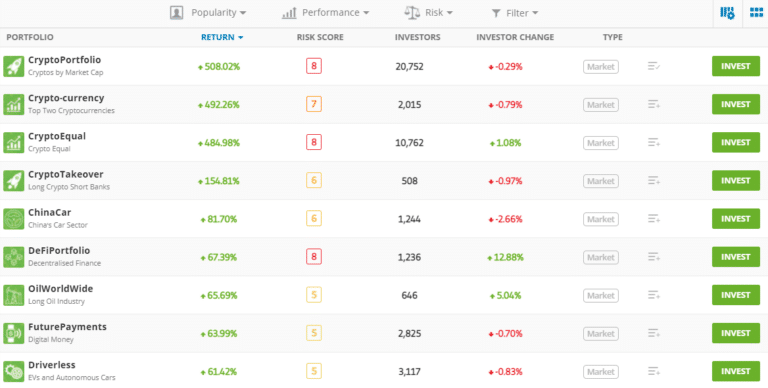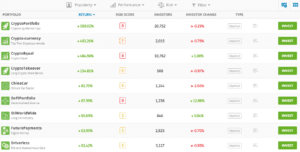 The best part is that you can invest in stocks and ETFs 100% commission free!
You can also open an account with just $200 and fund it using credit/debit card, bank transfer and even PayPal. 
Pros:
Regulated by FCA, CySEC, ASIC, FINRA

Invest in ETFs, cryptos, stocks, commodities and more

Access ETF-style crypto products through Copy Portfolios

Deposit via bank, debit/credit card or PayPal

100% commission-free!
Cons:
Short-term technical traders may experience limited charting tools
67% of retail investors lose money trading CFDs with this provider.
2. Libertex – Top Rated Crypto, Bitcoin ETF & Stock CFD Provider
With Libertex you can access a wide range of asset classes covering cryptocurrencies, ETFs and stocks through a product called CFDs, or Contracts for Difference. This means that you can speculate on the price direction of cryptos and ETFs without owning the underlying asset. 
This comes with a range of benefits including the ability to trade long and short which means you could potentially from rising and falling markets. You can also trade on margin. This means you can control a larger position with a smaller deposit, amplifying your gains and losses.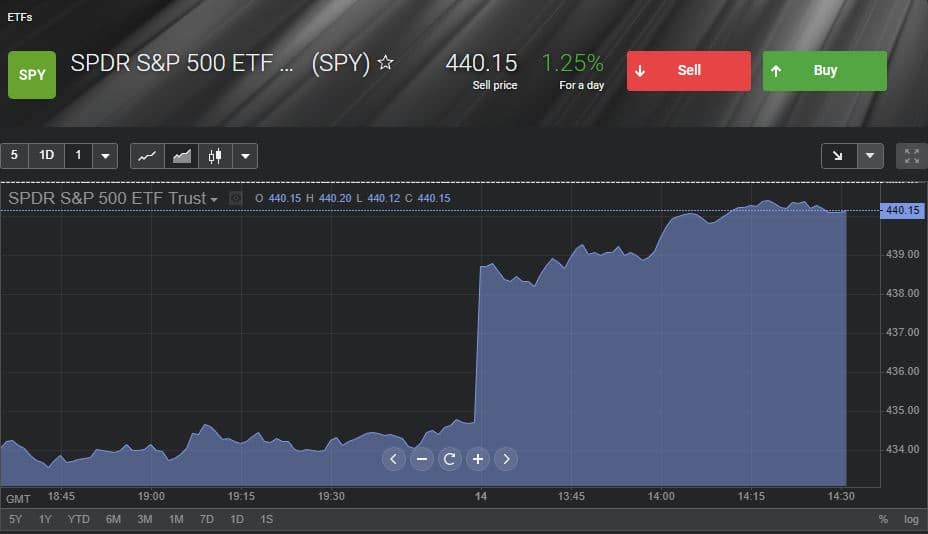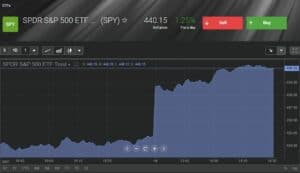 The Libertex trading platform is feature-rich and simple to use. You can see which ETFs are moving the most and search for a variety of asset classes all from one place. While the Libertex platform is web-based, they also offer a desktop download version from MetaTrader. 
The cost of trading with Libertex is very competitive with low commissions and low spreads. There is a small overnight financing fee which is standard for all CFD brokers which allow you to trade on margin, using a small deposit to control a larger position. 
Opening an account with Libertex is easy and can be done in a few minutes. The minimum deposit is only €100 and can be done via bank transfer, credit/debit cards and e-wallets such as Neteller and Skrill. 
Pros:
Regulated by CySEC

Access more than 213+ global markets

Trade using leverage

Easy to use trading platform

Low minimum deposit

Live analysis and news in the platform
Cons:
Only CFD trading available
74% of retail investor accounts lose money when trading CFDs with this provider. 
How to Invest in a Bitcoin ETF
If you are ready to start investing in cryptocurrencies like Bitcoin, or crypto ETFs like the ARK Fintech Innovation ETF 100% commission-free, or any of the other 2,500+ global markets available from eToro, then follow the step by step process outlined below. 
1. Create Your Account
To start investing you need to open an account with eToro. This can be done easily and in just a few minutes. Just fill out a few personal details including your name, email and password. 
2. Verify Your ID
As eToro is heavily regulated they need to comply with AML and KYC regulations. As such, they will need to verify your identity. 
The two verification documents you will need are:
A valid passport or driver's licence

A utility bill or bank account statement issued within the last three months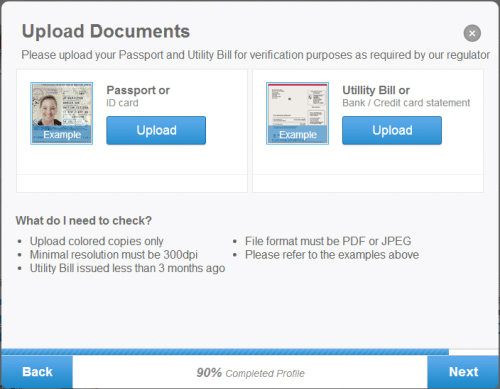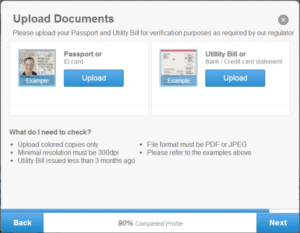 3. Deposit Funds
The minimum deposit to open an account with eToro is $200. You can deposit funds fee-free through a variety of methods. 
Deposit methods include:
Debit/credit card

Bank wire transfer

PayPal

Neteller

Skrill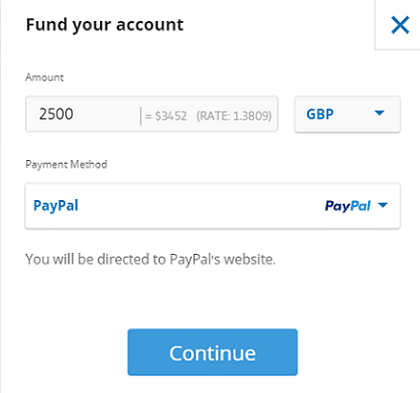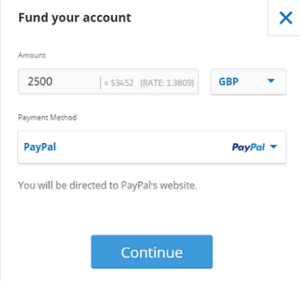 4. Search for Your Investment
There are more than 2,500+ markets to choose from in the eToro platform. You can invest in an ETF, Bitcoin and other cryptos directly or an ETF-style investment product from the Copy Portfolio section.  
The screenshot below shows searching for the crypto ETF ARK Innovation ETF.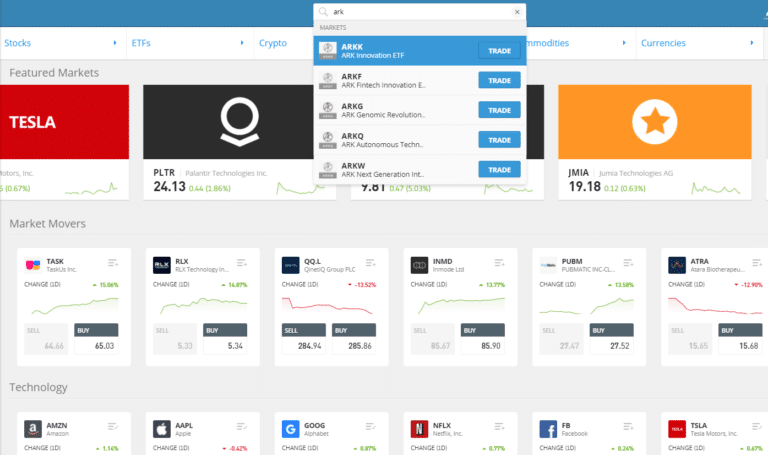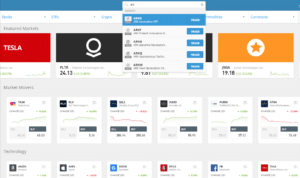 5. Start Investing!
Once you've found the right market to invest in click the Trade icon. This will open a trading ticket for you to input your transaction size and set a stop loss and take profit if you wish to do so.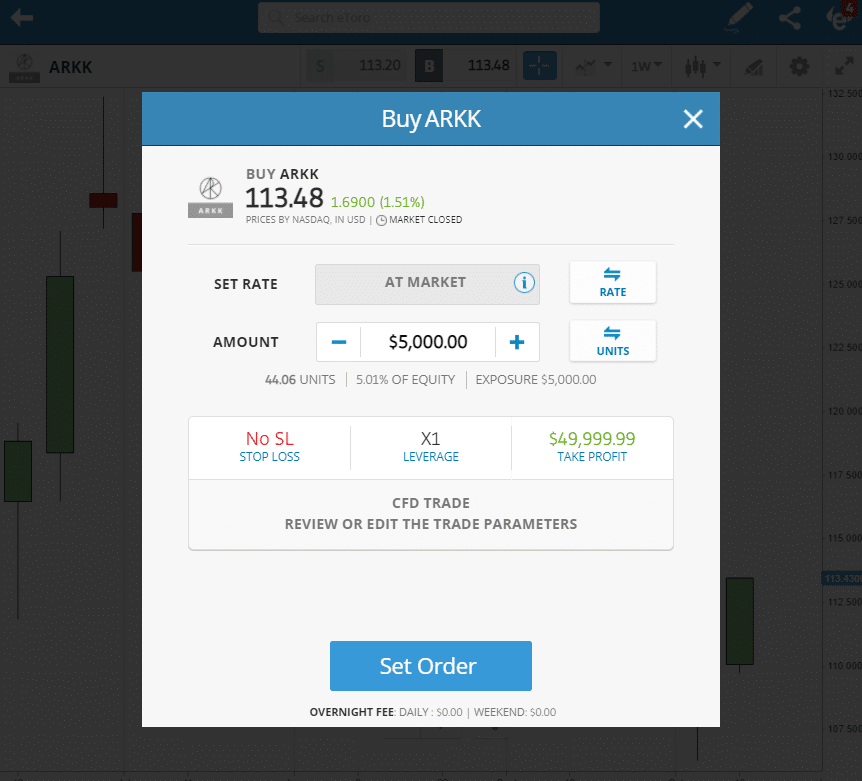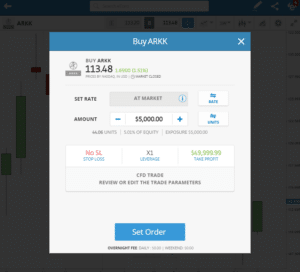 You can either set price orders or buy live at the market price. Furthermore, you can buy cryptocurrency stocks ETFs with eToro 100% commission free!
eToro – Overall Best Bitcoin ETF UK Provider 
There is no denying that crypto ETFs such as Bitcoin ETFs will become more mainstream over time. Currently, the only available Bitcoin ETFs are located in offshore jurisdictions and lack safety, accessibility and transparency for investors. 
However, there are still opportunities for investors to capitalise on the growing trend. Investors could buy Bitcoins directly from a crypto exchange, buy crypto-related stocks and ETFs as discussed above or access Copy Portfolios from eToro to invest in crypto themes. 
All available options can be done from the eToro platform, providing a one-stop solution for crypto investors. Furthermore, eToro is safe and secure as it is regulated by FCA, CySEC, ASIC and FINRA and you can buy crypto stocks and ETFs 100% commission free!
67% of retail investors lose money trading CFDs with this provider.
FAQs
Is there a cryptocurrency ETF?
Where are some Bitcoin ETFs?
What is the most popular Bitcoin ETF?