Best NFT Stocks to Buy
Fact Checked
Everything you read on our site is provided by expert writers who have many years of experience in the financial markets and have written for other top financial publications. Every piece of information here is fact-checked.
Disclosure
Please note that we are not authorised to provide any investment advice. The information on this page should be construed for information purposes only. We may earn commissions from the products mentioned on this site.
Since a non-fungible token (NFT) sold for $69 million at a Christie's auction, investors have been looking at how to capitalise on the booming NFT market. One of the simplest ways to gain exposure to this growing sector is to find the best NFT stocks to buy and invest in them. 
But what is the best NFT stock to invest in right now? In this guide, we go through an NFT stock list to invest in and go through how to invest in NFT stocks with zero commission!
Best NFT Stocks List 2023
Below is an NFT stocks list showing the top 10 NFT stocks to invest in this year. 
eBay – Biggest Online Marketplace Allowing NFT Sales
Coinbase – World's Largest Crypto Exchange Launching an NFT Marketplace
DraftKings – NFT Marketplace for Sport & Athlete NFTs
Cloudflare – Providing NFT Infrastructure for Video Creators
Mattel – NFT Toy & Collectibles Manufacturer 
Dolphin Entertainment – NFT Entertainment & Content Development Company
Funko – NFT Toy Manufacturer
Oriental Culture – Fine Art NFT Online Platform
ZK International – Launching a New NFT Marketplace
Takung Art – NFT Art Trading Platform
Some of these companies are NFT related stocks and some of them will have a direct benefit from the sales of NFTs or provide infrastructure. With such a hot, new sector diversification will be important to long term success.  
In the next section, we run through this list of the best NFT stocks so you can find the right stock for your portfolio. 
A Closer Look at the Best NFT Stocks to Buy
Let's take a closer look at the best NFT stocks to invest in as shown above and why investors are circling them to gain exposure to the boom in NFT sales. 
1. eBay – Biggest Online Marketplace Allowing NFT Sales
eBay is already one of the world's largest online marketplace and e-commerce platforms. Moving into the NFT market and NFT sales seems an obvious transition and one that has investors very excited. 
While eBay is already allowing NFT sales to take place on its platform, the pricing is still in traditional fiat currency rather than cryptocurrency. This could change over time though. Once they start allowing transactions from digital assets like Bitcoin (BTC) or Ethereum (ETH) it could bring more business volume. 
As the cryptocurrency and NFT market is still quite volatile, eBay is a safer play for risk-averse investors as they have been around for a while, already have a strong and established business model and are listed on the New York Stock Exchange (NYSE).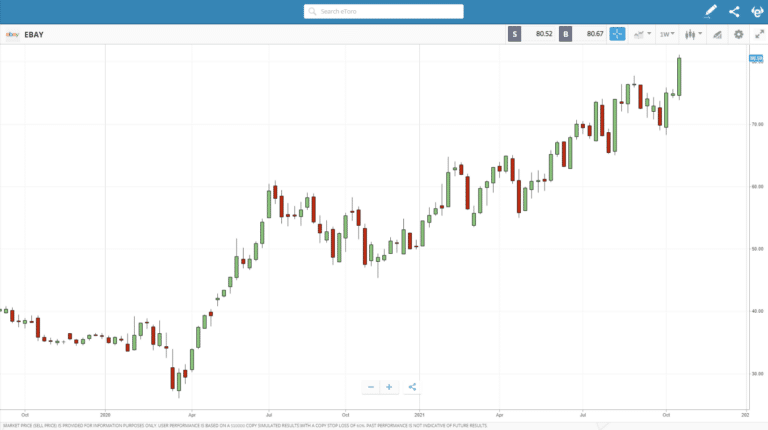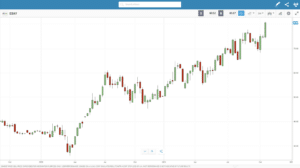 It's clear to see the recent surge higher in the NFT stocks price. The combination of people buying online over the pandemic and the announcement of NFT sales has made eBay one of the best NFT stocks available. 
2. Coinbase – World's Largest Crypto Exchange Launching an NFT Marketplace
Coinbase is one of the world's largest cryptocurrency exchanges. The company recently announced plans to launch a marketplace that will allow users to mint, trade and collect non-fungible tokens. Currently, they are gathering interest by making users sign up to a waitlist.
The core aspect of Coinbase's business model is the exchange fees it gathers when users buy and sell cryptocurrencies. The launch of Coinbase NFTs could be a good way to build another revenue stream which is something investors would like to see with any company.
Some critics believe there is a lot of competition in the field. For example, early Coinbase investor Andreessen Horowitz is also backing NFT marketplaces like OpenSea, Binance and Gemini.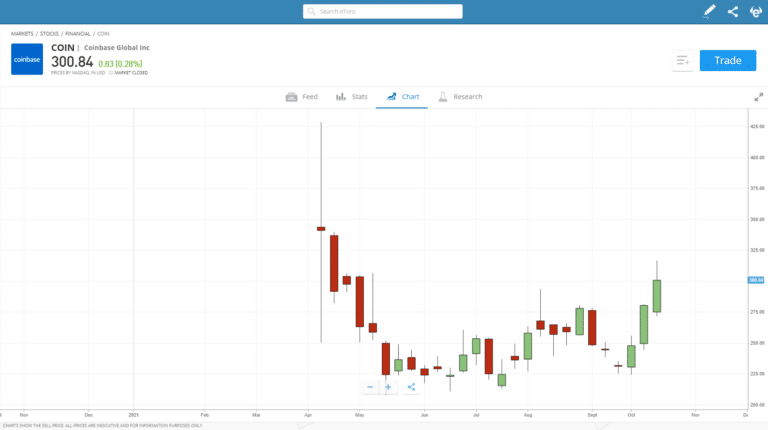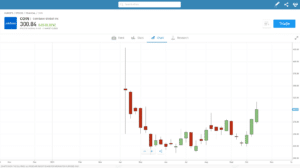 The chart above shows how Coinbase's share price has performed in the stock market since its IPO (initial public offering) in April 2021. After a significant dip in price after the IPO, the share price has stabilised. 
Another boom in crypto prices could help lift the NFT stocks price higher, as will new ventures to build additional revenue streams. This could be in the form of NFTs or the recent announcement that Coinbase will act as a custody partner to Facebook's new cryptocurrency. 
Either way, Coinbase has to make it to one of the best NFT stocks list. 
3. DraftKings – NFT Marketplace for Sport & Athlete NFTs
DraftKings is one of the biggest names in sports betting and fantasy sports contests. The company recently launched an NFT marketplace for sport and athlete related NFTs. The marketplace allows users to buy and sell digital collectable items such as athlete player cards, game clips and more.  
Currently, the DraftKings NFT marketplace is selling NFTs from well-known athletes such as Tom Brady and Wayne Gretzky. The traditional method of collecting player cards has a clear path to transition towards digital collectables making sport NFTs very lucrative. 
As DraftKings is one of the first operators in the sport NFT marketplace, they are well-positioned to capitalise on a boom in NFT interest and sales.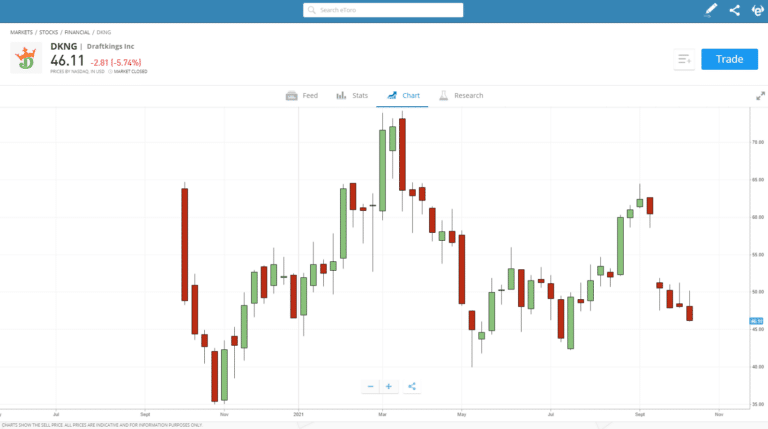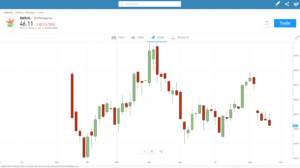 DraftKings only went public with an IPO in April 2020. The chart above shows how the company's share price has developed since then. It hasn't performed that well with the share price ranging between $70 and $35 per share. 
However, it could provide an opportunity that is more suited towards value investors rather than growth investors. Most sports games did not go ahead during the pandemic which has hurt the company's profits. 
The combination of sports games starting up again and a boom in NFT sales makes DraftKings one of the best NFT stocks to watch. 
4. Cloudflare – Providing NFT Infrastructure for Video Creators
Cloudflare is an American web infrastructure and website security company. It falls under NFT related stocks rather than being a direct play on NFTs. However, the company's Cloudflare Stream service has the attention of NFT investors. 
This is because, through the service, the company is helping video content creators who want to publish their NFTs. Creators can embed their NFT claim of ownership directly into their videos using Cloudflare Stream. 
Analysts have been intrigued by Cloudflare's journey into supporting the NFT market. The company has always been seen as an innovator in online cloud services making it an interesting NFT stock to watch.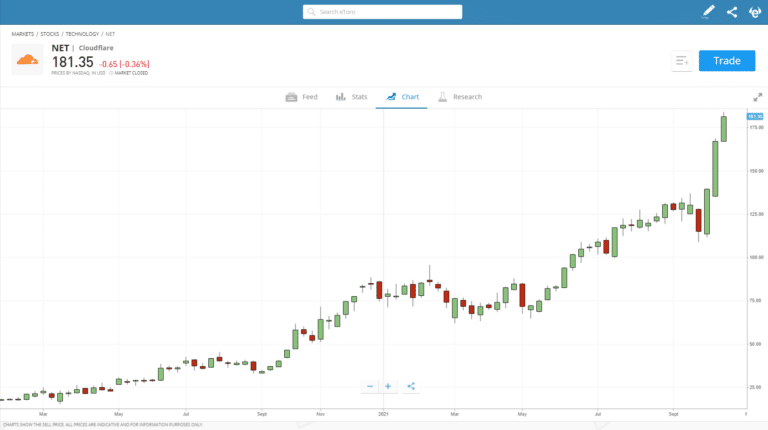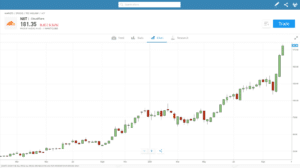 Cloudflare's long term share price has been booming over the past few years, as seen in the chart above. Not only are more businesses and consumers moving online but web security is now more important than ever. 
While not a direct NFT play, the infrastructure it provides is key to the overall sector which is why Cloudflare is another best NFT stock to keep track of. 
5. Mattel – NFT Toy & Collectibles Manufacturer 
Mattel is a children's entertainment company that designs, manufactures and markets toys and collectables. Some of its products include action figures, dolls such as Barbie, books and playsets. 
Recently, the company announced plans to move into the NFT market which gained interest from JP Morgan analysts. The plan is for the company to auction three pieces of digital art as NFTs on its Mattel Creations website. 
The auction is due to last for one week and the non-fungible tokens can be paid for in Ethereum (ETH). The classic cars for sale are from their own historical archive and include Twin Mill, Boneshaker and Deora II. A good result could lead to more NFT sales, giving the company a good edge in the NFT boom.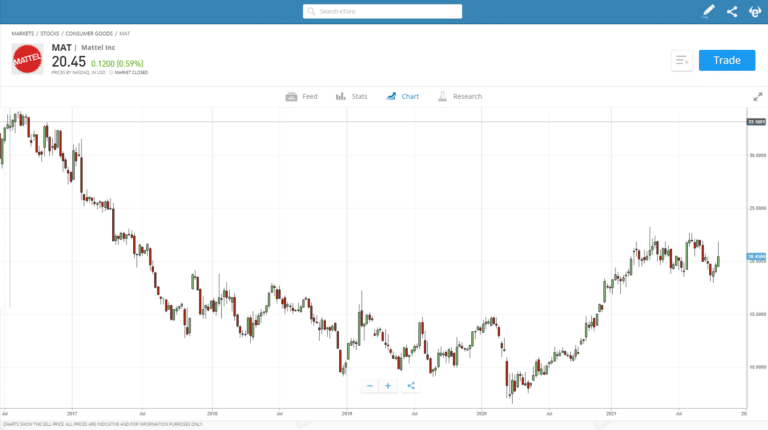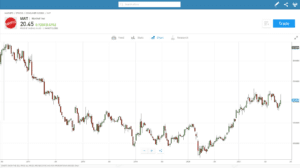 The company's share price has struggled in recent years, collapsing from $33 per share in 2017 to a low of $7 per share in 2020. However, the recent rally higher has the company's share price around $20. 
A good result from the Mattel NFT auction could be a huge boon of additional revenue for the company, potentially sending the NFT stocks price surging higher. This is why it is a stock being watched with interest from investors. 
6. Dolphin Entertainment – NFT Entertainment & Content Development Company
Dolphin Entertainment is a full-service public relations (PR) agency involved in the entertainment and content development industries. While they have traditionally focused on providing marketing services for clients they are now planning to capitalise on the boom in NFTs. 
In fact, the new Dolphine Entertainment NFT division is already involved in the design, distribution and promotion of NFTs from its current client base. In this new venture, the company also plans to partner directly with content creators to sell NFTs on the FTX crypto exchange.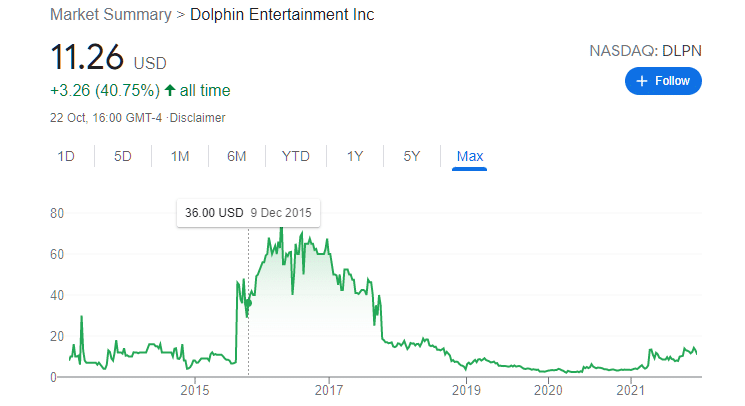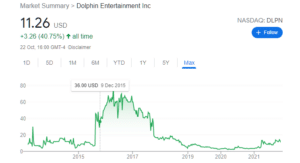 Over the long-term, Dolphin Entertainment's share price has had a rocky ride with significant declines from well before the pandemic. However, the management board are continuing to innovate and are trying to cash in on the NFT craze. 
It's definitely one of the best NFT stocks to watch, especially if more of its clients use its specialised services of creating, distributing and promoting non-fungible tokens. 
7. Funko – NFT Toy Manufacturer
Funko is an American company that manufactures pop culture collectables that have limited numbers and are licenced. Their most famous products include licenced vinyl figurines and bobbleheads. The company creates licencing agreements with media companies that own the rights to characters from movies and TV shows. 
While Funko has mainly operated in the sale of physical items, CEO Brian Mariotti believes they are well place to capitalise on non-fungible tokens as well. He plans to link physical figurines to digital figurines but has placed an emphasis on providing NFTs with rarer licences. 
However, it's worthwhile noting that all of these are just plans and that Funko hasn't yet launched any NFTs. But, value investors will enjoy the long term investment potential that Funko's share price can offer.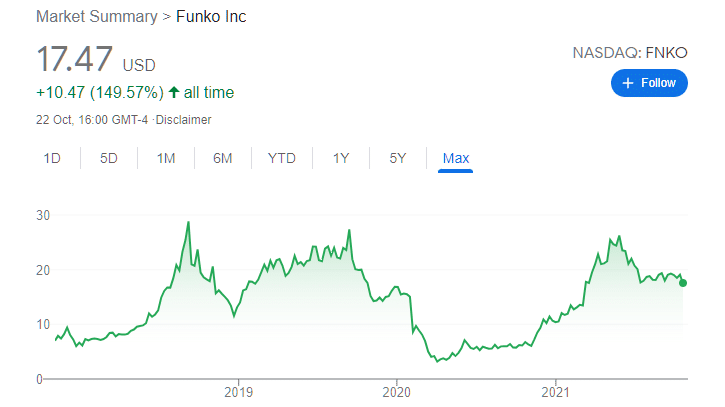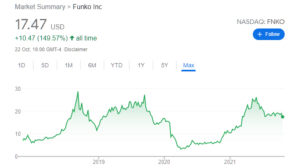 Funko's share price has been a good run higher since the start of the pandemic. However, it has so far failed to breach its multi-year high parcel of around $25. 
Entering the NFT space and creating rare NFT tokens is a unique concept that – once launched – could help Funko's share price to break through the $25 per share price level. 
8. Oriental Culture – Fine Art NFT Online Platform
Oriental Culture is an online platform based in Hong Kong that facilitates the buying and selling of fine art. As most of the NFT tokens for sale today represent a piece of digital art, it's an obvious transition for the fine art platform. 
The company provides an online marketplace and many other features such as market research, customer support, warehousing services, investor education and more. Currently, the Oriental Culture marketplace has stamps, coins, paintings and pottery work for sale. 
Investors are hoping the company will soon begin to adopt NFT sales so it is an NFT stock to watch for the future.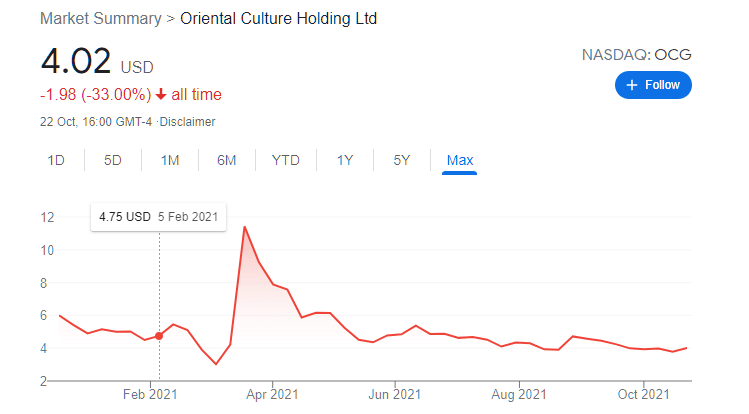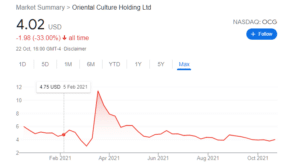 Oriental Culture Ltd trades on the NASDAQ stock exchange and is a newly formed company. There hasn't been much action on the company's share price since being formed but it is one to watch for the long term – especially on any news of transitioning towards NFT sales. 
9. ZK International – Launching a New NFT Marketplace
ZK International's subsidiary company and blockchain research and development lab xSigma announced plans to launch the xSigma NFT marketplace. This marketplace is already unique as it supports both the Ethereum network and Binance Smart Chain (BSC). 
While most marketplaces are built on the Ethereum network, xSigma has already gained a good following from the Binance community facilitating millions of transactions a day. The company is also working on a marketing strategy to bring on celebrities and athletes. 
As the division is already well known in the blockchain technology space, it is likely they have the 'know how' on how to grow the xSigma NFT marketplace. It's definitely an NFT stock to watch.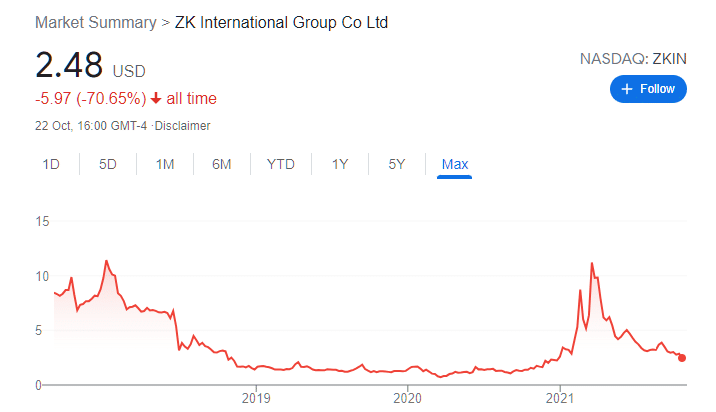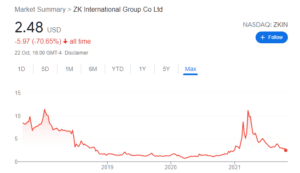 The long-term share price of ZK International received an early NFT boost on the announcement of its NFT marketplace. However, since then the price has retraced providing some interesting price levels for long term value players. 
10. Takung Art – NFT Art Trading Platform
Takung Art is another online marketplace for art. Based in Hong Kong it allows users to buy and sell fine art with a specific focus on Asian art. It also lists jewellery and precious gems for sale. 
While the company isn't yet in the NFT space, the shares rocketed more than 300% higher in just one day. Investor speculation caused the surge higher on the anticipation the company planned to get into NFT sales. 
As the company already operates an online marketplace that allows investors to buy artwork and artists to sell their pieces, it's an obvious candidate to transition into the NFT space. While still a speculative play – the company is small with a market cap of less than $100 million – it's an NFT stock to watch for the future.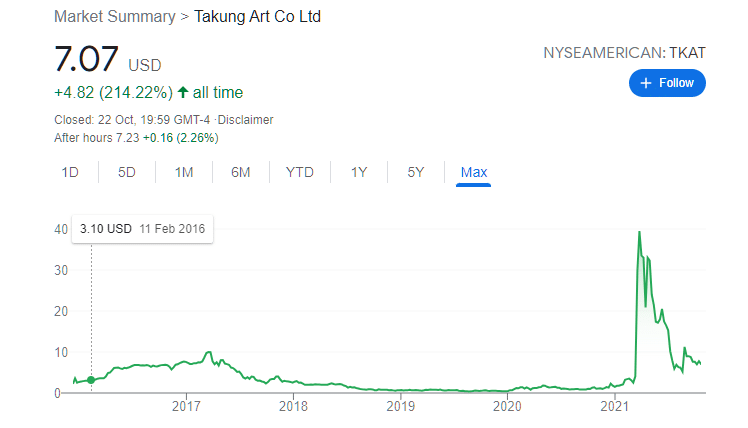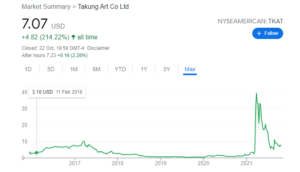 Takung Art's share price never breached through $10 per share for several years until the NFT craze sent the stock price towards $40 in under a week. While much of the price gains have since retraced, it does highlight that NFT companies stocks can exhibit huge price swings. 
What Are NFT Stocks?
NFT stocks are publicly traded companies that are either directly or indirectly involved in non-fungible tokens. The companies could be creators, distributors, promoters or facilitators to the NFT marketplace and ecosystem. 
While some investors may try to find the best NFTs to invest in, many prefer to focus on NFT stocks. Trying to find the best NFT, or piece of artwork, player card, domain name or music clip, to invest can be tricky. 
However, finding the best NFT stocks, timing and managing the investment is a lot simpler. This is because NFT stocks are publicly traded companies so you can analyse the company's financial details to make sure they are safe to invest in.
Did you know that you can leverage your NFTs via the best NFT lending platforms in the UK?  
Are NFT Stocks a Good Investment?
NFT stocks can be a good investment if you choose the right company to invest in which offers a one of a-kind solution. In the list highlighted above showing the best NFT stocks to focus on, they are all at different stages. 
Some of the companies already have NFT marketplaces in place and some are still in the planning phase. It's safer to go for a company that is already in the NFT marketplace but doesn't rely on it for its sole revenue. 
You want to make sure the NFT stock you are investing in has multiple sources of revenues – not just from the NFT space which is booming but also relatively new. Doing your due diligence and making sure you are trading with the broker can help to ensure your NFT stock investment is a good one. 
FAQs
What are some NFT stocks?
What are the best NFT stocks?