How to Buy NFT Tokens – Beginner's Guide
Fact Checked
Everything you read on our site is provided by expert writers who have many years of experience in the financial markets and have written for other top financial publications. Every piece of information here is fact-checked.
Disclosure
Please note that we are not authorised to provide any investment advice. The information on this page should be construed for information purposes only. We may earn commissions from the products mentioned on this site.
The market for non-fungible tokens or NFTs has continued to defy all odds. The best NFT tokens are being exchanged on a daily basis. Per data from Nonfungible, over $2.4 billion worth of NFTs were sold in August 2021 alone. We'll explore the ins and outs of the best NFT tokens available and how to buy NFT tokens this year.
How to Buy NFT Tokens – Quick Steps
Don't have time to read through our guide in full? If so, follow the quickfire steps outlined below to buy NFTs in less than 10 minutes!
Open an account with Coinbase – Quickly open an account with our recommended broker Coinbase.
Purchase Ethereum – Buy Ethereum commission-free.
Connect to an NFT Marketplace – Transfer your Ether coins to an NFT marketplace.
Buy NFT Tokens – Purchase your favourite NFT token.
---
Coinbase Wallet Download Process
If you want to use the Bitcoin Coinbase wallet to store your digital currencies – the setup process is as follows:
Step 1: Visit the Coinbase Website
Although the Coinbase wallet is available to download directly from the Google Play and Apple stores, we would strongly suggest that you go through the official website.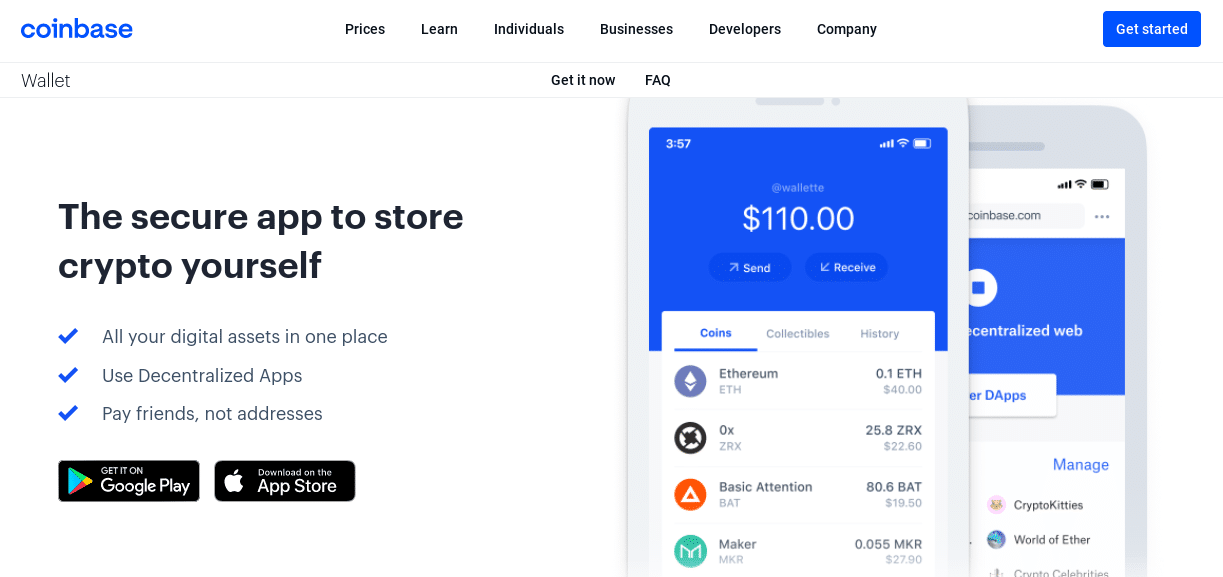 This is because you face the risk of downloading an imitation of the Coinbase wallet – and not the actual app. Once you are in the Coinbase wallet website – click on the logo for your respective operating system (iOS or Android).
Step 2: Download App
You should be redirected to the relevant app store. All you need to do now is download the app to your phone.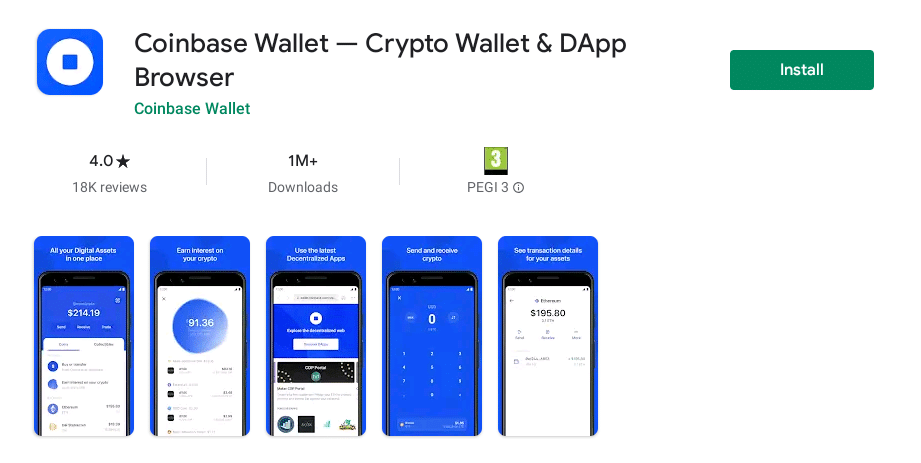 Step 3: Set Up Wallet
Now that the Coinbase wallet has been downloaded and installed onto your phone – open it up. You will then need to set the wallet up – which is a straightforward process. You don't need to provide any personal information, nor do you need to connect it to your main Coinbase account.
In fact, you don't even need an account with Coinbase to use the wallet. But, without one, you won't be able to buy or sell cryptocurrencies.
Take note, your private key on the Coinbase wallet will be in the form of a passphrase that contains 12 random words.
Step 4: Transfer Funds
Now that your Coinbase wallet has been set up and you have safely written down your private key – you can now transfer funds externally.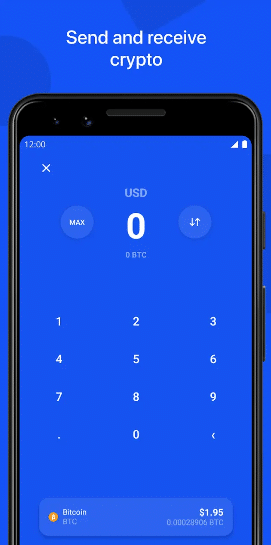 For this, you simply need to add your unique wallet address to your clipboard, head over to the wallet that the coins are stored in, and complete the transfer. Depending on the cryptocurrency you are transferring, the funds should arrive in less than 10 minutes.
What are NFT Tokens?
Memorabilia or keepsakes have been a long culture that is unique to the human species. We treasure unique moments and generally get things that represent or epitomizes those events. This is apparent in football jerseys of our favourite sportsmen, cards, and even autographed books of a favourite author.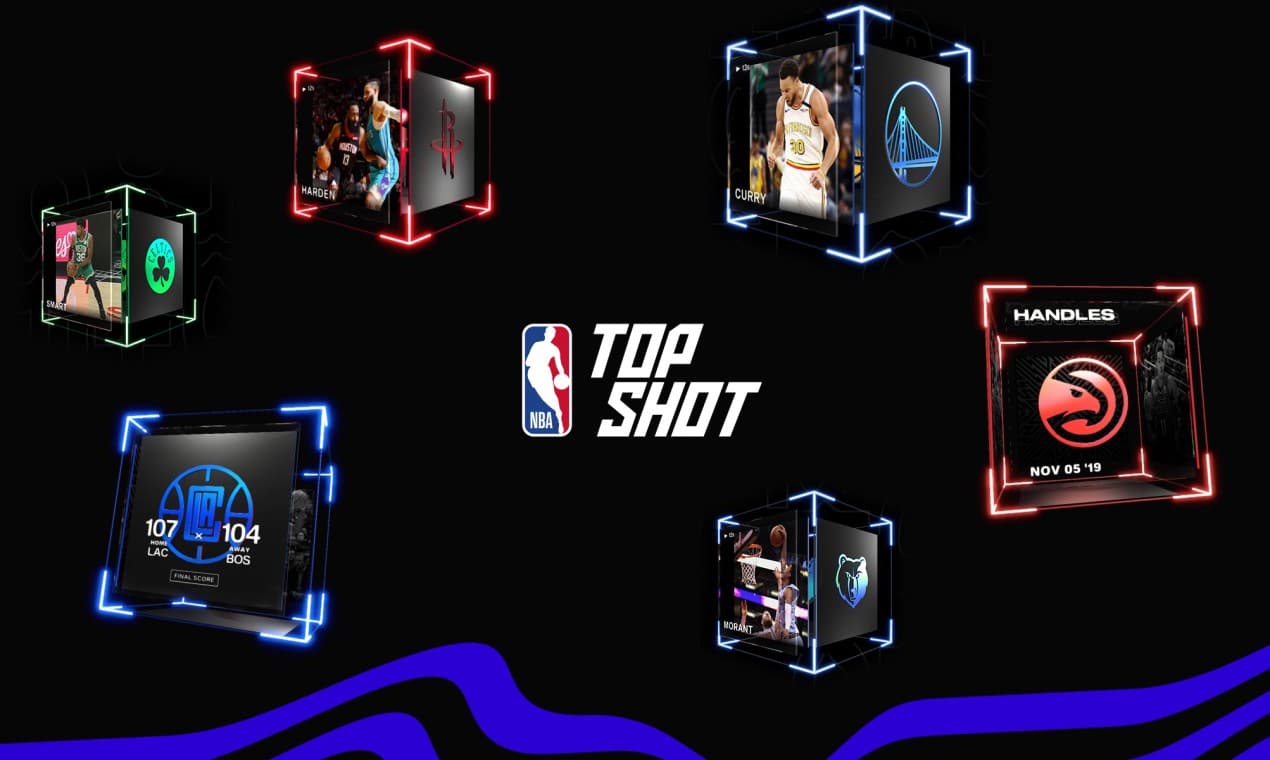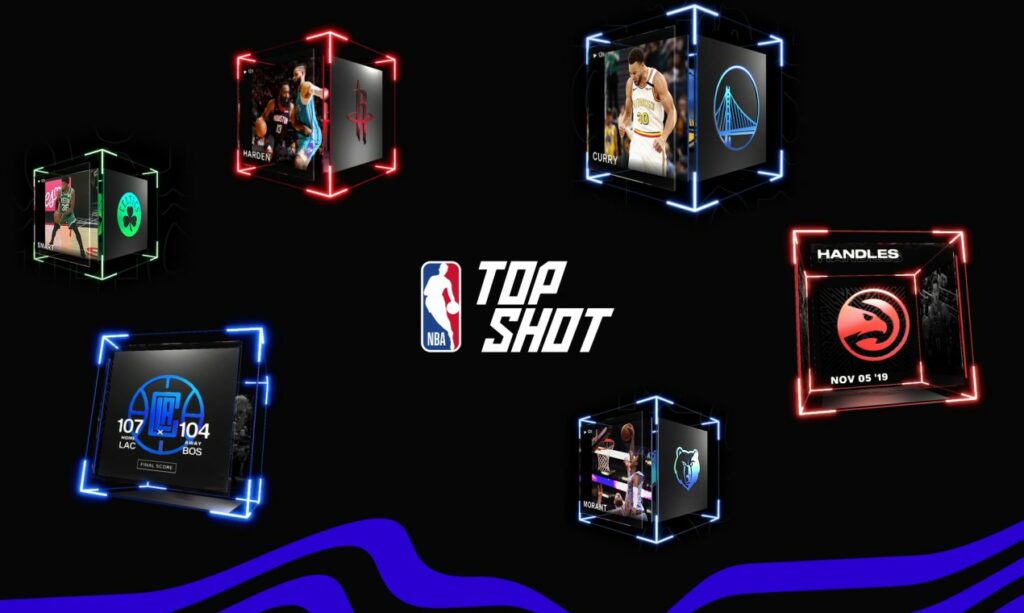 Many critics have pointed out that NFTs are just JPEGs that can be downloaded off the internet and they are right. However, the fact that it can be downloaded does not mean that it is valueless. Utilizing blockchain technology, these digital collectibles are stored immutably on the network and the original owner is noted as well. This means you may download an image but the original copy is pegged to the owner on the blockchain network and is easily verifiable. This gives NFTs uniqueness as they are not easily lost or stolen.
Aside from images, NFTs can be applied to almost any physical or real-world asset. You can tokenize your car, video, favourite card, and anything that catches your fancy. In fact, real estate properties are sold for hundreds of dollars on virtual reality platforms like Decentraland. Some NFTs representing real apartments have been sold and their owners get the privilege of exploring the space they bought.
The recent spike in NFT sales shows that the nascent sub-sector is getting more popular by the day and is a new frontier for savvy investors to make some profit.
How are NFTs Created?
To understand how to buy NFT tokens, consider buying things on eBay. NFT marketplaces function like an online auction house – you see an NFT you like, place a bid, and wait to see if your bid is the winner. Some of these sites even have options to "Buy Now." the NFTs here have a fixed price, and you can buy them immediately if you have the funds. Below, we'll walk through how to buy NFT tokens in a straightforward approach.
You Need Ether
Most of the NFT marketplaces list token prices in decimals of ETH. This means that their values can change frequently due to the volatility in the price of ETH at any time. Since the NFT marketplaces require that you buy the NFTs using ETH, you will most likely need to hold some ETH to make a purchase.
To get an NFT, we recommend buying ETH using MetaMask. This is a wallet application that interacts with the Etheruem blockchain and allows you to make seamless ETH purchases. MetaMask is available on both mobile and desktop devices. Alternatively, you can use MyEtherWallet or MEW to store your NFTs.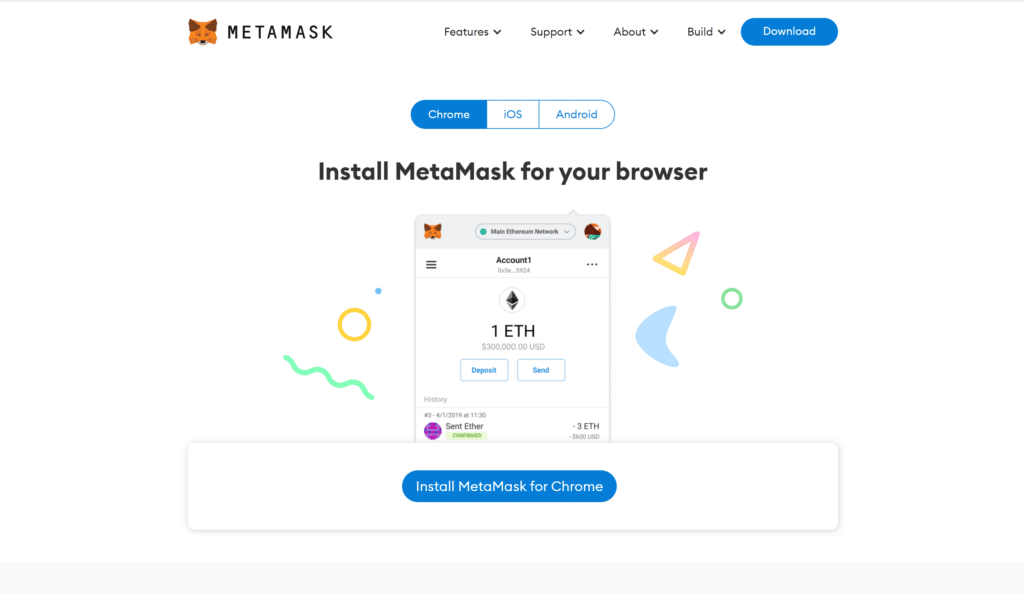 If you're using a desktop, you could get a browser extension for the app. Just make sure you don't get a scam service.
When you sign up and get your wallet address, you will need to transfer some ETH into the wallet. You can buy Ethereum directly on the platform. Just go to "Add funds" to fund your wallet, and you're ready to go. You can buy ETH with Apple Pay, bank transfer, or a debit card. Note that you will need to pay a "slippage fee." This is the difference between the expected price of a trade and the trade's execution price. Once the transaction is processed, your account balance in MetaMask will be updated in a few minutes.
---
Best NFT Tokens to Buy
The NFT mania has seen many NFT platforms shoot up in value. However, not every one of them guarantees an increase in value over time. We highlight some of the best NFT tokens to buy based on their market cap and perceived value.
1. Theta (THETA)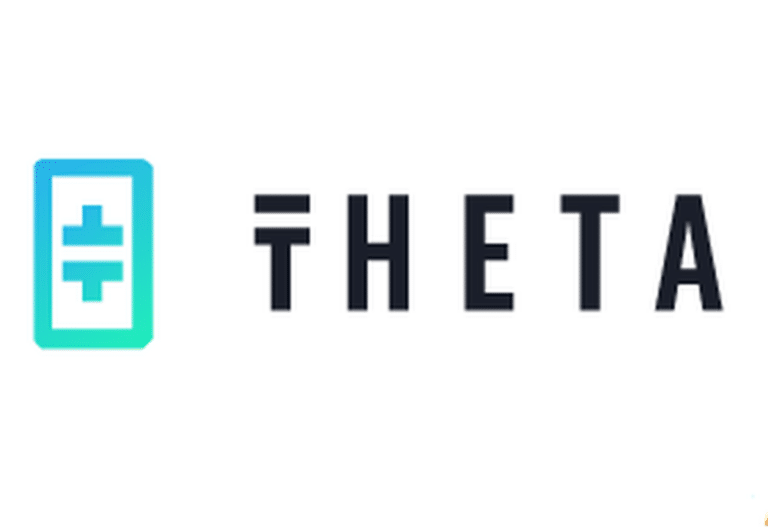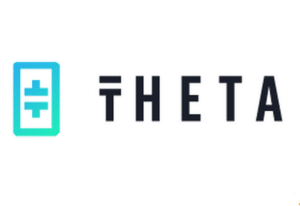 Theta is a blockchain-powered video streaming platform that seeks to address the issues surrounding video content delivery. Leveraging blockchain technology, the Theta platform enables the sharing of bandwidth and computing resources on a peer-to-peer (P2P) basis.
It is decentralized and is a top NFT platform enabling anyone to buy NFT tokens easily. According to popular crypto ranking website Coinmarketcap, the Theta blockchain is the most valuable NFT platform with over $6 billion in market value. The Theta token is currently trading at $6.91, up 3.27% in the last 24 hours.
2. Axie Infinity (AXS)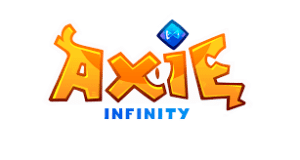 Axie Infinity is a blockchain earn-to-play game that technology firm Sky Mavis developed. The platform has become increasingly popular with its in-game characters called Axies, becoming more valuable by the day. Axie Infinity operates as a trading and battling game and allows players to collect, breed, raise, battle and trade these characters.
With NFTs picking up this year, AXS token has seen exponential growth rallying through much of the crypto winter season. It surged to a record high of $88.91 on Sept. 4 and is seeing serious adoption by the day. At press time, AXS is trading at $69.44, up 3.87% on the daily chart.
3. Tezos (XTZ)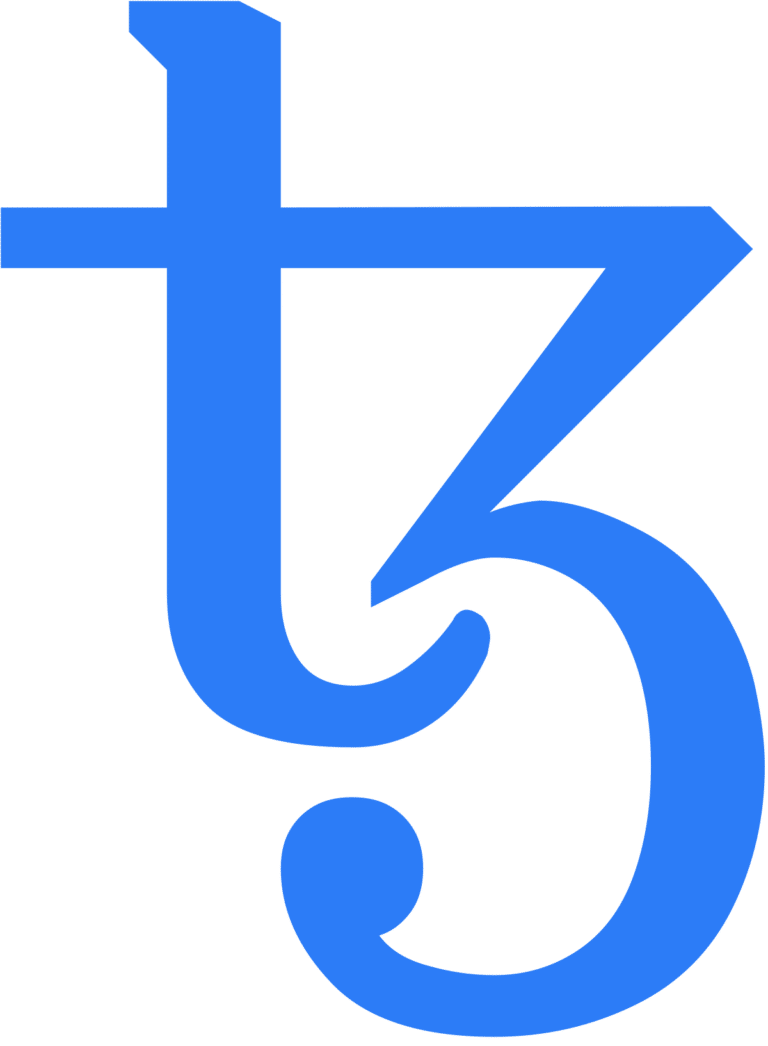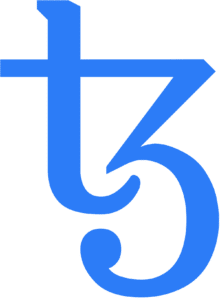 Tezos is a self-sustaining and future-proof blockchain platform that enables the development of decentralized applications (dApps). It is scalable, interoperable, and secure. The Tezos blockchain has become increasingly popular given Ethereum's use of energy-intensive proof-of-work (PoW) mining protocol and it is built to last which means there is no danger of there being a hard fork if the network wants to upgrade.
Tezos is far from its record high but it is currently trading at $5.23 and is up 21.98% from the last day close. This shows more uptrend for the NFT token platform.
4. Chiliz (CHZ)


Chiliz is our fourth best NFT tokens and is a blockchain platform that focuses on sports. Through its platform, the Chiliz blockchain enables clubs and teams to connect with sports fans through Fan Token rewards. This is done via the reward mobile app created by the blockchain platform called Socios.com.
The Chiliz blockchain has integrated with several top-flight football teams in Europe and has a presence in MMA, and esports. The blockchain is worth over $2 billion at press time. You can buy CHZ for a bargain as it currently trades at $0.3512 and is up 4.78%.
5. Decentraland (MANA)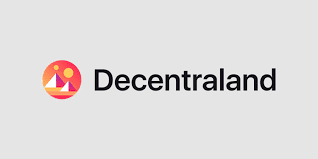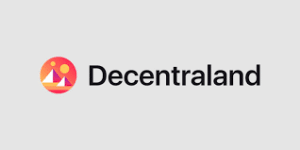 Decentraland is a virtual reality blockchain platform that enables users to create, experience, and monetize content and applications. It also sports a Metaverse where users can buy up plots of land, build and later sell them off. Decentraland is based on the Ethereum blockchain and operates with two digital assets; one being an ERC-20 token called MANA and the other an ERC-721 token called LAND.
MANA is used for network fees and general transactions while LAND represents the number of plots a user holds and is non-fungible.
Decentraland currently has a $1.5 billion market cap and the MANA token is trading at $0.8813, up 3.96% at press time.
Other NFTs to Buy
Here are some other popular NFTs you can invest in:
NFT Marketplaces
Our guide on how to buy NFT tokens will be incomplete without telling you where you can buy them. Like every other token, NFTs are available on marketplaces. These are essentially platforms that allow token creators to list their NFTs and sell them. Think of them like Amazon, but for NFTs.
Below are some of the top NFT marketplaces available:
1. OpenSea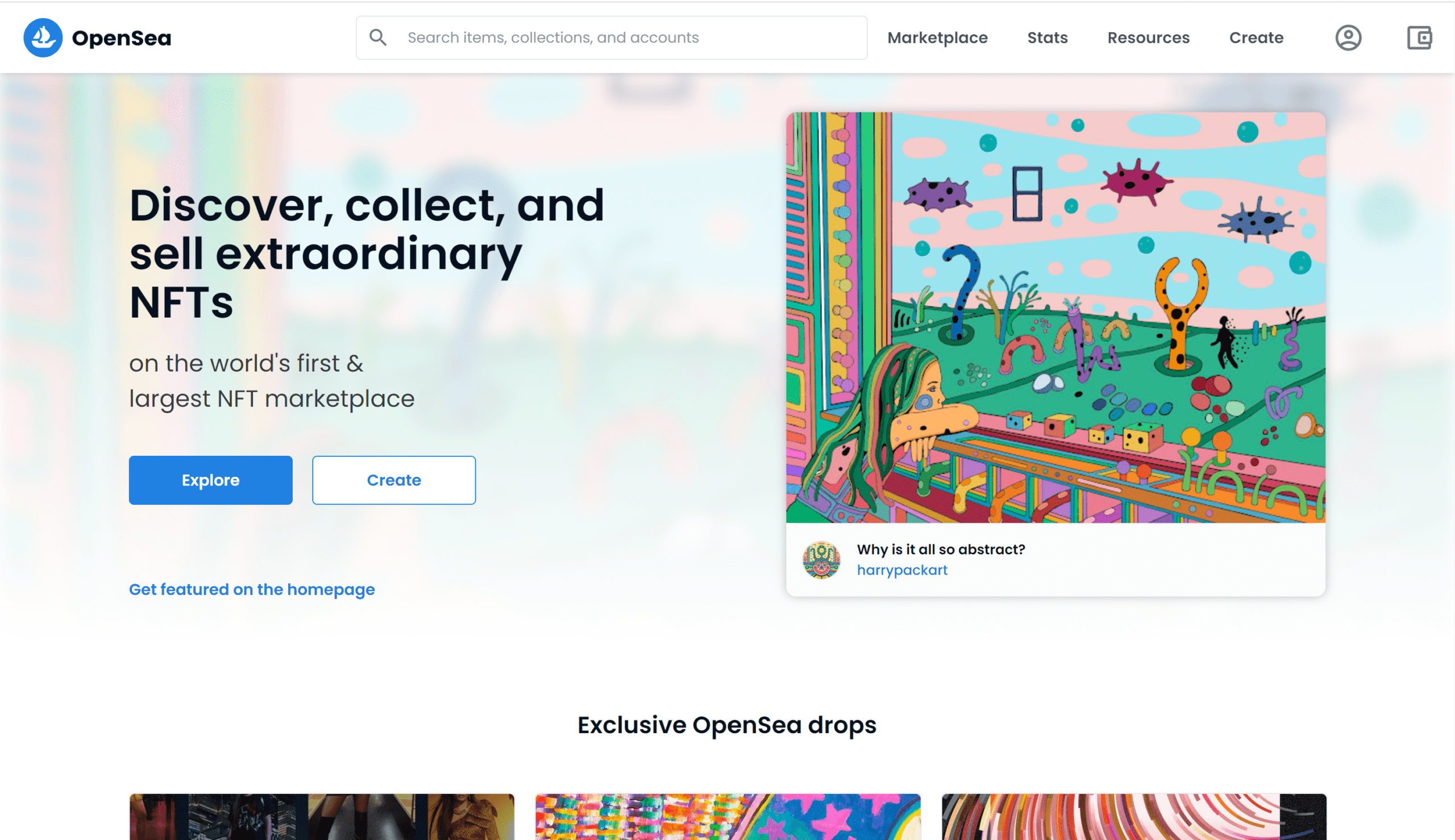 Don't invest in crypto assets unless you're prepared to lose all the money you invest.
OpenSea is the undisputed market leader when it comes to NFT apps. Even the platform knows it – its developers boldly claim that OpenSea is the largest marketplace.
With OpenSea, you get a very broad range of NFTs – including domain names, art, virtual worlds, collectibles, and much more. The service supports Ethereum and its related assets, including ERC-721 and ERC-1155 tokens. This means that digital assets like Ethereum Name Service (ENS) names, Axis, Decentraland, and more are available here.
OpenSea currently has over 700 different projects. Creators can create their items on the blockchain, thanks to OpenSeas's item minting tool. You will be able to use the tool to make a collection for free, all without having to write a single line of code. Items also sell on OpenSea differently. You can find those with fixed prices, or you could join a price list and make an auction. In August alone, OpenSea was reported to have recorded $4.3 billion in transactions – an increase of 1,000 percent from July.
2. Rarible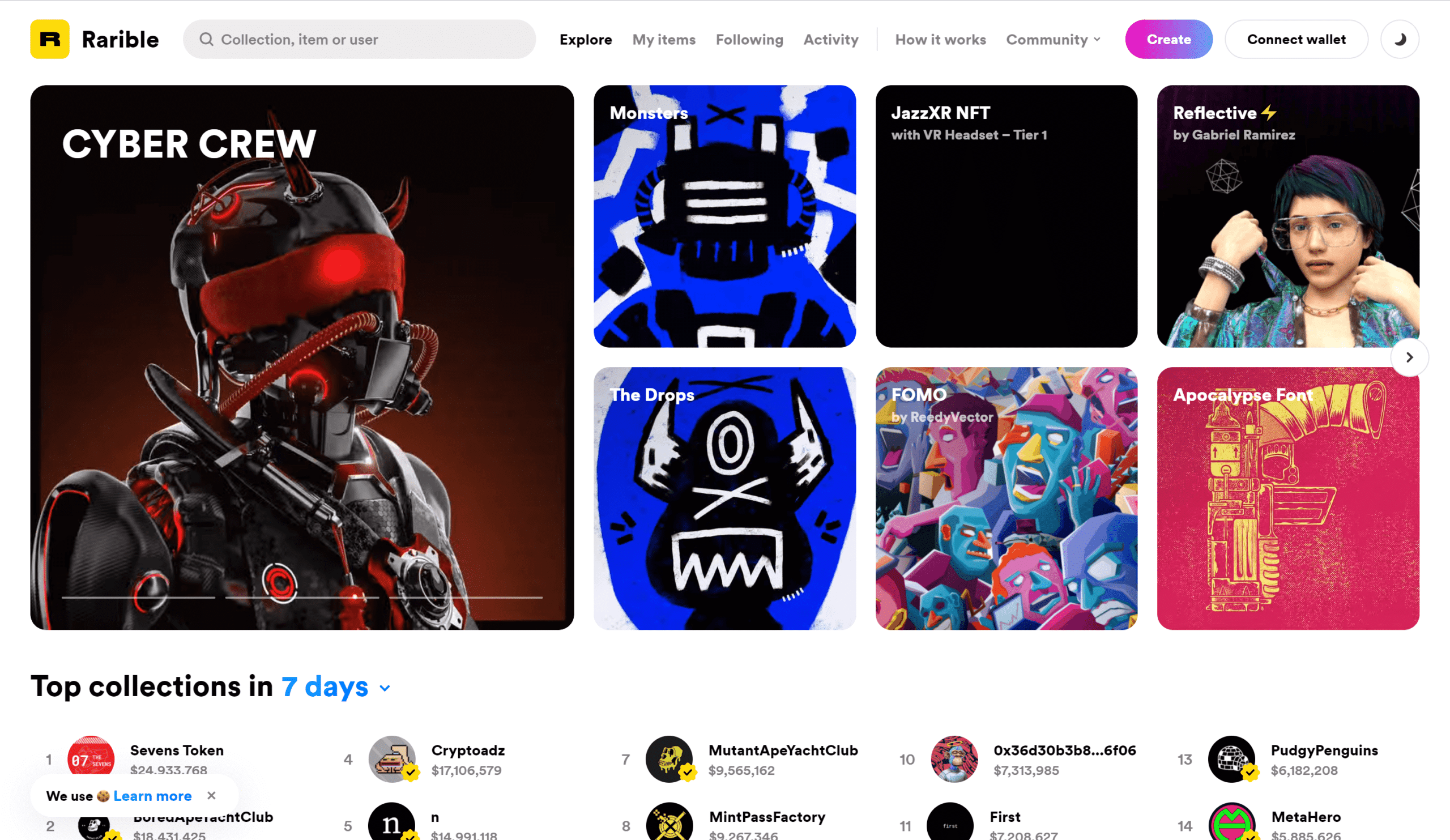 If there is any NFT marketplace that even comes close to challenging OpenSea, it's Rarible. Launched in 2020, Rarible functions as an open-source marketplace where anyone can buy, mint, and sell digital items. Item ownership is exchanged on Rarible, thanks to its underpinning Ethereum blockchain technology.
While it supports all NFT types, Rarible especially focuses on virtual collectibles and art NFTs. The platform also has a very simple minting process, which is especially attractive to creators who can't code. As it is in OpenSea, Rarible helps to reduce the barriers of entry for NFT creators.
Rarible also functions as a community-owned marketplace. It launched its token – called RARI – in July 2020, allowing holders to participate in content curation and vote on ecosystem upgrade proposals. Users who buy and sell NFTs can also get RARI as rewards. Rarible is especially popular for its lovely interface. This helps users to easily engage on the platform and for NFT lovers to find their favourite tokens easily.
The marketplace also shows top sellers of the day, so users have something to look forward to. It might not be as popular as OpenSea, but Rarible is quite impressive.
3. SuperRare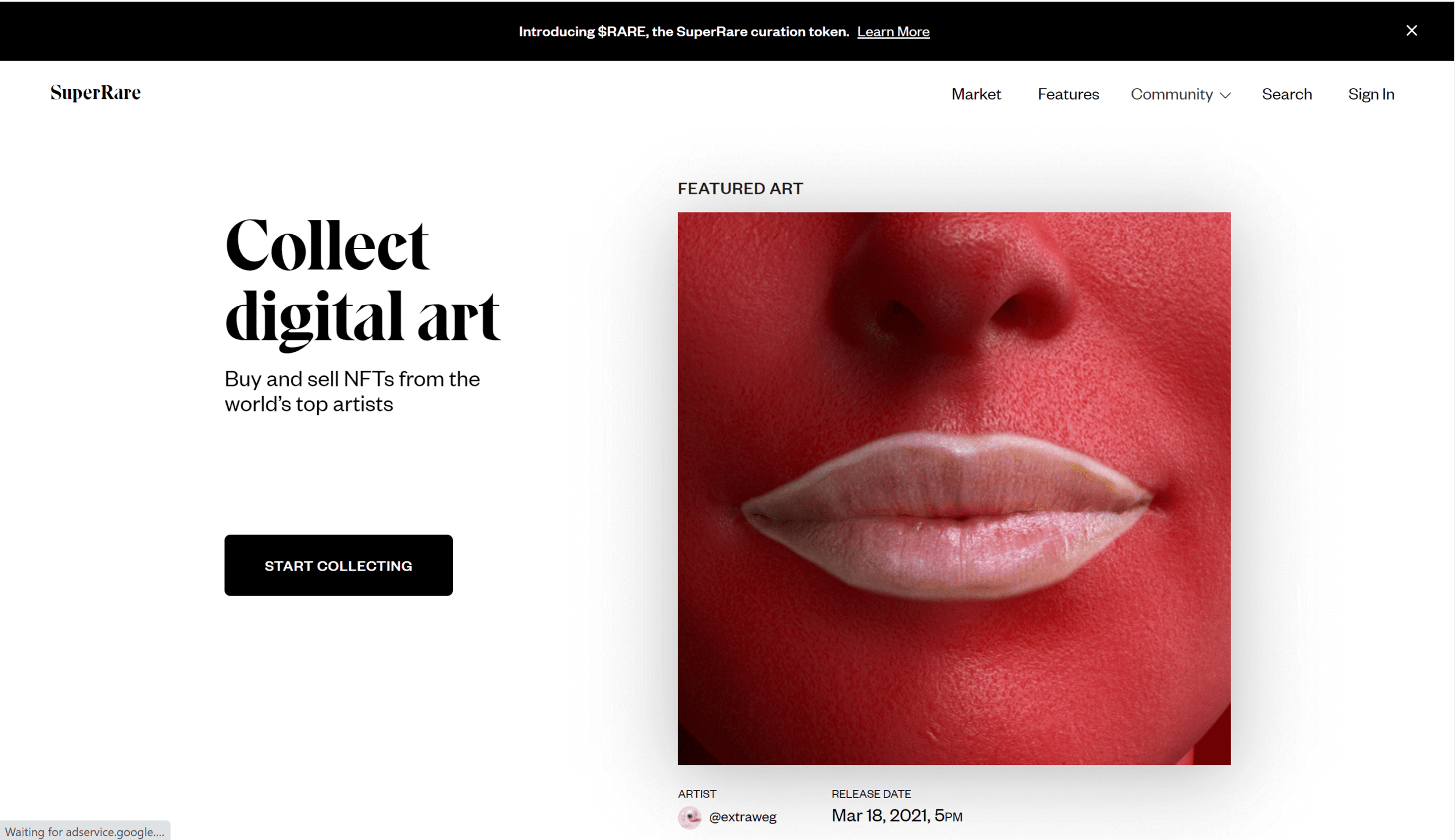 SuperRare is another impressive NFT marketplace. Launched in 2018, the platform is a great place to buy and sell single-edition digital art. The platform describes itself as "Instagram meets Christie's," allowing users to interact with art and collectibles via the internet. SuperRare has also built an engaging social network on its marketplace. You can engage with other NFT enthusiasts and view showcases from the comfort of your home.
All NFTs on SuperRare are ERC-721 tokens. The platform has a healthy mix, offering work from both popular creators and lesser-known ones. So, whether you're looking for something affordable or high-end, SuperRare has you covered. Fees on SuperRare are pegged to 3 percent of every NFT sale. As it is with most marketplaces, this one supports payment with Ether alone.
4. Foundation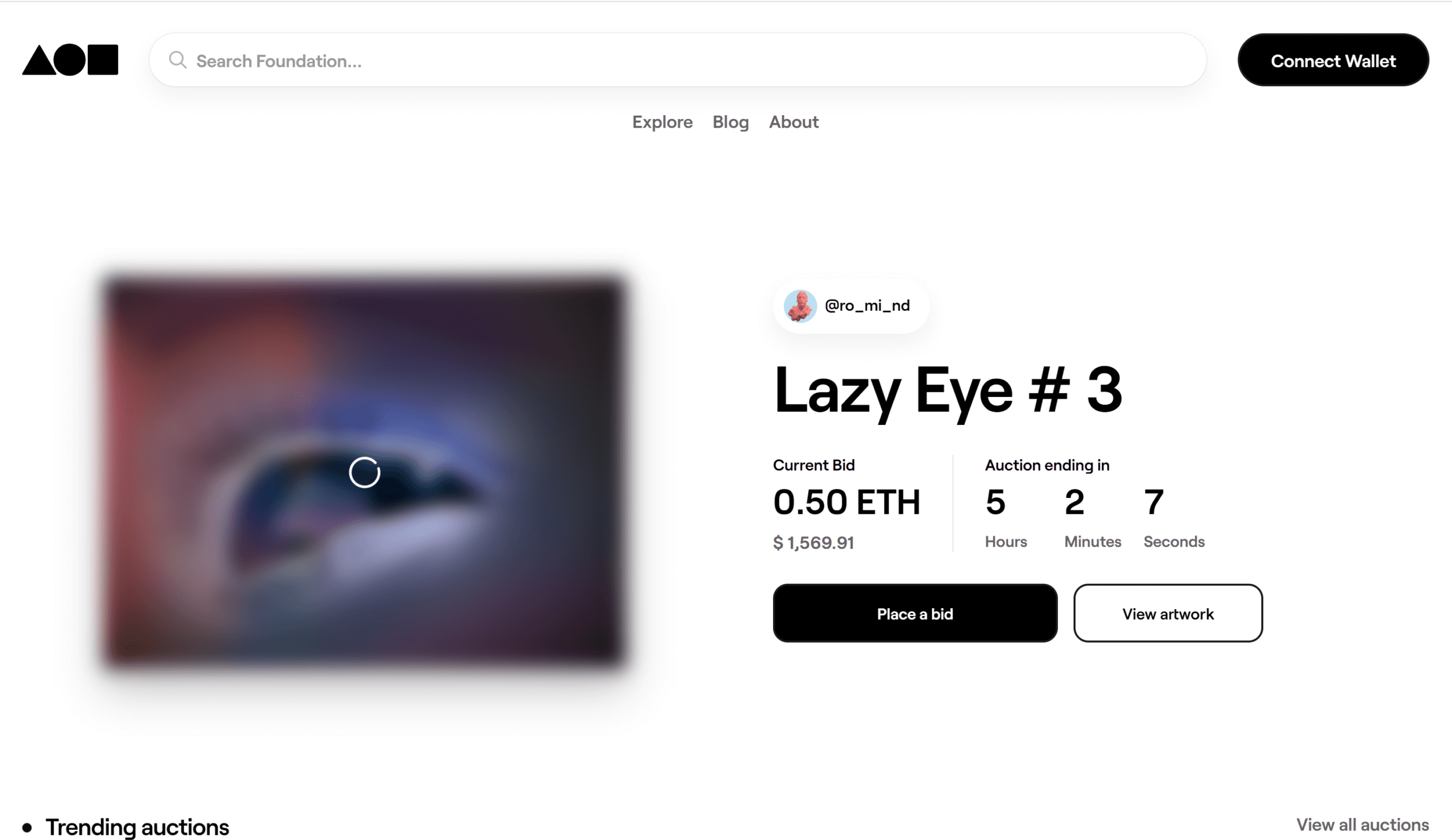 Foundation is an impressive peer-to-peer marketplace for digital art creators. Artists here create their profiles and submit them to the community for a vote. Once allowed in, they will be able to sell their work. Think of it like Upwork for digital art. Foundation's objective is to give power to creators. It is community-driven, allowing artists to tokenise their work easily and get paid.
Whenever a sale is made on Foundation, the artist receives 10 percent on the secondary transaction. This means that the artist gets 10 percent of the sales value if their buyer re-sells the NFT to someone else. Of course, that shouldn't bother you – the buyer. Foundation is easy and simple to use, and the platform's seamless interface makes it easy for you to find the best NFT tokens.
5. Nifty Gateway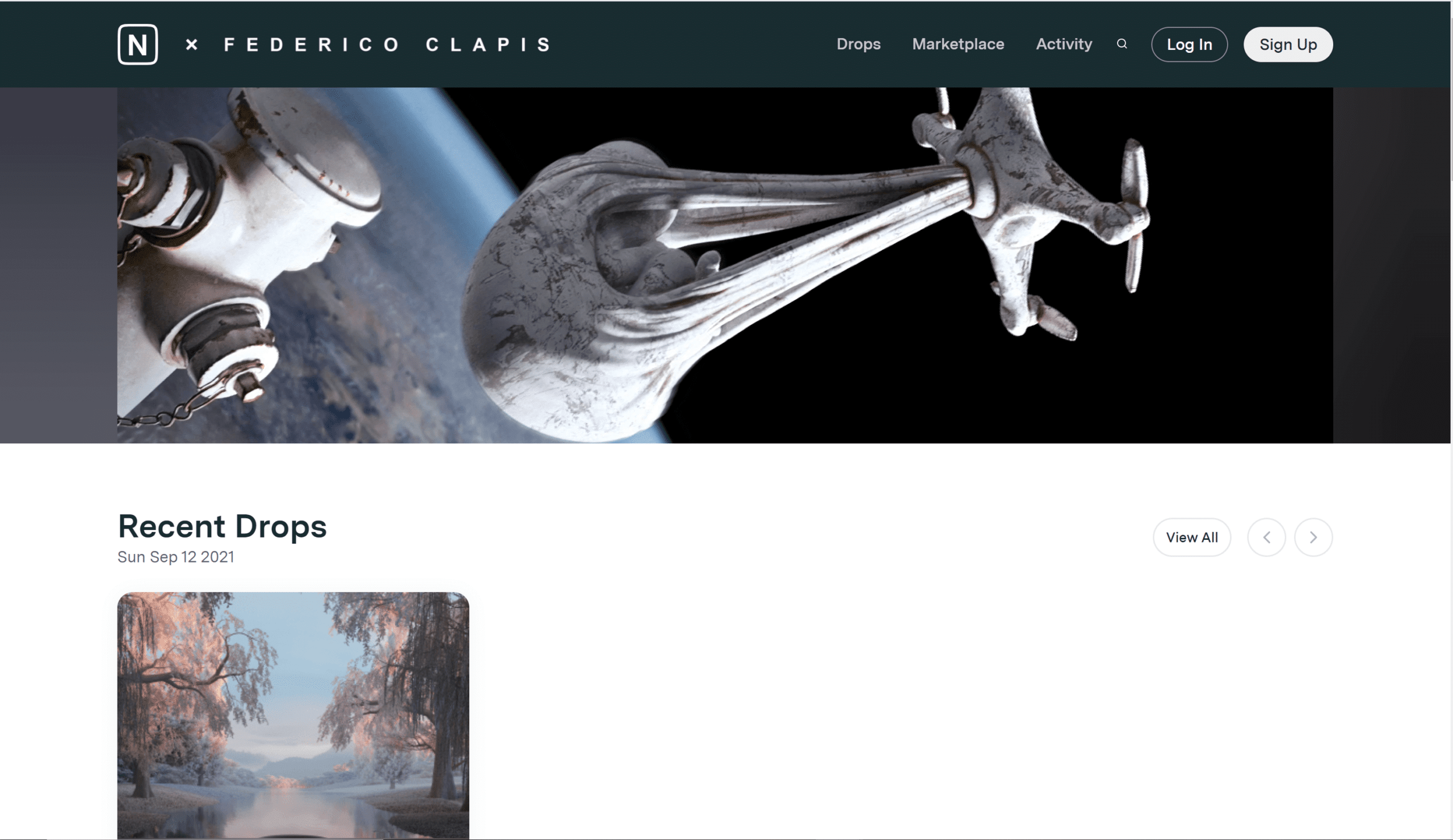 Nifty Gateway is another NFT marketplace that is starting to get a great deal of traction. It is owned by the Gemini Foundation – a crypto holding company established by the Winklevoss Twins of Facebook fame. The platform works with brands and artists to create "Nifties" – its NFTs.
Nifty Gateway functions as an exclusive marketplace for music and artwork. The platform has partnered with several top names in the entertainment industry, including rappers Lil' Yachty and Ozuna. Nifty Gateway also offers classic NFTs, with artists such as Beeple and Trevor Jobes offering exclusive work on the platform.
Collaborations have been the biggest tool in this platform's arsenal, and it has used them quite well. Nifty Gateway structures its sales around "drops" – essentially, limited NFT offerings. These tokens are available for a short period, creating a sense of FOMO that drives their prices. Once a drop ends, the Nifties can be resold through Nifty Gateway's peer-to-peer marketplace.
Are NFT Tokens a Good Investment?
NFTs and NFT stocks can be a lucrative investment – especially now when the market shows a particular interest in them. However, with every subsector in the crypto ecosystem, there are always risks if you invest in NFT.
The prospect of owning a piece of art – or music and others – is the driving force behind the NFT craze. Many popular artists have also earned sizeable sums through NFT sales, releasing tokens to their fans and reaping the monetary benefit. But you also need to be careful. NFTs face several challenges, including the technical aspect. A hack or security flaw in the NFT storage platform could lead to you losing your entire collection.
You could also have issues with reselling your NFT, whether due to a lack of interest in them or a market downturn driving the value of your collection down.
Choosing an Ethereum Wallet for Buying NFTs
Ethereum wallets are very important to NFT buyers. Regardless of where you're buying the tokens from, you will need an Etheruem wallet. This is because most NFT marketplaces run on the Ethereum blockchain. Transactions on the blockchain are settled in Ether, and you will need to connect an Ethereum wallet to the marketplace to complete your purchase.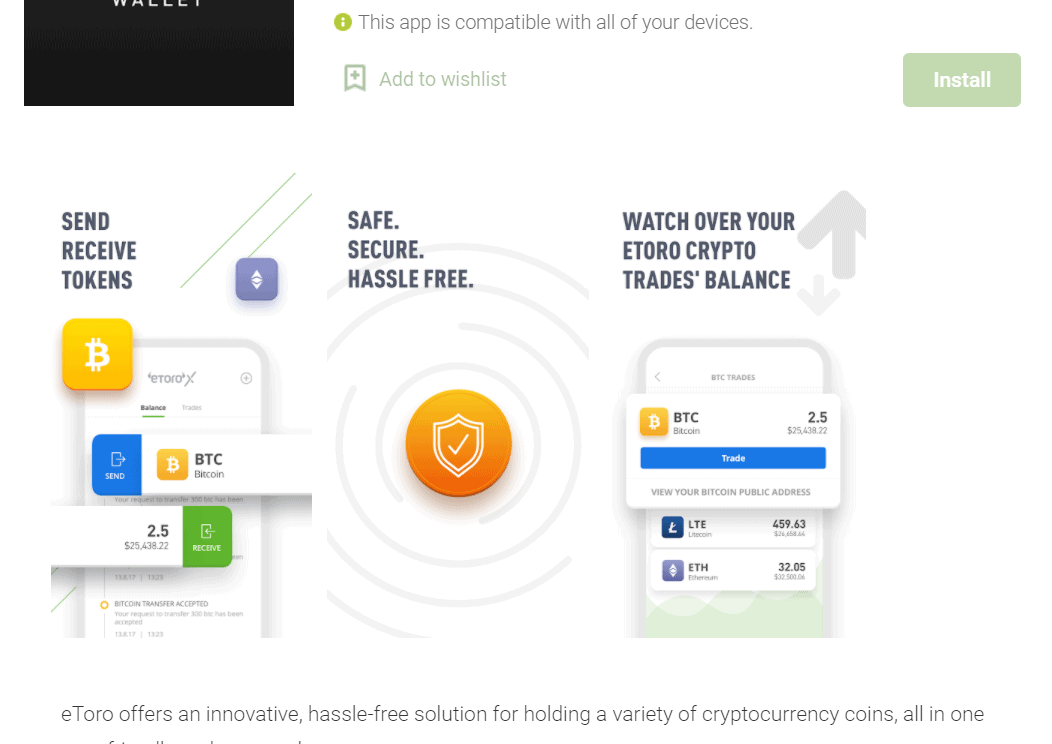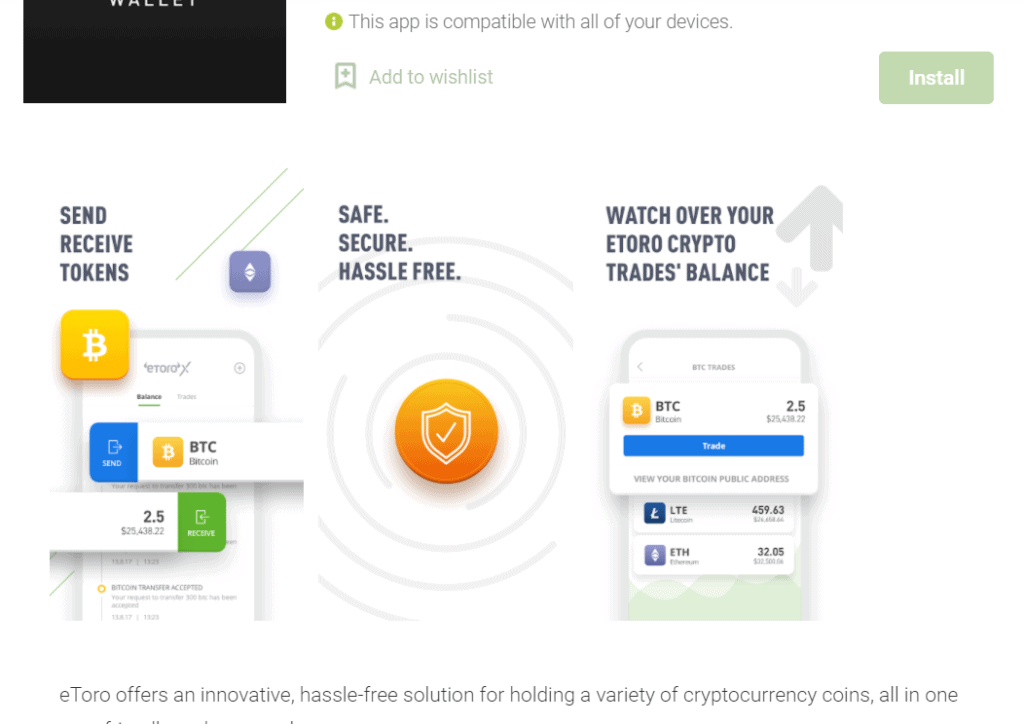 Your Ethereum wallet is also primarily the platform that helps you to store your NFT. Most NFTs are simply Ethereum-based tokens, and they will need to be stored in an Ethereum wallet. A wallet details ownership. A cryptocurrency wallet contains both a public and a private wallet. If you own the private keys to a wallet, you own all assets connected to it – including NFTs. With all that, you will need to be very careful when choosing an Ethereum wallet.
You need a platform that is safe and secure, and which offers quick transactions. Thankfully, you have Coinbase – a regulated and trustworthy platform. Coinbase offers a simple-to-use and highly effective platform where you can buy and store your Ether and NFTs. The wallet is incredibly secure, and it supports different assets in multiple languages.
It offers both a centralized and decentralized wallet to clients, as well as IOS and Android applications.
Pros & Cons of Investing in NFTs
Pros
Ownership: If you're a patron of the arts or just an enthusiast, NFTs offer a simple and quick way to get your hands on assets you love.
A great avenue for exposure: NFTs allow you to browse a whole new world of assets and own them.
Security: With NFTs, your assets are secure. Remember that this will require the use of a secure wallet like that provide by Coinbase
Liquidity: If you buy an NFT and would like to sell it later, you have different marketplaces available to you.
Immutability: Your NFT can't be tampered with when it's on the blockchain.
Cons
Speculation: Currently, it's almost impossible to gauge the value of an NFT.
Lack of control: Ownership of an NFT doesn't necessarily mean you control it. Copies could still be made online, even though you own the "original" piece
Conclusion
In general, NFTs are an exciting part of the crypto ecosystem. These tokens allow you to own your favourite physical assets from the comfort of your home. Whether you'd like to hold the asset or keep it in the short term, NFTs are a great avenue to go through.
At the same time, you need to ensure that you have the right infrastructure to hold and store an NFT. We recommend purchasing your Ether and storing your NFT tokens on the Coinbase wallet to keep your tokens safe.
Don't invest in crypto assets unless you're prepared to lose all the money you invest.
Frequently Asked Questions on NFTs
What are the best NFT tokens?
How do you buy NFT tokens?
Where can I buy NFT art tokens?
How do I invest in NFT tokens?
Are NFT tokens a good investment?