There is often a misconception that you are unable to buy Bitcoin with a credit card in the UK. However, this couldn't be further from the truth. As long the online broker in question is regulated by the FCA – then it's all systems go.
In this guide, we discuss the easiest, safest, and most cost-effective way to buy Bitcoin with a credit card. On top of reviewing the best platforms to complete the investment with, we also walk you through the purchase process step-by-step.
Cryptoassets are highly volatile unregulated investment products. No EU investor protection.
How to Buy Bitcoin with Credit Card Instantly – Step by Step Guide 2022
If you've got your heart set on buying Bitcoin with a UK credit card right now – the five steps outlined below show you what you need to do. In fact, the process at eToro not only takes 10 minutes – but the platform allows you to buy Bitcoin commission-free.
Here are the steps that you need to follow to buy Bitcoin with a credit card right now!
Step 1: Open a Brokerage Account at eToro
In order to buy Bitcoin with a credit card at a regulated brokerage site like eToro, you will first need to go through a simple account registration process.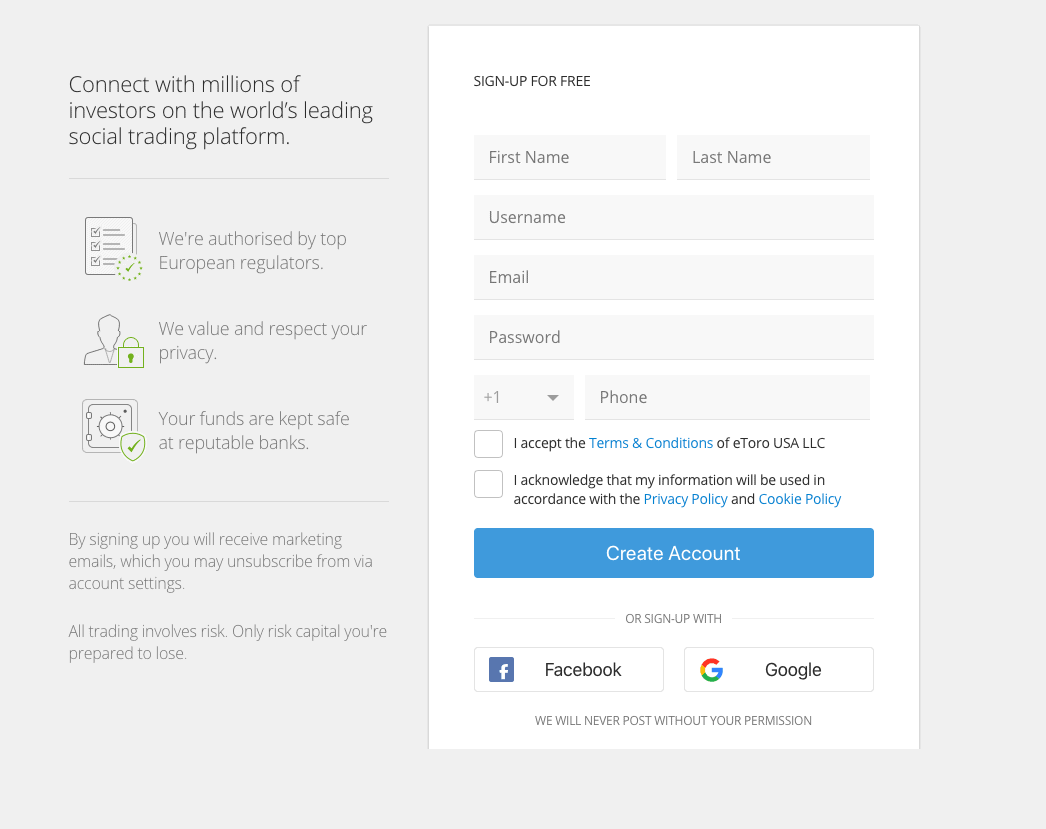 Cryptoassets are highly volatile unregulated investment products. No EU investor protection.
Upon clicking on the 'Join Now' button, eToro will need to collect some personal information from you.
This includes:
Full Name
Home Address
Date of Birth
National Insurance Number
Email Address
Mobile Number
You will also need to verify your mobile phone number by entering the unique code that eToro sends via SMS.
Step 2: Upload ID
eToro is able to facilitate Bitcoin investments via credit card purchases because it is authorized and regulated by the FCA. As a result of this, eToro is required to verify your identity.
The two documents that you need to upload are:
Government-issued ID, such as your passport or driver's license
Proof of address, such as a utility bill or bank account statement
The good news is that eToro is able to verify your documents automatically. If, however, you don't have access to the above documents right now, you can still proceed to make a deposit with a credit card.
However, you won't be able to deposit more than $2,250 or make a withdrawal until you are verified. This is why we think it's worth quickly doing it now.
Step 3: Deposit Funds With Credit Card
As soon as you have opened your eToro account, you can then make a deposit. The minimum that you can add to your account is $200 – or about £160.
You will be presented with a wide selection of supported payment methods, so make sure that you click on the 'Debit/Credit Card' option.
Then, the process works much like any other online purchase. That is to say, you simply need to enter the following credit card credentials:
The 16-digit number found on the front of the credit card
The expiry date of the credit card
The 3-digit CVV number found on the back of the credit card
In terms of credit card issuers, eToro supports Visa, MasterCard, Maestro, and Diners Club.
Note: eToro charges a 0.5% exchange rate fee on all non-UK deposits. 
Step 4: Buy Bitcoin
As soon as your credit card deposit is processed – which is instant at eToro, you can proceed to buy Bitcoin. The easiest way to do this is to enter 'BITCOIN' into the search box at the top of the screen.
When you see the BTC logo load up like the screenshot below, click on the blue 'Trade' button.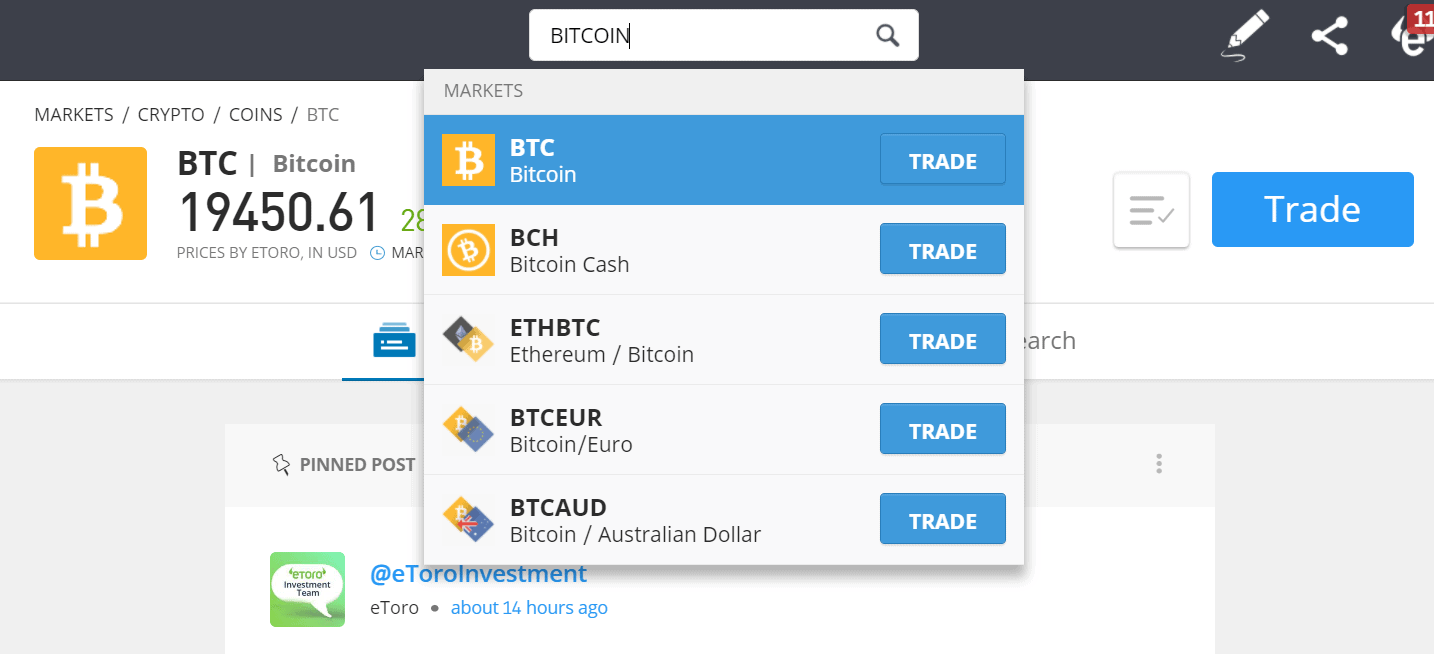 In doing so, you will then see a 'Buy BTC' order form. The only thing that you need to do here is to enter the size of your Bitcoin purchase into the 'Amount' box.
As you can see from the below, this needs to speculate in USD. The minimum investment is $25 – so you can enter any amount above this figure.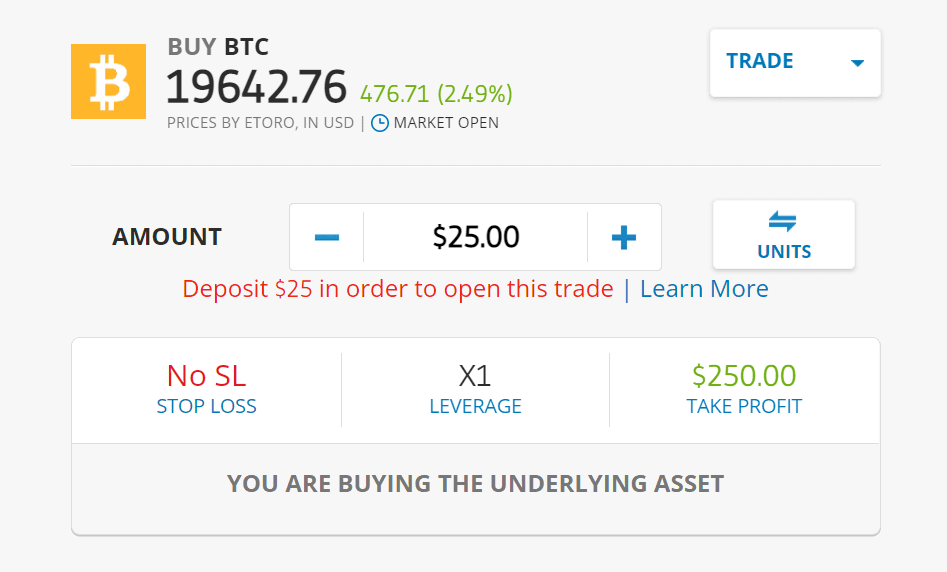 To complete the Bitcoin purchase, click on the 'Open Trade' button.
Cryptoassets are highly volatile unregulated investment products. No EU investor protection.
Benefits of Buying with Credit Card
There are several pros and cons of buying Bitcoin with a credit card. To ensure this payment method is right for you, we are going to discuss these points in more detail.
Let's start with the benefits.
The Fastest way to buy Bitcoin
As is the case with any other online purchase, if you buy Bitcoin with a credit card you will benefit from an instantly processed transaction. This is in stark contrast to performing a bank account transfer.
Even if your bank is partnered with the Faster Payment Network – it usually takes online brokers 3-7 days to process the funds.
After all, the broker is likely to have thousands, if not millions of clients under its books – so the transaction needs to validated before it can be credited.
As you might know, Bitcoin operates in a super fast-paced environment, so bank wire is only going to delay proceedings. All in all, if you want to buy Bitcoin right now, a credit card can facilitate the process in minutes.
Credit Card Payment Protection
A lot of people in the UK are unaware that credit card providers offer greater protections against fraud in comparison to debit cards. Put simply, Section 75 of the Consumer Credit Act covers all purchases between £100 and £30,000.

As a result, if your credit card was used fraudulently, the provider is legally required to cover the transaction. On the contrary, debit card transactions are not covered by the aforementioned Section 75, meaning that the risks of misuse are slightly higher.
Payments are Encrypted
Leading on from the above section, an additional layer of security is added to credit card deposits via encryption. We can't speak for all online cryptocurrency brokers, but eToro encrypts all payment information. This means that the platform never actually sees the numbers that you type in when you make the credit card deposit.
Cashback and Rewards
An additional benefit that UK consumers often forget about is that some credit cards come with generous rewards. For example, every time you make a purchase with your card, you might get a certain amount of cashback.
In other cases, you might get points that can later be redeemed for rewards. Either way, you should contact your credit card provider to see if online brokerage deposits are eligible for this. If they are, this is a great way to gain exposure to Bitcoin.
Easy Withdrawals 
When you invest in Bitcoin – cashing out can be easy or difficult depending on the method you use. Regarding the latter, some prefer to buy Bitcoin and then withdraw the coins to a private wallet.
Then, when it comes to cashing out, they first need to transfer the Bitcoin back to a third-party crypto exchange. After converting Bitcoin back to cash, they then need to withdraw the funds via bank wire. As you can imagine, this is not only a cumbersome way of investing in Bitcoin but is often the most costly, too.
This process is in stark contrast to investing in Bitcoin at eToro via a credit card purchase. This is because the coins remain in your eToro portfolio until you decide to cash out.
When you do, the funds will be sent back to the same credit card that you used to make a deposit. As such, there is no requirement to worry about private wallets or bank wire transfers!
Buy Bitcoin on Credit 
This particular point is both a benefit and a risk. Put simply, by using a credit card to buy Bitcoin, you are effectively investing with borrowed funds. Although you need to tread with caution, this does allow you to gain exposure to the Bitcoin market even if you don't have access to readily available cash.
In fact, your card provider will allow you to deposit right up to your agreed credit limit. In theory, as long as Bitcoin increases in value by more you pay in interest, then the process is financially viable. This particular is particularly appealing to those seeking leverage, too.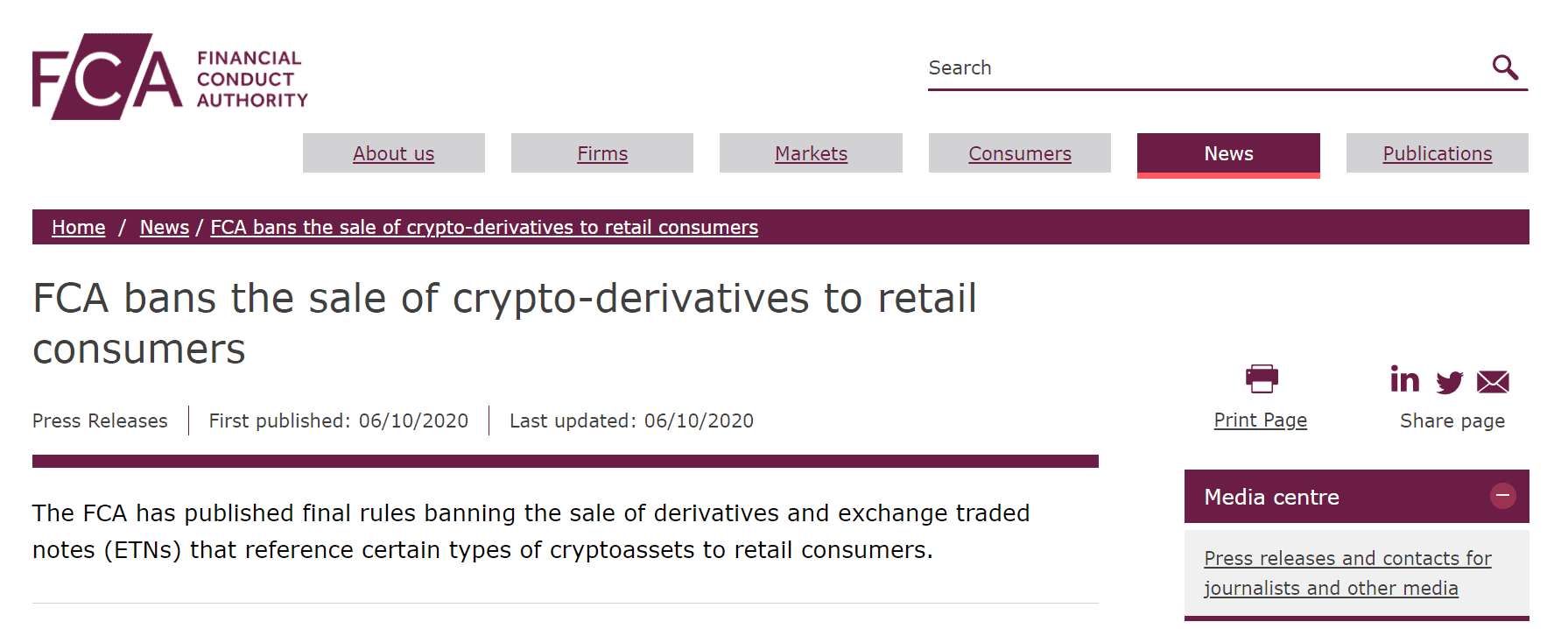 This is because as of January 2021 – the FCA prohibits UK retail clients from trading cryptocurrency CFDs. Before, these complex financial instruments allowed you to trade Bitcoin with twice the amount that you had in your CFD broker account. As such, a credit card deposit is potentially a back-door way of obtaining leverage on Bitcoin.
Drawbacks of Buying Bitcoin With Credit Card
We want our readers to make informed financial decisions – so it makes sense that we also cover the drawbacks of buying Bitcoin with a credit card.
The main risks that you need to consider are listed below:
Cash Advance Fee
This particular drawback is not a certainty, as not all credit card providers have such a policy in place. Nevertheless, it should be noted that online broker deposits are sometimes classed as a 'Cash Advance' by the provider. So what does this mean?

Well, cash advance payments typically refer to ATM withdrawals that are made with your credit card. When you do this, a cash advance fee of between 3% and 5% is usually incurred. Furthermore, unlike standard purchases, the interest on cash advance payments kicks in from day one.
If your credit card provider does associate your brokerage deposit as a cash advance – as it does with gambling-related transactions, then this is going to add an extra 3-5% on your investment costs. In other words, if you need to pay 3%, then you need to see Bitcoin increase by at least this value just to break even.
You Might Need to Pay Interest
Even if you are able to buy Bitcoin with your credit card without it being classed as a cash advance, you still need to factor in the impact of interest. After all, credit card companies are in the business of making money – which they do when interest is paid on top of what you borrow.
Now, there are a couple of things to note about the potentiality of payable interest on your Bitcoin purchase. Firstly, if it is not considered a cash advance payment, then the interest won't kick in until the end of the statement month. As such, as long as you clear the Bitcoin investment amount in full, you won't pay any interest.
Secondly, some credit card providers offer a generous interest-free period on purchases (sometimes up to 2-3 years). If your provider offers this, then this will give you a decent amount of time to repay the balance in full and thus – avoid interest.
Negative Equity is a Real Possibility
Negative equity is a term aligned with the property game. That is to say, you enter negative equity when the valuer of your home is less than what you owe to your mortgage provider.
However, you can also enter into negative equity when you buy Bitcoin with a credit card.
This will happen if the value of your investment goes down – meaning that your outstanding balance is higher than what your Bitcoin purchase is worth.
For example:
Let's suppose that you buy £3,000 worth of Bitcoin with your credit card
At the time of the purchase, Bitcoin is worth £15,000
A few weeks later, Bitcoin capitulates – declining to just £9,000
This means that your £3,000 Bitcoin investment is worth 40% less – down to £1,800
You receive your monthly statement from the credit card company for the £3,000 Bitcoin purchase
As you can see from the above, at the end of the month you receive the statement for your £3,000 purchase. However, your Bitcoin investment is now worth just £1,800. This means that even if you sold your Bitcoin you wouldn't be able to cover the payment. This can then spiral out of control once the interest kicks in.
Bitcoin Credit Card Regulation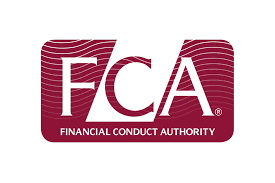 Buying Bitcoin with a credit card in the UK is somewhat confusing from a regulatory standpoint. First and foremost, the FCA is clear in its guidance that online platforms can sell Bitcoin to UK consumers via a credit card purchase.
But, the platform in question must be authorized and regulated by the FCA – like eToro is. As such, the actual process of buying Bitcoin with a credit card is legal in the UK.
However, the main barrier that you might face is that some credit card issuers do not allow you to make cryptocurrency purchases – even if the platform is FCA-regulated. This is from a risk management perspective, insofar that some financial houses do not want their customers investing in high-risk assets.
With that being said, there is not a lot that the credit card issuer can do if you are using a standard online broker like eToro. This is because the platform offers everything from stocks and ETFs to cryptocurrencies and forex.
In other words, the card issuer can not view which assets you are buying and selling at the broker, and thus – the credit card transaction is not explicitly linked to cryptocurrencies.
However, this might not be the case if you are using a specialist cryptocurrency broker like Coinbase or Binance, as the respective card issuer can see that the platform is involved exclusively in digital assets.
KYC
Even if your credit card issuer does support Bitcoin purchases, there is no avoiding the mandatory Know-Your-Customer (KYC) process. For those unaware, this is a verification exercise that sees FCA brokers ask for identity documents.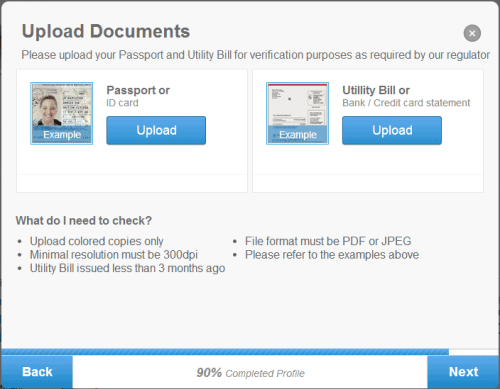 As we covered earlier, this includes a valid passport or driver's license at a minimum. However, you will also likely need to provide proof of address.
This can be a recently issued bank account statement or utility bill. Ultimately, this is to ensure that the Bitcoin broker remains complaint with the FCA and that it does not jeopardize its regulated status.
Where to Buy Bitcoin With a Credit Card in the UK
Looking for the best platform to buy Bitcoin with a credit card? If so, check out the pre-vetted list of brokers listed below.
1. eToro – Overall Best FCA Broker to Buy Bitcoin in the UK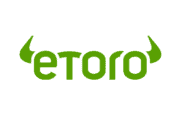 eToro is an online brokerage site that specializes in a full range of asset classes. On top of stocks, ETFs, forex, commodities, and indices – you can also buy cryptocurrencies. In fact, the platform hosts 16 different digital currencies – including Bitcoin.
The main attraction with eToro – which is now home to over 13 million loyal clients, is that the broker does not charge any commissions. This means that you can buy and sell Bitcoin fee-free. There are no monthly subscription costs or annual maintenance fees either.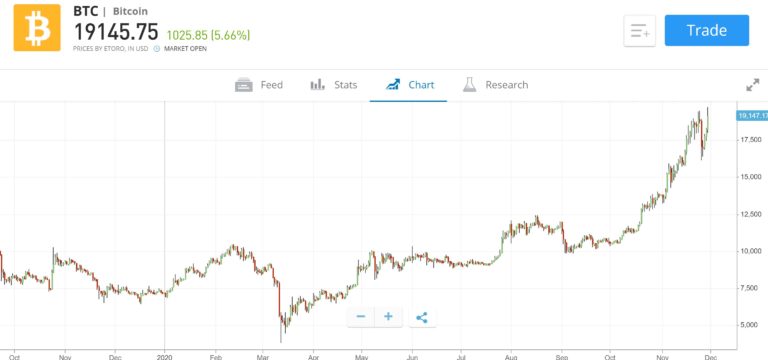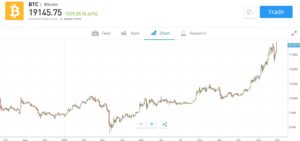 In terms of payments, eToro allows you to buy Bitcoin with a credit card with ease. In fact, it takes just a couple of minutes to register an account and upload a copy of your passport or driver's license. After that, you simply need to meet a $200 minimum deposit with your credit card.
The funds will be added to your eToro account instantly, meaning that you can buy Bitcoin straight away. On top of credit cards, you can also deposit funds with a debit card, bank account transfer, or an e-wallet like Paypal. Take note, you don't need to invest the full $200 into Bitcoin. Instead, the minimum is just $25.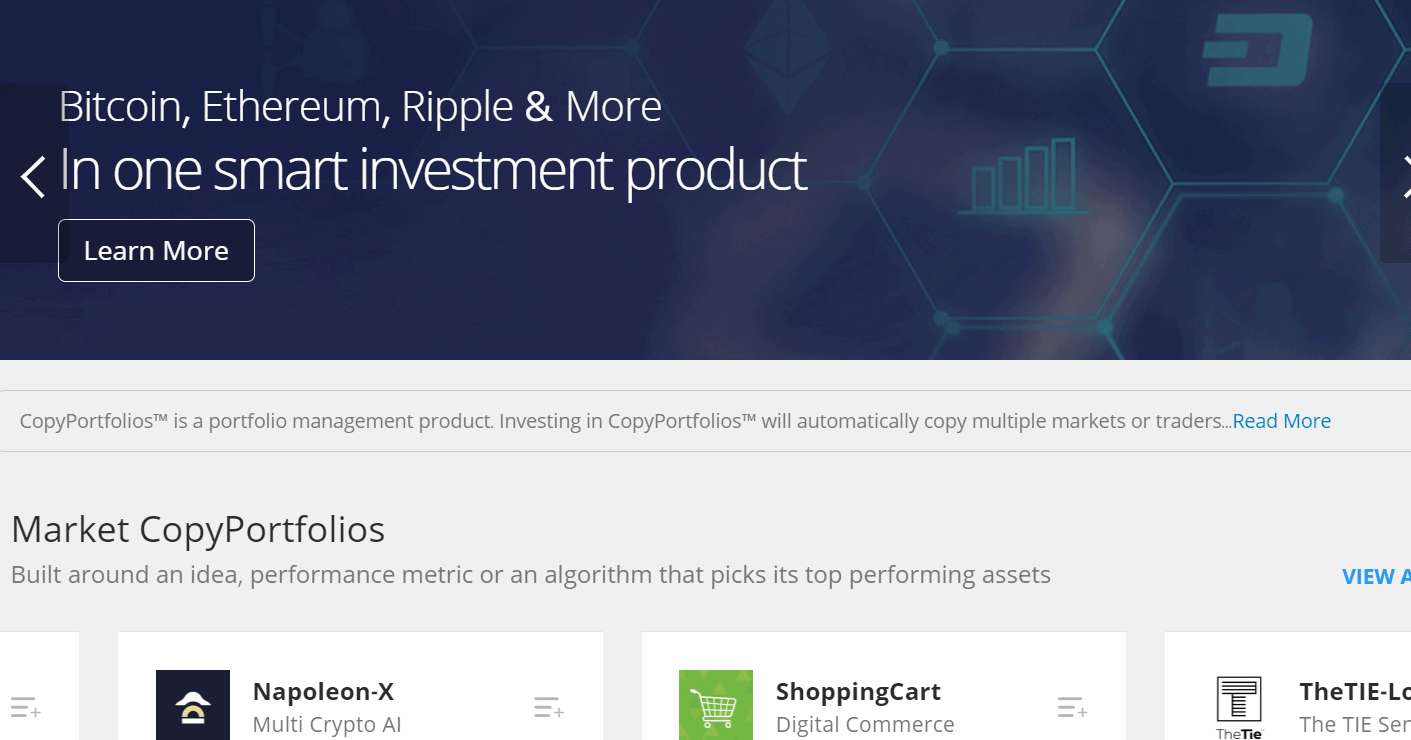 We should also give a mention to the CopyPortfolios offered by eToro. These are managed portfolios that allow you to invest in a 100% passive nature. There are heaps of CopyPortfolios to choose from – including two that track the wider cryptocurrency markets. There are no additional fees to use this feature.
When it comes to safety, eToro is regulated on three fronts. This includes that all-important FCA license, so you can buy Bitcoin with your credit card and not worry about malpractice. eToro is also licensed by regulators in Australia and CySEC, which adds a further safeguard on your funds.
Need more information about eToro? If so, you can read our in-depth eToro review here!
Pros
Offers Bitcoin and 15 other top cryptocurrencies
Buy Bitcoin 100% commission-free
More than 13 million people using the platform
Accepts debit/credit cards, e-wallets, and bank transfers
Minimum investment of just $25
Supports copy trading to automate your Bitcoin trades
Fully regulated in the UK by the FCA
Over 1,700 stocks and 150+ ETFs
Cons
Small withdrawal fee of $5
Platform operates in US dollars
Cryptoassets are highly volatile unregulated investment products. No EU investor protection.
2. CoinCorner – Best UK Bitcoin Trading Platform for Fast Account Set-Up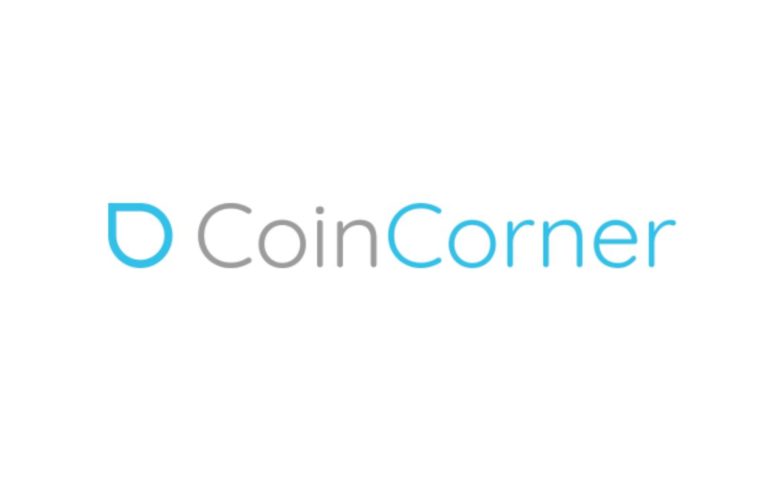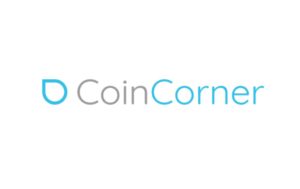 If you're looking to consider other options, CoinCorner is worth a mention. The online cryptocurrency specialist allows you to buy Bitcoin with a credit card, debit card, or bank transfer.
From our experience, the end-to-end process of registering, making a deposit, and buying Bitcoin should take no more than a few minutes. The minimum deposit at this platform is just £5, which is great if you want to start off with small amounts.
In terms of fees, this is where CoinCorner is lacking. After all, you will need to pay 2.5% to use your credit card. This is much higher than the 0.5% charged by eToro. In addition to this, you also need to pay a trading fee when you buy and sell Bitcoin. If you are investing more than £300, then this amounts to 1%.
For example, if you buy £500 worth of Bitcoin with your credit card, you'll pay a 2.5% fee of £12.50, and then a 1% commission of £5.  Finally, CoinCorner is regulated by the FCA, so the safety of your funds should not be a concern.
Pros
Very fast to start trading
Supports a wide variety of payments
Set up recurring cryptocurrency investment
Reward program with 1,000+ businesses
Cons
Extremely high trading fees
Minimal charting and trading tools
Cryptoassets are highly volatile unregulated investment products. No EU investor protection.
3. Binance – Popular Bitcoin Trading Platform With Hundreds of Cryptocurrency Pairs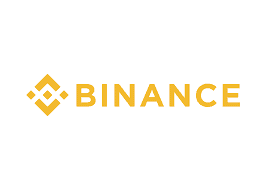 Binance is a good option if you want to buy Bitcoin with a credit card and then engage in short-term trading. This is because the cryptocurrency exchange offers hundreds of tradable pairs.
In fact, Binance facilitates billions of dollars worth of cryptocurrency trades each and every day, making it one of the largest platforms in the space.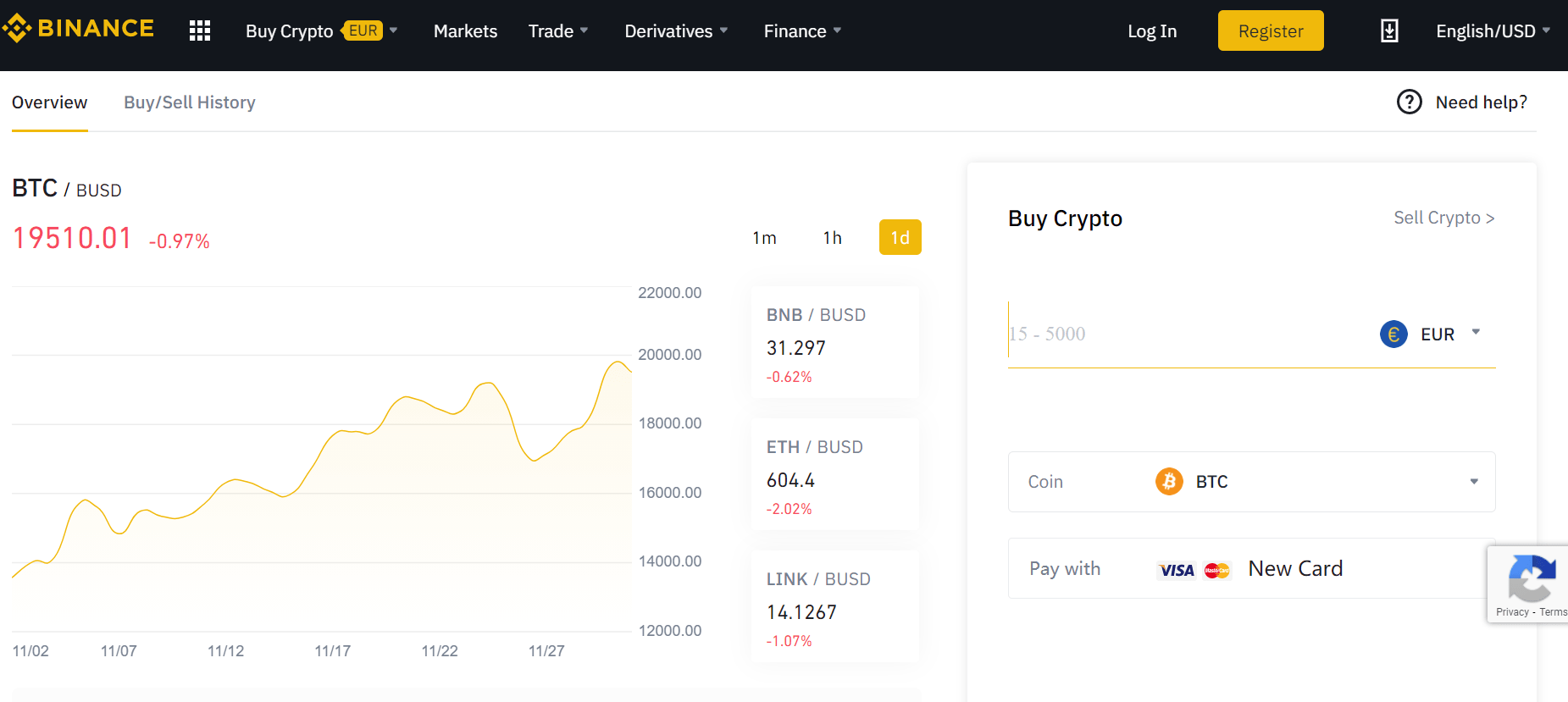 If you're based in the UK, then you will pay a 2% transaction fee to buy Bitcoin with your credit card. After that, you can keep your coins in the Binance wallet or withdraw them out. Alternatively, you might decide to trade your Bitcoin with another cryptocurrency like Ethereum or Ripple.
We should note that Binance isn't really suitable for newbie investors. This is why the platform should only be used if you have some experience in the cryptocurrency trading scene.
Pros
Largest cryptocurrency exchange in terms of trading volume
Hundreds of cryptocurrency pairs supported
Trading commission of just 0.1%
Supports UK debit/credit cards and bank transfers
Great reputation in the cryptocurrency scene
Ideal for advanced traders that seek sophisticated tools and features
Cons
Not great for newbie investors
A standard charge of 2% on debit/credit card deposits
Cryptoassets are highly volatile unregulated investment products. No EU investor protection.
Conclusion
If you want to buy Bitcoin with a credit card in the UK – a small selection of brokers can facilitate this for you in a matter of minutes. With that said, you do need to consider the risks of buying Bitcoin with a credit card.
After all, you might incur interest on the purchase or worse – the value of Bitcoin might end up falling below what you to the card provider.
Nevertheless, eToro is by far the best FCA-regulated broker to buy Bitcoin with a credit card. The account opening process takes minutes, deposits are processed instantly, and you won't pay a single penny of commission on your Bitcoin investment.
You can buy Bitcoin online with a credit card at eToro in less than 10 minutes by clicking the link below!
eToro – Buy Bitcoin With a Credit Card Instantly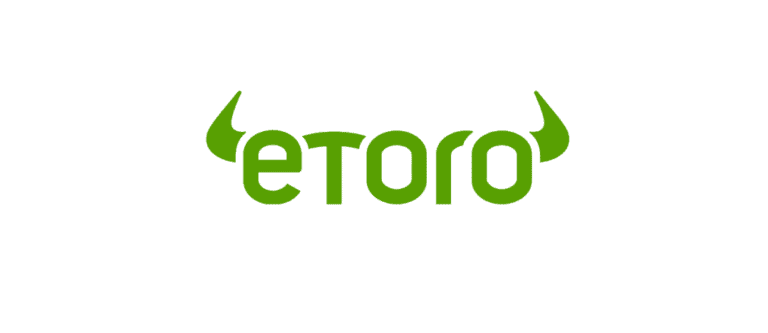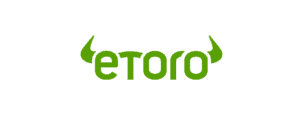 Cryptoassets are highly volatile unregulated investment products. No EU investor protection.
FAQs
How do I buy Bitcoin with a credit card with no ID?
If I buy Bitcoin with a credit card, is there a cash advance fee?
Is it legal to buy Bitcoin with a credit card?
What is the minimum Bitcoin credit card purchase?
How do you cash out Bitcoin back to a credit card?
What credit cards fees apply when you buy Bitcoin?