Coinfloor Review UK 2021 – Features, Fees, Pros & Cons Revealed
Fact Checked
Everything you read on our site is provided by expert writers who have many years of experience in the financial markets and have written for other top financial publications. Every piece of information here is fact-checked.
Disclosure
Please note that we are not authorised to provide any investment advice. The information on this page should be construed for information purposes only. We may earn commissions from the products mentioned on this site.
Coinfloor is one of the main businesses that were established to support Bitcoin trading for UK investors. This crypto exchange, which is registered in England & Wales, offers users to easily and safely buy and sell Bitcoin through its own user interface.
In our Coinfloor UK review, we are going to find out if this the right platform for you. We'll cover the most important factors including supported coins, regulation, platform fees, and more. We'll also suggest alternative platforms that enable you to trade cryptocurrencies in the UK.
Coinfloor Review Summary
Coinfloor is one of the most liquid GBP to Bitcoin exchanges in the world
It offers an easy way for UK investors to buy bitcoin and other digital coins
What is Coinfloor?


Founded in 2012 by Obi Nwosu, Amadeo Pellicce, James McCarthy, and Mark Lamb – Coinfloor is a UK-based digital asset marketplace that enables users a safe and quick way to buy bitcoin. It is not a pure cryptocurrency exchange like Binance, Coinbase, and Kraken but rather a broker-based peer-to-peer bitcoin marketplace where it connects retail investors with bitcoin brokers and helps them safely store their coins on a cold storage wallet.
Generally, Coinfloor is focused on the UK market but it is accepting investors from other countries as well. It is also one of the few bitcoin platforms that provide regular bitcoin audits from the first day of trading on this exchange. At the time of writing, however, Coinfloor is not regulated by the FCA in the UK.
Supported Coins
At the time of writing, Coinfloor offers only bitcoin trading. In the past, Coinfloor offered trading of other coins like Bitcoin Cash, Ethereum, Ether Cash, Ripple, and Litecoin, however, the exchange has made a decision in December 2019 to focus on bitcoin trading only and removed other digital coins from its list in order to make the platform more simple and safe for investors that are looking for bitcoin trading.
Coinfloor Fees
Like any other peer-to-peer bitcoin network, Coinfloor charges fees for deposits and withdrawals and trading fees. On Coinfloor, the fee structure is based on transaction volume and the exchange uses an approach called "weighted stochastic rounding", which according to Coinfloor, minimizes the effects of rounding errors.
You'll also have to take into consideration the method you wish to invest in bitcoin (Autobuy or via the exchange) and the payment method. Below, we take a look at the fees you will be liable to pay when using Coinfloor.
Payment fees
To be honest, Coinfloor offers a decent range of payment methods, however, the payment fees are a bit higher than its competitors in the industry. Below is a breakdown of the deposit and withdrawal fees at Coinfloor:
| | | | | |
| --- | --- | --- | --- | --- |
| Payment Method | Minimum Deposit | Deposit Fee | Minimum Withdrawal | Withdrawal Fee |
| Bitcoin (BTC) | 0.0100 BTC | No fee | 0.0050 BTC | 0.0005 BTC |
| Pound Sterling (GBP) – UK FASTER PAYMENTS | 250.00 GBP | 2.50 GBP | 250.00 GBP | 5.00 GBP |
| Pound Sterling (GBP) – SWIFT/CHAPS/BACS | 1,000.00 GBP | 30.00 GBP | 500.00 GBP | 30.00 GBP |
| EURO (EUR) | 1,000.00 EUR | 1.50 EUR | 500.00 EUR | 1.50 EUR |
Trading fees
When it comes to trading fees, Coinfloor keeps things relatively simple. The fee charged by the exchange depends on the method you decide to buy bitcoin on Coinfloor – the Autobuy or via the exchange. Overall, the exchange's trading fees range between 0.10%-0.30% depending on the volume executed in the last 30 trading days. This is in line with the industry average, which typically is around 0.10%-0.25%.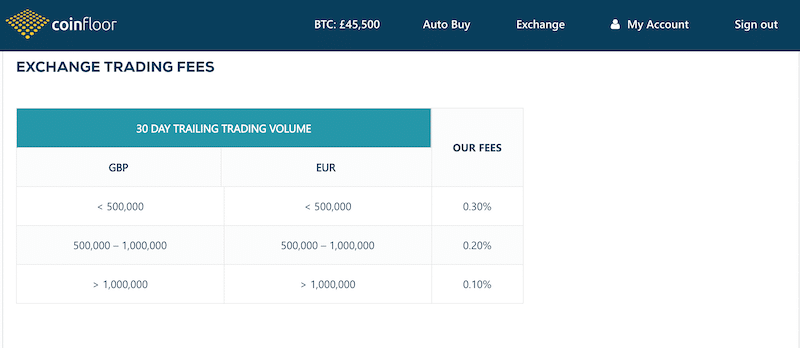 As for the Autobuy and Autosell fee, Coinfloor charges a fixed commission of 2% and a minimum of 50p (or 0.0002 BTC minimum).
Coinfloor Buying Limits
Another thing to take into consideration is the buying limits at Coinfloor. Generally, the smallest amount of bitcoin that users can trade on Coinfloor exchange UK is 0.0001 BTC, which is around 6.5 USD or around 4.7 GBP.
Then, the limit for deposit and withdrawal at Coinfloor varies depending on the payment method you choose. The lowest amount of deposit that has to be made is £250 when using UK Faster Payments. Otherwise, you need to meet a minimum deposit requirement of £1000 when using SWIFT/CHAPS/BACS or around £470 if you decide to fund your account with Bitcoin.
The minimum withdrawal amount stands at £250 with UK Faster Payments, £500 with SWIFT/CHAPS/BACS and around £230 when using BTC.
Coinfloor Wallet
Coinfloor is a peer-to-peer bitcoin marketplace but it is not a wallet service provider. Consequently, when you buy bitcoins on Coinfloor, the fiat funds are kept in segregated client fund accounts, and clients' digital coins are stored in cold storage wallets of the company itself (it is not a personal wallet).
According to Coinfloor, they hold the majority of clients' bitcoins offline on devices held in underground vaults or with a regulated, insured crypto-asset custodian. Nonetheless, if you wish to transfer your coins to a personal wallet (cold or hot), you'll have to make research and transfer the funds to your bitcoin digital wallet.
Coinfloor Mobile App
Perhaps the biggest disappointment with Coinfloor is that you can not trade on a mobile app. The exchange has not released yet a mobile application, meaning you can trade from a web browser only.
Coinfloor Minimum Deposit
Ay Coinfloor, the minimum deposit depends on the payment method used and the type of bitcoin purchase you decide to make. Generally, when using GBP, EUR, and BTC for the Autobuy method – the minimum deposit amount is just £10.
However, if you want to transfer funds to your Coinfloor account and start trading via the exchange, you need to meet a minimum deposit requirement that starts at £250 when using bank wire transfer (UK Transfer payment) as your funding method.
Coinfloor User Experience
In terms of user experience, the app is very clean and smooth, which is similar to other peer-to-peer platforms like Coinbase. First, it is extremely easy to navigate on the platform and you can easily find the tools and information that you need.
Basically, the platform is organized in a way that any one investor is able to buy bitcoins and manage the account. On the top menu bar, you can navigate to Autobuy, the exchange, and view your account. Everything is displayed very clearly, so it's easy to find your way around, in particular when you have one goal on Coinfloor – to invest in bitcoin.
And, though the platform is made for long-term bitcoin investors, you also get access to the bitcoin instrument page where you can analyze the coin on a trading chart from TradingView, which is one of the most popular used charting tools amongst day traders. You also get access to the market depth that shows you the bid and ask on a small chart and view the bitcoin order book that shows you the bid and ask including the quantity and the price.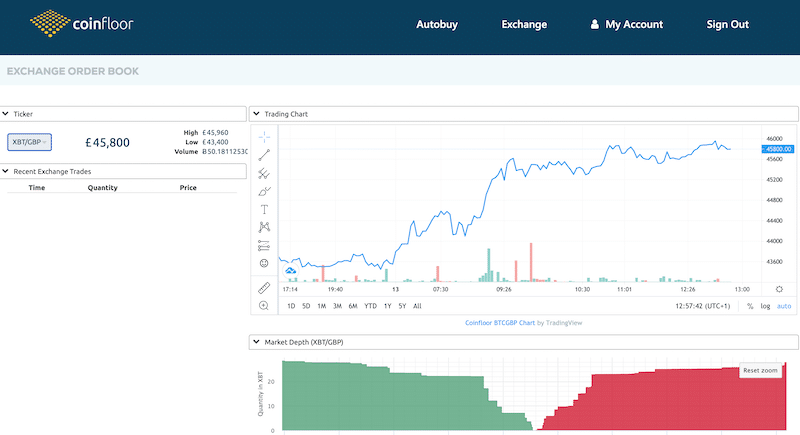 Having said that, you must take into consideration that the Coinfloor platform is most likely not suited for active day trading and for analyzing bitcoin and the cryptocurrency market. You will not get access to news and analysis and the platform is not made for fast market execution.
Coinfloor Tools and Features
Notably, Coinfloor is not a conventional cryptocurrency exchange but rather works much like a peer-to-peer platform for buying bitcoin. This means you'll get access to different features and functions that are often not available on other crypto platforms. With that in mind, let's take a closer look at some of the main tools and features available on this exchange:
Autobuy
This is the main attraction of the Coinfloor system for those who want to invest in bitcoin using the Dollar-cost averaging (DCA) investment strategy.
The Coinfloor Autobuy is a simple and automated way to make regular purchases of Bitcoin without having to constantly insert buying orders in the market. The Autobuy only works with GBP Faster Payments and the minimum deposit starts at just £10 with a maximum of £1000 and £10,000 for users that fully verified their accounts. Basically, with this tool, you can set up standing orders from your banking app and Coinfloor will do all the work for you.
Coinfloor Custody
If you are looking for a safe bitcoin platform, Coinfloor is one of the best options in the UK and globally. With this exchange, you'll be able to keep your bitcoin safe with secure storage and get monthly audits. Basically, Coinfloor stores clients' coins on cold-insured storage with multi-signature addresses, ensuring that the coins are safe and secure at all times from hacking and other cyber threats.

Order Book/Depth Chart
Even though Coinfloor is not a professional advanced trading platform, you'll get access to one of the most important tools for bitcoin markets. These are the order book and the market depth which simply show you the bid and ask sides of the bitcoin markets including the quantity, price, and total position size of every buyer and seller in the market.

100% Cold Storage Policy
Perhaps the most important feature on Coinfloor is the security and the safety of funds it offers. Coinfloor is the first bitcoin exchange to hold all client digital assets in a Multi-Signature Pay 2 Script Hash (P2SH) cold storage wallet. This means that clients' crypto funds are stored offline and aren't at a high risk of being hacked or stolen.
Coinfloor Payments
When it comes to payment methods, Coinfloor offers investors only two options to fund their accounts. This includes:
Bitcoin (BTC)
Bank Wire Transfer (UK Faster Payments, BACS, CHAPS, SWIFT, and SEPA). Coinfloor supports British Pounds (GBP) and Euros as fiat currencies.
Unfortunately, as you can see there's not a large variety of payment options at Coinfloor when compared to other cryptocurrency exchanges in the market. You cannot use a credit/debit card, PayPal, Skrill, Neteller andother eWallets.
Coinfloor Regulation & Licensing
Coinfloor is not regulated by UK's top regulator, the Financial Conduct Authority (FCA). However, the company is registered in England & Wales under the registration number 08493818 and maintains communication with the FCA in the UK and the European Commission.
The exchange also claims that it places a series of policies, laws, and procedures designed to protect Coinfloor and their clients. As such, they require all users to go through a long application and verification process before they are allowed to trade with Coinfloor and get access to Over-the-Counter trades.
Another important factor is that Coinfloor is also registered under number ZA002203 with the Information Commissioner's Office (ICO) under the Data Protection Act in order to protect clients' data. The company claims on its website that it will never sell data to third-party parties and uses strict security measures to prevent hacking and other cyber attacks on data and clients' funds.
Coinfloor Contact and Customer Service
The support service of Coinfloor is not like any other crypto exchange. This company has a more personal service model and you'll be able to contact the team via email between 09.00 to 17.00 (GMT) Monday – Friday. The team also commits that they respond to all requests within one full business day.
Additionally, Coinfloor offers users to contact the support team via submitting a ticket form and has a very extensive FAQ section that you can refer to before contacting customer support.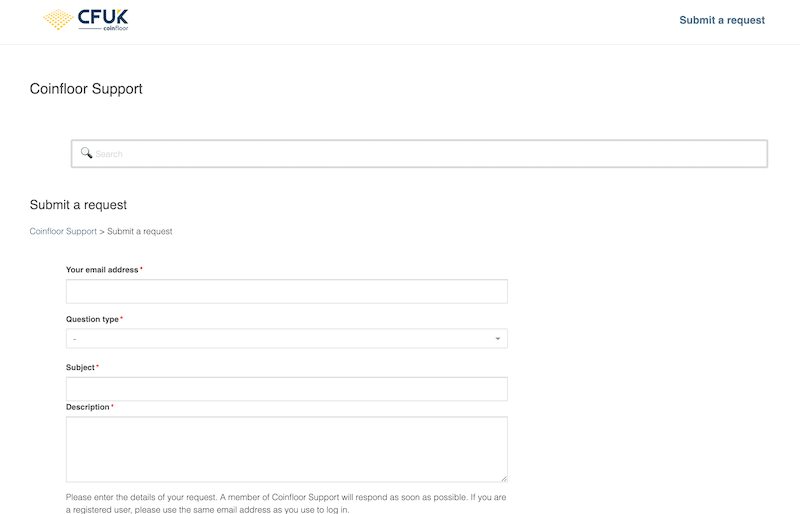 How to Use Coinfloor
After reading this Coinfloor Review 2021, you might have realized that this platform offers an easy and secure way to buy bitcoin in the UK. As such, if you are ready to continue the account creation process with Coinfloor and not sure how to get started, simply follow the steps below.
Step 1: Sign Up for an Online Account with Coinfloor
You will first need to visit Coinfloor's website and sign up for an online investment account. To register on its platform, Coinfloor requires a new user to submit an email address, and create a password.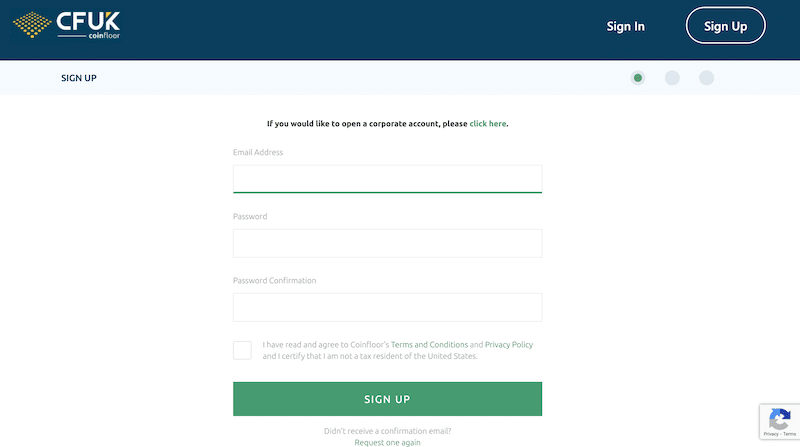 Step 2: Select a Security Feature
Next, you now need to set up two-factor authentication for extra security. Coinfloor gives you the option to choose between Yubikey, which is a hardware authentication device, or an authentication app like Google or SMS.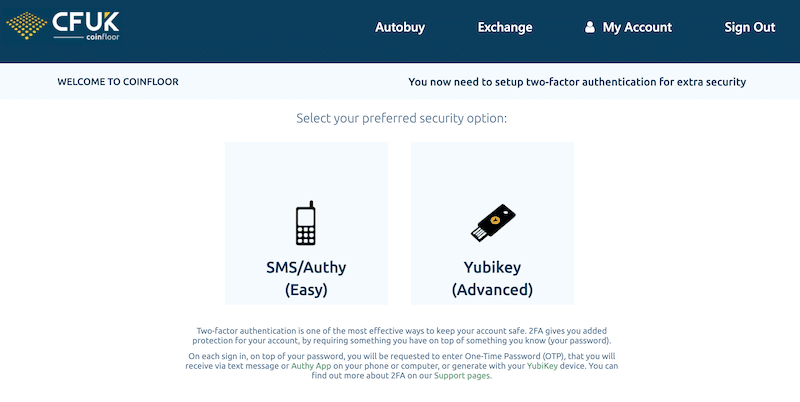 Step 3: Verify Your Identity 
Before you are allowed to buy bitcoin on Coinfloor, you first need to verify your identity. Coinfloor asks you to submit personal details and to upload additional documentation that verifies your identity. This includes a national ID card, passport, and driving license as well as proof of residency.
Take note that Coinfloor does not approve your account immediately and account verification may take several days to process.
Step 4: Deposit Funds and Buy Bitcoin
As soon as your account is verified, you can transfer funds to your Coinfloor account. As previously mentioned, Coinfloor offers UK investors to deposit funds with bitcoin or with bank wire transfer (UK Transfer Payment or SWIFT/CHAPS/BACS). The minimum deposit requirement varies based on the funding method and starts from 250 GBP when you are using UK Transfer Payment. According to Coinfloor, they aim to process all deposits within 90 minutes of receiving them.
Once the funds have reached your account, navigate to the exchange or to the order book. On the "Exchange" page you will see a live order book where you can place an order to buy bitcoin. In the order form, you need to insert the quantity and the type of order – market or limit.
Whenever you place an order, Coinfloor's will find an offer for you to buy or sell bitcoin at the best price available in the market. Then, once the order's fulfilled, you'll see your Coinfloor balance adjusted and the position in your account section.
The Verdict
Our Coinfloor review UK found that this platform is one of the best solutions if you want to buy and sell bitcoin in a fast and user-friendly manner through a trusted crypto marketplace. The Coinfloor platform was specifically made for those who want to invest in bitcoin for the long term without getting into the complications of understanding how a cryptocurrency exchange works and how to store digital coins on a digital wallet.
67% of retail investor accounts lose money when trading CFDs with this provider
FAQs
Where is Coinfloor located?
Is Coinfloor regulated in the UK?
What cryptocurrencies can buy with a credit card at Coinfloor?
Does Coinfloor support PayPal?
What cryptocurrencies can I trade at Coinfloor?