Ever wondered how to buy Tesla shares without spending a fortune? Tesla is no longer just a car company, it is a brand that has grown to be much more than that. The Palo Alto-based company not only produces electric cars but is also an energy-storage producer that seeks to integrate renewable energy solutions for homes and businesses
If you want to buy Tesla shares and have no clue where and how to start, this guide is for you. We'll explain how you can buy Tesla shares in the UK and suggest top brokers that offer Tesla stock.
How to buy Tesla Shares in UK – Quick Step Tutorial
✅ Step 1: Open an eToro account
Visit eToro's official website and tap on 'Join Now'. Enter your details and choose a username and password.
🔎 Step 2: Verify your account
As eToro is fully regulated in UK by top-tier financial authorities you'll need to verify your account by uploading proof of ID and proof of address.
💳 Step 3: Fund your account
Deposit a minimum of $10 (around £7)  into your trading account via credit/debit card, bank wire transfer, or e-wallets such as PayPal or Skrill.
🛒 Step 4: Buy Tesla shares
Type "TSLA"  into the search bar and click on 'Trade'. With a minimum investment of $10 you can buy fractional shares of Tesla with 0% commission.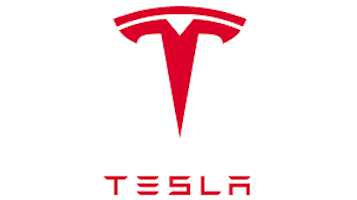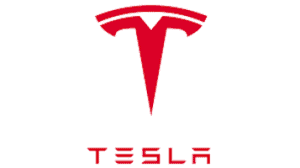 Tesla is listed on the Nasdaq stock exchange under the share ticker symbol: TSLA, meaning you'll have to find an authorized online broker that allows you trade US shares. As Tesla stock is one of the most widely-discussed shares in the markets these days, you'll find many online UK stockbrokers that offer you trade its shares.
With that in mind, you'll need to find an FCA regulated broker that not only allows you to buy shares of Tesla but also provides low trading commissions and a reliable trading platform. To help you find the right broker for your needs, below we list the best FCA stock brokers that operate in the UK.
eToro is one of the most popular online brokers in the UK and worldwide. The broker was founded in 2006 and boasts more than 12 million active customers on its platform. The main reason for its popularity is the fact that it offers users a social trading experience so investors can start discussions with other members, get a view on other traders' positions, and even copy trades of top traders on the platform.
eToro gives investors access to more than 800 global shares from top stock exchanges including the US market. You can trade on US companies like Amazon, Facebook, Google, and Tesla. One of the key benefits of eToro is that it allows you to buy shares outright or using contracts for differences (CFDs). As eToro is also a CFD broker, it enables you to leverage your share position by 5:1, meaning you can buy one share of Tesla with a 20% margin requirement.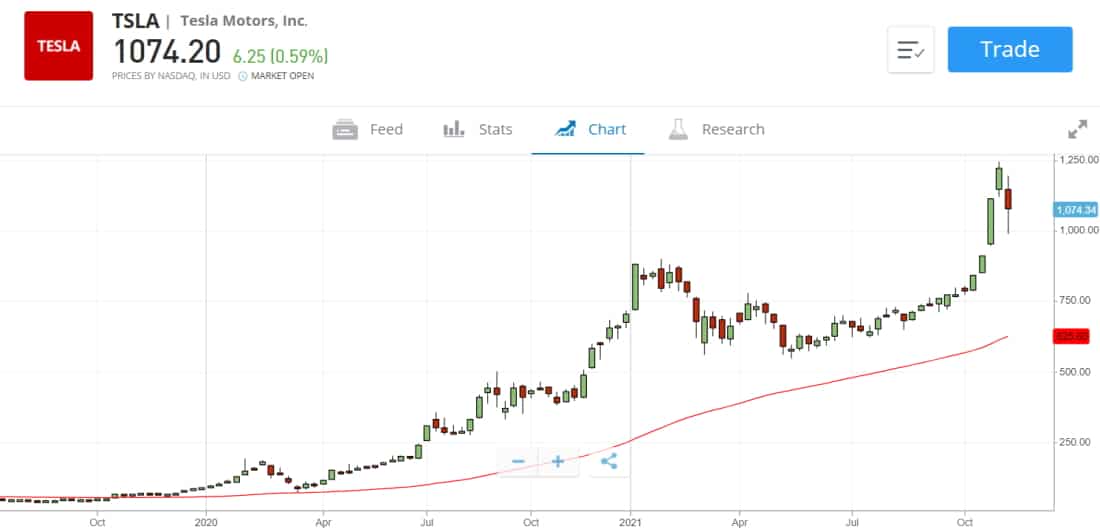 When it comes to pricing, eToro is among the most cost-effective options out there. It is a 100% commission-free trading platform, which means you do not need to pay a flat fee when you buy and sell shares, but instead you pay the buy and sell spread of the asset. eToro also does charge any management fees nor rollover (overnight) fees for share trading.
To buy shares of Tesla on eToro's platform, you will be required to deposit a minimum of $50. The broker supports many UK payment methods, including a debit/credit card, bank account, and e-wallets such as PayPal. If you want to try the platform out, you can do so for free courtesy of eToro's $100,000 demo account.
Pros:
Buy shares with no commission
More than 800 global shares
Buy real shares or trade stock CFDs
Fractional share trading
Social and copy trading tools
Accepts a wide range of payment methods including PayPal
User-friendly mobile trading app
FCA regulated
Cons:
Limited technical analysis tools for advanced traders
68% of retail investor accounts lose money when trading CFDs with this provider.
Capital.com
is a global forex and CFD broker with a significant presence in the UK trading market. Thousands of financial products, including over 2,700 stock CFDs, are available on the platform. This includes 15 exchanges, covering 2,700 stock CFDs. Trading CFDs means you'll be buying and selling speculative, leveraged financial instruments. Simply put, you'll be able to go long or short while gaining exposure to the underlying price movements of specific assets such as stocks and indices.
Capital.com is a zero-commission broker, regardless of the asset type you want to trade. Furthermore, you will be able to take advantage of market-leading spreads. For example, some of the most popular and hottest stocks, such as Facebook and Tesla, have spreads as low as 0.10 and 2.62, respectively. It's a similar story when you look at non-trading fees as well. There are no deposit fees, withdrawal fees, account fees, or inactivity fees to worry about when trading with Capital.com.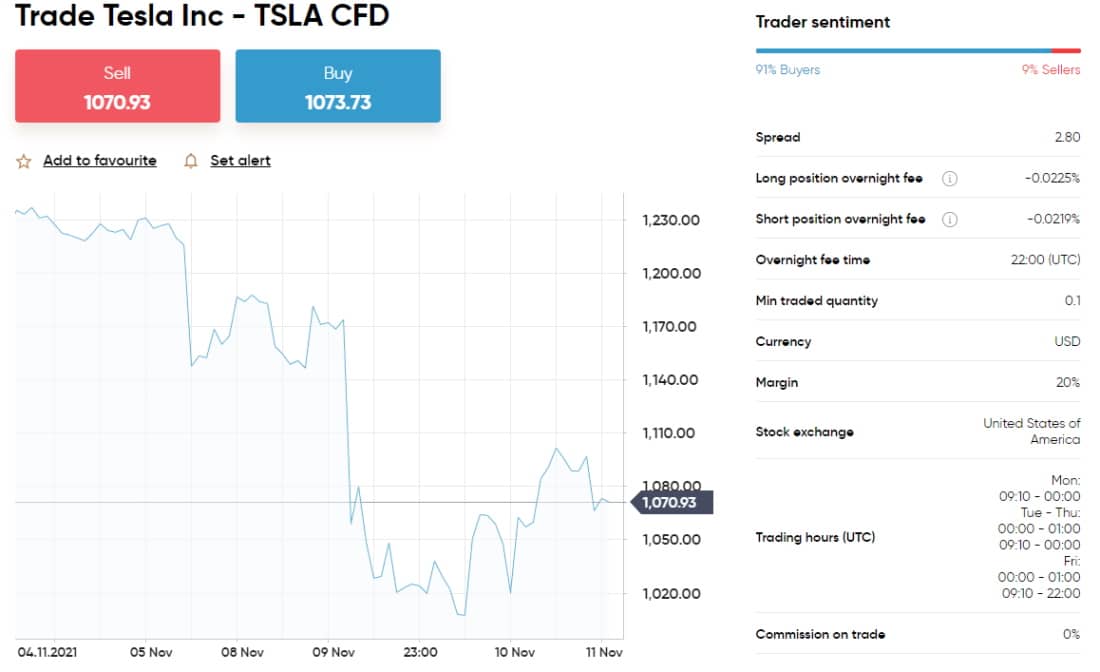 Capital.com offers free deposits and withdrawals, as well as a variety of payment methods including as Apple Pay and PayPal. Only four main base currencies (USD, GBP, EUR, and AUD) as well as one minor currency (PLN) are supported. Funding your account is as simple as the onboarding process. You can fund your brokerage account with a minimum investment of just $20 using bank wire transfers, credit cards, debit cards, and e-wallets.
When it comes to account security and regulations, Capital.com is one of the best FCA brokers out there. This CFD trading platform is regulated by the UK's FCA, ASIC, NBRB, and CySEC. You're also covered by investor protection schemes as well as negative balance protection.
Pros:
Regulated by top-tier financial regulators including FCA and ASIC
Commission-free real stocks for UK traders
User-friendly mobile stock trading app
Retail clients can trade share CFDs
Market-leading fees
Cons:
Does not offer social trading
More suitable for experienced traders
75.26% of retail investor accounts lose money when trading spread bets and/or CFDs with this provider.
Plus500 is another great option if you want to buys/sell Tesla shares online, particularly if you are an active trader. This can be attributed to the fact that this famous CFD broker enables you to trade shares from popular markets such as the USA, UK, Germany with leverage of 5:1 and extremely tight spreads. Much like eToro, Plus500 offers a zero-commission policy for stock trading, however, plus500 spreads are a bit more competitive and its trading platform is more suitable for advanced traders.
On top of tradingTesla shares, Plus500 gives you access to over 2000 financial instruments in the form of CFDs – including Exchange Traded Funds (ETFs), commodities, indices, FX currency pairs, and options. You will also have the option to buy or short sell a position. This means you can make a profit by speculating that Tesla shares will decrease in value, however there is a risk involved when trading and losses could occur if you are not familiar with the broker or the instrument that you have chosen to trade with.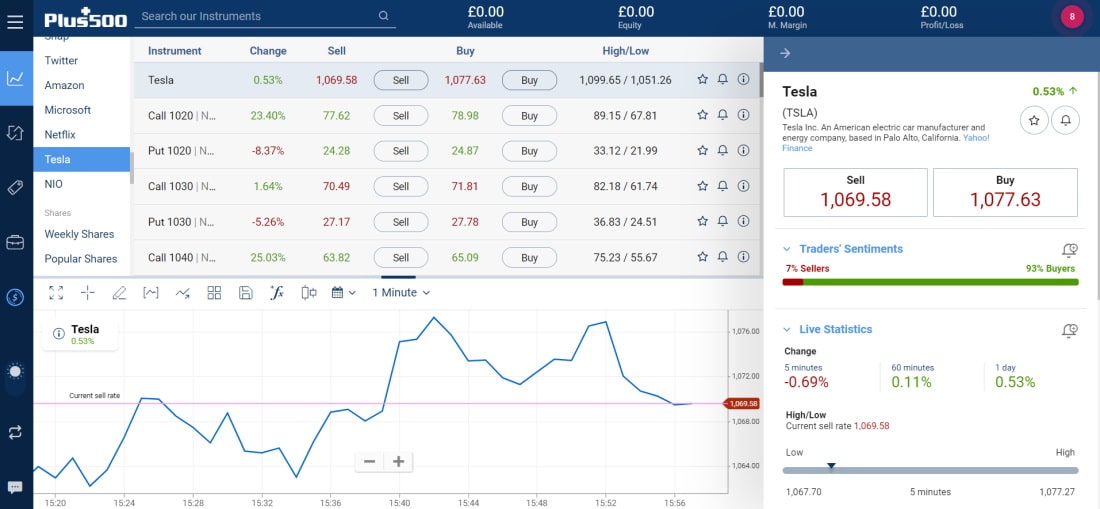 As for the trading platform, the broker offers a user-friendly trading platform that is available on any web browser or, you can download a mobile stock trading app to your smartphone. This broker also adapts the full functionality for seamless 'on-the-go' trading, so you can also get Tesla share price alerts notifications to your phone or email.
The bottom line, Plus500 is an ideal platform if you are more interested in a short-term trading strategy. To open a brokerage account with this CFD broker, you can deposit a minimum of £100 with a UK debit/credit card, bank account, or e-wallet.
Pros:
Commission-free CFD platform – only pay the spread
Price alert feature
Excellent mobile app
Retail clients can trade share CFDs with leverage of up to 5:1
A range of risk management tools
Regulated by the FCA
Cons:
Does not offer social trading
More suitable for experienced traders
72% of retail investor accounts lose money when trading CFDs with this provider.
Tesla shares have been on a tremendous rally since the beginning of the year, but that does necessarily mean you need to buy Tesla share right now. Tesla is growing fast, but at the same time, some analysts and investors believe the share is overvalued. To make a good decision, it's important that you do your own research before you make any investment.
Below, we'll cover all the basics you need to know about the company including the history of Tesla, its share price performance, and the company's outlook for the future.
Tesla was founded in 2003 by a group of engineers shortly after General Motors stopped production on its first electric vehicle. The company builds electric and clean energy vehicles and produces battery energy storage from home to grid-scale and solar products such as solar panels.
The eccentric CEO of Tesla, Elon Musk, has joined the company in 2004 after investing $6.3 million in Tesla shares during a Series A round of investment. The company eventually went public in June of 2010, and raised $226 million in its IPO when it offered 13.3 million shares at a price of $17 per share.
Since then, the Tesla share price has been on a meteoric rise, reaching its all-time high of $1,229.91 on the 4th of November 2021. On August 11th, 2020, Tesla announced a Five-for-One Stock Split that was implemented on August 31. For those who are not familiar with the term, a stock split is a decision made by a company's board of directors to increase the number of shares by issuing more shares at a lower price.
Between the 11th of August to the 31st of August, the Tesla share price has increased by 81% but on September 8, the share gave back some of its gains after Tesla dropped 21%, which was the worst single-day loss in the company's history.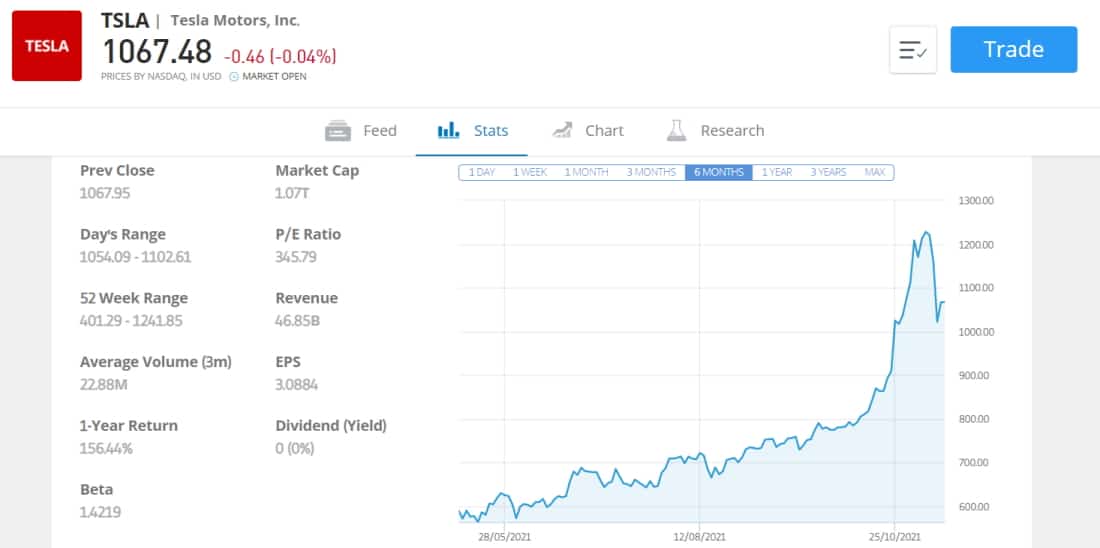 Bear in mind that the Tesla stock split does not change much, but it can be somewhat confusing. The company's earnings per share calculations change based on the new share price and you may have to adjust the new prices to pre-split figures. For example, when looking at Tesla's all-time chart, the share price on the day of IPO is $3.84, adjusted to a 5-1 split.
Tesla has never declared dividend payments to shareholders. The company is transparent about its intentions, stating on its official website that it does not anticipate paying any cash dividends in the foreseeable future due to the intentions to continue the company's growth momentum.
Many people have high hopes for Tesla's cutting-edge technology and innovative vision. It is clear that Tesla's investors are looking beyond just the near future, and some even see a strong similarity to Apple.
Whether it is a bubble or not is up for debate but there are certainly some key factors that give Tesla the competitive edge it has achieved so far.
First and foremost, this company is a leading producer of electric vehicles globally. Last year, Tesla has become the world's largest electric car producer based on sales after it surpassed China's BYD. Globally, Tesla's delivered between 367,000 and 368,000 electric vehicle units in 2019.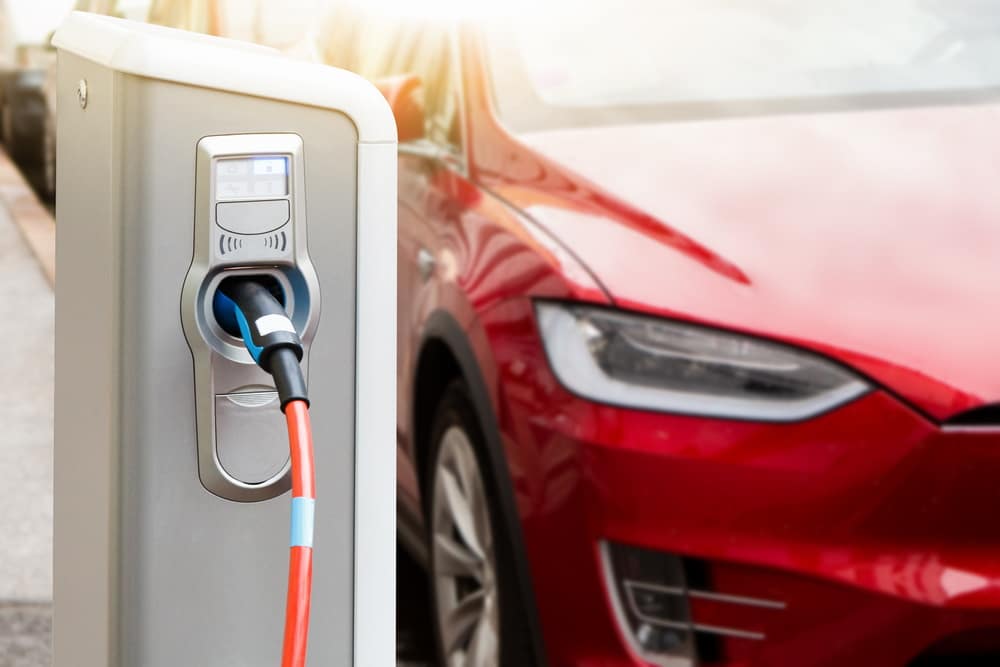 Another huge factor to consider when analysing Tesla is the data it collects. Tesla's electric cars are constantly recording and collecting data, using cameras and other navigation tools to store as much data as possible while driving. This data holds enormous value in its valuation, which according to McKinsey and Co will be worth $750 billion per year by 2030.
Finally, Tesla does not only sell electric cars. Tesla's Supercharger stations are the fastest and most effective way to charge up electric vehicles that exist in the market, and the new battery modules should last between 300,000 miles and 500,000 miles. On top of that, Tesla produces solar roof products as well as a wide range of solar panels.
Step 3: Open an Account and Deposit Funds
If are ready to buy Tesla shares in the UK, you'll first need to open an online trading account at a brokerage firm. To help you get started, we'll walk you through the process using our recommended broker eToro.
To create an online trading account with eToro, you'll need to visit the broker's homepage and click on the 'Join Now' button at the centre of the screen.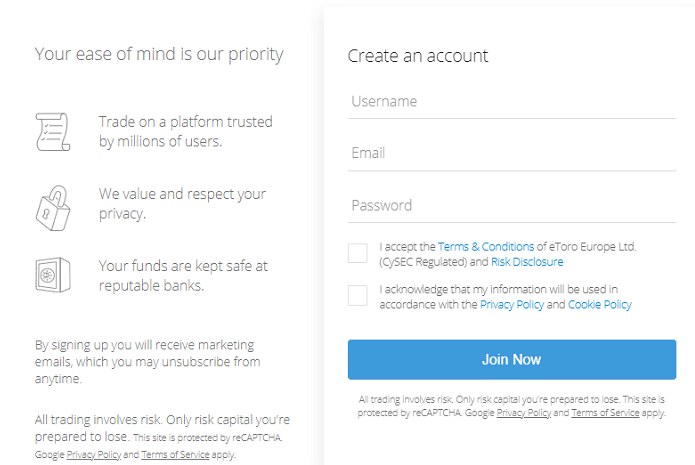 68% of retail investor accounts lose money when trading CFDs with this provider.
This will bring you to a registration form where you'll need to create a username and password and then enter some personal information that includes your full name, email address, date of birth, nationality, and national insurance number.
On the next step, you will be required to verify your identity by uploading a copy of your driver's license or passport as well as a recent utility bill or bank account statement. This must be done as eToro is a regulated and authorized broker by UK's top financial regulator, the FCA.
Once your account has been approved, you can deposit funds into your account. As a UK resident, you will need to meet a minimum deposit requirement of $50 to get started at eToro. You can make a deposit using one of the payment methods provided by eToro:
Debit Card
Credit Card
Paypal
Skrill
Neteller
UK Bank Transfer
Now that your account is funded and approved, you're ready to buy Tesla shares. In the eToro's dashboard, enter Tesla or TSLA in the search box at the top of the screen and click on the first result that pops up.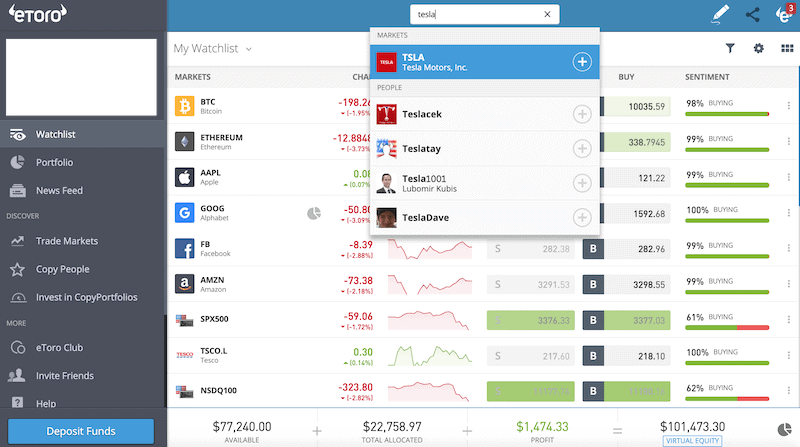 Then, eToro will transfer you to the Tesla share page. On this page, you can find useful information about the share and the company that includes news, stats, interactive chart, and research tools. Once you are ready to place a buying order, navigate to the 'Trade' button, and click on it.
Now, you will be taken to an order form where you need to insert the amount you want to invest in Tesla shares. Then, click on the 'Open Trade' button. Keep in mind that eToro allows fractional share trading, meaning you can invest in Tesla in any amount over $50.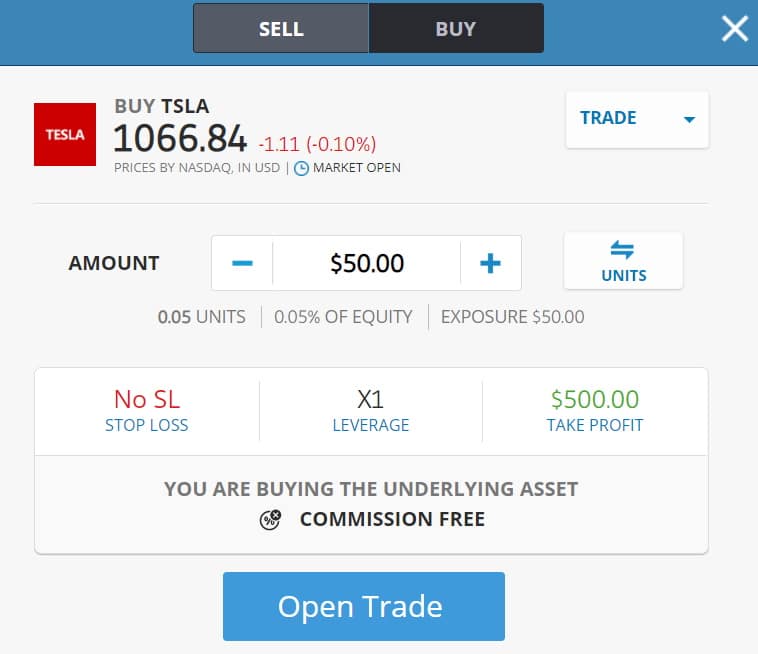 68% of retail investor accounts lose money when trading CFDs with this provider.
Note: If you are buying Tesla shares outside of standard market hours (9.30 am to 5 pm, Eastern Standard Time), you will need to click on 'Set Order'. Your Tesla shares purchase will then be completed when the markets open.
Tesla stock is up +46.35% in YTD gains and analysts remain bullish on Tesla despite the concerns over the post-pandemic recovery and the COP26 climate discussions.
Yet, Tesla's short interest stands at above 22% at the time of writing, which makes it the first-ever company with a $28 billion short bet against it. This is a phenomenon called a short squeeze that refers to the total number of open short positions of a financial asset. As such, the battle between buyers and sellers could intensify and a small correction can lead to a significant drop in value.
Tesla is indeed a risky share and might be overvalued at its current price of $1,062.25. The split has created a wave of demand for Tesla shares given the fact that investors receive a five shares to one ratio, however, at the time of writing, Tesla's share is in a tricky spot. So far this year, Tesla shares have dropped from $183.48 on Feb 19 to $72.24 on March 18 but bounced back to reach the all-time high of $1,229.91 on November 4th 2021.
Tesla isn't like other companies and is one of the most popular shares among retail investors. While Tesla shares may fluctuate over the course of a few days, it is much closer to a buy than a sell in the long term perspective.
November 2021 Update: When this guide was originally published, Tesla was trading at $330.21. Just over a year later, Tesla shares are now trading at $1,062.25. This represents a stock price increase of over 221.5%. 
The easiest way to short sell Tesla shares is by using a top share dealing account such as eToro. To do that, you'll have to sign up for a free online trading account, log into the trading dashboard, select Tesla shares, and place a short sell order.
In summary, the outlook of Tesla's investors will be clearer in the coming days and weeks. Tesla has much more room to grow, in terms of profitability, and the price of its share. Evidently, a number of analysts view the recent pullback as an investment opportunity,  increasing the price target to $500-$700.
One thing is certain, Tesla is extremely volatile and unexpected so if you don't handle volatility very well, perhaps it is not the right investment for you. On the other hand, some say that Tesla is the perfect 'buy and forget' investment currently exists in the market and one of the best shares to buy for long-term investors.
Click the link below to buy Tesla shares right now!
68% of retail investor accounts lose money when trading CFDs with this provider.
Looking to invest in other tech shares? Check out the companies below.
What stock exchange is Tesla listed on?
Does Tesla pay dividends?
What is the minimum amount of Tesla shares I can buy?
Is Tesla a component of stock indices?
How many shares does Elon Musk own in Tesla?