How to Buy Tesla Shares UK
Fact Checked
Everything you read on our site is provided by expert writers who have many years of experience in the financial markets and have written for other top financial publications. Every piece of information here is fact-checked.
Disclosure
Please note that we are not authorised to provide any investment advice. The information on this page should be construed for information purposes only. We may earn commissions from the products mentioned on this site.
Tesla is no longer just a car company, it is a brand that has grown to be much more than that. The Palo Alto-based company not only produces electric cars but is also an energy-storage producer that seeks to integrate renewable energy solutions for homes and businesses
If you want to purchase Tesla shares and have no clue where and how to start, this guide is for you. We'll explain how to purchase Tesla shares in the UK and review some reputable brokerages that allow investors to trade in the stock market.
How to Purchase Tesla Shares in the UK 
✅ Step 1: Open a Trading Account
Visit the company website of your platform and begin the sign-up process. Enter your details and choose a username and password.
🔎 Step 2: Verify your account
Users will need to verify your accounts by uploading proof of ID and proof of address.
💳 Step 3: Fund your account
Deposit a minimum of $10 (around £7.60)  into your trading account via credit/debit card, bank wire transfer, or e-wallets.
🛒 Step 4: Purchase Tesla shares
Type "TSLA"  into the search bar and enter the amount you wish to enter in the trade.
Step 1: Review UK Stock Brokers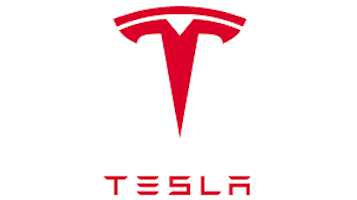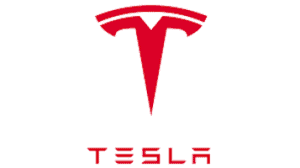 Tesla is listed on the Nasdaq stock exchange under the share ticker symbol: TSLA, meaning you'll have to find an authorised online broker that allows you trade US shares. As Tesla stock is one of the most widely-discussed shares in the markets these days, you'll find many online UK stockbrokers that offer its shares.
To help you find the right broker for your needs, below we list some of the most popular FCA stock brokers that operate in the UK.
1.eToro 
eToro is one of the most popular online brokers in the UK and worldwide. The broker was founded in 2006 and boasts more than 26 million customers on its platform. eToro offers users a social trading experience so investors can start discussions with other members, get a view on other traders' positions, and even copy trades of the senior traders on the platform.
eToro gives investors access to more than 2500 global shares from multiple stock exchanges including the US market. Users can trade on US companies like Amazon, Facebook, Google, and Tesla.  As eToro is also a CFD broker, it enables you to leverage your share position by 5:1, meaning one share of Tesla can be purchased with a 20% margin requirement.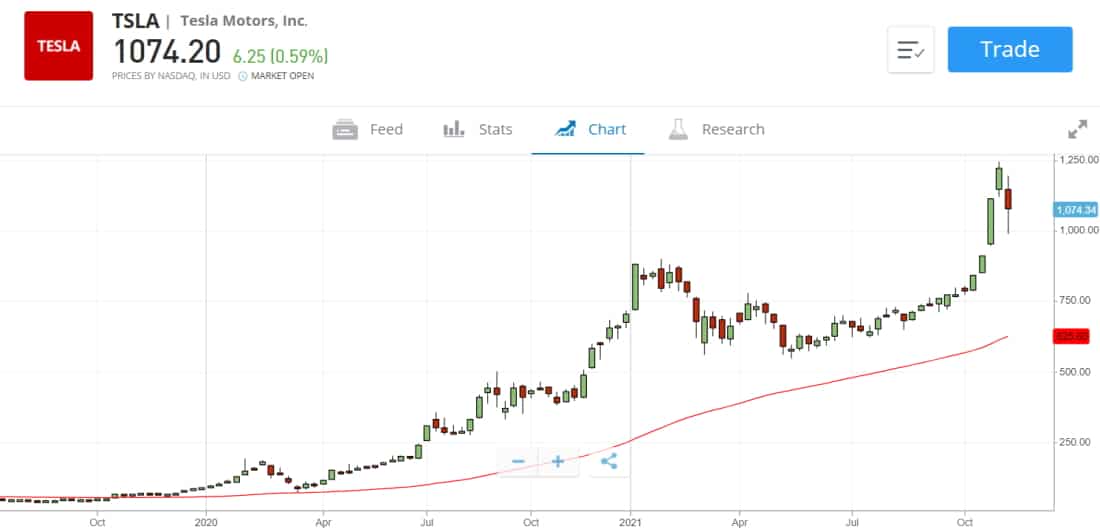 When it comes to pricing, eToro is a 100% commission-free trading platform, which means you do not need to pay a flat fee when you purchase and sell shares, but instead you pay the buy and sell spread of the asset. eToro also doesn't charge any management fees nor rollover (overnight) fees for share trading.
To purchase shares of Tesla on eToro's platform, you will be required to deposit a minimum of $10 (£7.60). The broker supports many UK payment methods, including a debit/credit card, bank account, and e-wallets such as PayPal. If you want to try the platform out, you may do so for free, courtesy of eToro's $10,000 demo account.
| | | | | | |
| --- | --- | --- | --- | --- | --- |
| Stock Broker | Minimum Deposit | Fractional Shares? | Pricing System | Cost of Buying Stocks | Fees & Charges |
| eToro | $10 | Yes – $10 minimum | 0% commission on ALL real stocks, spreads for CFDs | Market spread is not included when buying real stocks | No Deposit fees, $5 withdrawal fee, $10 inactivity fee, no account management fees. |
Sponsored ad. 68% of retail investors lose money trading CFDs at this site
3. Plus500
Plus500 is another investment option that allows users to buy/sell Tesla shares online, particularly if you are an active trader. This can be attributed to the fact that this CFD broker enables you to trade shares from popular markets such as the USA, UK, Germany with leverage of 5:1 and extremely tight spreads. Much like eToro, Plus500 offers a zero-commission policy for stock trading, however, plus500 spreads are a bit more competitive and its trading platform is more suitable for advanced traders.
On top of trading tesla shares, Plus500 gives you access to over 2000 financial instruments in the form of CFDs – including Exchange Traded Funds (ETFs), commodities, indices, FX currency pairs, and options. However, there is a risk involved when trading and losses could occur if you are not familiar with the broker or the instrument that you have chosen to trade with.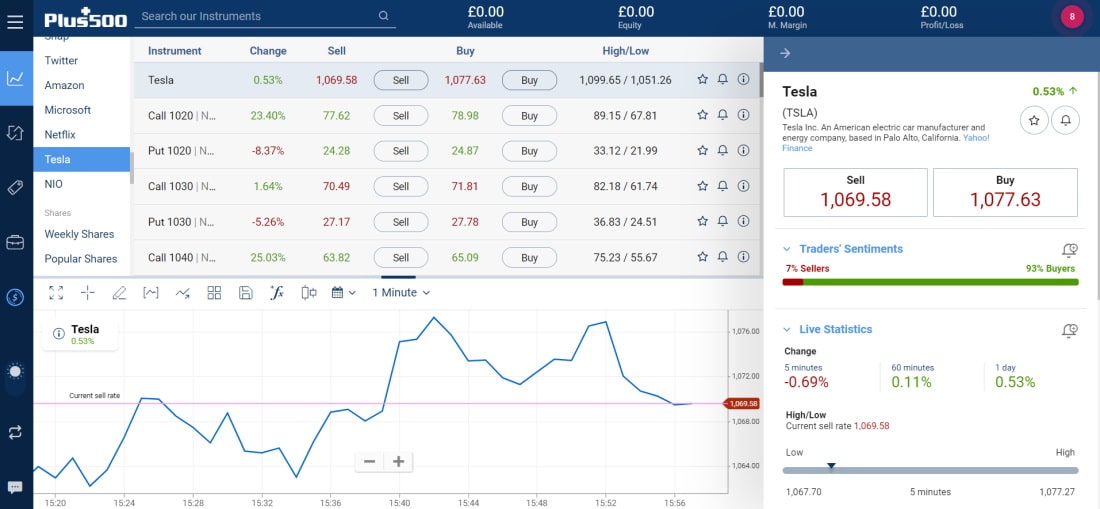 As for the trading platform, the broker is available on any web browser or, you have the option to download a mobile stock trading app to your smartphone. This broker also adapts the full functionality for seamless 'on-the-go' trading, so users can also get Tesla share price alerts notifications to your phone or email.
To open a brokerage account with this CFD broker, you may deposit a minimum of £100 with a UK debit/credit card, bank account, or e-wallet.
Step 2: Research Tesla Shares
Tesla shares have been on a rally since the beginning of 2021, but that doesn't necessarily mean you need to purchase Tesla shares right now. Tesla is growing fast, but at the same time, some analysts and investors believe shares are overvalued. To make a decision, it's important that you do your own research before you make any investment.
Below, we'll cover all the basics you need to know about the company including the history of Tesla, its share price performance, and the company's outlook for the future.
How Much Are Tesla Shares Worth? Tesla Share Price History
Tesla was founded in 2003 by a group of engineers shortly after General Motors stopped production on its first electric vehicle. The company builds electric and clean energy vehicles and produces battery energy storage from home to grid-scale and solar products such as solar panels.
The eccentric CEO of Tesla, Elon Musk, joined the company in 2004 after investing $6.3 million in Tesla shares during a Series A round of funding. The company eventually went public in June of 2010, and raised $226 million in its IPO when it offered 13.3 million shares at a price of $17 per share.
On August 11th, 2020, Tesla announced a 'Five-for-One' Stock Split that was implemented on August 31. For those who are not familiar with the term, a stock split is a decision made by a company's board of directors to increase the number of shares by issuing more shares at a lower price. Between the 11th of August and the 31st of August 2020, the Tesla share price increased by 81%.


Tesla's shares continued to rise throughout 2021, helping drive the company to a $1 trillion market cap in late October. This was immediately followed by TSLA shares hitting an all-time high of $1229.91 on November 4th 2021 – over 1200% higher than the share price at the beginning of 2020.
Since hitting this all-time high, Tesla's shares have pulled back slightly due to various internal and macroeconomic factors. However, the main reason Tesla has been struggling is the rumoured interest rate increases, which have wreaked havoc amongst growth stocks.
Tesla Shares Dividend Information
Tesla has never declared dividend payments to shareholders. The company is transparent about its intentions, stating on its official website that it does not anticipate paying any cash dividends in the foreseeable future since it wishes to continue the company's growth momentum.
Should I Invest in Tesla Shares?
Many people have high hopes for Tesla's cutting-edge technology and innovative vision. It is clear that Tesla's investors are looking beyond just the near future, and some even see a strong similarity to Apple.
Whether it is a bubble or not is up for debate but there are certainly some key factors that give Tesla the competitive edge it has achieved so far.
First and foremost, this company is a leading producer of electric vehicles globally. Back in 2019, Tesla officially became the world's largest electric car producer based on sales after it surpassed China's BYD. More recently, Tesla delivered over 936,000 EVs in 2021 – with many analysts expecting the 1 million figure to be breached in 2022.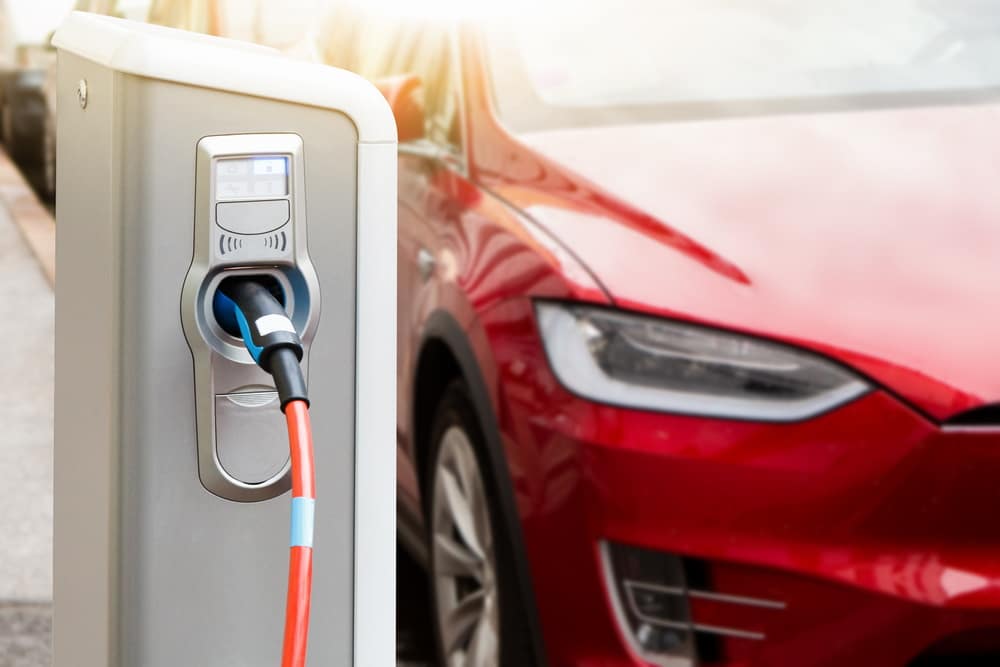 Another huge factor to factor in when analysing Tesla is the data it collects. Tesla's electric cars are constantly recording and collecting data, using cameras and other navigation tools to store as much data as possible while driving. This data holds enormous value in its valuation, which according to McKinsey and Co will be worth $750 billion per year by 2030.
Finally, Tesla does not only sell electric cars. Tesla's Supercharger stations are the fastest and most effective way to charge up electric vehicles that exist in the market, and the new battery modules should last between 300,000 miles and 500,000 miles. On top of that, Tesla produces solar roof products as well as a wide range of solar panels.
Taking all this information into account, you should conduct your own separate analysis and make a decision on whether or not to invest in Tesla stock.
Step 3: Open an Account and Deposit Funds
If you are ready to purchase Tesla shares in the UK, you'll first need to open an online trading account at a brokerage firm. After you have picked a suitable brokerage for your investment needs, here is how to start investing in Tesla and other stocks.
To create an online trading account, you'll need to visit the broker's homepage and begin the account sign-up process.
This will bring you to a registration form where you'll need to create a username and password and then enter some personal information that may include your full name, email address and other details.
On the next step, you will be required to verify your identity by uploading a copy of your driver's license or passport as well as a recent utility bill or bank account statement. This will be a requirement for FCA-regulated brokerages, in order to provide further safety to the users.
Once your account has been approved, funds can be deposited on the account. As a UK resident, many popular brokerages may start with a minimum deposit of $10 (£8). Users can make a deposit using one of the payment methods which may be provided:
Debit Card
Credit Card
Paypal
Skrill
Neteller
UK Bank Transfer
Step 4: Purchase Tesla Shares
Now that your account is funded and approved, you're ready to purchase Tesla shares. Insert "Tesla" in the search bar of your chosen brokerage and click on enter.
Users are required to fill in the order form and insert the amount they wish to invest in the stock. Once your order is confirmed, the transaction will be made.
Tesla Shares Invest or Sell?
Tesla's short interest stands at only 2.98% at the time of writing, highlighting the positive sentiment of the broader market.
Tesla is indeed a risky share and is considered overvalued by many investors at its current price of $990. The upcoming stock split has created a wave of demand for Tesla shares since it will make them more accessible to retail traders. However, at the time of writing, Tesla's share is in a tricky spot. So far this year, Tesla shares have dropped from $1,150 on January 1st to $990 on April 11th.
Tesla isn't like other companies and is one of the most popular shares among retail investors. While investing in such a volatile stock, it is important to do your own research and decide on your investment decision.
April 2022 Update: When this guide was originally published, Tesla was trading at $330.21. At the time of writing in April 2022, Tesla shares are now trading at $1,025.49. This represents a stock price increase of over 209%. 
 The Verdict
In summary, the outlook of Tesla's investors will be clearer in the coming days and weeks. However, Tesla is a very volatile stock that may require a strong risk appetite to hold in your portfolio.
Make sure to do your own research and decide on your investment decision for Tesla stock.
Other Tech Shares
Looking to invest in other tech shares? Check out the companies below.
Frequently Asked Questions on How to Invest in Tesla Shares
What stock exchange is Tesla listed on?
Does Tesla pay dividends?
What is the minimum amount of Tesla shares I can purchase?
Is Tesla a component of stock indices?
How to purchase Tesla shares?
How many shares does Elon Musk own in Tesla?