Wealthsimple Review UK – Features & Fees Revealed
Fact Checked
Everything you read on our site is provided by expert writers who have many years of experience in the financial markets and have written for other top financial publications. Every piece of information here is fact-checked.
Disclosure
Please note that we are not authorised to provide any investment advice. The information on this page should be construed for information purposes only. We may earn commissions from the products mentioned on this site.
Wealthsimple is an automated investing platform designed to help you save smartly. With this robo-advisor, you can open a tax-privileged retirement account and choose from three different portfolios.
What is Wealthsimple?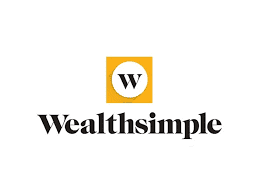 Wealthsimple is a Toronto-based robo-advisor founded in 2014. The platform has expanded to offer automated investing platforms in the US and UK, with investment plans that are customized for each country. For example, UK investors receive portfolios that are balanced with UK government bonds and UK stocks in addition to US and global assets.
Wealthsimple has several products in addition to robo-advising, including a stock broker platform called Wealthsimple Trade and a high-interest checking and savings account called Wealthsimple Cash. However, these products are not currently available in the UK.
Across all of its platforms in the UK, US, and Canada, Wealthsimple has more than £5 billion in assets under management.
Wealthsimple Account Types
Wealthsimple offers several different accounts to help you meet your investing and financial goals:
Personal Account
The Wealthsimple Personal account is a UK General Investing Account. This investment account doesn't have any limits on how frequently you can deposit or withdraw money. However, any profits you make from investing with Wealthsimple will be subject to UK capital gains tax.
Individual Savings Account (ISA)
Wealthsimple offers a Stocks and Shares ISA account. You can deposit up to a maximum of £20,000 per year into an ISA, and there are no limits around when you can withdraw your money. The nice thing about investing with a Wealthsimple ISA is that all profits are free from capital gains taxes.
Junior ISA
You can also open an ISA for your child at Wealthsimple. You can deposit up to £9,000 per year into a Junior ISA, and just as for a standard ISA there is no tax on investment profits.
Self-invested Personal Pension (SIPP)
Wealthsimple also offers a SIPP, which offers several tax perks. There is no limit on how much money you can contribute to a SIPP each year, and you get a 25% tax relief on your first £40,000 in contributions. The catch is that you cannot withdraw money from a SIPP until you turn 55, so it is only suitable for retirement investing.
Wealthsimple Black
This is a VIP general investing account with provides lower fees (0.5% management fee and an average 0.2% fund fee) when you deposit more than £100,000 across your Wealthsimple accounts.
Wealthsimple Generation
This is another VIP investing account which requires you to invest £500,000 and provides a dedicated team of expert human advisors to help optimise your wealth.
Wealthsimple Services
Wealthsimple is an automated investing platform, meaning that it invests on your behalf. The platform enables you to choose a pre-made portfolio and then keeps an eye on your portfolio over time. Wealthsimple will rebalance the portfolio and reinvest dividends as needed, but otherwise it takes a very hands-off approach to your investment.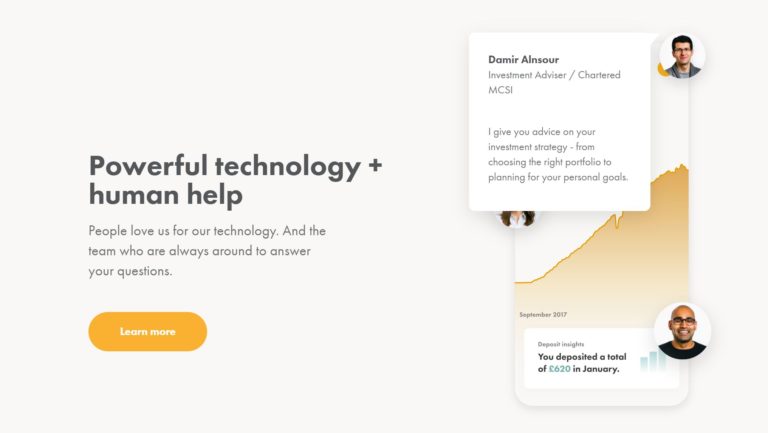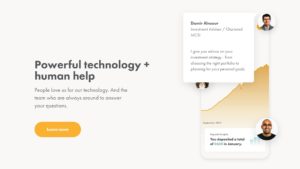 A big part of what makes Wealthsimple different from other robo-advisors is that you also get access to human financial planners. You can schedule an appointment at any time to discuss your investment goals and craft a custom plan that's right for you. Since Wealthfront has both tax-privileged and individual investment accounts, you can divide up your money to meet several different investing goals simultaneously.
Wealthsimple works with some popular financial tools like Intuit's Mint software. If you use Mint to keep a budget or track your finances, you can add your Wealthsimple accounts to your financial dashboard.
Wealthsimple Available Investments
This Canadian investment platform offers several different portfolio options, including Conservative, Balanced, and Growth. Each of these portfolios invests in the same selection of 10 to 15 ETFs (exchange-traded funds). They primarily differ in how your investment is balanced among these ETFs and in terms of risk tolerance.
Wealthsimple's ETFs only offer exposure to the stock and bond markets. Unlike some other robo-advisors, Wealthsimple does not invest in real estate or commodities. The stock ETFs are region-specific and include investment options in the UK, US, Europe, Japan, and emerging markets. The bond ETFs are largely focused on UK government bonds and global high-yield corporate bonds.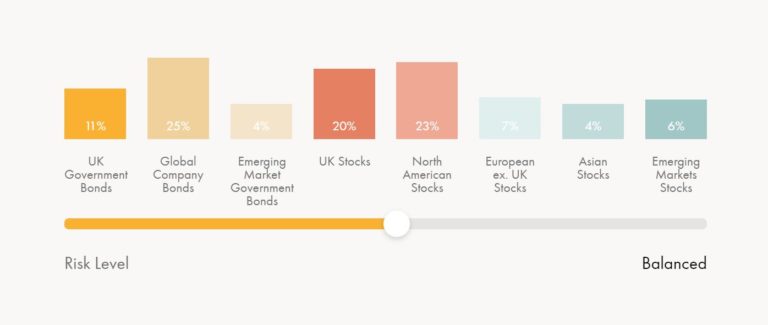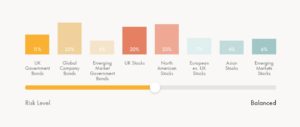 The Growth portfolio has an 80% exposure to stocks and 20% exposure to bonds, while the Conservative portfolio has an 80% exposure to bonds and 20% exposure to stocks. The Balanced portfolio is split roughly down the middle between these two asset classes.
Notably, Wealthsimple also offers socially responsible investing versions of these three portfolios. The SRI portfolios have the same balance of assets, but the underlying ETFs are different. For example, the socially responsible investing portfolios include an ETF specifically focused on clean energy stocks.
Wealthsimple also offers Halal investing to Islamic traders via its Halal portfolio. With this portfolio, all investments are screened by a third-party committee of Sharia scholars, and no investments are made in companies that profit from gambling, arms or tobacco.
Wealthsimple Portfolio Management
Wealthsimple takes a hands-off approach to manage your investment portfolio. Each portfolio is managed by experts according to an algorithm, and for the most part, your money is left in the same ETFs as long as you stick with the same pre-made portfolio. You can change your portfolio at any time by speaking with one of Wealthsimple's financial advisors.
The only changes that Wealthsimple makes are to reinvest dividends and keep your portfolio in balance over time. Portfolio rebalancing takes place automatically anytime it is needed, rather than only once a month or once a year.
Wealthsimple Portfolio Performance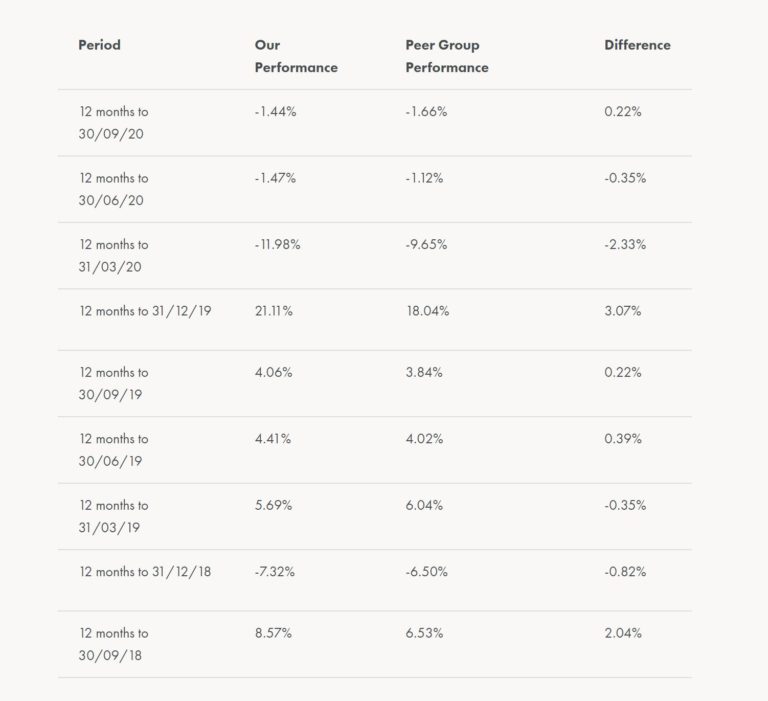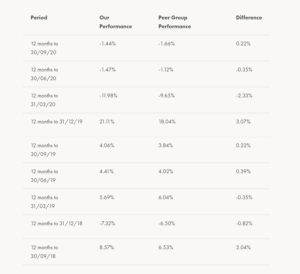 Wealthsimple's portfolio performance has been abysmal compared to both other UK robo-advisors and to the global stock market. Since the Growth portfolio was launched in 2017, it has returned just 13.1%. This is compared to over 25% for the stock-heavy portfolio from competitor Wealthify. In addition, the US S&P 500 index fund is up over 35% over that same time period.
Wealthsimple Fees
Wealthsimple has different pricing tiers depending on how much you have invested with the company. If you invest less than £100,000, Wealthsimple charges an annual management fee of 0.70%. Although this isn't particularly low cost when compared to some other robo-advisors, it's worth noting that it comes with free, unlimited access to a financial planner. If you can take advantage of this service, it more than justifies Wealthsimple's cost.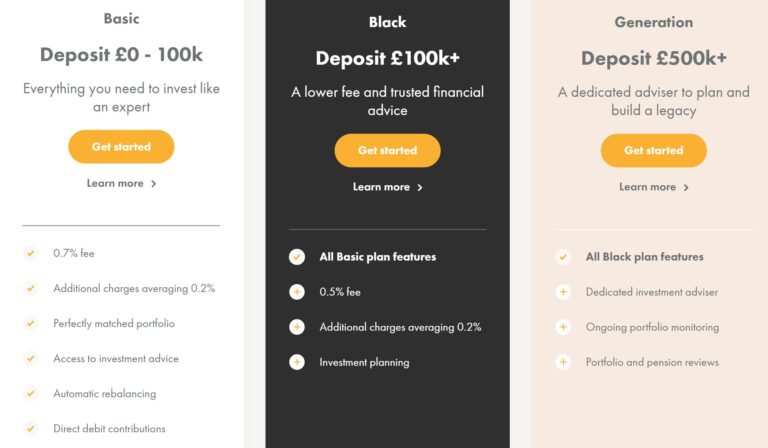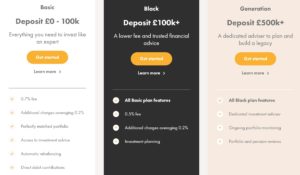 If you invest more than £100,000, Wealthsimple's annual fee drops to 0.5%. Once you reach £500,000 invested, the fee won't drop, but you will receive a dedicated investment advisor from Wealthsimple.
Keep in mind that regardless of how much you have invested, you are still subject to index fees charged by the ETFs that Wealthsimple invests your money in. These average around 0.20% per year for the standard portfolios and around 0.28% per year for the socially responsible portfolios.
| | |
| --- | --- |
| Account Fees | 0.70% per year |
| Deposit/Withdrawal Fees | None |
| ETF Management Fees | 0.20%-0.28% per year |
Wealthsimple Minimum Investment
Wealthsimple doesn't have any minimum investment. You can open a new account without depositing even one pound.
Wealthsimple User Experience
Getting started with Wealthsimple is seamless and only takes a few minutes. To begin, just enter a few details about yourself and your investing goals. Wealthsimple will ask you to complete a questionnaire and then suggest one of its pre-made portfolio balances and account types for you.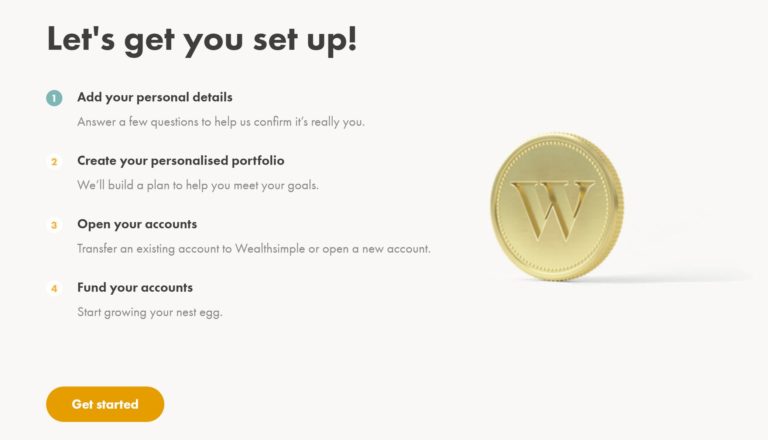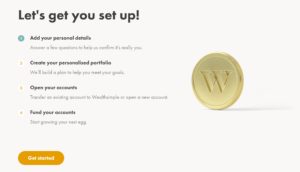 Once your account is set up, there's not much you need to do. Wealthsimple's dashboard displays your current account balance and offers a projection of how much your investments will be worth in the future. You can also set up one-time or recurring deposits to your investing account from your bank account, debit card, or credit card.
Wealthsimple also offers a mobile app for iOS and Android devices. This mirrors the web interface in that the main display simply shows your current account balances. However, you can also use the app to access Wealthsimple's educational resources, including the Personal Finance 101 blog.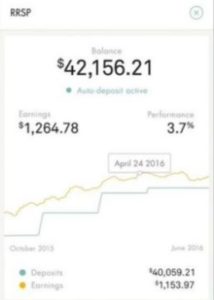 Wealthsimple Features, Education & Resources
Wealthsimple has a handful of educational resources designed to help first-time investors understand how their money is being put to work. To start, the platform has a free Investing Master Class, which takes less than 45 minutes and introduces the fundamentals of financial planning and portfolio design. The class consists of 10 short videos that you can watch at any time.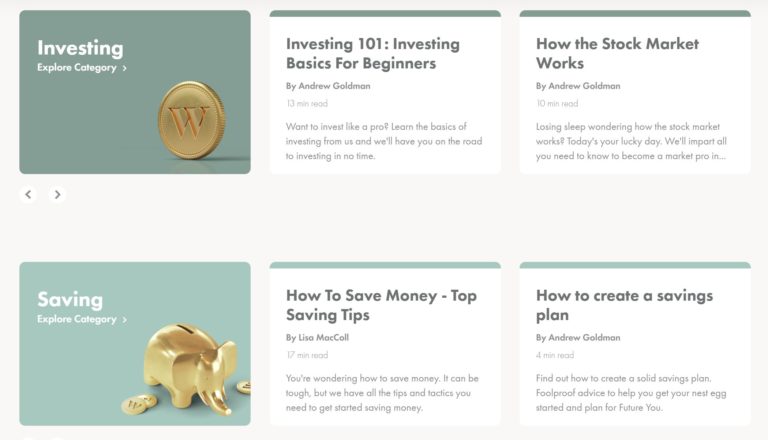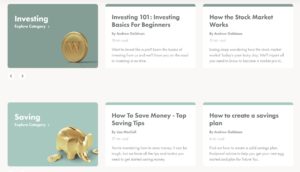 The platform also runs a Personal Finance 101 blog, where you'll find in-depth articles covering some of the same topics as the master class. For example, there are articles on figuring out how much money you'll need in retirement and articles on how to create an everyday savings plan.
Wealthsimple Contact and Customer Support
Wealthsimple offers customer service by phone and email. If you want to speak with a financial advisor, you can schedule a short financial planning session through the platform's website. Most questions about how Wealthsimple works are answered on the company's FAQs page, although you won't find detailed tutorials to help you set up your account.
Phone: 0800 808 5653
Email: [email protected]
Address: Wealthsimple, 3rd Floor, 20 Grosvenor Pl, London, SW1X 7HN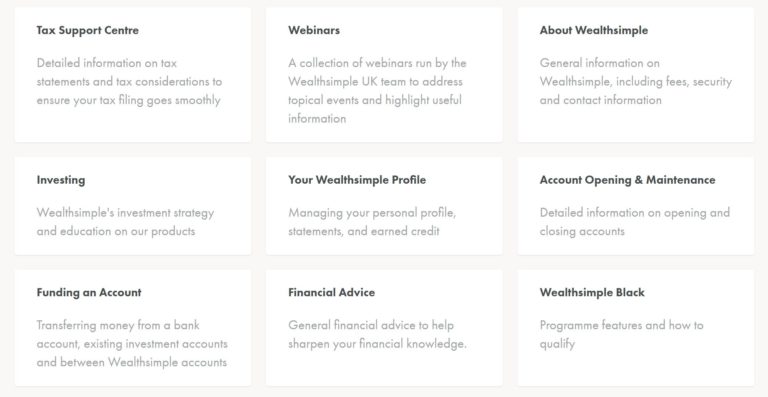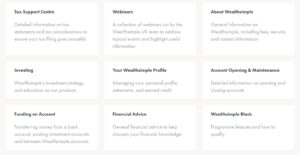 Is Wealthsimple Safe?
Wealthsimple is considered very safe. The company has a strong track record of managing clients' funds. It operates under the supervision of the UK's Financial Conduct Authority and the US's Financial Industry Regulatory Authority, two of the most highly respected government watchdogs in the world.
In addition, UK investors are protected by the Financial Services Compensation Scheme. This ensures your account for up to £85,000 in the event that Wealthsimple runs into financial trouble.
Wealthsimple vs eToro
Wealthsimple offers a simple solution for either general investing or retirement investing that requires very little work on your part.
Unlike Wealthsimple, eToro isn't a robo-advisor. This broker allows you to buy and sell hundreds of shares and ETFs from exchanges around the globe, all with no commissions and no account management fees. You can also invest in a wide range of other instruments with low fees. One thing to keep in mind about eToro is that it only offers general investing accounts. You cannot open an ISA or SIPP for tax-privileged investing.
However, you can automate your investments by taking advantage of eToro's copy portfolios feature. With copy portfolios, you can set your portfolio to automatically mimic the trades of a professional investor. This is a more active approach to investing than what Wealthsimple offers, and it comes with potentially higher returns and higher risk.
For the majority of UK investors, eToro offers flexibility and low fees. You can automate your investments if you want to take a hands-off approach to invest, buy shares and ETFs individually, or use a mix of both strategies. You also don't have to worry about paying 0.9% of your account balance or more in fees each year as you do with Wealthsimple.
| | | | | |
| --- | --- | --- | --- | --- |
| | Account Types | Management Fees | Minimum Deposit | Customization |
| Wealthify | GIA, ISA, Junior ISA, SIPP | 0.90% per year | None | None |
| eToro | GIA | None | £160 | Trade Shares, ETFs, and more |
Conclusion
Our Wealthsimple review found that this robo-advisor can be a option for those who want both automated investing and access to a financial advisor. We like that the platform supports multiple investment account types and offers socially responsible investing portfolios. However, Wealthsimple's portfolio performance has been incredibly weak compared to the stock market and to other robo-advisors in the UK. That's a major red flag, as you could potentially be missing out on significant returns into the future.
FAQs
Can I set up recurring deposits at Wealthsimple?
Can I open a Lifetime Savings Account at Wealthsimple?
What deposit methods does Wealthsimple accept?
Can I transfer an existing ISA or SIPP to Wealthsimple?
Can I have multiple accounts or portfolios at Wealthsimple?