How to Invest in Chainlink UK – Beginner's Guide
Fact Checked
Everything you read on our site is provided by expert writers who have many years of experience in the financial markets and have written for other top financial publications. Every piece of information here is fact-checked.
Disclosure
Please note that we are not authorised to provide any investment advice. The information on this page should be construed for information purposes only. We may earn commissions from the products mentioned on this site.
On May 9th, 2021, Chainlink was priced at $4.02. Exactly one year later, its price was at an all-time high of $52.34, putting it in the top 20 cryptocurrencies based on market capitalisation at the time. So, what is at the core of this blockchain technology, why has it risen so much, and how do we invest in Chainlink?
You're probably aware of smart contracts by now, but what may not be obvious is the issues that blockchain faces when accessing external data. The clue is in the name when it comes to Chainlink: It provides a link between the new world of blockchain and the legal world. This article will cover everything from how to invest in LINK, what it is, why anyone would want to invest in the blockchain, and how to stake with it.
How to Invest in Chainlink – Quick Steps
Below are the four quick steps you need to take in order to invest in Chainlink in under 15 minutes.
Open an account with eToro – Create a secure login at eToro to open your own account
Deposit – Deposit funds into eToro with either Credit/Debit card, PayPal, or various alternative payment solutions like Neteller
Search for Chainlink – Find Chainlink on eToro amongst the many Crypto coins on offer
Invest – Pull the trigger on your investment and acquiring some Chainlink crypto. eToro is considered to be the best place to buy cryptocurrency due to its low fees, modest spread, regulation, and Copy Trading features.
Don't invest in crypto assets unless you're prepared to lose all the money you invest.
What is Chainlink (LINK)?


Chainlink is an oracle platform that helps integrate external data into the world of smart contracts – all whilst remaining decentralized. An oracle is usually a third-party service that feeds blockchain information from the outside world. However, Chainlink (LINK) aggregates data across multiple oracles whose results are staked, providing a network of nodes to make sure that all information given to the smart contracts is reliable and secure.
At its core, it's a blockchain that has smart contract capability. Its three main contracts are: Reputation contract, order-matching contract, and aggregating contract. Chainlink (LINK) puts security as its priority, using Town Crier to help secure data feeds using "trusted-execution environments" hardware. In short, Chainlink can access external data sources such as APIs and data feeds without compromising security or its decentralisation.
What separates Chainlink crypto from many others is that it's already legitimised and used by many influential and important financial players. From DeFi tokens like Synthetix to financial behemoths like Google and SWIFT, proving that it really is providing a bridge between legacy systems and blockchain. The partnership with SWIFT is particularly important, which could mean many more influential collaborations down the line.
Why Invest in Chainlink?
Here are some reasons why you may want to invest in LINK – beyond it being included in the list of best cryptocurrencies to invest in 2022. Beyond the six reasons below, Chainlink is potentially under-priced at the moment, which will be covered in the next section. However, it's important to note that buying LINK doesn't mean the same thing as buying shareholders in the Chainlink. There is a separation between its technology and the token, but both are highly relevant to the Chainlink conversation.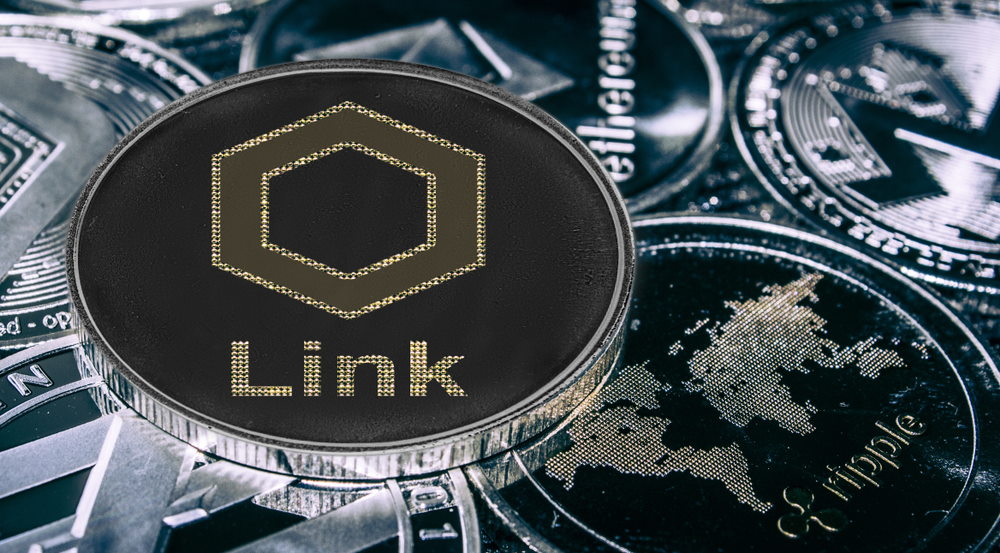 Security
Through Chainlink's acquisition of Town Crier and making use of its Trusted Execution Environments, there is increased security in node operators and overall reliability of the oracle network. Using a system of distributed oracles and sources, Chainlink is considered to be one of the safest ways to feed information into blockchain, and with the backing of the likes of SWIFT and Google, it appears they think so too.
Solves real-world problems
A criticism of some smart contracts and cryptocurrencies is that they do not solve real-world problems. Either through being too awkward to use for the everyday consumer or having a very narrow use case. Chainlink, on the other hand, is a very practical network. In fact, many other projects like SOL and AVAX actually use Chainlink oracles
Being able to connect to existing banking systems, facilitate real payments, access external data safely are all reasons why Chainlink has real-world uses with external payments, NFTs, Gaming, Insurance, and many other areas
A tool for Ethereum
Ethereum is considered to be the largest smart contract blockchain system currently, as it's been in the top 2 coins for many years. The good news is that Chainlink is not the same technology or a direct competition, and instead, Chainlink can be a middleware tool for Ethereum to use.
LINK's link with its technology
As mentioned in the introduction to this section, LINK tokens are a separate thing to the Chainlink network. However, it's also important to realise that the success and wide adoption of a network would also reflect well on the price of its token. Whilst LINK doesn't have to be purchased in order to use some of Chainlink's technology, it's seen as a likely correlation between the success of the network and the success of the token.
Chainlink isn't likely to be classified as a security
Securities and Exchanges Commission (SEC) sent the price of Ripple crashing when declaring the XRP token as an "ongoing security". Being a security can interfere with being listed on exchanges like Binance, and instead, be shrouded in more regulation. This was a fear for LINK for some initially, but many analysts are suggesting that the SEC will clear LINK as a token.
Whilst it's no guarantee, LINK has many things in its favour for not being declared as a security: it's not based in the US, it's a utility token, among other things. Although it's no guarantee, having good news from SEC and putting away doubts could send the boost the price of LINK substantially.
Potential Growth
Given the recent news that the US and many other developed nations are suffering from high inflation, many are looking to counter this inflation with some more aggressive assets. As we explore in the next section, it's not just value investors that like the look of Chainlink, but also growth investors. It's important to remember that, despite the benefits of the Chainlink technology, the coin itself rises in value. Many credible analysts within the Crypto space are predicting strong growth potential with LINK when factoring in both technical analysis and the technological potential.
Chainlink Crypto Price
Chainlink's price was very modest and steady since it was founded in mid-2017. Its price started out at around $0.44 and was still under a dollar until May 2019. The price continued to grow steadily to around $4 for a whole year until it finally took off.
Chainlink's all-time high come on May 9th, 2021, where it hit $52.34. The coin is currently at around $19 and is considered by some to be undervalued.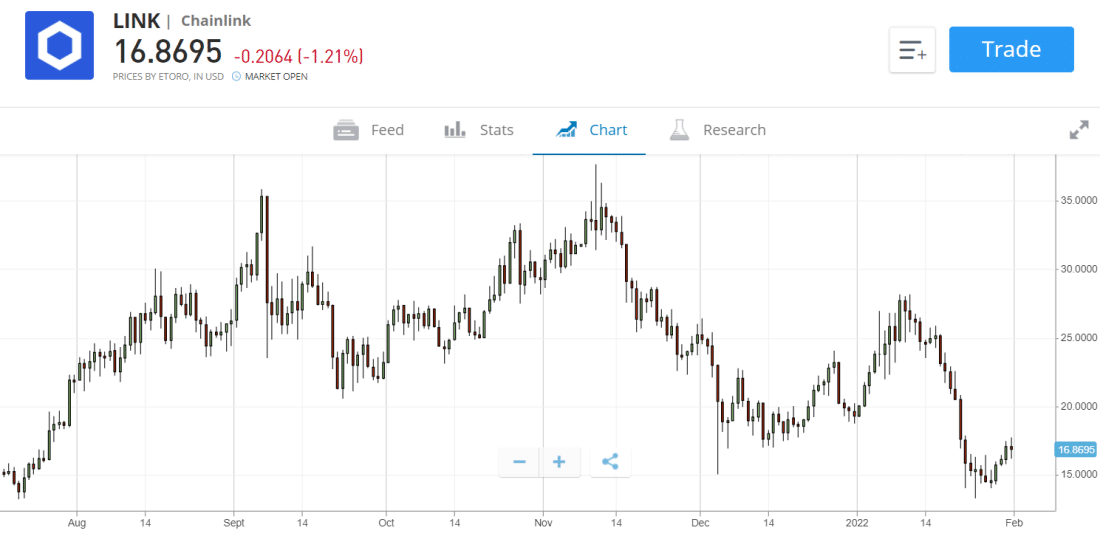 Chainlink Price Prediction
Having an underpriced coin would lend itself to a positive price outlook in the near future. The main reason behind the claims of being undervalued is that it's not talked about (or traded as often) as some other coins, such as Cardano, which are taking up most of the limelight. However, with it offering promising technology and being one of the few blockchains to partner with infrastructure as powerful as SWIFT, it's difficult to deny that many people are overlooking the Chainlink crypto price.
A Chainlink price prediction isn't an easy one, but it does appear that the coin is currently bouncing back from a dip, having been down 60% from the November high. In the Chainlink coin price prediction from many reputable sources, it's quickly pointed out that Chainlink's outlook on partnering with more legacy financial infrastructure is looking likely, which will reflect well on the price.
LINK's ICO in September 2017, its correction in June 2018, and finally the Google partnership with Chalink being announced in June 2019 were all defining moments of Chalink's price history. Since then, Mache and August 2020 saw tremendous growth and hit its ATH because of the cryptocurrency market as a whole, whilst its recent price rebound comes from a series of new oracle integrations.
Digital Coin Price, analysts in the crypto space, are predicting the price to end the year at a similar price to the start of the year, whilst Long Forecast is predicting growth to $40.99 by December 2022. Most analysts are predicting the price to be between $40 and $50 in the coming years, which promises a very healthy return, and Coin Price Forecast is even predicting a $100 ATH by 2030.
Predictions this far in advance, though, are heavily dependent on the monetary system and regulation that we adopt in the developed world. To conduct your own technical analysis on Chainlink's future price, apply trend lines, support and resistance levels, and other technical indicators using eToro's charting features.
Staking Chainlink
Chainlink staking works differently from other coins – there's a lot more work involved regarding the node operator than just putting tokens into a wallet. Instead, nodes are undertaking different jobs, such as retrieving data to smart contracts in return for Chainlink (LINK) tokens. In other words, when you stake Chainlink, you're putting your tokens forward as collateral. If you provide the wrong information into the network, you're going to lose a portion of your tokens, but if it's correct, you earn a fraction of whatever the node operator makes. To do this, you need very basic hardware requirements.
This is a good way to earn passive "interest" on your Chainlink holdings. You stake LINK on a cryptocurrency exchange, such as eToro, but there is also a second way to stake LINK. There are both DeFi and CeFi wallets/platforms which provide Chainlink lending. Staking on these platforms by choosing your desired product will mean accruing literal interest from LINK loans. The YouHodler platform, for example, claims up to 6.2% APR can be earned in interest.
How to Invest in Chainlink – Tutorial
So, if you're looking to capitalise on the promising Chainlink crypto price and purchase the coin, you will first need to choose a crypto broker. However, it's also worth beginners reading a guide to cryptocurrency trading in 2022 – particularly when it comes to distinguishing it from Forex trading.
Choose a Crypto Broker
eToro is the ide
al choice of a broker when purchasing cryptocurrency. There is a spread that is charged, which is inevitable, but they're usually under 4%. But, it's also important to note that eToro is one of the best FCA-regulated brokers across the board, making it safer than many crypto exchange platforms.
Below is the range of cryptocurrencies that eToro has. Whilst it is less than some dedicated crypto exchanges, it's more than most stockbrokers offer, making eToro a fantastic one-stop-shop. As we can see in the top left of the picture below, there are 40+ cryptocurrencies on offer.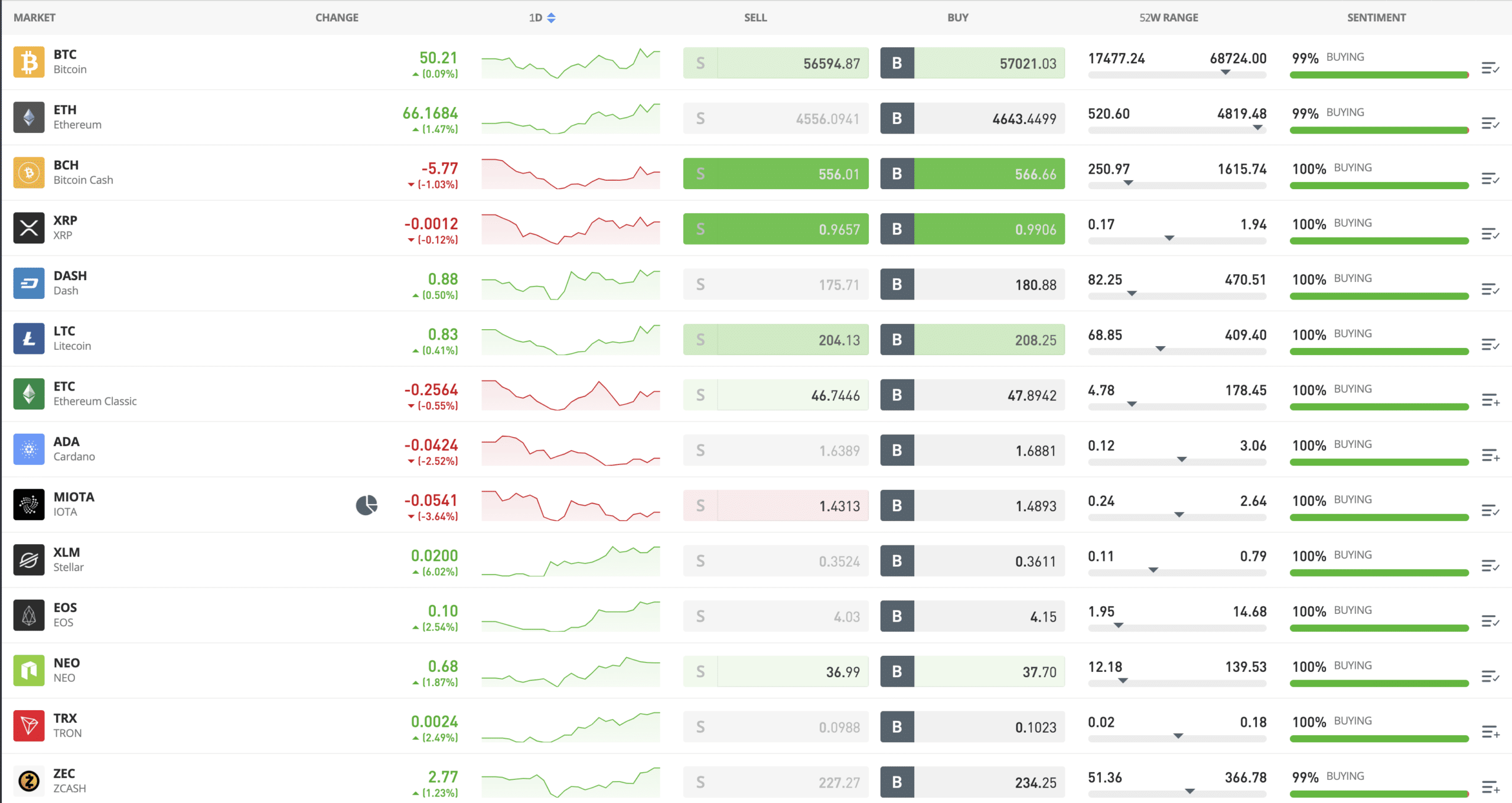 Buying and selling assets with eToro are extremely fast and easy, particularly through the highly-rated mobile crypto app. The user interface is intuitive, and the charting and basic data (i.e. vol, circulating supply, market cap, 1-year return) are all immediately presented on the coins dedicated page before buying.
Interestingly, you're not on your own with eToro due to its social trading features. Instead of trying to socialise and begin a dialogue in external platforms about your passion, eToro provides a built-in social feed in which you can interact with other traders. In fact, it goes a step further, where you can view other traders portfolios and copy them. Copying a trader will mean that your account mimics their trades automatically without you manually creating orders.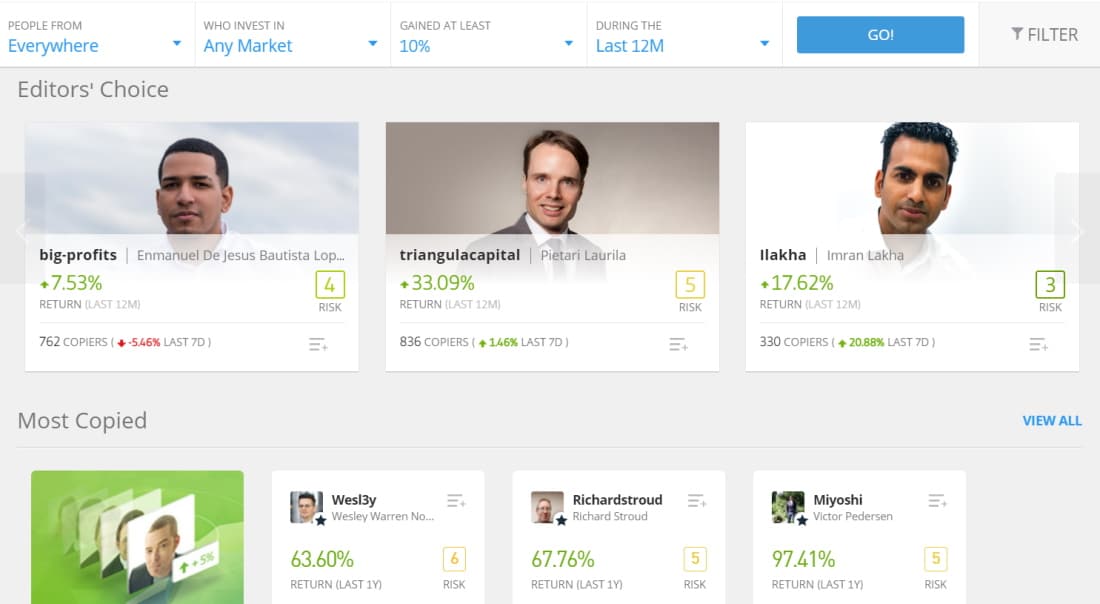 Past performance is not an indication of future results. 
As we can see above, you can select traders who invest in crypto, or traders that invest in any market. There is then a feed of the most successful traders with high returns, a risk profile, and an entire dedicate page which details their portfolio. This is a great way to see if traders' gains are valid before listening to their predictions, for example.
Pros
Tight spreads
Easy-to-use platform
24/5 customer support
Copy-trading features
Highly regulated
Cons
Not as many cryptocurrencies as some other exchanges
Don't invest in crypto assets unless you're prepared to lose all the money you invest.
Sign Up
Firstly, you will need an account to use eToro. To do this, click the Join Now button in the top right of the website and fill in the details below. Alternatively, you can sign up with Google or Facebook to have an easier logging in process. Make sure to activate two-factor authentication in the settings to improve your account security.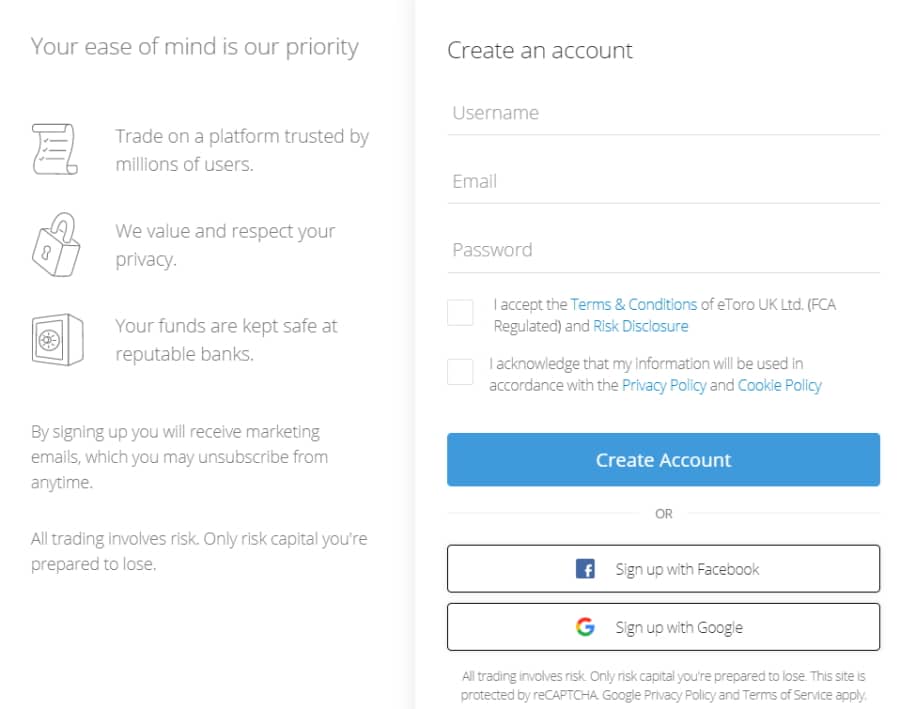 Deposit
In order to deposit some funds for your imminent investments, open up the sidebar by pressing the button in the top left with an arrow on it. Then, press the Deposit Funds button at the bottom left.
eToro has zero deposit fees, meaning that you're getting the most for your money when depositing and investing in Chainlink.
You will be presented with a window where you can type in your credit/debit card details, or select a different payment method. Other payment methods include: PayPal, Neteller, Skrill, Rapid Transfer, iDEAL, Klarna / Sofort Banking, Bank Transfer, POLi, and online banking.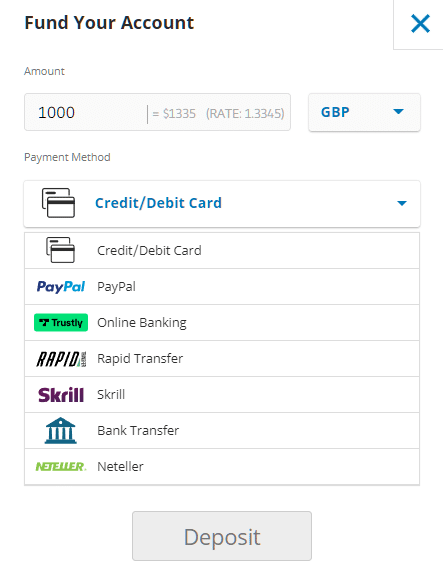 Search for Chainlink
In order to find different assets, search in the bar at the top. As we can see, Chainlink appears in the window below, as well as the traders/people associated with what you're searching for. Pressing on Chainlink will present you with the dedicated page, where you can view the stats, charts, and research information of this particular crypto.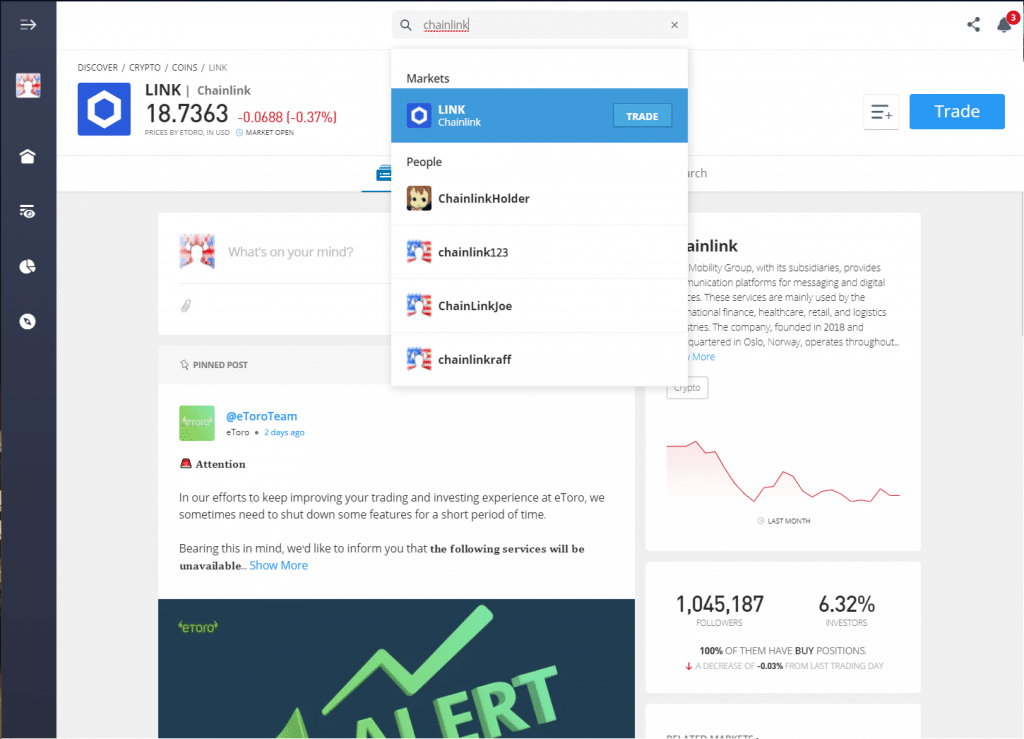 Invest
Finally, to invest in LINK you will need to press the Trade button in the top right. You will be presented with a window that details the quoted price for LINK, and how many units/money you want to spend. You can enter a different amount, and executing the trade is as simple as pressing the Open Trade button at the bottom.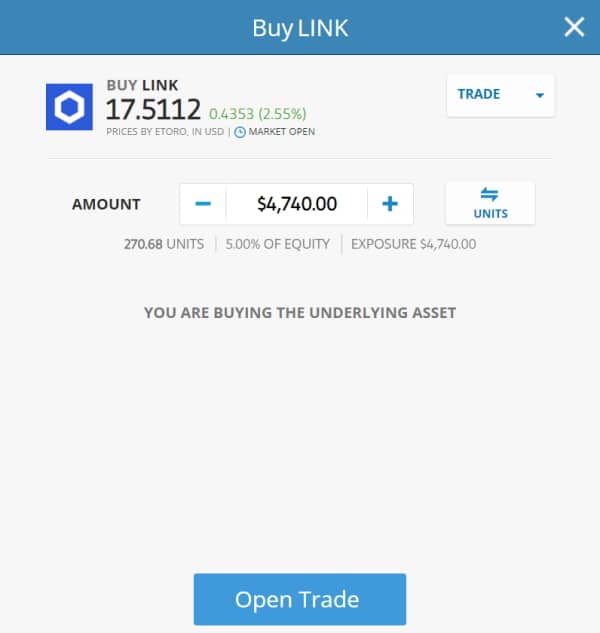 Conclusion
In a world with ever more Altcoins and newcomers, it's important to look at the value and usability of a coin. The Chainlink infrastructure is a standout network with a high focus on security, many use cases, and integration with day-to-day financial systems. Whilst there is always a risk when investing in a coin, the consensus seems to be overwhelmingly positive when it comes to Chainlink's blockchain oracles for smart contracts.
When looking to invest in Chainlink, eToro is a solid choice. With a built-in cryptocurrency wallet and modest spreads, and are highly regulated and secure, eToro is a safe bet. Beyond this, its CopyTrading features and mobile charting functionality makes it a stand out broker to invest in Chainlink, or other cryptos, on a day-to-day basis.
Don't invest in crypto assets unless you're prepared to lose all the money you invest.
Frequently Asked Questions when Buying Chainlink
Should I invest in Chainlink?
How do I invest in Chainlink?
What is the best wallet for Chainlink?
Is Chainlink a safe investment?
What does Chainlink crypto do?
How is Chainlink different from Ethereum?