As the name suggests, alternative investments are the asset classes that fall outside of the status quo of traditional investments – namely stocks, bonds, and cash. Common examples available to UK retail investors include peer-to-peer real estate and loans, cryptocurrencies like Bitcoin, and even fine art.
On the one hand, UK alternative investments do come with a much higher upside potential than you will find with traditional assets. However, what follows this higher-than-average annual return is a greater level of risk.
In this guide, we discuss alternative investments in the UK. We cover a variety of assets – each of which comes with different levels of risk and potential returns. To conclude, we'll guide you through the process of making an alternative investment online.
Note: As we discuss in detail further down, in order to access alternative assets you will often need to go through an ETF or mutual fund. 
10 Alternative Investments 2021
Here's a breakdown of 10 alternative investments available to UK residents in 2021. Scroll down to read our in-depth insights on each asset.
Real Estate Select Sector SPDR Fund
Silver
Bitcoin
Copy Trading at eToro
Peer to Peer Lending
Cannabis Stocks
Crude Oil
Stock Options
Invesco Senior Loan ETF
iShares Emerging Markets Local Government Bond Index Fund
Alternative Investments in the UK
Not only do you need to find some time to find an alternative investment that meets your long term financial goals, but you also need to ensure that it is readily accessible to UK retail clients. This simply means that you do not fall under the scope of a professional, accredited, or institutional investor.
With this in mind, below we discuss UK alternative investments that we believe are worth your consideration – all of which can be purchased online in a matter of minutes.
1. Real Estate Select Sector SPDR Fund
Real estate is often referred to as the safest way to grow your money in the long run. The key problem with that sentiment is that real estate – especially in the UK, can be extremely difficult to access.
That is to say, unless you already have a 6-figure lump sum to hand or you are prepared to commit to a 35+ year mortgage – being able to invest in real estate is challenging. Even if you were able to buy a property outright, investing in a single asset from a single marketplace doesn't allow you to diversify.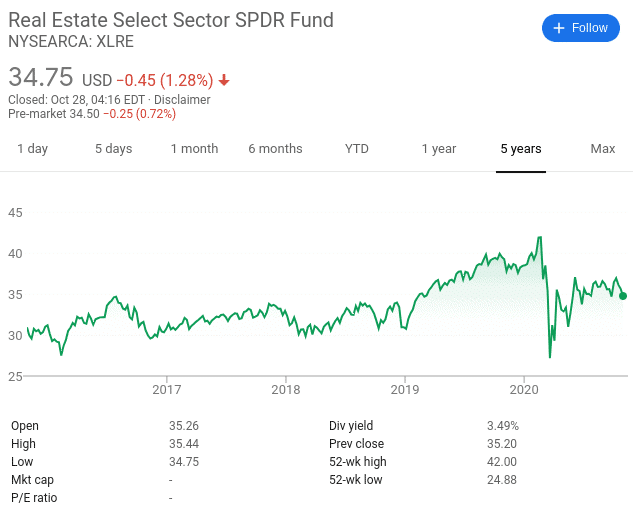 Queue: The Real Estate Select Sector SPDR Fund
Put simply, this is a large-scale exchange-traded fund (ETF) that seeks to track the performance of the wider US real estate market. In order to reach this goal, the fund managers at SPDR, which is the financial institution behind the ETF, have built a portfolio that contains a wide selection of public companies that are involved in the American property scene.
This includes the likes of:
American Tower Corporation
Prologis Inc.
Equinix Inc.
Crown Castle International Corp
Digital Realty Trust Inc.
Public Storage
SBA Communications Corp. Class A
Welltower Inc.
Weyerhaeuser Company
Realty Income Corporation
The weighting –  refers to the percentage of capital allocated to each holding of the ETF, reflects the influence that each comp[any has on the US real estate scene. For example, which American Tower Corporation has been assigned a weighting of over 14%, Realty Income Corporation stands at just 2.83%.
By injecting your hard-earned money into this alternative investment, you will benefit from a 100% liquid asset class. In other words, you don't need to wait for properties to be sold in order to access your cash. On the contrary, the ETF is listed on the New York Stock Exchange (NYSE) – meaning that you can sell your position for cash at any given time (during market hours).
Sponsored ad. Your capital is at risk.
2. Silver
While many investors will look at gold when considering a store of value, silver is leading the way at present. Back in March of this year, you would have paid just $12.27/oz. Fast forward to late October and you'd need to pay $24.48/oz. This means that the value of silver has more than doubled in less than 7 months.
As you can imagine, it would take many decades to get anywhere near this sort of return when investing in low-risk bonds or stocks. If you're wondering how you can jump on the silver wagon, this alternative investment class does not require personally purchase and store the asset.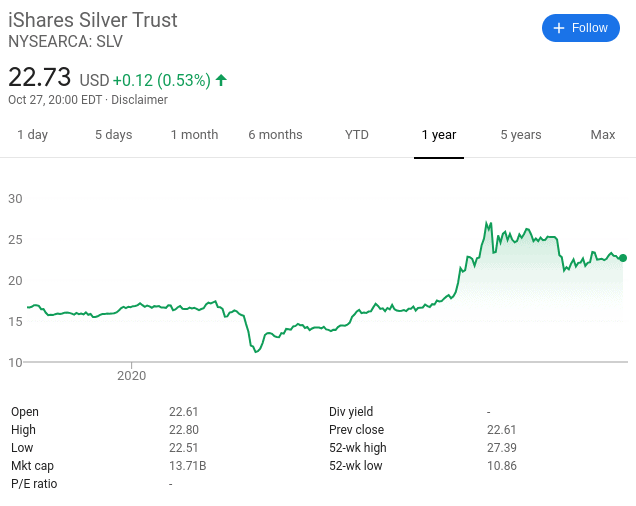 Instead, all you need to do is invest via an ETF or trust. One option in the market at this moment in time is that of the iShares Silver Trust. Not only will the trust look to replicate the growth of silver, but it will actively trade it in the short term. Crucially, once you make an initial investment – iShares will take care of the rest.
Over the past 12 months alone the iShares Silver Trust has returned 36.80% for investors – which is huge. The trust is actually listed at FCA broker eToro, meaning that you can cash out your proceeds whenever you wish (during NASDAQ operating hours).
Sponsored ad. Your capital is at risk.
3. Bitcoin
Bitcoin is a cryptocurrency which at the very least you have likely heard of. It was first launched in 2009 and since expanded into a multi-billion pound dollar class. In fact, at the time of writing, Bitcoin has a total market capitalization of over $254 billion. To put that into perspective, just 20 companies listed in the US (think Apple, Amazon, Google, etc.) are in possession of larger valuations.
In terms of returns, Bitcoin is also a high-performing asset class over the past few years. For example, had you bought a single Bitcoin five years prior to writing this article, you would have paid just $144. Today, that very same Bitcoin will cost you over $13,700. This translates into 5-year returns of 9,413%.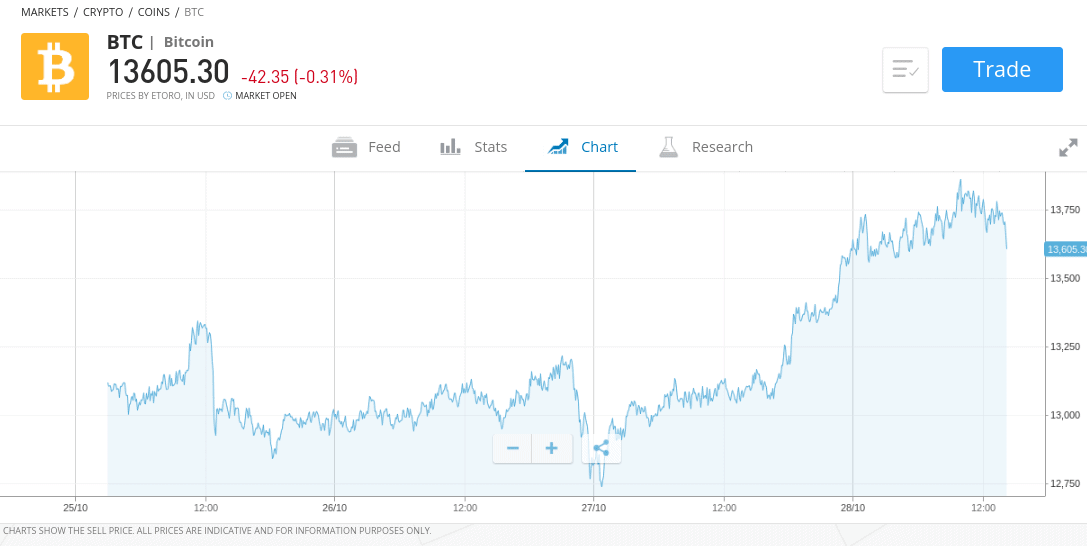 With that being said, Bitcoin is an extremely speculative asset class. It does not yield income and it is still volatile. For example, it is not uncommon for this digital currency to increase or decrease in value by 10% or more in a single day of trading. This is why you should always limit your stakes – even more so than the other alternative investments listed on this page.
By using an FCA-regulated platform like eToro, you can make an investment in Bitcoin stocks UK in minutes with your UK debit/credit card. The platform in question does not charge any commissions when buying and selling Bitcoin and you can invest from just $25.
Just bear in mind that Bitcoin and other cryptocurrencies often experience a lot of volatility, so make you conduct extensive due diligence before investing.
Sponsored ad. Your capital is at risk.
4. Copy Trading at eToro
Copy Trading is a relatively new phenomenon and thus – sits well within the remit of an alternative investment. For those unaware, this is a feature offered by popular online trading site eToro. The main concept is that you will be copying the buy and sell orders of your chosen investor.
For example, you might decide to invest money into an investor that has a proven track record of trading commodities. Not only will you copy their current portfolio – but all ongoing positions. This allows you to actively trade your preferred financial market without needing to have any experience.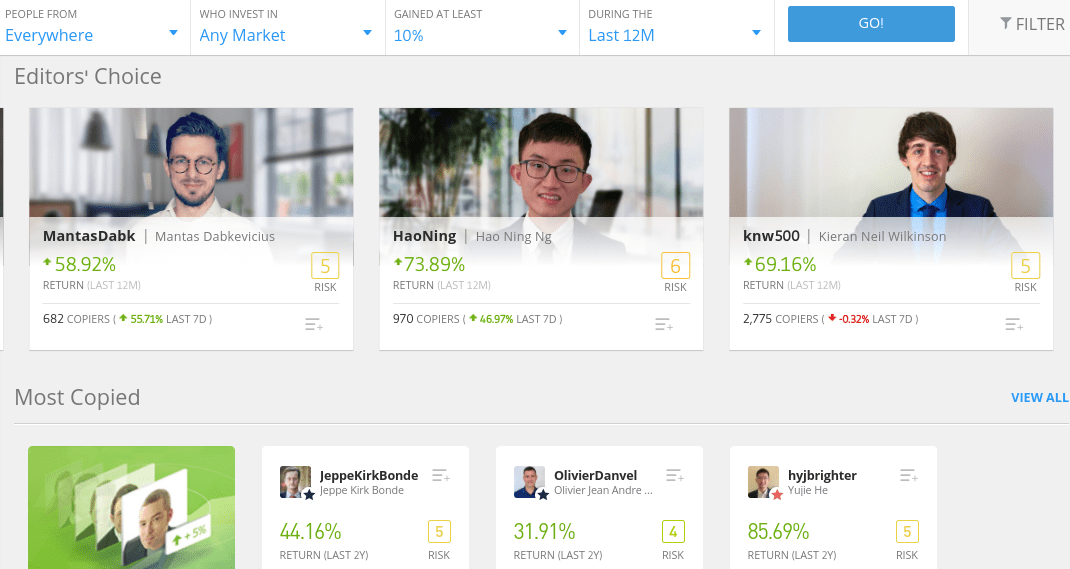 Here's a basic example of how it works:
You invest £2,000 into a copy trader at eToro that specializes in growth stocks
The trader allocates 10% of their capital to Tesla
As you are copying them, you also invest 10% into Tesla – with your investment amounting to £200 (10% of £2,000)
A few days later, the trader then allocated 5% into Square
Once again, you also allocated 5% into Square – which amounts to £100 (5% of £2,000)
As you can see from the above, you are able to tap into the mindset of an experienced investor without needing to do any of the legwork. If you like the sound of this segment of the alternative investments scene, you can get started with a minimum of just $50 per copy trader. As such, by depositing $2,000 – you would be able to build a portfolio for 10 different traders.
Sponsored ad. Your capital is at risk.
5. Peer to Peer Lending
In a time not so long ago, the loan space was reserved primarily for big banks and building societies. However, fast forward to 2021 and it is not possible to play the role of the lender through peer-to-peer financing. For those unaware, peer-to-peer means that you are essentially cutting out the middle man.
As such, you will be lending money to consumers and businesses in the UK at competitive interest rates. There are heaps of such platforms active in the space that allows you to get started from the comfort of your home. In some cases, you only need to invest £10 per loan. You get to diversify across hundreds of different loan agreements and thus – mitigate the risks.
In terms of how much you can make, this really can vary. For example, interest yields can depend on the credit rating of the borrower, the length of the term, and whether the funds are secured or not. Some peer-to-peer lending websites even offer Buy Back Guarantees. This means that the originator will cover the agreement if the borrower subsequently defaults.
6. Legal Cannabis
Cannabis is a multi-billion pound commodity, albeit, the legal side of things is only just about taking off. The industry is split into two key segments – recreational and medical. The former – which entails buying cannabis from a licensed dispenser on the back of receiving a medical prescription, is present in many countries around the world.
This includes much of Europe, the US, Australia, and even Thailand. However, it is recreational cannabis that offers the true potential. At present, this is only a reality in two countries – Canada and Uruguay. A number of US states also permit the recreational sale of cannabis, too.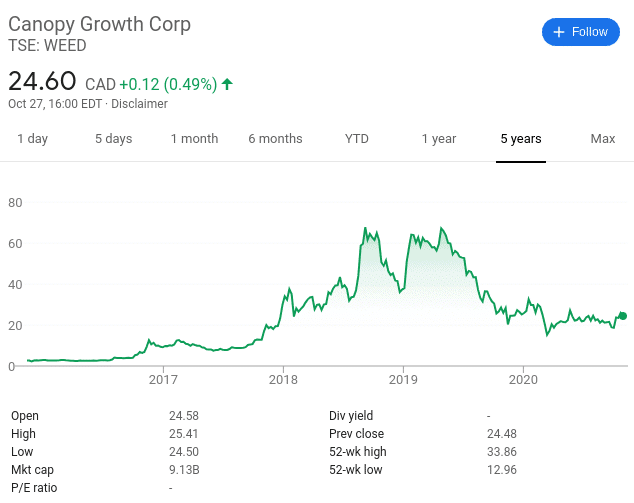 With that said, more and more governments are considering relaxing these draconian laws. When do they do, this will open up to the doors to huge upside potential for those active in the space. You have two options to invest – buying cannabis stocks or investing in an ETF that tracks several cannabis companies.
One of the stocks, in particular, to keep an eye on is Canopy Growth. At the time of writing, the Canada-based cannabis grower has a market valuation of over $9.1 billion. Just five years ago you would have been able to buy these stocks at just $2.72 each. Today you'll need to fork out $24.60. This translates into growth of over 800%.
Sponsored ad. Your capital is at risk.
7. Crude Oil
Crude oil is a sought-after commodity globally. However, this sentiment has been far from the case in 2021. After all, with lockdown measures impacting much of the world, countries shutting borders, and travel put to a virtual standstill – demand for oil was virtually non-existent in Q2.
This became evident when the value of US oil futures went into negative figures. This means that those holding the futures contracts were prepared to pay people to take delivery of the oil as they had nowhere to store it. With that said, a more appropriate benchmark to use is that of the Brent Crude Index – which hit lows of $19 barrel in April.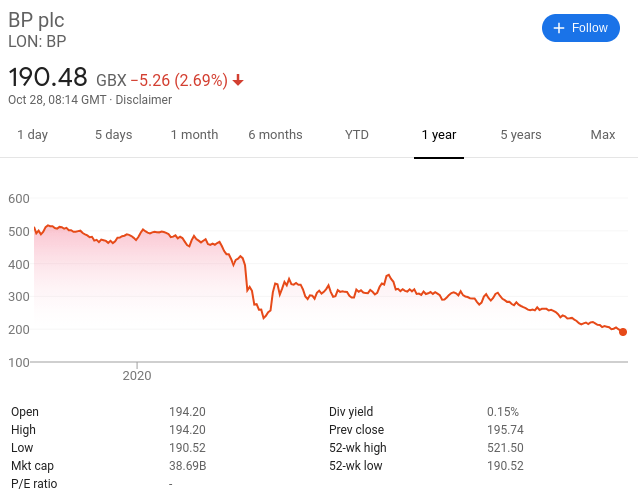 Since then, this has more than doubled – with an at-the-time-of-writing price of $38. However, even at this price, many would argue that oil is heavily undervalued. Crucially, this is because global travel will at some point return to pre-pandemic levels. When, however, remains to be seen.
Nevertheless, if you want to catch yourself a bargain, there are many ways to access this alternative investment class. For example, you can trade oil CFDs commission-free at eToro. Or, you can buy oil shares that are yet to recover from the pandemic. A prime example of this is BP – which is still well below its 52-week highs of 521p.
In fact, BP shares are currently priced at just 190p. As such, if and when the stocks get back to the 521p region, this would translate into a growth of 174%. Of course, there is no guarantee that the shares will ever recover. But, if you believe that at $38 per barrel oil is underpriced, naturally, buying shares in a major oil producer is a way to gain exposure to the market.
Sponsored ad. Your capital is at risk.
8. Stock Options
Stock options are getting more and more popular with investors that are looking to access the financial markets in a more sophisticated manner. In a nutshell, this alternative investment allows you to speculate on the future value of a stock. If you go long – meaning you think the stocks will increase, then you are purchasing call options. If you think that the stocks will decrease in value, then it's put options.
But, an appealing aspect of alternative investments like stock options is that you don't need a lot of capital to access your chosen market. This is because of the 'premium' system. This is like a security deposit that you put up front to execute your position.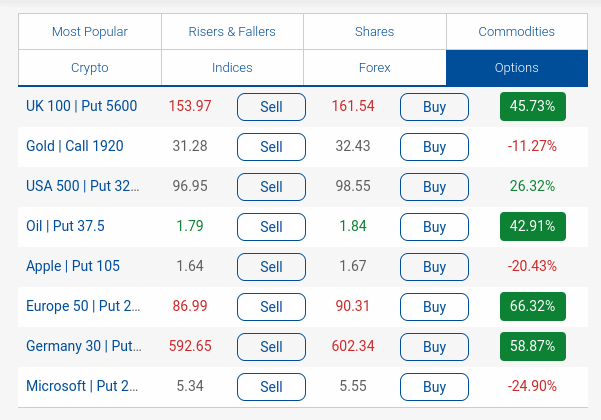 For example, if you are buying £10,000 worth of IBM stock options and the premium is set at 5% of the total contract value – then you will need to risk just £500. Then, if your prediction is incorrect, you only lose the £500 premium. But, if you are correct, you can exercise your right to buy or sell the options.
Many stock options have an expiry date of three months and they will always come with a 'strike price'. Regarding the former, this is the price that will dictate whether or not you make money. For example, if the strike price on IBM stock options is $120 per share, you would need to speculate whether you think the stocks will finish higher or lower than this price in three months' time.
Sponsored ad. Your capital is at risk.
9. Invesco Senior Loan ETF
If you're looking to invest in complex financial assets that sit within the alternative investments category – it might be worth considering the Invesco Senior Loan ETF.
The overarching objective of this ETF is to track the performance of the Leveraged Loan 100 Index. The Index in question consists of the 100 largest leveraged loan companies in the United States. For those unaware, a leverage loan is where institutions provide financing to those that already possess large levels of debt.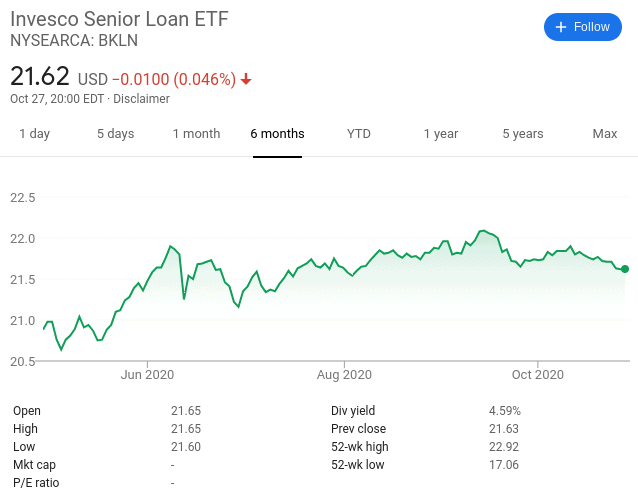 On top of this, the end borrower – which can be an individual or company, will often be in possession of a low credit rating. As there is a greater chance that the borrower will default, companies involved in the leveraged loan space charge much higher rates of interest.
In turn, this means that investing in the Invesco Senior Loan ETF has a risk/reward ratio that is higher than the traditional lending scene.
Some of the companies found in this ETF include:
American Tower Corporation
Prologis Inc.
Equinix Inc.
Crown Castle International Corp
Digital Realty Trust Inc.
Public Storage
SBA Communications Corp. Class A
Welltower Inc.
Weyerhaeuser Company
Realty Income Corporation
If you want access to this UK alternative investment, you can invest commission-free at eToro.
Sponsored ad. Your capital is at risk.
Many governments around the world issue bonds. However, outside of the US, UK, Japan, and European economies – making an investment into these bonds is virtually impossible. Well, not unless you are prepared to meet a huge minimum lot size of around 7 figures.
The iShares Emerging Markets Local Government Bond Index Fund solves this problem. This is because through a single investment you will gain exposure to heaps of emerging market bond instruments, making it an option if you're looking for alternative investment funds.
Some of the countries that you will be buying government bonds from include:
Brazil
South Africa
Mexico
Russia
Malaysia
Thailand
China
Indonesia
On the one hand, bonds issued by the countries above have a greater chance of defaulting on their repayments. In turn, this does mean that you will have access to much higher bond coupon yields.
Sponsored ad. Your capital is at risk.
Platforms to Invest in Alternative Investments
Once you have decided which UK alternative investments you wish to invest in, you then need to find an online trading platform that gives you access to the asset. This isn't always simple, as established brokers typically stick with stocks, ETFs, and bonds. With that said, we have done the hard work for you by listing three UK brokers that allow you to buy alternative investments online.
1. eToro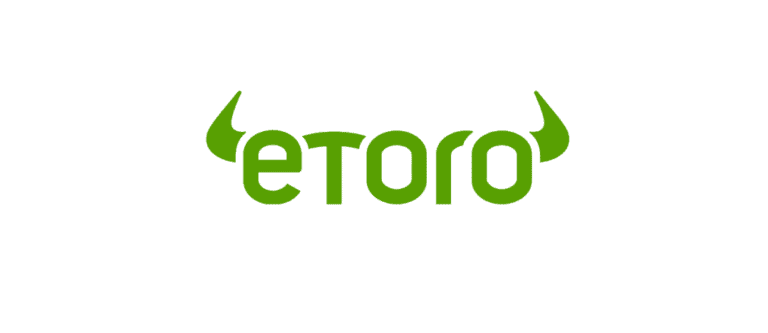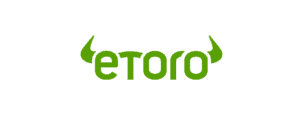 eToro is a popular online trading platform that is home to heaps of asset classes. This covers stocks, ETFs, cryptocurrencies, forex, commodities, and more. In the case of alternative investments, you have many options at your disposal. For example, you can invest in 16 different digital currencies – including but not limited to Bitcoin, Ethereum, Ripple, and Bitcoin Cash
You can also invest in over 150+ ETFs, many of which track alternative investments. This includes gold, real estate, leveraged loans, and more. In the stocks department, you can directly invest in cannabis companies such as Canopy Growth. Crucially, no matter which alternative investment that you decide to gain exposure to, eToro does not charge any trading fees. eToro offers no interest on contracts that last more than a day. This means you can access Halal investments UK with the click of a button.
That's no commissions, dealing charges, or maintenance fees. You can also make an investment of just $50 when backing stocks and ETFs, and $25 when buying cryptocurrencies. As we briefly covered earlier, eToro is also home to its copy trading feature. This is an alternative investment to consider, as you can actively trade in a passive manner. This particular investment requires a minimum stake of just $50.
When it comes to getting money into and out of eToro, you can choose from a debit/credit card or e-wallet. This allows you to benefit from an instant deposit. You can also choose from a UK bank wire, but this takes a few days for the funds to arrive. eToro is heavily regulated and is in possession of several licenses. This includes the FCA, ASIC, and CySEC. You can get started with eToro in minutes by heading over to the broker's website or by downloading the mobile app.
Sponsored ad. Your capital is at risk.
2. IG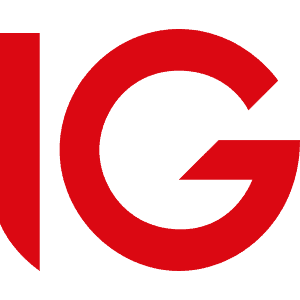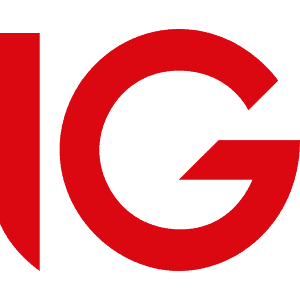 Launched in 1974, IG is a well-known brokerage house located in the UK. It offers over 12,000 assets that you can buy online. This covers stocks, ETFs, funds, and more. There is an abundance of alternative investments hosted by the broker – all of which can be accessed by meeting a minimum deposit of £250.
You can combine some of these asset classes into a Stocks and Shares ISA to keep your investment tax-efficient. In terms of fees, dealing commissions start at £8. If you trade actively, you get this down to £3. The platform is regulated by the FCA and partnered with the FSCS. IG supports debit/credit cards and a bank transfer.
Sponsored ad. Your capital is at risk.
What are Alternative Investments?
The term 'alternative investments' is somewhat of a loose one. This is because it can refer to several different investment vehicles. The general consensus is that this includes all asset classes outside of stocks, bonds, and cash.
Some examples of this include:
Real estate (also via real estate investment trusts)
Venture capital funds
Hedge funds
Private equities
Cryptocurrencies
Fine art
Precious metals like gold and silver
Peer-to-peer lending
Derivatives contracts such as options, futures
Real assets like wine and art
In order to access some of the aforementioned assets, you will need to use an ETF. This is because the ETF will have the required resources to gain buy and sell these instruments, as they are often located outside of traditional exchanges.
Additionally, some UK alternative investments actually sit within the stock category. For example, if you want to access the cannabis industry, you'll likely need to buy shares in firms operating in this arena. Ultimately, a major appeal of alternative investments is that they typically offer a much higher yield than conventional assets.
At the same time, the risks will also be higher. Some UK investment professionals turn to alternative investments like hedge funds and private equity funds as a means to hedge against the stock markets. This is because there is often no or very low correlation between the wider health of the stock markets and that of alternative investments like real estate or gold, so they're suitable for diversification.
Alternative investments have relatively illiquidity in comparison to traditional investments as there is a smaller amount of investors investing money in them. This liquidity is something you should bear in mind when considering alternative investment opportunities.
How to Choose Alternative Investments
There are heaps of different alternative investments that might be of interest to you. It's important to perform lots of research before taking the plunge. This will ensure that the investment is right for your long term goals.
Some things that you need to cross-off when searching for alternative investments include:
Level of Risk
All investments come with an element of risk. The key point is that some assets come with more risk than offers. For example, an investor with a low appetite for risk will likely opt for blue-chip stocks and high-grade bonds. But, investors seeking much higher returns might follow riskier investment strategies and opt for an alternative investment like Bitcoin or leverage loans.
Crucially, you need to understand the level of risk that is associated with your investment decision. Think about some of the things that might result in the valuer of your investment going down – such as regulatory changes or defaults. If the potential losses are too much for you to handle, the alternative investment might not be for you.
Level of Projected Returns
While it is impossible to predict the future, you should at the very least have a target in mind when it comes to returns. For example, if you were to invest in the S&P 500 – then you know that the Index has returned an average of 10% annually since 1926.
As such, this would be a reasonable target to have over the course of time. In the case of alternative investments, the only way that you can come up with a profit target is to look at the historical data you have in front of you. This isn't so difficult when you are working with ETFs or real estate. But, the likes of cryptocurrencies and peer-to-peer lending are still relatively new phenomena.
Where Can You Invest
You also need to look at whether or not you will have the capacity to invest in your chosen asset. For example, alternative investments like fine art and venture capital-backed startups are typically reserved for institutional investors. This can make it difficult to get a look in as an everyday UK retail client.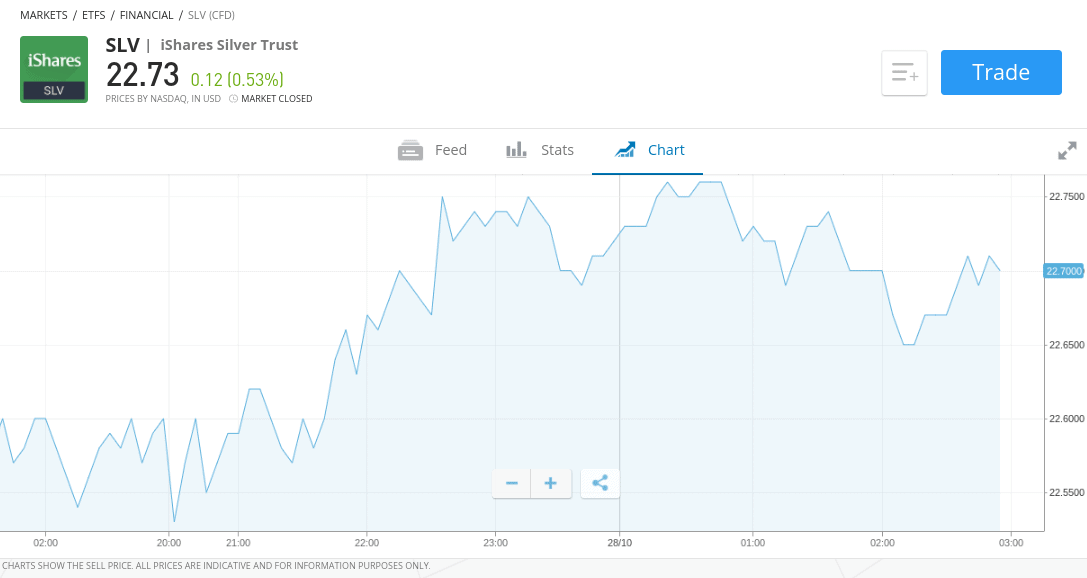 As such, you sometimes need to think outside of the box to access your desired market. For example, if you wanted to invest in gold or silver, then an ETF will be an option.
This is also the case with emerging market bonds. In the case of oil, you might invest in relevant stocks that are involved in the exploration industry. Either way, just make sure your chosen alternative investment can be purchased online from the UK.
Look for Undervalued Assets
If at all possible, you should understand how to locate undervalued assets. This will allow you to buy your chosen alternative investment at a price lower than its true intrinsic value. One such example of this is oil. At a price of $19 per barrel in April 2020, you didn't need to be a seasoned oil trader to know that this was significantly less than its true value.
After all, not even Saudi Arabia can break even at this price. As such, buying an alternative investment when it is undervalued can result in some long-term gains.
Conclusion
In summary, alternative investments are worth considering for two key reasons. Firstly, they often give you the chance of making much higher annual returns than conventional assets. In turn, the risks are, of course, going to be much higher.
Secondly, alternative investments offer an effective way to hedge against the traditional stock and bond markets. This is because there is no correlation between the two.
If you're keen to add alternative investments to your portfolio, eToro gives you access to heaps of options – all on a commission-free basis. From start to finish, opening an account and depositing funds with this FCA broker rarely takes more than a few minutes.
FAQs
What are alternative investments?
Are alternative investments high risk?
What is considered an alternative investment?
Can you add alternative investments to an ISA?
Are ETFs considered alternative investments?