Best Shiba Inu Wallet UK – Compare Top SHIB Wallets
Fact Checked
Everything you read on our site is provided by expert writers who have many years of experience in the financial markets and have written for other top financial publications. Every piece of information here is fact-checked.
Disclosure
Please note that we are not authorised to provide any investment advice. The information on this page should be construed for information purposes only. We may earn commissions from the products mentioned on this site.
Memecoins have exploded into the crypto scene in the past year and Shiba Inu has also become a mainstay among several crypto investors. Given this, several investors are on the lookout for the best Shiba Inu wallet UK to store their meme tokens safely.
If you are one of those, then this guide will go a long way in addressing this need. We will cover some of the best Shiba Inu coin wallets, their relevant fees and also the number of supported cryptos you can store on them.
Key Points on Shiba Inu Wallets
Shiba Inu has seen exponential growth as memecoin frenzy takes off this year. Given this, here are a few key points to note on the best Shiba Inu wallet app.
The 11th ranked digital token is working on breaking out from the meme coin niche and is introducing real-world use cases with NFT and DEX swaps
Given its growing popularity, the Shiba Inu coin is listed on top centralized and decentralized exchanges globally with digital storage support also in the mix
Best Shiba Inu Wallets UK List
While there are several wallet solutions out there, we have zoomed in on the top Shiba Inu wallets you can use in storing your funds. Our top picks are based on fees, mobile experience, supported cryptos, tools, and security.
Coinbase – Overall Best Shiba Inu wallet for newbies
ByBit – Most anonymous Shiba Inu coin wallet
Binance – Widest Shiba Inu coin audience
Kraken – Most Secure Shiba Inu wallet
Gemini – Best Shiba Inu coin wallet for all class users
CryptoRocket – Best wallet for trading Shiba Inu coin
Changelly – Fastest Shiba Inu wallet for transactions
Trust Wallet – Most intuitive Shiba Inu wallet
FTX – Best Tracking wallet for Shiba Inu coin
The Best Shiba Inu Wallets UK Reviewed
Now let's take a more detailed look at the top Shiba Inu wallets available to UK crypto investors.
1. Coinbase – Overall Best Shiba Inu wallet for Newbies
Coinbase is a dedicated secure buying, storage and holding platform for cryptocurrencies. Founded in 2012 by Brian Armstrong, the platform aims to provide an easy-to-use platform for novices in the crypto space.
The Coinbase wallet is registered as a Money Services Business and is regulated by the Financial Crimes Enforcement Network (FinCEN). The E-Money Services is also regulated by the UK's Financial Conduct Authority (FCA).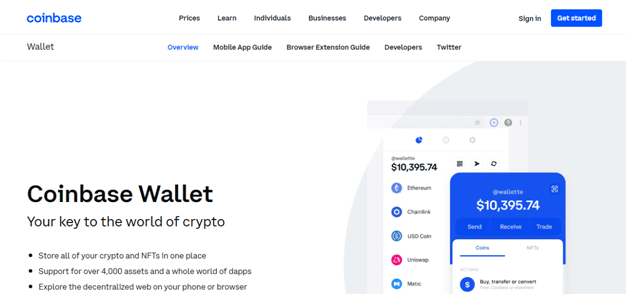 Coinbase is regarded as one of the best Shiba Inu wallet apps for newbies as the platform has a user-friendly interface that enables new crypto enthusiasts to onboard and understand the basic features of a typical crypto wallet. The platform offers a wide range of asset offerings of over 100 cryptocurrencies and 81 crypto trading pairs.
Fees on the platform are affordable as minimum deposits are at $2 (1.5 GBP). Coinbase may charge fees when users buy, sell, or concert crypto assets; however, these fees are calculated when the order is placed and are determined by several factors such as the payment method, order size, and market liquidity.
The platform allows users to make transactions via wire transfer, debit cards, PayPal, Apple Pay and Google Pay.
Pros
Good range of cryptocurrencies
Insurance in the event of a security breach
Low minimum deposit.
Cons
Cryptoassets are highly volatile and unregulated in the UK. No consumer protection. Tax on profits may apply.
2. Bybit – Most Anonymous Shiba coin wallet

Bybit is one of the best crypto exchanges UK that provides professional and innovative trading experiences for retail and institutional clients.
This platform is the best Shiba Inu coin wallet with no ID because it is centred on anonymity, so users do not need to provide any Know-Your-Customer (KYC) information. The system creates a fair and transparent environment for traders.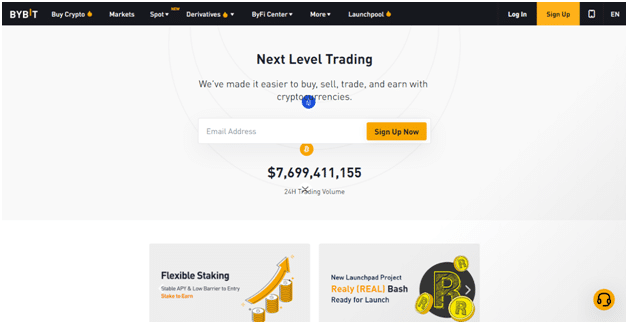 The Bybit wallet allows users to store, hold and trade over 112 crypto assets, including Bitcoin, Ethereum and Shiba Inu coin. Making transactions on the platform is affordable as deposits come at zero charges.
Withdrawals fees, otherwise known as miner or network fees, vary for each cryptocurrency. Trading on the ByBit platform involves two parties; makers and takers. The makers place orders before a trade is made, and takers place trades that match the maker's order.
Makers are paid -0.025% in rebate when trading perpetual contracts, but takers pay 0.075% for each order. When making spot trades, makers are not charged, whereas takers pay 0.10% fees.
When making payments to the wallet, Visa/Mastercard debit/credit cards and cash deposits are the only valid payment methods.
Pros
Available educational resources
Anonymity
Wide range of crypto assets storage support
Cons
Cryptoassets are highly volatile unregulated investment products. No EU investor protection.
3. Binance – Widest Shiba coin audience
Binance is a crypto exchange platform geared at increasing global economic freedom by providing users with an ecosystem of financial investment services. The platform was founded in 2017 by Changpeng Zhao.
Although Binance is unregulated, the exchange provides security to users by guarding their portfolios through address whitelisting and device restrictions.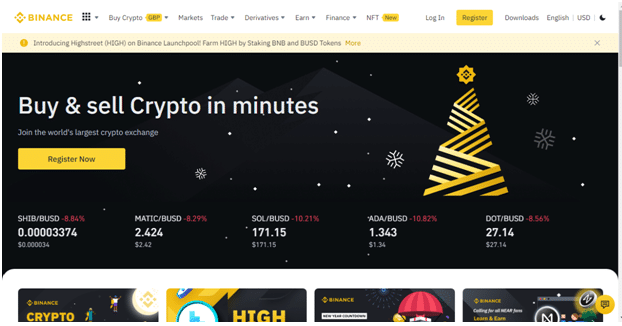 Binance is regarded as one of the best Shiba Inu coin wallets because it allows the interaction of the meme coin with over 500 crypto assets listed on the platform. This diverse asset portfolio allows users to convert, trade, buy or sell several cryptocurrencies, exposing them to a wider market.
The Binance platform does not charge deposit or conversion fees, but for deposits made with credit/debit cards, users pay 3% to 4% in fees depending on the asset. A flat fee is required for each withdrawal to cover transactions moving out of the account and are determined by the blockchain network.
Making deposits on the platform requires payment methods such as bank transfers, debit/credit cards and Simplex.
Pros
Wide range of crypto assets
Affordable fees
Diverse crypto services
Cons
Unregulated
Platform is suitable for advanced traders
4. Kraken – Most Secure Shiba Inu wallet
Kraken is a crypto exchange platform that accommodates novice and expert crypto enthusiasts through the user-friendly interface that facilitates onboarding.
The Kraken platform is considered the most secure Shiba Inu coin wallet, with a team of world-class security experts perfecting its security measures.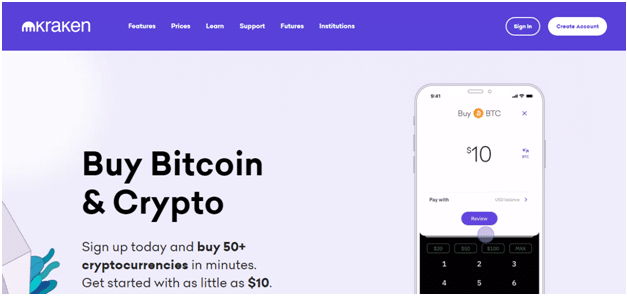 The platform is registered as a Money Services Business and is regulated by the Financial Crimes Enforcement Network (FinCEN) and the Financial Transactions and Report Analysis Centre (FinTRAC).
Kraken offers users over 90 crypto assets to buy, sell, convert and hold. Kraken does not charge users for crypto deposits, but withdrawals vary depending on the crypto asset.
The Kraken platform has selective payment methods and only accepts bank transfers, SWIFT, SEPA and ACH. Users can only deposit using debit cards that support 3D Secure Version (3DSv1).
Pros
High digital and financial security
Low fees
Good range of crypto assets
Cons
Unsupported digital payment methods
Customer service response times
Best Shiba Inu Wallets Comparison
| | | | |
| --- | --- | --- | --- |
|  Wallet | Fee | Cryptocurrencies | Regulation |
| ByBit | Deposits are free and withdrawals vary for each cryptocurrency | 112 | Not Regulated |
| Coinbase | Deposits are at zero charge and withdrawals vary with the cryptocurrency | Over 100 | Regulated |
| Binance | Deposits are typically free but bank transfer deposits are at 3% to 4%; conversions are free. Blockchain fees apply when making withdrawals | Over 500 | Not Regulated |
| Kraken | Deposits are free and withdrawals are charged based on the crypto asset. | 95 | Regulated |
How do Shiba Inu Wallets Work?
Shiba Inu wallets are digital storage devices for storing Shiba Inu coins and other cryptocurrencies.
Shiba Inu coin wallets safely store crypto assets using a public and private key. The public key is used to receive funds into the wallets, and it also appears on the blockchain where all transactions for that cryptocurrency is recorded.
The private key is used to access the digital asset in the wallet and to authorize transactions on the wallet.
Types of Shiba Inu Wallets
Crypto wallets are picking up steam as growing adoption continues in the crypto space. Most Bitcoin exchanges and brokers now offer digital storage services as well as allowing users to buy cryptocurrencies. However, the following are some of the types of crypto wallets.
1. Shiba Inu Software Wallets
Shiba Inu software wallets are specific software on a mobile or desktop device that securely stores Shiba Inu coins and other crypto assets.
With the Shiba Inu wallet app, users can view their crypto holdings, send and receive crypto assets all from their devices. The Shiba Inu software wallet supports devices like Windows, iOS, Linux, and others.
Setting up a software wallet is easy. The first step is for users to install the software on their devices to start storing their SHIB tokens in the wallet. Although this wallet is secure, it still remains vulnerable to malicious actors and cybercriminals on the internet.
2. Mobile vs Desktop Wallets
A mobile wallet is software on your mobile device that stores your crypto assets. A crypto mobile wallet is also used by investors to send, receive, and transfer digital assets from one wallet to another.
On the other hand, a desktop wallet is a software wallet installed on your desktop computer at home or in the office with which you can have access to your crypto asset holdings.
Using a mobile wallet leaves your private key exposed to the internet, but this risk is mitigated because your private key is tied to just one device.
Trading using public Wi-Fi increases the risk of your private key being intercepted, so you must ensure that you only use secure and private networks when making transactions on mobile wallets.
Mobile wallets are more convenient to use; they are portable and are easily accessible, unlike desktop devices.
However, when your phone is lost or damaged, you may be locked out of the wallet.
Unlike a mobile device, your desktop device is not portable, so it cannot be moved about and won't be able to make transactions on the go. Still, it offers additional security because it is used in a secure environment, at home or the office.
Your desktop wallet is also exposed to some measure of risks when connected to the internet. But some desktop wallets have inbuilt security features that provide an extra layer of security.
Some crypto wallets like the Jaxx wallet are designed to function on both mobile and desktop devices. Providing users with the best of both worlds.
3. Hardware Shiba Inu Wallets
Shiba Inu hardware wallets, also known as hot wallets, are physical electronic devices like a universal serial bus (USB) stick-built to store your SHIB tokens securely. You can easily connect your hardware wallet to your computer, phone, or tablet to send, receive, or transfer your Shiba Inu coins. Examples of popular hardware wallets are Ledger Nano and Trezor.
If you have a large amount of crypto funds or are investing long term, a hardware Shiba Inu wallet is the best way to go. It is more secure and suitable for long term holdings.
By their very nature, hardware wallets store your private keys offline and away from internet-connected devices that may be vulnerable to cyber-attacks.
4. Paper Wallets for Shiba Inu
Paper wallets are a basic type of cold wallets. They involve generating the private key of your wallet and printing out the key on a piece of paper. The private key is used to authorise transactions on the Shiba Inu wallet, and as such, it has to be properly and safely stored.
Paper wallets were designed to be secure against hackers and viruses. Paper wallet for Shiba Inu coins has the advantage of accessibility.
However, papers do not last long naturally because they are soft materials; thus, paper wallets may not be suitable for the long haul. Papers are also susceptible to being destroyed by fire, water or even mistakenly thrown out.
Other likely problems that may arise with paper wallets for Shiba Inu include forgetting where you kept your paper wallet and a case of fading ink on the paper. If any of these occur, you risk losing your SHIB tokens forever. You can create a paper wallet for your Shiba Inu coins using various apps online.
How to Choose the Right Shiba Inu Wallet for You
Choosing the right Shiba Inu wallet can be difficult due to the several platforms and solutions currently in the market. Despite this, we believe paying close attention to the following metrics will go a long way in helping you make the right choice.
1. Security
When choosing the right Shiba Inu wallet, the security of your funds is a key consideration. Crypto hacks are becoming more rampant by the day, and several investors are losing funds due to poor security measures on their platforms.
A secure wallet usually puts several measures in place to combat all forms of security breaches. One such measure is having two-factor authentication (2FA) in place. Many secure wallets for Shiba Inu have adopted offline storage for additional security.
2. Fees
You should consider the fees charged by wallet providers before pitching your tent with one. Some wallets are free, while others offer premium security for a fee. It is advisable to opt for premium wallets that guarantee improved security, especially if you have a substantial amount of Shiba Inu holdings.
3. Mobile Experience
Enjoying a seamless mobile experience when making transactions from your Shiba Inu wallet should be considered before you decide on any wallet provider to choose.
You should ascertain how easy it is to make transactions using this wallet and how seamless and fast is the transaction. The best wallet for Shiba Inu is a wallet that is user-friendly and very convenient to make transactions at any time.
4. Supported Cryptos
When selecting a Shiba Inu coin wallet, you should also consider other cryptocurrencies that are supported by the wallet provider. Some digital wallets are more specific and do not allow for multiple storage of several digital currencies.
5. Tools
Tools go a long way in making the crypto experience worthwhile. Many wallets come with support for private key recovery.
Conclusion
Many indicators point to Shiba Inu investment as a smart decision. The memecoin has shown a lot of promise in the past year and the token's advancements herald bright prospects for the digital asset's future. This cryptocurrency can be accessed with a number of crypto wallets such as Coinbase, Binance, and Kraken wallet.
Frequently Asked Questions on Shiba Inu Wallets
Does Shiba Inu Have a Wallet?
Which Wallets Can Hold Shiba Inu?
How Many Wallets Hold Shiba Inu?
Does Coinbase Wallet Support Shiba Inu?
What Is the Best Shiba Inu Wallet?