The rise of veganism and the growing adoption of vegan-based diets have caused a massive movement in the food industry over the last decade. In the wake of this transition to vegan-based diets, several vegan stocks have grown in popularity and afforded investors a unique opportunity to invest in vegan stocks and shares.
Throughout this guide we'll be covering 10 popular vegan stocks and some stock brokerages that allow users to purchase vegan stocks in the UK.  
Popular Vegan Stocks List 2021
In order to better analyse this sector, we have listed 10 popular vegan stocks below.
Oatly (OTLY)
Beyond Meat (BYND) 
Tattooed Chef (TTCF) 
Laird Superfood (LSF) 
United Natural Foods (UNFI) 
B&G Foods, Inc. (NYSE: BGS) 
Very Good Food Company (VERY) 
Else Nutrition Holdings (BABY) 
Calavo Growers (CVGW) 
Hain Celestial (HAIN)
Vegan Stocks – Reviewed 
If you're looking for vegan stocks UK to invest in, here's everything you need to know about some of the popular stocks in the market.
1. Oatly (OTLY)
One of the largest vegan stocks on this list by market capitalisation, OTLY currently boasts a market capitalisation of 6.31 billion USD. It is one of the more recent IPO's having launched into the public markets in May 2021. Since it began operating in the '90s, this Swedish oat milk brand has continued innovating its varied product list to include everything from oat-based alternative dairy products to cooking creams and drinks.
Oatly's strategy appears to be to capture as much market share as they can as quickly as possible. In an effort to achieve this, they have been spending significant amounts of capital on comprehensive marketing campaigns. These aggressive marketing campaigns have meant that Oatly has failed to achieve profitability and their stock price has reflected this. Since its IPO at $20 per share, Oatly has fallen nearly 50% to its current price of $10.5 per share.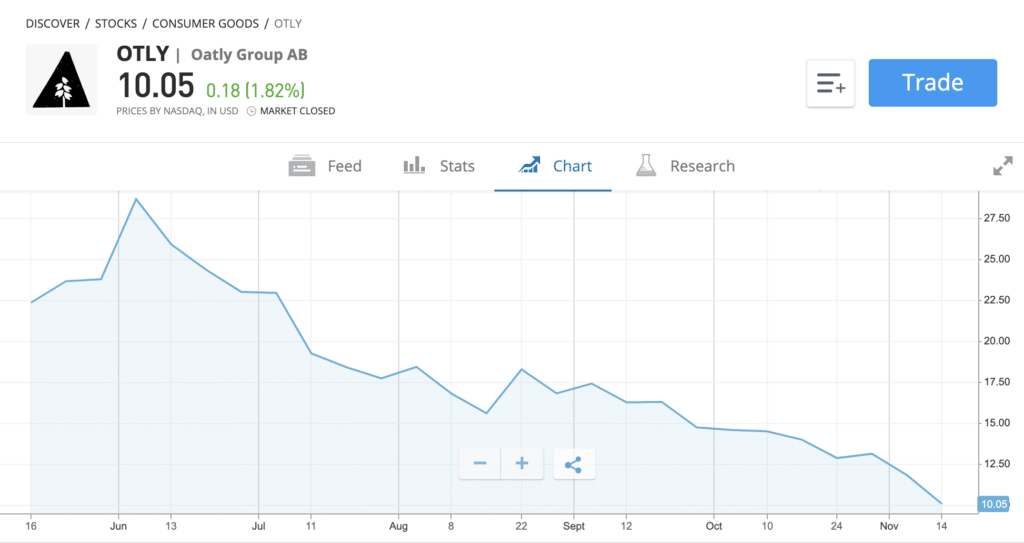 68% of retail investor accounts lose money when trading CFDs with this provider.
2. Beyond Meat (BYND)
Beyond Meat is an industry leader in the plant-based food substitutes space. Their comprehensive range of products has become a common sight at many large supermarkets and is regularly featured on vegan restaurant menus across the globe. Beyond Meat's products are sold at over 122,000 locations in over 80 different countries. 
Their stock is currently trading for $77.53 per share which represents a 33% decline over the last 6 months and a 45% decline over the last year. This downtrend has been further compounded by their Q3 earnings report on November 10th which reported a loss almost three times higher than Wall Street expectations.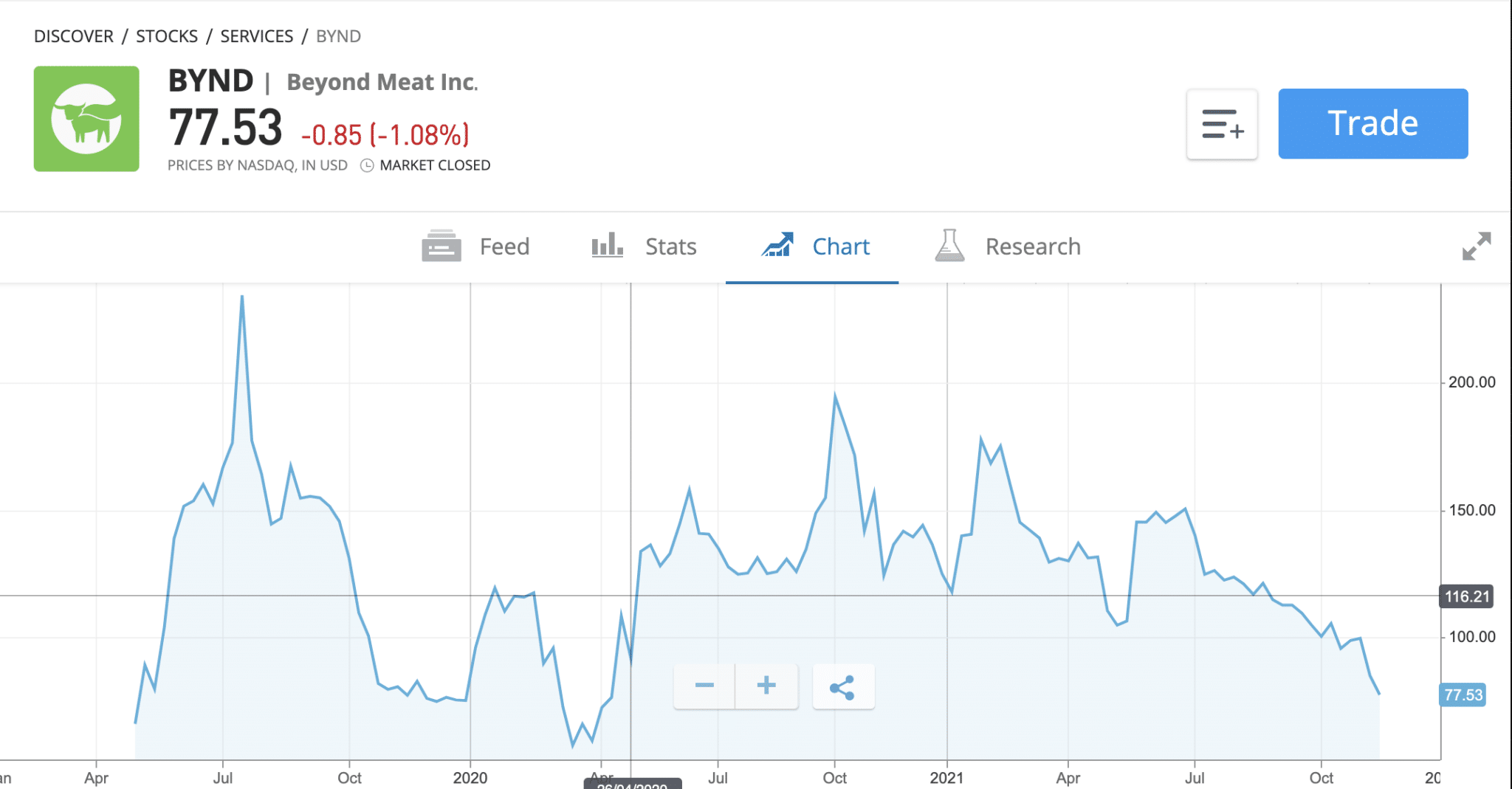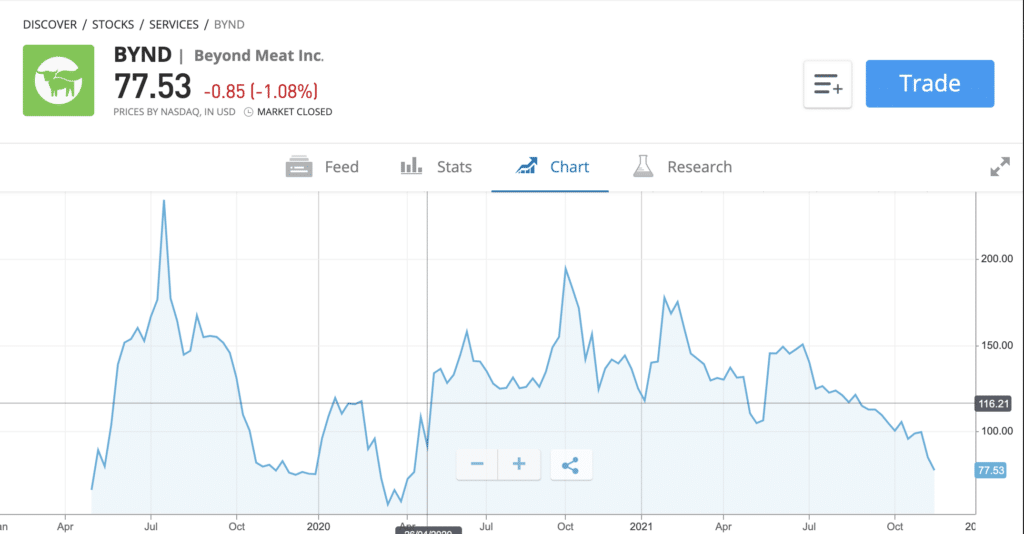 BYND recently entered into a five-year partnership with Stanford University which they hope will yield meaningful data on the benefits their products can bring consumers. This comes after their CEO reflected on the fact that the slowdown in sales may be the result of consumers being unaware of the health benefits that plant-based diets can afford them.
68% of retail investor accounts lose money when trading CFDs with this provider.
3. Tattooed Chef (TTCF)
With a market capitalisation of just 1.4 billion and slowly increasing revenues, Tattooed Chef is. popular vegan stock.
Tattooed Chef went public through a SPAC in late 2020 and saw its revenues jump almost 75% that year. With products available in over 4300 retail stores, the TTCF brand is gaining significant traction among consumers.
TTCF is currently trading for $17.50 per share, down 14.38% over the last 6 months.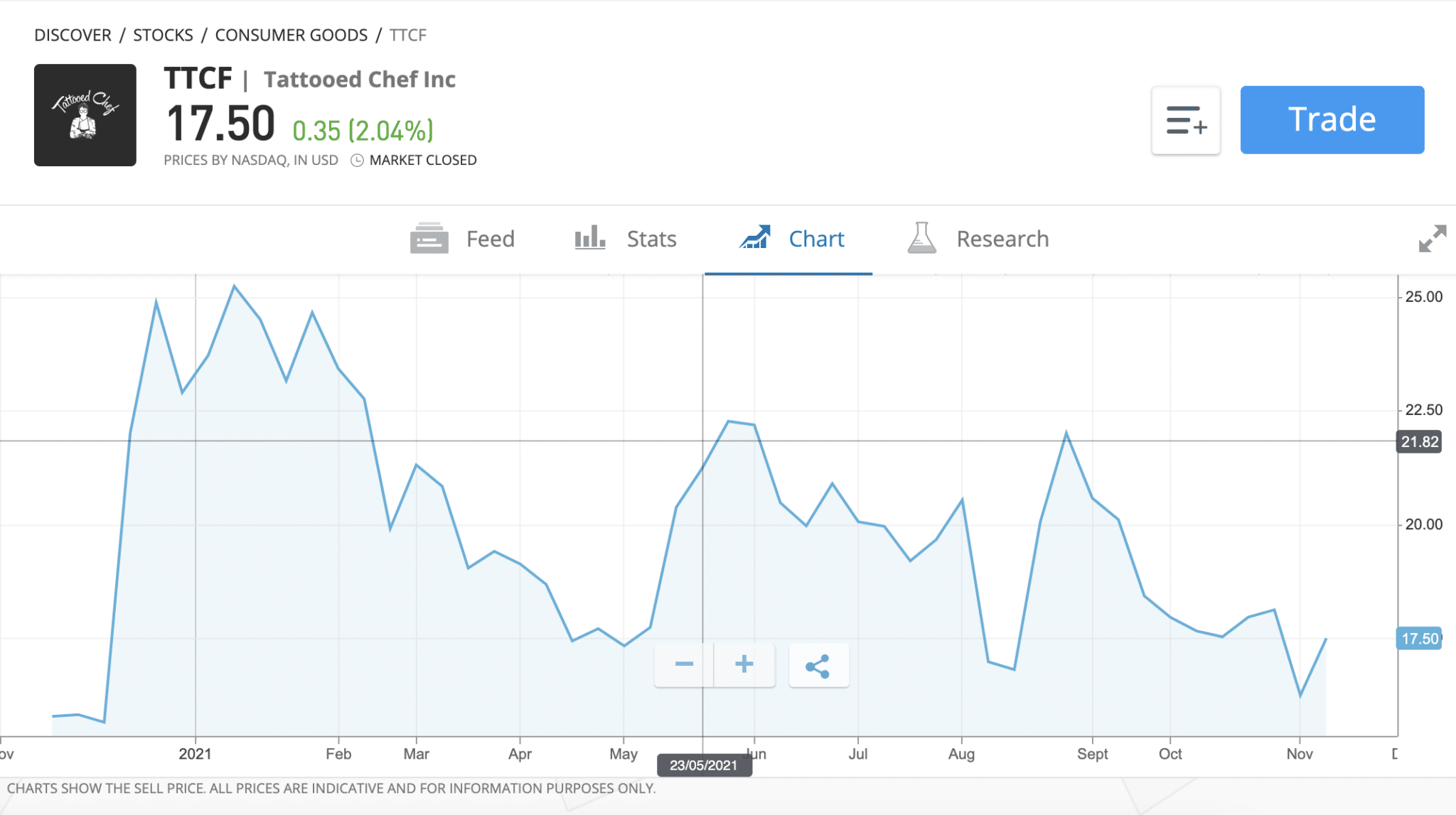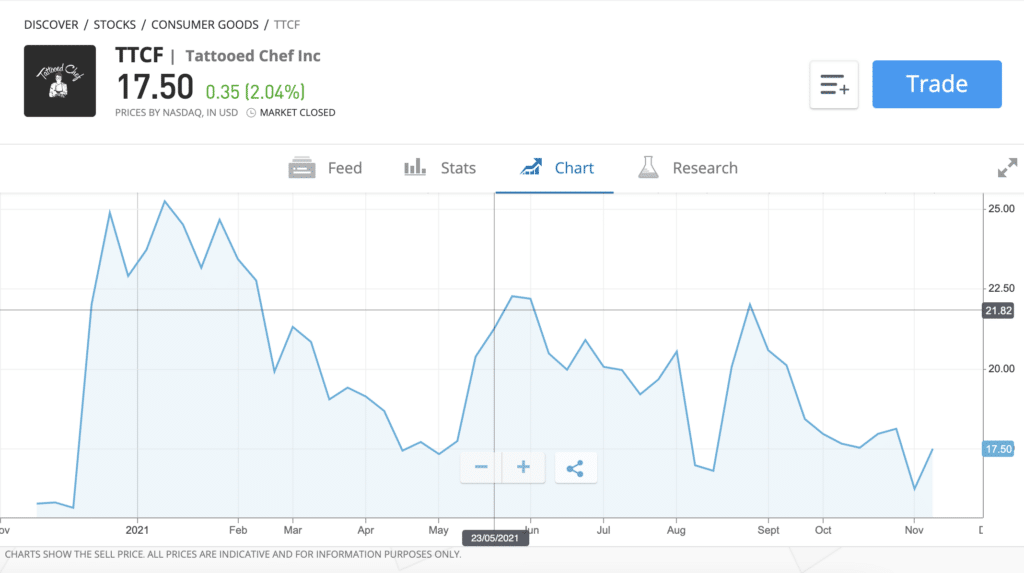 68% of retail investor accounts lose money when trading CFDs with this provider.
4. Laird Superfood (LSF) 
Founded in 2015 by athlete Laird Hamilton, LSF produces plant-based coffee creamers, various drink products, and beverage supplements designed to improve sporting performance. Their goal is to grow by expanding their presence with different retailers and expanding their existing product line to further capitalise on this multi-billion dollar market. 
At the time of writing, LSF is trading for $15.33 per share which represents a 54% decline over the past 6 months.
Their decline over the past 6 months is in line with the general industry decline. Vegan stocks have been significantly hammered down by the markets due to low earnings figures being reported and LSF is no exception. Their most recent earnings report highlighted a quarterly loss of $0.59 per share and fell short of expectations.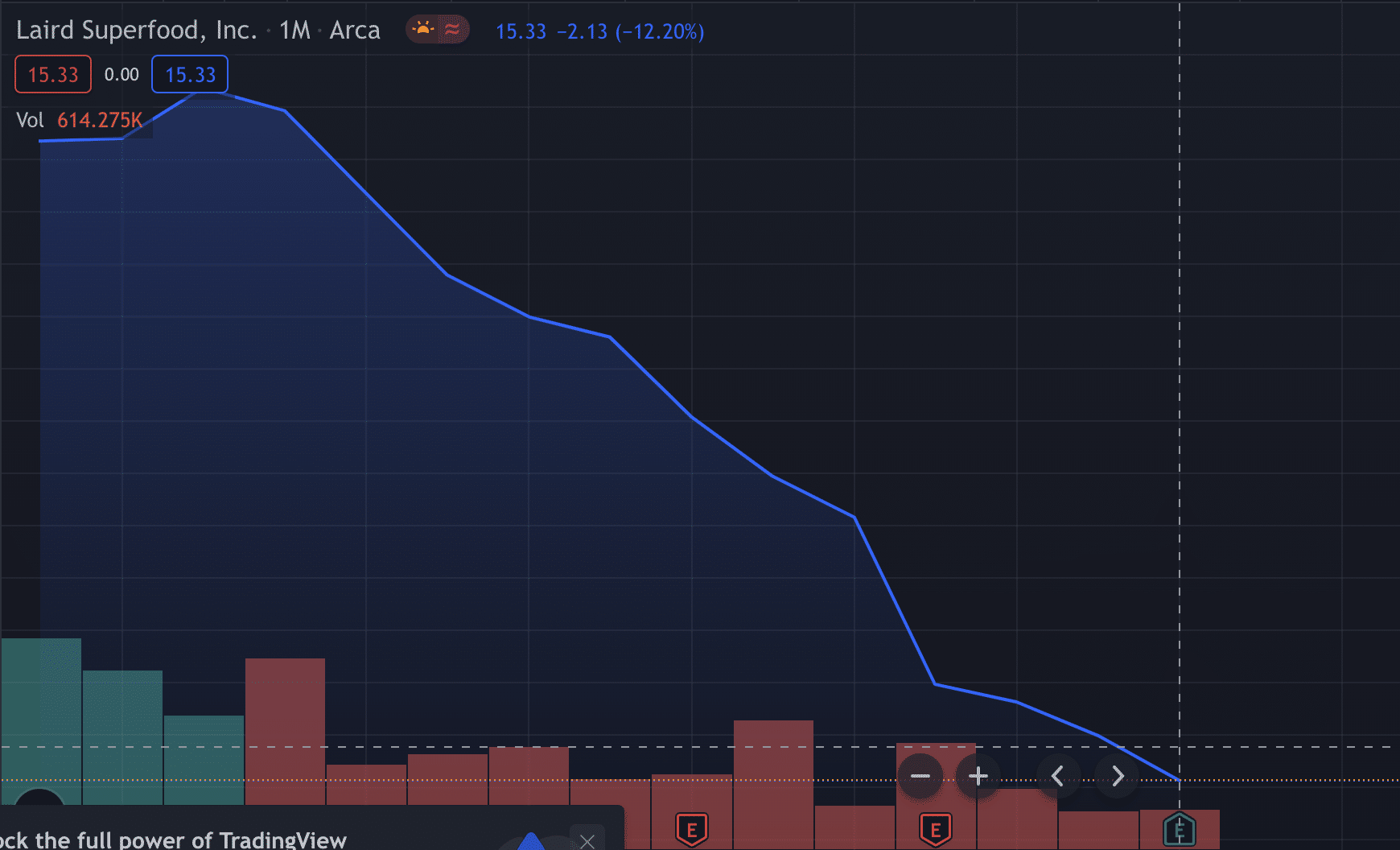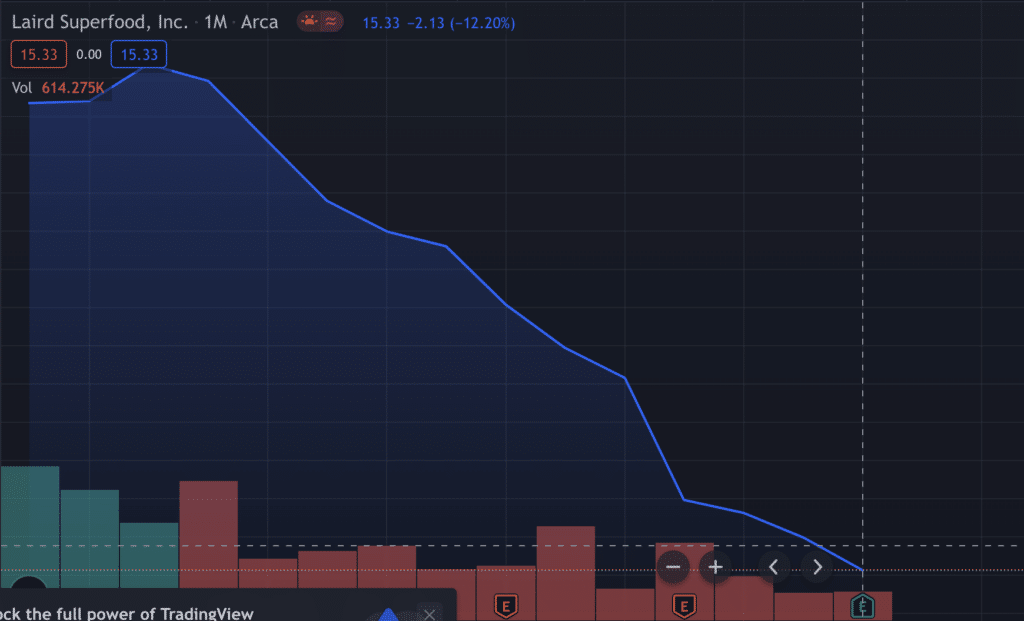 That said, LSF has made several initiatives towards profitability and is continuing to rapidly scale its omnichannel platform.
68% of retail investor accounts lose money when trading CFDs with this provider.
5. United Natural Foods (UNFI) 
United Natural Foods is one of the only stocks on our list that isn't exclusively in the vegan-food space. As a wholesaler, they provide a wide range of food products with a focus on natural and organic food. UNFI provides over 275,000 different products to supermarkets across the United States. Their largest customer is currently Whole Foods, who have inarguably built a strong reputation for providing their customers with healthy and organic food choices. 
Their sales jumped significantly during the Covid-19 pandemic and their growth hasn't slowed since. This massive growth has been reflected in the company's share price which has soared almost 200% over the last year. Currently the stock trades at $51 per share with a market capitalisation of 2.8 billion.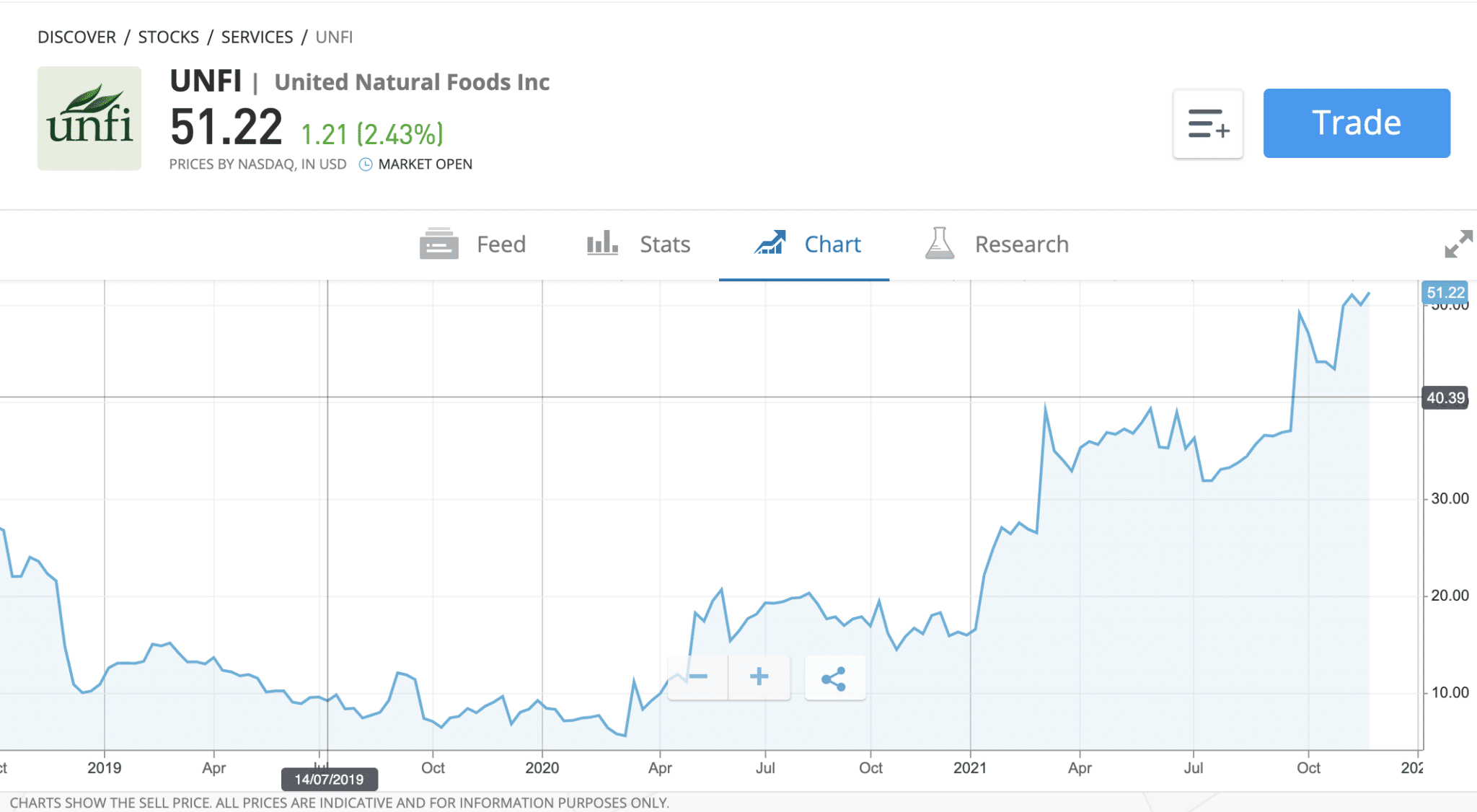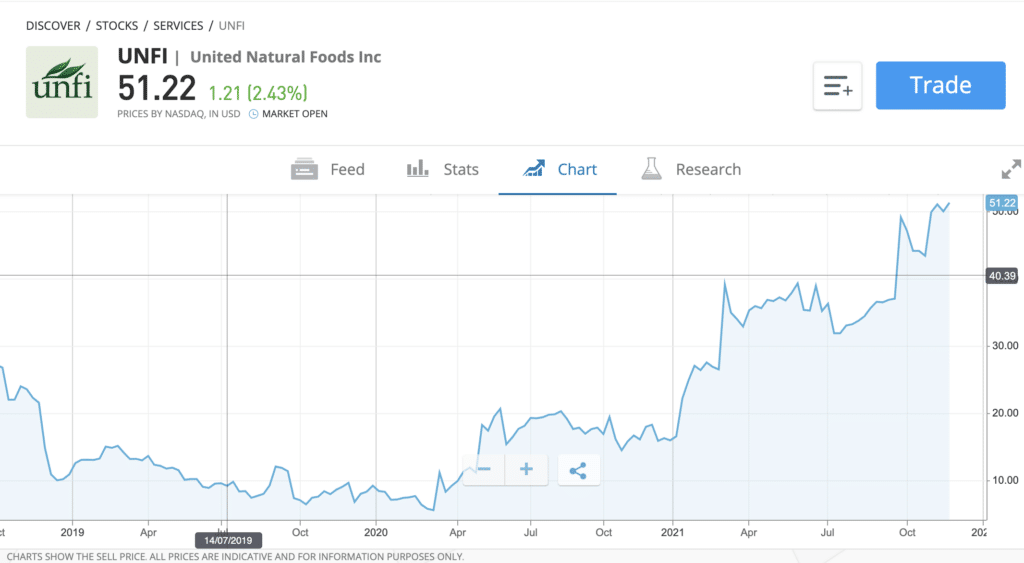 68% of retail investor accounts lose money when trading CFDs with this provider.
6. B&G Foods, Inc. (NYSE: BGS)
Based in New Jersey, B&G Foods, Inc. (NYSE: BGS) this shelf-stable and frozen food producer owns Farmwise LLC, which it bought in early 2020. Veggie Fries, Veggie Rings, and Veggie Tots are among the vegan frozen foods produced by Farmwise LLC. Gluten, wheat, soy, dairy, tree nuts, and peanuts are all absent from the company's vegan, non-GMO project-certified products.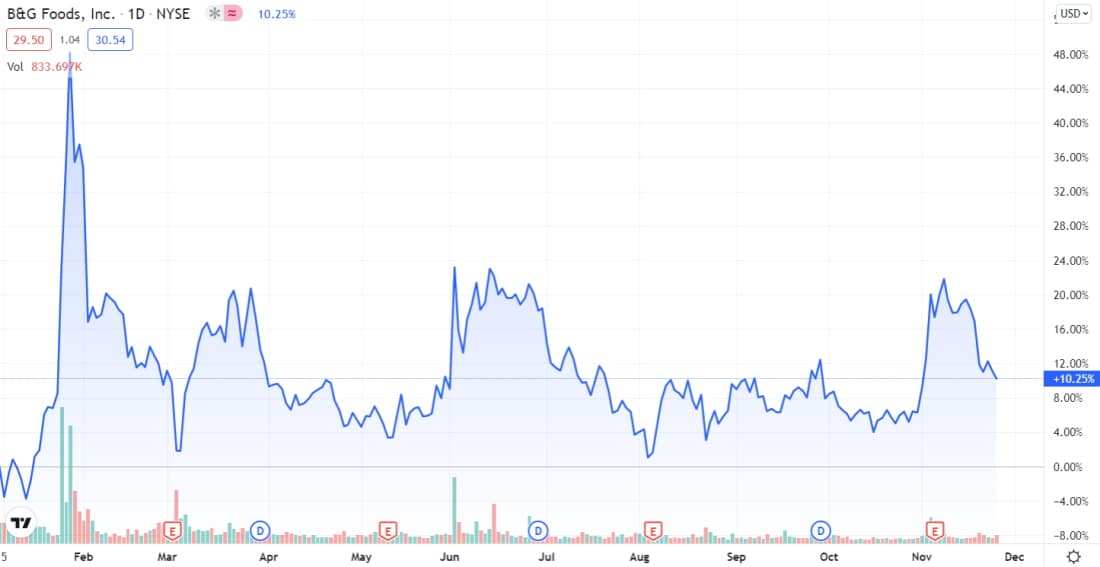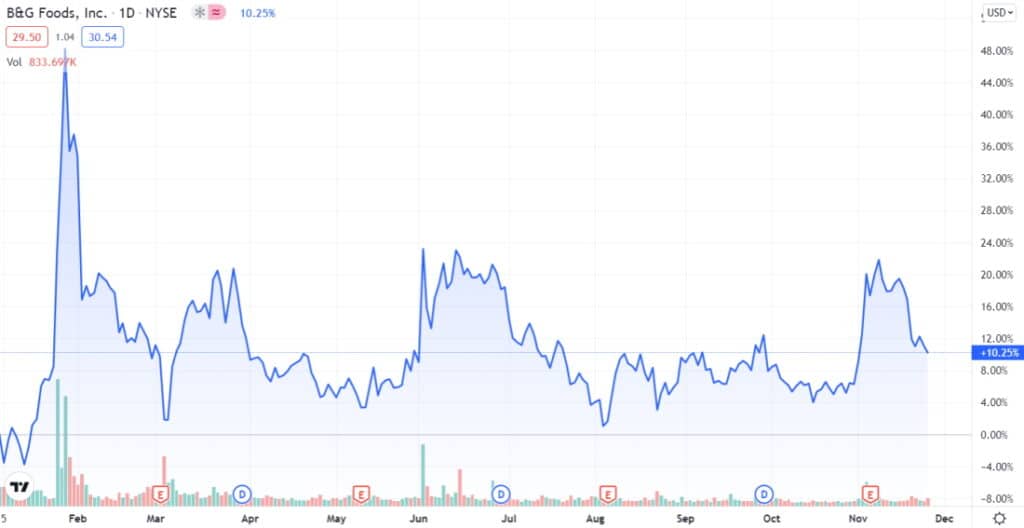 The company's market capitalization is $1.98 billion. In 2020, B&G Foods, Inc. had $1.97 billion in revenue, up from $1.6 billion in 2019. The vegan stock pays out a 6.22 per cent dividend yield. BGS stock has increased by 13.74% per cent in the last year.
68% of retail investor accounts lose money when trading CFDs with this provider.
7. Very Good Food Company (VERY)
Founded in 2017, the Very Good Food Company is plant-based meat and vegan cheese company that operates out of British Columbia. Many readers may recognise this company from their appearance on Dragon's Den in 2018 during which time they secured over $600,000 in funding. 
The company is one of the few vegan penny stocks currently on the public markets and one of two vegan penny stocks on our list. Their stock price has seen the largest decline over the last year falling a massive 71.30% since March 2021.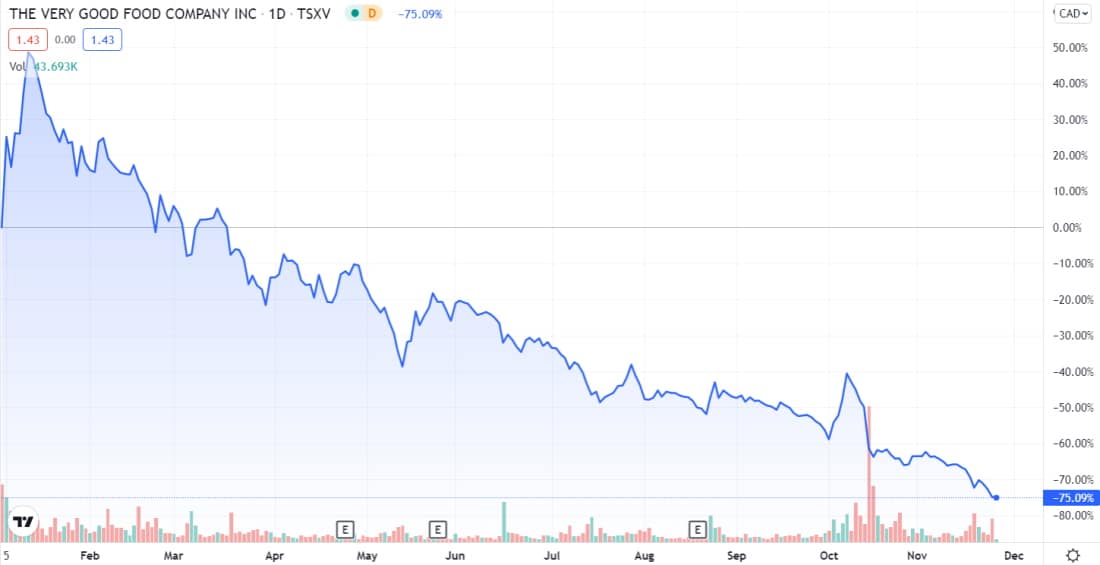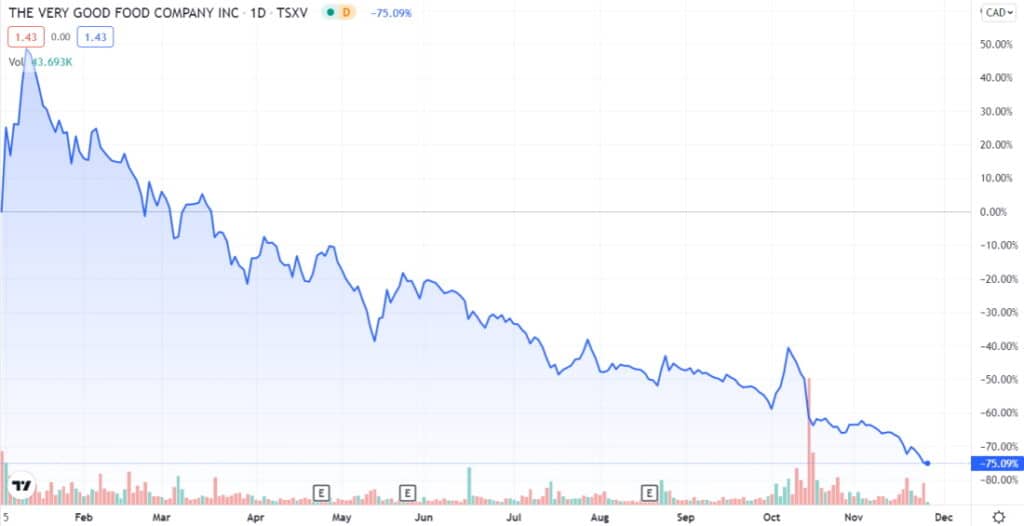 68% of retail investor accounts lose money when trading CFDs with this provider.
8. Else Nutrition Holdings (BABY)
Else Nutrition Holdings's ticker symbol is perhaps the aptest for the kind of products that they sell. BABY focuses on the manufacturing and sale of plant-based food and nutritional products to infants, toddlers, and children. 
Else Nutrition is the second vegan penny stock on our list and much like many of the other stocks mentioned here, its share price has suffered a significant decline. Over the last year, their share price has fallen 46.97% down from a high of $4.86 CAD to $1.89.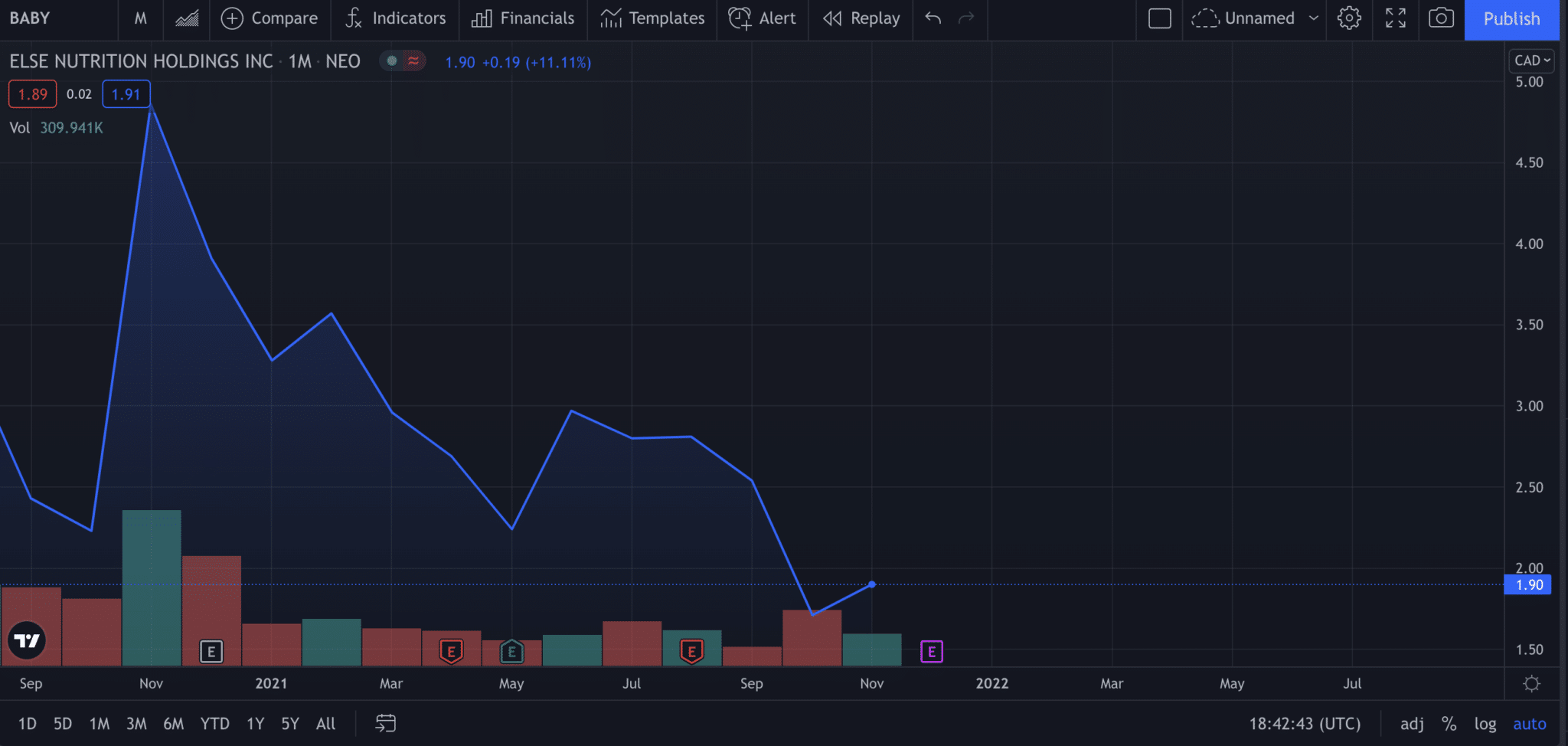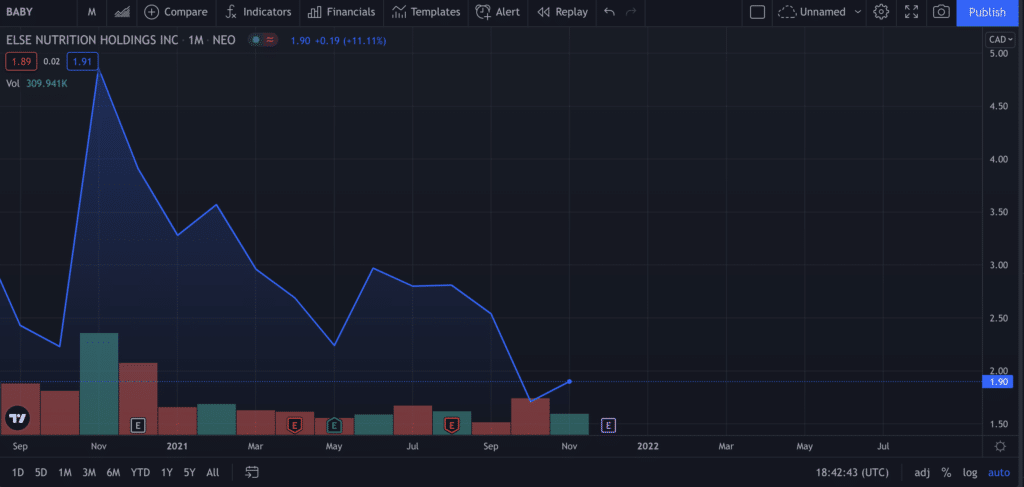 Despite the sharp fall in the share price, the company plans to increase its product lines and expand their locations, their management team has built a strong foundation for future growth in the coming years. However, as with any investment into penny stocks, investors should exercise caution as micro-cap companies are highly prone to volatility.
68% of retail investor accounts lose money when trading CFDs with this provider.
9. Calavo Growers (CVGW)
As any millennial will tell you, avocados are a necessary staple of the vegan diet. Thankfully, just over half of Calavo Growers's revenue comes from the sale of the avocados it produces. The demand for avocados has exploded over the last five years and this increased demand has translated into strong growth for CVGW. Unfortunately, the stock price does not currently reflect this. In line with the general industry pullback, CVGW stock is currently down 42% over the last 6 months. 
The demand for avocados is steadily increasing and there appears to be no sign of that increasing demand slowing down in the near future.  Analysts are predicting a 1-year price target of $55 per share.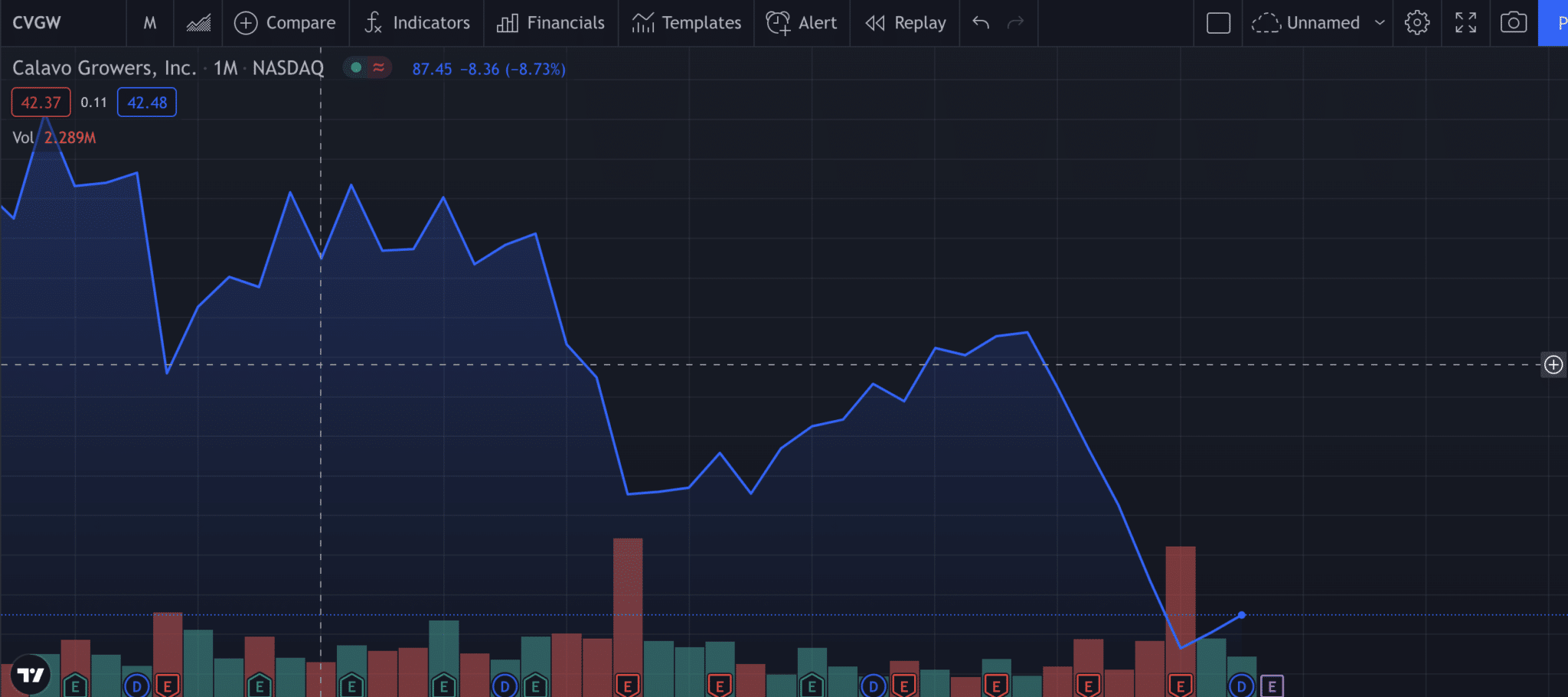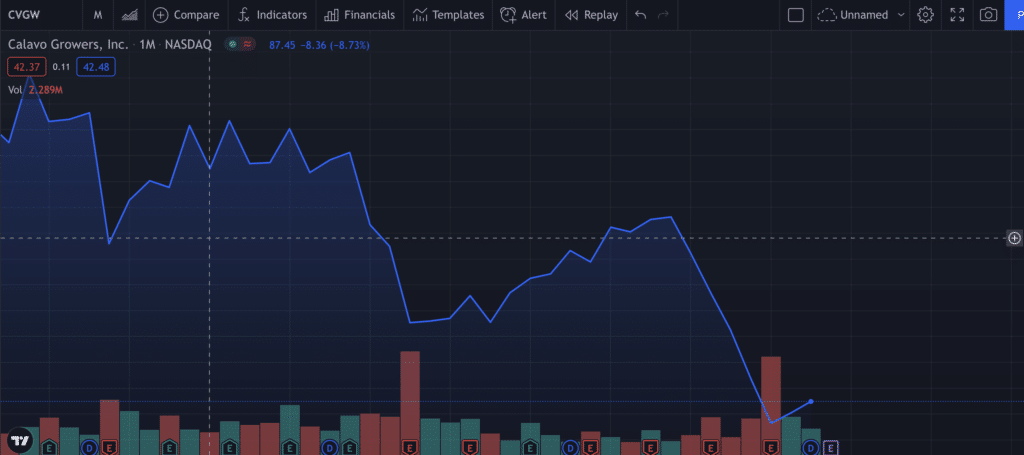 68% of retail investor accounts lose money when trading CFDs with this provider.
10. Hain Celestial (HAIN)
Hain Celestial is another company on our list that doesn't exclusively remain in the vegan foods category but instead branches out into all manner of plant-based, organic, and natural food products. They have a number of very well-known products such as Rice Dream and Almond Dream milk which have been very popular among customers with vegan diets. 
Recently, HAIN has been drawing back from some of its lower-margin products in an effort to increase its profitability. As a result of these actions, HAIN has seen its gross profits increase substantially despite reporting declining revenue numbers. Generally, it would appear as though HAIN is focusing more and more on the sale of vegan products as these generally yield higher profit margins.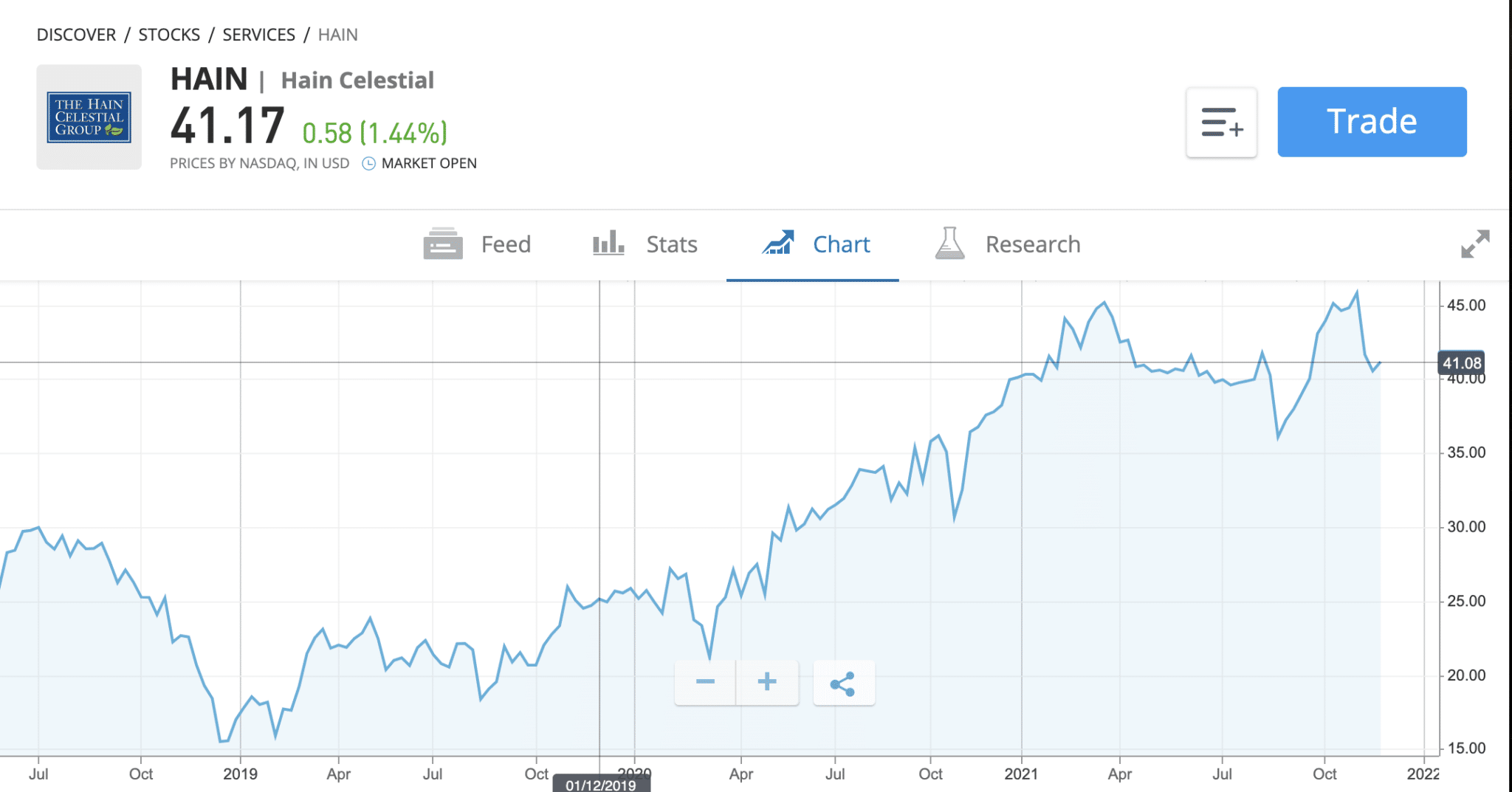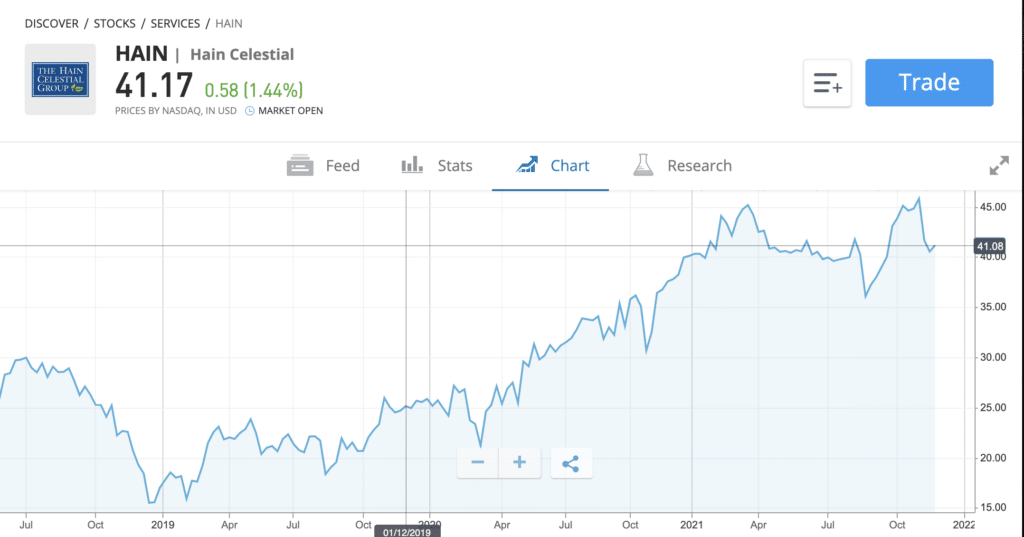 HAIN has seen respectable growth in its share price with an increase of 10.43% over the last year. The stock currently trades for $41.21 per share.
68% of retail investor accounts lose money when trading CFDs with this provider.
Are Vegan Stocks a Valuable Investment? 
According to a recent study released by Allied Market Research, global vegan food markets are expected to continue their already impressive growth rates. Analysts expect a compounded annual growth rate of 10.5% until at least 2026.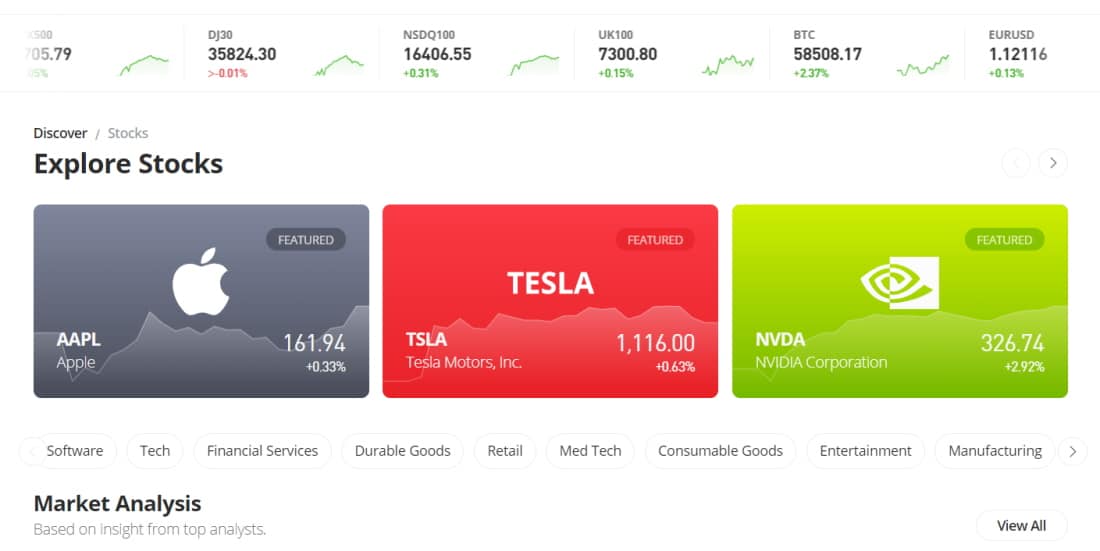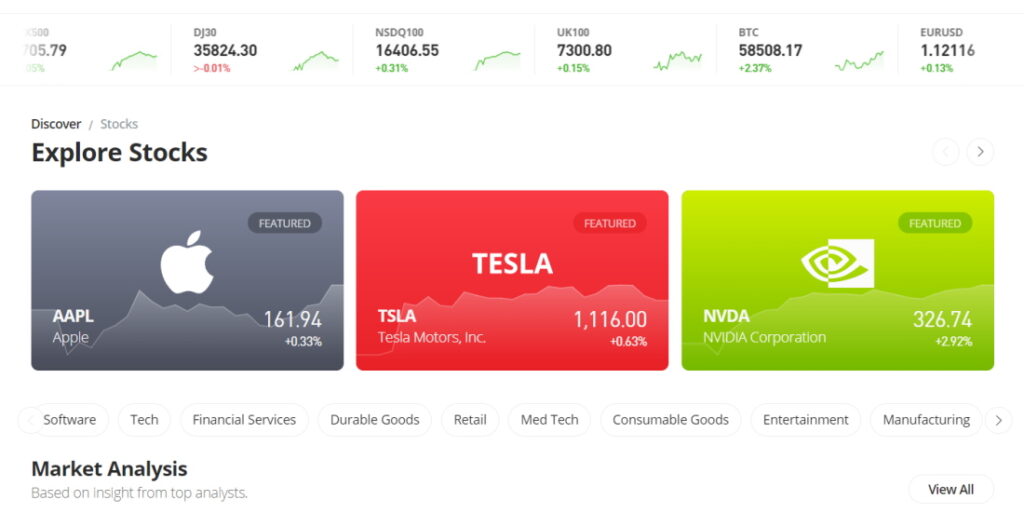 The vegan market is growing every year as more and more people adopt vegan lifestyles and diets. This growing adoption is translating into increasing demand for plant-based food products.
However, users should conduct proper research and analyse the various vegan stocks financials and the company's past records to get an idea of what to expect from the stocks.
Brokers that Offer Vegan Stocks
In order to invest in vegan stocks, you will first need to decide on which brokerage to use. Brokerages are our gateway into the financial system, they are online platforms that connect buyers and sellers to facilitate a transaction. With the development of online investing platforms, it has become easier than ever to invest in the financial markets.
In the sections below, we have reviewed two popular brokers that offer vegan stocks for users to invest in the UK.
1. eToro 
eToro enables you to invest in regular stocks without having to pay any commissions or share trading fees. Instead, the spread is the only 'cost' you have to pay. You will be entitled to dividend payouts as and when they are paid if you do not use leverage or short-sell your chosen stock.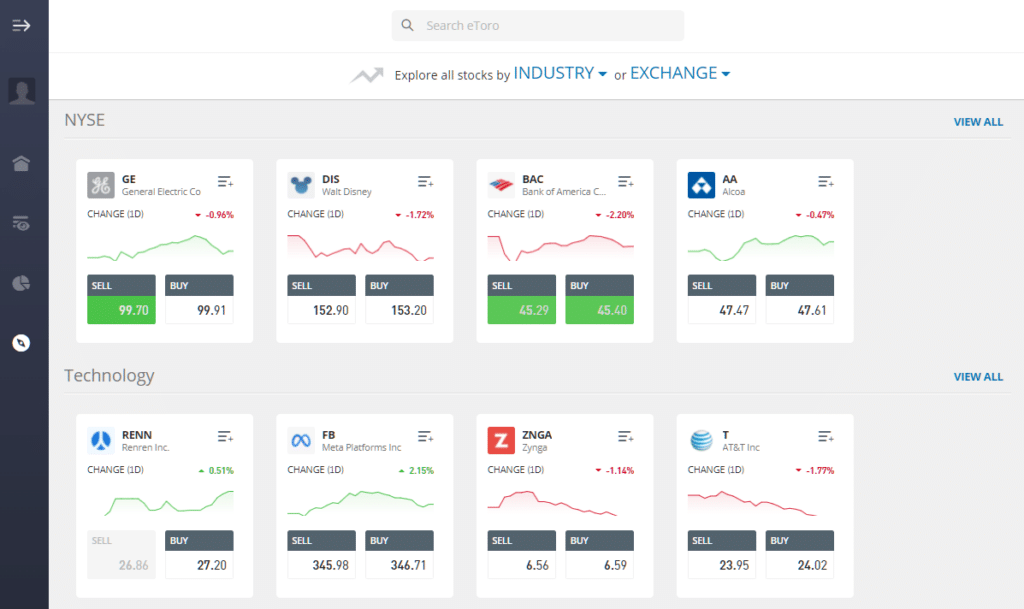 eToro provides users with social trading features that include the innovative copy trading function. This function allows traders to copy the trades of the senior traders on the platform. You can watch what these veteran traders do in real-time or set your account to automatically mimic their trades. 
If you want to branch out into other areas of the investment world, eToro also offers funds and ETFs.
The robust regulatory frameworks within which eToro operates in coupled with their 0% commissions on stock trading and the wide range of stocks available to trade on their platform makes them an excellent choice for anyone who is looking to begin their investing careers. Furthermore, users can gain access to a number of popular vegan stocks using eToro.
| | | | | | |
| --- | --- | --- | --- | --- | --- |
| Stock Broker | Minimum Deposit | Fractional Shares? | Pricing System | Cost of Buying Stocks | Fees & Charges |
| eToro | $10 | Yes – $10 minimum | 0% commission on ALL real stocks, spreads for CFDs | Market spread is not included when buying real stocks | No Deposit fees, $5 withdrawal fee, $10 inactivity fee, no account management fees. |
Sponsored ad. 68% of retail investors lose money trading CFDs at this site
2. Capital.com 
Capital.com
is a popular broker that offers users the chance to invest in vegan stocks. Their bespoke trading platform is intuitively designed to assist investors in their investment decisions. Much like eToro, they are highly regulated by popular financial regulators in the world ensuring that their users are afforded every protection possible.
Capital.com does not charge any commissions on any trades, making it a popular appealing broker for all types of stock traders. On its share CFDs, the broker charges spreads, but they're among the lowest in the UK. All stocks can be traded with up to 5:1 leverage, and there are no inactivity fees if you take a break from trading.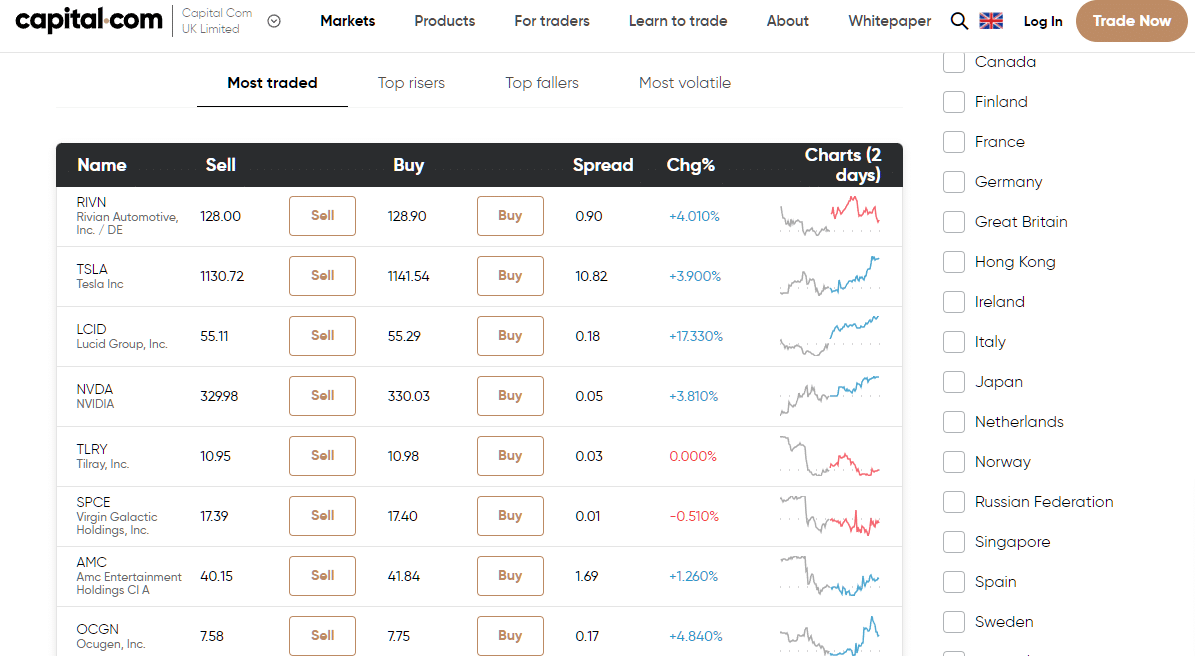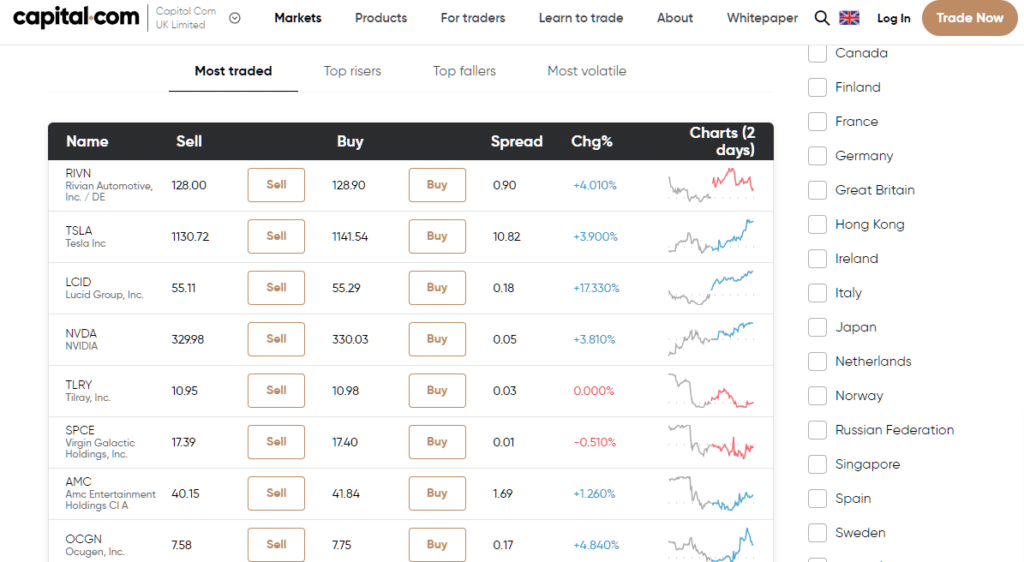 For web and mobile devices, Capital.com has its own custom-built trading platform. The platform connects with TradingView, allowing you to quickly design your own charts and move between a variety of complex chart types.
Similarly, they refrain from charging their users any commission on stock trading and offer their clients the highest spreads possible to ensure maximum profitability on any trades/investments. Capital.com also facilitates spread betting among one of the many features that users investors can use on the platform. 
Sponsored Ad
83.45% of retail investor accounts lose money when trading CFDs with this provider. You should consider whether you can afford to take the high risk of losing your money.
How To Purchase Vegan Stocks
If you've done your research and are looking to invest in vegan stocks, you should do so with the help of popular stock brokers that fit your investing needs and requirements.
After picking a broker, here is how you can begin trading in vegan stocks in the UK.
Step 1: Open an Account
Head over to the homepage of your chosen broker and begin the account set-up process. You will be required to fill in your personal details – including your full name, email address and mobile number. Create a username and password for the platform to continue.
Step 2: Verify Your Identity
Most reputable brokers in the UK are regulated by the FCA – which is why users may be required to verify their accounts. To do this, simply upload proof of ID (a copy of your driver's license or passport) and proof of address (a copy of a bank statement or utility bill). Once these documents have been uploaded, your broker should verify them in a couple of minutes.
Step 3: Deposit funds
The next step is to deposit funds into your trading account. Most brokers may support 1 or more of the following payment methods:
Credit card
Debit card
Bank transfer
e-wallet
Choose your preferred payment option and deposit the funds into your account.
Step 4: Invest in Vegan Stocks
Once your account has been funded, proceed to search for any Vegan stocks or any other stock you wish to purchase on your platform's search bar. Fill in the amount you want to credit into the trade, and confirm your transaction.
Conclusion
Whilst vegan stocks have certainly had their share prices beaten down over the last year, the industry itself is growing consistently and the internal metrics of individual vegan food companies. This is why, users should conduct their own research and make an investment strategy for the future.
Should you choose to invest in vegan stocks, you should do so with a suitable broker that caters to your investment needs.
Frequently Asked Questions on Vegan Stocks
What is a popular vegan stock in the market?
What are the names of 5 vegan stocks available in the UK?