Kraken Review UK 2021 – Features, Fees, Pros & Cons Revealed
Fact Checked
Everything you read on our site is provided by expert writers who have many years of experience in the financial markets and have written for other top financial publications. Every piece of information here is fact-checked.
Disclosure
Please note that we are not authorised to provide any investment advice. The information on this page should be construed for information purposes only. We may earn commissions from the products mentioned on this site.
Kraken is one of the oldest and most popular cryptocurrency exchanges in the world with over 4 million users. This US-based digital asset exchange is great for active traders and medium-large financial institutions but also for beginners that make their first steps in the cryptocurrency sphere.
In this Kraken Review UK, we'll cover the most essential things you need to know and whether Kraken is the best cryptocurrency exchange or if there is a better alternative.
Kraken Review Summary
Kraken is one of the most popular cryptocurrency exchanges
It offers a good range of coins at low fees
After considerable review, our recommended crypto exchange is Kraken.
What is Kraken?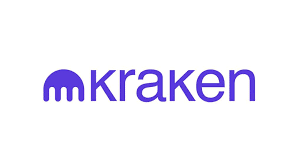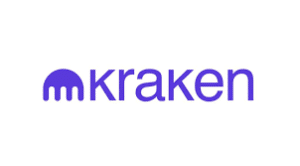 Founded in 2011 by Jesse Powell in San Fransisco, United States, Kraken was one of the first US-Based cryptocurrency exchanges that emerged in the digital asset market. The Kraken platform was officially launched in September 2013, offering investors to trade Bitcoin (BTC), and Litecoin (LTC) versus the US Dollar and Euro. Kraken, along with Huobi, Binance, Coinbase and Bithumb is now in the five largest cryptocurrency exhanges.
In 2014, Kraken, along with Coinbase, has become among the first cryptocurrency exchanges to be listed on Bloomberg terminal. And, since its foundation, it has also gained regulatory approval from FinCEN in the USA, FINTRAC in Canada, the Financial Conduct Authority (FCA) in the UK. Additionally, it is registered and regulated as a Digital Currency Exchange by AUSTRAC in Australia, and with the FSA in Japan.
As of 2021, Kraken operates in 176 countries, including 48 states in the US, and supports 56 cryptocurrencies to trade on.
Supported Coins
As mentioned above, Kraken supports trading in 56 cryptocurrency pairs including popular digital assets like Bitcoin (BTC), Ethereum (ETH)), Bitcoin Cash (BCH), Tether (USDT), and you can buy Polkadot (DOT). In terms of fiat currencies, the exchange supports USD, EUR, GBP, CAD, JPY, CHF, and AUD. This makes Kraken along with Bithumb one of the largest crypto exchanges that support both crypto-to-crypto and fiat-to-crypto currency pairs.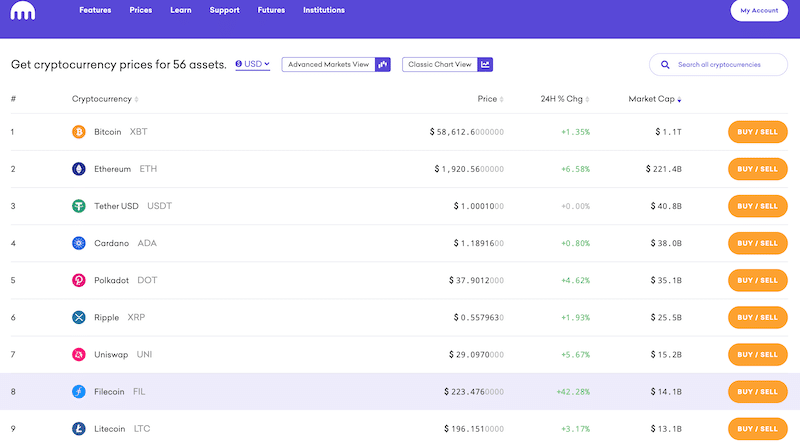 Below, you can find all the cryptocurrencies available on Kraken.
Bitcoin

Ethereum

Tether

Cardano

Polkadot

Ripple

Uniswap

Filecoin

Litecoin

Chainlink

USD Coin

Bitcoin Cash

Lumen

Dogecoin

TRON

Aave

EOS

Monero

Cosmos

Kusama

Tezos

Algorand

DAI

DASH

Compound

The Graph

Synthetix

Zcash
Basic Attention Token

ICON

Decentrland

Ethereum Classic

Yearn Finance

Sia Coin

Waves

OMG Network

Qtum

Flow

Storj

Curve DAO Token

Lisk

Nano

Ocean Token

Kyber Network

Energy Web Token

Angur

Angur v2

Aragon

Balancer

Kava

Keep Network

Orchid

Gnosis

Enzyme Finance

Pax Gold

tBTC
Kraken Fees
Clearly, Kraken is one of the most cost-effective exchanges for crypto transactions. Having said that, as with most cryptocurrency exchanges, the pricing structure at Kraken is a bit complicated and there are several fees that you need to take into account before you start trading on this exchange.
Payment fees
When it comes to deposits, Kraken offers two options – the first is to deposit funds in cryptocurrencies and the second is via bank wire transfer. Crucially, if you use one of the most widely used crypto coins as a funding method, Kraken does not charge any fee. Additionally, when using FPS/BACS (ClearJunction) and SWIFT (Etana Custody), then there are no fees charged by Kraken. However, if you are using CHAPS (ClearJunction) or SWIFT (Bank Frick) then you'll have to pay a deposit fee of £21 or £3 respectively.
As for withdrawals, Kraken does not charge any fees when a user withdraws funds with cryptocurrencies. For UK payment options, the exchange charges the following withdrawal fees:
Withdrawal
Method
Withdrawal Minimum
Withdrawal
Fee
Processing
Time
FPS (ClearJunction)
100 GBP
1.95 GBP
Near Instant*
CHAPS
(ClearJunction)
10,000 GBP
21 GBP
Same day
SWIFT
(Bank Frick)
14 GBP
13 GBP
1-5 business days
SWIFT
(Etana Custody)
150 GBP
35 GBP
3-5 business days
or instant
Trading fees
Obviously, trading fees are the most important aspect when you choose a crypto exchange. And, much like any other crypto exchange, the trading fees vary and depend on the type of purchase and the trading volume/liquidity. For example, if you decide to make an instant buy with your account balance, then you need to pay a fee of 0.9% for any stablecoin and FX pairs
and 1.5% for any other crypto. When using an online banking solution, then there's a fee of 1.7% + $0.10.
For high volume trading, Kraken uses a maker-taker fee schedule:
| | | |
| --- | --- | --- |
| 30- Day Volume (USD) | Maker | Taker |
| $0 – $50,000 | 0.20% | 0.20% |
| $50,001 – $100,000 | 0.16% | 0.16% |
| $100,001 – $250,000 | 0.12% | 0.12% |
| $250,001 – $500,000 | 0.08% | 0.08% |
| $500,001 – $1,000,000 | 0.04% | 0.04% |
| $1,000,000+ | 0.00% | 0.00% |
*Take note that for Kraken Pro users, the maker fees are significantly lower.
Kraken Buying Limits
At Kraken, daily limits are calculated separately for fiat currencies or bitcoin and altcoins and depend on the account type you choose (Starter, Intermediate, or Pro). There's no limitation for all account types if you decide to deposit funds with cryptocurrencies but you'll have to take into account a 24-hour withdrawal limitation of $5000 for the starter account, $500,000 for Intermediate, and $10 Million for the Pro account.
When it comes to minimum order size, that depends on the coin (fiat or crypto) you decide to buy. For fiat currencies, the minimum order size is as follows:
| | |
| --- | --- |
| Base currency | Order minimum |
| Euro | 5 EUR |
| US Dollar | 10 USD |
| Great British Pound | 5 GBP |
| Australian Dollar | 10 AUD |
Kraken Wallet
Simply put, Kraken is a cryptocurrency exchange and not a wallet service provider. This basically means that you'll not be able to store your coins on a personal wallet service but instead, users at Kraken have the ability to deposit and store funds in Kraken's corporate wallet. In that regard, Kraken specifies that all client's funds are being stored on cold and hot wallets and thus, the most recommended thing to do if you decide to trade with Kraken is to find a bitcoin wallet or a crypto hardware offline wallet to safely store your funds.
Kraken Mobile App
In this area, Kraken exchange takes the edge compared to potential rivals. The US-based crypto exchange offers three mobile investment apps for their users that are available on Android and iOS – the New Kraken app, the Kraken Pro, and the Kraken Futures. The first is the most basic mobile application and gives users an intuitive and user-friendly platform to buy and sell cryptocurrencies (rating of 4.5 on Google Play 1214 votes).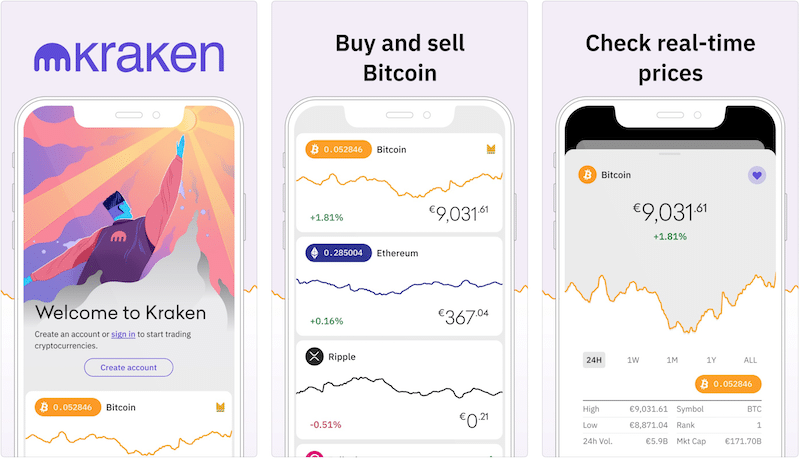 While Kraken's mobile app basic version is enough for those who want to view prices, and make trading simple and straightforward – the Kraken pro version is extremely impressive and is designed specifically for professional trading. Evidently, it has a rating of 4.6 on Google Play from 14,410 reviews.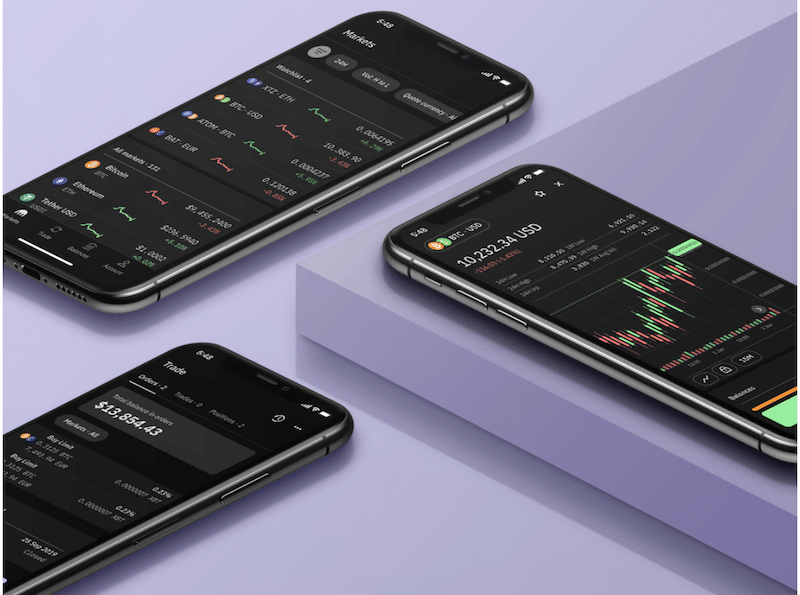 Finally, Kraken has a mobile app for crypto futures trading with up to 50x leverage. This app is connected to futures exchanges like the CME and allows users to transfer funds between Kraken Spot and Kraken Futures markets.
Kraken Minimum Deposit
Kraken does not maintain minimum deposit requirements in order to open an account. This means that anyone can sign up for an online investment account and deposit funds at any point in time.
Kraken User Experience
It is honestly surprising, and a bit disappointing but Kraken certainly has some flaws. In general, the platform is simple to use and you get access to plenty of tools and features. On the downside, the user interface is out of date and the 'Markets' version, which is designed for professional traders, is somehow confusing and unclear.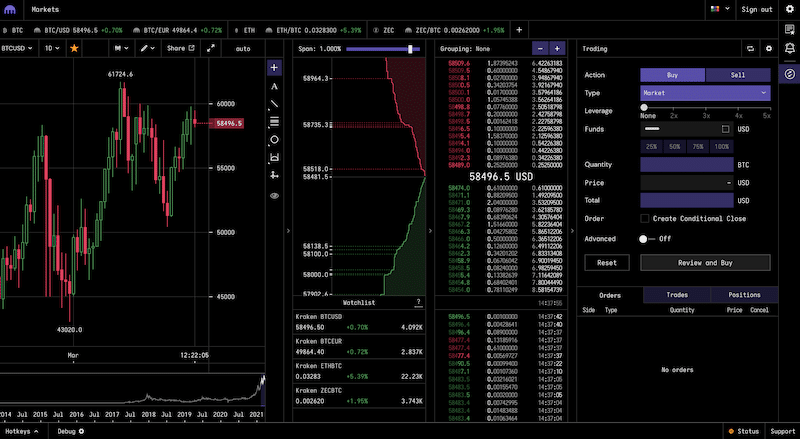 Eventually, this also depends on what you are using Kraken's platform for. For example, if you are planning to make a one-time purchase or use Kraken as a crypto investment platform to buy and store cryptocurrencies, then you might find the platform extremely simple to use. However, if you wish to trade actively on this platform, then Kraken's platform is, in our opinion, somewhat complex.
At the same time, when it comes to mobile apps, Kraken offers a seamless experience even for beginner investors. This also includes the depositing and withdrawing process and getting service from its customer support team.
Kraken Tools and Features
When it comes to features, there is no question that Kraken is offering some very unique tools. Below, you'll find some of the main features and tools available on Kraken's platform.
Staking
There's no doubt that this is one of the best features available on Kraken's platform. If you are not familiar with the term, staking is a process where the user locks or holds the coins on another account in order to earn an interest rate on the coin staked for a certain period of time. This is a similar process to bonds and other fixed-income assets when the user's goal is to invest for basic income.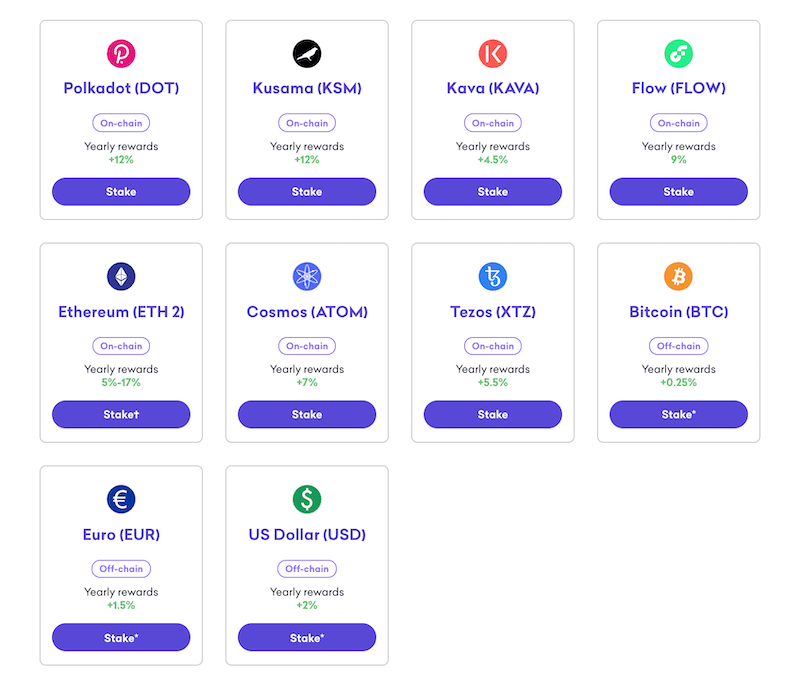 When you stake one of the crypto coins available on Kraken's list, you will receive a fixed interest rate twice a week from the staked coin.
Crypto Watch
The Kraken CryptoWatch is a native desktop application that allows users to effectively track the cryptocurrency market using custom layouts. As such, you'll be able the choose the coins you wish to view in real-time, create as many dashboards as you want, and get access to crypto market news and feed.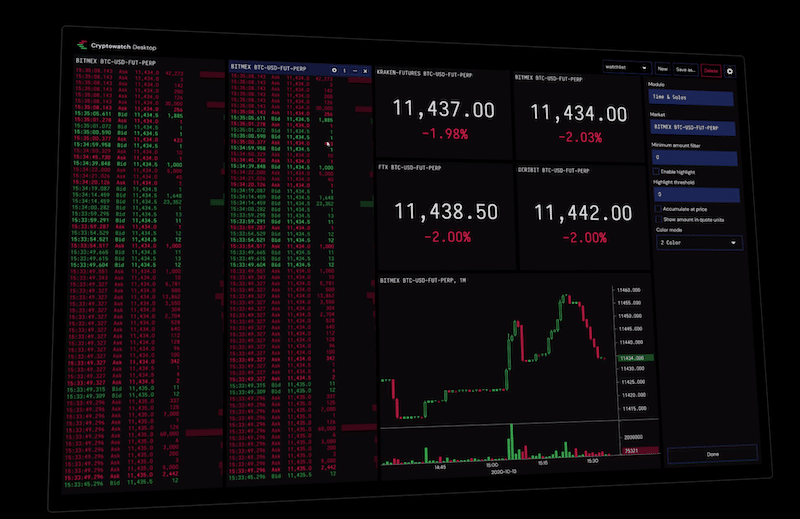 Futures Trading
Kraken gives users access to cryptocurrency futures trading, which is an agreement to buy or sell a certain crypto asset at a later date for a fixed price and works the same as any other commodity futures contract in the market such as Gold, Oil, Wheat, Corn, and Silver.
Unlike regular crypto transactions, cryptocurrency futures allow you to mitigate the risk of a falling/rising price and use the contract as a hedging tool. Additionally, crypto futures are regulated products that trade on commodity futures exchanges like the Chicago Mercantile Exchange (CME). Finally, you can get a leverage of 50:1 when you trade futures, meaning you can use just 2% of your money to open a position.
Kraken Payments
Kraken has good and bad points when it comes to funding options. This crypto exchange accepts a range of fiat currencies via bank wire transfer that includes USD, EUR, GBP, CAD, JPY, AUD, and CHF. In the UK, users can use the following payment methods:
Deposit Method
Deposit Minimum
Deposit
Fee
Processing
Time
FPS/BACS (ClearJunction)
1 GBP
Free
0-3 business days
CHAPS (ClearJunction)
22 GBP
21 GBP
Same day
SWIFT
(Bank Frick)
4 GBP
3 GBP
1-5 business days
SWIFT
(Etana Custody)
150 GBP
Free
2-5 business days
or instant
The second way to fund your Kraken account is with crypto coins. When choosing this option, all deposits are credited to your account instantly. There is a minimum requirement for each deposit and the fee varies depending on the coins you choose to deposit with. That said, if you deposit funds with one of the popular coins like Bitcoin, Bitcoin Cash, Litecoin, etc. – Kraken does not charge any deposit fees nor address setup fees.
On the other hand, it is disappointing for UK investors that Kraken does not support credit and debit cards as well as PayPal (or any other e-Wallet solution) as funding options.
Kraken Regulation & Licensing
With many crypto exchanges still operating in an unregulated environment, Kraken is one of the few regulated cryptocurrency exchanges in the world. First and foremost, Kraken is a US-based crypto exchange registered by the FinCEN in the USA under the registration number 31000176593851. The exchange is also regulated by FINTRAC in Canada under the registration number M19343731.
In the UK, Crypto Facilities Ltd – the entity currently operating Kraken – is regulated by the Financial Conduct Authority (FCA) under reference number 757895.
In Australia, Kraken is registered and regulated by the Australian Transaction Reports and Analysis Centre (AUSTRAC), and in Japan, the exchange is regulated by the FSA.
All in all, Kraken is one of the most heavily regulated cryptocurrency exchanges in the world.
Kraken Contact and Customer Service
Kraken ticks all the boxes in terms of customer service support. Firstly, the exchange offers a live chat service, which is crucial for any crypto exchange site. Though getting to an agent is a little harder and you'll have to go through a bot to get there, having a live chat can make your trading and account management much easier.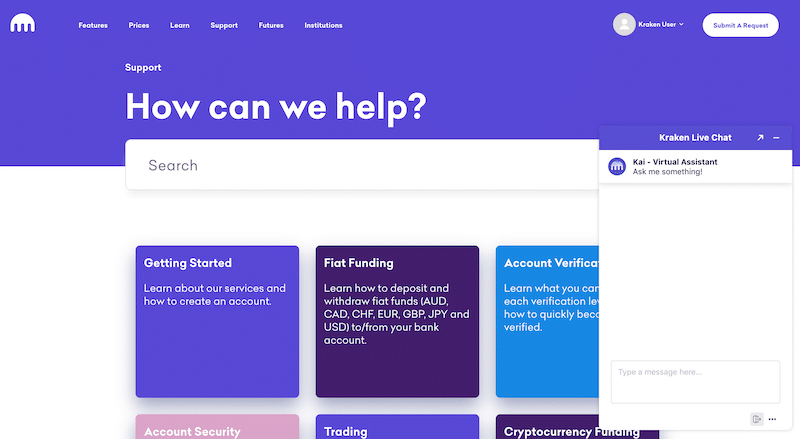 In addition, Kraken offers a submit ticket form and a very extensive FAQ section. The only downside is that Kraken does not offer any support over the phone.
How to Use Kraken
If after reading our Kraken UK exchange review you are still interested in open an account with this crypto exchange, we are now going to show you a step-by-step process to create your account and place your first order in the market.
Step 1: Open a Kraken Account
To get started, you will first need to open an account with Kraken. On its homepage, click on the 'Create Account' button and submit your email address, country of residence and create a username and password.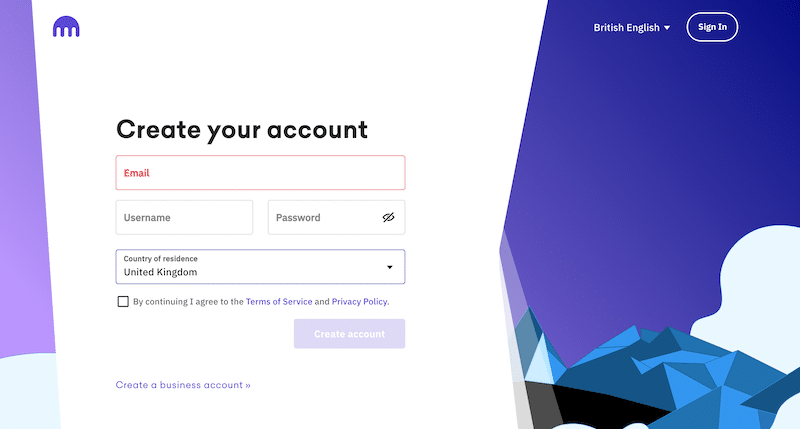 Then, you'll be asked to activate your account by entering the activation code sent to your email. Once you have completed this step, you are immediately channelled to Kraken's dashboard.
Step 2: Get Verified
As a regulated cryptocurrency exchange, it is not a surprise that you need to verify your identity before you can start trading. To do that, navigate to your user tab on the top right side of the screen, and scroll down to 'Get Verified'.

Notably, Kraken has a different verification mechanism as it allows you to choose the account type that fits your trading and funding needs. As such, you can choose between the Starter or Intermediate account.
If you just want to buy and sell crypto, then it is best to start with the Starter account. The verification process is fairly simple and takes around 1-60 minutes. For the Started account, you simply need to provide personal information without submitting any Identification document. However, if you wish to deposit funds with fiat currencies as well as trade cryptocurrencies on the OTC market, the intermediate is the better choice for you.
Step 3: Add Funds 
Once you have completed the verification process, it's time to fund your account. Though you are not able to add funds with PayPal or credit/debit card, Kraken gives investors access to an extensive selection of funding options. The easiest way to deposit funds to Kraken is with a bank transfer. Kraken also supports the following fiat currencies: USD, EUR, GBP, CAD, AUD, JPY, and CHF.
Step 4: Buy and Sell Digital Assets
On Kraken, there are many options of how to purchase digital coins as the platform is very rich in the number of features and trading dashboards. From our research, the quickest and easiest way to purchase any cryptocurrency is to navigate to Prices on the top menu bar and search for the coin you wish to buy.

Once you click on the coin, you'll be transferred to a simple order form where you can buy, sell and convert cryptos instantly. To do that, you just need to enter the amount you want to invest and then click on the buy button.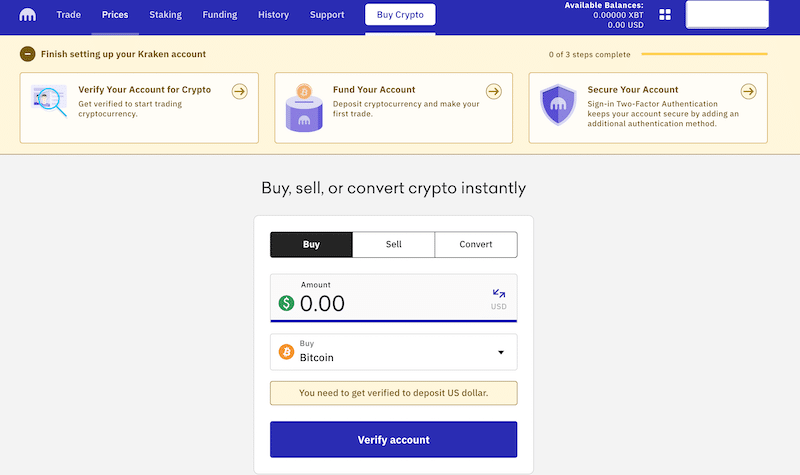 Step 5: Transfer Your Coins to a Digital Wallet
As previously mentioned, Kraken does not offer a personal digital wallet. As such, you can store your coins on Kraken's shared wallet, however, in order to get the maximum security protection, it's best to transfer your coins to a hardware wallet like Ledger or Trezor.
Kraken – Best Broker to Buy Cryptocurrency in the UK
In summary, Kraken is one of the best options for traders that want to get access to the cryptocurrency market. This platform is certainly ideal for those who are looking to trade cryptocurrency futures and want to get access to margin trading.
Other than that, Kraken is heavily regulated, and it offers competitive trading fees on a wide range of 56 cryptocurrencies. It's a fast exchange with a long history.
Cryptoassets are highly volatile unregulated investment products. No EU investor protection.
FAQs
Is Kraken regulated in the UK?
What cryptocurrencies can buy with a credit card at Kraken?
Does Kraken support PayPal?
What cryptocurrencies can I trade at Kraken?