Did you know that most investors are now adding hydrogen stocks to their portfolios? As we head into 2021, a return to a 'new normal' is at the top of everyone's minds. But what does a new normal mean for investors? If you ask us, it means a renewed focus on renewable energy. The UK, US, and Europe have all made a transition to clean energy sources and electric vehicles a part of their economic recovery plans in the aftermath of the coronavirus pandemic.
One way to take advantage of this shift towards green technology is to invest in hydrogen fuel cell company stocks. Hydrogen company stocks have exploded in value in recent years and we expect that trend to continue in 2021 and beyond.
Top Hydrogen Stocks 2021
Before we take a look at the best Hydrogen stocks in more detail, here's a quick look at the top stocks to invest in right now.
So, let's take a look at the 5 best hydrogen stocks you can buy today:
Ballard Power Systems – Supplying motors for clean energy vehicles – Invest Now
Cummins – Industrial giant with hydrogen fuel investment – Invest Now
Fuelcell Energy – Solving the hydrogen fuel distribution challenge – Invest Now
Bloom Energy – Flexible, modular hydrogen-powered generators
Plug Power – Converting battery-powered equipment to hydrogen power
68% of retail investor accounts lose money when trading CFDs with this provider.
Best Hydrogen Stocks UK Reviewed
Hydrogen energy has been under development for decades. But the industry has made huge strides in the past few years and a hydrogen economy now seems closer to reality than ever before.
Here are the 5 best hydrogen technology stocks we think will lead the charge on new, green power systems.
1. Ballard Power Systems – Powering the Hydrogen Market


Ballard Power Systems (BLDP on the NASDAQ stock exchange) sits at the base of the hydrogen power food chain. This Canadian company makes the proton exchange membranes that actually combine hydrogen and oxygen to produce power. Essentially, Ballard Power Systems builds the motors that many other hydrogen fuel cell companies use to run their products.
Ballard Power Systems has been around for nearly 25 years, making it one of the most well-established players in the hydrogen economy. The company has partnerships with auto manufacturers in Europe and China, which positions it extremely well if hydrogen-powered vehicles are able to get off the ground. In addition, as new companies look to break into the hydrogen vehicle market, they're likely to look to Ballard to build the motors they need rather than start from scratch.
Ballard Power Systems gained 'only' 282% in 2020, which oddly enough makes it one of the slowest-performing hydrogen fuel stocks last year. The company used the pandemic to ink more deals with heavy industry, and we think the slow and steady approach Ballard is taking will pay off in the long run. The company has reported seven quarters of positive cash flow (although the quarters were non-consecutive) and continued to grow revenue, demonstrating that it can make its business sustainable.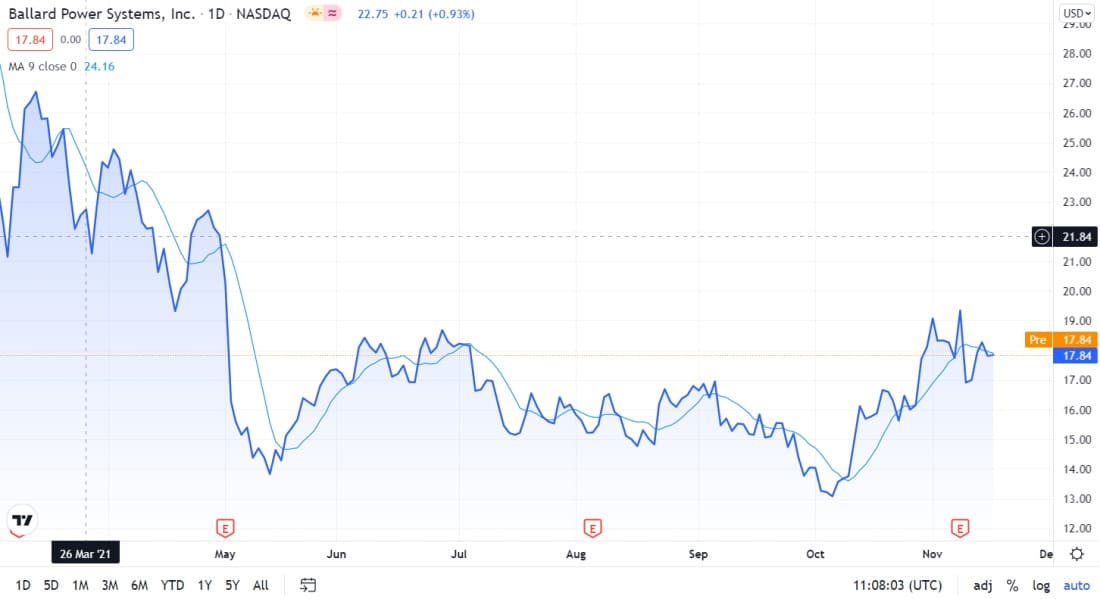 68% of retail investor accounts lose money when trading CFDs with this provider.
2. Cummins – A Lower-risk Hydrogen Stock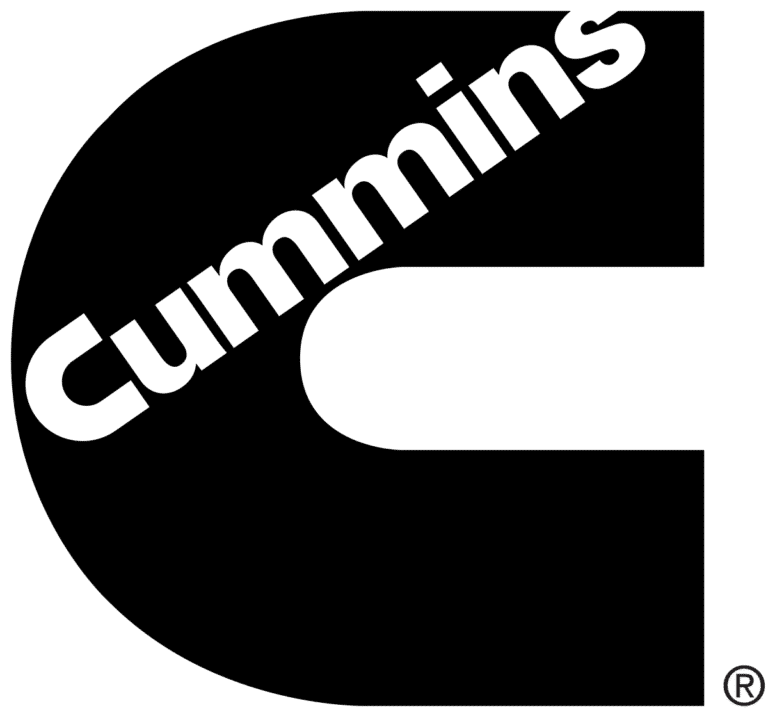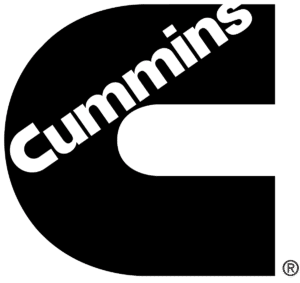 Cummins (CMI on the NYSE) is an industrial giant with a 101-year history. This company is best known for its fossil fuel-powered diesel engines, but Cummins has increasingly invested in green energy in recent years.
The company has used its name recognition to strike big deals with governments and other industrial corporations. Cummins fuel cell technology is powering a passenger train in France, dozens of buses in China, and trucks across Europe. In addition, Cummins recently received a $2 million research grant from the United States Department of Energy to help lead the transition from grey hydrogen – which relies on natural gas – to green hydrogen. Analysts inside Cummins expect green hydrogen fuel cells could bring in as much as $400 million in revenue by 2025.
Cummins isn't a high yield investment like many of the other energy stocks on our list. Most of this company's bottom line comes from its fossil fuel engines, and that will continue for many years to come. Still, Cummins benefited from the boom in industrial output and retooling during the coronavirus pandemic. Shares gained 27% in 2020 and 115% since the March stock market crash.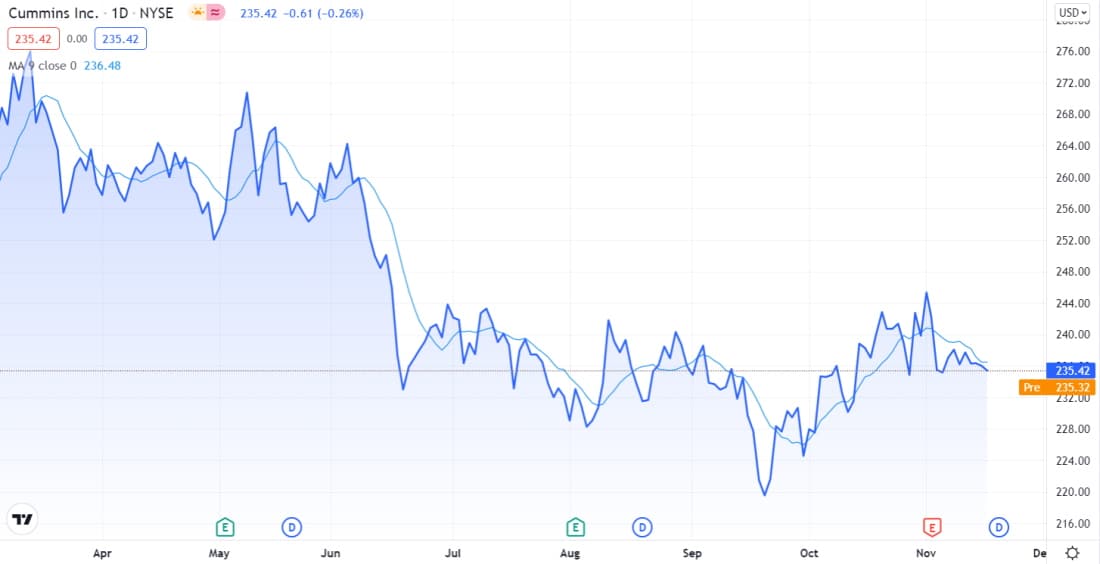 68% of retail investor accounts lose money when trading CFDs with this provider.
3. FuelCell Energy – Targeting Hydrogen Distribution

One of the key challenges that have held back hydrogen technology stocks for years is distribution. It's one thing to get millions of clean hydrogen vehicles on the road, but it's another thing entirely to create a network of refuelling stations and to deliver hydrogen fuel to those stations.
That's precisely the challenge that FuelCell Energy (FCEL on the NASDAQ exchange) is tackling. FuelCell Energy has been working on this challenge since 1969, which goes to show just how difficult it is. This stock should be considered a high risk investment, as the company is cash-flow negative and there won't be significant demand for its products until hydrogen-powered electric vehicles become the norm.
FuelCell Energy shares skyrocketed with investors' excitement around Nikola, the hydrogen vehicle maker. After trading flat for most of 2020, the shares spiked 478% in November and December. Look for the price to pull back a bit before investing in this energy stock, though, since it's currently trading at a price-to-book ratio of 25.3 (compared to a stock market average of around 3).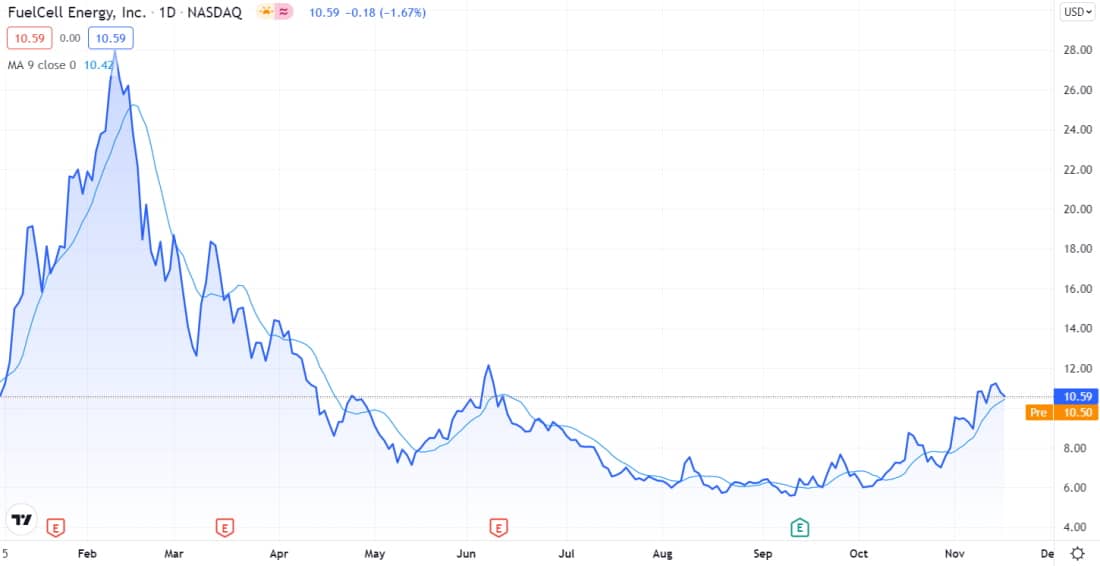 68% of retail investor accounts lose money when trading CFDs with this provider.
4. Bloom Energy – Modular Hydrogen Generators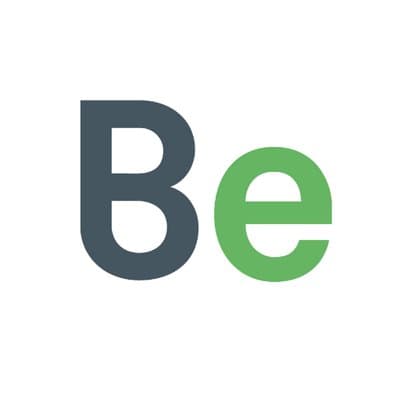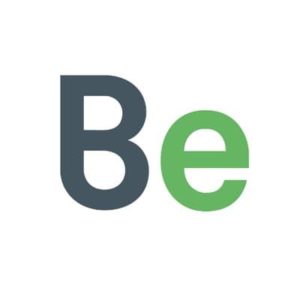 Bloom Energy (BE on the NYSE) produces industrial-sized generators that companies can use to power their offices or industrial operations. What sets Bloom's electrolysers apart is that they burn completely clean hydrogen – it doesn't require natural gas and produces just water as a by-product. That's a major selling point for companies that want to reduce their carbon emissions, which many hydrogen fuel cells won't actually do right now.
Each of Bloom's generators can deliver between 200 and 300 kW of power, and they're modular so that customers can purchase as many units as they need. Another plus is that the generators can run on natural gas or biogas in addition to hydrogen, which makes them more flexible depending on the price of natural gas.
Bloom Energy shares grew 277% over the past year, despite many companies looking to cut costs during the coronavirus pandemic and holding off on new energy equipment purchases. Still, Bloom is risky. As recently as 2019, 57% of the company's revenue came from just 2 customers, and Bloom isn't projecting profitability until 2025 at the earliest. Look for a strong pullback in 2021 before going all-in on this company.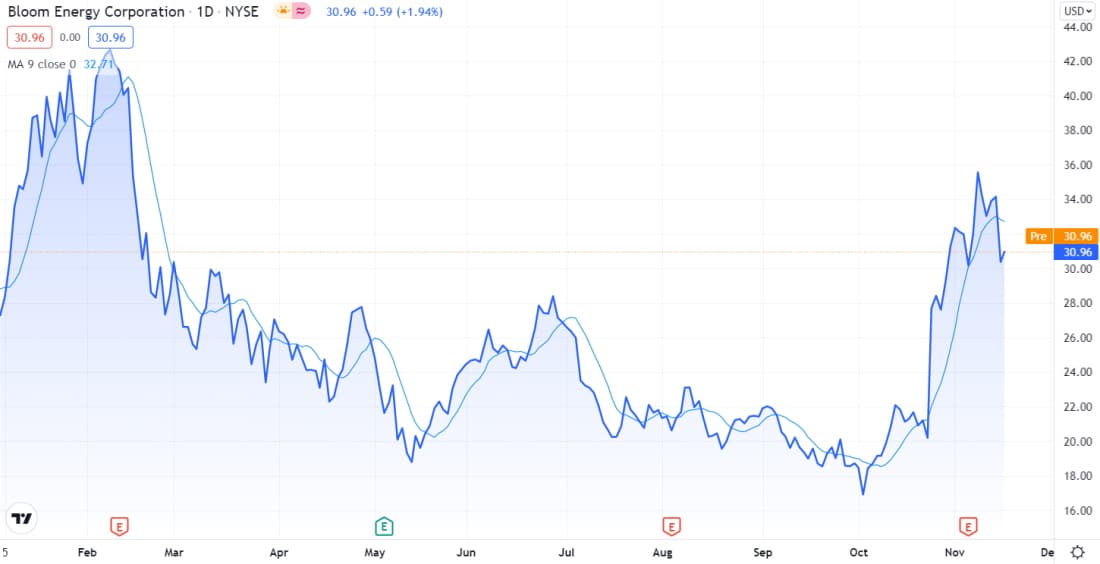 68% of retail investor accounts lose money when trading CFDs with this provider.
5. Plug Power – Converting Batteries to Fuel Cells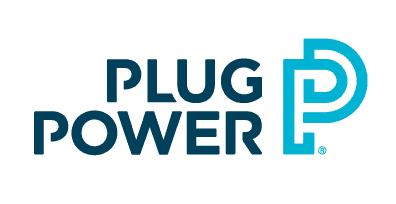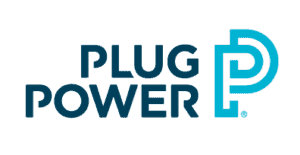 Plug Power (PLUG on the NASDAQ exchange) was one of the top-performing hydrogen stocks in 2020. The company gained more than 1,000%, following on the heels of an already impressive 155% gain in 2019. Much of investors' enthusiasm was driven by changes at Plug, too, as opposed to by external news. Plug Power shares soared after it acquired competitors United Hydrogen Group and Giner ELX and after it beat analysts' expectations for second-quarter earnings.
Plug Power's focus is on converting battery-powered industrial equipment to use hydrogen fuel cells. That means companies can eliminate emissions from their forklifts and other big machinery while cutting down on energy costs. The plug has managed to ink big deals with manufacturers and retailers, including Walmart, which gives it ample room to grow in the future.
After a 1,000% gain, though, it's worth treading carefully around this energy stock. Plug bulls point to the company's growing revenue and valuable partnerships as evidence that its fuel cell technology is the future. Bears, on the other hand, point to a staggering 36.2 price-to-sales ratio and negative cash flow. In many ways, the stock is reminiscent of the argument around Tesla in its early years – but with no guarantee, the outcome will be similar.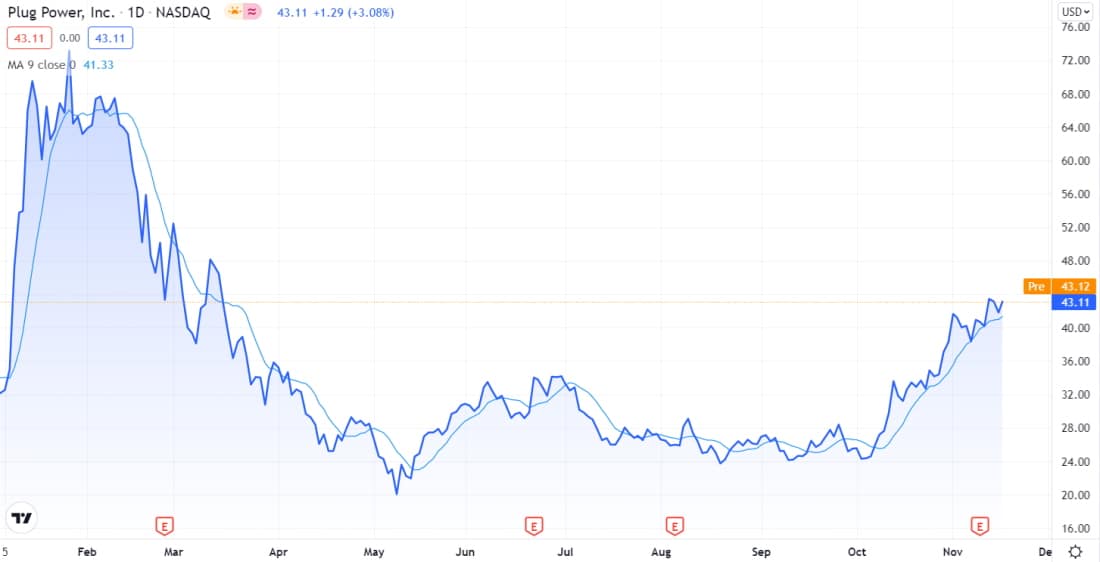 68% of retail investor accounts lose money when trading CFDs with this provider.
What are Hydrogen Stocks?
Hydrogen stocks are shares of any company that is involved in the development or sale of hydrogen fuel cell technology. The definition of hydrogen stocks is very broad. So, many companies that only have a small investment in hydrogen technology may be considered hydrogen company stocks by some investors but not by others.
As the companies we highlighted above demonstrate, there are many different ways that companies can approach the hydrogen economy. For example, they can make electrolysers and motors like Ballard Power Systems and Cummins. They can focus on modular hydrogen power generators like Bloom. They can modify existing battery-powered systems to use hydrogen-like Plug Power. Or, they can work on distributing hydrogen for electric vehicles like FuelCell Energy.
Are Hydrogen Stocks a Good Investment?
Hydrogen technology has been under development for a long time. Many of the companies we highlighted have been around for decades, even though they've only recently IPO'd or made it on investors' radars. The long timeline for hydrogen fuel cell development, from inception to design to production, combined with the historically low demand for hydrogen fuel, all work against hydrogen stocks.
That said, it's clear that the demand for more clean energy and fewer fossil fuels is increasing. Many countries, particularly in Europe, are taking the threat of climate change seriously and see renewable energy as a necessary solution. At the same time, cheap clean energy technology like hydrogen could find an enormous market in developing countries in Southeast Asia and Africa. Energy demand in these regions is accelerating year after year.
So, are hydrogen stocks a good investment? Ultimately, that depends on whether you believe that hydrogen fuel is the clean energy technology of the future.
Electric vehicles can be fully zero-emission if they are charged with electricity produced by wind and solar, so hydrogen isn't the only energy option on the table. At the same time, hydrogen fuel could potentially replace oil as a portable, distributable fuel source available at fuelling stations around the world.
One real breakthrough to watch for is the development and widespread adoption of hydrogen-powered tractor-trailers, since these could replace diesel-powered trucks and spur the development of hydrogen fuelling stations. In turn, these would make hydrogen vehicles easier for consumers to use.
For now, though, hydrogen fuel cell company stocks are highly risky. They are best for investors with a long time frame and a strong appetite for volatility.
How to Choose the Best Hydrogen Stocks UK for You
There are dozens of hydrogen company stocks available in addition to the ones we highlighted above. Choosing which ones are right for you requires a fair amount of analysis on your part.
First, it's important to understand the niche that a specific hydrogen technology company is targeting. Is the company building hydrogen-powered motors, distributing hydrogen fuel where it's needed, or something else?
Once you determine that, you can look at how in demand that niche is already or is likely to be in the future as hydrogen stocks develop further. You should also check whether there are other hydrogen stocks occupying a similar niche that could be competitors.
Next, take a close look at the company's fundamentals. Many hydrogen fuel cell company stocks are unprofitable and expect to remain so for years to come. However, you can compare one company's price-to-sales ratio and revenue growth against other hydrogen technology stocks and against renewable energy stocks as a whole. That will give you an idea of whether the company is potentially overvalued or undervalued at the current stock price.
Finally, it's worth finding out what analysts and professionals think about a hydrogen stock. Many UK stock brokers offer analyst ratings for the stocks they offer or in-house analysis. While analysts aren't always right, this information can help confirm that your own analysis is on target or help identify important details that you may have missed.
Best Hydrogen Stock Brokers in the UK
In order to buy shares of hydrogen company stocks in the UK, you'll need a stock broker. Many top hydrogen stocks trade on the NASDAQ or NYSE markets in the US, so look for brokers that offer access to these exchanges.
To help you get started, let's take a closer look at 3 of our top-rated stock brokers for buying hydrogen stocks in the UK.
1. eToro – Trade Hydrogen Stocks with 0% Commission
eToro
is one of the most highly recommended stock brokers in the UK. With this trading platform, you can trade CFDs (contracts for difference) with 0% commission or opt to buy and sell shares outright. Better yet, eToro offers access to dozens of markets around the globe and more than 800 different stocks.
What really sets eToro apart is its trading platform. With eToro, you get access to a proprietary charting and analysis suite that includes more than 100 built-in technical studies. You can also set price alerts, see what the market thinks about a particular hydrogen stock, or find analysts' price targets for any company. eToro's platform is available as a mobile stock app, too, so you can buy and sell shares on the go.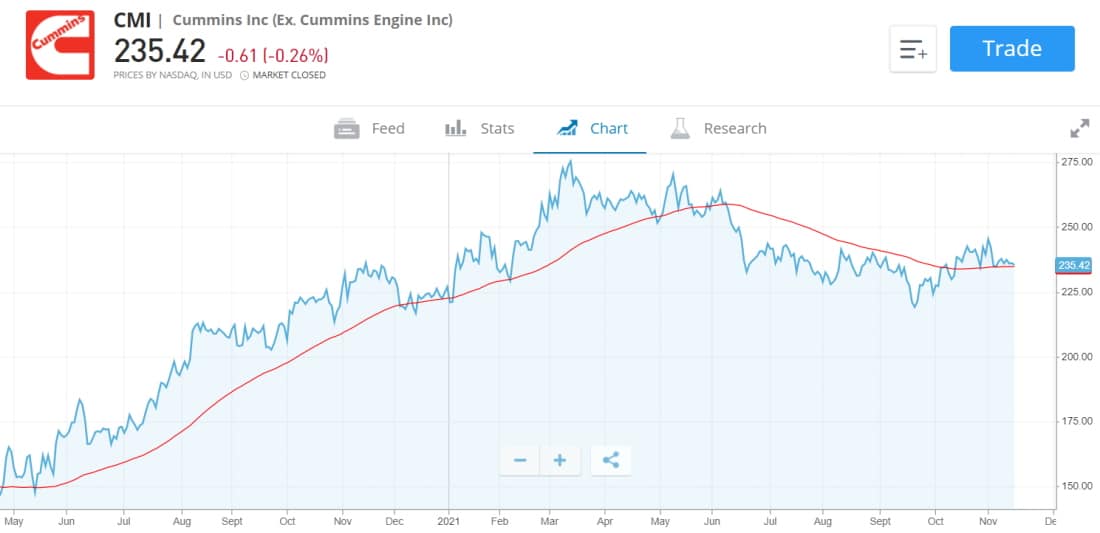 eToro also has a social trading network that puts you in contact with millions of traders from around the world. You can share trade ideas and strategies or follow traders who focus on clean energy and hydrogen stocks. In addition, eToro supports copy portfolios, so you can instantly invest in a portfolio of renewable energy companies in just a few clicks.
68% of retail investor accounts lose money when trading CFDs with this provider.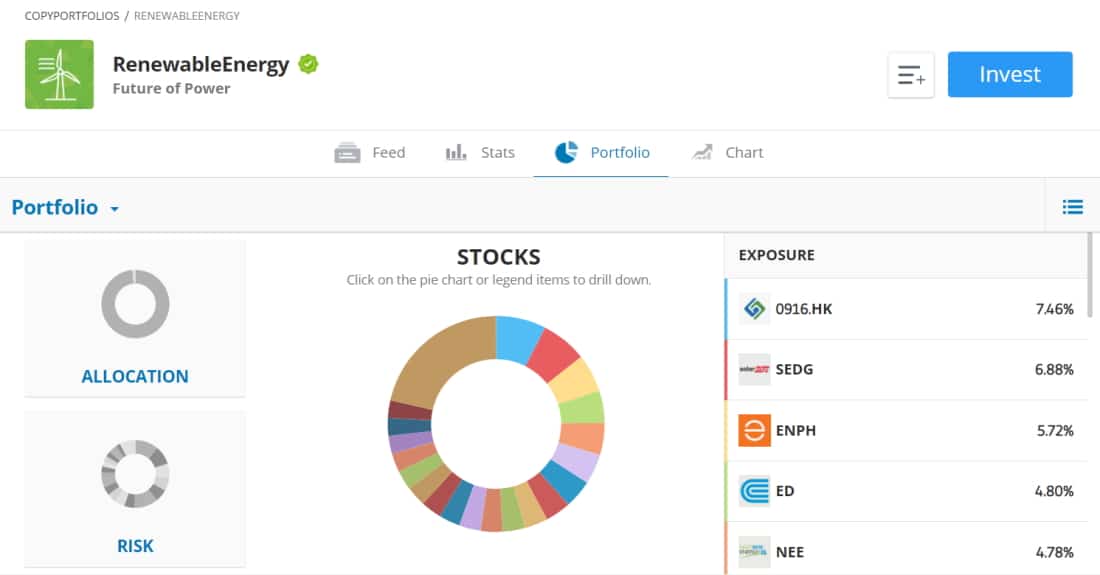 eToro is regulated in the UK by the Financial Conduct Authority and all UK accounts are protected under the Financial Services Compensation Scheme. The broker also offers 24/5 customer support in case you ever need help with your account.
Pros:
0% commission on share CFD trades
Trade CFDs or buy shares outright
Access 800+ global stocks
Social trading with copy portfolios
24/5 customer support
Cons:
Small withdrawal and inactivity fees
68% of retail investor accounts lose money when trading CFDs with this provider.
2. Capital.com – Best CFD Broker to Invest in the Best Hydrogen Stock CFDs with 0% Commission
Launched in 2016, Capital.com is a global forex and CFD broker that's heavily regulated by several top-tier financial authorities including the UK's FCA, CySEC, ASIC, and the NBRB. Capital.com has low forex CFD fees and offers commission-free real stocks to FCA and CySEC traders. The onboarding process is fast and straightforward. Email and live chat customer support is great and reliable, with prompt and relevant responses.
The minimum deposit is just $20 and there are no deposit or withdrawal fees, making Capital.com one of the most low-cost online brokers across the board. There are five account base currencies to choose from which include GBP, USD, EUR, PLN, and AUD. When it comes to payment methods, you can deposit funds using bank wire transfers, credit cards, debit cards, and e-wallets like PayPal and Apple Pay.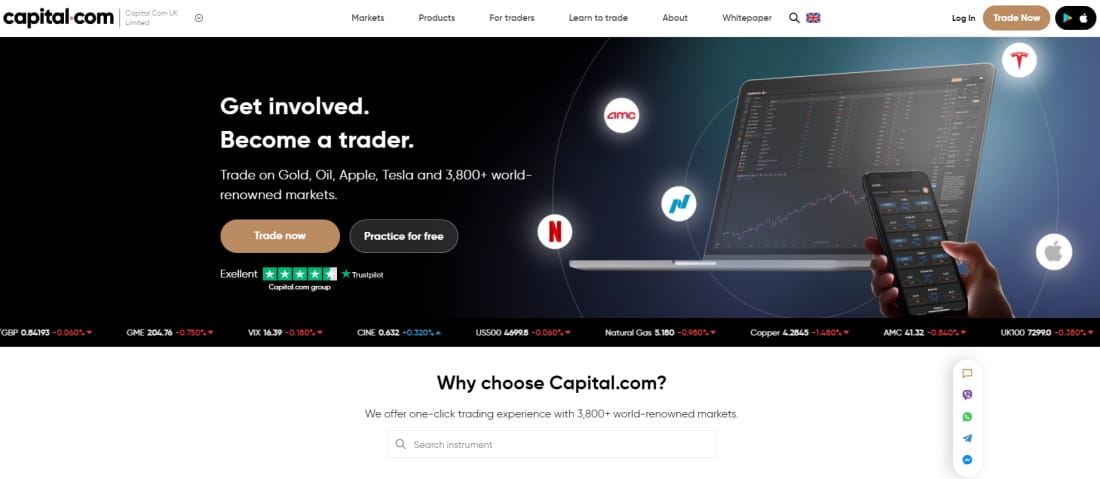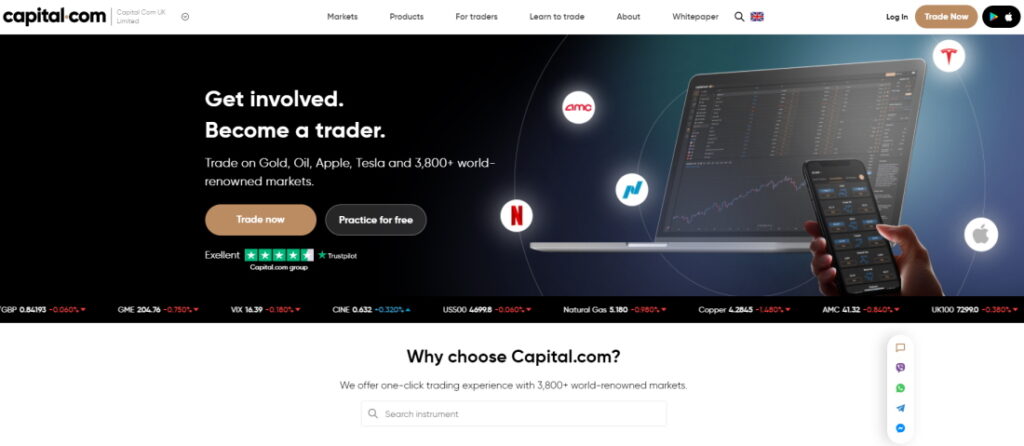 Capital.com charges 0% commission on real stock trades. If you decide to invest in CFDs you'll also benefit from commission-free trading, but you will incur competitive market spreads. As we've already mentioned, Capital.com is one of the cheapest online trading platforms out there. In terms of non-trading fees, Capital.com is one of the leading brokers with no account fees, inactivity fees, deposit or withdrawal fees. You can contact Capital.com's customer support via Live Chat, telephone, or email 24 hours 7 days a week.
Pros:
Access to 3,600 stock CFDs
0% commission on real stocks
No deposit fees
24/7 customer support
Fully regulated by several financial institutions
Cons:
Web trading platform doesn't support price alerts
75.26% of retail investor accounts lose money when trading spread bets and/or CFDs with this provider.
3. Degiro – Buy Hydrogen Stocks Across 50+ Global Markets
Degiro is an award-winning brokerage with a lot to offer UK traders and investors. To start, this trading platform gives you access to more than 50 different markets around the globe, encompassing thousands of shares. Degiro only offers share dealing, not CFDs, but you can trade options for many of the stocks that this broker carries.
The thing we like most about Degiro is its fee structure for share dealing – it's incredibly inexpensive. Degiro charges €0.50 + $0.004 for trading hydrogen stocks in the US and £1.75 + 0.014% for trading on the London Stock Exchange. There are also no deposit, withdrawal, or inactivity fees to worry about with this broker.
Degiro's trading platform is fairly comprehensive, too. It's available for web and mobile and offers watchlists, technical charts, performance tracking, and a market news feed. You'll have to look elsewhere for fundamentals and analyst ratings for most stocks, which is one ding against this broker. However, we did appreciate the Degiro offers a variety of order types so that you can tailor your trading to volatile markets.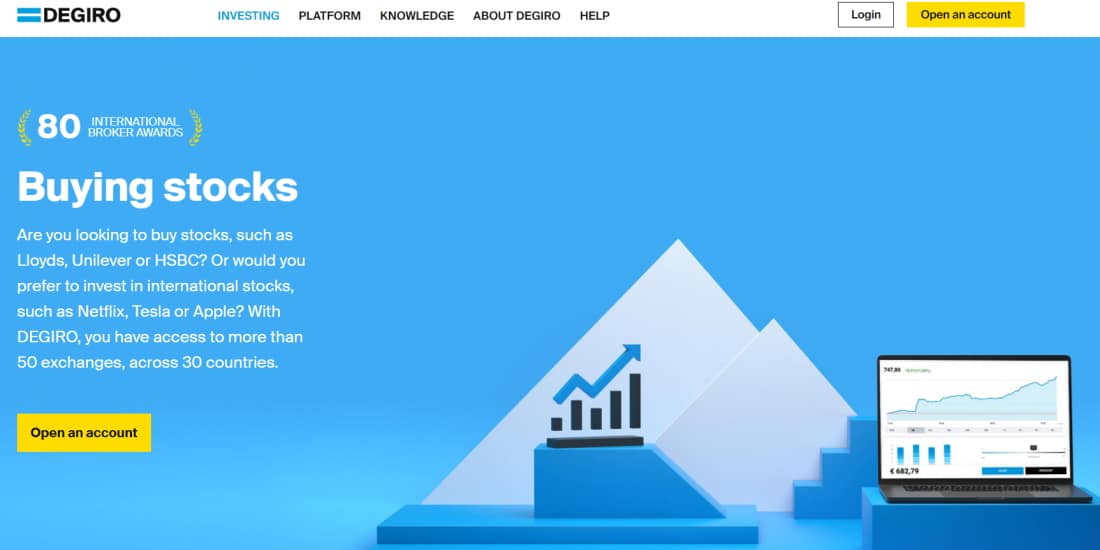 Degiro is regulated by the Financial Conduct Authority in the UK and accounts are covered by the Financial Services Compensation Scheme. The company's customer service is available during normal market hours. One thing to note is that Degiro doesn't offer demo accounts, so the only way to really test out this platform is with live trading.
Pros:
Trade across 50+ global markets
Inexpensive share dealing commissions
No account fees
Excellent charting platform
Regulated by UK FCA
Cons:
No demo accounts
Limited stock fundamental data
Your capital is at risk
How to Buy Hydrogen Stocks in the UK
Ready to buy hydrogen stocks in the UK? We'll show you how to get started using eToro, which offers access to global markets and 0% commission trades.
1. Create an Account
To get started, head to eToro's website and click 'Join Now' to create a new account. You can sign in using your Google or Facebook accounts, or create a new account using your email address.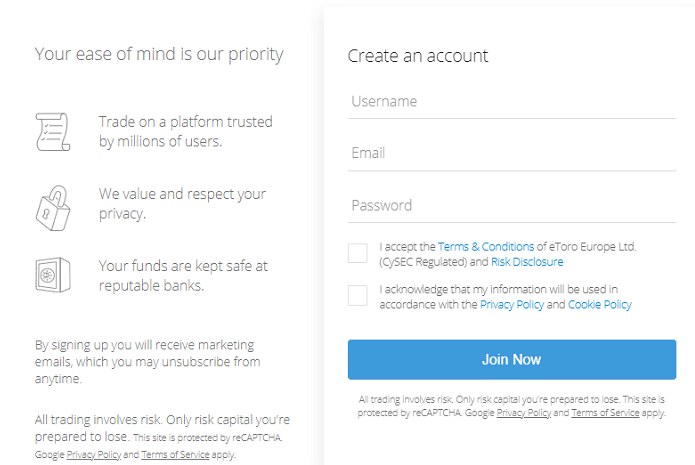 68% of retail investor accounts lose money when trading CFDs with this provider.
Whichever method you choose, eToro requires you to verify your identity in order to comply with UK anti-money laundering rules. You can complete this step online by uploading a copy of your passport or driver's license along with a copy of a recent utility bill or bank statement that shows your address.
2. Deposit Funds
The next step is to fund your new eToro account. eToro accepts a variety of payment methods, including credit or debit cards, bank transfers, or e-wallets like Neteller and Skrill. Just keep in mind that eToro requires you to deposit at least $50 when you open a new account.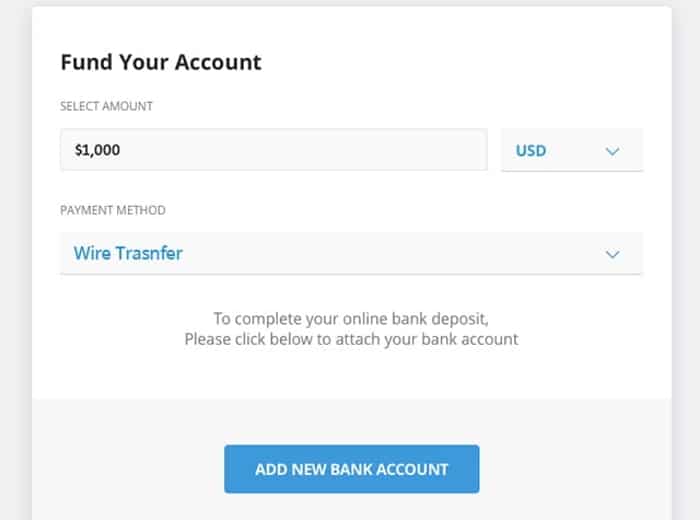 Now you're ready to buy hydrogen stocks with your eToro account. Search for the stock you want to purchase from your dashboard, and click on 'Trade' when it appears in the drop-down menu. That will open a new order form.


68% of retail investor accounts lose money when trading CFDs with this provider.
In the order form, enter how much money you want to invest in the hydrogen stock. You can select stop loss or take profit levels if they are part of your strategy. In addition, if you're trading CFDs, eToro allows you to select leverage up to 5:1.
Once your trade is ready, click 'Open Position' to buy your first hydrogen stock.
Conclusion
2020 was an enormous year for hydrogen stocks, and many investors are wondering if these companies could keep their growth streak alive in 2021. With advancements in hydrogen technology and a renewed economic focus on renewable energy, it certainly seems possible.
While there are dozens of promising hydrogen technology stocks on the market, we recommend taking a closer look at Ballard Power Systems, Cummins, FuelCell Energy, Bloom Energy, and Plug Power.
Ready to buy hydrogen stocks? Click the link below to open an eToro account today!
eToro – Buy Hydrogen Stocks with 0% Commission
68% of retail investor accounts lose money when trading CFDs with this provider.
FAQs
Is Tesla a hydrogen stock?
How is hydrogen fuel made?
What is grey hydrogen vs. green hydrogen?
What are hydrogen electrolyzers?
Does hydrogen energy compete with solar or wind energy?
Read next