How to Buy Pearson Shares UK – Beginner's Guide
Fact Checked
Everything you read on our site is provided by expert writers who have many years of experience in the financial markets and have written for other top financial publications. Every piece of information here is fact-checked.
Disclosure
Please note that we are not authorised to provide any investment advice. The information on this page should be construed for information purposes only. We may earn commissions from the products mentioned on this site.
Many business changes have come into effect due to the Coronavirus pandemic, and one area that has benefitted dramatically has been the online learning industry. No company has fared better than Pearson, with the outlook looking positive throughout 2021 and beyond.
In this guide, we discuss How to Buy Pearson Shares in the UK, exploring the company and its financials in detail and highlighting how you can buy Pearson shares with an FCA-regulated broker.
How to Buy Pearson Shares UK – Guide 2022
If you're looking to buy Pearson shares in the UK, then look no further. By following the four steps below, you can buy Pearson shares with an FCA-regulated broker:
Open an account with an FCA-regulated broker – Head to your broker's website, opt to sign up, and provide the required personal details.
Verify your account by uploading proof of ID (copy of driver's license or passport) and proof of address (copy of bank statement or utility bill).
Fund your account via credit/debit card, bank transfer, or e-wallet.
Search for 'Pearson' in the search bar and click 'Trade'. Enter your desired investment amount, choose whether you want a stop-loss or take-profit level, and confirm the trade.
Choose a Stock Broker
One of the most important steps for buying Pearson shares in the UK is to choose a reliable broker that can facilitate your investment. These days, there are many brokers available for you to choose from, all offering various fee structures and features to try and entice you to join.
However, this section will present two of the most popular brokers in the UK for buying Pearson shares – both of which are reviewed below:
Research Pearson Shares
When trying to find the most popular shares to buy for your investment goals, there are various areas to consider before investing. Elements such as the company's business model, historical share price, and other financial metrics are essential to analyse to make sure any prospective investment is effective.
In the sections below, we cover the basics of buying Pearson shares in the UK:
What is Pearson?

First things first – who are Pearson, and what do they do? Pearson PLC is a British-based publishing and education company that was founded way back in 1844. Initially, the company operated in the construction industry, but in the 1920's Pearson completely shifted its business model and began operating as a publisher. Over the years, Pearson's brand and business grew, and the company even purchased the Financial Times back in the 1950s and acquired a 50% stake in The Economist.
In the decades that followed, Pearson acquired and created various well-known brands such as Penguin Books, Dorling Kindersley, Rough Guides, Edexcel, and more. Then, beginning in 2011, Pearson began focusing more on the education side of things and launched Pearson College, which is a private academic degree provider based in the United Kingdom. This continued for a few years, and in 2015 the company announced it was entirely focusing on education and learning rather than publishing.
Fast forward to the present day, and Pearson currently provides education and learning courseware for people in school, higher education, and in professional areas. These materials include textbooks and digital technologies that both teachers and students can use. Currently, Pearson controls various prominent education brands such as BTEC, Bug Club, GradPoint, Schoolnet, and more.

Pearson's services have become increasingly popular in recent years as online learning becomes more prevalent. According to data gathered from Growth Engineering, the online learning market is expected to be valued at over $370 billion by 2026 – representing a considerable increase from its $101 billion valuations in 2019. This shift towards digital learning has prompted more and more awareness of Pearson and its systems.
Pearson has a primary listing on the London Stock Exchange (LSE) under the ticker 'PSON' and is one of the companies that make up the FTSE 100 index. In addition, Pearson has a secondary listing on the New York Stock Exchange through American depositary receipts, which allows US residents to trade Pearson's shares. At present, Pearson has a market capitalisation of £6.37 billion. This market cap makes them the largest book publisher in the world.
Pearson Share Price
Now that you know who Pearson is, let's dive into their share price and financials. At the time of writing, the Pearson share price is sitting at 842.80p per share. This represents an increase of just over 22% since the turn of the year. Notably, the Pearson share price has actually increased over 87% since the same time last year – so if you'd invested £5000 back then, your investment would now be worth £9350.
When stock trading, it's always a good idea to look at a company's all-time high to get an idea of where price could potentially return to. In Pearson's case, the company's all-time high occurred in 2000 when the Pearson share price was trading at 2400p. The closest that price got to these levels was in 2015 when shares were trading at 1514p; however, apart from this, these heights have not been approached since.
According to data gathered from Hargreaves Lansdown, Pearson PLC generated revenues of £3.39 billion in 2020, a slight increase from the year previous. This equated to a net profit for 2020 of £310 million, which is £44 million more than 2019. These figures are impressive given the Coronavirus pandemic's impact and highlight how Pearson's services have remained in demand during the lockdown.
It's also essential to look at some other metrics that can give an idea of how valuable Pearson's stock is. Two metrics we favour are earnings per share (EPS) and the price to earnings ratio (P/E). In terms of the former, this is calculated by taking the company's profits and dividing them by the total number of shares outstanding. The resulting number gives an idea of how profitable a company is; the higher its EPS, the more valuable the stock.
In terms of Pearson, EPS for 2020 are stated as 41p. Comparing this to 2019's EPS figures of 34p, you can see that the company has become more profitable (and therefore more valuable) over the past year. Notably, EPS for Pearson were much higher in 2018 at 75.60p.
The P/E ratio is also important to consider when you buy shares, as it provides an idea of how valuable a company is and whether it is undervalued or overvalued. P/E ratio figures are calculated by dividing the company's share price by its EPS estimate. In Pearson's case, their P/E ratio currently sits at 22.46 – the highest it has been in the past five years. This time last year, it was at 13.16, highlighting just how well the company has performed.
Pearson Shares Dividends
If you are someone who is interested in investing for income, then it might be worth checking out Pearson's shares. When you buy Pearson shares in the UK, you will be provided with a dividend payment twice per financial year – an interim payment in September and a final payment in May. These combine to make your total dividend payout for each year.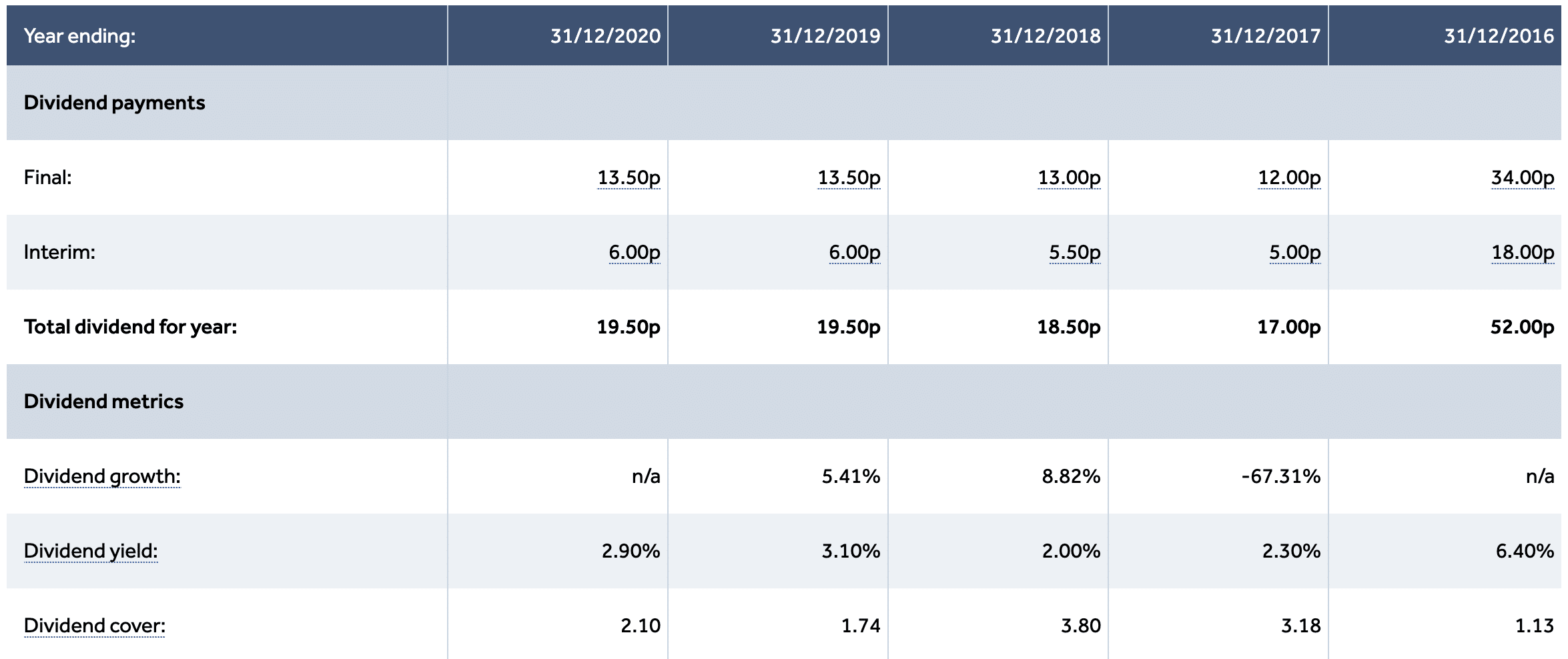 Looking at the specifics, Pearson paid an interim dividend payout of 6.00p per share in September 2020, with the final dividend payout of 13.50p per share being made at the start of May 2021. This resulted in a total dividend of 19.50p per share for investors, which is the same as the previous year. However, dividend yields have still grown substantially since 2018 and 2017, when they were 18.50p and 17.00p, respectively.
Transition to Online Learning
As mentioned earlier in this guide, Pearson began focusing solely on education around six years ago, and it has definitely paid dividends. Pearson's global online learning business reported sales growth in Q1 of 25%, with total revenues across the entire company rising by 5%. Furthermore, as schools and universities reopen, Pearson's services are expected to be more in-demand, which can only be good news for the company's bottom line.
These days, traditional textbooks and manuals are not as popular as they were ten years ago, which is good news for Pearson. In addition, exams are projected to return to a semblance of normality in the UK in the latter half of 2021, which will mean online learning services such as Pearson's will be attractive to students across the country. Finally, top analysts estimate a 47% earnings increase for Pearson in 2021.
Dividends and Financials
Pearson is one of the most popular dividend stocks to buy, thanks to its reliable and growing dividend payouts. Owning shares in a company that pays a dividend is almost always a good thing, as you can benefit from a consistent passive income stream on top of the potential for capital growth. As noted, Pearson's dividend amounts have grown in recent years; and if analyst estimates of earnings turn out to be accurate, there's certainly a chance that yields could increase further later in the year.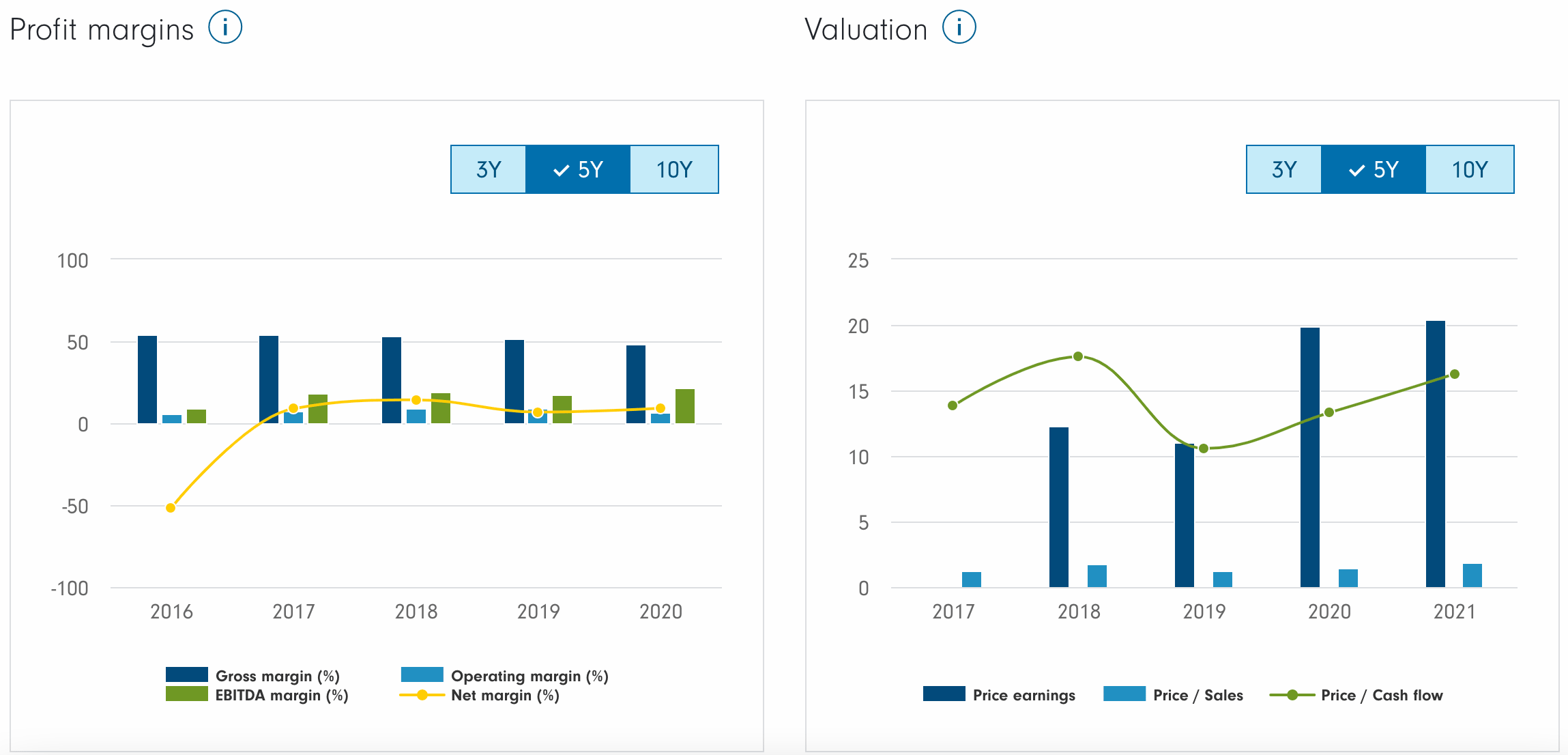 The graphs above also highlight Pearson's past performance from a financial perspective. P/E multiples have increased year-on-year, along with an increase in the company's price-to-sales ratio in 2021. Furthermore, the price-to-cash-flow estimate is also growing, which tends to signify that a company is increasing in value.
Taking everything into consideration, the decision to buy Pearson shares in the UK varies from one investor to another.
Open an Account & Buying Shares
If you're set on buying Pearson shares, then you'll need to set up a broker account to facilitate your investment. Many stock brokers make Pearson available for stock trading, so in this section, we'll show you how to get up and running buy Pearson shares online.
Open a Trading Account
Navigate to your chosen broker's homepage and choose to sign up. You'll have to provide your email address and choose a username and password, but you can move onto the next step once this is completed.
Verify your Account
If you opt for an FCA-regulated broker, you'll have to verify yourself before trading. To do so, all you have to do is upload proof of ID (a copy of your driver's license or passport) and proof of address (a copy of a bank statement or utility bill). Your broker will then verify these documents and inform you when the checks are complete.
Make a Deposit
New users will usually have to meet a minimum deposit threshold, with the following options usually being accepted:
Credit card
Debit card
Bank transfer
Neteller
PayPal
Skrill
Klarna
Trustly
Search for Pearson Shares
Click into the search bar on your trading dashboard and type in 'Pearson'. When it appears, opt to trade.
Buying Pearson Shares in the UK
To finalise your investment, simply enter the amount you'd like to invest, meeting your broker's minimum investment amount. After this, double-check everything is correct, and confirm the trade.
Is It a Good Idea to Invest in Pearson Shares?
Overall, can Pearson shares be considered a buy or a sell opportunity? When equity trading, specific metrics such as the company's P/E ratio and its EPS estimate are important to look at, as they can help aid your investment decision.
Although momentum is still relatively slow, this can actually represent reliable and consistent growth rather than anything negative.
Pearson can also act as an alternative to an investment in income funds. Although these funds include various dividend-paying stocks or bonds, investing in Pearson ensures you get exposure to the specific companies you want. In addition, nothing is stopping you from creating your own portfolio of dividend-paying stocks with an FCA-regulated broker.
Finally, Pearson's business model is suited for the environment that we can expect to see going forward. Social distancing measures have meant that remote learning has become increasingly necessary, so Pearson is well-placed to provide this sort of service. If Pearson can continue growing their market share in emerging countries located in Asia and South America, it will mean great news for revenues.
How to Buy Pearson Shares UK – Conclusion
The growth of online learning has been a real positive for Pearson – and with this trend expected to continue in the years ahead, it leads to a rosy outlook for the company. With revenues and profits expected to grow annually, Pearson looks set to benefit from these macroeconomic factors.
If you've made your mind up and wish to buy Pearson shares today, you can do so with an FCA-regulated broker. These brokers offer a solid level of investor protection and enable you to trade safely.
FAQs
How much does it cost to buy Pearson shares?
What is the most popular way to buy Pearson shares?