Coincheck Review UK 2021 – Features, Fees, Pros & Cons Revealed
Fact Checked
Everything you read on our site is provided by expert writers who have many years of experience in the financial markets and have written for other top financial publications. Every piece of information here is fact-checked.
Disclosure
Please note that we are not authorised to provide any investment advice. The information on this page should be construed for information purposes only. We may earn commissions from the products mentioned on this site.
Coincheck is one of the oldest cryptocurrency exchange platforms in Japan. The platform allows traders to buy, sell, hold and trade digital assets like Bitcoin. In this Coincheck Review UK, we explore how this cryptocurrency platform works, fees, commissions, and what it offers.
Coincheck Review Summary
Coincheck is quite popular in the Asian markets.
It offers spot trading, margin, OTC, and several coins.
What is Coincheck?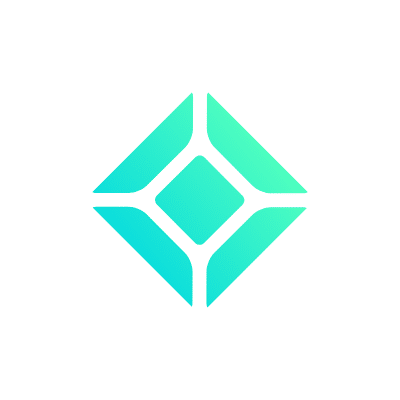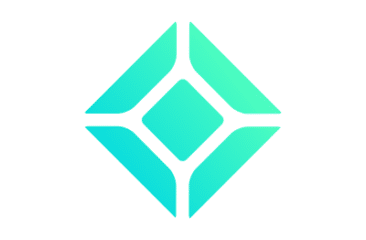 Coincheck is one of Asia's largest exchanges. The trading platform is quite influential in Japan, where its Bitcoin wallet and exchange made the company a household name. It was established in 2014 and has grown influential since then.
The Tokyo-based exchange offers a myriad of services to its customers. The trading platform offers spot trading, margin trading, payment systems, and a lending platform.
The platform is listed among the top 20 exchanges based on 24 hours trading volume, according to CoinMarketCap.
In addition to its trading capabilities, Coincheck also works a bit like BitPay. The exchange provides Japanese merchants with a payment system to facilitate cryptocurrency payments which are then converted into Japanese Yen.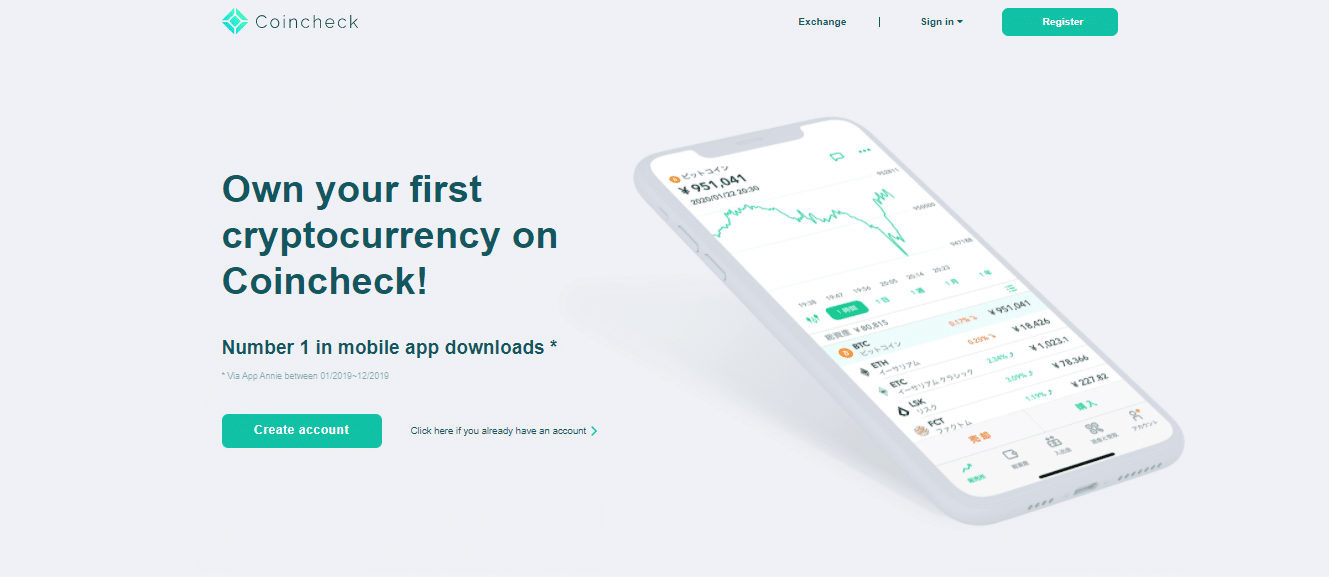 Coincheck initially started as a bitcoin exchange that was unregulated in Japan.
However, following the Mt. Gox hack, Japan's financial regulator, the Financial Services Agency (FSA), rolled out new security frameworks to guide crypto exchanges in the country.
The exchange is also known for its notorious blunder in 2018, where bad actors carted away over $500m worth of cryptocurrencies stored in its hot wallets stored online. The Japanese exchange repaid its customers and implemented stronger safety protocols after the hack, and its stock has been rising ever since.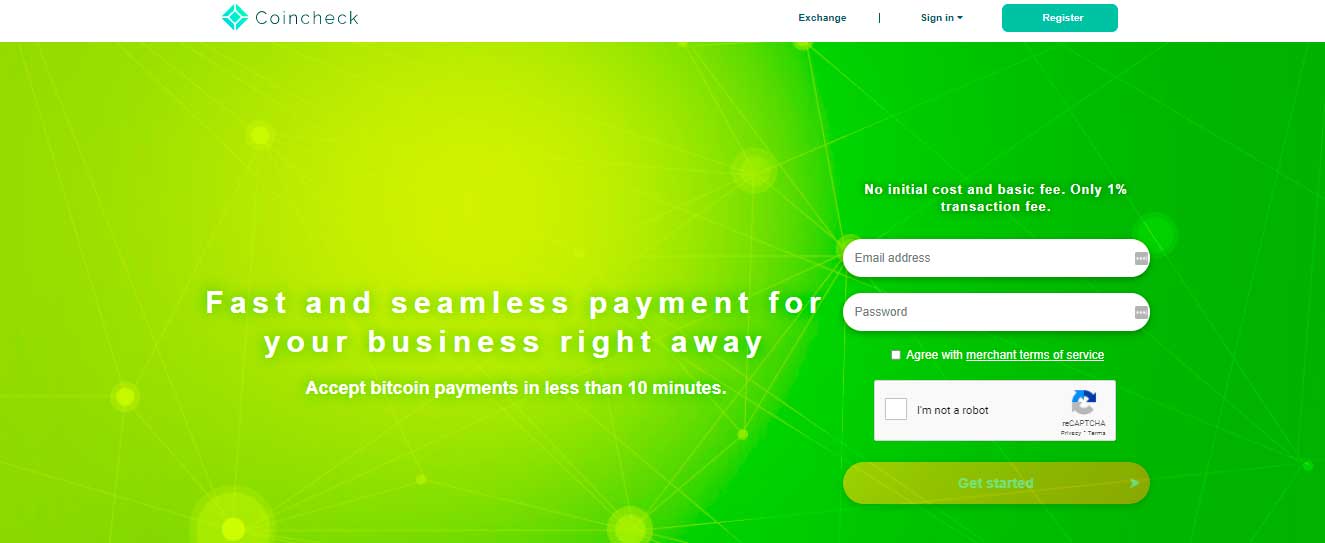 The trading platform is licensed to operate in Japan. The Japan Blockchain Association audits its business operations. Coincheck is open to investors from several jurisdictions, except traders from the USA.
The cryptocurrency trading platform offers the following services:
Cryptocurrency Transactions
Primarily, Coincheck allows you to buy Bitcoin. You can easily buy and sell digital assets on the platform, taking advantage of its clean and straightforward interface.
Coincheck supports several cryptocurrency and fiat options, providing an opportunity for you to make quick transactions.
Cryptocurrency Trading
Coincheck has also dabbled into the trading game, offering users the ability to conduct spot and margin trades via its platform.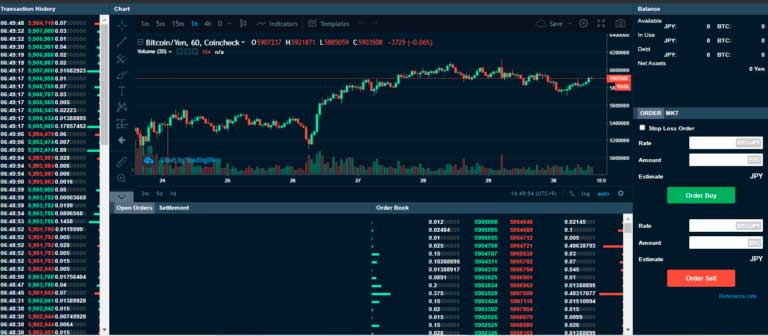 For margin trades, you can get up to 5x leverage to make bigger crypto bets. This is lower than what is available on Phemex Review UK, which offers traders 100:1 leverage.
To be eligible for margin trading under Coincheck, you need to complete your identity verification steps.
Also, the platform doesn't lend margin funds to traders directly. What it does is to connect traders who want to lend to others who want to borrow. At this moment, Coincheck has suspended its margin trading services until further notice.
Lastly, there is support for over-the-counter (OTC) trading, allowing users to trade large sums of money on the Coincheck platform. OTC trading requires trading volumes in millions before the service. Usually, you need to be making transactions in the millions to access this service. The OTC desk is available 24 hours a day.
Cryptocurrency Lending
Coincheck also provides lending services through Coincheck Lending.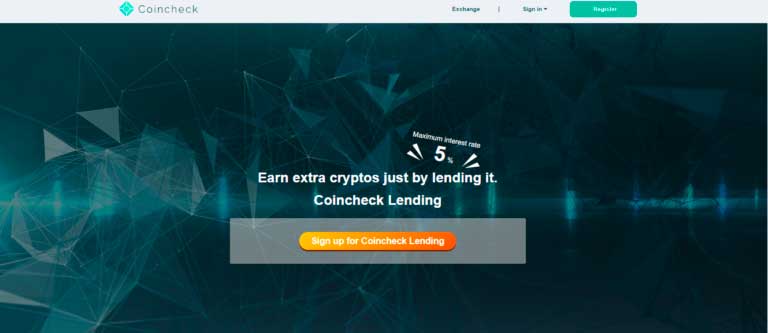 The service allows customers to lend digital assets for a specific period with an interest amount. Customers could also sign up to be lenders, giving their tokens to others for an agreed-upon interest rate. When the loan period elapses, Coincheck will take the tokens back.
Supported Coins
Coincheck provides a mouth-watering lineup of digital assets for users to trade and transact with. However, the exchange admittedly doesn't offer as many crypto options as industry leaders like Binance or Coinbase.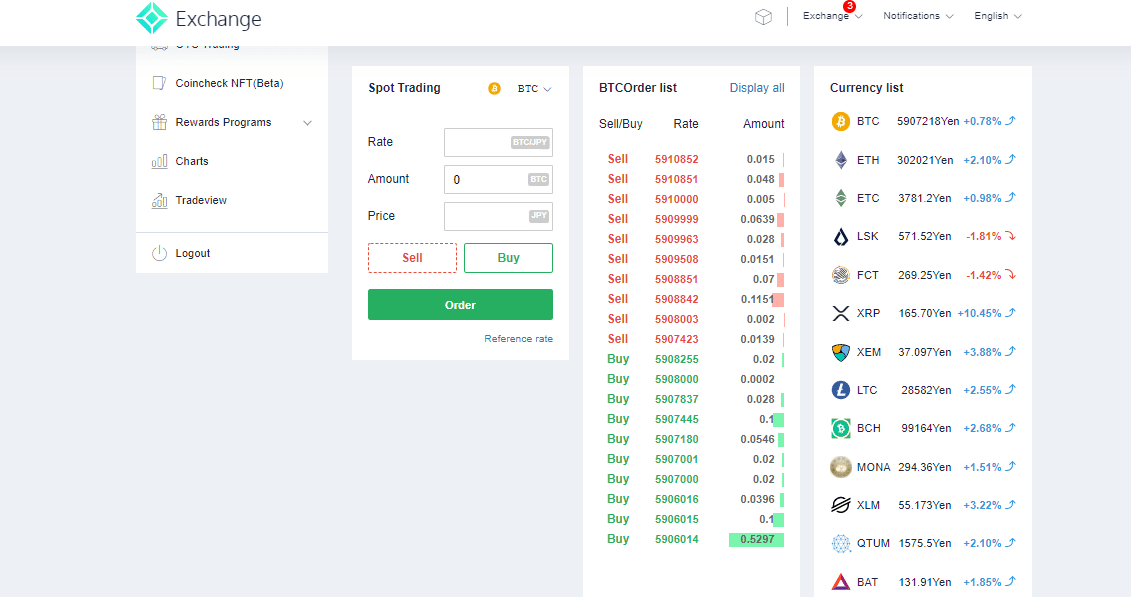 On Coincheck, you can get a list of 16 supported coins, including large-cap assets like Bitcoin, Ethereum, and XRP. There are also upstarts like Bitcoin Cash, OmiseGO, Ethereum Classic, and the Basic Attention Token available to you.
Coincheck Fees
Exchanges need to make money somehow. Primarily, they do so through the imposition of fees for activities. On Coincheck, different activities have varying fee levels based on complexity and more.
Here's an overview of the exchange's fee structure:
Cryptocurrency Deposit Fees
Coincheck doesn't charge for cryptocurrency deposits. No matter the asset amount, you can make a deposit easily. Of course, this doesn't mean you won't spend some money on network fees.
Cryptocurrency Transfer Fees
Coincheck charges for transfers in cryptocurrencies. A breakdown of these fees goes thus: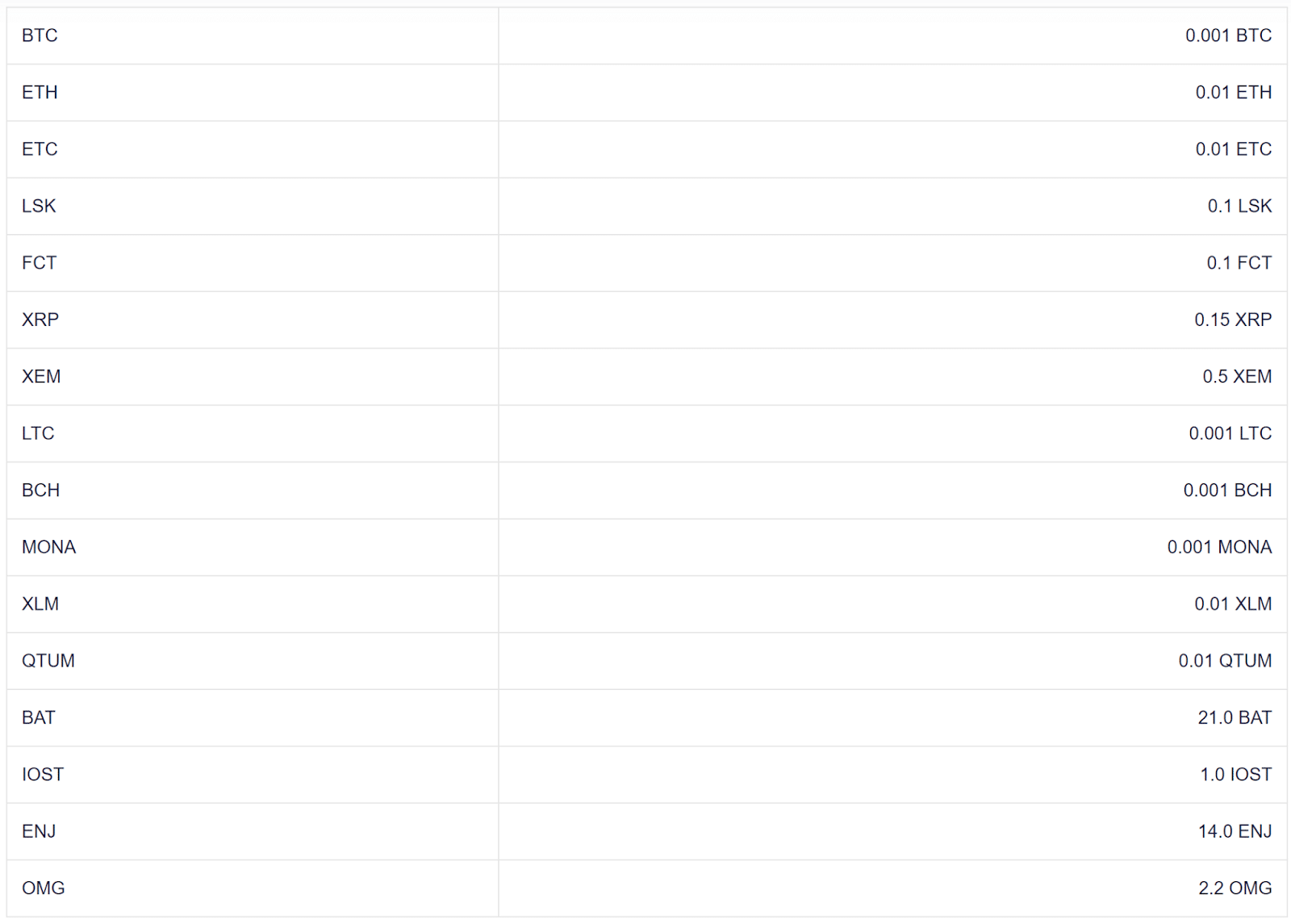 Fiat Withdrawal and Deposit Fees
Coincheck doesn't charge for local bank transfers using the Japanese Yen. The options are endless if you live in Japan. You have the bank transfer option, convenience store payment, quick deposit options. Customers outside Japan can also use the bank deposit option but you have to deal with a lot of forex transfer delays and multiple fees. Also, your deposits will be denominated in Yen, which is the platform's base currency. A breakdown of those goes thus: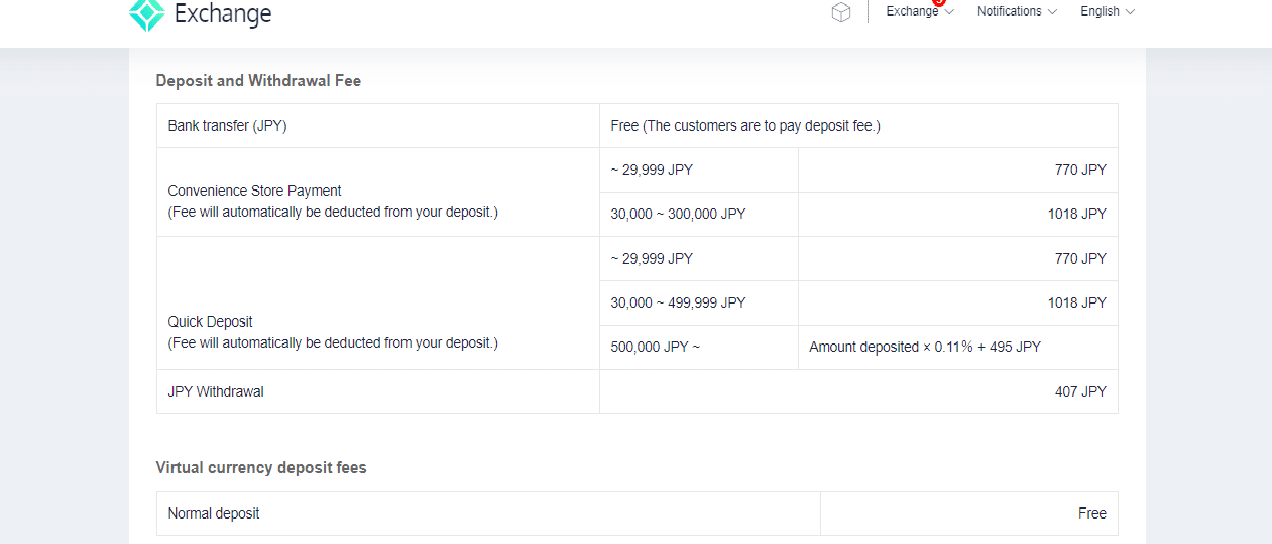 Trading Fees
Just like other top exchanges, Coincheck uses the maker-taker model when charging fees for trading activity. Makers place orders in the exchange's order book, paying lesser fees in the process. The takers "take" trades from others, and their activities incur a higher cost.
However, as the exchange's Trading Fee page shows, Coincheck offers zero fees for both makers and takers. That is undoubtedly a massive advantage for Coincheck users.
Coincheck Buying Limits
Coincheck doesn't seem to have any buying limits. You can buy as many Bitcoin as possible trading on Coincheck. The exchange welcomes investors irrespective of the amount they wish to invest. This is a bit similar to what we discovered under our Bithumb Review UK. The only difference is, Bithumb users have to meet a minimum buying limit requirement. This requirement varies between $10 to $25, depending on the digital asset you're purchasing. More established platforms like Coinbase have a purchase limit of £10,000 worth of cryptocurrency per day. Purchasing anything above this limit means you have to submit extra documentation.
Coincheck Wallet
Like all top exchanges, the Coincheck platform comes with a dedicated wallet. The wallet allows you to store your assets and make transactions, and you can even link it with your exchange for quick asset movements if you need to make easy day trading activities and more. The company uses a combination of hot and cold storage options for its corporate wallet.
Coincheck offers a two-factor authentication feature for its wallets. The assets are kept in cold storage and only transferred at the point of a transaction.
You get access to Coincheck wallet when you sign up for Coincheck's service and are ready to deposit funds.
To use the wallet, follow these steps:
Register for Coincheck's service
Verify your identity and phone number
Navigate to your wallet page and click on the asset you want to transact with
You will get a wallet ID, which will include your password and seed phrase
From here, you can make transactions quickly and seamlessly
Despite the many benefits of keeping funds on an exchange, it's advisable you only keep funds that you need to trade with on an exchange. The bulk of your funds should be kept in a private hardware wallet for maximum protection and safety.
Coincheck Mobile App
Coincheck also provides a mobile app for you to access its services on the go. The mobile app is actually named "Coincheck Bitcoin Wallet," but it gives access to much more than just crypto depositing and transactions.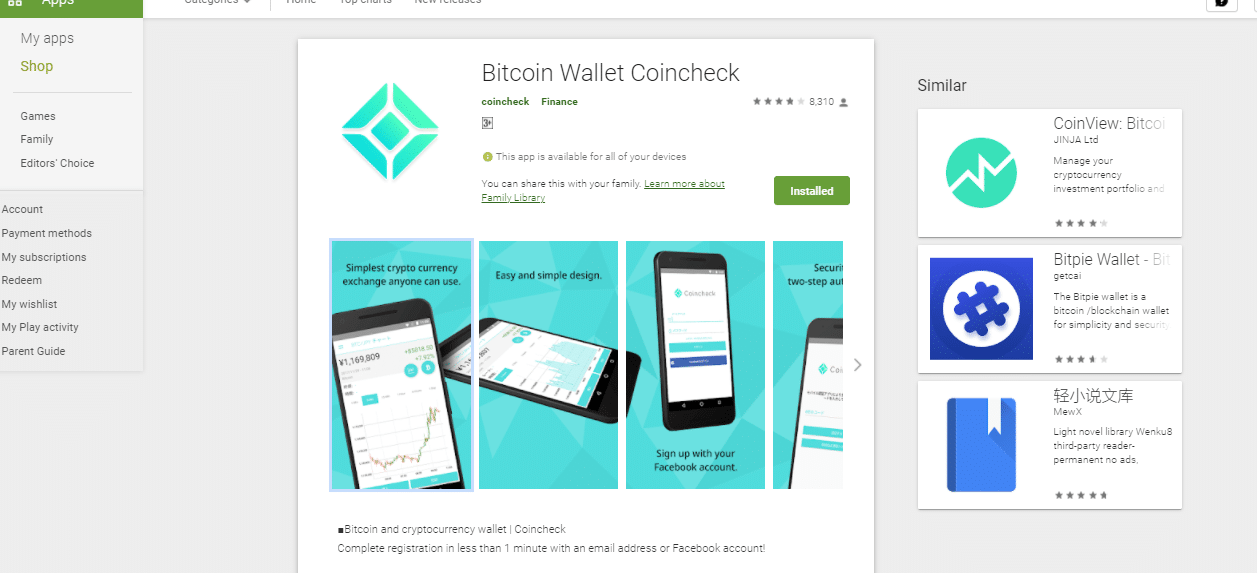 The app offers mobile trading for investors—but you could be limited based on jurisdiction. Investors can monitor Bitcoin prices in real-time, leverage on technical charts for day trading cryptocurrencies on the go.
The Coincheck app is available on the Apple App Store and Google Play Store marketplaces. As long as your country isn't on the restricted access list, you will be able to download it and start using it at once. The app has an average rating of 3.9 with over 8,000 reviews. One major complaint from customers centers on the verification process. Too many users complained about trying multiple times to verify their identities. According to these aggrieved users, the response from the customer support team is terrible.
Coincheck User Experience
As seen through our Coincheck Review UK, the platform focuses on simplicity. Coincheck's interface is easy to navigate. The mobile app is also responsive, so it won't freeze up on you while you're making trades or in the midst of a transaction.
The Coincheck web platform is above average. It is a single-page platform, giving you access to everything you need to know on one page. The website is responsive, with two-factor authentication set up to preserve your security.
The only problem we noticed is the white background. The app seems a bit too bright and might be difficult for traders who have photosensitivity and other visual impairments.
We also noticed the platform requires documentation before many of its features can be unlocked. At the moment, it's restricted to Japanese residents. What we did garner from the reviews posted on their mobile app store is that the verification process can take days. In some cases, weeks. Keep this in mind before you sign up to use the platform.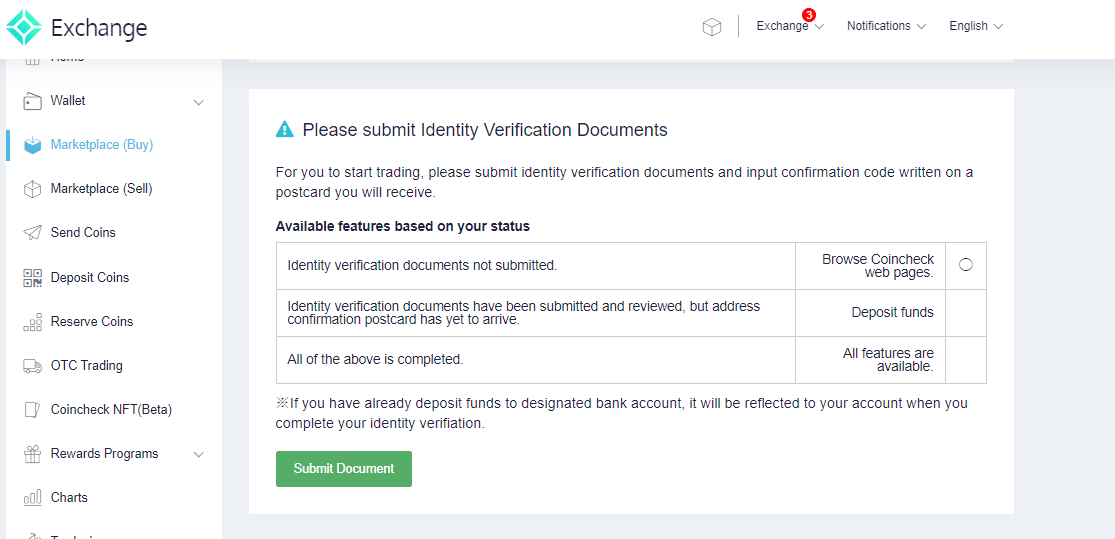 Coincheck Tools and Features
It goes without saying that Coincheck is an impressive cryptocurrency trading and exchange platform.
Here is a quick rundown of the platform's top features:
A user-friendly app layout that is easy to work with and navigate
Support for block trades, as well as favorable rates for large transactions
No delays in fund deposits and transfers
Up to 5x leverage on margin trading options
An API that allows you to integrate Coincheck into your service (for developers)
Coincheck Denki, which enables users to pay their electricity bills with Bitcoin and gives them some rewards
Coincheck Gas, which lets users pay for gas fees using Bitcoin and gives them rewards
Coincheck Lending, which allows you to lend your cryptocurrencies for attractive returns
Coincheck Payments
Coincheck allows traders to fund their trading account using several options, including bank transfers and debit and credit cards. Yen bank deposits are free, but deposits sent from outside Japan are charged a flat fee of $25 or ¥2500.
You can also transfer digital assets from external wallet addresses. Like most major crypto and forex trading apps, this one is versatile and easy to work with.
However, prices are denominated in yen, not British Pounds. This requires some getting used to.
Also, you might notice some differences in the amounts transferred and what you receive.
Coincheck Minimum Deposit
From our research, it appears Coincheck doesn't maintain any minimum deposit requirements for users. New traders can simply open an account, verify their identity and start trading.
Coincheck Regulation & Licensing
As stated earlier, Coincheck is based in Japan. The exchange has a license to operate as a digital securities exchange in the country, and the Japan Blockchain Association audits it.
Coincheck doesn't have any license to operate in the United Kingdom.
Coincheck Contact & Customer Service
Coincheck maintains a robust customer service outlet. The primary contact service involves sending a customized message.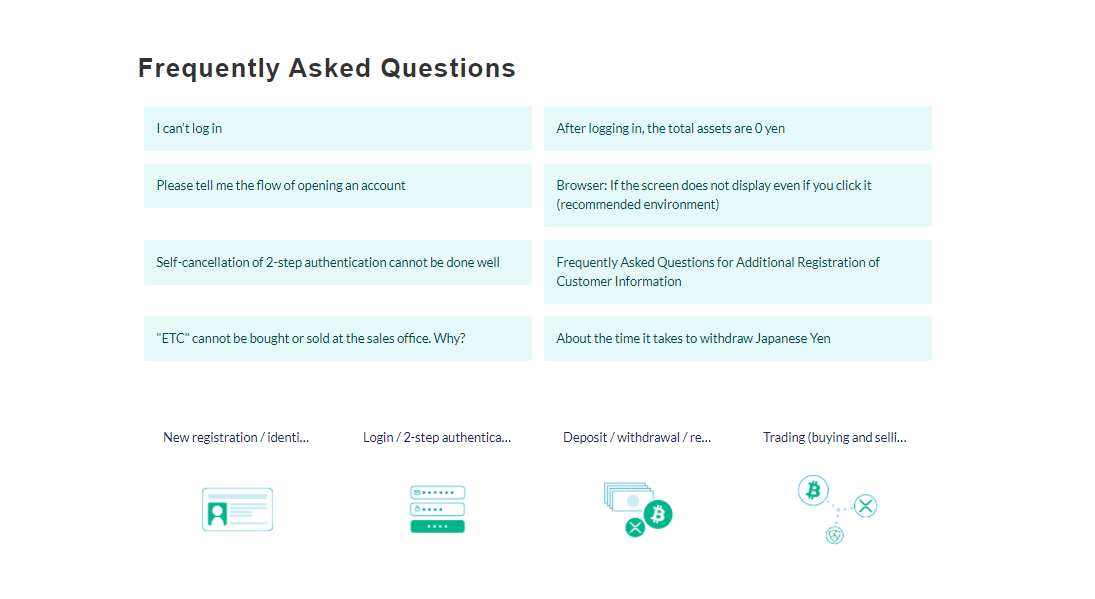 The platform has a dedicated Frequently Asked Questions (FAQ) section that you can browse through if you have generic issues like transaction delays and more. All contact details are available on the exchange's Contact page.
How to Buy on Coincheck
Ready to get started with Coincheck after reading our Coincheck review UK for 2021? You can buy Bitcoin by following the steps outlined below:
Step 1: Register Your Account
Head to the Coincheck website or download the mobile app to get started
Enter your details and verify your Email address
Once your Email is verified, you will be able to log into your account.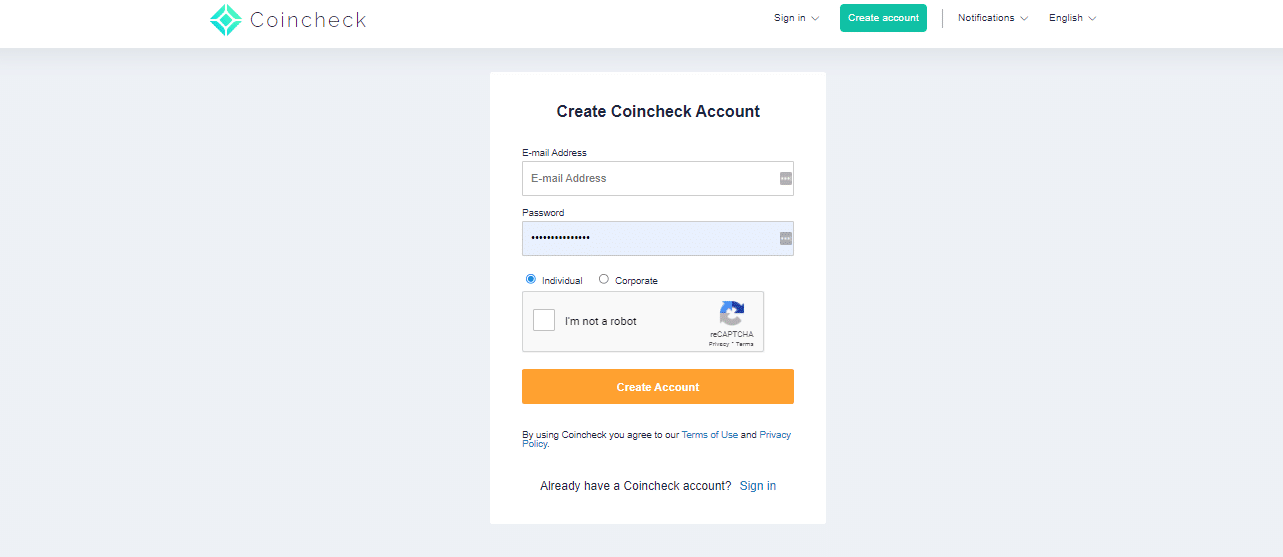 You will need to set up two-factor authentication before depositing any funds.
Once your verification process is complete, you can deposit funds.
Step 2: Buying Bitcoin With Bank Transfer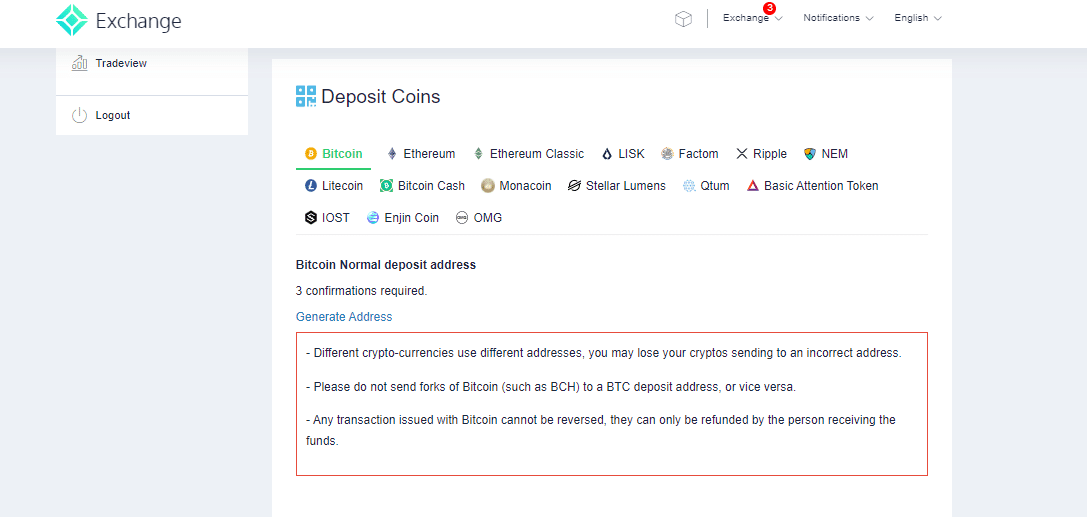 Go to "Buy Bitcoin." All deposited funds will be transferred to Yen, so check your exchange rates before proceeding.
Deposit your funds into the bank account displayed on the page, and it will be confirmed
Once your deposit is confirmed, input the amount of Bitcoin you're looking to purchase. It will be displayed in yen, so keep the exchange rates in mind.
Step 3: Buying Bitcoin With Credit Card
When you're done with the registration and identity verification, you can purchase Bitcoin directly with your credit card.
Head to Coincheck's Payments page to access your credit card options
Fill in the amount of Bitcoin you will like to purchase
Type your credit card information and process the transaction
Step 4: Trading Cryptocurrencies
When initiating a trade, you can easily navigate to the "Charts" section. The chart provides information about available trading pairs and their price movements, using data from Trading View.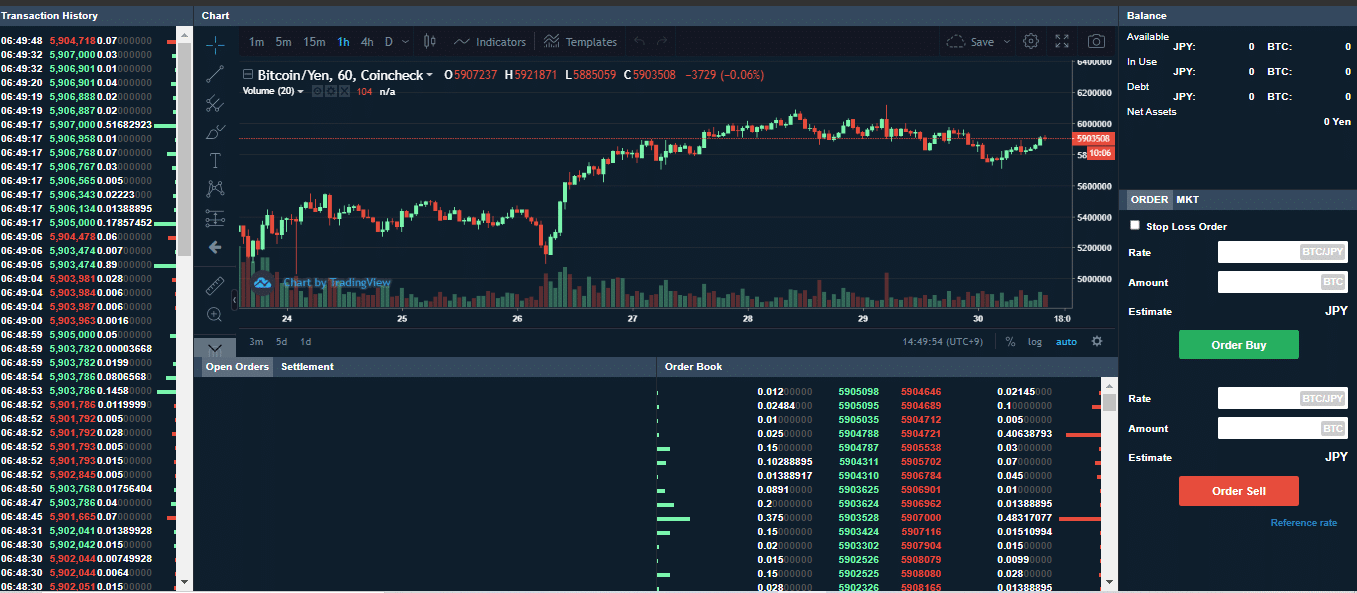 You can also click the "TradeView section to make your trades easily. The interface is clear and easy to work with, and it provides everything you will need to make trades – a chart, order types, trading parameters, and more.
The TradeView option is more sophisticated, providing all the charting and trading tools you will need to work with.
The Verdict
Coincheck definitely holds its own when it comes to cryptocurrency trading. It is right there with the top options, thanks to its low fees and simple-to-use platform.
67% of retail investor accounts lose money when trading CFDs with this provider.
Frequently Asked Questions (FAQs)
Does Coincheck allow traders from the United Kingdom?
How do I fund my Coincheck account?
Does Coincheck have a wallet?
What fiat currencies does Coincheck support?