How To Invest in Dogecoin UK 2023 – With Low Fees
Fact Checked
Everything you read on our site is provided by expert writers who have many years of experience in the financial markets and have written for other top financial publications. Every piece of information here is fact-checked.
Disclosure
Please note that we are not authorised to provide any investment advice. The information on this page should be construed for information purposes only. We may earn commissions from the products mentioned on this site.
Looking to invest in Dogecoin (DOGE)? You are not alone in wanting to explore this charismatic crypto. The altcoin was the number one google crypto search in the US this year, with more searches than for Bitcoin and Ethereum combined. With the weight of billionaire Tesla CEO Elon Musk behind it, Dogecoin has a huge following.
Below we look at how to invest in Dogecoin, as well as investigate the function of the Dogecoin network. We review Dogecoin price predictions and recommend a reputable broker with whom you can invest easily and safely. We pin down the pros of cons of backing the original meme coin that began as a joke and went on to achieve a present market capitalisation of over $20bn. How did that happen? Let's find out.
Key points on Investing in Dogecoin
With a market capitalisation of $20.2bn, Dogecoin (DOGE) is the eleventh-biggest crypto (coinmarketcap.com).
Dogecoin is championed by the richest person in the world, Tesla CEO Elon Musk, and has attracted an exceptional fan community since its introduction in 2013.
As a settlement system for digital transactions, Dogecoin is a fork of Luckycoin (itself a fork of Litecoin).
Dogecoin is accepted by 2,000 businesses globally (Cryptwerk), and is available to buy on the fully regulated copy trading platform eToro with a minimum investment of just $25.
How to Invest in Dogecoin – Quick Steps
Step 1: Open an account with eToro – We recommend eToro as your broker to invest in Dogecoin. That's because eToro offers low fees, firm regulation and free copy trading tools that are a cinch to use. Simply fill in a few details to get verified.
Step 2: Deposit – eToro accepts 15 fiat currencies including GBP alongside a 0.5% conversion fee. Plenty of deposit options are available if you want to invest in Dogecoin UK including bank transfer, credit/debit card, Rapid Transfer, Neteller, Skrill, and PayPal. There is also no deposit fee to pay.
Step 3: Search for Dogecoin – Searching for Dogecoin is simple. Just enter 'Dogecoin' in the top toolbar. You can review 100+ other crypto coin by pressing the 'Discover' button on your homepage and then 'Crypto'.
Step 4: Invest – You can review all sorts of stats and charting options before you buy with eToro. Press the 'Trade' button to set up your trade. When you execute, your Dogecoin trade will go through in seconds.
Don't invest in crypto assets unless you're prepared to lose all the money you invest.
What is Dogecoin (DOGE)?
Dogecoin was the first meme coin. The DOGE logo features a breed of Japanese dog, Shiba Inu, which was inspired by a meme going round in 2013 when Dogecoin was founded by two developers, Billy Markus from IBM and Jackson Palmer from Adobe.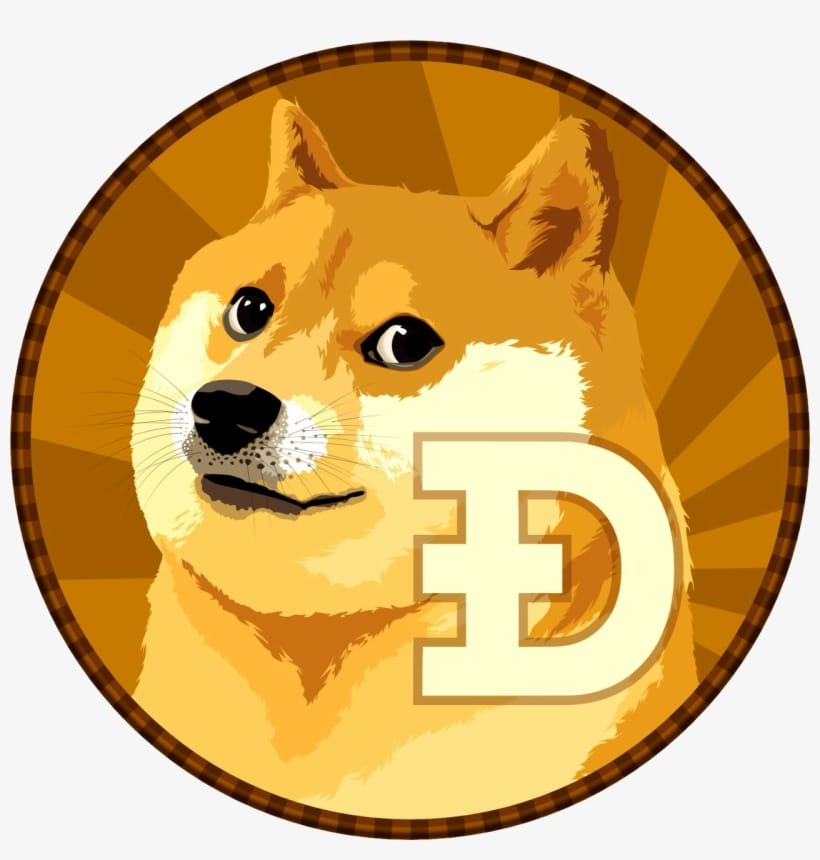 A spin-off crypto from Dogecoin is Shiba Inu – the second dog coin – which has experienced much 'pump-and-dump' excitement during 2021.
The aim of Dogecoin, the original dog coin, was to make crypto investment accessible to everyone. Hence Dogecoin represents itself as the 'fun and friendly internet currency'.
Dogecoin became popular on chat hub Reddit as the chosen currency to tip other users. This lead to the development of the ill-fated Dogetipbot, an app that allowed users to send DOGE via Reddit commands. In May 2017 Dogetipbot was withdrawn, with its creator Josh Mohland accused of stealing DOGE.
What is Dogecoin's practical performance?
Dogecoin (DOGE) was created out of a fork of Luckycoin which was itself a fork of Litecoin.
At 30 transactions per second, the Dogecoin blockchain works faster than Bitcoin and Ethereum but slower than other crypto including Monero, XRM and Ripple.
Because Dogecoin mining employs what is known as 'merged mining', it uses far less electrical energy than other Proof-of-Work models. Dogecoin using Scrypt technology and needs 0.12kWh per transaction. Bitcoin, by contrast, using the SHA-256 mining algorithm, requires 708kWh per transaction. Etheruem uses 63kWh per transaction.
Unusually for a crypto, there is no supply cap on DOGE. The idea was to keep the price low so that everyday investors could always buy in. Founder Jackson Palmer has described this as a mistake and says a cap should have been set at 100 billion coins.
Why Invest in Dogecoin?
As with all crypto, Dogecoin tends to follow the direction of travel of the Bitcoin price. It is thus susceptible to the highs and lows of the general crypto sector. That aside, Dogecoin value is based on four factors:
1. Huge public backing
During 2021, Dogecoin was the most-googled crypto in 23 US states (The Advisor Coach). By comparison, Ethereum and Bitcoin were the most googled in only 8 states apiece. Over 7 million US Dogecoin searches have taken place during many months in 2021. (The Advisor Coach)
Dogecoin is the 3rd-most-followed crypto on twitter with 2.5 million followers. Only Binance Coin and Bitcoin attract more interest.
Members of the public have been investigating Dogecoin because of the exposure it has received thanks to Elon Musk. But, since 2013, it has always had a loyal following on the internet.
2. A core community of Doge supporters


Focussed around the Dogecoin Reddit page, DOGE enthusiasts are famous for their energetic and light-hearted approach to DOGE investing, as well as for their charitable focus. In 2014, $50k was raised by the Dogecoin community to support the Jamaican bobsled team at the Winter Olympics in Sochi, Russia. In the same year, $30k was raised to help build wells in Kenya. The community also sponsored a NASCAR driver, Josh Wise, to the tune of $55k.
The existence of a core philanthropic investor base does not mean that Dogecoin is destined for a giant comeback. But it does make Dogecoin investing a friendly experience, and one that is likely to be supported in the future by other investors buying in. While Dogecoin has a loyal pool of supporters, some meme coin enthusiasts are eager to invest in Shiba Inu. Want to learn more? Read our comprehensive guide for further details.
3. The Musk Factor
'Dogecoin seems largely dependent on Elon Musk's erratic tweets' reports Senior Lecturer John Hawkins of the University of Canberra. Erratic they may be. But Musk's tweets to his 53 million twitter followers in support for Dogecoin are the altcoin's best bet for a bright future.
Elon Musk's support for Dogecoin is not looking like it will falter anytime soon. He called himself the 'Dogefather' and has stated publicly that he will not sell the DOGE he owns. He has also said that his electronic vehicle company Tesla might accept DOGE as payment currency. Musk's aerospace company SpaceX said in May this year that it would send a 40k payload of Doge crypto to the moon as part of a real-life mission. Musk even owns a Shiba Inu dog, the breed portrayed on the Dogecoin logo.
A Tesla Model 3 and $50k in DOGE are up for grabs as part of a free competition hosted by the world's biggest crypto exchange Binance, running until December 13th, 2021.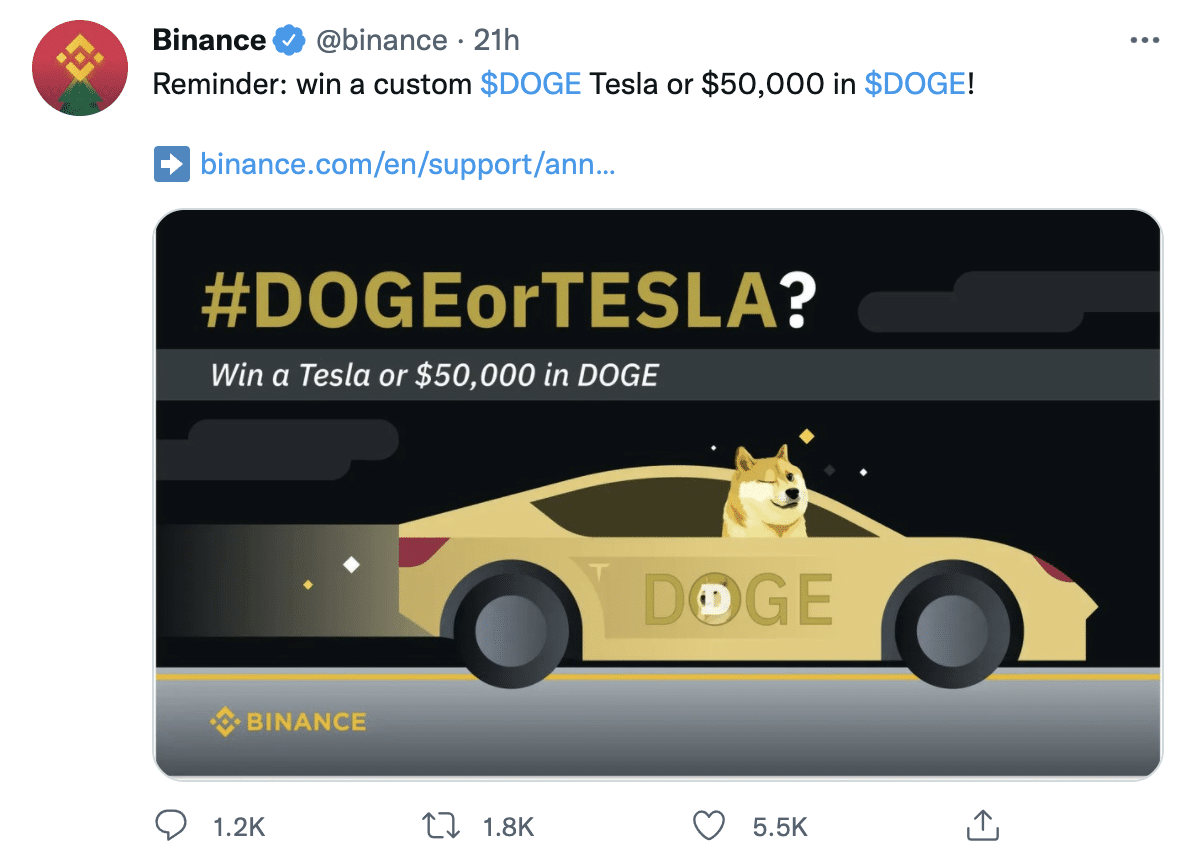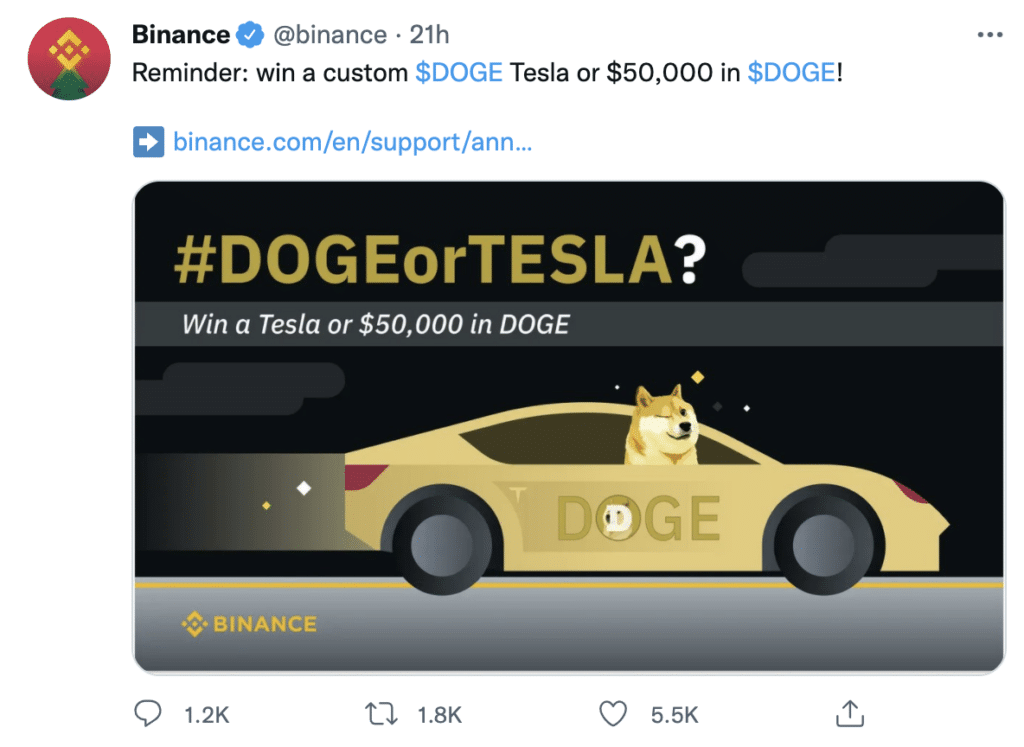 4. Continued technological development
The Dogecoin Foundation was re-established in August, 2021. The guiding body for Dogecoin's philanthropy features some big names in the form of Ethereum founder Vitalik Buterin and Elon Musk representative Jared Birchall. Philanthropy aside, this shows that Dogecoin is serious about its future, with Buterin keen to see DOGE move from old-fashioned Proof-of-Work (PoW) authentication to swifter Proof-of-Stake (PoS).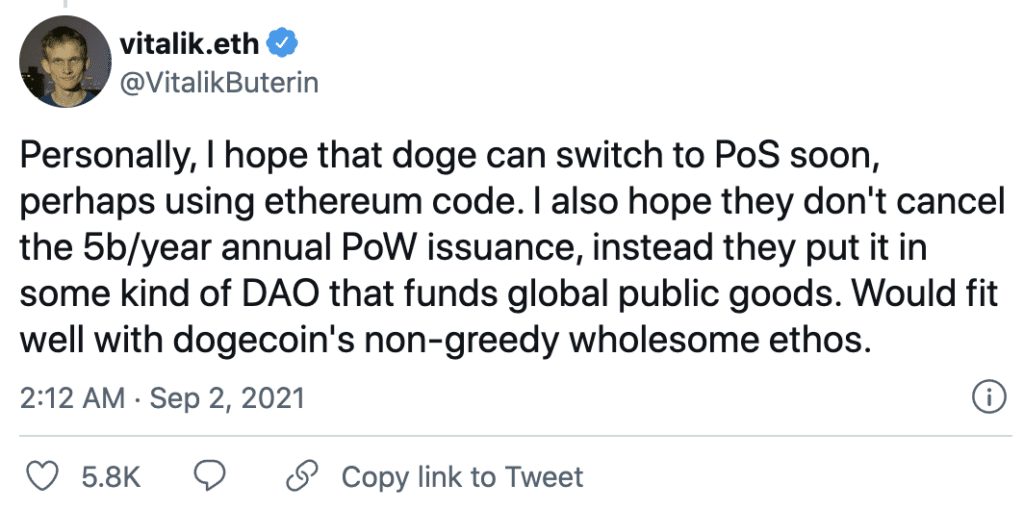 Dogecoin Crypto Price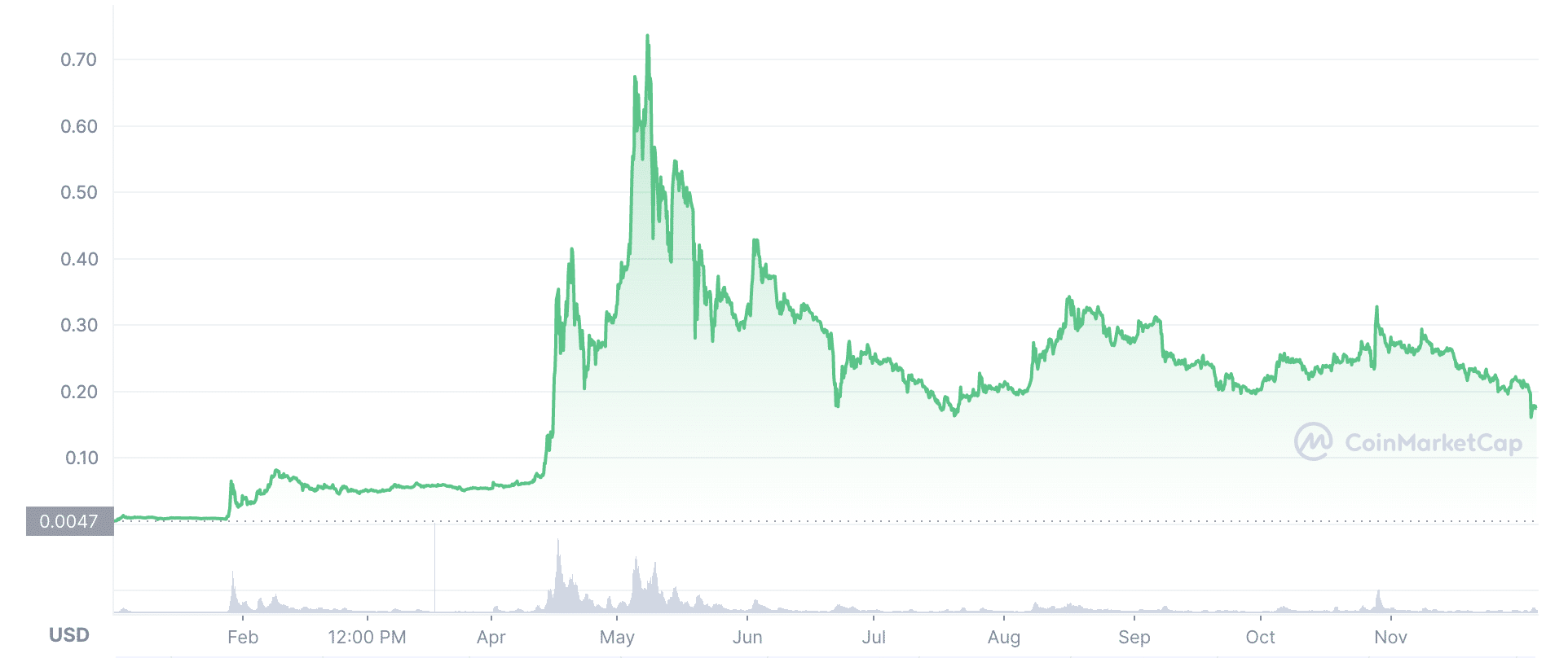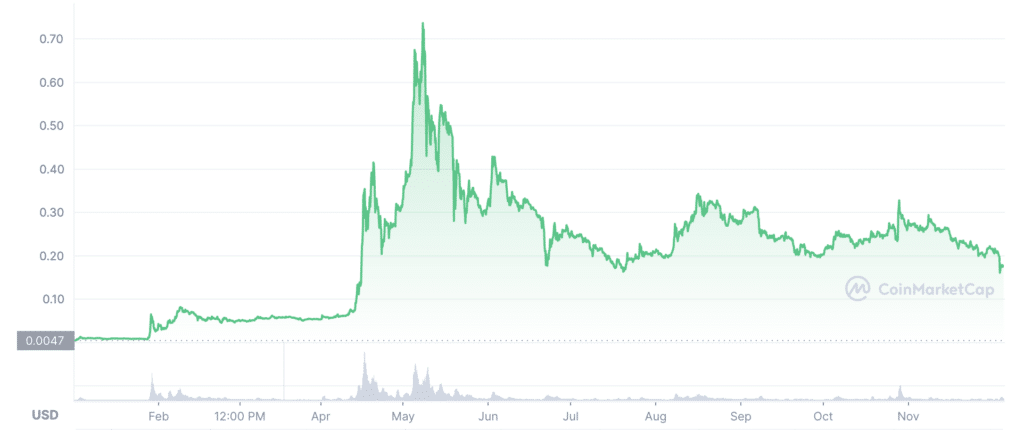 Price history to date
Dogecoin was founded in December 2013 and deliberately priced low to maximise its accessibility to ordinary people. In terms of price:
DOGE got off to a good start, jumping 300% 24hrs after its launch on 6th December 2013 from $0.00026 to $0.00095.
During January 2014, DOGE trading volume was higher than for any other crypto.
On January 7th 2018 – during the crypto bubble – the price of DOGE hit an all-time-high of $0.017.
Then, on December 20th, 2020, Elon Musk tweeted 'One word: Doge' – and Doge hit the big time. The price rose 20% immediately.
During January 2021, the price of DOGE rose 800% in one 24hr period to reach $0.07.
In April 2021, the price of Dogecoin surged along with the whole crypto sector as the listing of Coinbase exchange was confirmed. April-May 2021 was the hey-day of Dogecoin. But some commentators were not impressed. David Kimberley of broker Freetrade said in the Financial Times, 'the latest uptick in Dogecoin's price isn't indicative of any meaningful value the cryptocurrency offers, it's just a surge in interest from people looking to get rich quick. That can make for a fun bet, but it's not good investing.'
On April 15th, Elon Musk tweeted 'Dog Barking at the Moon' (see below).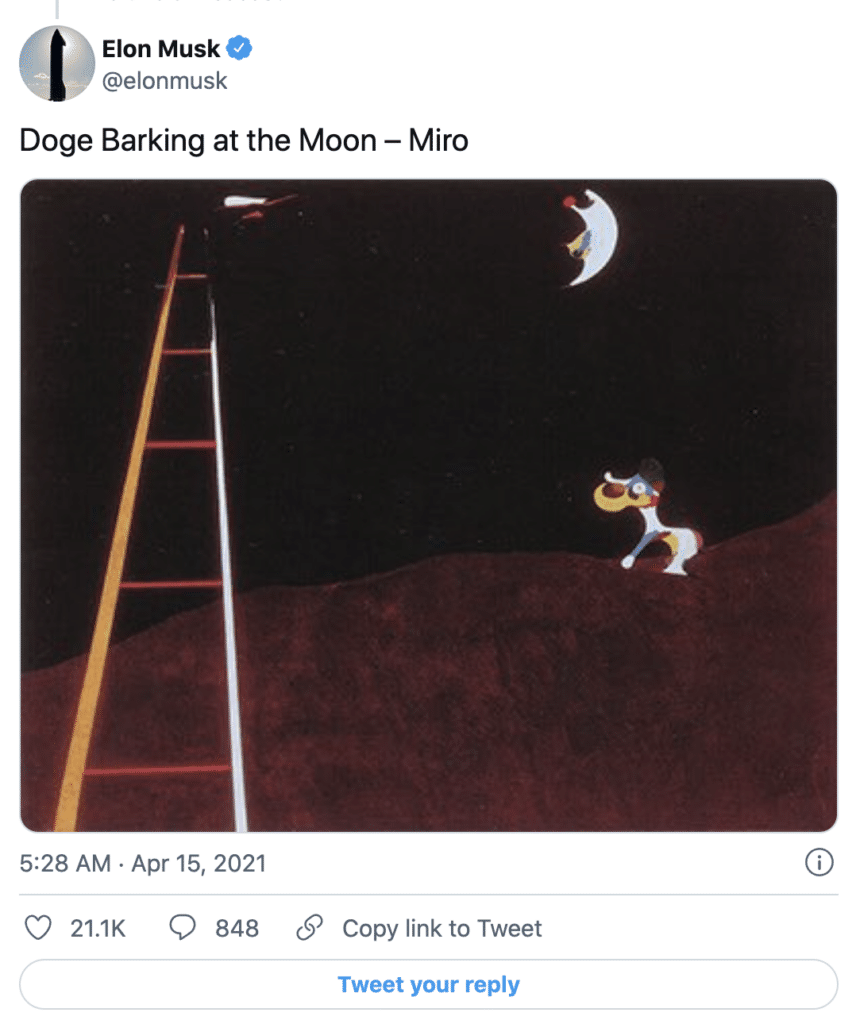 This single tweet resulted in a massive DOGE price surge to $0.45. Overwhelmed with Dogecoin trades, trading platform Robin Hood suffered an outage. $70bn of DOGE was traded in 24hrs. DOGE was briefly the 5th-biggest crypto, boasting a 7000% year-to-date rise in value.
The upwards momentum for DOGE carried on during May 2021. On 8th May, the price hit an all-time-high of $0.73, although dropping by over 30% when Elon Musk appeared on US TV show Saturday Night Live. On 9th May, SpaceX announced it would be sending DOGE crypto to the moon, and on 20th May, the price jumped 11% on another of Elon Musk's memes.
After the early-summer excitement, the price of DOGE halved by the beginning of June. It then swung in a range roughly between $0.20 and $0.30 until the general fall in crypto prices at the end of November and early December, when it fell further.
Current price
Dogecoin's price today (7th December 2021) is $0.17. That compares to an all-time-high of $0.74 on 8th May 2021 representing a drop of 75.84% since then.
Dogecoin Coin Price Prediction
Will Dogecoin hit a price of $1? That is the dream for the Dogecoin community.
If Elon Musk continues to weigh in with his support, there is every chance that Dogecoin can hit a price of $1. Self-styled 'Dogefather' Musk is fully invested in the idea of Dogecoin and his tweets to his 53m twitter followers have consistently boosted the DOGE price.
With 2021 Dogecoin price predictions, experts say that if Dogecoin dips below its $0.158 support level, it is likely to carry on falling to $0.10. Others predict a possible high of over the magic $1 mark by the end of the year.
2025 Dogecoin Price Prediction
A professional panel of 42 experts convened by price comparison website Finder was recently asked to make DOGE price predictions. Their average prediction was that DOGE would reach a price of $1.21 by 2025.
2030 Dogecoin Price Prediction
By 2030, the average price prediction of the same panel was $3.60 by 2030. The median figure was much lower, with many panellists lacking confidence that the Dogecoin price has staying power.
Although 80% of Finder's panel believed that Dogecoin was a bubble, let us bear in mind that nobody predicted the recent December 4th, 2021 crash in crypto prices which wiped $500bn off the crypto sector. So no crypto price predictions, including assessing future Dogecoin value, should be taken as gospel.
Staking Dogecoin
The principle of staking crypto is simple. It works like lending money in return for interest. Staking means lending your DOGE out to somebody else for a fixed period in order to receive extra DOGE as interest when your crypto is returned. To begin staking Dogecoin, you need to find a staking platform that supports it as a staking currency, connect your DOGE wallet, and allocate your DOGE for an agreed period and rate of interest. Staking is also called 'yield farming', and liquidity pools where you can stake are called 'farms'.
DOGE staking opportunities are currently thin on the ground. That is because DOGE operates on a Proof-of-Work basis, rather than a Proof-of-Stake – with the latter more suited to investor staking activity.
At Nexo exchange, you can buy DOGE and stake it to receive 3% interest as well as borrow using DOGE as collateral.
During May 2021, big staking platform PancakeSwap (28m users) allowed users to stake a maximum of 1,000 DOGE for a two-week period and earn Pancake currency CAKE (0.01388 Cake per block). PancakeSwap said at the time that they would be hosting a DOGE-BNB farm – where investors could stake DOGE in return for Binance currency BNB – but this has yet to materialise.
Reputable staking platforms are always updating their offerings, so keep an eye out for other DOGE staking opportunities.
How to Invest in Dogecoin – Tutorial
Below we look at how to invest in Dogecoin from selecting a suitable trading platform to buying and storing your share of meme coins.
1. Choose a Crypto Broker
eToro – best overall crypto broker with low fees
You can get your hands on Dogecoin right away with global broker eToro. As one of the best FCA brokers, eToro is the natural choice for those looking to invest in Dogecoin UK and trade cryptocurrency with its commitment to simple, safe and regulated trading.
20 million investors have chosen eToro since its inception in 2006. With its super-easy interface and massive choice of crypto, stocks, 250+ ETFs, indices and commodities, it is easy to see why.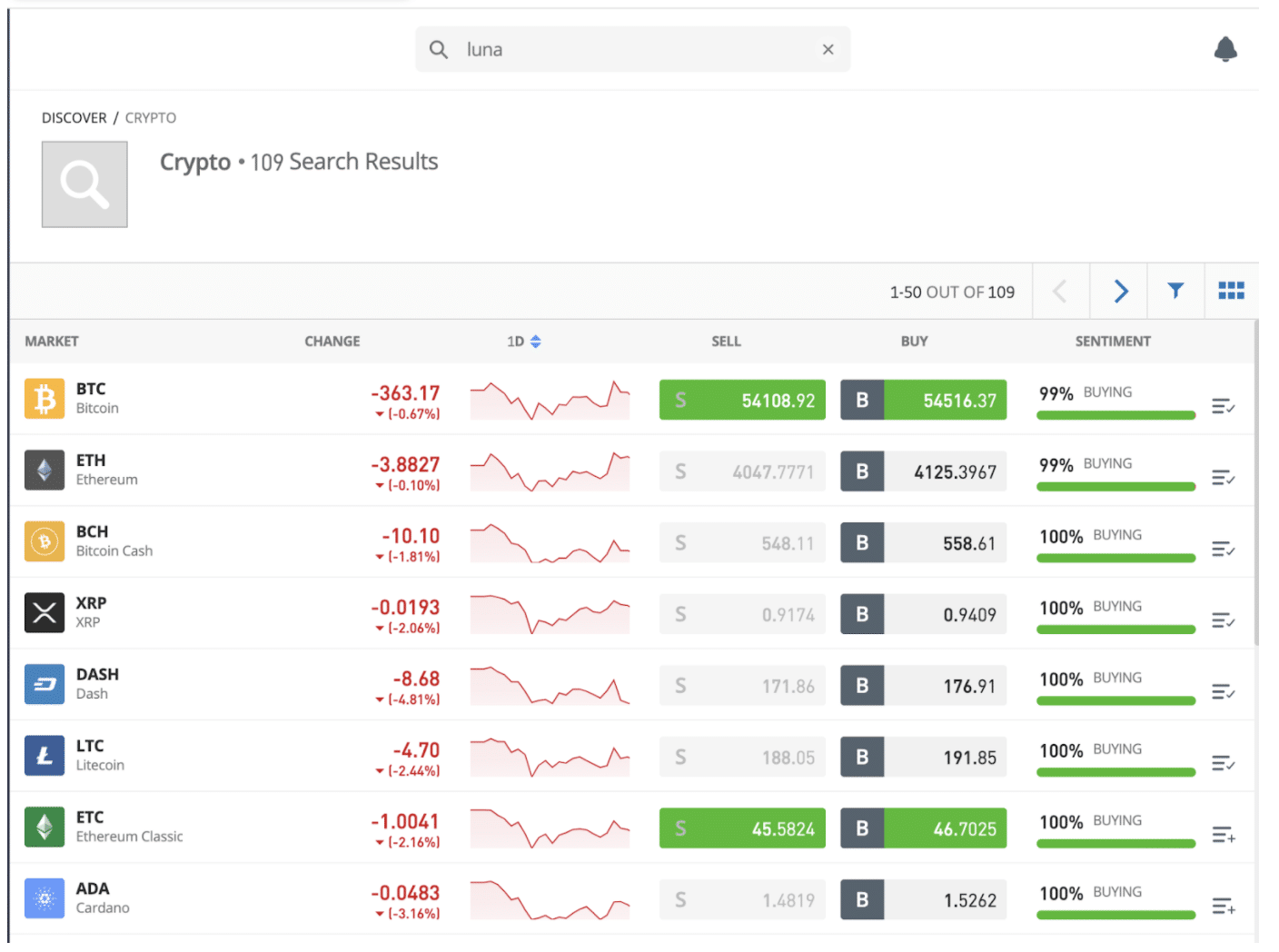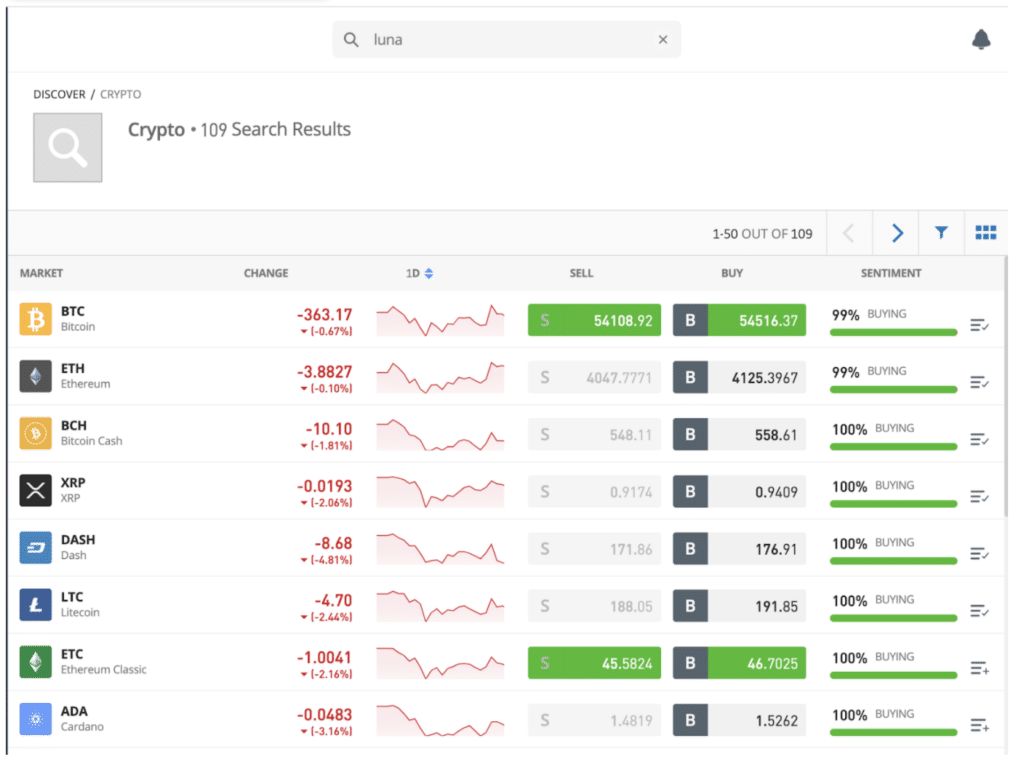 eToro offers 100+ crypto coins and many crypto pairs. (With crypto pairs, you can trade the difference in value between a crypto and a fiat currency, or two crypto). You can invest in Dogecoin and have eToro hold your coin for you. Or you can transfer it out to your free eToro Money crypto wallet. This allows you to store and transfer crypto and comes with an on-chain address, private passkey and many powerful options.
eToro charges tight spreads when it comes to buying and selling cryptos. As with all brokers and exchanges, a spread fee applies: this is the difference between the buying and selling price offered. The spread fee is the difference between the two prices. It is expressed as a percentage of the buying price. The typical eToro spread fee for Dogecoin is 2.9%.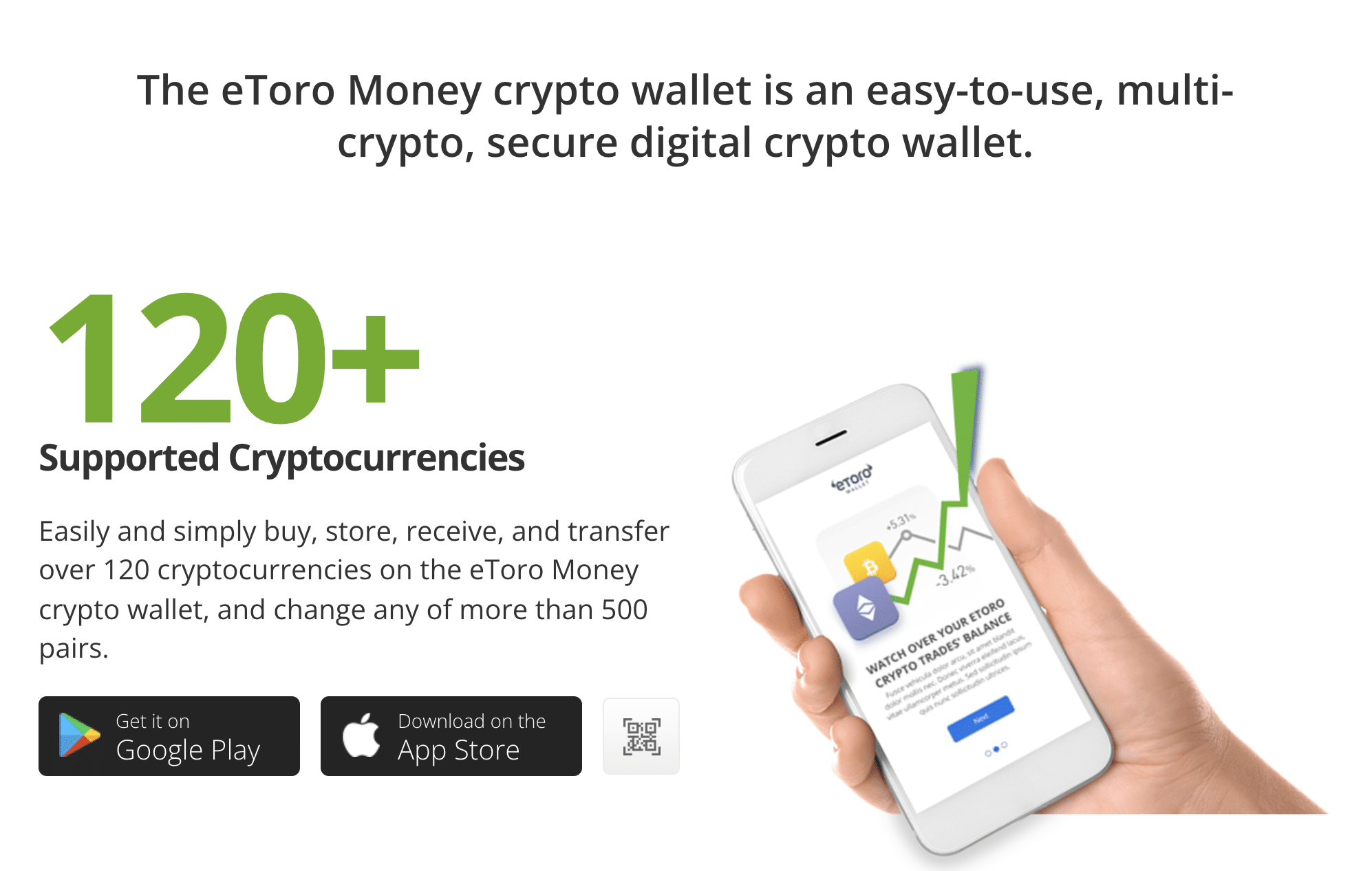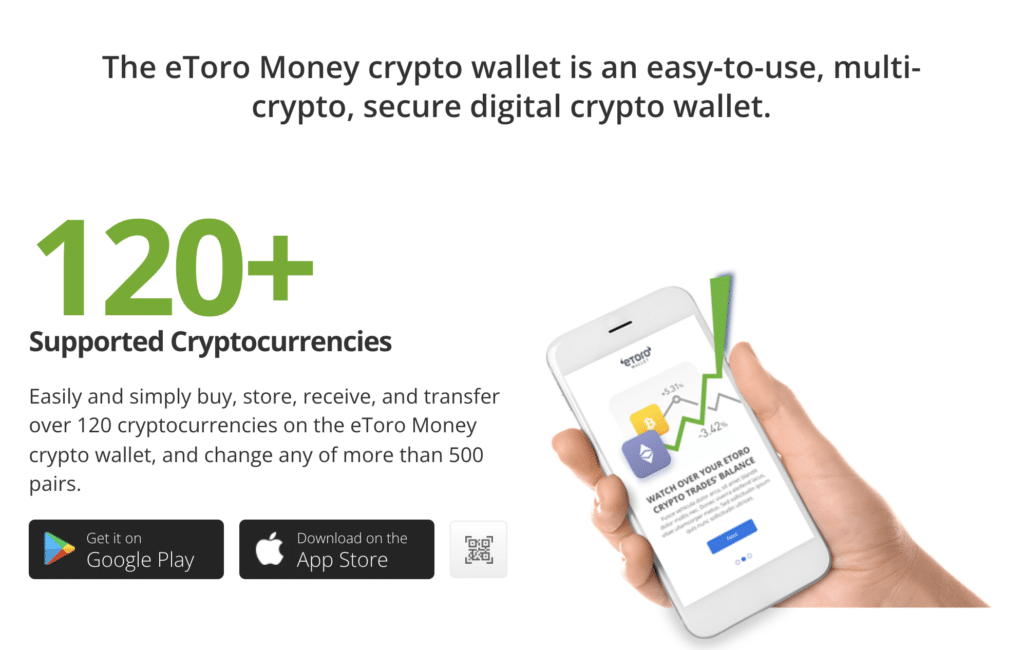 From the UK, you can deposit with eToro in 15 currencies including GBP using bank transfer, credit/debit card, Paypal, Skrill, Neteller and Rapid Transfer. There is no deposit fee.
eToro comes into its own when it comes to copy trading. Copy trading describes the process by which you allocate some funds, pick an experienced investor (called a 'signal provider'), and direct the copy trading software to follow automatically the trades of that investor in real-time. eToro offers copy trading for free. You can browse through signal providers and assess them by past performance and risk rating. With eToro, you can also buy into strategic portfolio positions called CopyPortfolios.
Pros
20m existing investors
100+ crypto coin to choose from, including Dogecoin
Regulated by the FCA, CySEC and ASIC
eToro Money crypto wallet
CopyTrader and CopyPortfolio
Cons
Flat withdrawal fee of $5 applies
Don't invest in crypto assets unless you're prepared to lose all the money you invest.
2. Sign up with eToro
Signing up with eToro does not take long. Go to the www.etoro.com website. Supply a username, password and your email address. Tick the boxes acknowledging that you have read the legal information. Press the blue 'Create Account' button. Or sign up automatically using your Facebook/Google credentials.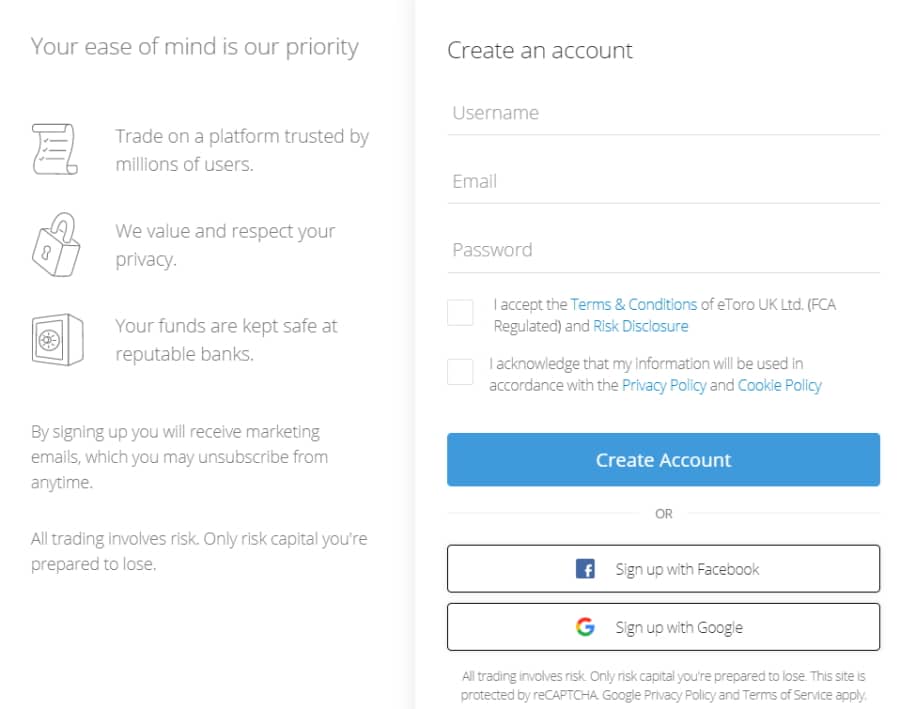 Press the blue 'Create Account' button.
Don't invest in crypto assets unless you're prepared to lose all the money you invest.
3. Get verified
Verification is a regulatory requirement with all reputable brokers. eToro makes it as painless as possible. You will need to supply proof of where you live as well as proof of who you are. eToro accepts scanned documents, or screenshots of digital documents.
For proof of ID, the best way to get verified fast is to supply an in-date passport. Otherwise, use a driving license or a government photo ID. To verify where you live, you can use a council tax bill/letter, credit card/bank statement, utility bill or driver's license. Make sure the document clearly shows your name, address, date of issue and the identity of the issuing authority.
4. Deposit funds
When you have received your notification email, log into your eToro account. Click the blue 'Deposit funds' button at the bottom left of the interface.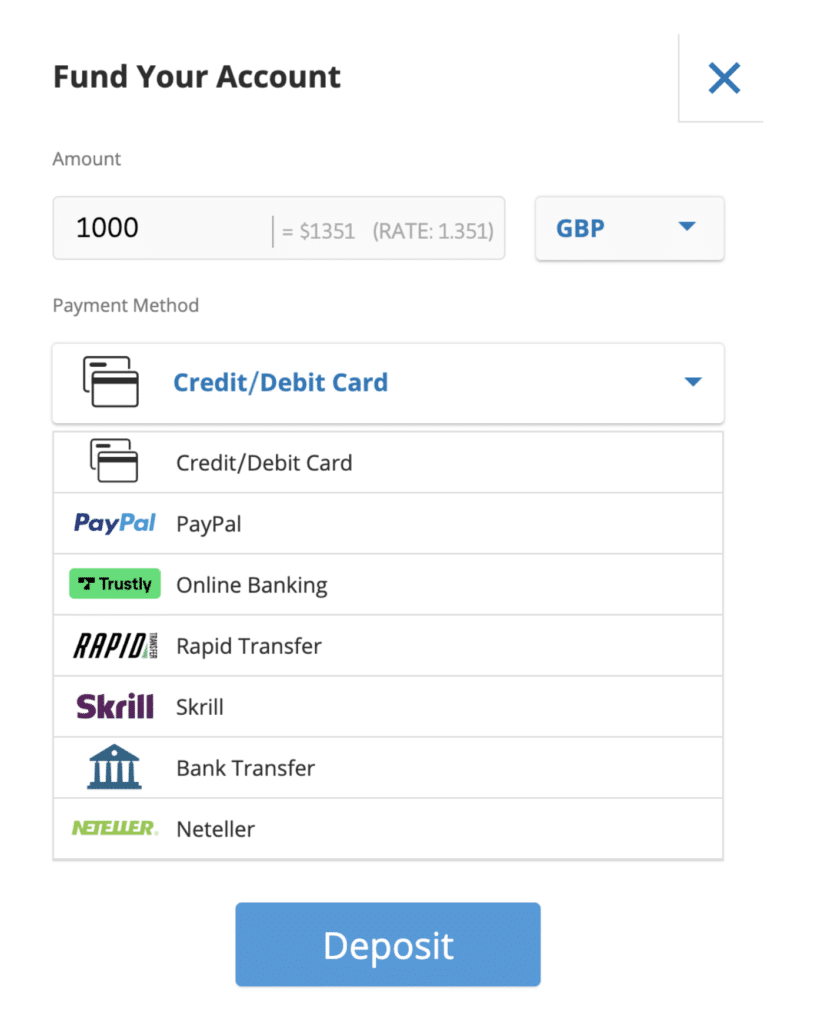 Select how much funds you want to deposit.
Select your preferred currency. You can deposit in GBP with eToro. Note that your account and all transactions will be run in USD. eToro also accepts EUR, NOK, PLN, VND, SEK, CZK, RMB, DKK, IDR MYR, THB, PHP, and AUD.
Select your preferred payment method. The methods shown in the box above – credit/debit card, PayPal, Trustly, Rapid Transfer, Skrill, bank transfer and Neteller – are all available if you are looking to invest in Dogecoin UK.
5. Search for Dogecoin
Enter 'Dogecoin' in the top eToro toolbar:

Then click on the DOGE logo to access the Dogecoin homepage (or press the blue 'TRADE' button to access your buying options right away). The Dogecoin homepage features a comment thread, stats, powerful charting options and eToro research on DOGE including useful information on developer activity: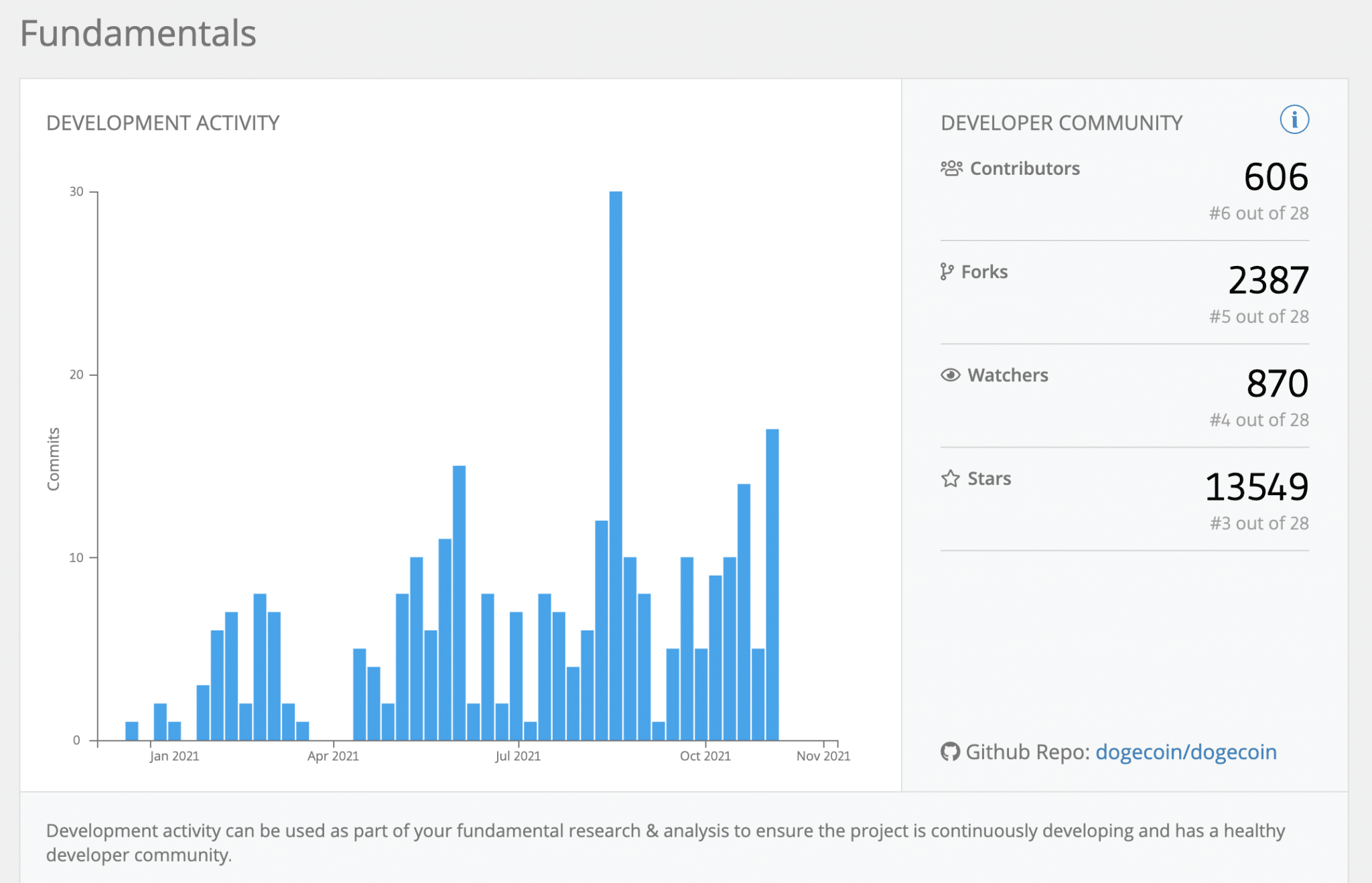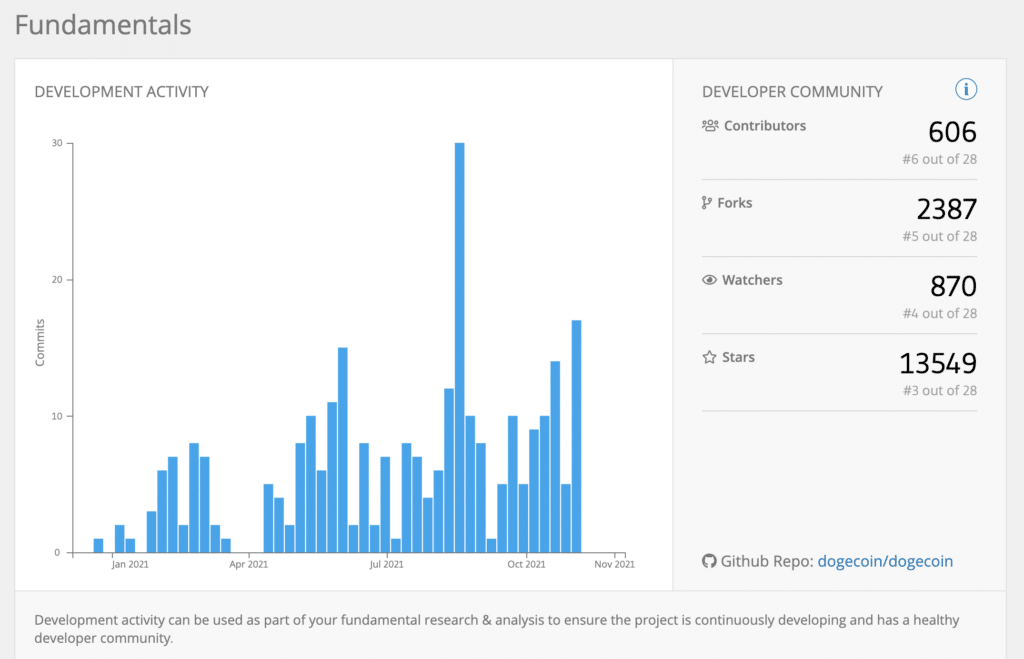 You can then browse through eToro's crypto, reviewing current price, the buy and sell spread, the 52w range and eToro investor sentiment.
6. Invest
If you want to invest in Dogecoin, press the blue 'Trade' button at the top right of its homepage. Or press the small black 'B' button on its listing with other crypto:
You will then see a dialogue box. Here you finalise your investment. You can choose to buy as per units or funds invested. Press the 'Open Trade' button to execute.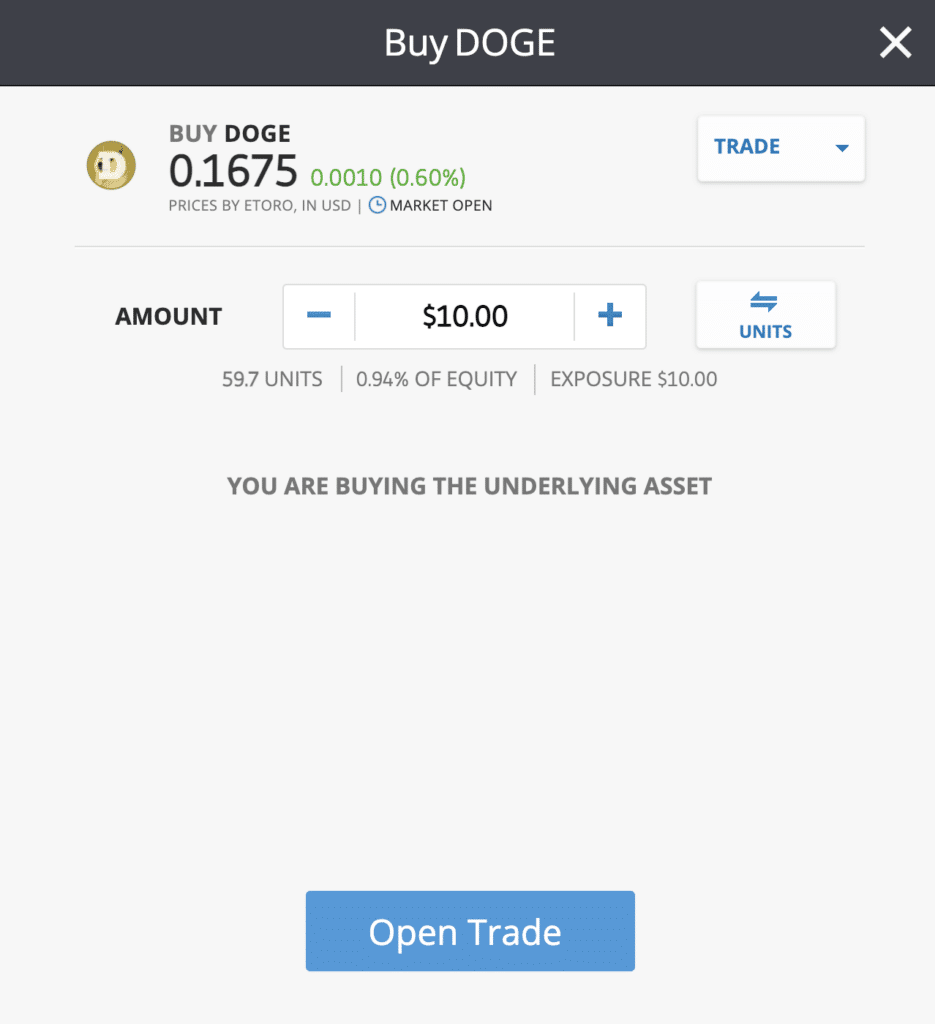 Congratulations! You have bought DOGE. You will receive a pop-up box (usually in seconds) confirming that your trade order has been filled. Then you can review your Dogecoin purchase in your portfolio; press the 'Portfolio' button on eToro's left toolbar.
Conclusion
Some commentators have raised a question mark over Dogecoin worth. The coin has been criticised as a classic 'pump-and-dump' crypto: ie. a coin that investors hype to spikes in price and then abandon, leaving the price to crash. Maybe DOGE will never reach the heights it achieved in early summer 2021. But there is one thing for certain about DOGE: it continues to attract public interest. That is more than can be said, by definition, for all the other pump-and-dump coins that you have never heard of.
If you want to invest in Dogecoin, cross your fingers that Elon Musk will continue to tweet in its favour. He is likely to. Binance's ongoing give-away of a Tesla vehicle and $50k in Dogecoin shows that Tesla is backing Dogecoin, as does the fact that Musk has a representative on the board of the Dogecoin Foundation. You can certainly rest assured that DOGE's core fanbase on Reddit is going nowhere.
If you want to invest in Dogecoin UK or internationally, eToro is an excellent choice with its low fees, wide choice of crypto options, and eToro Money crypto wallet. If you are new to investing, eToro is a particularly good choice as a broker thanks to its easy-to-use interface and free copy trading tools.
Don't invest in crypto assets unless you're prepared to lose all the money you invest.
Frequently Asked Questions about Dogecoin
Should I invest in Dogecoin?
Is it worth investing in Dogecoin?
How can I buy Dogecoin stock?
How do I buy Dogecoin instantly?
Is it safe to invest in Dogecoin?