Best Crypto Sign Up Bonus Offers
Fact Checked
Everything you read on our site is provided by expert writers who have many years of experience in the financial markets and have written for other top financial publications. Every piece of information here is fact-checked.
Disclosure
Please note that we are not authorised to provide any investment advice. The information on this page should be construed for information purposes only. We may earn commissions from the products mentioned on this site.
To lure new investors to join their platforms, most cryptocurrency exchanges are now offering sign-up incentives. Because of the rivalry among new crypto platforms, these welcome incentives have become more lucrative with each passing year. This is great news for traders and investors who can leverage these bonuses to get free cryptocurrency.
In this article, we reveal the best crypto sign up bonus offers in 2022.
Key Takeaways on Crypto Bonuses in the UK
Many cryptocurrency exchanges and brokers offer sign up rewards and bonuses.
You can receive a free crypto sign up bonus for 2022 just for opening a new trading account.
Some providers even offer referral codes that you can give to your friends and family that in turn yield rewards and bonuses.
We found that Huobi offers the best crypto bonuses in the UK in 2022. Read on to find out more.
The Best Crypto Bonuses for 2022
Here are some of the most attractive crypto bonuses available for investors you should check out. In this table, you can compare which platforms best resonate with your trading style.
Crypto Exchange
WHAT TYPE OF BONUS IS OFFERED
TERMS AND CONDITIONS
REWARD
Huobi

1. Sign up/Deposit Bonus

2. Referral Link

3. Rewards Program

Sign up on Huobi Global to get a chance to earn up to $300 per user. The welcome bonus is available for new users only and each task should be completed within 15 days.

Any amount deposited to Huobi Global will qualify new users to the deposit bonus.

Any completed trade on Huobi futures will qualify users to Futures trading bonus.

Huobi has the right to disqualify and suspend accounts engaging in fraudulent trading activities.

Up to $300 bonus and 20,000 SHIB for both signup and rewards program

Referral: up to 15% per referee's deposit

Crypto.com

1. Referral/Rewards Program

Share your Crypto.com referral link to get $50 worth of CRO as a sign-up bonus.

To qualify for a $10 bonus, your trading account should be verified at an Advanced Level and has staked at least 1,000 CRO on the exchange. The $50 bonus is for referees with Advanced level verification and $5,000+ CRO in staked funds.

Reward: up to $50 per new user

Margex

1. Link for referral

In order to become a Margex affiliate, users should register at the Margex website and get their personal link. 

Share the link to family and friends for a chance to earn every time the referee for trading commissions.

Referral: $100 + up to 40% commission from referred users

Binance

1. Bonus from referral

2. Rewards Program

Binance's Affiliate Invitee Welcome Offer gives new users a chance to get up to $100 when they sign up using a referral link.

Each user should complete three tasks–each task comes with a corresponding reward.

Visit Binance Rewards Center to see your vouchers' corresponding value and expiry date.

Sign up bonus: none

Referral bonus: up to $100 per new user

Rewards program: Depends on the conditions stated on Binance Earn and Binance Staking

Coinbase

1. Sign up/Deposit Bonus

2. Referral Bonus

3. Rewards Program

Coinbase's Referral Program gives both the referrer and referee a reward upon sign-up. The amount of the bonus varies across locations.

Coinbase Pro users are not eligible to join the program.

Sign up bonus: $5

Referral bonus: $10

Rewards program: depends on each task's requirement
What are Crypto Bonuses?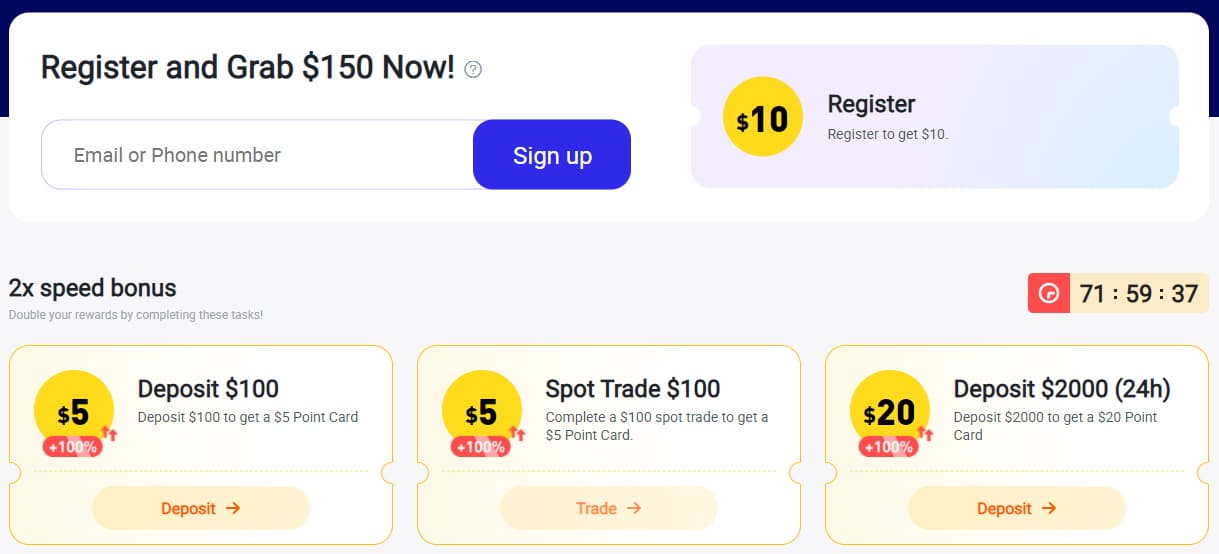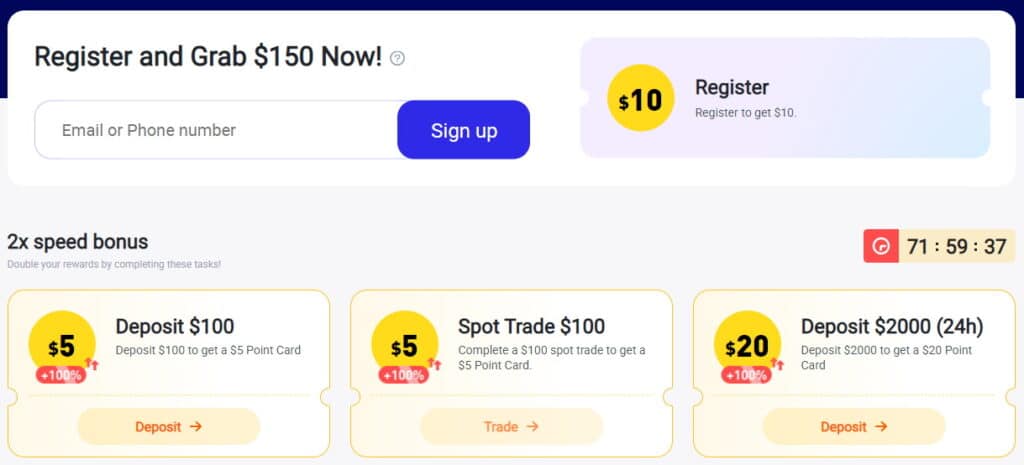 Crypto bonuses are bonuses paid in cryptocurrency. You can find crypto bonuses at many cryptocurrency exchanges, which use bonuses as a way to attract new traders and investors away from the competition. Some bonuses you can get just for signing up, while others require you to make a deposit and place a crypto trade. Other bonuses are awarded when you refer family and friends to a crypto exchange or complete specific tasks like verifying your account.
Crypto Bonus as a Marketing Strategy
At the end of the day, crypto bonuses are a type of marketing strategy used by crypto exchanges. The bigger an exchange's bonus, the more likely new crypto investors are to choose that exchange over its competitors.
This marketing strategy offers a win-win situation for both exchanges and new crypto investors. The platform gets new users, which is important to the success of the exchange in the long term. New users receive free crypto that they can use to start trading or hold as a long term investment.
Types of Crypto Bonuses Welcome Offers
There are several different types of crypto bonuses offered by exchanges today. The most common types are sign up bonuses, referral bonuses, and reward programs. We will explain each type in more detail.
Sign Up Bonuses
Welcome bonuses, also known as sign up bonuses, are bonuses reserved for new users. You can get a sign up bonus just for signing up a new account, but most exchanges require you to deposit funds and place a trade worth at least a certain amount in order to claim your bonus.
Referral Codes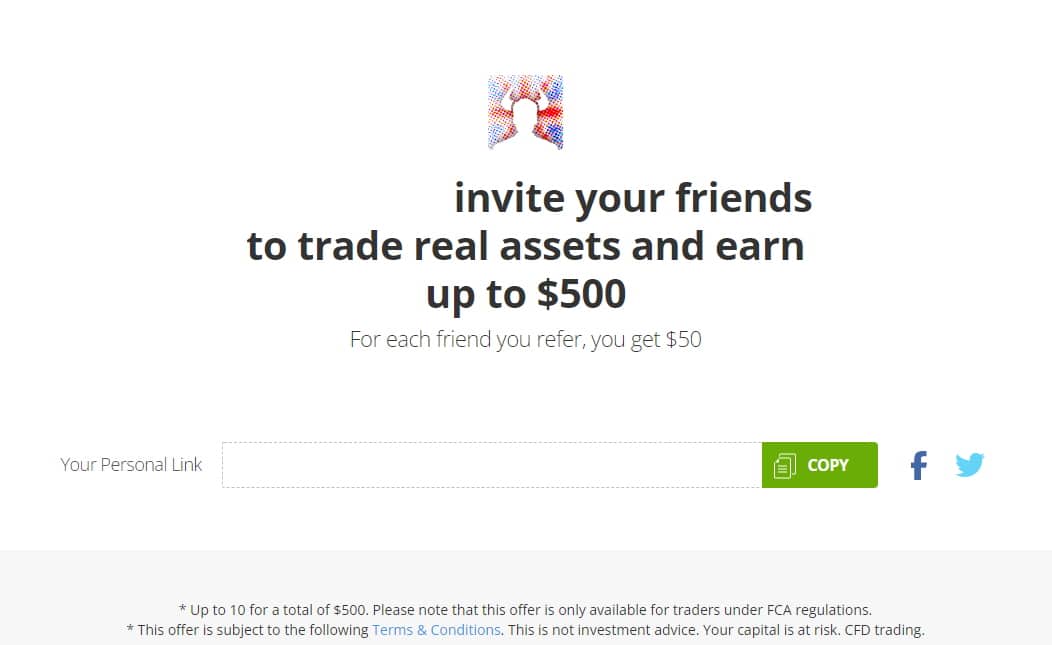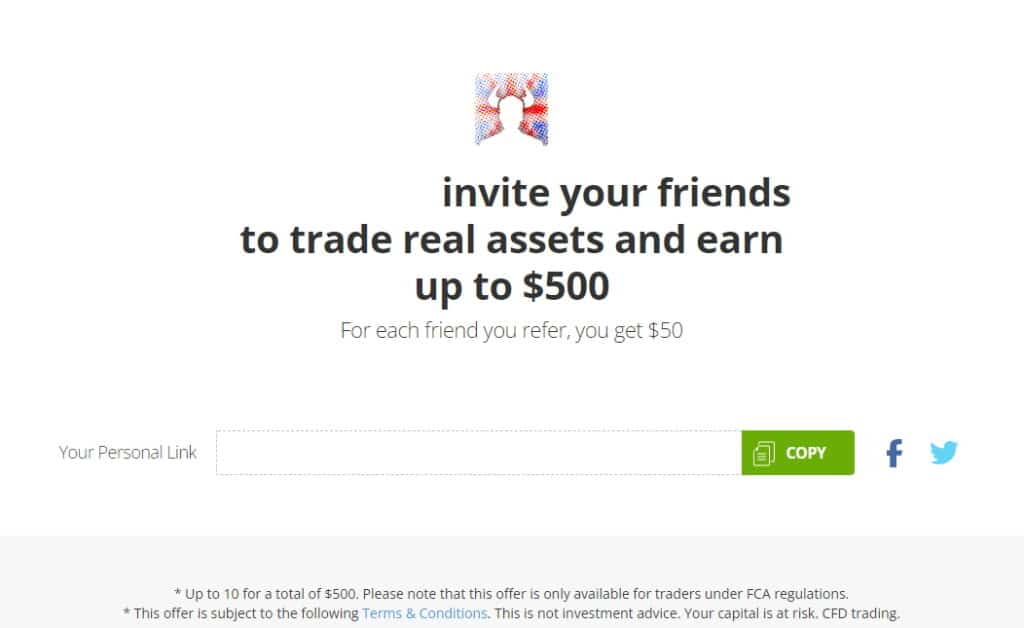 Another common type of crypto bonus is the referral bonus. Every existing user on a cryptocurrency exchange has a personal referral code that you can share with family and friends. If they sign up to the exchange using your referral code, then you receive a bonus in return.
Depending on the exchange, you may be limited to a certain number of referral bonuses or you may be able to claim an unlimited number of referral bonuses. In the latter case, you can actually use referral bonuses as a way to generate passive income within your crypto account.
Rewards Program
Rewards programs give exchange users free crypto or other bonuses in exchange for completing specific tasks. These tasks could be things like verifying your account or sitting through a course that explains how a new cryptocurrency works.
Deposit Bonuses
Crypto deposit bonuses require you to deposit funds into your exchange account in order to claim the bonus. Typically, the size of the bonus you receive depends on the amount you deposit. For example, Huobi offers a $5 Point Card for a $100 deposit.
Usually, there's a cap on how big a deposit bonus can be.
No Deposit Bonuses
No deposit bonuses offer crypto just for creating a new exchange account. You don't have to make a deposit.
Some rewards programs are no deposit bonuses. You can earn a small amount of crypto by answering quick surveys or reading certain information about a company, even if you haven't made a deposit into your account yet.
Crypto Bonus Options for Existing Accounts
Crypto bonuses aren't limited to new exchange users. Many platforms, including Huobi and Binance, offer rewards for their existing customers. There are two common ways that existing users can earn bonuses: crypto staking and crypto interest.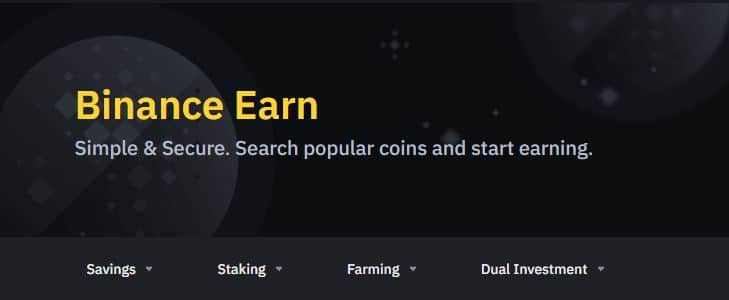 Staking Reward
Crypto staking is a type of bonus you earn by staking your tokens to a particular crypto project. When staking your tokens, you are allowing a blockchain to use your crypto to validate transactions. In exchange, you receive crypto interest or rewards in the tokens specific to that blockchain project. Crypto staking isn't risk-free, but it is a straightforward way for existing crypto investors to earn cash from their current crypto holdings.
Savings Reward
Some exchanges also allow users to earn money by lending out their crypto, similar to how a regular savings account works. Often, exchanges can offer interest rates that are hundreds of times higher than the rates that you'll find at a traditional bank. On the other hand, higher interest rates reflect the fact that crypto interest accounts can be risky. So, investors should be cautious when investing tokens in flexible or locked crypto savings accounts.
Crypto Bonuses Terms & Conditions
Every crypto exchange has terms and conditions that govern how you can earn and use bonuses. Traders need to read these terms and conditions carefully so you don't find yourself forfeiting your bonus.
Huobi's Reward System

Huobi has one of the best crypto bonus systems of any exchange today. Better yet, Huobi is also on our list of the best crypto exchanges in the UK. It offers a generous and diverse reward mechanism for both new and existing users, regardless of whether they make short-term or long-term investments.
New users can earn up to a $300 bonus at Huobi, including an instant $10 Point Card just for signing up. You'll receive $20 when you make a minimum deposit of $2,000.
Here is What's in Store for Huobi's New Users
As mentioned, Huobi's new users can earn up to $300 from signing up. Here is a rundown on how you can earn more through the Huobi Point Card.
When you make a spot trade worth at least $100, you'll receive a $5 bonus. If you trade at least $3,000 on your spot wallet, you'll earn a $20 instant Point Card plus 20,000 SHIB coins.
Huobi's Point Card is valid for paying trading fees for four days after you receive the card. It cannot be used for paying withdrawal fees, and it cannot be withdrawn from your account or transferred.
Here's What's In Store for Existing Users
Huobi's reward system is not limited to new users. Existing users can get a crypto bonus through various activities. Users can get a $10 Point Card after creating a Cloud Wallet on Huobi. Moreover, there is an additional $10 bonus when you use Futures Trade for the first time.
In addition, you can earn $10 when you deposit $200 to a Huobi Earn savings account. Huobi Earn allows the platform's users to earn interest on their crypto. You can choose from a flexible deposit, which you can withdraw any time, or a fixed deposit that offers a higher interest rate. Interest rates vary across different cryptocurrencies.
Crypto.com Referral Bonus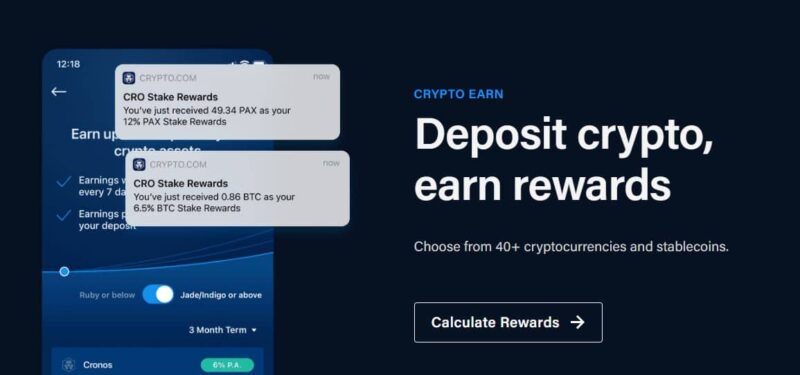 Crypto.com is a popular exchange platform known for offering an extensive list of digital assets. Here you can buy and sell cryptocurrencies like BTC, ETH, and BNB. 
Crypto.com's sign up bonus allows users to earn crypto by sharing a referral code. Your code could be worth up to $50 in CRO, the native cryptocurrency created by Crypto.com.
In order to claim the referral bonus, you and the person you're referring need to complete a few tasks. First, you need to share your referral code and the referee needs to sign up using that code. Next, they must verifiy their account and stake CRO. If they stake 1,000 to 4,999 CRO, you each receive a $10 bonus. If they stake at least 5,000 CRO, then you each get a $50 crypto bonus paid in CRO.
Cryptoassets are a highly volatile unregulated investment product. Your capital is at risk.
Margex Referral Program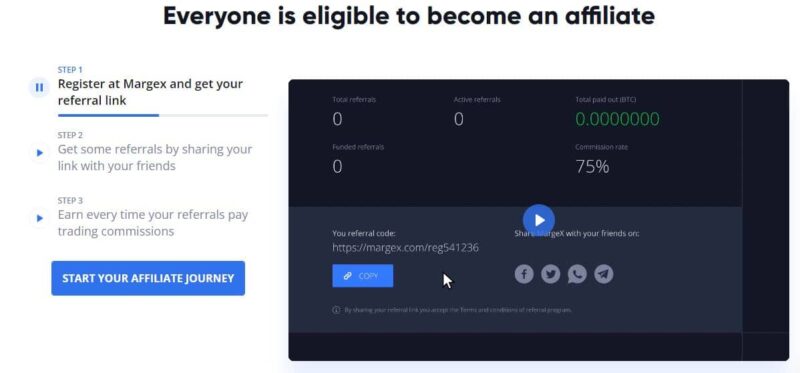 Savvy crypto investors are always looking for a platform that offers low trading fees and an attractive referral system. Margex is one of the best exchanges that meets those criteria. The platform has a minimum deposit of only $10 and an average transaction fee of $0.060.
New users at Mergex can earn up to a $100 welcome bonus. In addition, if you refer friends to Margex, you can earn up to 40% of your referees' trading fees. So, if your referee deposits $1,000 and begins trading, 40% of the trading fees will get credited to your account.
Cryptoassets are a highly volatile unregulated investment product. Your capital is at risk.
Binance Referral Program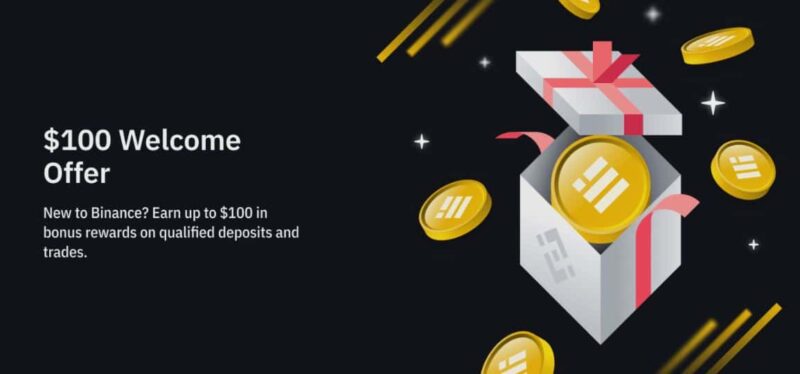 Binance is among the top platforms for crypto sign up bonuses. Using a referral link, new users get up to a $100 welcome offer through the Binance Referral Program. Additionally, this crypto exchange offers users up to a 40% commission on their referees' trades, similar to Margex.
Just keep in mind that bonuses for spot trading and futures trading are separate, so you'll need to send referral links for each type of trading. On the plus side, this means you can refer the same friend to Binance twice.
Cryptoassets are a highly volatile unregulated investment product. Your capital is at risk.
Binance Deposit Bonus
In addition to the referral program, Binance offers a generous deposit bonus for new traders. You can get up to $100 in crypto after completing 3 tasks in the platform's Task Center. Traders are also eligible for a $5 cash voucher after depositing $50 using the peer-to-peer deposit system.
In addition, a crypto deposit at Binance worth $50 earns you a $50 cashback voucher. Just remember to use this voucher within 5 days of registering or it will expire. Binance also offers a $45 spot cashback voucher when you make a spot crypto trade of $100. 
Binance Staking and Binance Earn
Binance also helps existing users earn passive income while money sits in their wallets. One of the ways to do this is through staking. Whenever there is a new crypto project in the space, traders can stake their coins. They will earn a certain percentage or be reimbursed through coins once the campaign is done.
Often, these projects are initial coin offerings. This means that the coin you receive from staking your skyrocket in value. In fact, this can happen when the coin first starts trading on Binance.
Another way to earn crypto is through Binance Earn. You simply put your crypto in a flexible savings account and earn interest. Binance also has fixed loan periods that offer higher interest rates.
Coinbase Referral and Reward Program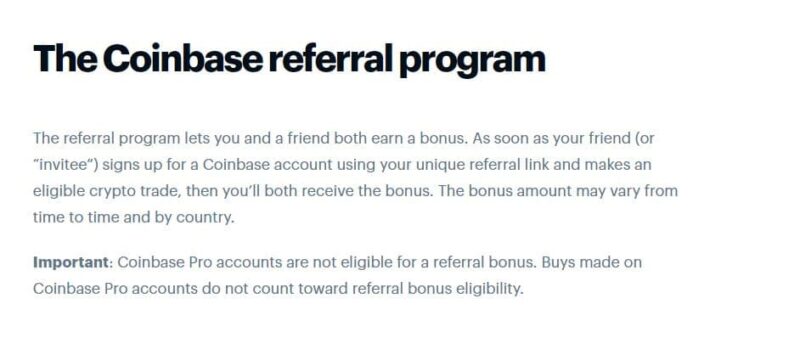 Coinbase has one of the oldest and most well-established crypto bonus offers of any exchange. New investors who sign up with Coinbase get a $5 welcome bonus in BTC.
In addition, Coinbase has a referral program that lets you give new users $10. To claim the bonus, your referee must be in the same country as you and must make a trade on Coinbase within 180 days of signing up.
Coinbase also offers the Coinbase Earn Program. This is a simple task-based rewards program that gives you crypto bonuses in exchange for watching short videos about crypto. 
Our Coinbase review covers everything you need to know about this platform.
Cryptoassets are a highly volatile unregulated investment product. Your capital is at risk.
Initial Deposit Requirements and Trading Fees
Every platform has its minimum deposit requirement that new traders must meet in order to start trading. Exchanges also charge trading fees on every buy and sell transaction. It's important to think about deposit requirements and fees when choosing an exchange. So, let's take a look at fees at the top crypto exchanges:
| | | |
| --- | --- | --- |
| Crypto Exchange | MINIMUM INITIAL DEPOSIT  | TRADING FEE |
| Huobi | $100 | 0.2% base fee |
| crypto.com | $20 | 0.04% to 0.40% |
| Margex | $10 | 0.019% to 0.60% |
| Binance | None. Only a minimum order size of $10 per buy or sell | 0.10% |
| Coinbase | $2 minimum balance requirement | 0.5% to 4.5% |
Where to Use Your Crypto Bonus
You can use your crypto bonus in several different ways. Some crypto bonuses can be used as long term investments, while others are best suited as "free" money to trade with. Alternatively, at exchanges that offer crypto staking or interest accounts, you can put your bonus to work to earn money for you. Finally, some exchanges allow you to use your crypto bonuses to offset trading fees in your account.
How to Claim a Crypto Bonus
Here is how you claim a crypto sign up bonus on Huobi:
Step 1: Create an Account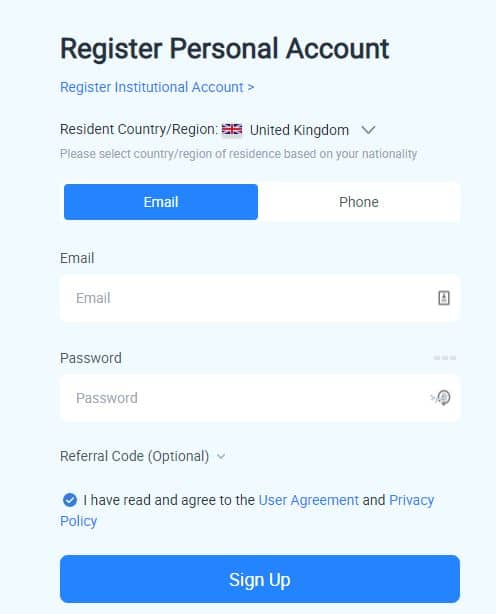 Create a new Huobi account using your email or Google account. You may also use your mobile number to register. If you received a referral code from someone, do not forget to add your code when signing up. 
Reminder: Huobi is not available in mainland China, the United States of America, Canada, Japan, Cuba, Iran, North Korea, Sudan, Syria, or Venezuela.
Step 2: Verify Your Account
Huobi asks new users to verify their accounts. You will need to present a valid identification card that has your address visible.
Step 3: Claim Your Welcome Bonus
Now you're ready to start completing the tasks that Huobi requires in order to claim a welcome bonus. The amount generated from each task will automatically get credited to your account within three (3) working days.
Cryptoassets are a highly volatile unregulated investment product. Your capital is at risk.
Rules on Huobi's $300 Bonus
Below are the rules users need to follow to get Huobi's rewards program:
New users need to complete all tasks within 15 days after registration. Failure to meet any required tasks within the set timeframe will prevent you from receiving the bonus.

Regardless of the amount you put in, making a deposit to your Huobi account will automatically qualify you for a deposit bonus.

All bonuses will automatically be credited to your account within 3 working days.
Take Away
Crypto exchanges are constantly competing for new users, and that's meant that many top exchanges offer generous crypto bonuses. While bonuses aren't everything when it comes to choosing an exchange, they are definitely worth considering.
You can find a variety of different bonus types, including deposit bonuses, rewards programs, referral bonuses, and staking rewards. Be sure to carefully read the terms and conditions of any bonus so you understand what tasks you need to complete and how your bonus can be used.
Our Top Pick is Huobi Global

Huobi Global is among the most generous platforms when it comes to crypto bonuses. New users can earn up to $300, while Huobi also offers referral bonuses and crypto staking options for existing users.
Frequently Asked Questions on Crypto Sign Up Bonuses
Which crypto apps give sign up bonuses?
How do you unlock the Crypto.com bonus?
How do you get crypto for free in the UK?
Are crypto bonuses legit?