Ford Motor Company has been trading on the New York Stock Exchange (NYSE) since the mid-1950s. Although the car manufacturer is worth just a fraction of its former glory, many investors in the UK believe that at current prices – Ford shares could represent a bargain purchase.
In this guide, we show you how to buy Ford shares online in the UK and discuss which brokers allow you to do this in a low-cost and burden-free way.

If you want to buy Ford shares online in the UK, you will first need to find a suitable broker.
Not only does the stock broker need to give you access to the NYSE, but it needs to offer reasonable fees and commissions.
To save you from countless hours of research, below you will find a small selection of the best UK stock brokers that allow you to buy shares in Ford.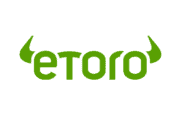 eToro is our number one pick when it comes to buying Ford shares online. In fact, this popular UK broker not only gives you access to the best stocks from the UK and US markets but 14 additional exchanges. This includes everything from Germany and France to Hong Kong and Sweden.
Like all of its 2,400+ stocks, eToro allows you to buy Ford shares online in the UK without needing to pay any dealing fees. The provider does not charge any ongoing platform fees either and the spread on Ford shares average 0.20%.
This allows you to make a purchase without getting hammered by international FX fees. What we also like is that eToro allows you to invest just $50 into Ford. If you are planning to build a portfolio that consists of other assets. eToro also allows you to buy ETFs and cryptocurrencies. Again, this is commission-free.
Additionally, if you want to trade CFDs – such as those tied to gold, silver, oil, forex, or indices – eToro offers these markets with leverage. This varies from 1:5 to 1:30 – depending on the asset class. eToro is also a great option if you want to invest in stocks and other financial markets passively. This is because it offers a Copy Trading tool that allows you to mirror a verified investing pro.
In terms of the process requires to buy Ford shares on eToro, opening an account takes less than 10 minutes. You can instantly fund your account with a debit/credit card or e-wallet, meaning that you can buy Ford shares without delay. Finally, not only is eToro covered by the FSCS but it is also authorized and regulated by the FCA.
Pros
0% commission broker
No stamp duty tax on UK shares
Over 2,400 global shares and 250 ETFs
CFD markets also offered
Social network with copy trading
Regulated by the FCA
FSCS partnered
Cons
Withdrawal and inactivity fees
67% of retail investor accounts lose money when trading CFDs with this provider.
The second option that you have at your disposal is Fineco Bank. The provider covers traditional assets like stocks and ETFs, as well as CFD trading markets. If you decide to buy Ford stocks from Fineco, you will pay a commission of $3.95 per slide.
This means that you pay the fee when you buy the shares and again when you sell them. Additionally, you will need to pay a 0.25% annual maintenance fee on the total value of your portfolio. If you decide to trade Ford shares via CFDs, Fineco Bank allows you to do this on a commission-free basis.
As we discussed in our eToro review, trading Ford CFDs at Fineco not only allows you to apply leverage but short-sell the stocks, too. Fineco Bank, although not commission-free on traditional shares, does stand out for the sheer size of its asset library. For example, it offers tens of thousands of stocks and ETFs across dozens of the UK and international exchanges.
You are only required to meet a £100 deposit at this platform – which comes with transaction fees. The main drawback is that you need to wait 1-2 working days for the funds to arrive, as the option deposit method is a bank account transfer. Nevertheless, Fineco Bank is regulated by the FCA, and by choosing this broker – you'll be covered by the FSCS.
Pros
Charges just £2.95 per trade when buying and selling shares
Access to thousands of UK and international shares
Deposit funds with a UK bank account
Heavily regulated, including an FCA license
Suitable for both newbies and seasoned investors
Great research and educational department
Established way back in 1999
All personal data protected
Cons
Your money is at risk.
Like any investment that you are considering making, it's important to perform some independent research before making a purchase. This is especially crucial in the current economic climate that is still dominated by the uncertainties of COVID-19.
With this in mind, below you will see a wealth of information about what to consider before you buy Ford shares online in the UK.
Listed on the NYSE in 1956, Ford is one of the oldest stocks in the US marketplace. Naturally, early backers of Ford as a public company were rewarded handsomely in the decades to follow. Over the course of its life as an NYSE constituent, Ford has executed 8 stock splits.
With that said, and based on adjusted prices for the aforementioned splits, Ford shares last peaked in 1999 at just over $90. Fast forward to early 2021, and the same shares are worth just over $10.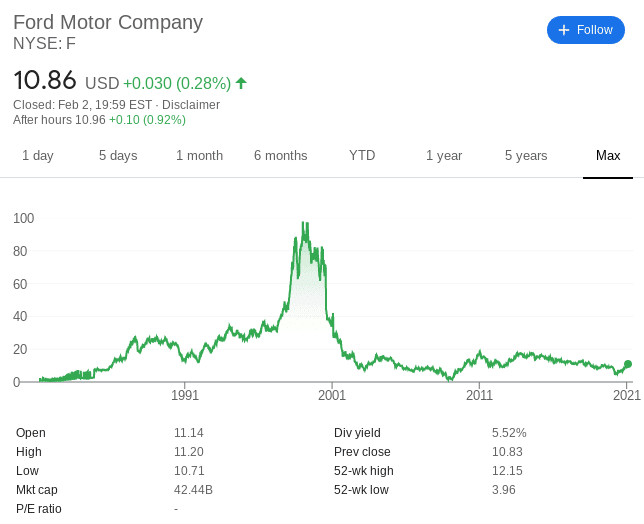 This represents a rapid capitulation from its prior highs. This is large because Ford no longer enjoys the dominance of the US automobile space that it once had. Nevertheless, as a potential Ford investor, you should concentrate on what the future holds as opposed to fixating on its prior glory.
In more recent times, Ford shares have performed really well since their March 2020 lows of $3.96. With the shares breaching $12 each, in January 2021, this represents an increase of over 200% in just 10 months of trading. This has resulted in Ford increases its market capitalization to more than $42 billion.
Ford EPS and P/E Ratio
As per its most recent earnings report of Q4 2020, Ford stocks are carrying an EPS of -0.07. This figure is negative to represent Ford's Q4 2020 losses. As of late January 2021, the Ford P/E ratio stood at just over 55.
According to third-party commentators, the average P/E ratio of the US automobile industry is 16. Based on this, Ford shares could be heavily overvalued at current prices.
Yes, Ford is a dividend stock, so as an investor you will be entitled to your share. Its most recent distribution amounted to $0.15 per share, which is the same dividend size since 2015.
Ford is also known to pay special dividends too, albeit, this is announced on a sporadic basis. With that said, whether or not Ford's dividend policy is safe moving forward remains to be seen.
After all, management at Ford has since announced that tough decisions may have to be made in 2021.
Whether you're considering buying shares in Ford or similar companies lIke Aston Martin and Tesla, it's important to always do your research.
So now that we have explored the firm's recent share price action and dividend policy, we are now going to dive a little deeper into whether or not Ford shares are a buy.
Partnership With Google
Perhaps the most exciting news for Ford shareholders in recent weeks is that the firm has formed a potentially lucrative partnership with Google.
The partnership – which is based on a 6-year deal, will see Google's Android operating system powered into Ford cars. This is great news for shareholders, as it shows that management at Ford is keen to bring the age-old carmaker into the 21st century.
In particular, Google's technology will function around cloud computing, AI, and machine learning. Not only will this revolutionize the 'driving experience', but it will allow Ford to drastically improve efficiency in its supply chain and production facilities.
Although you would expect a major carmaker to have suffered greatly as a result of wider lockdown measures, Ford shares have been in an upward trajectory since hitting lows of sub-$4 in March 2020.
In fact, with the shares since surpassing $12, those that bought the dip are now looking at gains of over 200%. Not bad for a company that is currently going through a major cost-reduction plan to reshape its finances.
In addition to this – and as noted earlier, management at Ford has resisted plans to cut or suspend its dividend payment. Although it remains to be seen if the firm will continue to meet its long-standing distribution policy, COVID-19 is yet to have its say on Ford dividends.
Impending One-Off Charges
Management at Ford recently announced that it is expecting a number of one-off charges – some of which are of significant size. For example, there is an expected $2.5 billion charge related to its closure of three manufacturing plants in Brazil.
Then there is a $1.5 billion expected charge related to its ever-growing pension fund. Additionally, there is an expected $610 million charge related to a major vehicle recall. This was due to a fault with airbags.
Although Ford has been transparent with these expected outgoings, they are heft charges nonetheless.
Step 3: Open an Account and Deposit Funds
If you've read through our sections on the fundamentals of Ford shares and wish to proceed with an investment, the next step is to open an account with your chosen broker.
The steps below will walk you through the process with the commission-free platform eToro.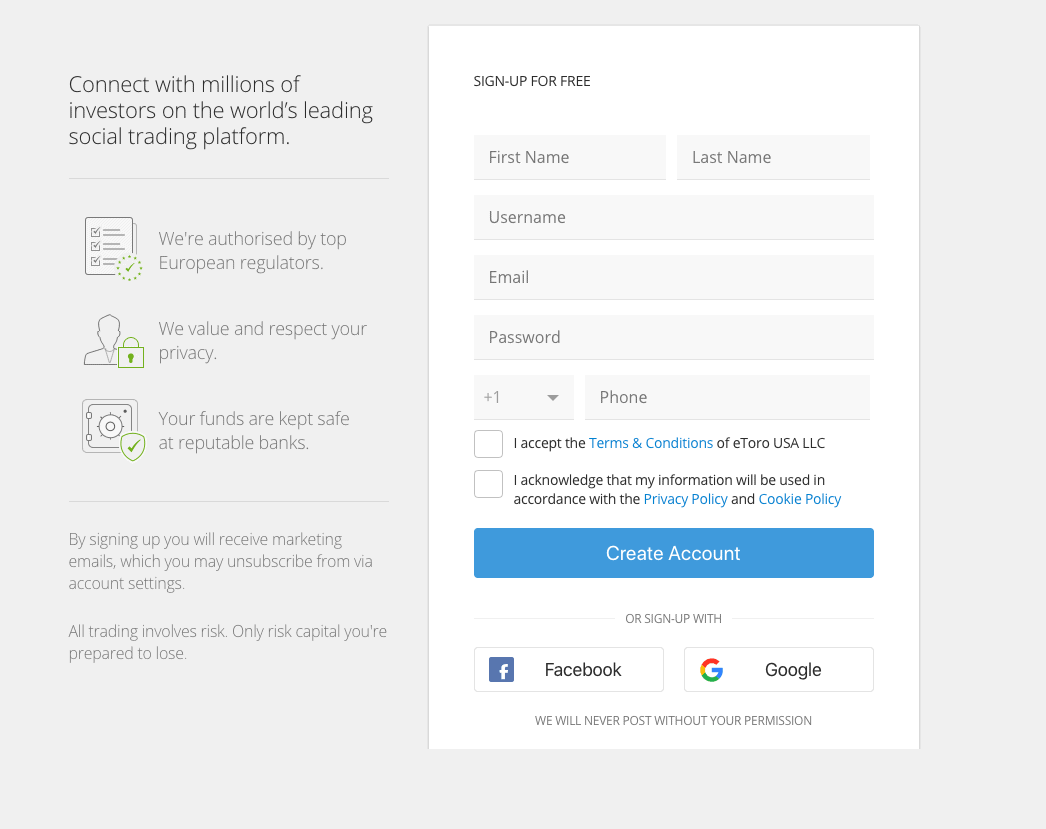 67% of retail investor accounts lose money when trading CFDs with this provider.
To get the ball rolling, visit the eToro website and click on the 'Join Now' button.
You will then be asked to enter the following information:
Full name
Home address
Date of birth
National insurance number
Email address
UK mobile number
Username and password
After that, eToro will ask you to quickly upload a copy of your:
Passport or driver's license
Recently-issued bank account statement or utility bill
This is to ensure that – as per FCA regulations, eToro complies with KYC rules. You can still buy Ford shares if you don't have the documents to hand. But, you'll need to do this before you can make a withdrawal or deposit more than $2,250.
When it comes to making a deposit, eToro supports the following options:
Debit/credit cards
Paypal
Skrill
Neteller
The final step of the process is to search for Ford shares and place an order. As you can see from the image below, simply enter 'Ford' into the search box and click on 'Trade'.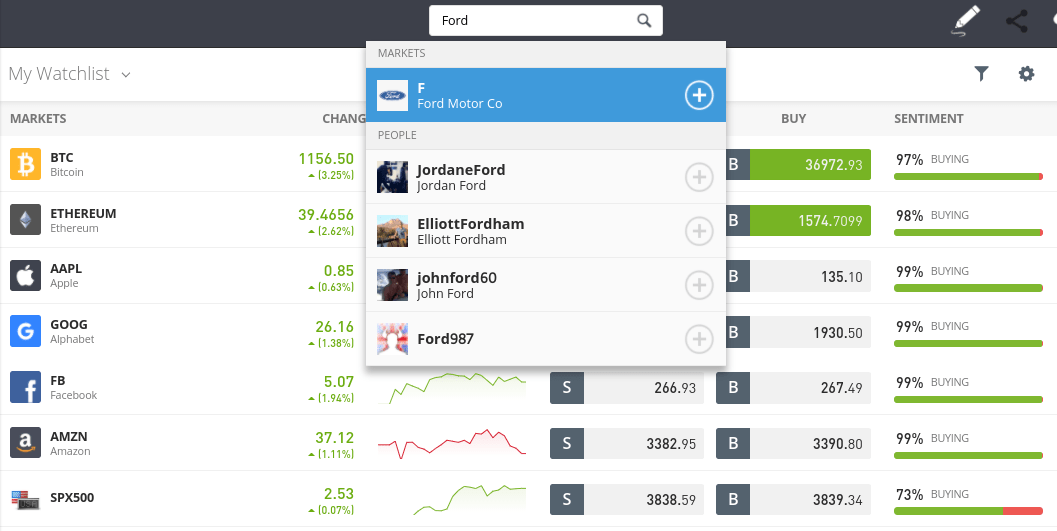 Then, you need to enter the amount that you wish to invest in Ford shares. This needs to be at least $50.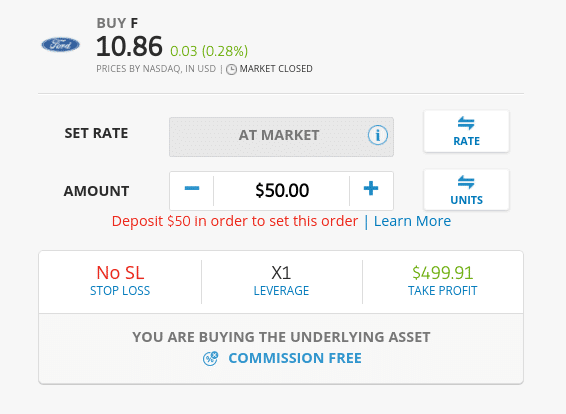 67% of retail investor accounts lose money when trading CFDs with this provider.
Once you click on the 'Open Trade' button, eToro will execute your Ford share purchase immediately.
Note: If you are buying Ford shares outside of NYSE trading hours, you'll need to click on the 'Set Order' button. eToro will then complete your order when the markets reopen.
On the one hand, it is true that Ford no longer dominates the US automobile industry. With the likes of Tesla now being preferred by investors, Ford shares are worth a fraction of prior highs. With that said, Ford has been performing extremely well in recent months, with the shares increasing by more than 200% since March 2020.
Additionally, exciting times could be in the making for Ford as per its recent partnership with Google. This has the potential to completely revolutionize the way US consumers view Ford and thus – bring the carmaker into the 21sgt century. As such, at current prices of just over $10 per share, Ford is arguably a bargain.
The Verdict?
Although Ford shares are listed in the US, making an investment from the UK could not be easier.
Best of all, there are now UK stock brokers like eToro that allow you to buy Ford shares without paying any dealing fees. This allows you to avoid paying a premium to access non-UK assets – which is something required at most UK trading platforms.
Simply click the link below to buy Ford shares commission-free in less than 10 minutes!
67% of retail investor accounts lose money when trading CFDs with this provider.
FAQs
Are Ford shares a good buy?
Which stock exchange are Ford shares listed on?
What is the Ford P/E ratio?
Does Ford offer dividends?
How much is Ford valued at?
Who is the Chief Executive Director of Ford?
Can I invest in Ford shares via an ISA or SIPP?