Moneybox Review UK – Features & Fees Revealed
Fact Checked
Everything you read on our site is provided by expert writers who have many years of experience in the financial markets and have written for other top financial publications. Every piece of information here is fact-checked.
Disclosure
Please note that we are not authorised to provide any investment advice. The information on this page should be construed for information purposes only. We may earn commissions from the products mentioned on this site.
Getting started with investing can be a daunting task. It's hard to know what to invest in or how to build a portfolio. Even if you are able to get off the ground, it can be difficult to remember to keep putting away money to invest to build wealth over time. The Moneybox app is designed to cut through all of those problems.
Our Moneybox app review will cover what types of accounts you can open, its fees, and regulations.
What is Moneybox?
Moneybox is a UK-based financial services company that launched in 2016. The app is one of several new competitors in the automated investing space.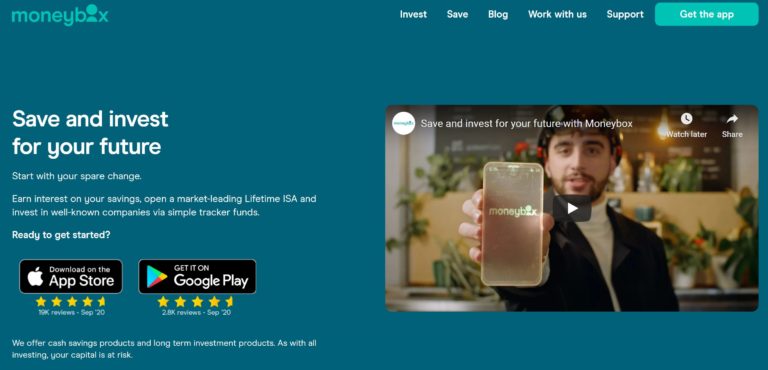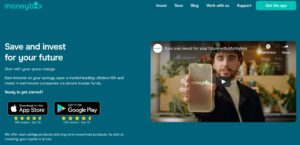 Part of what sets the Moneybox app apart is that it is specifically targeted at first-time investors. It enables anyone in the UK to get started investing with as little as £1 and offers a roundups feature to help you turn everyday transactions into opportunities to invest more. In addition, Moneybox offers a wide range of account types to help you take advantage of UK tax benefits no matter what your financial goals.
Over the past four years, Moneybox has raised more than £51 million in funding and grown the app's user base to more than 450,000 UK customers.
Moneybox Account Types
The Moneybox app offers several different account types that cater to different investing goals.
Moneybox Stocks and Shares ISA
The Moneybox Stocks and Shares ISA is a tax-privileged investment account. You can contribute up to £20,000 per year into your ISA and any investment gains you make on this money are tax-free. There are no limits on when you can withdraw the money or what you can use it for.
Moneybox Lifetime ISA
The Moneybox Lifetime ISA is a government-sponsored account that helps younger individuals save for retirement or for buying a first home. Anyone aged 18-39 can open a Lifetime ISA, and you can contribute up to £4,000 per year. The benefit of this account is that the UK government will match 25% of your contributions, up to £1,000 each year.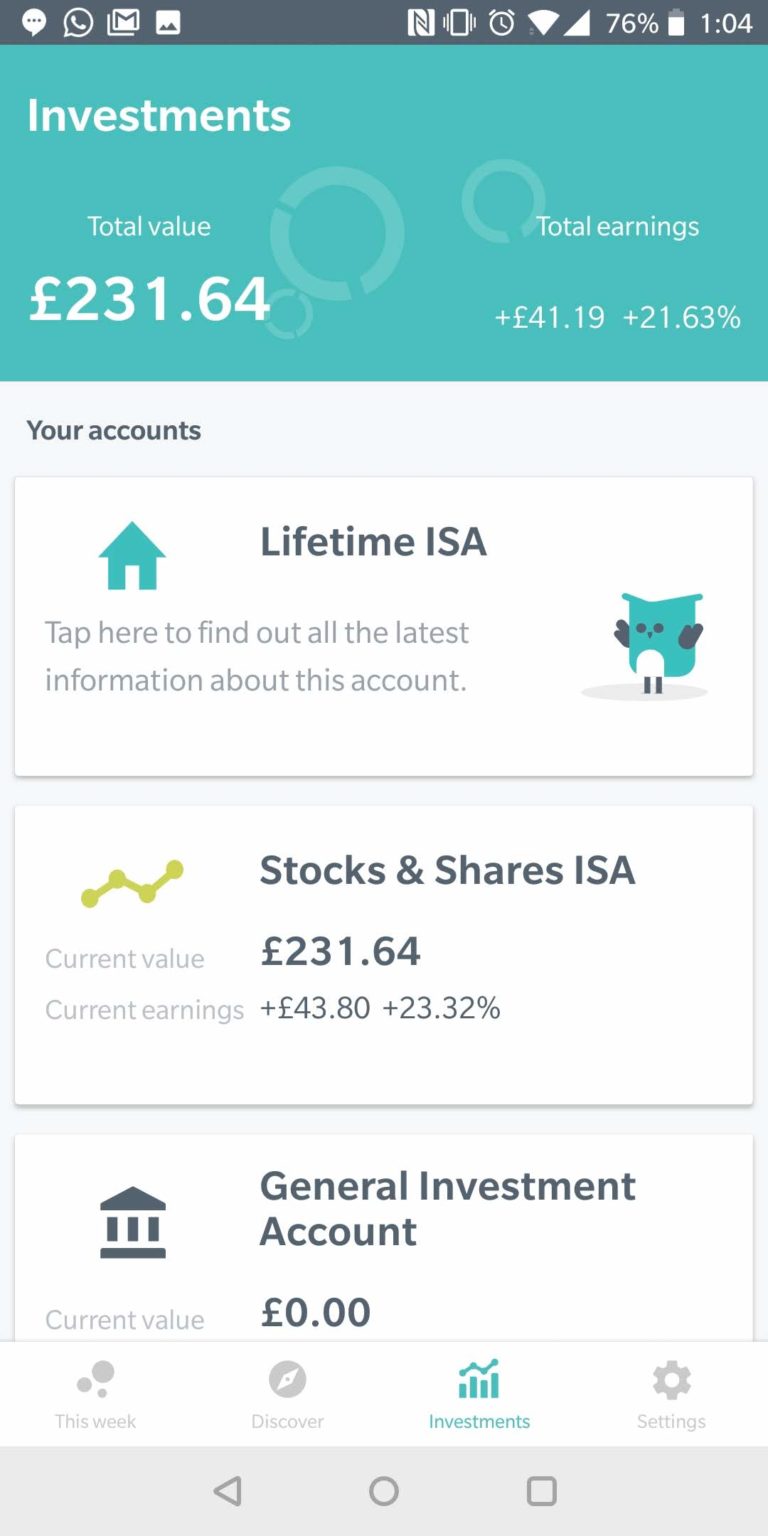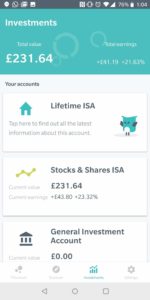 However, keep in mind that there are limitations on how you can use the money from a Moneybox Lifetime ISA. If you withdraw it early without putting it towards a home, you'll have to pay back the government bonus.
Moneybox Pension Account
The Moneybox Pension account is essentially a SIPP account. Moneybox will take care of transferring the funds for you – all you need to do is provide your account information.
Moneybox General Investing Account
Moneybox allows you to open a General Investing Account, which is useful if you've already contributed the maximum amount to a Stocks and Shares ISA. There are no limits on how much you can invest through a General Investing Account, but you will have to pay capital gains taxes on all profits over £12,300.
Moneybox Junior ISA
The Junior ISA is a Stocks and Shares ISA that parents can open on behalf of their children to prepare for their financial future. Moneybox has a separate app (only for iOS) to open a Junior ISA.
Moneybox Services
Although this is a stock broker, Moneybox isn't built for stock trading. Instead, the Moneybox app is built to invest your money for the long term in a handful of leading ETFs. To that aim, Moneybox has just three carefully crafted portfolios that you can invest in no matter what account type you're using.
One of the main reasons to invest with the Moneybox app is that it can help you automatically turn your savings into investments. You can link your debit card so that every time you make a purchase, it is rounded up to the nearest dollar and the difference is deposited into your Moneybox account. Of course, you can also make scheduled deposits manually to save even more.
Moneybox Available Investments
Moneybox offers three different portfolios to invest in based on your risk tolerance and goals.
The 'Cautious' portfolio is designed for risk-averse investors. It invests more heavily in corporate and government bonds (40% of your portfolio) and keeps up to 40% of your balance in a high-interest savings account as cash. Only 20% of your portfolio is invested in the stock market.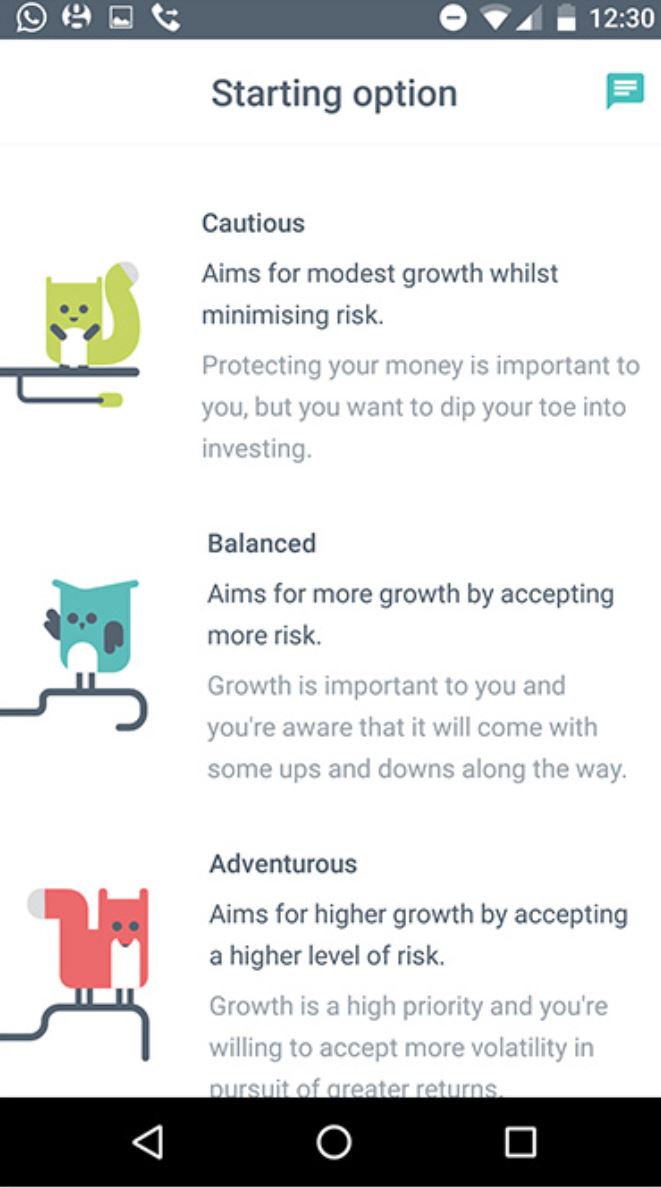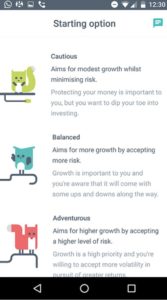 The 'Balanced' portfolio invests much more heavily in stocks – 65% of your portfolio is in a global market fund and 10% in real estate stocks. Another 25% is invested in corporate bonds.
The 'Adventurous' portfolio is the most heavily invested in stocks. 80% of your funds are invested in a global market fund, 15% in real estate stocks, and only 5% in corporate bonds.
Moneybox builds portfolios using a combination of just a few ETFs. The most notable is the Fidelity Index World Fund, which covers over 1,600 major stocks across 23 countries.
Moneybox Portfolio Management
Moneybox offers very few tools for managing your portfolio. The idea behind this service is that you should let your money grow over time without touching it much.
That said, you can change the balance of your portfolio from the three defaults at any time. You can also view your profit and loss, as well as a breakdown of Moneybox's fees.
Moneybox Portfolio Performance
Moneybox launched in 2016, so it still has a relatively short performance history. That said, the company has tracked returns on its portfolios over that time. The 'Cautious' portfolio has returned an average of 6.3% per year over the past four years, the 'Balanced' portfolio has returned 12.6% per year, and the 'Adventurous' portfolio has returned 13.5% per year.
By comparison, the FTSE 100 has only grown by an average of 5.4% per year over the same time period.
Moneybox Fees
Perhaps the biggest downside to Moneybox for everyday investors is that the app comes with steep fees. While there are no trading commissions, you pay £1 per month regardless of whether you make any trades. Each year, that adds up to £12 – equivalent to 1.2% per £1,000 in your account.
You still pay just £1 per month even if you have multiple investment accounts with Moneybox. Plus, your first three months of using the Moneybox app are free. In addition, if you only have a Pension account, you won't be charged a monthly fee.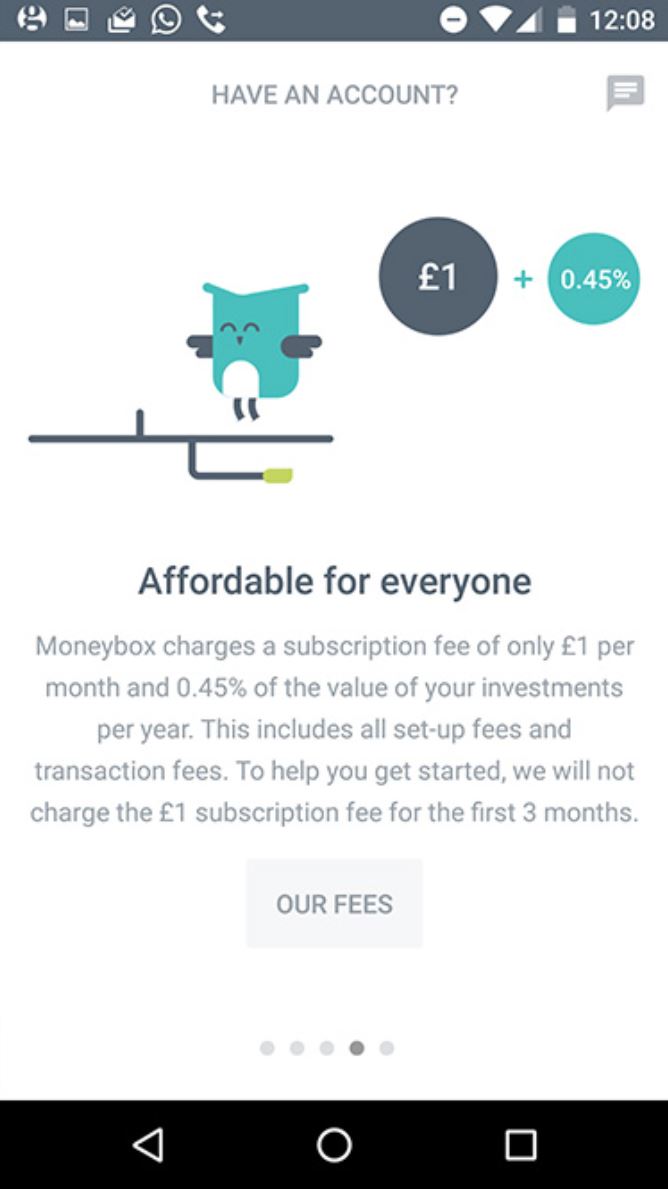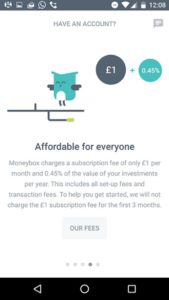 The Moneybox app charges a platform fee of 0.45% of your total account value per year. For Pension accounts, Moneybox charges only 0.15% per year if you have more than £100,000 in your account.
Keep in mind that these fees don't cover fund management fees, which are charged by the funds you are invested in as opposed to by Moneybox. These fees range from 0.12% to 0.30% of the amount you have invested in a particular fund.
| | |
| --- | --- |
| Monthly Subscription Fee | £1 |
| Annual Account Fee | 0.45% |
| Trade Commissions | None |
| Fund Management Fees | 0.12% to 0.30% |
Moneybox Minimum Investment
Moneybox requires a minimum investment of just £1. This is true no matter what type of account you want to open.
Moneybox App User Experience
To start off, you'll need to download the app and create an account. This only takes a few seconds. If you would like to round your spare change into investments, you can link your bank account during setup.
Next, you can choose your account type and select which of the three default portfolios you would like. Helpfully, Moneybox shows your projected value over time. You can modify the projections by entering a weekly scheduled deposit or sticking with a one-off investment.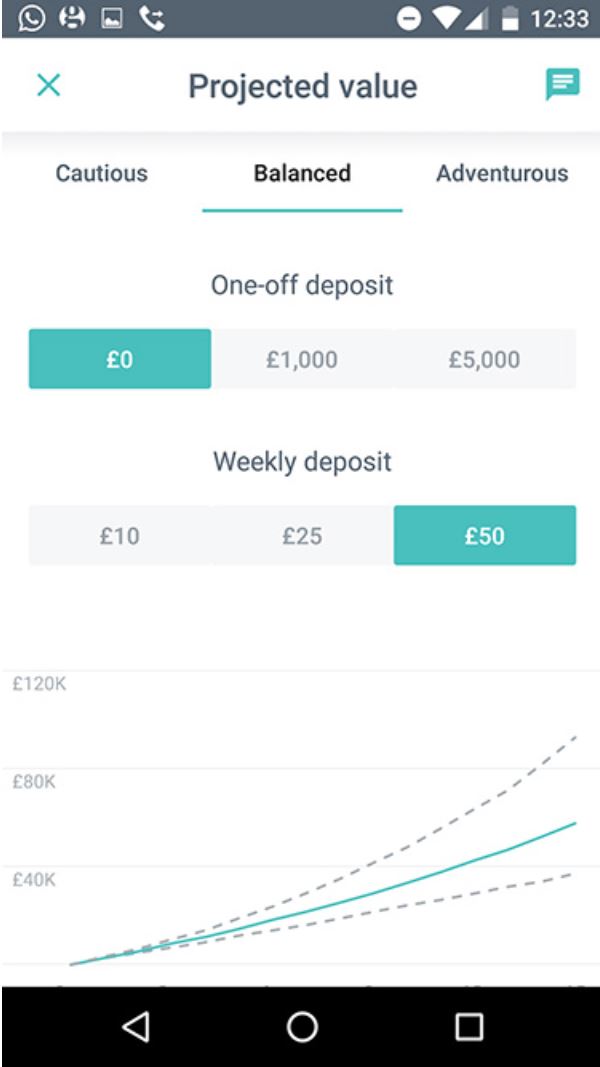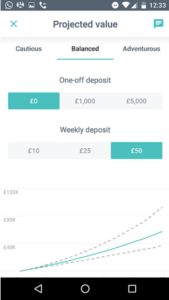 Once your investment account is set up, there's very little you need to manage within the Moneybox app. You can navigate through the app with four simple tabs that are displayed at the bottom of the screen. 'This Week' is where you can see all of the transactions on your debit card that has been rounded up to add funds to your investment account. There's a simple 'Quick add' button that also enables you to instantly deposit additional funds to your investment account.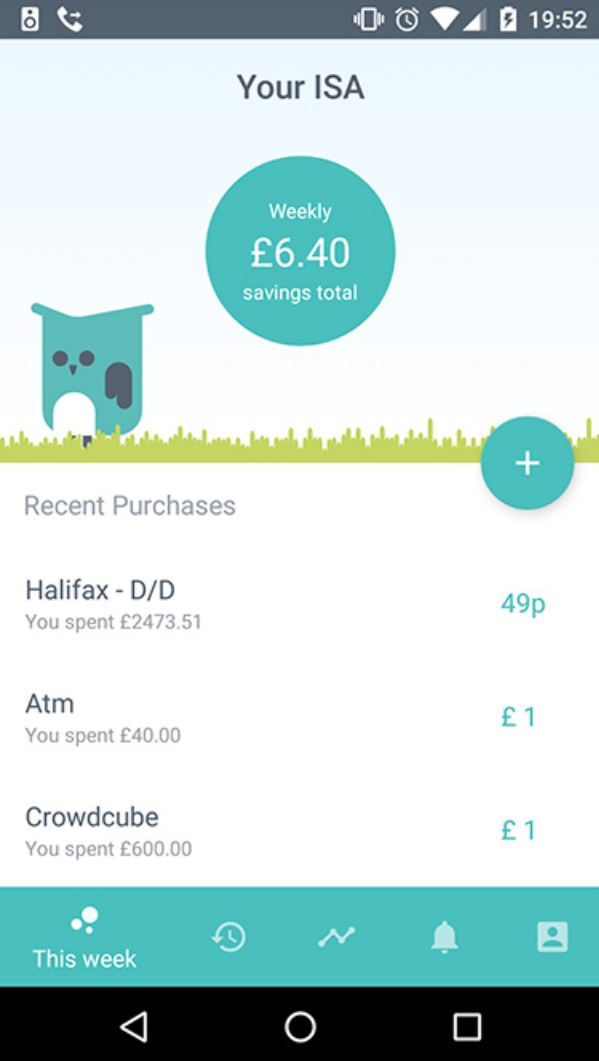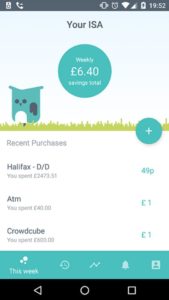 The 'Discover' tab is essentially an education center, where you'll find resources for financial literacy and other helpful articles about investing.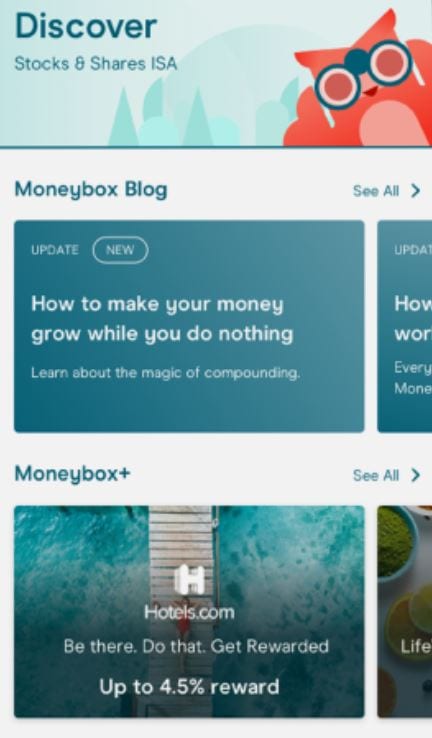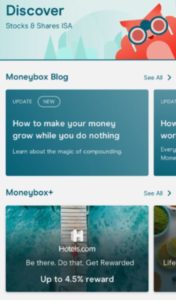 If you hold multiple different investment accounts at Moneybox, you can keep track of them all on a single screen. The 'Investments' tab at the bottom of the page takes you to your account summaries and displays your total earnings across all accounts.
Moneybox Features, Education & Resources
The most notable feature that Moneybox offers is its round-ups. With this feature turned on, the spare change from every debit card purchase is automatically rolled into your investment account and invested according to your chosen portfolio balance. Rollovers happen every 48 hours, and the money is invested at the end of each week.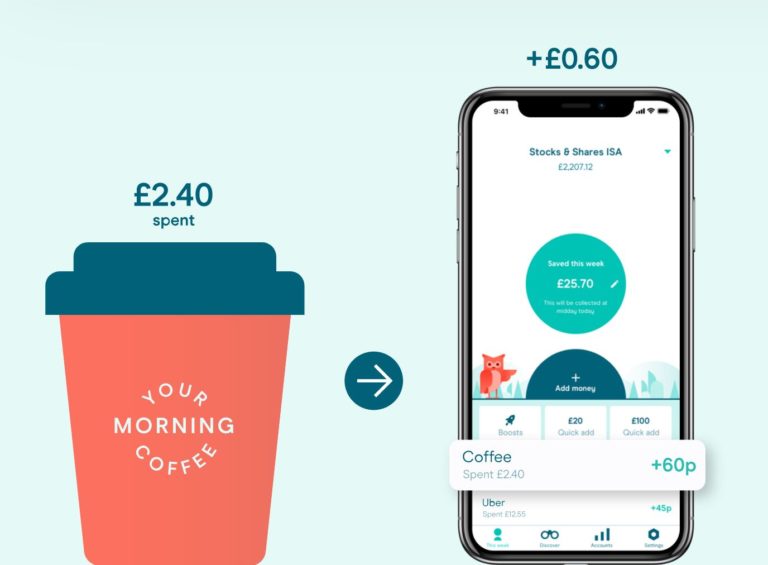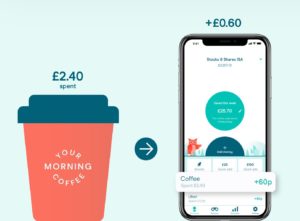 Of course, you can also schedule regular deposits or make one-off deposits with a single tap. The fact that the Moneybox app offers multiple ways to set deposits encourages first-time investors to save and invest.
The other notable feature that Moneybox offers is an education centre, which you'll find under the app's 'Discover' menu tab. The education centre is filled with up-to-date posts covering the basics of investing and topics like how to build a balanced portfolio, why a diversified portfolio is important, and why it's important to leave your investments alone to let them grow. The articles are geared towards first-time investors and they typically circle back to Moneybox's encouragement to save and invest as much you can.
Moneybox Contact and Customer Service
Moneybox offers support by phone and live chat from 9 am to 5:30 pm GMT, seven days a week. You can email the company at [email protected] or access live chat through the 'Settings' tab on the app.
In addition, Moneybox has a very detailed online documentation centre. You'll find detailed guides about how to set up an account, how to manage your roundups, and more information about Moneybox account types.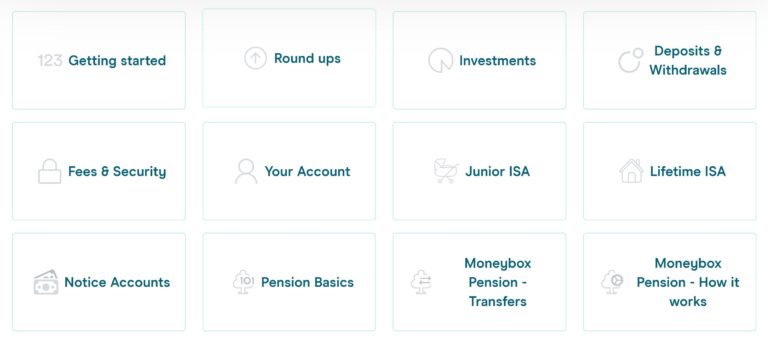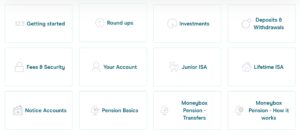 Is Moneybox Safe?
Moneybox is generally considered to be a safe place for your money. The app is regulated by the Financial Conduct Authority and all accounts are protected by the Financial Services Compensation Scheme. Moneybox also uses Open Banking technology, so your account details are kept fully private if you opt in to the roundups feature.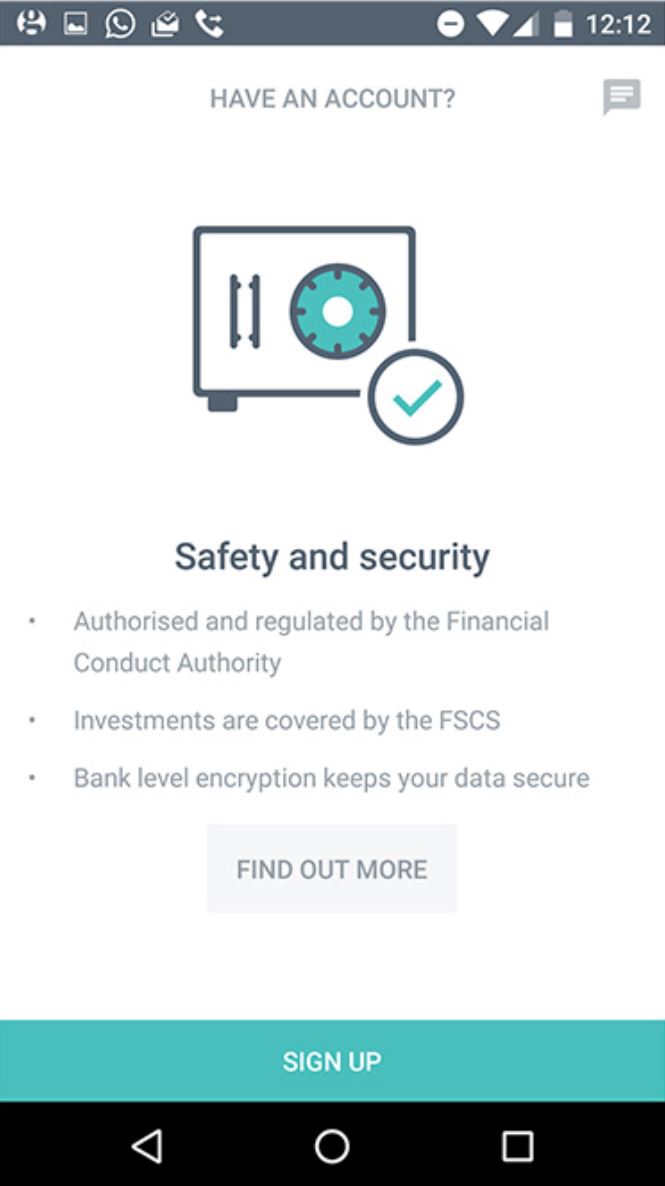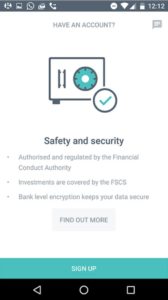 The Verdict
Getting started with this app is simple thanks to the pre-made portfolio choices. You can start investing with as little as £1 and choose from several different tax-privileged UK investment accounts. Plus, the Moneybox app offers transaction roundups and scheduled deposits.
Although the investment options are fairly limited, all of Moneybox's portfolios have outperformed the FTSE 100 since the app's launch in 2016. That somewhat justifies the high account fees that this app charges. The £1 per month subscription fee could be worth watching out for, however, as this can eat significantly in your returns if you have less than £1,000 pounds invested.
FAQs
What is Moneybox's assets under management?
Can you transfer investments between accounts at Moneybox?
Is there a discount if you invest more with Moneybox?
Is Moneybox available outside the UK?
Does Moneybox offer checking and savings accounts?
Does Moneybox offer a web or desktop interface?