If you're holding an allocation of Bitcoin or other cryptocurrencies – you will need a safe place to store them. If you're thinking about using the Coinbase wallet – this page will tell you everything you need to know.
In this Coinbase Wallet Review UK, we cover each and every metric surrounding safety and security, fees, features, customer support, and more.
What is Coinbase Wallet?
In a nutshell, the Coinbase wallet is a digital wallet that allows you to safely store your cryptocurrencies. Backed by the cryptocurrency exchange of the same name – the wallet comes as a mobile app that is free to download and compatible with iOS and Android devices. The Coinbase wallet app supports a wide variety of digital currencies – inclusive of Bitcoin, Dogecoin, Ripple, Ethereum, and more.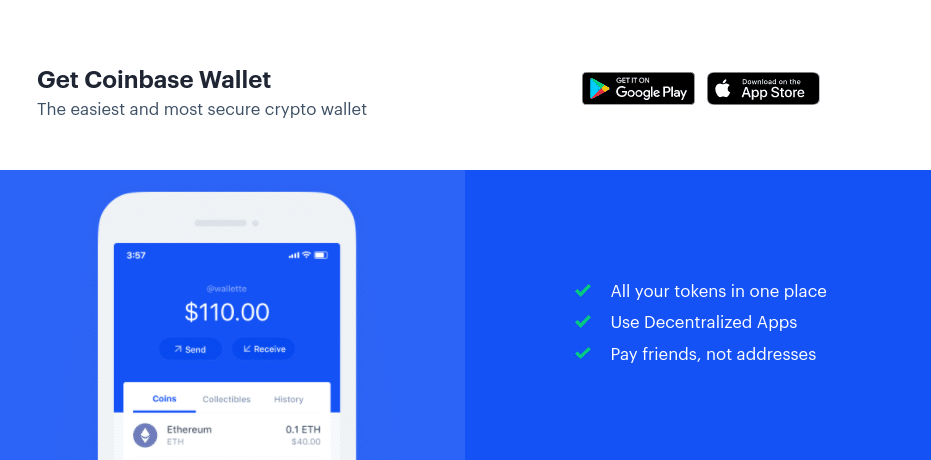 Not only does the Coinbase wallet app allow you to store your cryptocurrencies, but you can also send and receive funds. In terms of the former, you can do this by entering the wallet address of the beneficiary. If you want to receive funds into your Coinbase wallet app, you simply need to provide the sender with your unique wallet address.
Our Coinbase wallet review UK also discovered that the provider now allows you to connect the crypto wallet to your main Coinbase account. This means that you now have the ability to buy Bitcoin and other supported cryptocurrencies directly from within the wallet – which is super convenient. If you want to get a look at the entire Coinbase platform, check out our Coinbase review.
Supported Coins
Our Coinbase waller review UK found that the following coins are supported:
Bitcoin
Bitcoin Cash
Litecoin
Ethereum
Ethereum Classic
XRP
Stellar Lumens
Dogecoin
ERC-20 tokens
Interestingly, the wallet does not support all of the digital currencies that you can buy on the main Coinbase website.
Coinbase Wallet Fees
The Coinbase wallet is free to download – which is great. If, however, you wish to use your wallet to purchase cryptocurrencies – high fees will come into play.
First and foremost, buying crypto via the Coinbase Wallet with a UK debit card will set you back 3.99%. This makes Coinbase one of the most expensive cryptocurrency trading providers in the space. In comparison, you can complete the same process at eToro at just 0.5%. The cheaper option is to perform a bank transfer – but this can be slow.

In terms of trading commissions, this will set you back 1.49% per slide. For example, if you were to buy Litecoin and you already had money in your Coinbase account, you would pay 1.49% of the purchase amount. Then, when you get around to selling your Litecoin, you will again pay 1.49%.
Commission fees payable on the eToro investment app are 0% – so there are certainly cheaper options out there.
Coinbase Wallet Safety & Security
Wondering is Coinbase wallet safe? If so, although the provider is super expensive when it comes to fees, our Coinbase wallet review UK found that security features are top-notch.
We can break the main security features down as follows:
One Time Password
This security feature on the Coinbase wallet is crucial. Put simply, every time you wish to log in to your Coinbase wallet, you will need to enter a one-time password. You will obtain this password from a third-party app like Google Authenticator.
The one-time password is in addition to your usual password that you choose when registering. Ultimately, for someone to bypass the one-time password safeguard, they would need access to your mobile device.
Email Confirmation
This is another handy security feature that adds an additional layer of protection to your wallet. In a nutshell, you will receive an email from Coinbase if a login attempt is made from a device that it doesn't recognize. This will also be the case if you log in from a new IP address. All you need to do is click on the link contained within the email, and your device/IP address will be whitelisted.
Fingerprint ID
Another security feature that you might consider implementing is fingerprint ID. Once again, this will ensure that you, and only you, have the capacity to log in to your Coinbase Bitcoin wallet.
Coinbase Bitcoin Wallet User Experience
The main Coinbase website is aimed at new and inexperienced cryptocurrency investors. As such, it comes as no surprise to learn that the Coinbase Bitcoin wallet offers a superb user experience. As the wallet comes with limited features, the process of performing a task is very simple.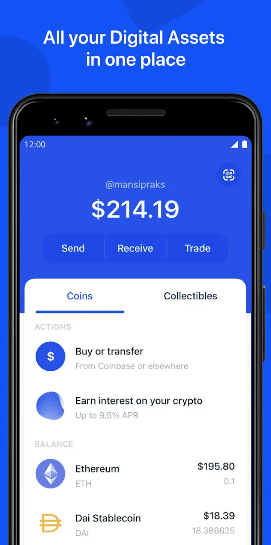 For example, once you click on the 'Coins' tab, you will get a full birds-eye overview of your current portfolio. Not only does this include the balance of each cryptocurrency that you hold – but the current market value in pounds and pence.  Additionally, this section of the Bitcoin Coinbase wallet app allows you to send and receive funds.
By clicking on the 'receive' button, you will be shown your unique wallet address for the respective digital coin. Then, you can click on the 'Share Address' button to add the wallet address to your clipboard. This allows you to then send the wallet address to the sender with ease.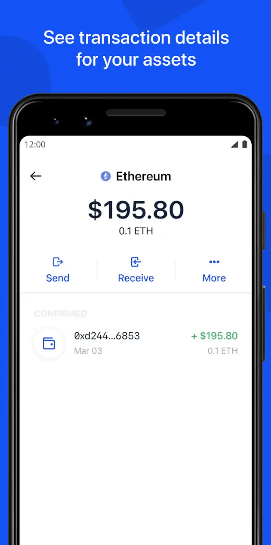 Alternatively, if you are doing an in-person transfer, the other party can scan your Bitcoin Coinbase wallet address via the on-screen barcode. When it comes to sending funds to another user, we like the fact that you can enter a monetary value. For example, if you want to transfer Bitcoin and enter '£50', then the respective amount in BTC will be reflected based on the current exchange rate.
Transferring Funds
As noted above, the process of sending and receiving funds via the Bitcoin Coinbase wallet app is relatively straightforward.
To send funds:
Click on the 'Send' button Enter the amount that you wish to transfer
You can do this in terms of the crypto asset (e.g. 0.01 BTC) or in monetary terms (USD $520)
After clicking on the 'Next' button – you have two ways in which you can provide the wallet address of the receiver
If you have the wallet QR code (i.e. on a laptop device), you can scan it with your mobile phone camera
Or, you can paste in the wallet address
Once you confirm the transfer, it will be posted to the respective blockchain network.
To receive funds:
Click on the 'Receive' button
Next, click on 'Share Address'
You can send then the wallet address to the sender
Or, they can scan your unique QR code
Just make sure that you are providing the correct wallet address for the respective coin. For example, if you want to receive Ethereum Classic (ETC) but supply your Ethereum (ETH) wallet address – the funds will likely be unrecoverable.
Coinbase Wallet Features
Our Coinbase wallet review UK found that the following core features are available on both iOS and Android.
Private Keys: Unlike the main Coinbase web wallet – the mobile version gives you access to your private keys. This means that you, and only you, have control over your cryptocurrency funds. With that said, don't forget that if you misplace your private keys – Coinbase won't be able to help you recover them.
ERC721 Tokens: Coinbase supports ERC721 tokens in its wallet. These are 'non-fungible tokens' that are unique and cannot be replicated.
dApps: Additionally, the Bitcoin Coinbase wallet is fully compatible with decentralized applications (dApps).
Usernames: To make it easier to send and receive funds, the Coinbase Bitcoin wallet allows you to do this via a username. This prevents the need to use long and complicated wallet addresses.
Buy and Sell: You can buy and sell digital currencies through the Coinbase Bitcoin wallet. All you need to do is connect the wallet to your main Coinbase.com account.
As you can see from the above, the Coinbase Bitcoin wallet is somewhat limited in what features it offers.
Coinbase Bitcoin Wallet Contact and Customer Service
The Bitcoin Coinbase wallet itself does not offer a customer support service of any sort. Instead, if you need assistance, you will need to go through the main Coinbase website. This is perhaps where the provider really falls short – as there is no option to receive support in real-time via telephone or live chat.
Instead, you will need to raise a support ticket. As Coinbase is still experiencing a rapid surge in account sign-ups, it can take several days before you get a reply.
Coinbase Wallet Download Process
If you want to use the Bitcoin Coinbase wallet to store your digital currencies – the setup process is as follows:
Step 1: Visit the Coinbase Website
Although the Coinbase wallet is available to download directly from the Google Play and Apple stores, we would strongly suggest that you go through the official website.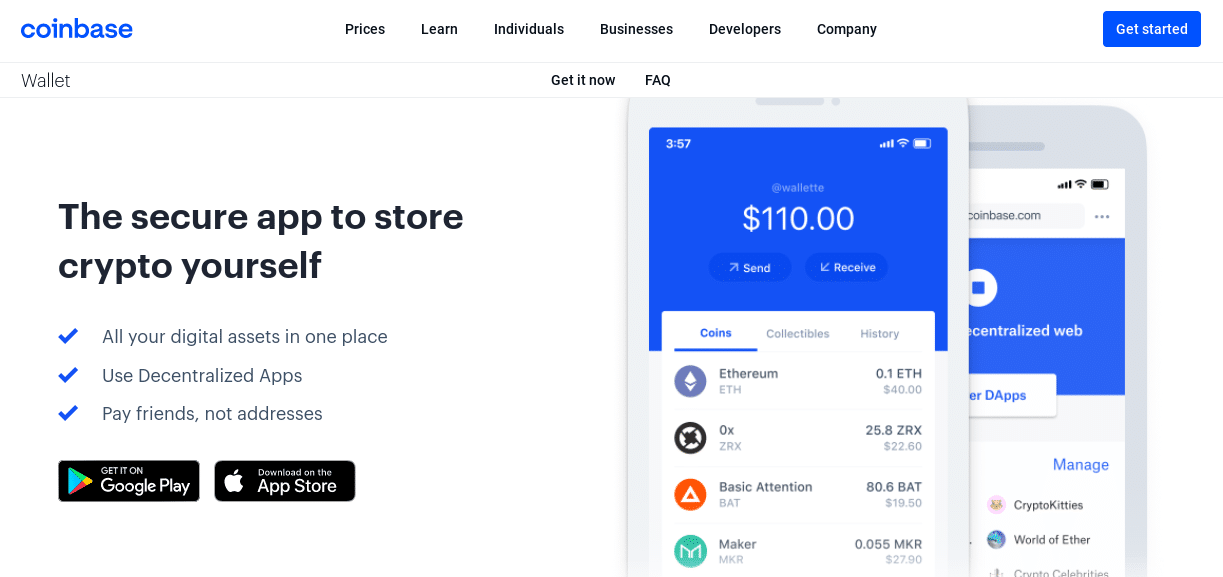 This is because you face the risk of downloading an imitation of the Coinbase wallet – and not the actual app. Once you are in the Coinbase wallet website – click on the logo for your respective operating system (iOS or Android).
Step 2: Download App
You should be redirected to the relevant app store. All you need to do now is download the app to your phone.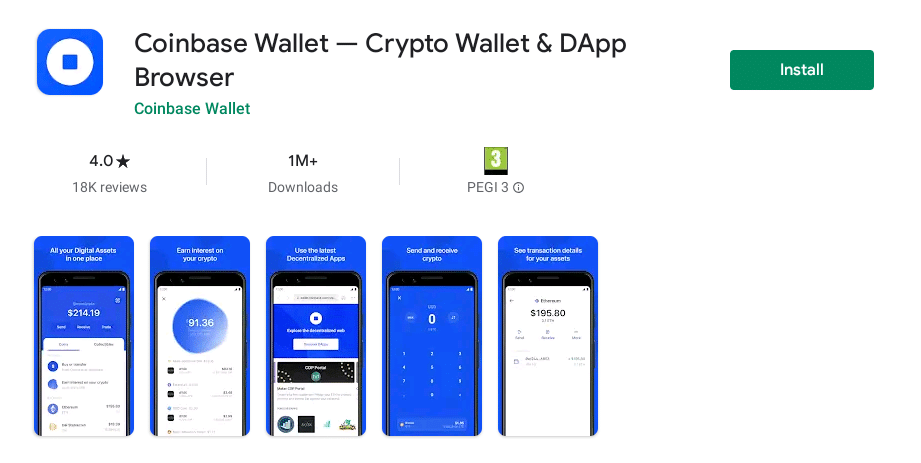 Step 3: Set Up Wallet
Now that the Coinbase wallet has been downloaded and installed onto your phone – open it up. You will then need to set the wallet up – which is a straightforward process. You don't need to provide any personal information, nor do you need to connect it to your main Coinbase account.
In fact, you don't even need an account with Coinbase to use the wallet. But, without one, you won't be able to buy or sell cryptocurrencies.
Follow the on-screen instructions and when you are shown your unique wallet private key – you should write it down.
This is the private key that stands between you and your crypto funds – meaning that if somebody else gets hold of it – they will be able to steal your funds.
This is why you should write it down on a piece of paper and store it somewhere safe.
You won't need the private key every time you log into your wallet. Instead, you have other safeguards in play – such as the one-time password and/or fingerprint ID.
The private key is, however, required if you are unable to access your one-time password or you lose your mobile phone.
Take note, your private key on the Coinbase wallet will be in the form of a passphrase that contains 12 random words.
Step 4: Transfer Funds
Now that your Coinbase wallet has been set up and you have safely written down your private key – you can now transfer funds externally.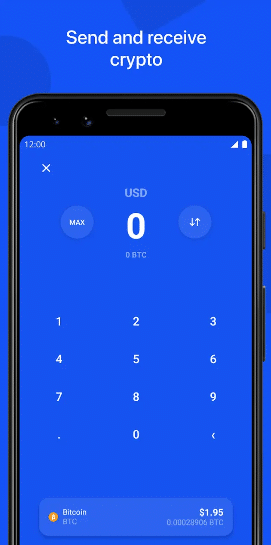 For this, you simply need to add your unique wallet address to your clipboard, head over to the wallet that the coins are stored in, and complete the transfer. Depending on the cryptocurrency you are transferring, the funds should arrive in less than 10 minutes.
Coinbase Wallet vs eToro Wallet
All in all, the Coinbase wallet does serve its purpose – insofar that it allows you to safely store your digital currencies in a user-friendly manner. However, there are certainly better options in the market that you might want to consider. In fact, our Coinbase review UK found that the eToro wallet offers a much better all-round service.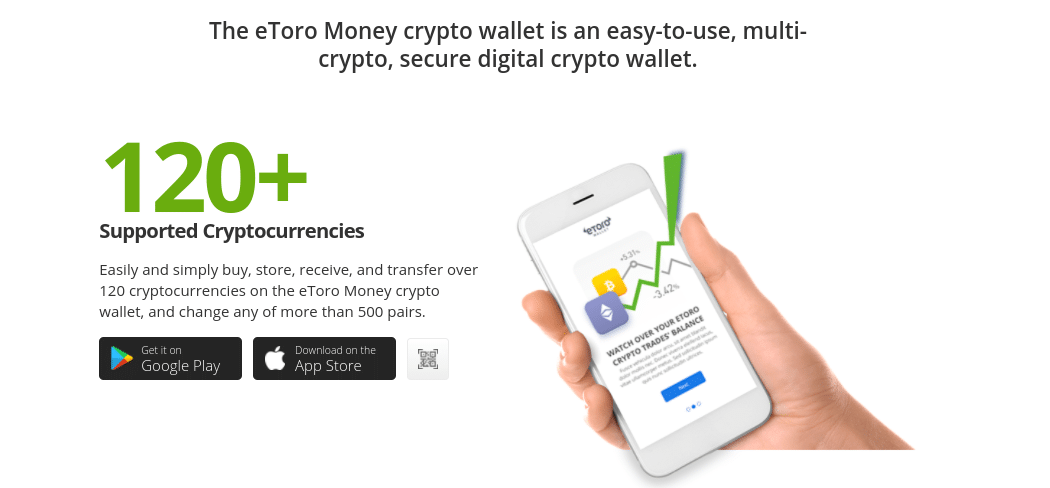 For example:
eToro as a brokerage firm is regulated by the Financial Conduct Authority (FCA) – so you can be sure that you are using a trusted provider. The eToro wallet itself is regulated by the Guernsey Financial Services Commission (GFSC).
Coinbase charges 3.99% to buy crypto through its wallet with a UK debit card. When buying digital currencies at eToro, you will pay 0.5% to use a debit/credit card, e-wallet, or bank account and 0% in trading commission.
The eToro wallet app allows you to send, receive, and even exchange more than 120 different cryptocurrencies – which is huge.
When storing your crypto in the eToro wallet, you will benefit from an 'unlosable' private key. This means that should you misplace it – you can regain access to your wallet by contacting eToro.
In terms of customer support, you can contact eToro in real-time via live chat.
We should also note that unlike Coinbase – eToro offers more than just crypto. In fact, you can buy shares in over 2,400 companies, as well as invest in index funds and ETFs. You can also access forex trading markets alongside commodities and indices.  All of the aforementioned assets can be purchases and sold without paying any commission.
Before concluding our review – here's a fee comparison between eToro and Coinbase.
| | | |
| --- | --- | --- |
| | eToro | Coinbase |
| Cost to Download | FREE | FREE |
| Debit Card Deposit | 0.50% | 3.99% |
| Buy Crypto | FREE | 1.49% |
| Sell Crypto | FREE | 1.49% |
The Verdict?
In summary, our Coinbase wallet review UK found that the wallet offers a simple way to store your cryptocurrencies. However, in reviewing dozens of other crypto exchanges and wallet providers in this space – we found that eToro is the best option on the table.
Not only is eToro regulated by the FCA, but its wallet allows you to buy, sell, and exchange over 120+ digital coins. Plus, if you decide to use eToro to buy cryptocurrencies – you can do so without paying any commission fees.
eToro – Best Crypto Wallet App in the UK
67% of retail investor accounts lose money when trading CFDs with this provider.
Cryptoassets are highly volatile unregulated investment products. No EU investor protection.
FAQs
How do you transfer Bitcoins from Coinbase to the wallet?
What is the GBP wallet on Coinbase?
How do I find my Coinbase wallet address?
Can you connect your Coinbase Pro account to the Coinbase wallet?
What are the Coinbase wallet fees?