Best Crypto Exchanges UK 2023 – Cheapest Options Revealed
Fact Checked
Everything you read on our site is provided by expert writers who have many years of experience in the financial markets and have written for other top financial publications. Every piece of information here is fact-checked.
Disclosure
Please note that we are not authorised to provide any investment advice. The information on this page should be construed for information purposes only. We may earn commissions from the products mentioned on this site.
These days there is an abundance of crypto exchanges to choose from due to the ever-growing popularity of the cryptocurrency market. These exchanges allow users to buy, sell, and exchange cryptos from the comfort of their own homes – although it's crucial that you choose an exchange that will suit your unique needs and investment goals.
This guide will discuss the best crypto exchange UK in detail, touching on the top exchange available to traders today and highlighting how you can begin trading crypto right now – with low fees!
Key Points on Crypto Exchanges in UK
Crypto exchanges are platforms where traders can buy and sell cryptocurrency using FIAT currency or crypto.
There are many crypto exchanges in operation these days, most of them offering a wide array of coins, tokens, and crypto/crypto pairs to trade.
When choosing a crypto exchange, it's crucial to consider factors such as the exchange's safety, fee structure, and trading tools.
Our recommended broker for trading cryptocurrency is MEXC.
76% of retail investor accounts lose money when trading CFDs with this provider. You should consider whether you can afford to take the high risk of losing your money.
Get Started with the Best Platform To Buy Cryptocurrency UK – Quick Guide
Want to start trading cryptocurrency right away? We'll show you how to get started with MEXC.
Open an Account: Head to MEXC's website and register a new account.
Verify an Account: Upload KYC documents such as a passport copy/driver's license to verify your identity.
Deposit Funds: MEXC requires a minimum deposit of $55, which you can pay using one of the supported payment methods.
Start Trading: Search for the cryptocurrency you want to trade, enter the amount you want to buy, and click 'Open Position.'
Best Crypto Exchange UK 2023
If you're looking to starting buying and selling digital currencies right now, below you will find the best crypto exchanges in the UK.
While not on our list, AQRU is a popular and trusted crypto exchange that offers competitive interest rates on several crypto assets. For more details you can read our in-depth AQRU review.
---
Best Platform To Buy Cryptocurrency UK Reviewed
With so many crypto exchanges active in the UK trading scene, there are certain metrics in particular that can help you separate the wheat from the chaff.
On top of regulation and safety, this should also include supported cryptocurrencies, fees, commissions, payment methods, and more.
1. MEXC – Best Crypto Exchange Offering 1,000+ Assets with 0% Spot Trading Fees


Our top pick for the best cryptocurrency in the UK is MEXC. Offering a strategic edge, MEXC boasts a fee structure that caters to both novices and seasoned traders alike. With 0% spot trading fees and minimal charges—merely 0.02% taker fee for futures trading (0% for limit orders)—MEXC becomes the go-to hub for crypto day traders.
Offering a strategic edge compared to other top crypto exchanges, MEXC offers a fee structure that caters to beginner investors and seasoned traders. Offering spot trading fees of 0% and taker fees for futures trading starting at just 0.02% – MEXC has become the go-to-trading platform for millions of traders. 


Furthermore, investors can start trading more than 1,000 crypto assets with as little as $5. Advanced traders can leverage the advanced trading and chatting patterns that MEXC has to offer. Investors can also apply leverage to maximize their returns. 
Beginners can take advantage of the educational materials that MEXC offers. They can also access copy trading features – allowing them to copy the exact trades of more senior and professional traders on the platform. 
Users can lock their assets for attractive Annual Percentage Rates (APRs) such as up to 8.8% for USDT. This is similar to staking but with the flexibility to unlock tokens at will.  Other features such as 24/7 customer support and 2FA security protocols makes MEXC a reliable cryptocurrency exchange.
76% of retail investor accounts lose money when trading CFDs with this provider. You should consider whether you can afford to take the high risk of losing your money.
2. Dash2Trade – Innovative New Crypto Trading Platform with Social Features

Dash2Trade is an innovative social trading platform that aims to transform the way that traders navigate the market. The platform has been rated highly due to its wide range of trading tools, advanced analytics software, social trading features and trade-to-earn offerings.
The team behind the project aim to create a platform through which traders can improve their skills and make informed decisions about the crypto market.
Main features of the Dash2Trade platform include:
Accurate trading signals
On-chain analytics to spot trending tokens
Social trading for traders to learn from others and share market insight
Innovative strategy builder to make it easy to create your own trading strategy that works!
Crypto asset listing alerts
Trading competitions for subscribers to win rewards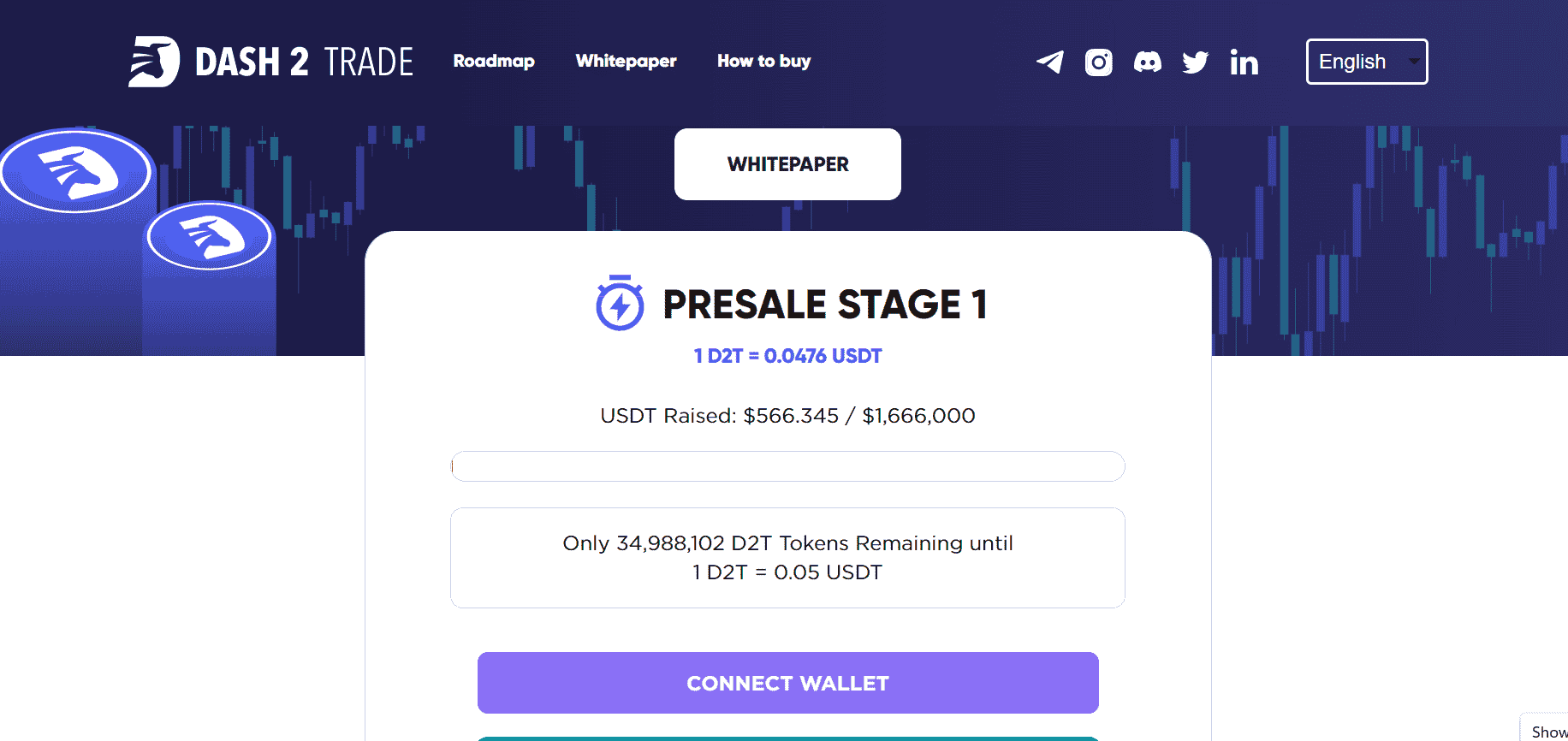 Another appealing feature of this platform is that it is powered by a native token – D2T. Users are given the opportunity to earn D2T rewards by using educational resources, interacting with social trading features and entering trading competitions within Dash2Trade. As a result, the platform is a great way to learn and grow your crypto portfolio.
The D2T token is a deflationary asset built on the Ethereum blockchain network. Users will never be charged tax on D2T and the value of the asset will rise and more people seek to use the Dash2Trade platform in the future.
The crypto trading platform will be released in 2023 however, you can invest in this exciting new project by visiting the presale event now! You can buy D2T tokens with USDT.
Cryptoassets are highly volatile and unregulated in the UK. No consumer protection. Tax on profits may apply.
3. Coinbase – User-Friendly Crypto Exchange UK With Over 35 Million Customers
Coinbase is a crypto exchange and Bitcoin trading platform that is particularly popular with inexperienced traders. As soon as you head over to the provider's website, you'll see that the platform is simple, clean, and easy to navigate.
This is also the case when it comes to opening an account, which in most cases – should take you no more than 10-15 minutes. You will find an assortment of digital currencies at Coinbase Pro – which includes both large and small-cap projects.
For example, while most investors will stick with major cryptocurrencies like Bitcoin, Ethereum, and Litecoin, Coinbase also hosts Kyber Network, OMG, and LOOM. Irrespective of which digital currency you decide to buy at this top-rated exchange, Coinbase allows you to deposit funds with ease.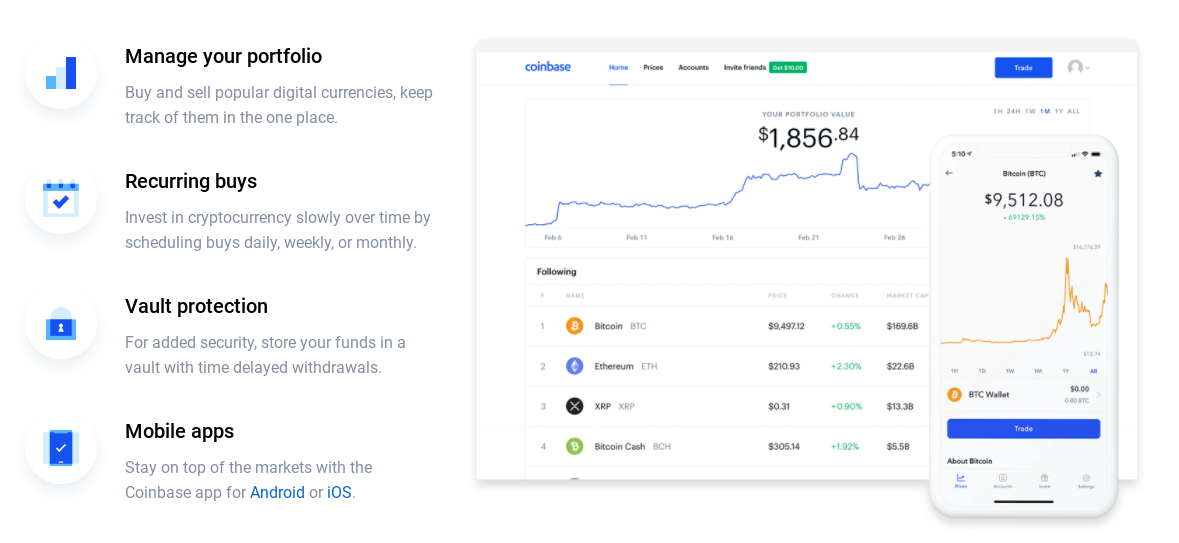 This is because you can choose from a UK debit card or bank account transfer. With that said, it is important to note that Coinbase charges 3.99% when you deposit funds with a debit card.
Additionally, Coinbase is expensive when it comes to trading commissions. This stands at 1.49% on all buy and sell orders. For example, if you bought £1,000 worth of Bitcoin, Coinbase would charge you £14.90. Then, if you sold your Bitcoin when it was worth £3,000, your 1.49% commission would amount to £44.70.

Nevertheless, once you have made a crypto purchase at Coinbase, you can leave the coins at the platform or withdraw them to a private wallet. If you opt for the former, Coinbase is known for its institutional-grade security practices. This includes keeping 98% of client funds in cold storage, meaning they are held offline.
There are several user-centric security controls that you can set up, too. For example, you can place a 48-house time-lock on all withdrawal requests, and automatically block account log-ins that don't come from your registered device or IP address. Finally, Coinbase also offers a mobile trading app that also doubles-up as a Bitcoin wallet.
Cryptoassets are highly volatile unregulated investment products. No EU investor protection.
4. eToro – Reputable Bitcoin Broker UK with Copy Trading Features
eToro is a popular Bitcoin broker with a solid reputation as one of the leading social trading providers. On top of stocks, ETFs, and thousands of CFD markets, eToro allows you to buy and sell over 80 cryptocurrencies, including many of the best new crypto coins. This includes everything from Bitcoin and Ethereum to Ripple and EOS.
One of the most appealing things about eToro – which is now home to over 30 million traders, is that the platform offers copy trading tools. You will, however, need to pay a small 0.5% FX fee when you make a deposit in non-USD fiat.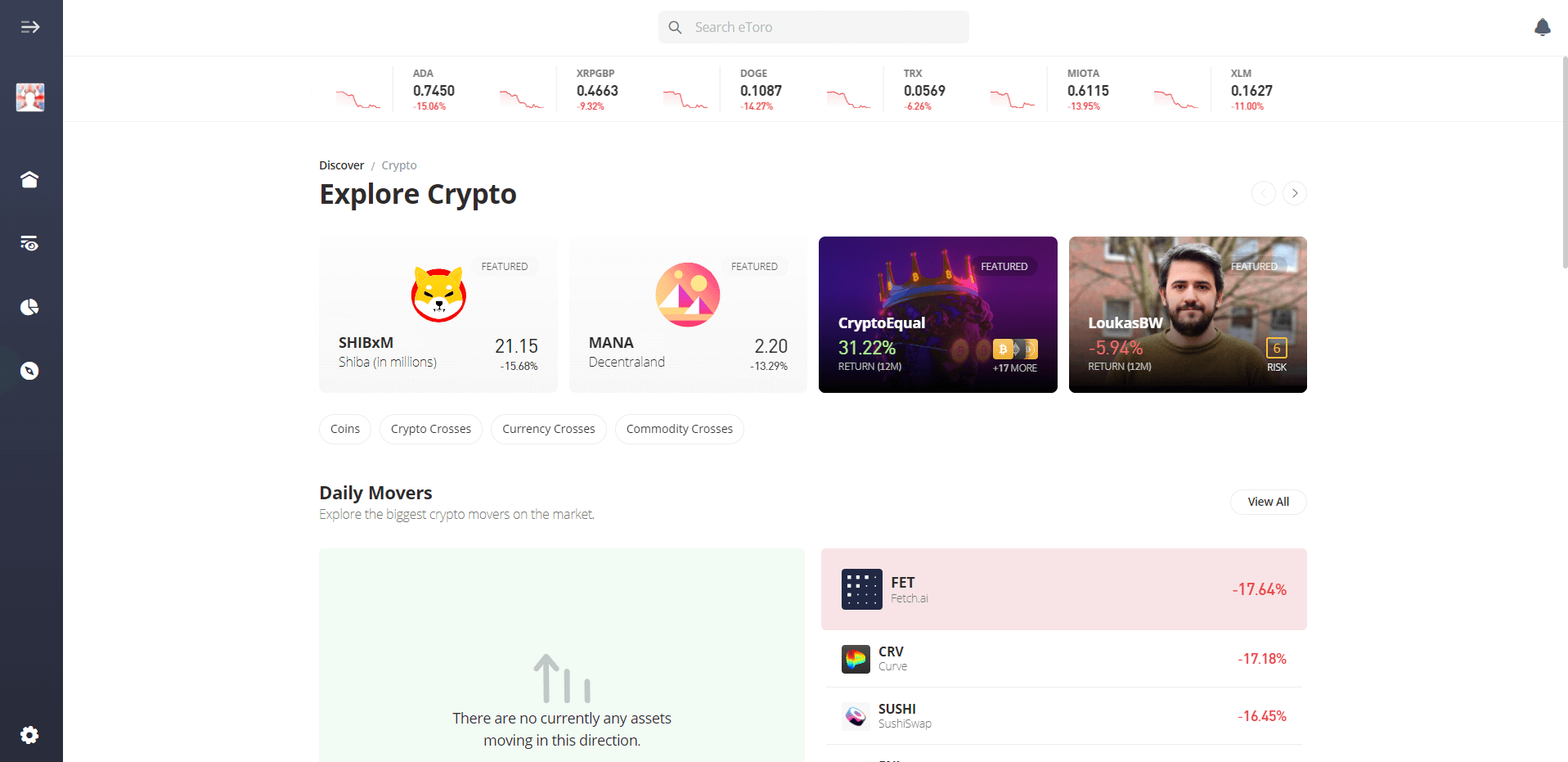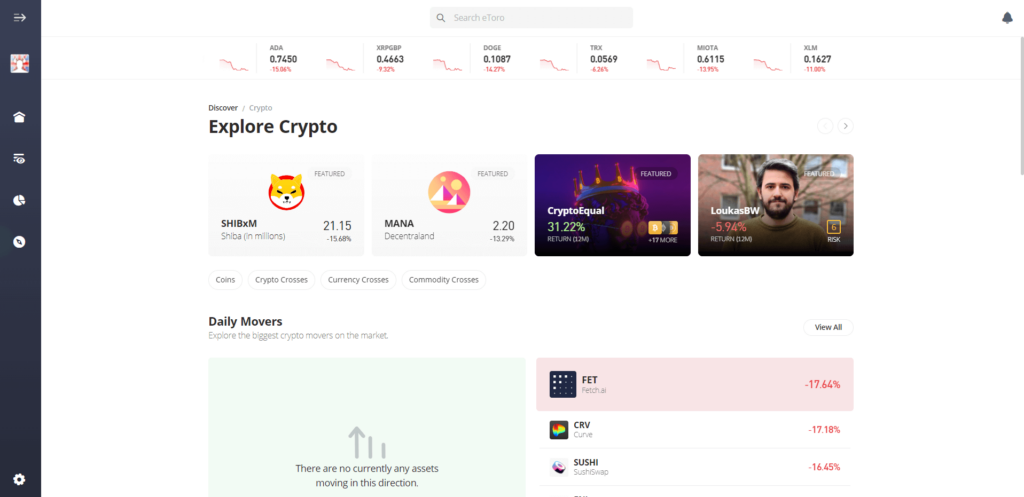 Don't invest in crypto assets unless you're prepared to lose all the money you invest.
You can also add funds to your account with a wide range of payment methods. Once you go through the account opening process, eToro also gives you the option of trading cryptocurrencies passively. This is through its 'Copy Trading' feature, which allows you to copy the trades of experienced digital currency investors.
Additionally, it also offers fully managed portfolios. In what it calls 'CopyPortfolios', this includes an investment strategy that focuses on cryptocurrencies. What we also like about eToro is that you can buy, sell, and trade digital currencies at this top-rated platform online or via the eToro investment app.
Don't invest unless you're prepared to lose all the money you invest. This is a high-risk investment and you should not expect to be protected if something goes wrong. Take 2 mins to learn more
5. Crypto.com – Rapidly-Growing Crypto Exchange with Huge Selection of Assets
Offering the best crypto savings account, Crypto.com is one of the fastest-growing crypto exchanges in the entire industry and now has over 10 million users worldwide. The platform features over 150 coins and tokens to trade, along with various markets which can be traded on margin, depending on which country you live in. Notably, Crypto.com even has a dedicated NFT marketplace, which is relatively rare for exchanges.
In terms of fees, Crypto.com uses a volume-based maker/taker structure, with a 30-day trading volume of less than $25,000 equating to a 0.4% fee on either side of the trade when in the spot market. Derivatives markets will typically have much lower fees, and you can even reduce trading fees substantially by holding and staking CRO – Crypto.com's native token. If you stake over 5000 CRO, you'll get a 10% reduction on costs – and the more you stake, the more you save!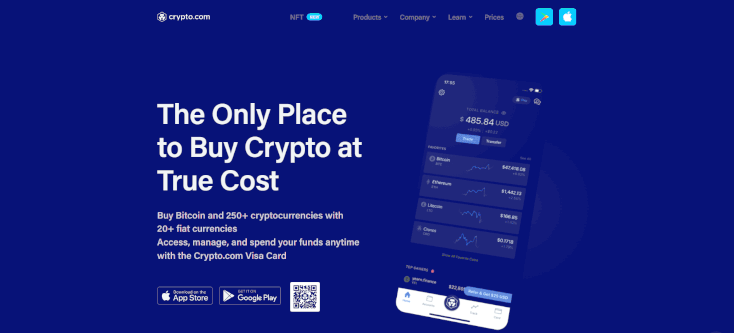 Like other exchanges, Crypto.com allows you to buy instantly on the app or use the exchange. App-based purchases will come with a 2.99% fee if you use a credit/debit card, although deposits made in FIAT from various methods (such as SEPA transfer) are free to make. Finally, the Crypto.com app is highly user friendly and can even use the 'Earn' feature to generate a return on your crypto holdings automatically! Another great crypto lending platform is Celsius offering up to 17% APY on your cryptocurrency holdings.
If you like what you see but would like a more comprehensive rundown of all the key metrics, you can read our in-depth Crypto.com review and learn how to open a crypto trading account in a matter of minutes.
Cryptoassets are highly volatile unregulated investment products. No EU investor protection.
6. Huobi – Highly-Rated Crypto Exchange with Low Trading Fees
Another of the best crypto exchanges UK to consider is Huobi. Huobi is a Seychelles-based cryptocurrency exchange that has been in operation since 2013, growing to over 10 million registered users. One of the most appealing things about this platform is that users can trade over 350 different cryptocurrencies, including many penny cryptos that other exchanges do not offer.
Huobi only charges 0.2% per trade when using the exchange, which you can reduce by 50% if you pay fees in Huobi Token – the exchange's native cryptocurrency. Aside from the spot market, users can also trade futures, swaps, and USDT-margined contracts, greatly expanding the available investment options. Deposits on the Huobi platform are free to make for crypto and FIAT, with instant GBP deposits available via Faster Payments.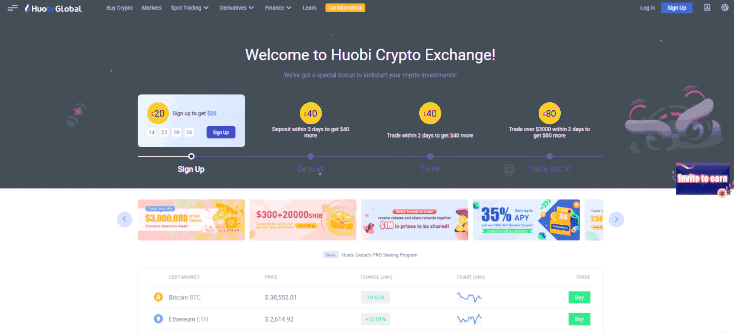 The trading experience with Huobi is fantastic, as the mobile app has over 29,000 reviews on Google Play, with an average rating of 4.5/5. Huobi stores users' funds in multi-signature cold wallets and has never been hacked, highlighting the exchange's high level of security. Finally, Huobi even offers a free crypto wallet app, allowing users to control their private keys and access hundreds of decentralised apps (dApps)!
Cryptoassets are highly volatile unregulated investment products. No EU investor protection.
---
7. Bybit – Popular Crypto Exchange with Derivatives Markets
Another great crypto exchange to consider is Bybit. Although it has only been around for a few years, Bybit has grown exponentially in that time and now has over 3 million registered users. Bybit is based in Singapore and offers a myriad of markets to trade on, including the spot market and various derivatives markets. Notably, users can trade 'inverse perpetual futures', which provides exposure to the future value of specific trading pairs – with the option to use leverage too.
At present, Bybit has over 80 cryptocurrencies available to trade, ranging from popular options such as BTC and ETH, to lesser-known coins such as Tezos and Aave. In terms of funding your account, Bybit allows users to deposit a large number of cryptos and also exchange FIAT currency into crypto using Bybit's Fiat Gateway. The latter option will require some KYC checks to be completed with third-party providers, and a service fee will also be charged – although this will vary depending on the provider.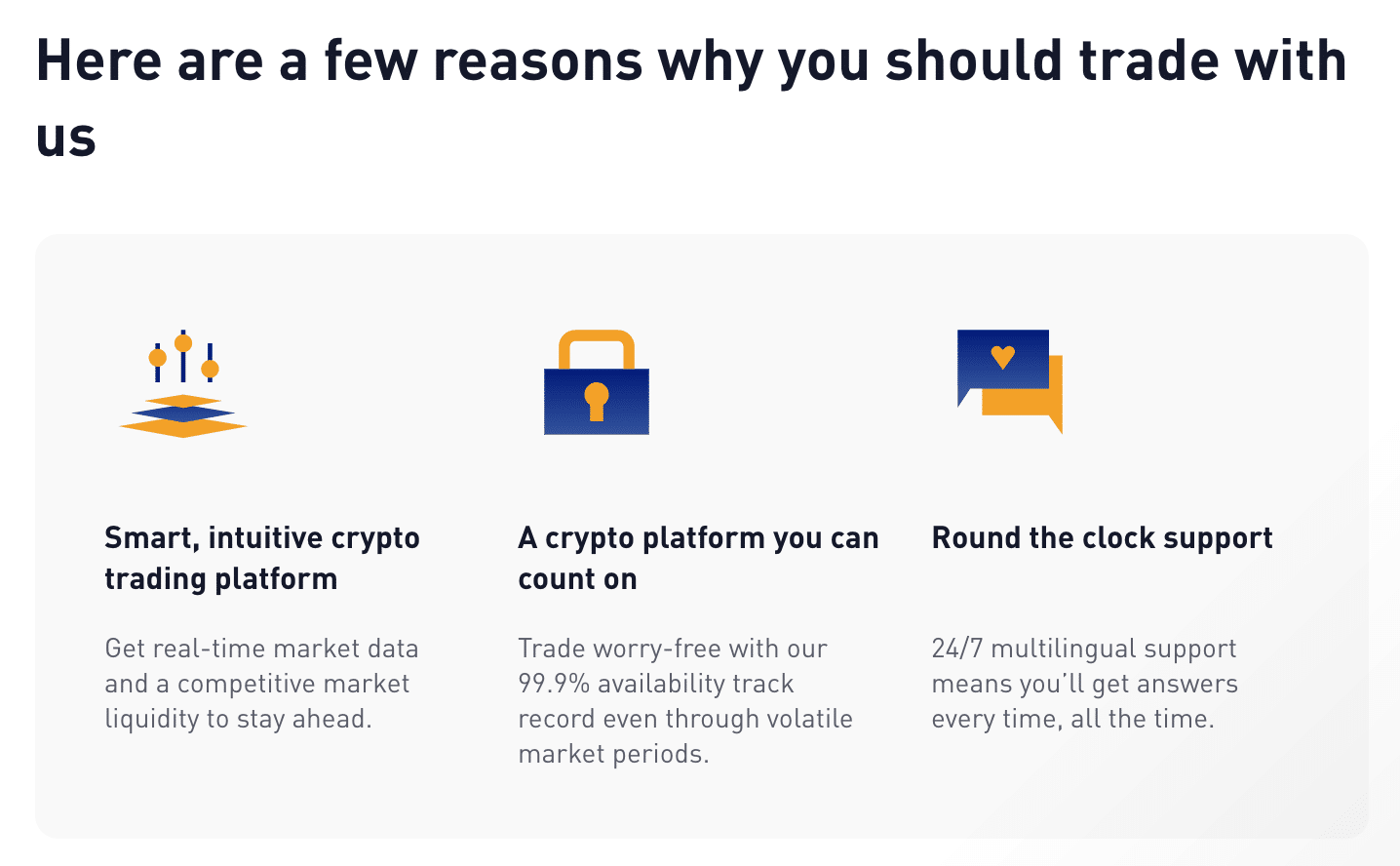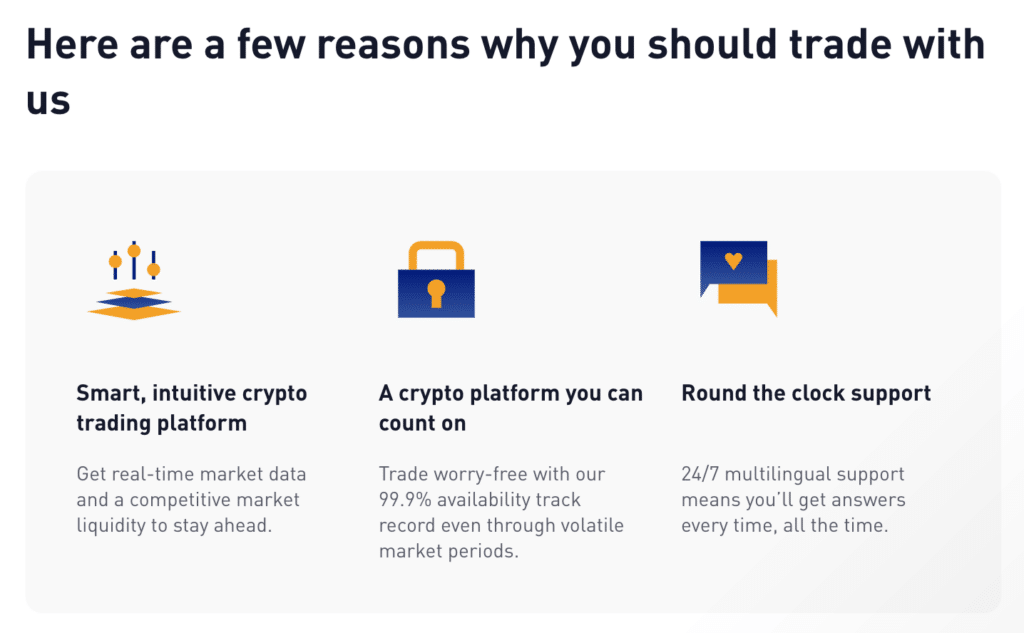 In terms of fees, Bybit utilises a 'maker/taker' structure, whereby users are charged a percentage fee when they buy and sell an asset. These fees are very low with Bybit – for example, taker fees are only 0.1%, whereas maker fees are 0.0% when trading the spot market. Finally, Bybit offers a web-based application and a mobile app for iOS and Android, with the latter featuring extensive price alerts and no server overload or downtime!
Cryptoassets are highly volatile unregulated investment products. No EU investor protection.
8. Kraken – Ideal Crypto Exchange for Advanced Traders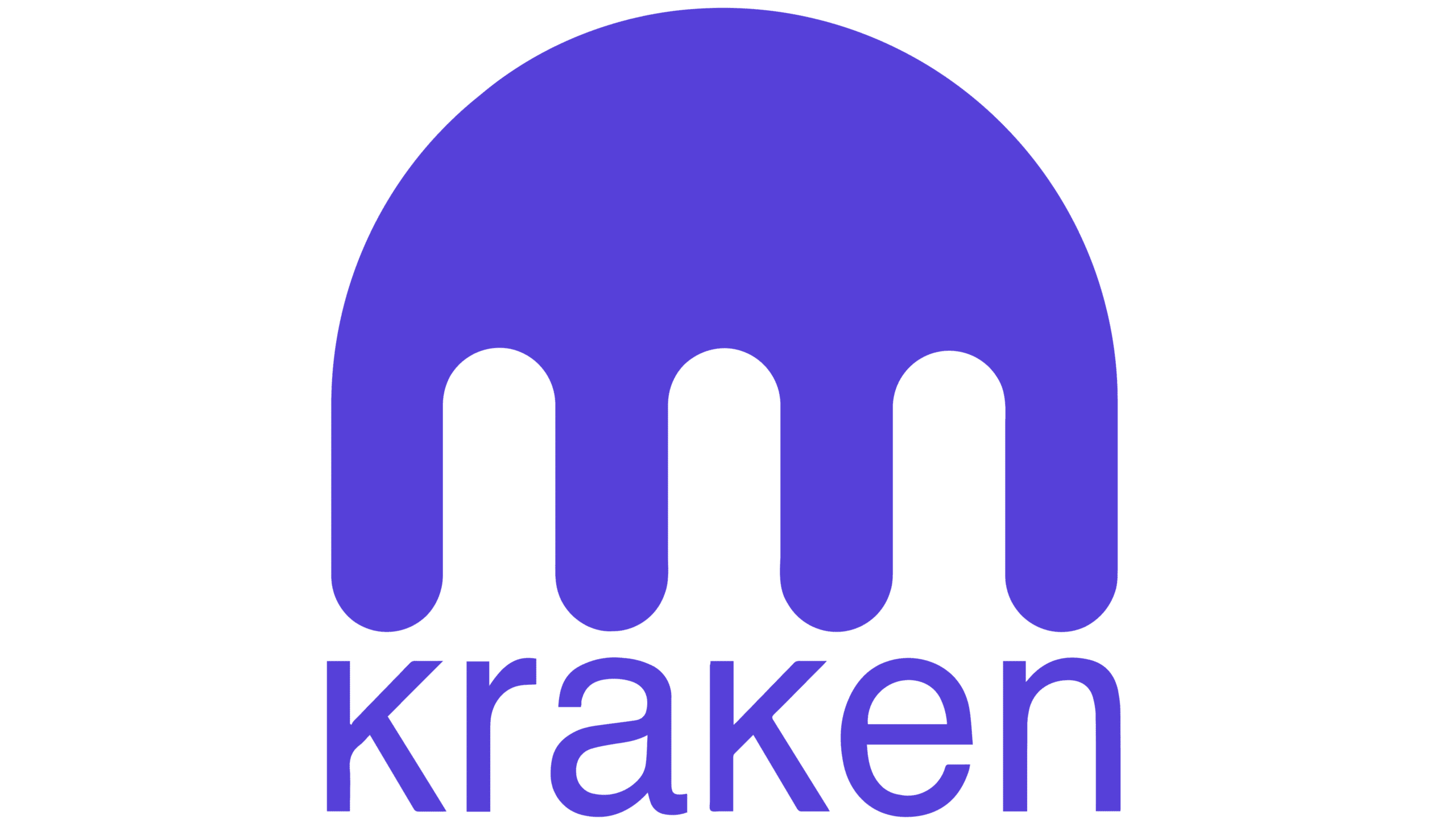 If you're looking to buy cryptocurrency, you may also wish to consider Kraken. Kraken boasts over 6 million clients across nearly 190 countries, making it one of the largest exchanges in the world. In terms of regulation, Kraken is authorised by various entities worldwide, including FinCEN and FINTRAC. Although not regulated directly by the FCA, Kraken's well-known CryptoFacilities brand is – which adds more credibility to the platform.
Users can trade on Kraken using the Instant Buy feature or Kraken Pro, with the latter being the pure exchange element of the platform. If you use the former, there will be a 1.5% trading fee and a transaction fee, depending on which payment type you use. To provide an example of this, credit card purchases will have a 3.75% fee plus a flat fee of €0.25. If you opt to trade on Kraken Pro, you'll pay a maker or taker fee, which works out to be 0.16% or 0.26%, respectively.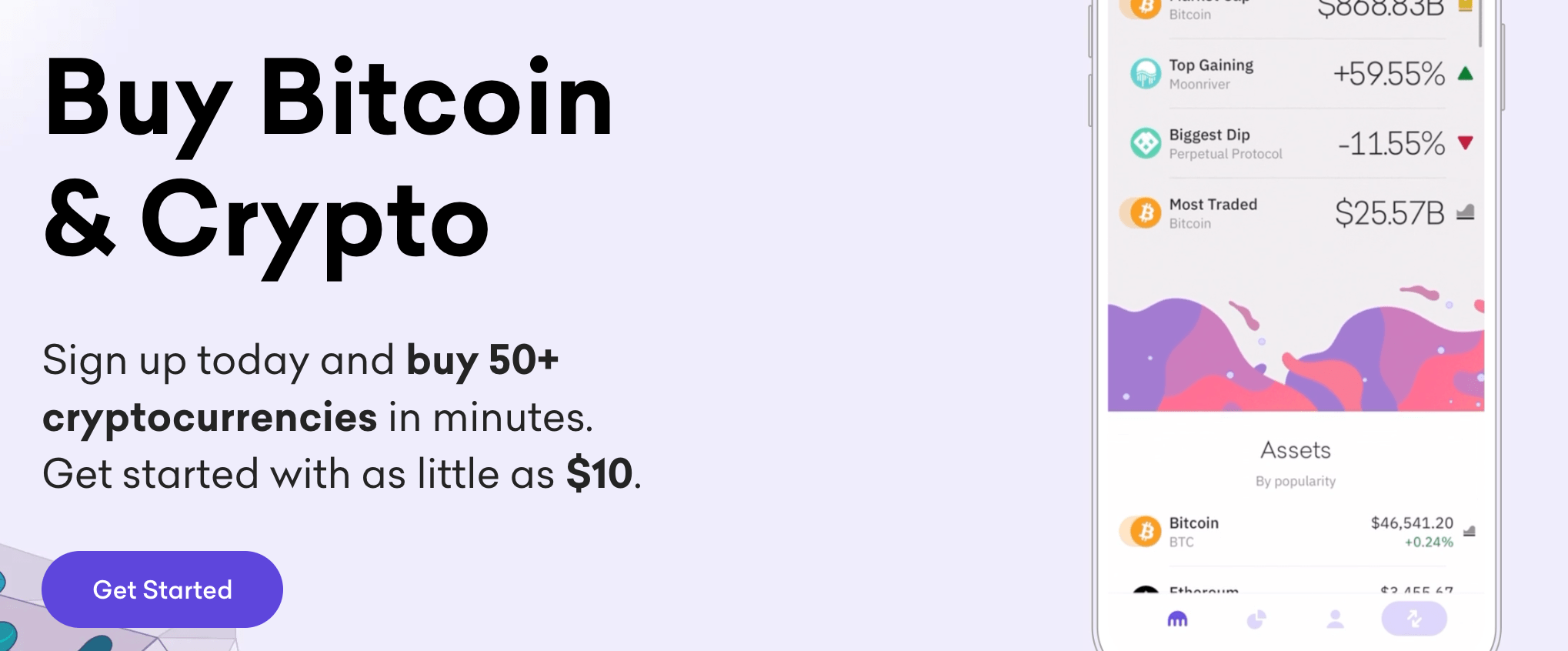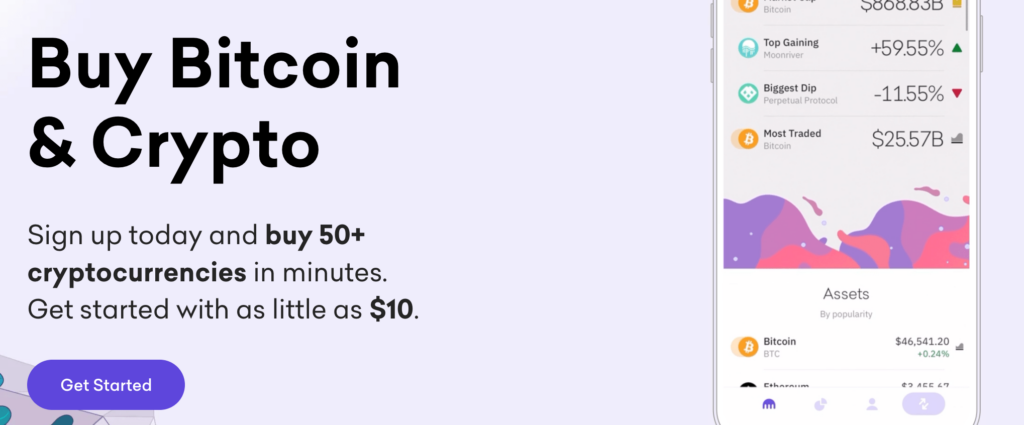 At present, Kraken offers over 50 cryptos to trade and features various crypto indices and futures contracts. Users can fund their accounts in different FIAT currencies (including GBP) or digital currencies – with the latter allowing instant deposits. Finally, Kraken really shines when it comes to educational content, with a whole library of guides, videos, and podcasts dedicated to explaining crypto concepts to beginners!
Cryptoassets are highly volatile unregulated investment products. No EU investor protection.
9. Gemini – Popular Crypto Exchange for Crypto Staking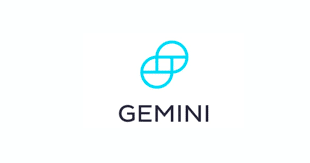 If you're looking for one of the best crypto staking platforms, then Gemini certainly fits the bill. Gemini is the platform founded by the Winklevoss Twins, two very well-known investors in the crypto industry. The great thing about Gemini is that it is regulated in the UK by the FCA, making it one of the safest for UK-based traders. At present, reports state that Gemini has over 13 million users and is available in approximately 60 countries worldwide.
If you're interested in staking, Gemini is one of your best options, as the platform has a dedicated feature called 'Gemini Earn'. With this feature, you can earn up to 8.05% APY on your holdings, which is far higher than you'd get with a regular bank account. The great thing about this feature is that there's no lock-in period – users can transfer their crypto around whenever they please.


In terms of trading, users can trade over 40 cryptocurrencies on Gemini or Gemini ActiveTrader, with the latter designed to appeal to experienced and high-volume traders. Most retail traders will utilise the former option, which is available on iOS or Android and features a sleek interface and easy-to-understand tools. Gemini charges a transaction fee based on your trade size (the higher the size, the higher the cost) and assigns a convenience fee of 0.50% when buying or selling a coin.
Cryptoassets are highly volatile unregulated investment products. No EU investor protection.
---
10. Binance – Popular UK Crypto Exchange with Hundreds of Cryptocurrency Pairs


Binance is great if you are planning to day trade or swing trade. This is because the crypto exchange gives you access to hundreds of tradable pairs.
This makes it highly conducive for actively trading digital currencies, as opposed to buying and storing them for several years. Although Binance was only launched in 2017, it is often home to the largest daily trading volume and liquidity in the cryptocurrency industry.
In fact, in the 24 hours prior to writing this guide, the platform facilitated more than $17 billion worth of cryptocurrency trades. On top of offering one of the most extensive numbers of cryptocurrency trading markets, Binance is also renowned for offering super competitive fees.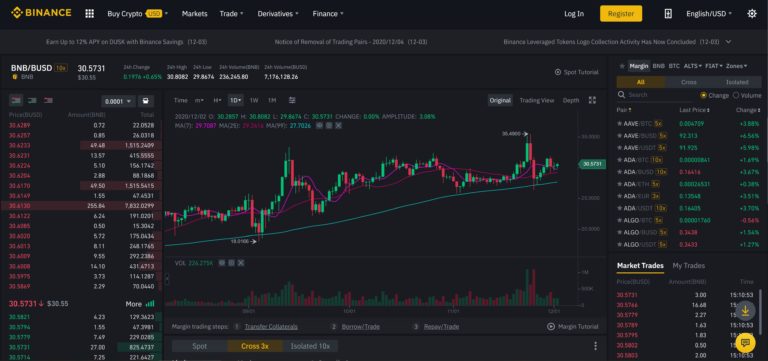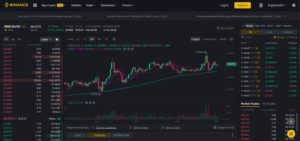 This actually starts at just 0.10% – meaning that a £1,000 buy or sell position would cost just £1 in commission. If you find yourself trading large volumes, your fees will be reduced even further. You can also lower your trading commission by holding a quantity of BNB coins, which is the cryptocurrency native to the Binance platform.
On the flip side, Binance is a bit expensive if you are planning to fund your account with a UK debit card. This is because you'll need to pay 2% of the transaction amount. Although cheaper than the 3.99% required by Coinbase.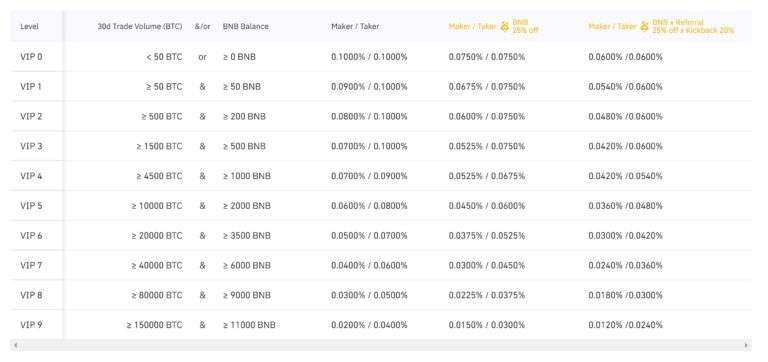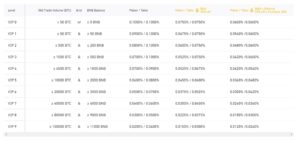 Nevertheless, the Binance trading suite itself is jam-packed with tools and features that will suit the seasoned pro. This covers a full range of chart reading tools, technical indicators, and the ability to connect your API to a third-party provider. The latter allows you to deploy automated trading strategies and robots.
In terms of safety, the main Binance exchange isn't a regulated entity. It does, however, have a great reputation for security and customer care. We like the SAFU (Safe Asset Fund for Users), which is an emergency insurance fund to cover the unfortunate event of an external hack.
Cryptoassets are highly volatile unregulated investment products. No EU investor protection.
---
11. CoinCorner – Ideal Crypto Exchange in Britain for Buying Bitcoin Quickly
If speed and fast execution is your main priority, it might be worth considering CoinCorner. The platform is more of a cryptocurrency broker than an exchange, insofar that the provider only facilitates Bitcoin purchases.
In other words, if you are simply looking to buy Bitcoin and hold onto your digital coins for several months or years, CoinCorner is a great option. This is because the end-to-end account setup process can be completed in minutes.
First, you need to register an account by providing some personal information. Then, it's just a case of making a deposit with your chosen payment method. This includes UK debit/credit cards, bank transfers, or Neteller. Once you have funded your CoinCorner account, you can purchase from just a few pounds worth of Bitcoin.
On the one hand, CoinCorner does make the end-to-end Bitcoin investment process a simple one. Unfortunately, the main drawback with this top-rated provider is that it is expensive to use. For example, you will be charged 2.5% to buy Bitcoin with a debit card and 3.2% when using a credit card.
CoinCorner is also useful if you wish to sell your Bitcoin back to pounds and pence, as the process once again takes minutes. An additional feature that we came across on the CoinCorner platform is that of recurring buys. Put simply, this allows you to buy Bitcoin automatically at set intervals.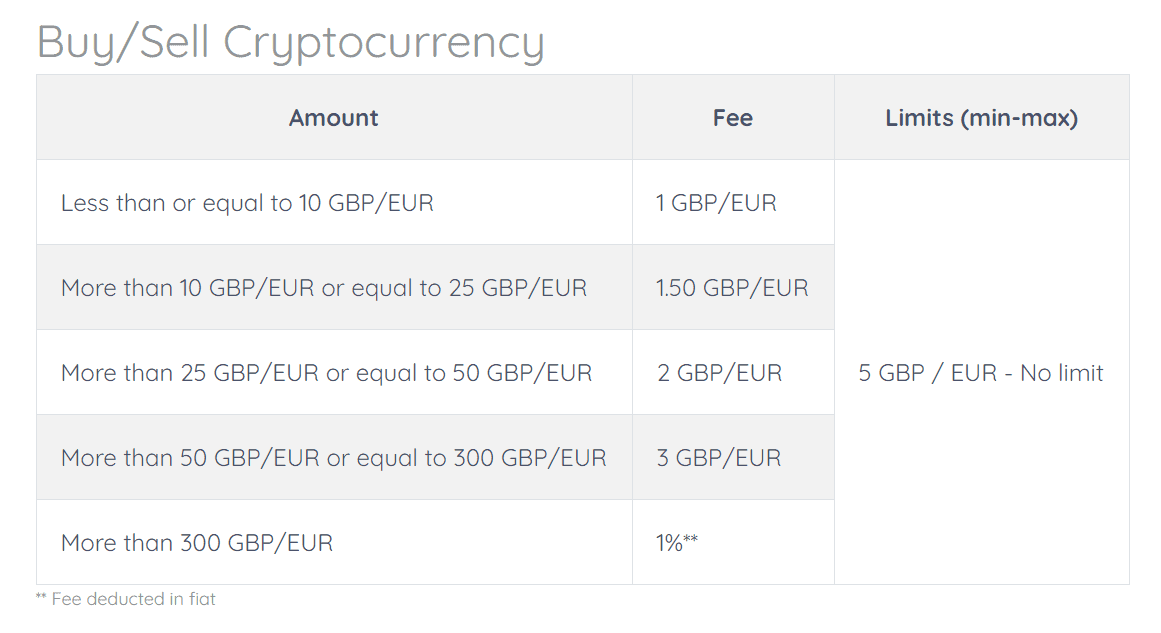 For example, you might elect to buy £100 worth of Bitcoin on the 25th of each month. There is also a cashback feature offered by the platform, which rewards you with Bitcoin when you make purchases from one of its partnered retailers. This includes the likes of Waterstones, Burton, Currys PC World, Confused.com, and Boots.
Cryptoassets are highly volatile unregulated investment products. No EU investor protection.
12. Coinjar – Best Cryptocurrency Exchange UK for Inexperienced Traders and Investors
Coinjar is an online cryptocurrency broker and exchange that is ideal for inexperienced traders. The platform makes the process of buying and selling digital currencies simple, as the website is free from overly complex Blockchain jargon.
Instead, it's just a case of quickly opening an account, uploading some ID, and purchasing your chosen cryptocurrency via a UK Faster Payments bank transfer.
Although you can deposit and withdraw funds to and from your bank account fee-free, Coinjar does charge a commission of 1% when you buy or sell a digital currency. For example, if you decided to buy £500 worth of BItcoin, this would cost you a trading fee of £5. On top of its core brokerage service, Coinjar also offers a simple-to-use crypto exchange.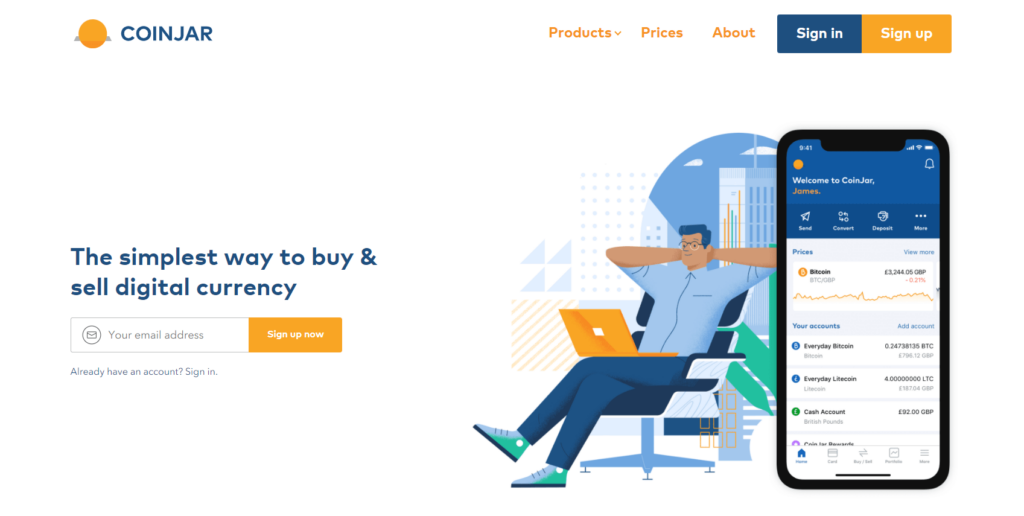 This allows you to trade almost 50 cryptocurrency pairs at the click of a button. This includes a full suite of digital currency pairs that are priced against GBP. You can also trade the exchange rate between two competing cryptocurrencies, albeit, these pairs are more suited to seasoned pros.
The fees charged by the Coinjar exchange are more competitive than its brokerage service. For example, instead of paying 1% to buy Bitcoin, you can trade digital currency pairs from just 0.20%. You can get this commission reduced further by trading larger volumes.
Cryptoassets are highly volatile unregulated investment products. No EU investor protection.
---
13. Luno – Leading Crypto Exchange UK for Mobile Usage
The final entry on our list of the best UK crypto exchanges is that of Luno. In particular, this provider makes the cut for its top-rated mobile trading app. This allows you to buy, sell, and trade cryptocurrencies while on the move – with the app fully optimized for both iOS and Android devices.
This popular crypto exchange app supports a great range of payment methods, which include bank transfers and debit cards. With that said, debit card deposits are charged at 3.5%, which is expensive.
To counter this, Luno charges just 0.1% in trading commissions. In terms of supported markets, Luno is a bit thin on the ground. This is because it only allows you to access Bitcoin, Ethereum, Ripple, and Litecoin.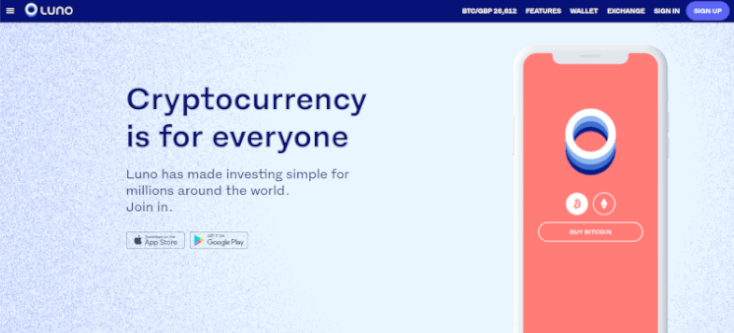 Although these are typically the most traded digital currencies in the space, you won't have access to the likes of EOS, Bitcoin Cash, Cardano, TRON, or Tezoz. Nevertheless, Luno is regulated by the FCA, so you can use its trading app without needing to worry about the safety of your account.
In addition to this, Luno also keeps 95% of all client funds in cold storage. We should also mention the savings account feature available on the app. This allows you to earn interest on your cryptocurrency balances of up to 4% per year. Luno is able to do this as it will lend the crypto assets held in your savings account to a third-party – which in turn, pays interest.
---
Best Crypto Exchange Comparison
| | | |
| --- | --- | --- |
| Platform Name | Number of Supported Cryptos | Fees to Buy Bitcoin |
| MEXC | 1,000+ | 0% spot trading fee |
| eToro | 80+ | 1% + Market Spread |
| Crypto.com | 150+ | 0.4% |
| Kraken | 50+ | 1.5% + variable fee based on payment method |
| Bybit | 80+ | 0.1% |
| Gemini | 40+ | 0.5% + variable fee based on trade size |
| Coinbase | 100+ | 0.5% spread + variable fee depending on trade size and payment method |
| Binance | 500+ | 0.1% |
| CoinCorner | 1 | Volume-based fee, ranging from £1 to 1% of your trade size |
| CoinJar | 7 | 1% |
| Luno | 6 | 0.1% |
Other Cryptocurrency Exchanges in the UK
Of course, there are many other cryptocurrency exchanges available in the market, you can see a full list of our crypto exchange reviews below:
What is a Crypto Exchange?
In a nutshell, the best crypto exchanges in the United Kingdom give you access to the ever-growing digital currency industry. Depending on your chosen provider, the exchange might offer brokerage and/or trading services. Regarding the former, this means that you will be using the exchange to buy or sell your chosen digital currency.
Crypto exchanges often add new cryptocurrencies to their offerings but there are some still in their pre-sale stage that have strong momentum moving into 2022. One such example is Lucky Block that stands to revolutionize the lottery industry as we know it.
For example, you might be looking to buy Bitcoin with a debit card – which is arguably one of the easiest and fastest ways of making an investment. When completing this transaction with eToro, you will be buying the coins directly from the provider. This means that you do not need to go and perform an additional exchange between pounds and cryptocurrencies.

Don't invest unless you're prepared to lose all the money you invest. This is a high-risk investment and you should not expect to be protected if something goes wrong. Take 2 mins to learn more
Alternatively, some crypto exchanges in Britain specialize in trading services. This means that you will be trading cryptocurrency pairs – much like you would at a traditional forex broker. In simple terms, your objective here will be to speculate on the future value of a cryptocurrency pair like BTC/GBP or BTC/ETH.
We should also note that some crypto exchange platforms in the UK allow you to swap one digital currency to another. For example, you might be holding Ripple and you wish to exchange it for Ethereum. All in all, the best UK crypto exchanges allow you to buy, sell, and trade digital currencies from the comfort of your home.
New UK Crypto Trading CFD Regulations
As of January 2021, the FCA introduced new rules on cryptocurrency derivatives. At the forefront of this is CFD trading instruments that track the real-world value of digital currencies. These CFD products not only allow you to trade cryptocurrencies with leverage, but you can also engage in short-selling.
However, as leverage crypto CFDs are complex financial products, the FCA has since prevented UK retail clients from gaining access.
As such, any FCA-regulated broker or exchange that you use will not offer you these products. On the flip side, there are dozens of cryptocurrency exchanges that still offer leverage crypto assets to UK residents. But, these platforms operate without a regulatory license, so should be avoided.
How to Choose the Right UK Crypto Exchange for You
According to CoinMarketCap, there are more than 300 crypto exchanges currently active in the online space. There are likely hundreds more that the provider is yet to add to its data feed.
The key point here is that choosing the best crypto exchange in England is no easy feat – especially if you don't know what you are looking for.
With this in mind, below we discuss the most important factors that you need to cross-check before choosing a provider.
Safety & Regulation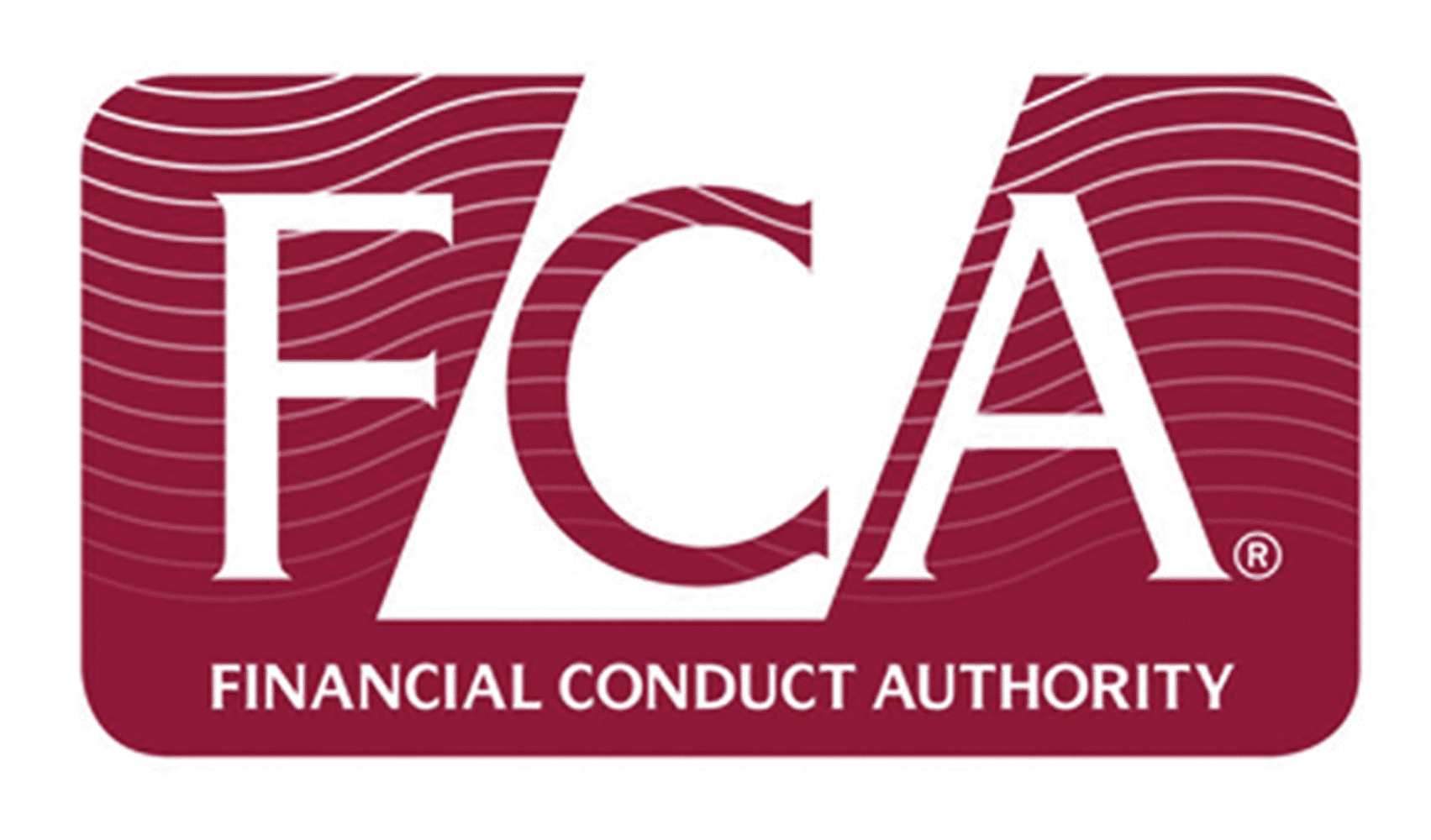 Make no mistake about it – billions of pounds worth of digital assets have been stolen from bitcoin exchanges over the past few years. This is one of the main reasons why newbie investors and traders are reluctant to enter the market.
The good news, however, is that there are a select number of exchanges that do things by the book. By this, we mean that they are fully authorized and regulated by the FCA.
Ultimately, if you entrust your funds with an unregulated crypto exchange, there is every chance that your capital is at risk. Instead, you are advised to only use FCA-regulated platforms that put safety and customer care at the heart of everything.
Trading Options
As we briefly discussed earlier, there are many services that top crypto exchanges offer. As such, you need to check whether or not your chosen provider can facilitate the market you wish to access.
For example:
Buy/Sell Crypto
The best crypto exchanges allow you to buy cryptocurrency directly. This means that you can buy your chosen digital asset with an everyday payment method, like debit cards, bank account transfers, and even e-wallets. As soon as the transaction is complete, you might have the option of keeping your coins on the platform or withdrawing them to a private wallet.
Trade Crypto
Some exchanges are geared towards short-term trading. This would include strategies such as day trading, swing trading, and even scalping. In other words, your primary objective here is to speculate on the future value of a digital currency pair in the short-term. You will be looking to make modest, but regulated profits throughout the trading week.
Swap Crypto
You then have UK crypto exchange platforms that allow you to swap one digital currency to another. For example, you might have a number of Ethereum coins that you wish to swap for Bitcoin Cash. Usually, as soon as the transfer is made, you can then withdraw the respective coin out to a private wallet.
UK Crypto Exchange Fees
It goes without saying that even top crypto exchanges in the UK are in the business of making money. The way that platforms charge fees and commissions can vary quite considerably, so below we list the main charges that you should look out for.
Deposit Fees
The first fee that you need to be aware of is with respect to funding your account. After all, if you want to buy or trade cryptocurrencies online, you will initially need to make a deposit.
In a lot of cases, we found that UK crypto exchanges can charge handsomely when using a debit card. This is because of the perceived risk involved when facilitating cryptocurrency-related transactions.
Example debit card deposit fees include:
Coinbase: 3.99%
Luno: 3.5%
CoinCorner: 2.5%
Binance: 2%
Trading Commission
Much like deposit fees, trading commissions can vary considerably from exchange to exchange. For those unaware, the commission relates to the fee that you pay when you buy, sell, or trade cryptocurrency. In all but a few rare cases, this is charged as a percentage against the size of your trading transaction.
For example, Coinbase charges 1.49% – which you need to pay at both ends of the trade.
This means that a £500 purchase of Bitcoin would cost £7.45.
You would then need to pay 1,49% again when you sell your Bitcoin back to cash.
Spreads
The 'spread' is super important as it is often overlooked by first-time crypto traders. Much like any financial instrument – the spread is the difference between the buy and sell price of the digital currency market.
For example, if Bitcoin has a buy price of $30,000 and a sell price of $30,500 – then the spread here is $500.
The wider the gap between the two prices, the more you are indirectly paying.
Trading Tools & Features
Some of you might simply be looking to buy Bitcoin with a debit card and then hold on to your investment for several years. If this is the case, then you won't be too concerned with trading features.
With that said, certain tools offered by the best crypto exchanges in the UK can enhance your end-to-end trading experience.
This includes:
Fractional Ownership
Irrespective of whether you are a newbie investor or a seasoned pro, fractional ownership is crucial in the cryptocurrency industry. After all, digital currencies are highly speculative asset classes, so you don't want to be spending over £20,000 to buy a single Bitcoin.
Automated Trading
Cryptocurrencies are still understood by very few people in the UK. This makes the investment or trading process even more intimidating. This is why we like crypto exchange platforms that offer automated trading services.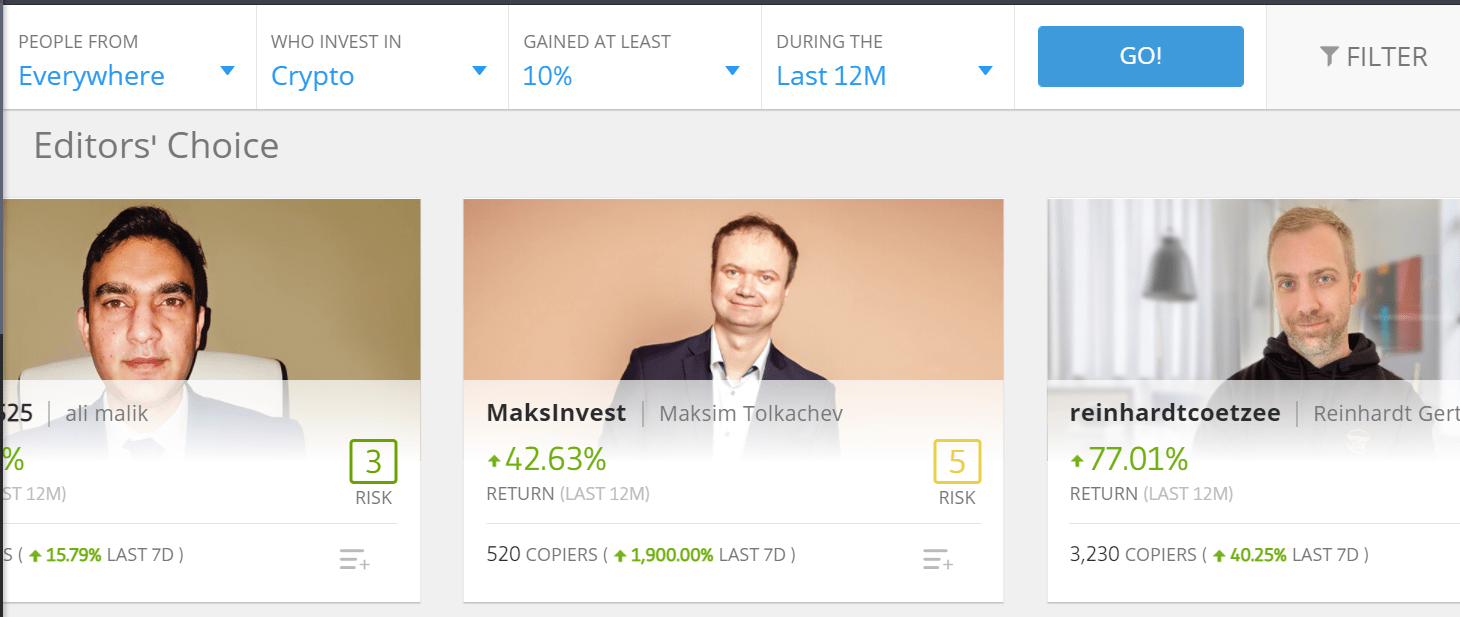 Don't invest unless you're prepared to lose all the money you invest. This is a high-risk investment and you should not expect to be protected if something goes wrong. Take 2 mins to learn more
As we mentioned earlier, eToro allows you to copy a successful trader like-for-like. This will be at an amount proportionate to what you invest into cryptocurrencies.
For example, if the eToro trader risks 5% of their capital buying Bitcoin and you invested £1,000, £50 worth of Bitcoin will be added to your portfolio.
Then, when the trader sells their Bitcoin position, you will do the same.
Payment Methods
Don't forget to check whether or not your chosen UK crypto exchange supports your preferred payment method. Crucially, as most exchanges operate without a license, very few can legally offer support for debit card or bank account transfers.
Even those that do typically charge excessive fees for the convenience of using fiat currency. Nevertheless, all of the best cryptocurrency exchange UK providers that we discussed on this page support debit cards and bank transfers.
Customer Service
Customer service is also an important metric to consider when searching for top bitcoin exchanges in the UK. For example, you might need assistance in how to make a deposit or complete a trade.
If the provider in question offers a live chat facility during standard UK hours, then this is a great bonus. This is because it allows you to speak with a customer service agent in real-time without needing to wait for an email reply.
What Is The Most Trusted Crypto Exchange?
The most trusted crypto exchange in the UK are exchanges that are regulated by the Financial Conduct Authority (FCA). The FCA is the main regulatory body in the UK that overseas the Financial Services industry in the UK. The regulator ensures that brokers adhere to security requirements that have been put in place to protect users. If a platform is regulated by the FCA, it will comply to anti-money laundering laws and customer safety regulations which is a sign that the platform can be trusted. If  the FCA believe that a platform is not trustworthy, the regulator may cut ties with the platform or demand that the platform put measures in place to adhere to requirements. The Financial Conduct Authority's main responsibility is to ensure that financial markets and honest, competitive and fair.
How To Trade Cryptocurrency in the UK – MEXC Guide
We are now going to show you how to get started on a crypto broker. The walkthrough below will explain how to open an account, make a deposit, and place your first trade with MEXC.
Step 1: Open a Crypto Trading Platform Account at MEXC
Head over to the MEXC website and start registering a new account. You can either connect to the platform with a crypto wallet like MetaMask, or login with Google by entering an email address and phone number.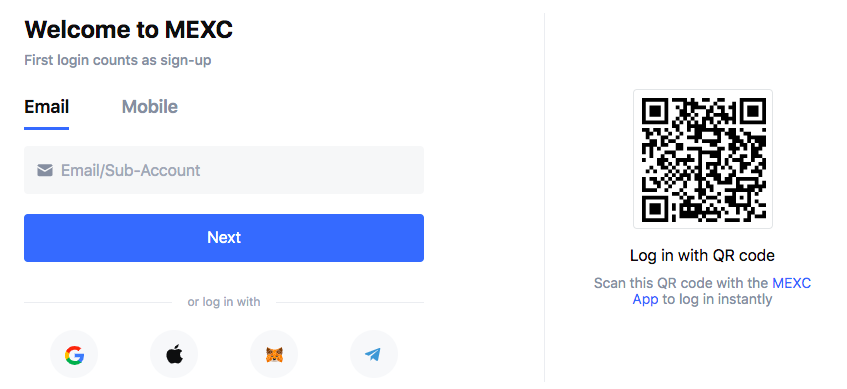 Step 2: Verify Your Account
After the account is created, MEXC requires investors to complete a KYC (Know Your Customer) form. Upload your proof of identity documents such as a Passport Copy or Driver's license to continue. MEXC can take up to 24 hours to verify the account.


Step 3: Fund Your Account
After successfully creating and verifying a new account, you can deposit funds in your MEXC account. You must make a minimum deposit of at least $5. MEXC supports multiple payment options including SEPA transfers, VISA, MasterCard, Apple Pay, and bank accounts. Select your preferred payment option, enter the amount to deposit, and confirm the transaction.
Step 4: Search and Buy Cryptos
Once your account is funded, you can search for your preferred trading asset on the navigation bar. For instance, type 'BTC/USDT' on the search bar to access the spot trading market. On the order box, enter the amount of tokens you wish to receive, and confirm the transaction.
76% of retail investor accounts lose money when trading CFDs with this provider. You should consider whether you can afford to take the high risk of losing your money.
---

Latest Crypto Exchange News
The cryptocurrency market is ever-changing, so new laws and regulations are discussed regularly that can impact how crypto exchanges operate. With that in mind, let's take a look at some of the top crypto exchange-related news stories for the week beginning September 25th, 2023:
Leading exchange Huobi Global's HTX exchange was hacked on September 25th. This led to $7.9 million being stolen from the exchange – although CEO Justin Sun reassured users that they know the hacker's identity.
The JPEX crypto exchange scandal has now led to 11 suspects in custody – although the main perpetrators are still at large. Hong Kong police are now enlisting the help of Interpol to apprehend these perpetrators.
Finally, the Upbit exchange recently faced a setback when it mistakenly recognized a scam APT token as legitimate. As a precaution, Upbit suspended Aptos token services on September 24th.
---
MEXC – Best Crypto Exchange in the UK
In summary, although it's great that UK residents now have access to hundreds of cryptocurrency exchanges – it is important to remember that cryptos are very volatile financial assets and the underlying risks of losing investing capital is considerably high.
After reviewing dozens of well-known providers, we found that the best crypto broker in the UK is MEXC. This is because the platform offers 1,000+ different cryptocurrencies, innovative copy trading tools, and charges 0% spot trading fees.
76% of retail investor accounts lose money when trading CFDs with this provider. You should consider whether you can afford to take the high risk of losing your money.
Frequently Asked Questions on Crypto Exchanges
What is the best crypto exchange in Britain?
How do you buy Bitcoin UK?
Are UK crypto exchanges regulated?
What is the cheapest UK crypto exchange?
Do UK crypto exchange platforms offer leverage?
Which crypto exchange has the lowest fees?