Microsoft Corporation is one of the most well-known big tech stock in the world and a member of the so-called trillion-dollar club that includes US companies with a market capitalisation of over $1 trillion. At present, the software technology company has a market cap valuation of $1.548tn, which makes it the second-largest company in the world in terms of market cap after Saudi Aramco, which has a market capitalisation of around $1.9 trillion.
Nonetheless, Microsoft Corp is one of the most popular stocks out there, and though it is not included in FAANG stocks (an acronym that refers to shares of the five most popular US technology companies: Facebook, Apple, Netflix, and Alphabet), Microsoft is, in fact, greater than any of the other tech companies and is considered as a 'big tech' company.
If you are thinking of buying Microsoft shares, this guide is for you. In this guide, we'll show you the process of buying Microsoft shares online in the UK, highlight top stockbrokers in the UK, and analyze the share price performance, and the fundamentals & technicals of the personal computing company.
How to buy Microsoft Shares in UK – Quick Step Tutorial
✅ Step 1: Open an eToro account
Visit eToro's official website and tap on 'Join Now'. Enter your details and choose a username and password.
🔎 Step 2: Verify your account
As eToro is fully regulated in UK by top-tier financial authorities you'll need to verify your account by uploading proof of ID and proof of address.
💳 Step 3: Fund your account
Deposit a minimum of $10 (around £7)  into your trading account via credit/debit card, bank wire transfer, or e-wallets such as PayPal or Skrill.
🛒 Step 4: Buy Microsoft shares
Type "MSFT"  into the search bar and click on 'Trade'. With a minimum investment of $10 you can buy fractional shares of Microsoft with 0% commission.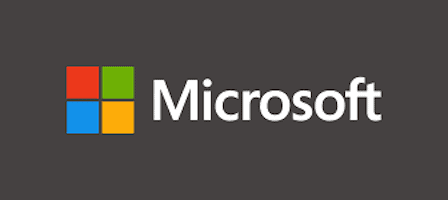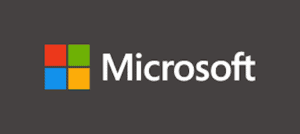 As Microsoft is one of the most popular and tradable shares in the world, it is very likely that the majority of brokers will allow you to buy and sell shares of the tech giant. But before you buy shares of Microsoft, you have to make sure you find the best trading platform that suits your needs. As such, you'll have to take into consideration factors like trading and non-trading fees, margin requirements, trading tool, reliability, and spreads.
Taking the above into account, below you'll find two popular UK stockbrokers that offer investors to buy and sell Microsoft shares.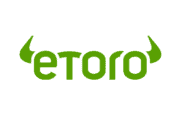 eToro is widely known as the largest social trading platform in the world. Founded in 2006, this brokers boasts more than 800 shares from different top exchanges including popular US markets. This means you'll get access to shares like Netflix, Google, Amazon, Apple Inc, and Microsoft. On top of that, you can invest in Exchange Traded Funds (ETFs) that collect tech stocks like Microsoft.
One of the best things about eToro is it's one of very few brokers that allows you to buy shares with absolutely zero commission! You can also trade share CFDs if you want to trade with leverage.
Another useful tool on eToro's platform is the ability to invest in a tool called CopyPortfolios. These are essentially funds made by eToro's analysts that bundle shares based on a strategy, region, or sector. As such, you'll be able to buy a fund of technology stock, cannabis, cybersecurity, gaming, and many more. Crucially, when you buy shares or ETFs on this platform, you do not have to pay any trading fees. Instead, you'll have to pay the buy and sell spread only.
But above all, eToro supports plenty of social trading tools. If opting for eToro, you'll get a different type of trading dashboard, which is very similar to any social network you already know. This means you have a profile page, and you get to see other users' posts and insights. Moreover, if you want to automate your trading, you simply can use the CopyTrade tool that enables you to choose to copy the trades of another investor.
When it comes to the safety of your funds, eToro is regulated by the FCA (United Kingdom), ASIC (Australia), and CySEC (Cyprus), so you can be sure your funds are well protected. To start trading the live markets, you need to meet a minimum requirement of around £140.
Pros:
Zero commission policy for share trading and CFDs
More than 800 global shares, including Sainsbury's
Allows you to buy shares outright or CFDs
Fractional trading is available
Social trading network, and copy trading tools
Accepts different payment methods, including PayPal
User-friendly web platform and mobile trading app
Regulated by the FCA
Cons:
Limited technical analysis charting package for advanced traders
67% of retail investor accounts lose money when trading CFDs with this provider.
2. Libertex – CFD Trading Platform with Zero Spreads

Libertex is another trusted UK broker that offers investors to buy and sell shares of Microsoft. Founded in 2015, this UK-Based broker supports thousands of instruments including shares from the UK, US and Europe.
Much like eToro, Libertex offers commission-free CFD trading though you'll not be able to trade shares directly from the exchange, instead, you get to trade only CFDs. However, unlike most CFD brokers, Libertex charges zero spreads and instead charges a small commission.
One of the reasons this platform has become so popular is its Artificial Intelligence technology that can detect trading ideas for the user based on previous data. Additionally, the broker's technology will automatically analyze your trading activity and identify changes you can make to increase your probability of winning trades.
Like most UK CFD platforms, Libertex offers a leverage ratio on shares like Microsoft, Netflix, and Google, a leverage ratio of 5:1, meaning you need to invest 20% of the total amount of the transaction. The broker also offers a great section of market news and technical analysis predictions.
Libertex is regulated and licensed by the FCA in the UK. UK investors require to deposit at least £20 to get started.
Pros
Low-spread, commission-free CFD trading
Great platform user interface
Leverage of up to 5:1 for shares
Web, mobile, and desktop trading platforms
Innovative AI algorithm helps improve you get trading ideas
Cons
Does not offer social trading tools
Microsoft (NASDAQ: MSFT) shares have been on an explosive run since 2015 with a return of 321% in the last five years, and a year-to-date return of nearly 30%. But as many investors and analysts have concerns about a tech bubble, it's crucial that you make your own research before you buy shares of the American software company. In this section of our guide, we'll analyze Microsoft share price performance and the key strength of the company,
The story of Microsoft Corp is probably one of the greatest successes in history. Founded by Bill Gates and Paul Allen in 1975, very quickly the company dominated the personal computer operating system market with the iconic MS-DOS. The growth of Microsoft has obviously made Bill Gates the richest man in the world in most parts of the past three decades. In 1986, the company went public at a price of $21 per share, though it has had nine common stock split since its foundation, meaning one original share is equal to 288 shares after the last stock split. In 2004, the company has also decided to pay dividends to shareholders of common stocks.
Over the years, Microsoft's share was very stable, trading at a steady upward trajectory. But the main spike in stock price happened over the last five years. MSFT share soared from around $43 in 2015 to around $200 at the time of writing, cementing its status as a growth stock. And, as US technology stocks continue to set all-time highs, Microsoft stock reached its all-time high of $231.65 on September 02, 2020. Since then the share dropped to around $200 per share, largely due to the recent sell-off in the US stock markets.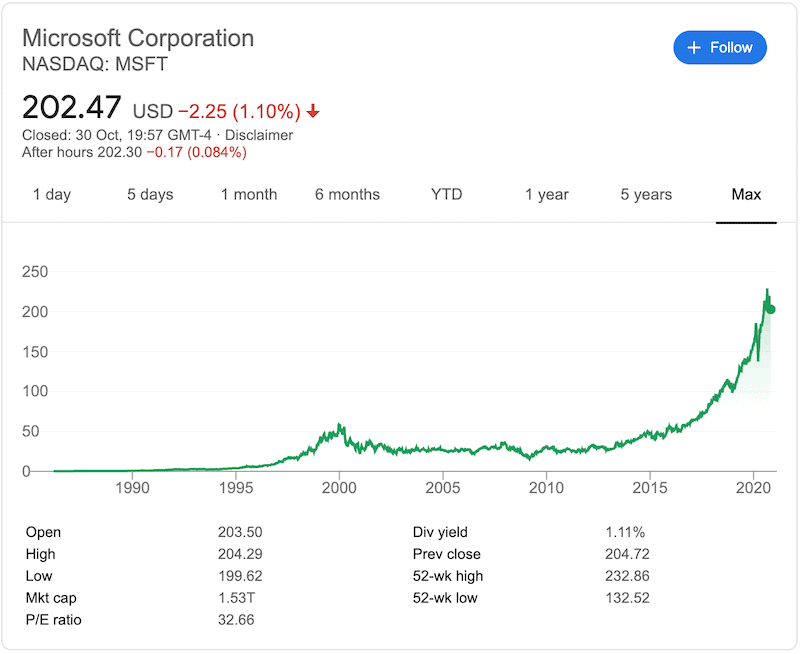 Microsoft operates through the following business segments: Productivity and Business Processes; Intelligent Cloud; and More Personal Computing. As well as personal computers, Microsoft offers a wide variety of products, ranging from game consoles like the Xbox to cloud computing services like Azure. Overall, Microsoft is just one of the most dominant large-cap companies in the world. It has a chance to end the year as the most valuable public company in the world, after Saudi Aramco.
Microsoft Stock Fundamentals – Market Cap, P/E Ratio and EPS
Microsoft is listed on the NASDAQ stock exchange and is part of NASDAQ 100, S&P500, and Dow Jones 30 stock market indices. As severally mentioned, Microsoft is one of the few companies in the world with a market cap valuation of more than $1 trillion. At present, the company has a market capitalisation of $1.53 trillion.
Microsoft has a Price per Earnings (PE) ratio of 32.66 which is above the market average of around 17. So far in 2020, Microsoft reported earnings per share (EPS) of $6.2, an increase of 22% from the previous year.
Microsoft Shares Dividend Information
Microsoft began paying dividends in 2004, and since then has become one of the most popular dividend stocks in the world. The company typically pays a quarterly dividend and is one of the few tech companies in the market that distributes earnings to shareholders. However, when comparing Microsoft to other dividend stocks, it's worth mentioning that its dividend yield is relatively low at around 1%-2%.
Nonetheless, this is a huge benefit for investors, particularly when taking into consideration the company's strategy to increase the dividend payment every year. Microsoft has increased its dividend payment by over 50% over the last five years.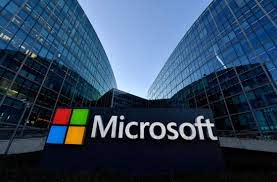 Microsoft is a huge company by any standard. Not only it has inventories of cash and assets, but it also holds some of the most brilliant minds in the world and access to technology that is somewhat priceless. And while Microsoft Windows is known as the main product of the company, it also sells Xbox video game consoles, Microsoft Office, personal computers and tablets, servers, phones, personal cloud storage. In fact, when looking at Microsoft's latest earnings reports, the company's new services sales increased by 23% from the previous year. For example, the Intelligent Cloud service, increased by 20% from 2019. The Xbox game console sales and Surface sales increased by 30% and 37% respectively, with the next Xbox launching on 10th November 2020.
Here are some of the main reasons why Microsoft is still a buy.
Microsoft business has remained strong over the past year, adapting to the changes in the work environment post-Covid-19. The company's shares are currently priced at a premium despite the coronavirus pandemic, and for a good reason. The earning results are more than impressive and the positive financial results indicate that there's no reason to worry about the company's financial stability in case the Covid-19 situation escalates. Looking ahead, it is very likely that Microsoft shares will not soar the same way as fastest-growing tech stocks like Tesla (TSLA) and Amazon (AMZN) have done. With that in mind, Microsoft will remain a favourite stock during the coronavirus crisis not only because it offers essential products and services for work for home operation but also because it is one of the few tech companies that pay a quarterly dividend payment to shareholders, and has a consistent revenue stream.
A  Healthy Balance Sheet
Microsoft's balance sheet is clearly at its best. Microsoft has $136.5bn in cash and short-term investments, and its assets have increased to $181.9bn. The company's total liabilities, on the other hand, stands at only $72.3bn. Over the past year, Microsoft has generated $45.2 billion in free-cash-flow, a huge increase from $38.2 billion in 2019. It remains to be seen what Microsoft will do with the free cash flow it has after the deal to acquire TikTok has failed.
Microsoft's Entrance into the Gaming Industry
Another crucial factor about Microsoft's revenue growth is its aggressive entrance to the gaming industry. Recently, the company has announced that it intends to acquire ZeniMax Media, which the parent company of Bethesda Softworks, for $7.5bn. According to Microsoft CEO Satya Nadella: "the company will "consider buying even more video game companies in the future". Overall, Microsoft revenues from gaming content increased by 64% to $1.3bn, with most of the increase comes from Xbox products and services revenue. Microsoft's Xbox is the third most selling gaming console with 48M units behind Nintendo and Sony.
Step 3: Open an Account and Deposit Funds
So now that you have the necessary information about Microsoft shares, the next step is to open an online share trading account with a UK broker. As such, we are now going to show you the steps of opening a trading account and buying Microsoft shares online in the UK with eToro.
To get started, you first need to visit eToro's website and click on the Join Now button. You will immediately be transferred to a short sign up form where you need to enter your email address and pick a username and password.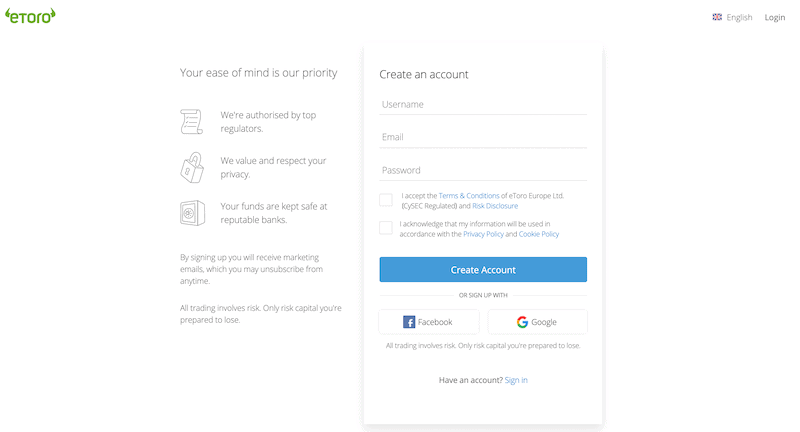 Next, you'll be prompted to another page where you need to complete the registration process and verify your identity, As such, you'll have to enter personal information and upload a copy of your passport or driver's license along with a copy of a recent financial statement or utility bill.
As soon as eToro approves your account, you can then fund your account using one of the following payment methods.
Debit Card
Credit Card
Paypal
Skrill
Neteller
UK Bank Transfer
Now that your trading account is approved, you are ready to buy Microsoft shares. To do that, navigate to eToro's trading dashboard and type in Microsoft or MSFT in the search bar. Next, click on the first result that appears in the drop down menu.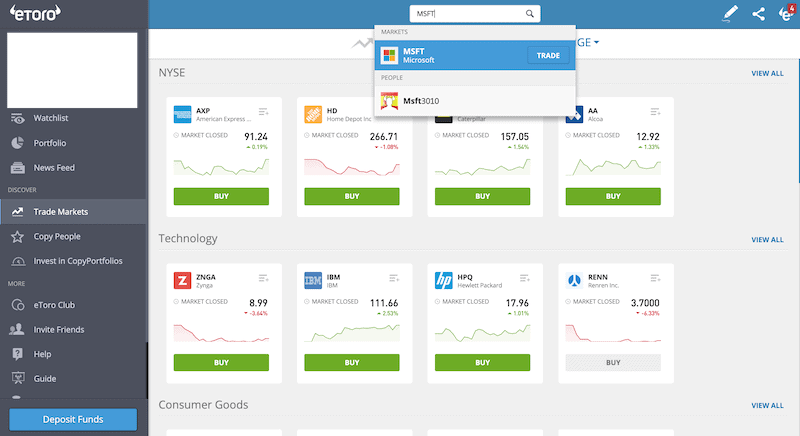 Next, you'll be channeled to Microsoft's instrument page. On this page, you can analyze the share, view market news, and technical analysis, and get access to the company's financial and research tools. When you are ready to make a trade, click on the 'Buy' button.

To complete the buying process, you will be asked to enter your total investment stake in USD. As long as the amount of investment is above $50 (around £40), you can send the order to the markets. Finally, click on 'Open Trade' to buy shares of Microsoft.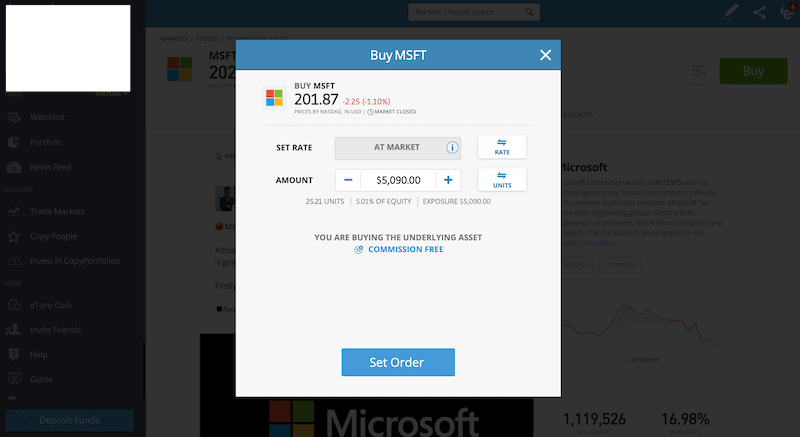 Selling shares of the most profitable company in the world might not be a smart decision. After all, Microsoft shares have climbed tremendously this year, and there's a reason to believe that the growth in the share price is sustainable. At the same time, the tech giant is currently trading at a PE ratio of 30 for the past 12 months, and there are rumors that another tech bubble is about to burst. Ultimately, the risk associated with buying Microsoft share is the correction expected to occur in the near term
At present, investing in Microsoft is fairly a smart investment, especially for long-term investors. Analysts are still bullish on Microsoft shares despite the recent sell-off among technology stocks, including MSFT. With a perfect credit rating from all major rating agencies, Microsoft is actually considered one of the safest long-term investments in the market right now.
The Verdict
In summary, the risk investors take on when investing in Microsoft share is by all indications relatively low for long-term investors. Microsoft is still the largest firm in the United States and the second-largest business in the world in terms of market capitalisation. Over the past years, Microsoft has also proven it has the ability to reinvent itself by developing new software products and services.
At present, it seems that the main risk for Microsoft shareholders is a stock market crash or a tech stocks sell-off. As such, if you ready to buy Microsoft shares, simply click the link below to get started!
If you ready to buy Microsoft shares, simply click the link below to get started!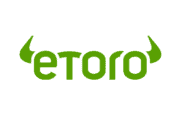 67% of retail investor accounts lose money when trading CFDs with this provider.
Looking to invest in other tech shares? Check out the companies below.
FAQs
[sc_fs_multi_faq headline-0="h4″ question-0="Who is the chief executive officer of Microsoft?" answer-0="Since 2014, Satya Nadella is the CEO of Microsoft Corporation." image-0="" headline-1="h4″ question-1="What stock exchange is Microsoft Corporation listed on?" answer-1="Microsoft is listed on several top exchanges but its primary listing is on the NASDAQ exchange under the ticker symbol MSFT." image-1="" headline-2="h4″ question-2="Does Microsoft pay dividends?" answer-2="Yes. Even though most big tech stocks in the US do not pay dividends, Microsoft pays quarterly dividends since 2004." image-2="" headline-3="h4″ question-3="How do I buy shares in Microsoft?" answer-3="Because Microsoft is very popular, there are many brokerage firms that offer you to trade its shares. However, we advise you to try one of our recommended CFD platforms as you will be able to take advantage of low trading fees, advanced trading tools, and low margin requirements." image-3="" headline-4="h4″ question-4="Can I invest in Microsoft via an ISA or SIPP?" answer-4="Yes. Some ISA and SIPP plans enable you to invest in US shares." image-4="" headline-5="h4″ question-5="Where is Microsoft headquartered?" answer-5="Microsoft's headquarters are located in Redmond, Washington." image-5="" count="6″ html="true" css_class=""]