Tron is a popular cryptocurrency that's gathering momentum in the markets. Since it launched in 2017, the project has quickly developed into one of the top 20 cryptocurrencies by market cap.
So, what is Tron all about, and how can you buy it? This review explores the project as a whole and how to buy Tron in the UK easily. We'll show you how you can buy Tron in the UK easily, along with the top cryptocurrency exchanges in the UK you can buy Tron from today.
How to Buy Tron UK – Step by Step Guide 2021
Want to buy Tron in the UK instantly? Here's a quick step-by-step guide on how to do so using eToro, our top-rated cryptocurrency exchange for UK traders.
1. Create an account with eToro: Check out eToro and click on 'Join now' on the top right corner to get started.
2. Upload your ID: You will be required to verify who you are through your passport or your driver's license.
3. Deposit funds: Easily fund your account through your credit or debit card, bank transfer, or an e-Wallet provider.
4. Buy Tron: Search for Tron on the search bar and click on 'Trade' to get started.
What is Tron?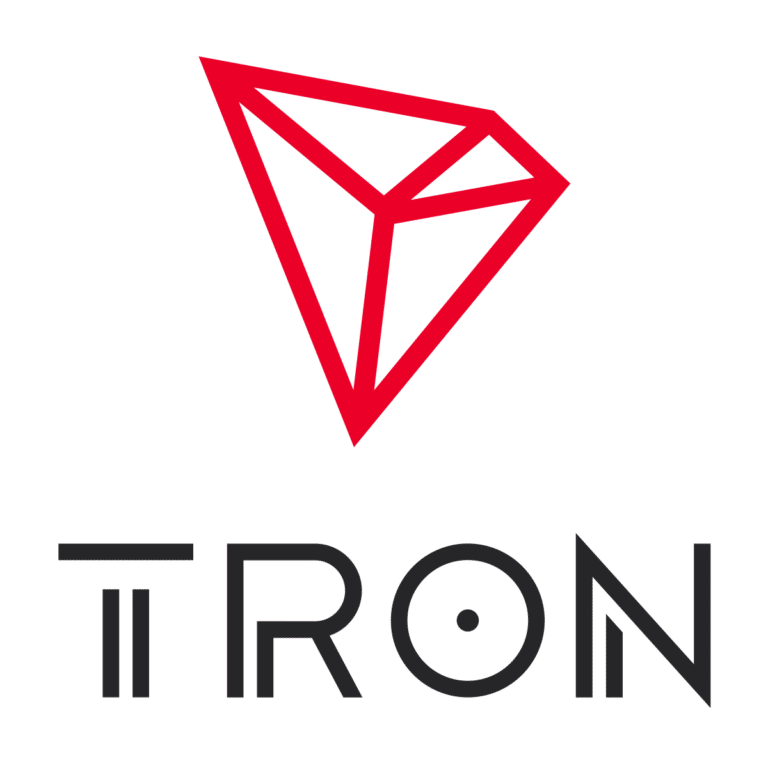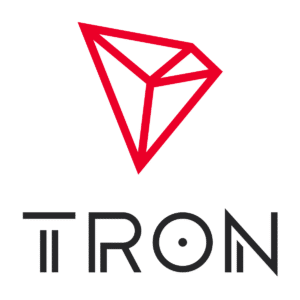 Tron is a cryptocurrency that's a bit like Ethereum and Bitcoin. It's a decentralized platform focused on content sharing and entertainment and uses peer-to-peer (P2P) technology. Much like most crypto projects in the space now, Tron uses a blockchain-based operating system.
It allows users to control their data and monetize them and is fixated on decentralizing the web. Tron is on a mission to eliminate the middle man and bring content creators and consumers closer. It does this by allowing anyone to host digital entertainment content on its blockchain-based network.This way, content consumers can easily pay content creators for accessing the content without worrying about any extra fees.
Tron uses a delegated proof-of-stake (dPoS) consensus mechanism vastly different from the current protocol Ethereum uses. Even though Ethereum is now working on migrating to the proof-of-stake model, it's still years from achieving this. Éthereum's high gas fees and slow transaction speed have seen developers turn to alternative blockchain platforms to facilitate quicker and cost-effective projects. This is where the Tron blockchain network comes into play. Tron can process 2,000 transactions per second (TPS) in contrast to Ethereum's 30 throughput offering.
It's extremely affordable to create applications on the Tron platform as content creators do not have to fork over their gains to deliver service. Retail users are also considered under Tron. They don't have to pay any extra fees to access content on the Tron network. Tron's official cryptocurrency is the Tronix (TRX), and the smallest unit of a TRX is called SUN, named after founder and CEO Justin Sun.
Unlike Ethereum, TRX is pre-mined. Instead, TRX can be earned through staking of coins or the provision of additional storage space.
Why Buy Tron in the UK?
The Tron ecosystem has attracted a lot of attention from investors and traders in the UK and the world. One of the reasons is how much it cost to get 1 TRX in your pocket compared to buying Ethereum in the UK. 1 TRX goes for a meager £0.077063, which can be a good investment considering the massive growth potential of the Tron network.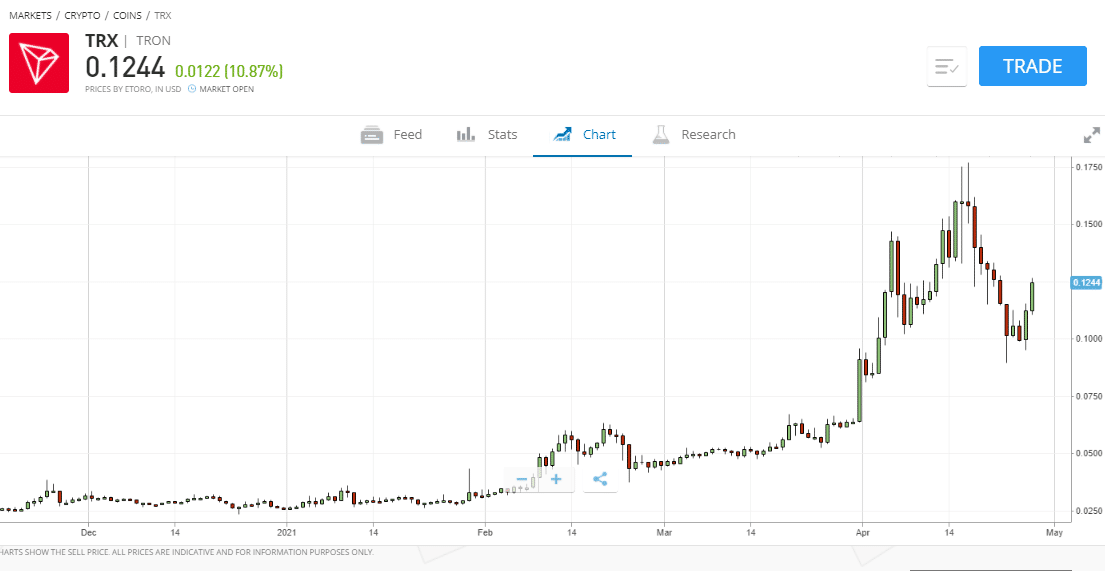 67% of retail investor accounts lose money when trading CFDs with this provider.
Cryptoassets are highly volatile unregulated investment products. No EU investor protection.
The price is not the only factor you should consider for buying Tron for UK cryptocurrency trading and investing. Another plus in using Tron is the transaction speed per second. In the world of finance, transaction speed is critical.
Tron wins big here. It uses an elective model to increase the transaction speed of its blockchain. Tron uses a few nodes to perform transactions on the blockchain. The Tron network can process over 2,000 transactions per second, while Ethereum is stuck with 15 transactions per second. Tron is currently the 20th most valuable cryptocurrency, with a market cap of over $9 billion.
How Much Does It Cost to Buy Tron?
It's quite easy to get your hands on some TRX in the UK from most cryptocurrency exchanges. But, the fee structure differs across the board. Some platforms use the spread method; others include trading fees.
Most digital asset trading platforms charge you 0.5% to 1.5% for every Tron transaction. This could quickly add up to your total Tron cost, which could come up to 1% to 3% of your entire purchase.
How to Buy Tron With Paypal
Traditional payment processors are gradually moving into crypto payments. Last year, PayPal introduced crypto trading services, allowing customers to buy, hold and sell cryptocurrencies like Bitcoin and Ethereum on their platform. Tron is obviously missing from this list. But, not to worry. You can still buy Tron with PayPal in the UK. Some selected cryptocurrency exchanges like eToro allow Uk traders to fund their trading account using PayPal.
The process is painless. You transfer funds from your PayPal account to the exchange. Then use the funds in your eToro wallet to buy Tron as you normally would. This process is not different from using a bank transfer to fund your account, except that it's faster. Besides PayPal, eToro lets UK traders fund their accounts using alternative payment options like Skrill and Neteller.
How to Buy Tron With Bitcoin
You can explore another option, and that is using a digital currency like Bitcoin to buy Tron in the UK. Most cryptocurrency exchanges operating in
the UK offer this functionality. You use your current Bitcoin holdings to buy other digital assets. Doing this is quite easy and simple. It's also a favored method for those who already own a form of crypto—either Bitcoin or Ethereum and want to convert it without incurring additional fees. You only need to pay for the spread.
To buy Tron with Bitcoin, ensure you have Bitcoin in your cryptocurrency exchange account. Then choose Bitcoin as a funding option to buy your TRX purchase. If you have both Bitcoin and fiat deposits in your account, you will be asked to select one to make the Tron purchase.
Once this is sorted, you can then start investing without any further hassles.
Buying Tron Safely
Tron blockchain network has been around for some time now, and it continues to wax strong. Many TRX hodlers have enjoyed phenomenal returns over the past couple of years as the Tron community has continued to grow.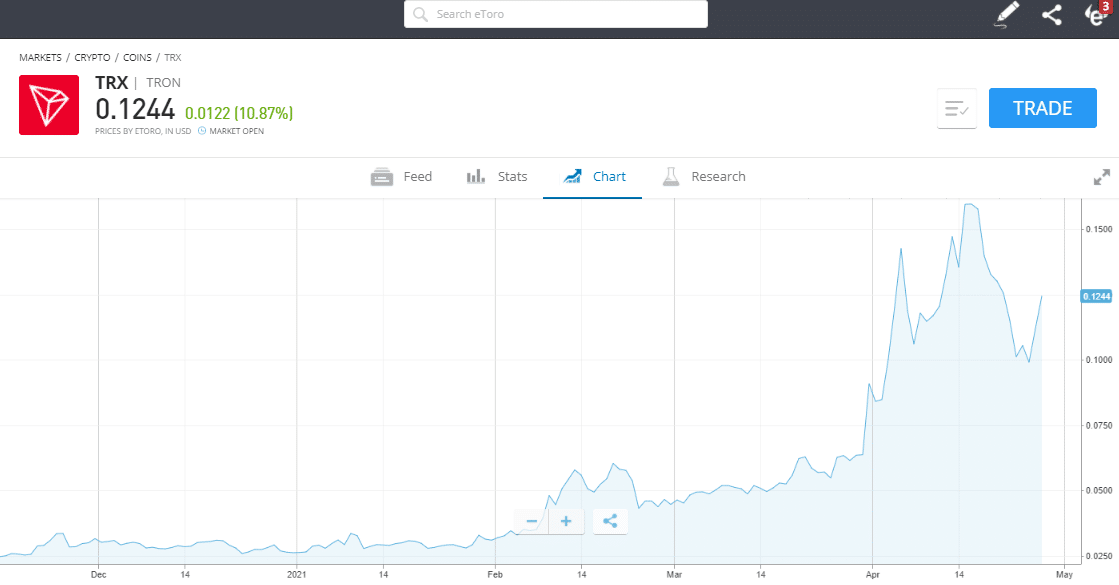 67% of retail investor accounts lose money when trading CFDs with this provider.
Cryptoassets are highly volatile unregulated investment products. No EU investor protection.
The best way to buy Tron safely is to use an established cryptocurrency exchange like eToro that is compliant and regulated by the UK Financial Conduct Authority.
As with most cryptocurrencies, you'll need a crypto wallet to store your Tron once you purchase them. Most digital assets trading platforms will provide you with a basic wallet to store your digital assets. Beyond this, only work with cryptocurrency exchanges known for their strict security protocols and funds protection in the case of an attack. If you plan on creating and managing your own wallet, we strongly advise against doing that. Self-managed wallets are prone to loss and attacks from bad actors.
Risk of Buying Tron in the UK
When you buy cryptocurrency it involves risk, given the volatility issues that surround them. Just like any other crypto asset, Tron's valuation is based on what traders and investors are willing to pay for it at any given time.
Tron is quite volatile. You should expect sudden price swings—which go either in your favor or against you.
While Tron is a great project with many potentials, there's no guarantee that Tron will be a blockbuster success in the long term. Even though the Tron blockchain network currently processes transactions faster than Bitcoin and Ethereum, both digital assets have a wider audience given the number of people who use them regularly.
Another thing you should consider is that Tron's 2,000 transactions per second pale in comparison with other decentralized protocols like the Solana blockchain network, which processes over 50,000 transactions per second (TPS), making it light years ahead of the Tron network.
While the returns can be exciting, you need to be cautious about buying Tron.
Selling Tron
Once you're done holding on to your Tron and are ready to sell, the steps will amaze you. You only need to repeat the same process you went through when you bought Tron earlier. Any exchange that allows you to buy Tron in the UK comes with a Sell feature. Head over to your trading account and open a Sell order for your Tron holdings.
This order will automatically be executed on the eToro, given the high liquidity it enjoys on the exchange. So, you shouldn't have any problems getting your funds back in the fiat or the cryptocurrency pair you bought them with.
Where to Buy Tron UK
Ready to buy Tron in the UK? There are so many options to choose from, but cryptocurrency exchanges are not created equal. There are the good, the bad, and the ugly. When choosing the best cryptocurrency exchange to use, you need to examine some key factors such as security, regulation, fees, and others.
To help you get a head start and find the best platform to buy Tron in the UK, let's explore two of the best stock brokers to trade cryptocurrency:
1. eToro- Best Stock Broker to Trade Tron – 0% Commission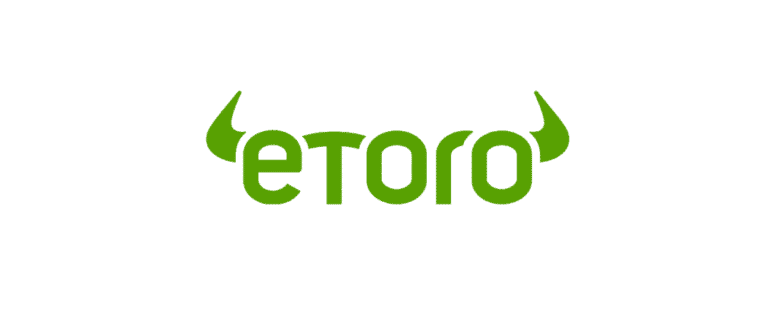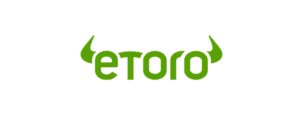 eToro is our number one pick for UK traders and investors who want to purchase Tron. eToro offers a competitive pricing structure. It's built as a zero-commission fee trading platform with a fixed 2.45% spread for every trade. This fee covers both the buy and sell orders.
To prevent dormant accounts, eToro charges a little "inactivity fee" if you do not use your platform for some time. They also charge a withdrawal fee, but these fees are quite small and easy to avoid.
eToro has been in the brokerage business since 2006 and offers some of the best trading experiences with its cutting-edge, industry-defining trading platform. Its Copy Trading feature is a major boost for newbies in the investment world and long-term investors.
eToro offers an in-house managed basket of securities called the Copy Trading Portfolio, which lets you diversify or spread your investment across many industries and regions without gaining too much exposure to one particular sector. This is a plus for UK traders, as they can actively gain passive income without necessarily day trading.
eToro also has customizable technical charts where you can analyze your Tron trades and other technical case studies. You can select the trading charts to display different price movements in select timeframes like one minute or even 5 minutes which can be ideal for you if you are day trading.

Concerning payment options, eToro offers a variety of channels to fund your trading account. You can buy Tron with your local UK bank account, credit card, or Visa debit card. You can also use your Paypal account, Neteller, or Skrill to buy Tron. The platform also has an option for crypto-to-crypto purchases. This allows you to use your existing crypto holdings like Bitcoin to buy Tron. eToro does not charge for deposits no matter the payment channel you fund your account, giving you a lot to trade with.
If you still want to gain exposure to other cryptocurrencies like Bitcoin besides Tron, eToro lets you trade 15 other cryptocurrencies and other traditional investment vehicles. You can buy shares of over 1000 global companies, trade in the foreign exchange market and commodity trading, and put your money in ETFs and bonds alongside. eToro also insures you up to £85,000 in the case of insolvency, and you will need to convert your GBP to USD for a small fee since eToro only accepts dollar deposits.
Pros
Offers exposure to 16 cryptocurrenies
Has an all-round trading experience as you can trade well-established capital and financial markets
Regulated by the FCA and several other financial regulators globally
Social trading experience and copy portfolio
Ideal for newbies and excellent for long-term investors as well
Zero commission
Minimum deposit of just $200 (about £140)
Supports multiple payment channels
Cons
You will be billed for inactivity and withdrawal fees
67% of retail investor accounts lose money when trading CFDs with this provider.
Cryptoassets are highly volatile unregulated investment products. No EU investor protection.
2. Binance – Lowest Spread for Buying Tron


Binance was founded in 2017 by Changpeng Zhao (popularly called "CZ") and is based in the Cayman Islands. Binance is the world's largest crypto exchange according to trading volume and averages over a billion dollars in daily sales.
Binance provides crypto traders and investors with the widest range of cryptocurrencies starting from the largest to the smallest altcoin in the crypto market. It also enables crypto-to-fiat trading pairs and is quite popular with crypto investors due to its large inventory of cryptocurrencies.
The cryptocurrency exchange offers some of the industry's lowest trading fees, with each spread costing just 0.10%. You can qualify for cheaper fees if you use Binance Coin (BNB)—the exchange's native coin to settle your fees. Binance offers UK traders an Instant Buy/Stell feature for a one-time purchase of Tron. Sophisticated traders can also buy Tron in the UK using the Professional platform, which grants access to an order book, trading charts, buy/sell limits and other sophisticated features.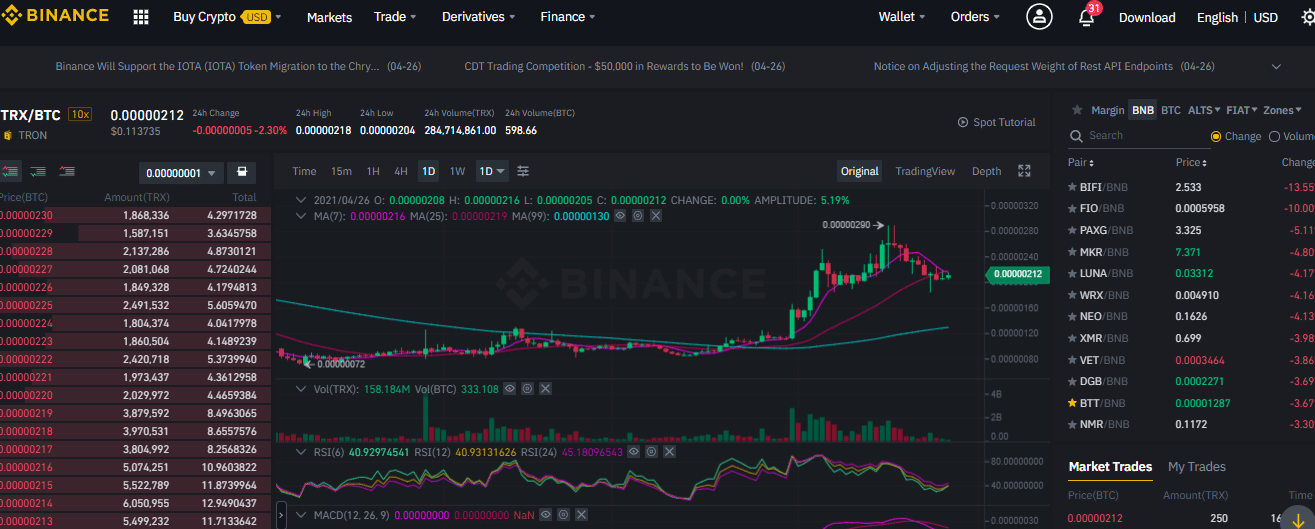 Binance takes the security of its Bitcoin trading platform very seriously and uses a two-factor authentication (2FA) protocol when users register on the platform. The 2FA generates a unique code to a customer's mobile number to verify if they want to trade, deposit or even withdraw funds. It also uses a CryptoCurrency Security Standard (CCSS) to protect user accounts further so it is a pretty safe place to trade crypto.
The exchange supports a number of payment options like bank transfers, credit/debit cards, peer-to-peer (P2P) trading, and third-party payment platforms like Banxa and Simplex. Binance also has a Launchpad where small altcoins are listed before they're listed for public trading on the platform. Here, Binance customers are allowed to own portions of the new altcoins through staking with Binance's proprietary coin BNB.
The world's largest cryptocurrency exchange also has an educational hub where materials and videos on how you can trade crypto on the Binance trading platform are available. Compared to other crypto exchanges, Binance has one of the richest crypto libraries in the industry. It's available to UK traders and is regulated by the Financial Conduct Authority (FCA).
Pros
Educational videos and materials for crypto newbies
Low spreads
Regulated by the FCA
Huge list of cryptocurrencies for more diversified investment
No account fees
Different platforms for different needs
In-depth trading charts to monitor price movements
Cons
Can be somewhat complex to crypto beginners
Offers exposure mainly to cryptocurrencies
Your money is at risk.
Best Way to Buy Tron UK – eToro Tutorial
Even though there are many cryptocurrency exchanges you can buy Tron UK from, your best bet is eToro, given its zero-commission trades, social trading network, and dynamic investment pool. This section will show you how you can get started buying Tron UK in just a few steps.
Step 1: Create an eToro account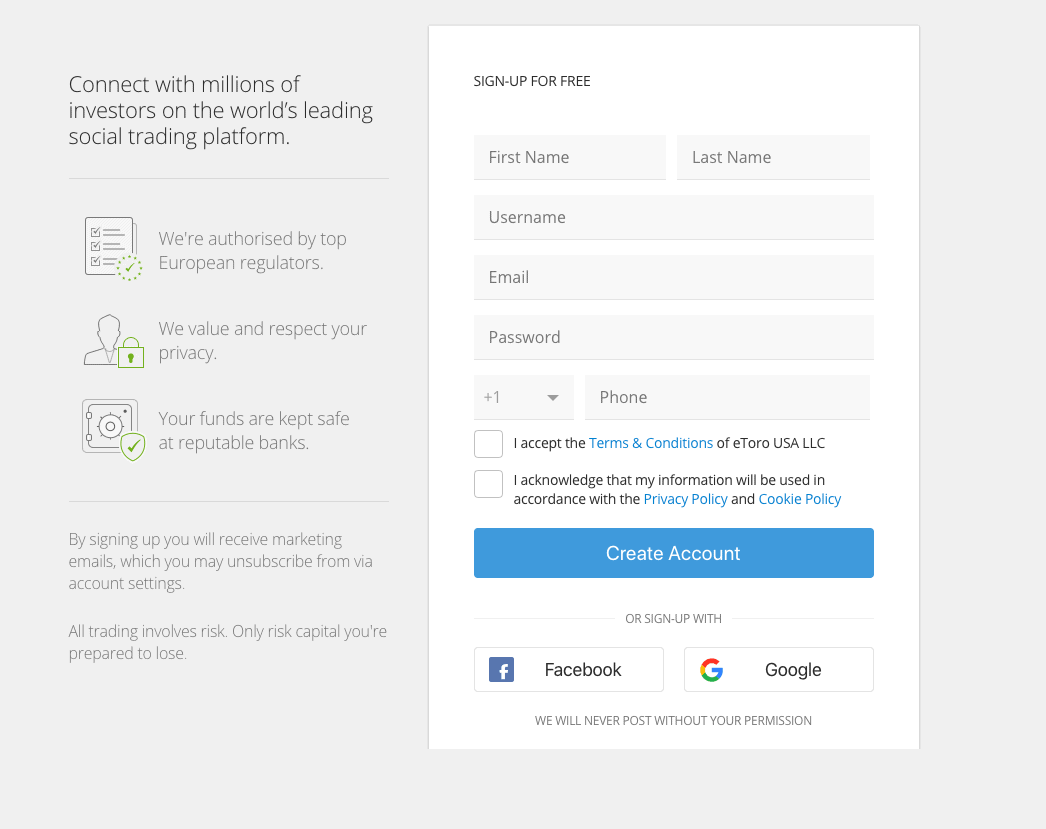 First thing you will need to do is visit the eToro homepage to get started. Then click on "Join Now" to get started to be taken to the registration page. There, you can quickly sign up with your Google account or Facebook username but if you want to use your email, fill in the needed details and click on "Sign Up."
Step 2: Verify your identity
As part of its regulatory duties, eToro will require you to upload a copy of your passport and driver's license. You will also need to submit a copy of your recent bill or bank statement that shows your residential address.
Step 3: Download the eToro App
eToro has a web platform and a mobile app. So, if you are constantly on the move, this can be a useful tool for you. Just head down to Google Play Store or Apple App Store and search for 'eToro' and install.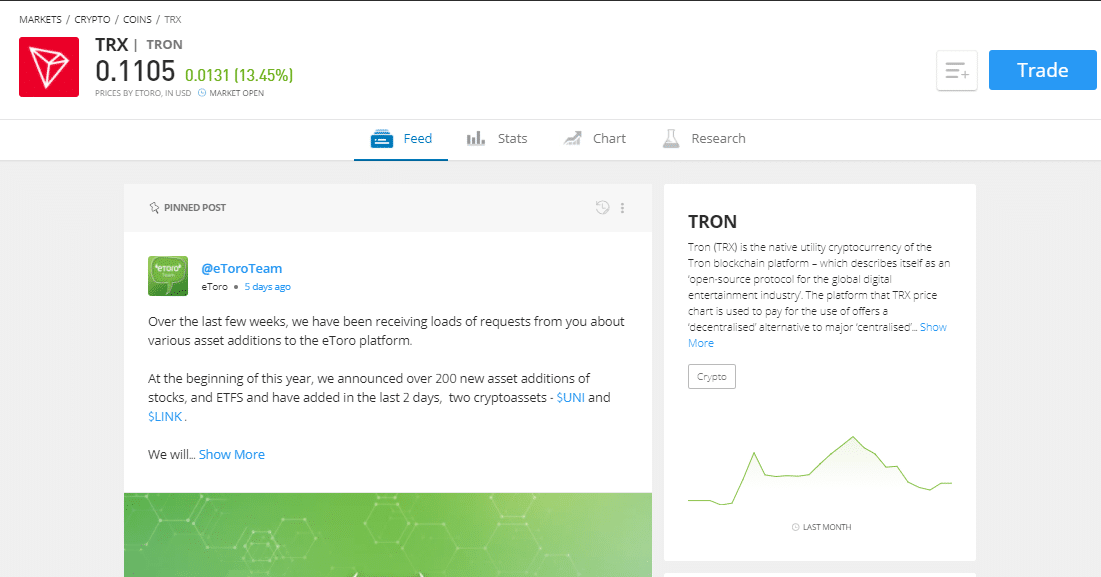 Once this is complete, you can login and start trading. Just to put you at ease, there is no marked difference between the web version and the mobile trading platform. You will still be able to access all the market details you need to trade Tron properly.
Step 4: Fund Your Trading Account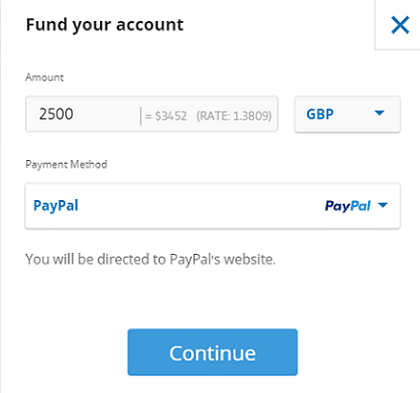 The next step is to fund your account. To begin, eToro requires a minimum deposit of £140, and you can pay through a number of channels like UK bank transfer, Neteller, Skrill, or Paypal.
Step 5: Buy Tron
The final step you need to own some Tron is to buy them. To do this, click on the search bar on the top of the dashboard and type in 'Tron.' Click on 'Trade' when it shows up on the screen and input how much you are willing to invest in it.
Remember to set a stop loss or take profit limit for your trade to reduce your level of exposure to the digital asset. When you are done with this, click on the 'Open Trade' icon to complete your Tron purchase.
eToro – Best Crypto Exchange to Buy Tron in the UK
Tron may not be called in the same breath as Bitcoin and Ethereum but it has a lot of potential given the growing number of users.
Its throughput is also a major attraction given that Ethereum has not been able to address its high gas fees and network congestion challenges and with the growth of decentralized finance (DeFi) and non-fungible tokens (NFTs), the Tron network will still be a viable investment option for some time yet.
The larger crypto market has seen exponential growth in Q1 2021 after reaching the $2 trillion mark and many institutional investments are flowing into the nascent space. Tron's proprietary digital token TRX is also set for a potential upside even though it may not be worth a lot right now, so it could be a good deal if you are focused on the long-term.
We have been able to cover a lot of ground with this guide. You should know the best cryptocurrency exchange you can get Tron from and what steps you have to undergo to get started. To get started with trading Tron today, click the link below and sign up for an eToro account.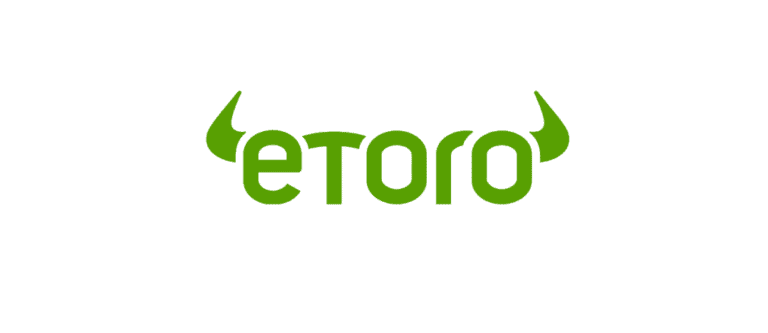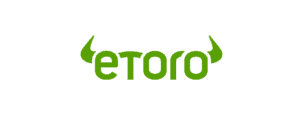 67% of retail investor accounts lose money when trading CFDs with this provider.
Cryptoassets are highly volatile unregulated investment products. No EU investor protection.
FAQs
[sc_fs_multi_faq headline-0="h4″ question-0="What is the difference between Tron and TRX?" answer-0="Tron is a decentralized platform for building decentralized applications (DApps). Tronix is the digital token used in the Tron ecosystem for value transmission, staking, and governance protocol. " image-0="" headline-1="h4″ question-1="Do I need to own Bitcoin before I can buy Tron?" answer-1="Not really, unless you want to. eToro makes it easy for your to fund your account through a UK bank transfer or through your credit cards. Once you fund your account, all that is needed is to search for 'TRX' and enter the amount you are willing to invest in it to get started." image-1="" headline-2="h4″ question-2="How can I buy Tron stocks?" answer-2="Tron has not registered to become a publicly-traded company so its shares are not available on the stock markets. The only way to invest in Tron is to buy TRX on a cryptocurrency exchange like eToro" image-2="" headline-3="h4″ question-3="Is Tron a potential Ethereum killer?" answer-3="Many DApps projects have been dubbed the Ethereum killer by the media. Even though many of them have some interesting projects going on, Ethereum's influence cannot be easily usurped. So it may still be sometime before we see a true rival for the mammoth DApps platform." image-3="" headline-4="h4″ question-4="Will TRX hit $1 in 2021?" answer-4="It's a possibility, but no one knows when or if it would happen. We can only speculate based on how the general crypto market performs this year and how many people come on board the Tron blockchain network." image-4="" count="5″ html="true" css_class=""]