Based in the UK and looking to buy shares in BP (British Petroleum)? If so, you've got hundreds of FCA-regulated brokers to choose from. While some platforms excel by offering commission-free trades, others stand out by offering a super user-friendly investment experience.
In this article, we show you how to buy BP shares in the UK.
Step 1: Find a UK Stock Broker
BP is listed on the London Stock Exchange, so you will need to find a UK broker that gives you seamless access to FTSE 100 shares. You will need to look at a range of metrics before signing up – such as how much the broker charges, what payment methods it accepts, and whether or not your money is safe.
To help you along the way, below you will find our three top-rated UK stock brokers to buy BP shares from.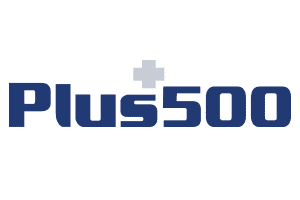 Are you more interested in 'trading' BP stocks? If so, you will be best suited for a CFD platform like Plus500. Plus500UK Ltd is authorized & regulated by the FCA (#509909) – and its parent company is listed on the London Stock Exchange. On top of BP share CFDs, Plus500 gives you access to thousands of other instruments. This includes UK-listed firms, as well as those based overseas – all via CFDs.
Crucially, as you will be trading stock CFDs, you will not own the underlying shares. Instead, you will be speculating on which way you think the price of BP will go. As such, you will have the ability to go both long and short. Additionally, stock CFDs at Plus500 also permit leverage of up to 1:5 (more on other asset classes). So, a £100 balance would allow you to trade £500 worth of BP share CFDs.
What we also like about Plus500 is that it offers a user-friendly trading platform that can be accessed via your web browser – so there's no need to download or install any software. When it comes to pricing, Plus500 offers commission-free trades on all stock CFDs, and it costs nothing to deposit and withdraw funds. Minimum deposits start at £100, which you can do with a debit/credit card, Paypal, or bank account.
Pros:
Commission-free CFD platform – only pay the spread
Thousands of financial instruments across heaps of markets
Retail clients can trade stock CFDs with leverage of up to 1:5
You can short-sell a stock CFD if you think its value will go down
Takes just minutes to open an account and deposit funds
Cons:
CFDs only
More suitable for experienced traders
72% of retail investors lose money trading CFDs at this site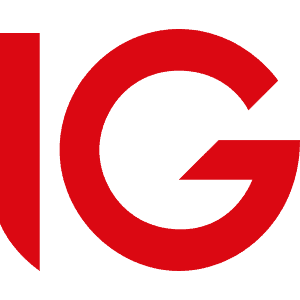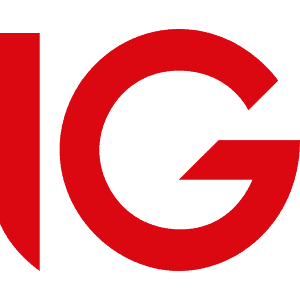 IG is a UK broker that offers both share dealing services and stock CFDs. So, if you want to purchase BP shares and benefit from regular dividend payments, you can do this with ease. IG charges £8 per trade – which is very competitive.
You can get this down to £3 per order if you placed at least three trades in the prior month. If you want to trade BP shares with leverage – or you want to short-sell the company, IG permits this via CFDs. Regardless of which investment stream you go with, you will be using one of the most established brokers in the UK space.
Launched in 1974, IG holds licenses with several regulatory bodies – including the FCA. Accounts can be opened from £250, and supported payment methods include a UK debit/credit card or bank account. Finally, the platform also gives you access to more than 10,000 equities across dozens of stock exchanges, so you can easily invest in international companies.
Pros:
Trusted UK broker with a long-standing reputation
Good value share dealing services
Leverage and short-selling also available
Spread betting and CFD products
Access to UK and international markets
Great research department
Cons:
Minimum deposit of £250
US stocks have a $15 minimum commission
Your capital is at risk.
Step 2: Open an Account and Deposit Funds
Once you have selected a UK stock broker that meets your requirements, you will need to open an account and deposit funds before you can buy shares. As such, we are now going to show you what you need to do to get started today. Although we have decided to show you the step-by-step process with our top-rated share dealing platform eToro, the steps remaining largely the same regardless of which broker you opt for!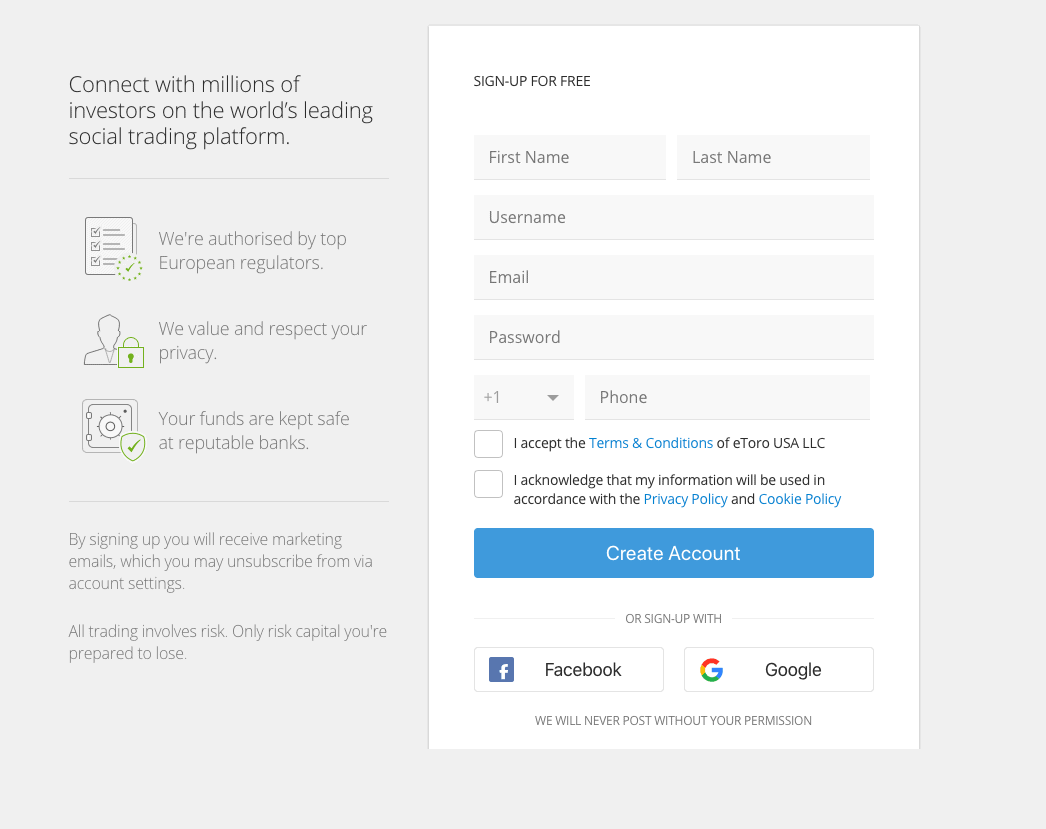 67% of retail investor accounts lose money when trading CFDs
To get the ball rolling, head over to the eToro home page and elect to open an account.
Then, you'll need to provide the following personal information:
Full Name
Home Address
Date of Birth
National Insurance Number
Email Address
Phone Number
As an FCA-regulated broker, eToro will now be required to collect some verification documents from you.
This will include your:
Passport or Driver's License
Recent Utility Bill or Bank Account Statement
If you don't have time to upload the documents straight away, you can initially buy upto €2,000 (£1,800-ish) worth of BP shares. But, you will need to verify your account before you can request a withdrawal.
Nevertheless, eToro supports the following payment methods:
Debit Cards
Credit Cards
Paypal
Skrill
Neteller
UK Bank Transfer
Unless you decide to use a UK bank account to deposit funds at the broker, all other methods are credited instantly.
Once your eToro account has been funded, you can then buy BP shares straight away. The easiest way to do this is to enter 'BP' in the search box at the top of the page. Once you see BP load-up, click on the 'TRADE' button.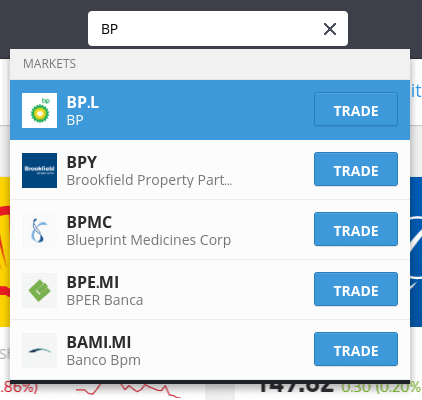 Then, you will be presented with an order box. This allows you to specify how much you wish to invest, and at what price. To keep things simple, leave this set as a 'market order', as eToro will execute your trade at the next available price. As such, all you need to do is enter the amount you want to invest in the 'amount' box, before clicking on the 'OPEN TRADE' button.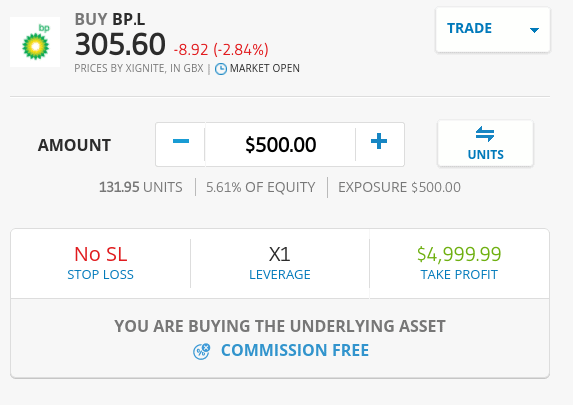 And that's it – you've just bought BP shares from the comfort of your home!
67% of retail investor accounts lose money when trading CFDs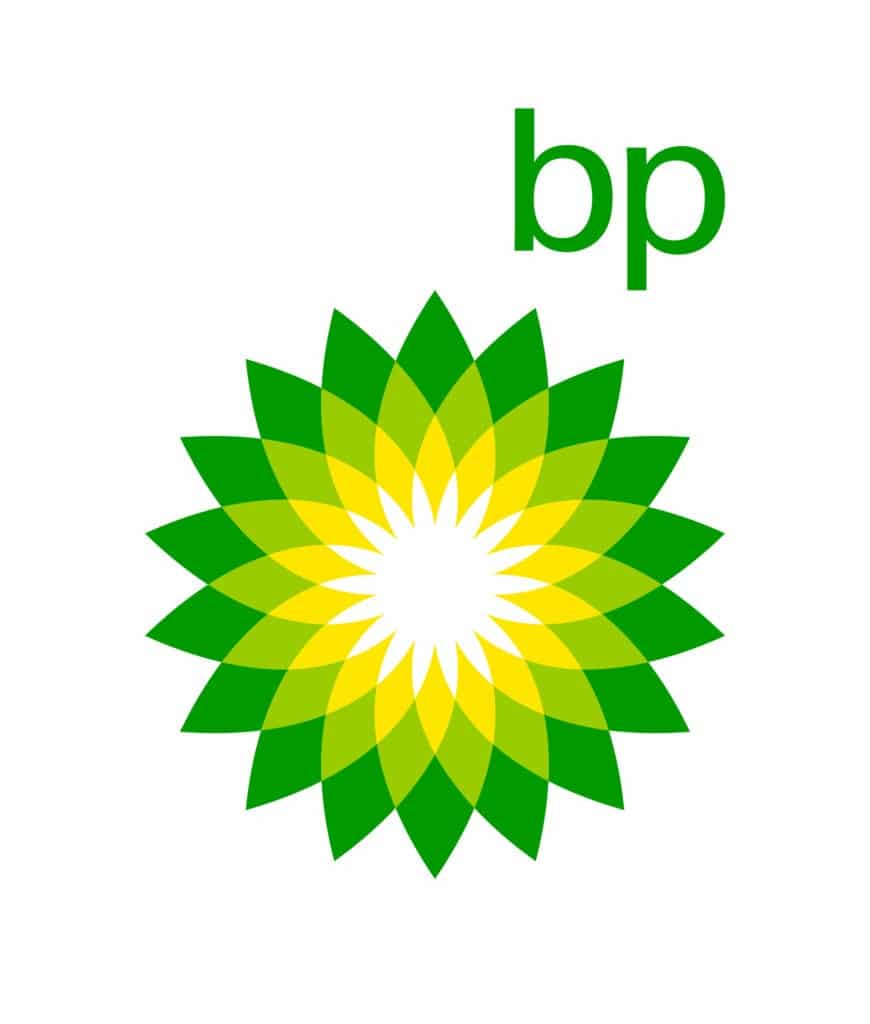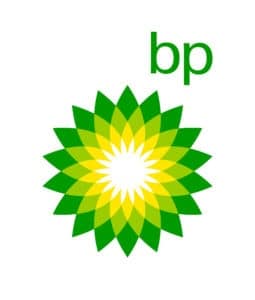 As the name suggests, British Petroleum – or simply BP – is a multinational oil company with its headquarters in the UK.  Launched in 1909, the firm is now a publicly-listed company – meaning that you can purchase its shares with ease. Although BP also has a presence on both the Frankfurt Stock Exchange and the New York Stock Exchange, the company's primary listing is on the London Stock Exchange.
Due to the sheer size of the wider organization, BP forms part of the FTSE 100 index. In terms of the company's stock performance, this has been hit and miss over the past couple of decades. Most pertinently, BP is yet to fully recover from the infamous Deep Horizon Oil Spill of 2010.
Not only did this result in fines of just under $19 billion for BP, but its share price declined by almost 50% in the space of just two months. Much like the vast bulk of the oil and gas industry, BP has been hit particularly hard by the global coronavirus pandemic. While its stocks were trading in and around the 480p-mark at the turn of the year, BP shares went as low as 222p in Q1 2020.
With that being said, although BP's share price has underperformed in recent years, it had been paying a rather juicy dividend yield until the coronavirus pandemic came to fruition. This exceeded the 10%-mark, which did well to offset some of the losses encountered by a dropping share price. However, its most recent dividend payment of Q2 2020 was cut by two-thirds – further contributing to stockholder woes.
On the one hand, investor sentiment around BP shares has been anything but positive in recent quarters. Sure, the coronavirus pandemic has hit the wider oil and gas industry hard, but it hardly performing well before this. Nevertheless, below we have listed some of the reasons why you might consider adding BP to your wider stock portfolio.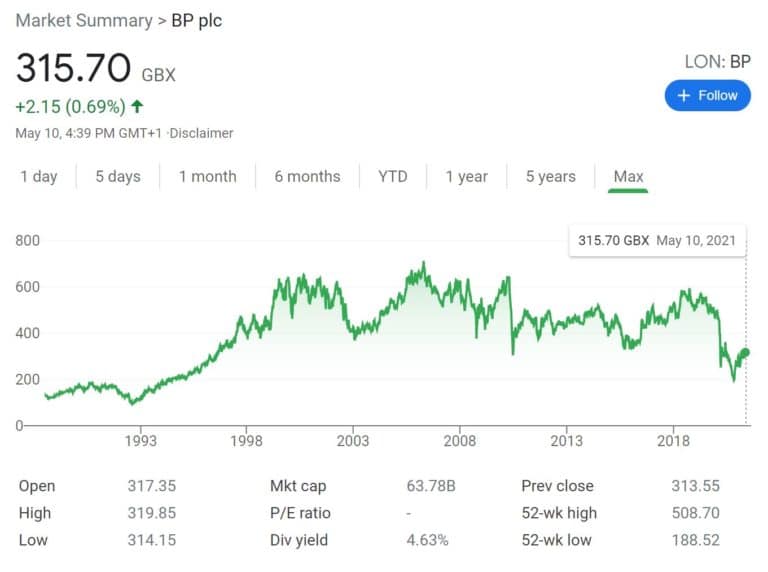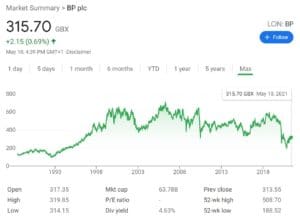 The Oil Industry Will Eventually Recover
With global travel coming to a standstill, the oil and gas industry was one of the hardest hit by the coronavirus pandemic. As a result, BP shares have taken a substantial nose-dive since the pandemic began. On the one hand, it is true that it will take many months (or more) before travel restrictions are fully lifted. Moreover, it is likely that the pandemic will spurn policymakers to accelerate the transition to greener energy alternatives.
But, oil and gas are still the de-facto global energy sources, so in all likelihood, the industry will eventually recover to pre-pandemic levels. If and when it does, it is hoped that BP shares will follow suit. If this is something that you believe in, you still have the chance to purchase BP stocks are a significant discount.
Double-Digit Dividend Policy Could Resume
Once again making assumptions that the oil and gas industry will recover from its coronavirus woes, management at BP might be tempted to reinstate its overly generous dividend policy. At one point this peaked at a yield of 10.2% – subsequently outpacing the vast bulk of dividend-paying FTSE 100 companies.
OPEC Cutting Production Levels
Make no mistake about it – OPEC is desperate to increase global oil prices. With that in mind, the organization has since agreed to cut production levels by 10 million barrels per day. Sure, the geopolitics of global oil can change at any given time, but collectively, major producers need prices to stabilize. In the case of BP, the company has a break-even point of $35, so the OPEC agreement should help proceedings.
BP has been on shaky ground for a number of years. So, after a 50% gain in the share price over the past 6 months, is this stock worth buying? Or should you bet against BP and sell?
We think BP is a buy, but we'd consider this a very high risk investment. The main thing working in BP's favour is the economic recovery and the concomitant increase in oil prices. BP shares are still trading 37% below the price they were at prior to the pandemic, so there's a ton of upside if you believe that the company will return to business as usual.
However, it seems unlikely that things in the oil industry will go back to how they were prior to the pandemic, and BP knows it. The rise of electric vehicles poses a fundamental challenge to the oil market. In addition, the economic recovery in Europe and the US is heavily focused around renewable energy. So, we don't expect BP shares to fully recover to their pre-pandemic price.
That said, we do think BP shares will find a middle ground between were they were at the start of 2020 and where they are now. BP has the resources to reposition itself for a hybrid world and it is making faster moves than many other oil companies to do so. The road ahead will likely be rocky, but we think BP will rise thanks to recovering oil prices in the short term and due to investment in alternative energy sources in the long term.
The Verdict
In summary, BP shares are worth just a fraction of what they were before the infamous Deep Horizon Oil Spill of 2010. This is somewhat concerning for stockholders, as the oil industry has since hit record heights – with BP shares failing to follow suit. In response, management has been upping the ante with a super-generous dividend policy that peaked at a staggering 10.2% yield.
Sure, this had to be cut by two-thirds in response to the COVID-19 pandemic, but the impact of the virus has affected the entire oil and gas spectrum. Ultimately, if you believe that BP will return to its pre-pandemic price levels, you can still purchase the shares at a very favorable price. Add in the perspective of a return to double-digit dividends, and the company suddenly becomes more attractive.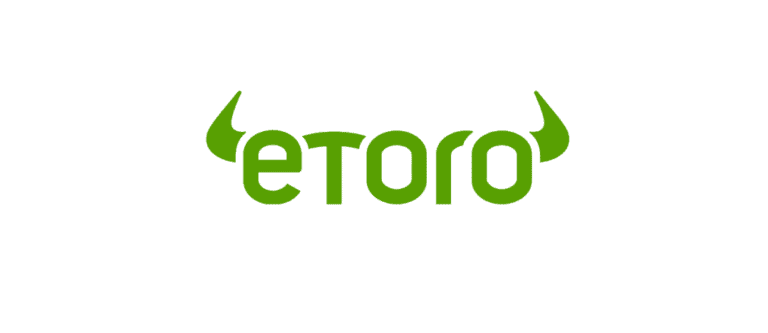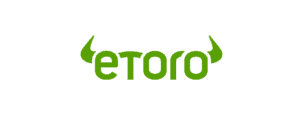 67% of retail investor accounts lose money when trading CFDs with this provider.
FAQs
What stock exchange is BP listed on?
What is the minimum amount of BP shares I can buy?
What payment methods can I use to buy BP shares?
Read next