AMC Entertainment just updated a solid Q4 2021 performance which made investors interested in AMC stock. With regular volatility in the stock, it makes sense to properly analyse the market conditions of this popular investment. 
This article will give you a detailed analysis on the price of AMC Entertainment. 
AMC Entertainment operates in the entertainment industry and is considered one of the largest cinema company. It owns 950 theaters and operates 10,500 screens worldwide. Most of its brick-and-mortar facilities are located main target market–the United States.
The company's core business operations are movie screening and theatrical exhibits. It also operates on food distribution and online ticket booking through its subsidiaries. It is listed in the New York Stock Exchange under its ticker symbol "AMC."
How AMC Became a Reddit Favorite
In 2020, the entertainment giant became an unprecedented market favourite amid a short-squeeze trend. 
Investors from Reddit's WallStreetBets forum started to hype companies undergoing financial difficulties at that time. Many of these companies, among which is AMC Entertainment, nearly filed for bankruptcy. The pandemic wreaked their business operations on top of selling pressure from short-sellers.
The trend is nothing short of a life-saver for the Leawood, Kansas-based entity. It is the main reason why it is alive and still operating today. The Reddit stocks hype pumped millions of cash into its balance sheets. And its stock price ballooned by 550% and hit above $70.00 from a one-digit value at the height of the craze.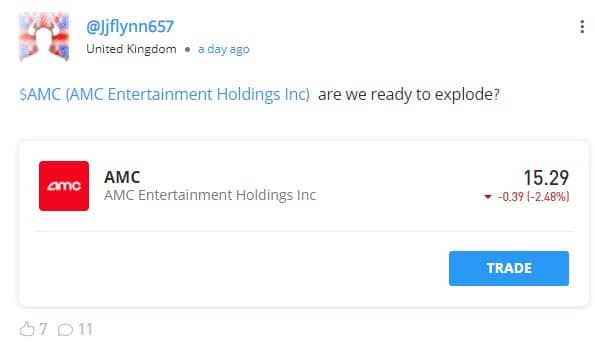 If we take a look at the AMC share price chart, we can see that the stock had undergone painful corrections since last year's short-squeeze streak. It recorded a series of lower lows since December 2021 which formed a downtrend chart pattern. 
The AMC live share price shows that the stock is trading at $15.32, down 2.48% in the last 24 hours. The immediate resistance is found at $17.12. 
The number of moviegoers started to grow late last year after Spiderman topped the worldwide box office list with $1.6 billion in earnings. The latter gave the share price of this US stock a 22% increase on the onset. 
Year-end 2022 Price

Wall Street analysts' year-end AMC share price forecast is at $35.00 per share, with an average price of $10.45 in 2022. This level translates to a more than 100% increase from current prices. 
Will AMC Reach $50 this Year?
Traders from WallStreetBets still give no sign of putting AMC in another wild ride for the time being. One of the ways we see the stock hitting $50.00/share price point is through another short-squeeze bonanza.
AMC's NFT Thrust
In December, AMC partnered with Sony to create a Spider-Man NFT which it distributed to moviegoers in exchange of attendance. 86,000 non-fungible tokens were distributed. Many of which have been redistributed for a higher price in the secondary market.
As of this writing, it has already distributed 800,000 NFT tokens. The management sees this offering as its main market puller in the next years.
AMC Entertainment's Cryptoverse
The Kansas-based entertainer is also increasing its presence in the cryptocurrency space. It accepts Bitcoin, Ethereum, and Litecoin as payment options. Recently, it announced the addition of Dogecoin and Shiba Inu to the list.
Its cryptoverse initiative shows its willingness to explore options to make its services accessible to the market. This openness could also become its main comparative advantage against competitors like Cineworld. Online payment options like Apple Pay and crypto already account for 15% of its overall ticketing activity.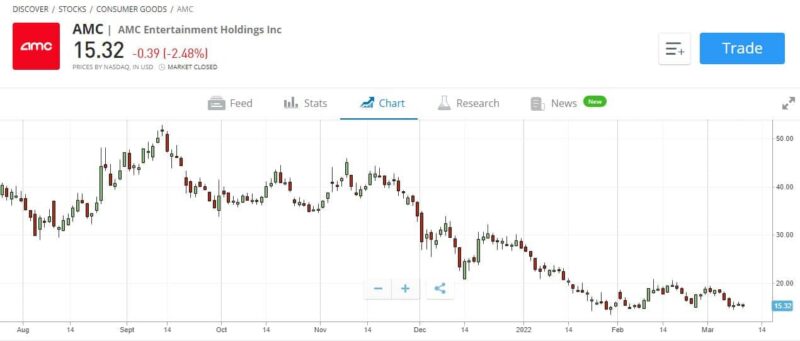 Before giving the gist of our AMC stock price prediction, let us look at the company's fundamentals. This will help us gauge whether the American theater giant has sound financial standing or not.
Market Capitalization
The theatre giant has a market capitalization of $8.12 billion. 
Price Performance

In June 2021, the AMC share price hit an all-time high of $72.62. While its all-time closing price came at $62.55. Meanwhile, the stock's 52-week low is at $8.31 which is nearly 50% below its live price.
The AMC share price is down 44.17% year-to-date but up 55.57% versus the same period in 2021.
Annual Revenue and EPS

Some market analysts saw an improvement in AMC's annual revenue in 2021 brought by a surge in demand. Revenue hiked from $1.07 billion in 2020 to $2.2 billion last year.
There are a lot of online platforms where investors can purchase in the UK. 
In the section below, we review a popular brokerage that allows users to invest in AMC shares.
eToro
eToro is the largest trading platform outside the United States. It is legally regulated to operate in the UK by the Financial Conduct Authority (FCA) and is used by more than 26 million people worldwide. It operates under license number 7973792 for stock, crypto, and ETF trading.
eToro offers no commissions on stocks, so users can purchase AMC shares and invest in other companies with zero added fees. On top of that, eToro is a social and copy trading platform, meaning users may instantly copy the portfolios of senior stock traders.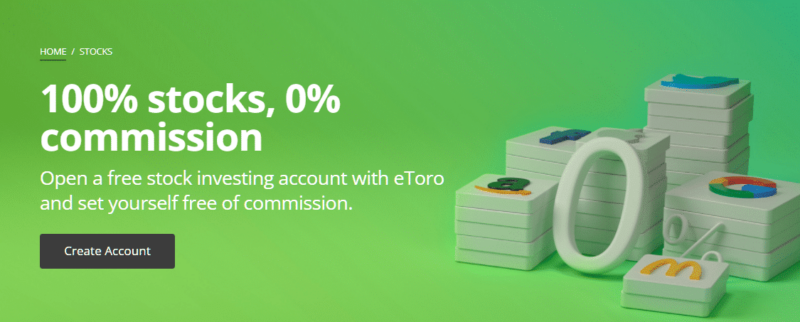 Depending on how much you'd like to invest, users can own a portion or a full value of a specific stock through the platform. eToro introduced this concept to make expensive stocks blue chips accessible to investors that make small investments. Since AMC is trading cheap, you do not need much of this feature to get a share.
eToro boasts a simple-to-use interface that can be accessed via a web account or a mobile app. eToro also lets users create a demo account with $100,000 funding.
| | | | | | |
| --- | --- | --- | --- | --- | --- |
| Stock Broker | Minimum Deposit | Fractional Shares? | Pricing System | Cost of Buying Stocks | Fees & Charges |
| eToro | $10 | Yes – $10 minimum | 0% commission on ALL real stocks, spreads for CFDs | Market spread is not included when buying real stocks | No Deposit fees, $5 withdrawal fee, $10 inactivity fee, no account management fees. |
Sponsored ad. 68% of retail investors lose money trading CFDs at this site
Conclusion
While AMC Entertainment is one of the biggest losers of the pandemic, the company continuously invests in diversification opportunities such as NFT, cryptocurrency, and food business. If you wish to invest in the AMC stock, it is best to do so after conducting your own research and analysis on the investment. 
FAQs
What is the highest price AMC stock has ever been?