How to Invest in Terra UK – With Low Fees
Fact Checked
Everything you read on our site is provided by expert writers who have many years of experience in the financial markets and have written for other top financial publications. Every piece of information here is fact-checked.
Disclosure
Please note that we are not authorised to provide any investment advice. The information on this page should be construed for information purposes only. We may earn commissions from the products mentioned on this site.
Want to invest in Terra? Terra (LUNA) is a unique blockchain that uses stablecoins and its in-house token LUNA to offer fast and cheap retail transactions. Terra applications do good business in Asia and the price of LUNA rocketed in 2021 by 8,400%.
Throughout this beginner's guide we'll cover everything you need to know about how to invest in Terra as well as the best place to invest in cryptocurrencies with low fees. Read on as we investigate the ins and outs of trading Terra coin.
Key points on Investing in Terra
Invest in 'real' crypto stock to put in your crypto wallet, or trade virtual crypto positions including crypto pairs with eToro.
Terra is a blockchain protocol that offers price-stable international payment services.
The native token for Terra is known as LUNA, and as a governance token it gives holders the right to vote during project proposals.
It does this by using stablecoins that are pegged to fiat currencies such as the US dollar. Terra currently has a market cap of $22.8B.
How to Invest in Terra – Quick Steps
Step 1: Open an account with eToro – eToro is our recommended broker for investing in Terra as it offers low fees, high levels of security and some great trading copy trading tools. Simply click on our link & provide some basic personal details to get started.
Step 2: Deposit – Once verified, you can deposit up to 15 fiat currencies with eToro. Depending on which country you live in, a range of deposit methods are available including bank transfer, credit/debit card, PayPal, Rapid Transfer, Skrill, Trustly and Neteller. There is no deposit fee.
Step 3: Search for crypto – Searching for crypto is easy. You can access eToro's list of crypto direct or search by name.
Step 4: Invest – It takes seconds to buy crypto with eToro. You can buy 'real' crypto which eToro will hold for you, or you can transfer it to your crypto wallet. (You can get eToro's own Money crypto wallet if you do not already have one).
Don't invest in crypto assets unless you're prepared to lose all the money you invest.
What is Terra (LUNA)?
Terra is a DeFi (Decentralised Finance) blockchain network. Terra's coin LUNA is ranked #8 in terms of crypto market capitalisation ($48.8bn):
Top 10 Crypto by Market Cap
| | |
| --- | --- |
| Crypto | Market Cap |
| Bitcoin | $1.2t |
| Ethereum | $514bn |
| Filecoin | $108bn |
| Solana | $103bn |
| Binance Smart Chain | $103bn |
| Avalanche | $80.4bn |
| Cardano | $71.1bn |
| Terra | $48.8bn |
| Polkadot | $38.4bn |
| Axie Infinity | $36.5bn |
(Source: Tokenterminal, November 2021)
Terra hosts two types of digital currency which work in unison:
LUNA is Terra's in-house staking and governance token. When people say 'Invest in Terra' they are usually referring to LUNA.
Terra also offers an expanding range of stablecoins pegged to fiat currencies: the US Dollar TerraUSD (UST), the British Pound (TerraGBP), the Japanese Yen (TerraJPY), the Euro (TerraEUR), the South Korean Won (TerraKRW), and the Mongolian Turik (TerraMNT).
LUNA is used in the Terra ecosystem to stabilise the price of Terra stablecoins.
Terra was founded in 2018 in South Korea by Do Kwon and Daniel Shim of Terraform labs. Terra's aim is to support an end-to-end retail payment system.
In South Asia, the digital payment landscape is massively fragmented: there are roughly 50 digital payment systems in use including ApplePay, SamsungPay and Alipay. Neither retailers and customers are served by this confusion. Terra aims to provide a fast and cheap way of handling payments that now offers the key advantage of being compatible with other key blockchains.
In Mongolia, you can pay some taxi drivers using TerraMNT. Many other e-commerce applications of Terra's stablecoins are in use, with 45 million customers and £25 billion USD in gross merchandise value. Terra's customers and merchant partners use Terra's wallet, Terra Station, to manage their supply of Terra stablecoins and staking coin LUNA.
How does the Terra system work?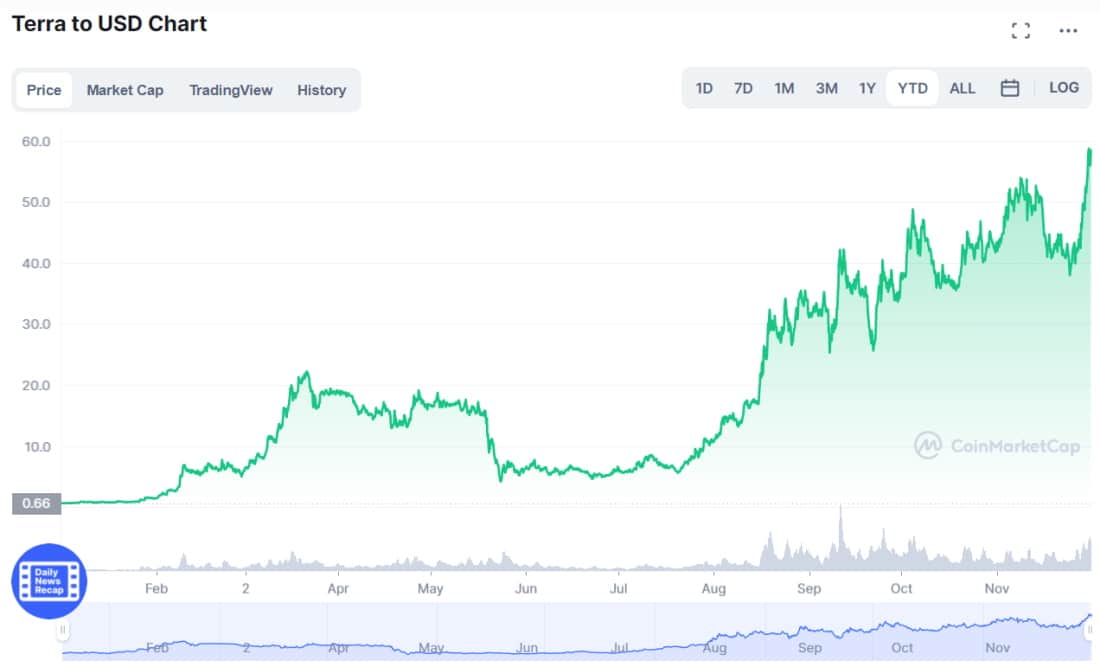 The Terra system centres on the use of a number of stablecoins pegged to fiat currencies. Fiat currencies are conventional currencies issued by sovereign governments like the American Dollar (USD) and the Euro (EUR). Stablecoins are crypto which track precisely the value of fiat currencies. The aim of stablecoins is to offer a fair medium of exchange in the real world with the added convenience of digital operation.
Terra achieves the price stability of its stablecoins with an algorithmic system that motivates traders to engage in arbitrage between the stablecoins, on the one hand, and Terra crypto and staking token LUNA, on the other hand. The net result is profits for arbitrage traders, stabilisation of the stablecoins and an elastic supply of LUNA. LUNA is minted as part of the arbitrage process, but is also burnt as a deflationary measure.
Arbitrage is what happens when a trader takes advantage of the difference in price between two markets. If you are new to crypto, be reassured that you can trade Terra stablecoins or Terra crypto LUNA without engaging in arbitrage. In Terra's system, you can – if you want – stake your LUNA with a validator who will use it in arbitrage and earn you rewards. But this is not compulsory.
What tech is Terra based on?
Terra uses Cosmos blockchain technology and the Tendermint Proof-of-Stake (PoS) validation system. Proof-of-Stake is much faster and more energy-efficient than the old system of Proof-of-Work used by Bitcoin, for example.
As a blockchain transaction system, Terra is cheaper and faster than Ethereum but cannot match Ethereum for global take-up. A good reason to invest in Terra tech is that it is designed to be compatible with the Ethereum and Binance Smart Chain blockchains via its web-based Terra Bridge service. Terra Bridge is based on CosmWasm smart contract tech.
Why Invest in Terra?
Terra Luna has a market cap of over $23B putting it in the number 13 position of the top cryptocurrencies across the board. According to coinmarketcap.com it's currently trading for $61.46 with a daily trading volume of $2.3 billion. But with so many digital assets out there it's hard to give a definitive answer to the question of should I invest in Terra Luna? 
One of the main reasons crypto-hungry investors are looking to buy Terra Luna is because it provides access to a level of stability that fiat currencies have. Terra Luna is trying to address the pressing issues and hurdles that most blockchain technologies are facing. Those obstacles include quick settlements and high volatility. Terra Luna offers a decentralized financial model that is pegged to a range of stablecoins.
Its goal is to maintain the stability of the stablecoins in its system. A stablecoin is a coin that, by definition, does not change significantly in real time. It employs its own technology to match supply and demand and to try to make its stablecoins stable using algorithms. If you consider how a Visa debit card operates, it enables cross-border transactions for cheap fees for retailers. You could then use the Terra Luna blockchain technology along with its native DeFi token to yield similar results. This could be applied in key industries such as e-commerce.
Terra Crypto Price
Price history to date
Terra raised $32 million from LUNA's February 2018 ICO. Institutional investors included Huobi, OKEx and Biance. LUNA was launched onto exchanges in July 2019 at a price of $1.31.
The price of LUNA then fell and, until the beginning of 2021, the Terra crypto price rarely rose over a dollar. Then, over the course of 2021, the price of LUNA rose by a staggering 8400%:
On January 1st, 2021, the price of LUNA was $0.65.
With the crypto boom of 2021, the price of LUNA rose to hit almost $35 by the end of August.
The subsequent crypto crash saw the price fall to $25.3 on 7th September.
On 30th September, Terra introduced its Columbus-5 mainnet upgrade. This meant Terra could now interact with other blockchains. The move also introduced the burning of LUNA as a deflationary procedure.
As a result, on December 1st, 2021, the price of LUNA hit an all-time-high of $59.63.
Current price
On December 1st, 2021, the Terra crypto price (LUNA) is $57.32.
Terra Coin Price Prediction
The long-term Terra price prediction is excellent. Technical chartists predict that, by 2026, a $100 investment in LUNA right now (which would buy you just over 2 LUNA) could be worth almost $700. That is a 5-year price increase of almost 600%.
2022 Terra Price Prediction
Some market analysts predict that LUNA will continue rising in price to reach $118 by the end of 2022. More conservative analysts are slightly less bullish, with a Terra price prediction of almost $80 for 2022.
2023-2025 Terra Price Prediction
By 2025, the price of LUNA is expected by some analysts to reach $139. The bulls' argument is that blockchain payment systems will become the norm, and Terra – as one of the top blockchains – is well-placed to leverage its existing business in Asia and continue to grow.
How to Invest in Terra – Tutorial
Now let's take a detailed look at how you can invest in Terra Luna using our recommended cryptocurrency broker, eToro.
1. Choose a Crypto Broker
eToro – best overall crypto broker with copy trading tools
With over 20 million customers in 120+ countries, eToro offers a user experience that has been honed over 15 years to offer ease, speed and peace of mind.
As one of the best FCA brokers that's regulated by the FCA, ASIC and CySEC, eToro allows you to buy crypto and hold it in your own crypto wallet. eToro provides its in-house eToro Money crypto wallet, which you can use to hold crypto or transfer it on elsewhere.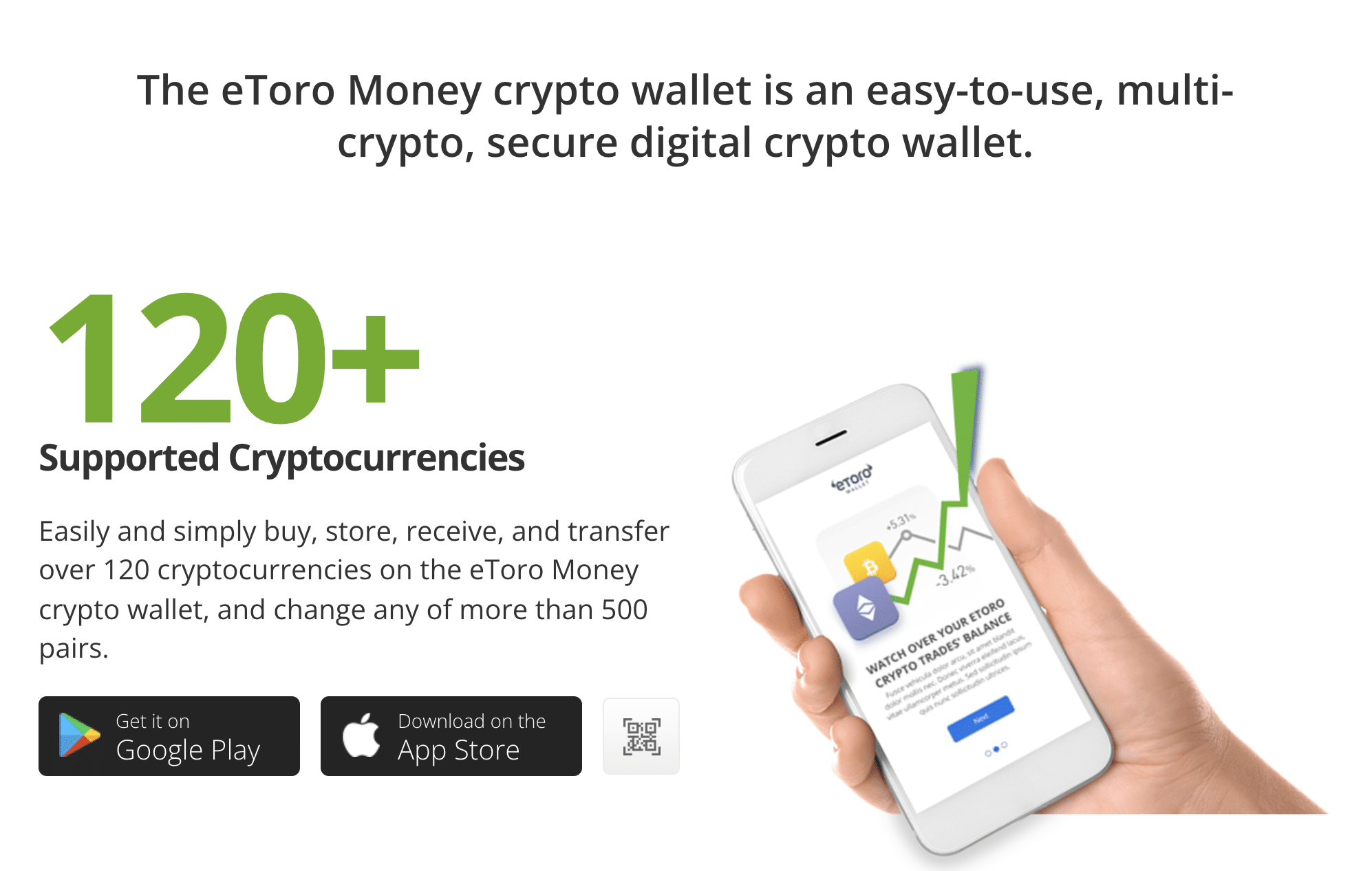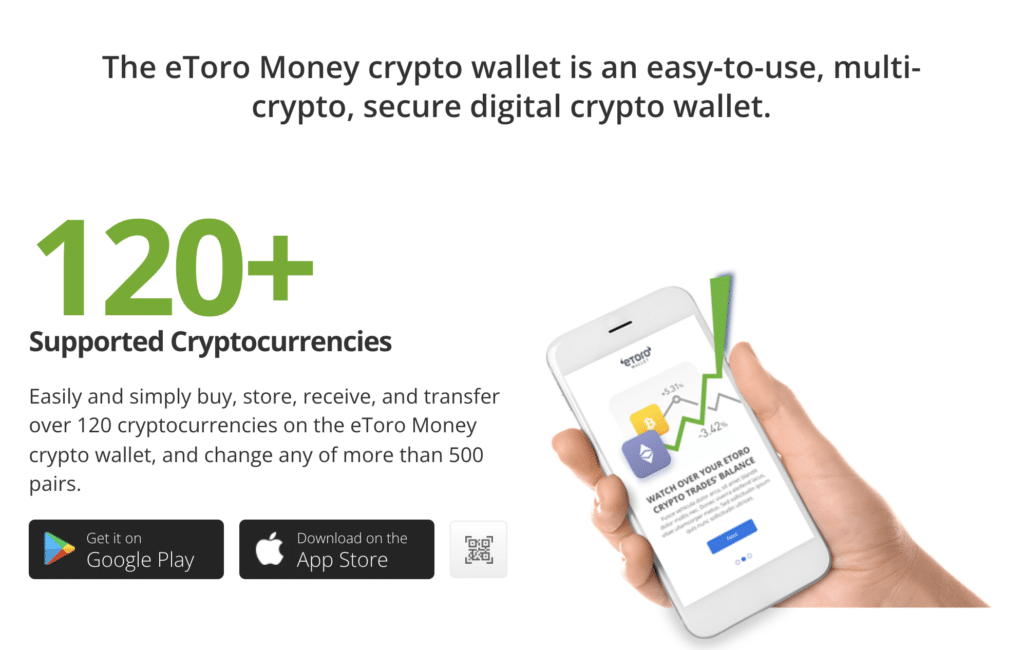 As with all brokers and exchanges, a spread fee applies on crypto. Pictured below are the typical eToro spread percentages on some popular crypto:
The eToro Money crypto wallet
You can download eToro's own crypto wallet on Google Play or the Apple App Store. The wallet allows you to deal in 120+ crypto coins and more than 500 crypto pairs.
The eToro Money crypto wallet allows you to hold over 120 cryptocurrencies, with new digital coins being added all the time.
eToro has a well-earned reputation as a social trading platform and for continually broadening its offering to customers. Two services stand out in this respect. There is eToro's CopyTrader function, which allows you to copy more experienced investors free of charge.
With CopyTrader you can review other traders by their performance and risk rating, and the software will match their trades automatically using whatever funds you allocate.
CopyPortfolios works in a similar fashion. You can choose from a suite of strategic investment portfolios – some of them pure crypto – and buy in. You will be charged all spread fees necessary to buy in (and match any trades that subsequently take place) but the copying service is free. There are also no deposit fees or account fees and you can deposit funds using a range of payment methods including debit cards, credit cards, bank wire transfers, and e-wallets.

Pros
Regulated by CySEC, the FCA and ASIC
Deposit available in 15 fiat currencies
Free in-house eToro crypto wallet
Super-easy user interface
Copy crypto trading strategies with CopyTrader and CopyPortfolios
Cons
Standard withdrawal fee of $5
Don't invest in crypto assets unless you're prepared to lose all the money you invest.
2. Sign up with eToro
Head to the www.etoro.com website. Fill out some simple details in the box there: supply your name, a username, your email and a password. (You can set up 2-factor-authentication later). Or sign up with Facebook or Google.
Click the blue 'Create Account' button to move onto account verification.
Don't invest in crypto assets unless you're prepared to lose all the money you invest.
3. Get verified
Account verification means confirming who you are and where you live. All regulated brokers must enforce this Know Your Customer (KYC) process. It does not take long with eToro. You will need to upload scans of proof of identity and proof of address.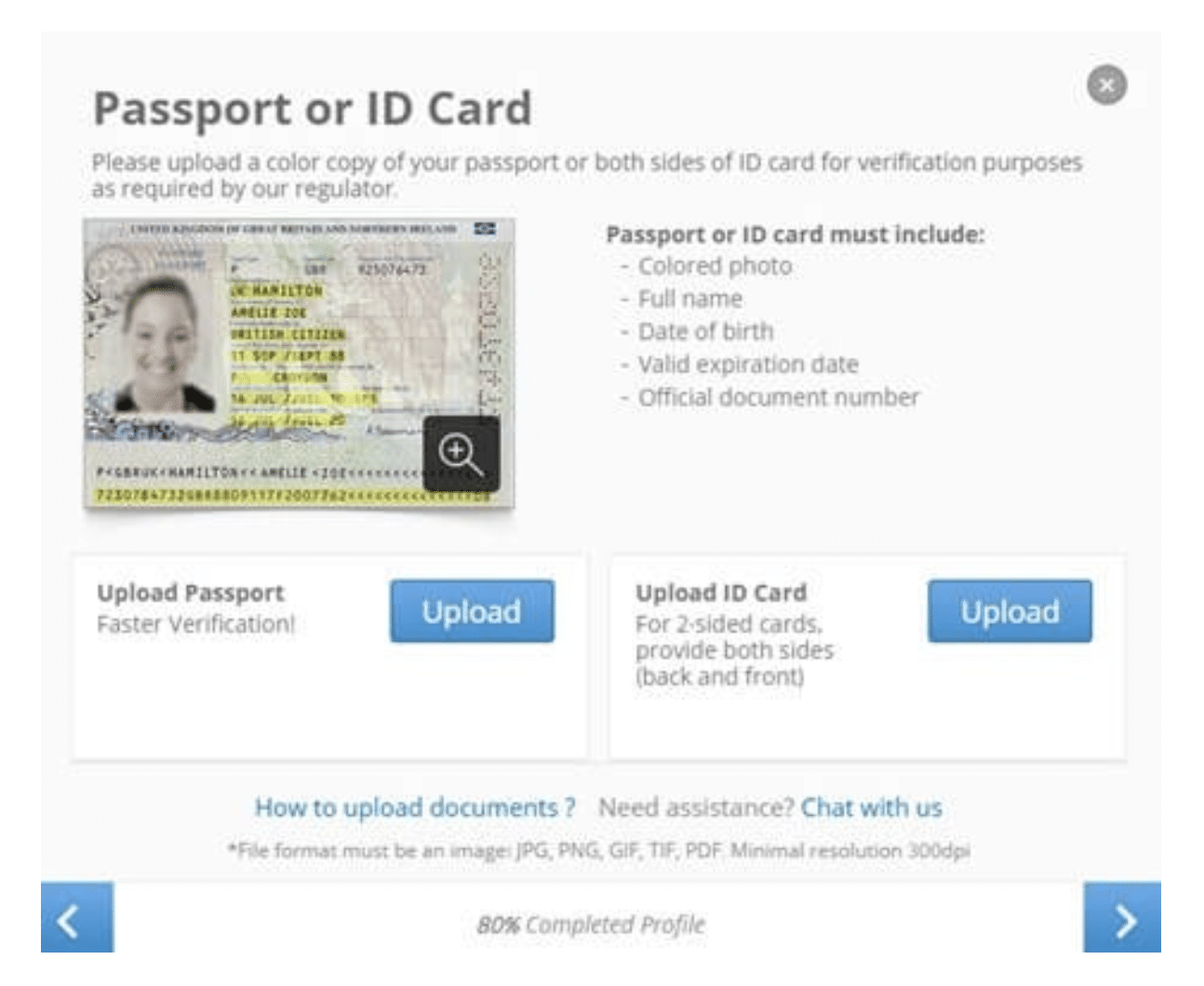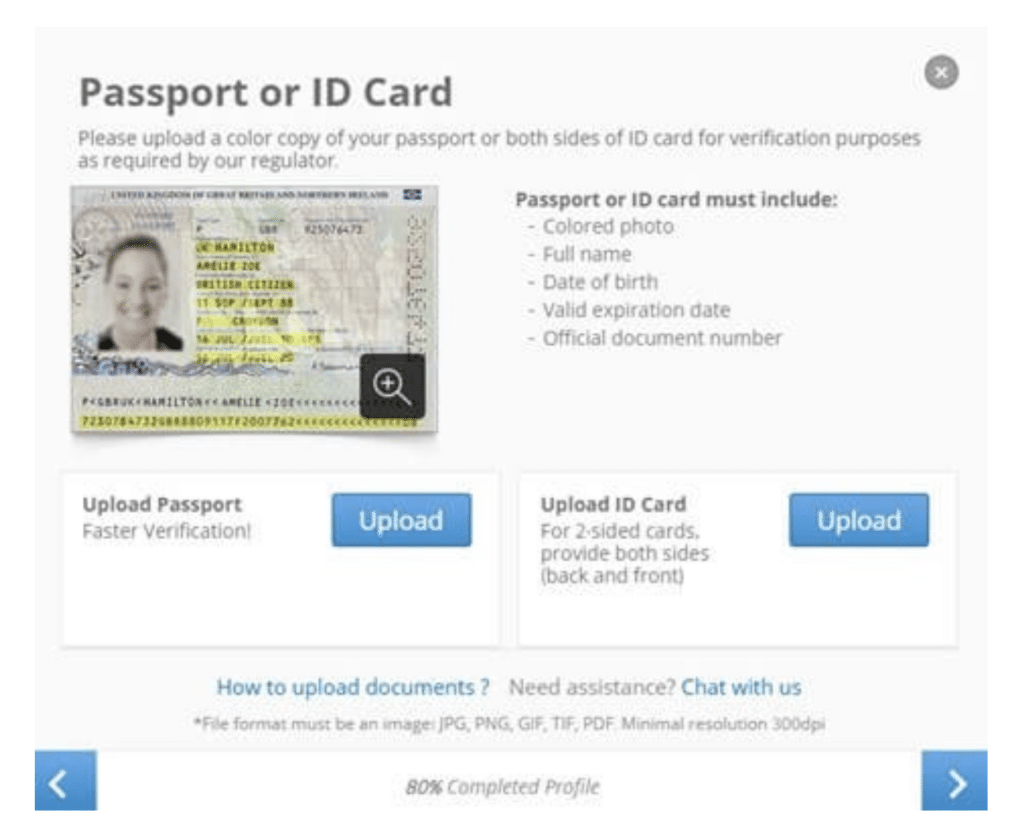 For proof of identity, the quickest way to get verified is to supply a scan of your passport. Make sure you have not let the valid date lapse, or it will not be accepted! ID cards and driving licenses are also accepted.
For proof of address, you must supply a scan of a document that shows your name, address, issuing authority (council, bank etc.) and date of issue. So you have many options here. You can use a utility bill, driving license, bank/credit card statement, social insurance statement or council/municipal tax bill or letter.
If you want to use digital documents rather than scanned paper documents, eToro permits you to supply screenshots.
4. Deposit funds
You can deposit funds with eToro as soon as you are verified.
To deposit funds, press the blue 'deposit funds' button at the bottom left of your screen. You will then be presented with this dialogue box: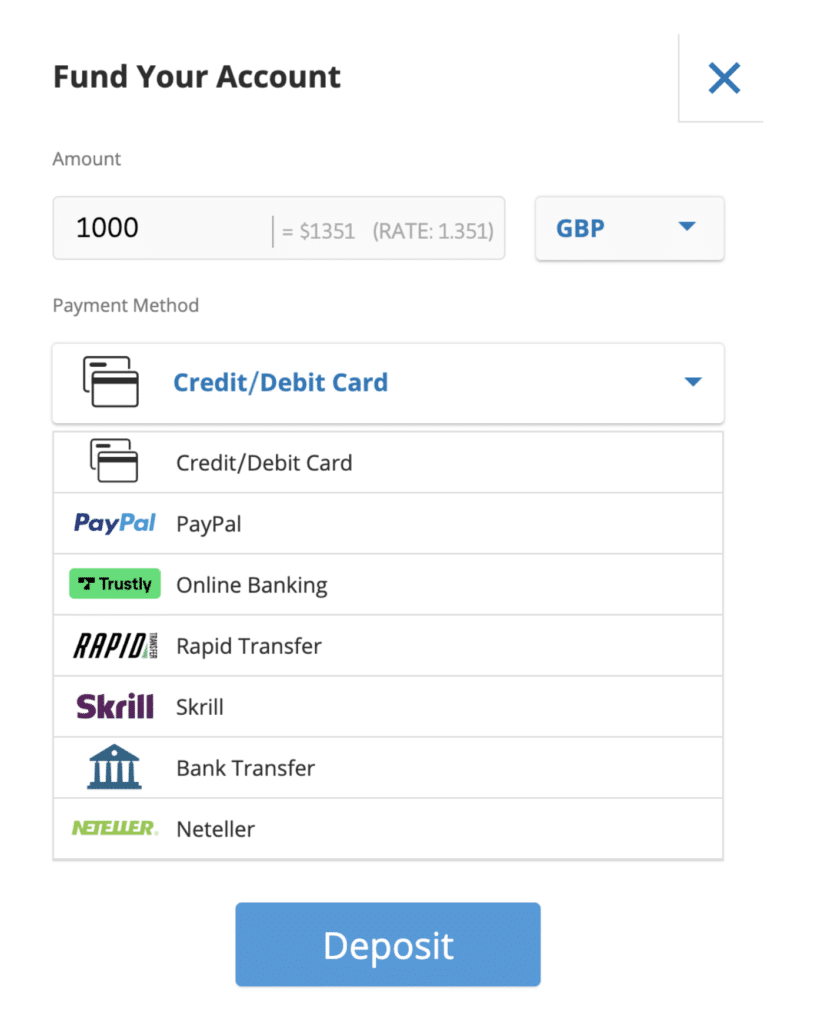 This box requires 3 decisions:
With the pull-down arrow on the top-right of the box, you need to select which fiat currency your deposit will constitute. You can deposit in up to 15 fiat currencies: USD, GBP, EUR, DKK, NOK, PLN, VND, PHP, SEK, CZK AUD, RMB, MYR, THB, IDR.
You need to enter the amount of currency you want to deposit. You are shown the conversion rate automatically.
You need to choose your payment method. eToro allows investors from most of its 120+ serviced countries to deposit using bank transfer. Other payment methods are available depending on your country of residence, including credit/debit card, PayPal, Neteller, Skrill, Trustly and Rapid Transfer.
Top eToro deposit tip: when you come to withdraw funds, the eToro system will naturally try and pay you using the method with which you deposited funds in the first place. So plan ahead. You can set up secondary withdrawal routes, but when activating withdrawals eToro will try your payment deposit route first.
5. Search for Crypto
Using the top eToro search bar, you can search for crypto by name with eToro. Or you can browse through eToro's 109 crypto options by pressing the 'Discover' button on the left toolbar of your homepage:
Then select 'Crypto' on the central menu bar that appears. You will then access a complete list of eToro's available crypto coins and crypto pairs.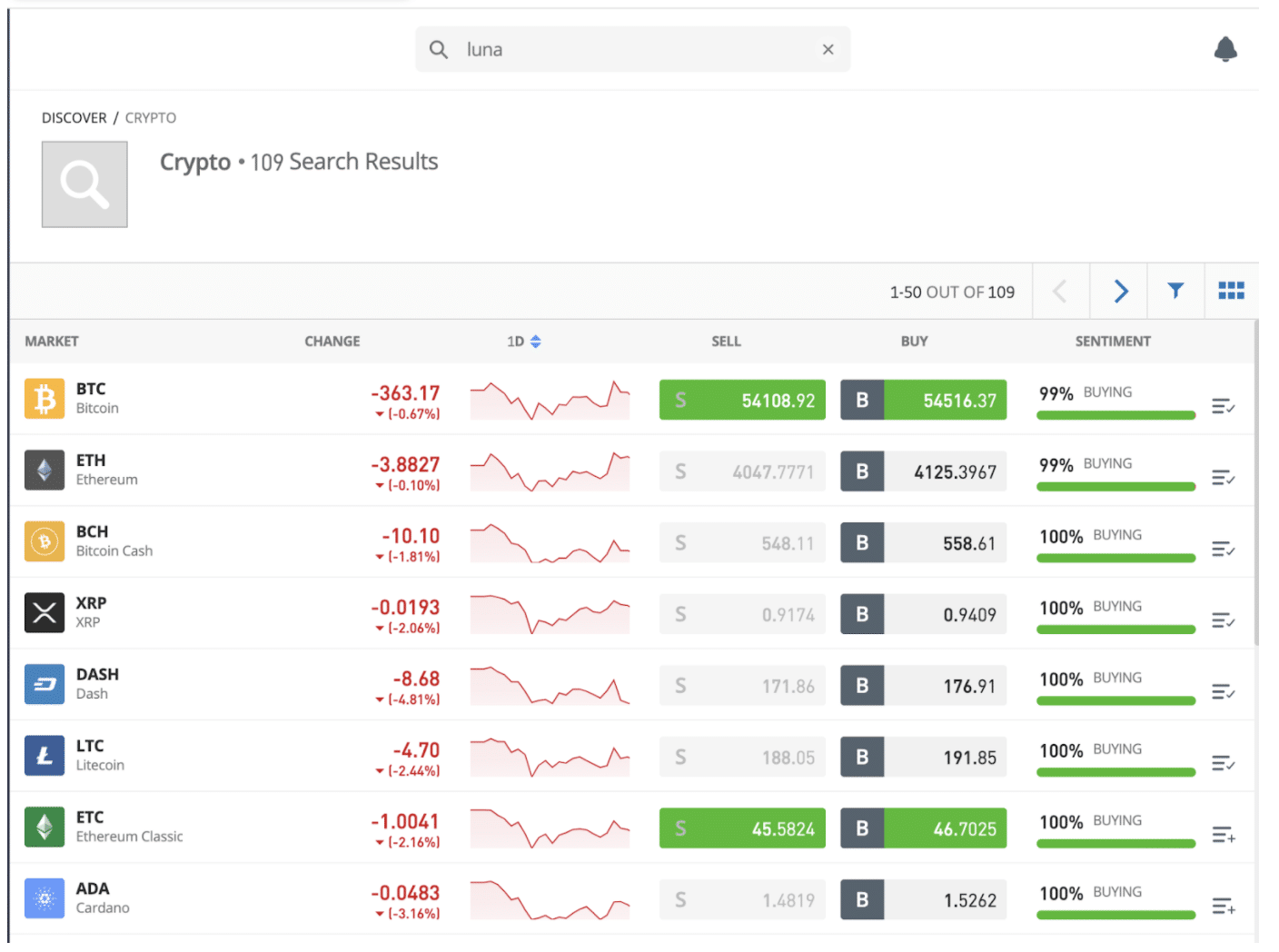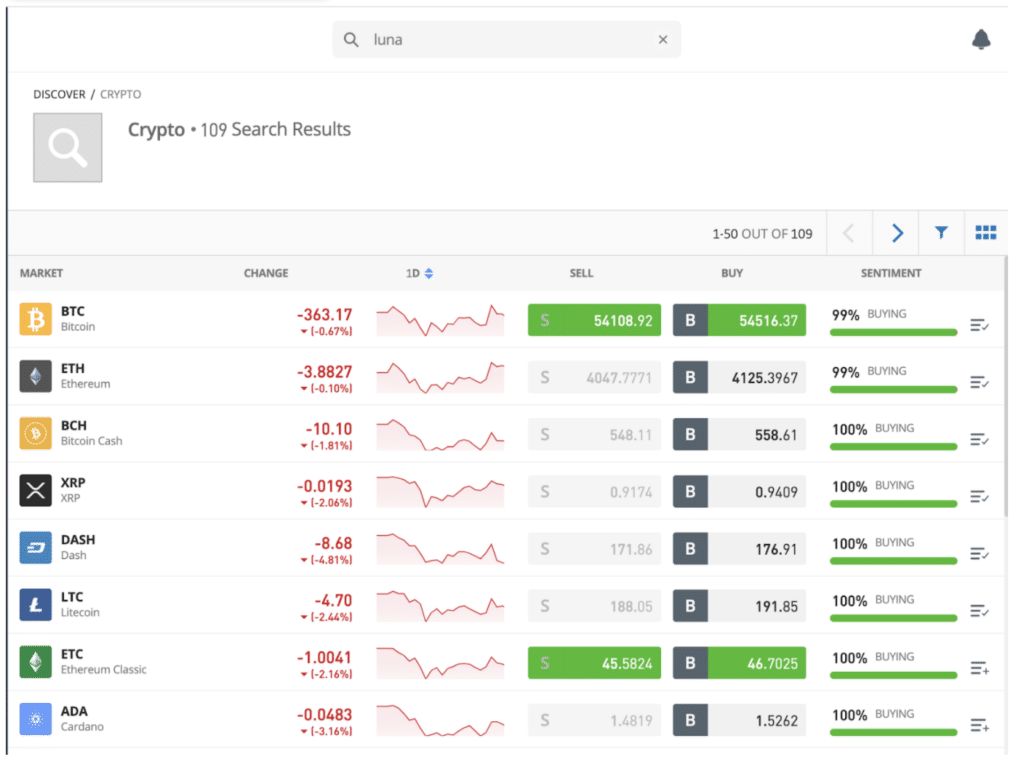 6. Invest
Buying crypto with eToro is very simple. From the list above, you simply select the crypto you want and press the 'B' button. Or you press on the crypto logo or name to go to the crypto's homepage and then press the blue 'Trade' button at the top right of your screen.
This brings up a simple dialogue box with your trading options. You can buy your crypto with low commission, although a spread fee will apply. The spread fee is not applied directly, but rather describes the difference at any given time between the price you can buy at and the price you can sell at. Spread fees are how all brokers cover their costs. Pictured below are the spread fees for some top eToro crypto: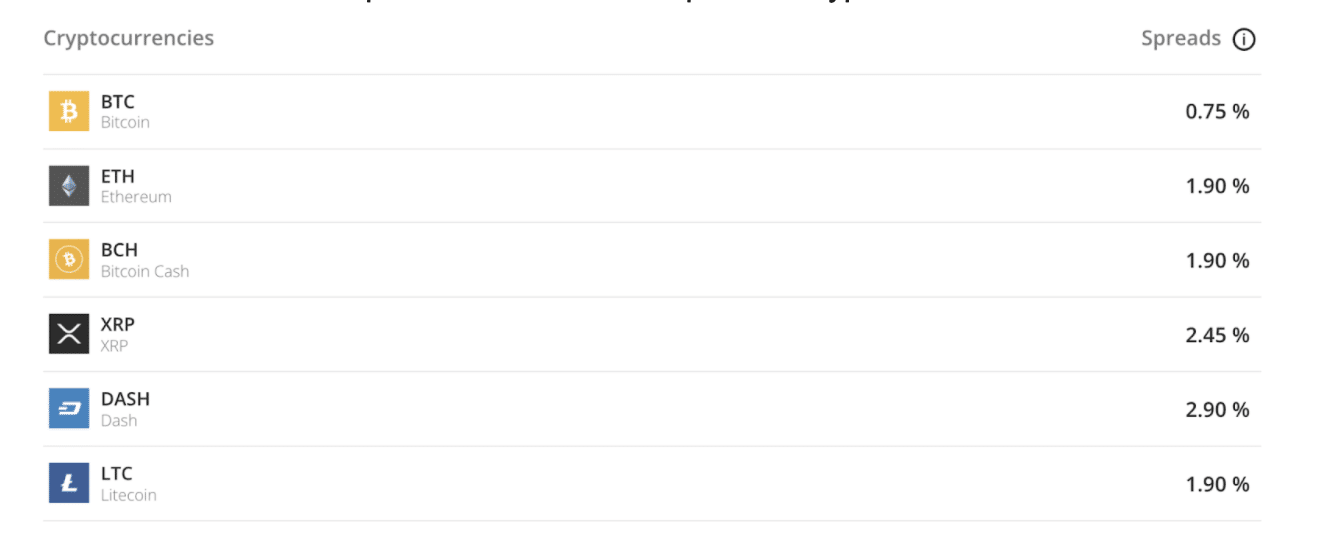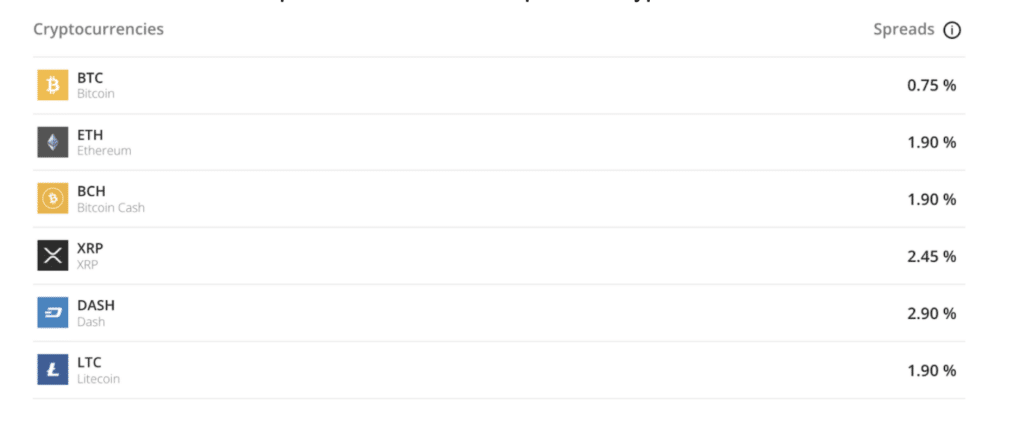 Conclusion
If you want to invest in Terra (LUNA), you have a good nose for DeFi crypto. Terra, as a developing blockchain with plenty of active applications in the real world, has a bright future. When it comes to investing in crypto, we suggest you consider global broker eToro as your first port of call.
eToro has built up 20 million customers by offering a good range of assets and a safe, regulated investing experience. So, if you want to invest in Terra with low fees and a user-friendly trading platform follow the link below and open a trading account with eToro today!
Don't invest in crypto assets unless you're prepared to lose all the money you invest.
Frequently Asked Questions on Terra
What is Terra cryptocurrency?
Is Terra crypto a good investment?
How can I invest in Terra?