How to Buy Yearn.finance Coin – with Low Fees
Fact Checked
Everything you read on our site is provided by expert writers who have many years of experience in the financial markets and have written for other top financial publications. Every piece of information here is fact-checked.
Disclosure
Please note that we are not authorised to provide any investment advice. The information on this page should be construed for information purposes only. We may earn commissions from the products mentioned on this site.
Yearn.finance has become one of the main gateways to decentralised finance (DeFi) and the Yearn.finance coin has soared in value recently.
In this guide, we'll explain what Yearn.finance is and show you how to buy Yearn.finance coin.
Where to Buy Yearn.finance Coin
Wondering where to buy Yearn.finance coin? Let's take a look at the 2 best Bitcoin brokers and cryptocurrency exchanges you can use to buy Yearn.finance crypto.
1. Coinbase – Safest Platform to buy Yearn.finance Crypto
UK users perceive Coinbase as legitimate because UK financial authorities regulate it. The FCA regulates Coinbase in the UK under registration number 900635. In the United States, it is not regulated by the Securities and Exchange Commission.
Coinbase and its web-based exchange support both iOS and Android devices. 1.7 million users have reviewed Coinbase on the Apple app store, ranking it #27 in the Finance category overall with 4.7 stars. It has 730K reviews on the Google Play Store and is rated 4.1 stars.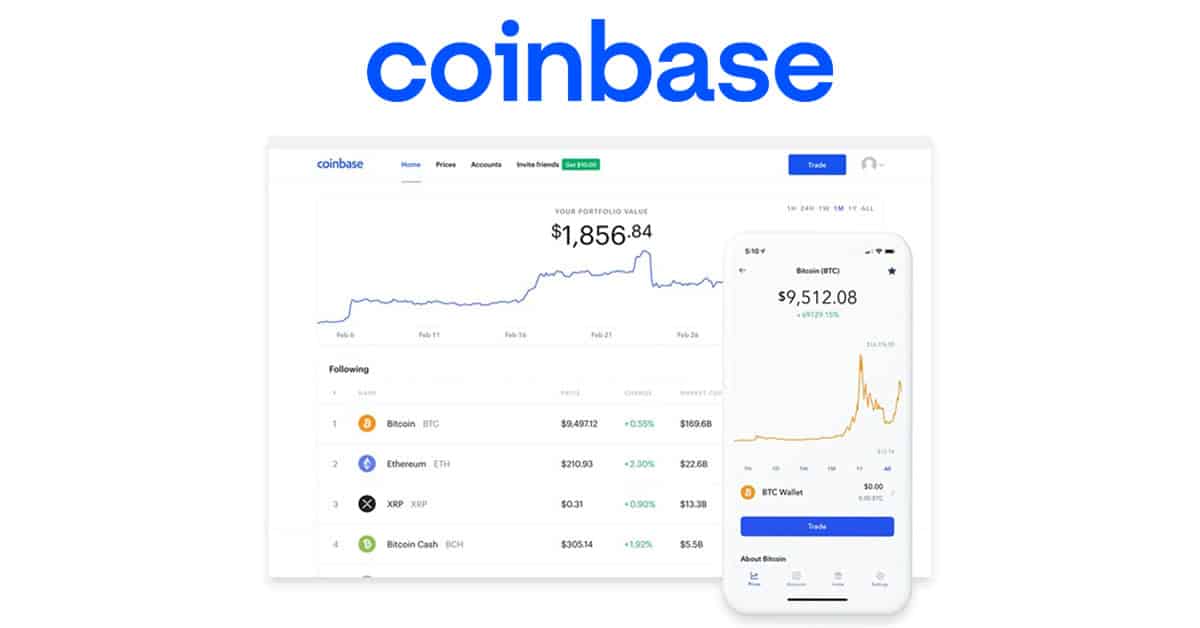 There are 536 cryptocurrency pairs supported on Coinbase and 222 supported tokens. You can find a complete list of available assets on Coinbase's Assets page.
Pros
Earn while you learn programs.
Provides crypto rewards Visa debit cards.
Suitable for beginners and advanced users alike.
Solid reputation.
Advanced trading platforms have lower trading fees.
Cons
Fees for transactions may vary.
Minimum balances apply.
In platform reviews, customer service is rated poorly.
Customer service is slow.
Your capital is at risk.
2. Binance – Best Crypto Exchange for Wide Coin Selection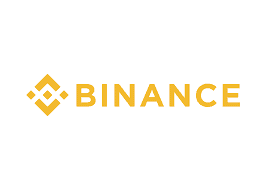 For traders who want access to not only Yearn.finance crypto, but hundreds of other altcoins as well, Binance is one of the best platforms available. This international cryptocurrency exchange supports trading for over 500 cryptocurrencies, including hot new cryptocurrency tokens like Dogecoin, Shiba Inu coin, and Decentraland.
Binance is also a great choice for experienced crypto traders who want access to a comprehensive set of trading tools. The Binance platform gives you a wide range of built-in indicators. But more importantly, it also lets you monitor the order book for Yearn.finance stock and plot depth charts to stay ahead of trading activity.
Binance has a number of other exciting features for crypto trading, including a decentralised exchange (DEX) where you can trade directly with other traders. You can also enter a simple instant order to buy cryptocurrency immediately and send it to any Bitcoin wallet. Binance accepts payment by debit card, credit card, or bank transfer.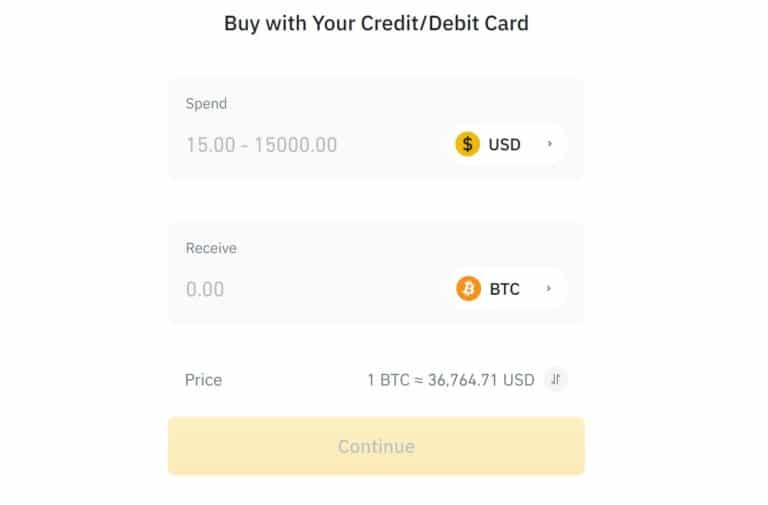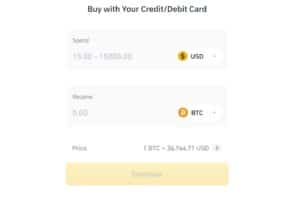 Another thing that traders will love about Binance is its fee structure. The exchange charges a commission of just 0.10% per trade when you buy or sell Yearn.finance coin using the Binance trading platform. You can even get a discount if you hold BNB, Binance's own stablecoin cryptocurrency. However, note that there is a fee of 3% or more if you use the instant order function to buy Yearn.finance with a credit card or debit card.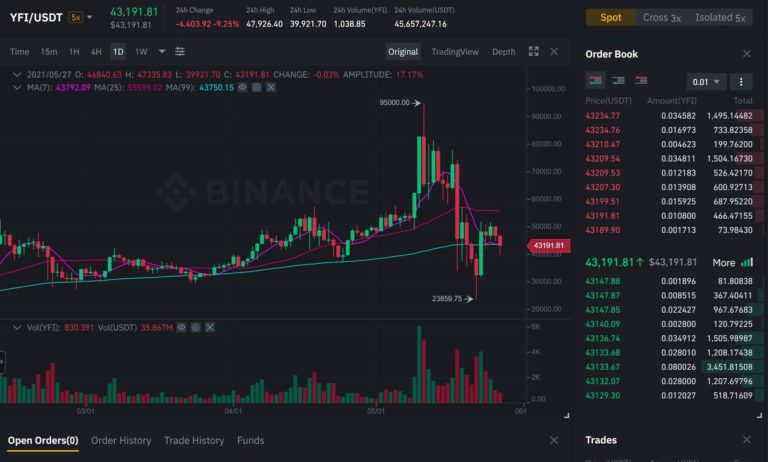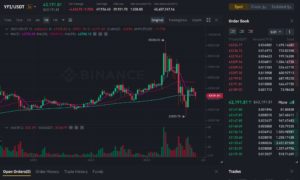 Binance is not regulated, but the company has gone to great lengths to ensure customer funds are safe. The platform allows you to store your cryptocurrency in any wallet, so you have control over your coins. In addition, all client funds are held in segregated accounts for extra protection.
Pros
Trade over 500 cryptocurrencies
Access Yearn.finance order book and depth charts
Includes a decentralised exchange
Trading fees start at just 0.10%
Integrated cryptocurrency wallet available
Cons
Not regulated
Steep fee for instant buy with credit/debit card
Your capital is at risk.
What is Yearn.finance Coin?


Yearn.finance coin is the governance token for the Yearn.finance platform. So, before we dive into more details about the coin itself, it's important to understand what Yearn.finance is.
Yearn.finance is a platform for decentralised finance (DeFi). The platform serves as a gateway to a wide range of DeFi apps that enable lending cryptocurrency, saving, and more. In fact, Yearn.finance is now one of the most popular DeFi platforms in the world because it offers users access not only to its own custom apps, but also to DeFi apps created by other platforms.
The Yearn.finance DeFi apps are also attracting attention. One app, Yearn.finance Vault, allows users to earn interest on their cryptocurrency. For example, you can put Ethereum in the Yearn.finance Vault, and you'll receive your coins back with interest when you're ready to receive them. This is very attractive for long-term cryptocurrency investors because it enables them to earn a yield on their holdings without selling their Ethereum.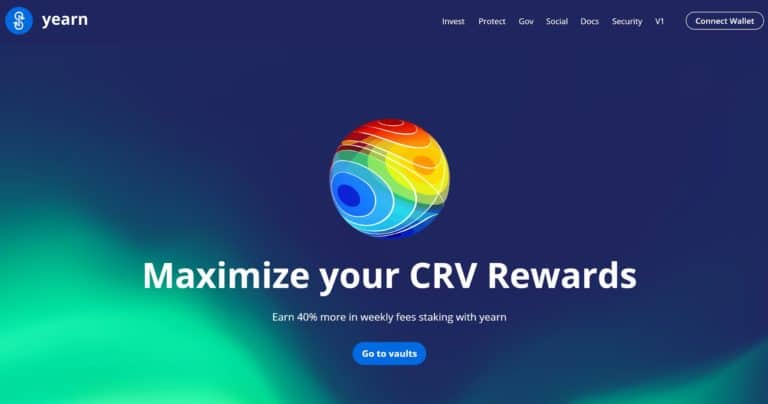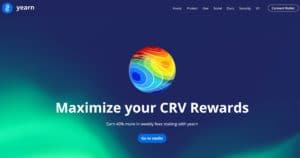 Yearn.finance coin is a cryptocurrency created by Yearn.finance. It's main purpose is to give users a vote on how the Yearn.finance platform works and changes over time. However, when users use their Yearn.finance stock to cast a vote, they also receive a payment in return. So, Yearn.finance coin essentially enables them to earn a dividend.
Yearn.finance Coin Analysis – is Yearn.finance a Good Buy?
One of the things that makes Yearn.finance unique among cryptocurrencies is that the supply has already run out. Only 38,000 Yearn.finance tokens were minted when the cryptocurrency launched, and there are no plans to make more.
That means that the only way to get Yearn.finance coin is to buy it. So as long as demand for the coin remains stable or increases, the price will go up. Whereas other cryptocurrencies typically release more tokens to match supply with demand, Yearn.finance is completely dependent on demand.
The question then becomes, will demand for Yearn.finance keep increasing? It seems likely.
DeFi is the next major step for digital currency, and Yearn.finance is making it possible. The platform essentially serves as the front door for anyone who's new to DeFi. As more investors and everyday people around the world begin to buy cryptocurrency, there will be more people knocking on that door.
Importantly, the more people that use Yearn.finance, the bigger the dividends paid out to Yearn.finance token holders for voting on the platform. So, the value of Yearn.finance tokens as a dividend investment should increase over time and push the Yearn.finance price up along the way.
Yearn.finance Coin Price
The Yearn.finance price has been on a steady upward trend since the middle of last year, when interest in Bitcoin and other cryptocurrencies began to explode. In July 2020, the coin was priced at just $769 apiece. As of June 2021, a single Yearn.finance token is worth nearly $42,000. That's a roughly 5,400% increase in less than a year!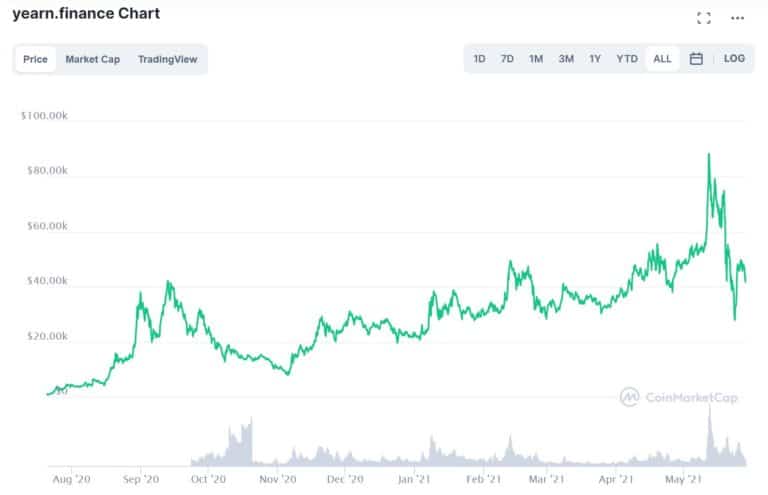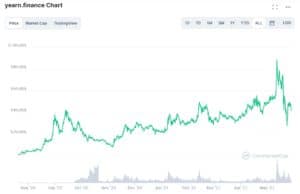 It's worth noting that Yearn.finance was worth even more not that long ago. The Yearn.finance price reached $88,000 in mid-May, but fell because of the crash in Bitcoin and Ethereum.
At the current Yearn.finance price, the whole project has a market cap of nearly $1.6 billion.
Yearn.finance Coin Price Prediction
Yearn.finance is now trading more than 50% below its all-time high from a few weeks ago, largely because of the sell-off in major cryptocurrencies like Bitcoin. It's impossible to say whether the coin has found a durable bottom, but there's reason to think that the price will rebound.
The fact that Yearn.finance serves as the primary point of entry into DeFi is a huge selling point for this platform. Regardless of what Bitcoin's price is, cryptocurrency has now gone mainstream – and investors will want a place to put their tokens to safely earn yield. Yearn.finance enables that, which in our view means that the platform is poised for long-term growth.
With that growth, the value of dividends that Yearn.finance token holders receive will increase. So, the Yearn.finance price should rise as well. It might not happen overnight – and the current crash could worsen before it gets better – but we predict that the Yearn.finance price will recover to its $88,000 high.
Ways of Buying Yearn.finance
Now that you know how to buy Yearn.finance and why this cryptocurrency might be worth investing in, how do you pay for it? You have a couple options for ways to buy Yearn.finance. Let's take a closer look at some of the most popular.
Buy Yearn.finance with PayPal
One of the simplest ways to buy or trade Yearn.finance is using PayPal. To purchase Yearn.finance crypto with PayPal, you'll need an exchange that accepts PayPal deposits.
Buy Yearn.finance with Credit Card or Debit Card
You can also buy Yearn.finance stock with a credit card or debit card. Many exchanges and crypto brokers, including all 3 of the platforms we reviewed above, accept Mastercard and Visa cards. Just watch out for extra fees that some exchanges – like Binance – charge when you use a credit or debit card to buy Yearn.finance.
Best Yearn.finance Wallets
In order to store your Yearn.finance coin, you'll need a cryptocurrency wallet. A crypto wallet is like a digital bank account, where you can store tokens for safekeeping.
When choosing the best Yearn.finance wallet, there are a few things to look for. Security should be your first priority. If your wallet isn't fully secure, hackers could potentially steal your coins. After that, consider factors like ease of use, what coins you can store, and whether there are built-in features like a linked exchange.
It's worth checking out the Binance Trust Wallet. This cryptocurrency wallet can store any of the 500+ coins available on Binance, including Yearn.finance coin. It's extremely secure and includes a built-in marketplace for DeFi apps, making it easy to earn yield on your stored coins. Plus, the wallet integrates with Binance's decentralised exchange so you can seamlessly exchange between cryptocurrencies.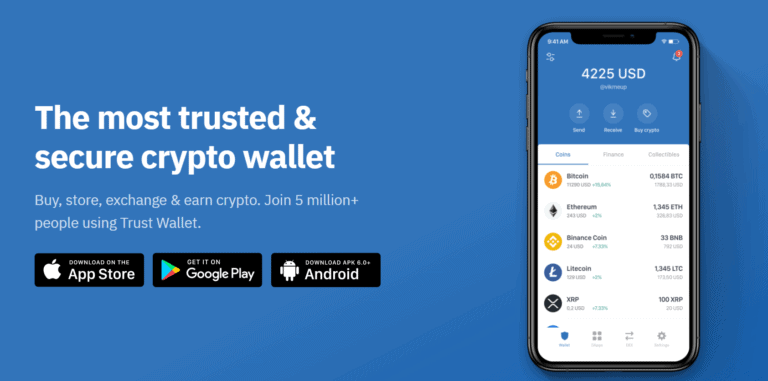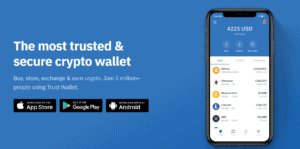 Yearn.finance Reddit – A Great Source of Further Information
One of the best sources for information about Yearn.finance is the Yearn.finance Reddit subgroup. This messageboard serves as a hub for Yearn.finance traders, investors, and developers, so you can get the latest news about the coin and platform.
If you're thinking about investing in Yearn.finance, this is a page you'll want to watch.
Conclusion
Yearn.finance coin has been one of the hottest cryptocurrencies over the past year, gaining more than 5,400% in 11 months. While the coin has recently pulled back, we think the Yearn.finance platform has a huge amount of potential. As demand for DeFi apps grows, Yearn.finance will be at the center of helping cryptocurrency investors access this market.
FAQs
Should I buy Yearn.finance coin?
Is Yearn.finance a good investment?
How much is Yearn.finance coin worth?
Will Yearn.finance coin go up?