Daedalus Wallet Review UK 2023 – Fees & Safety Revealed
Fact Checked
Everything you read on our site is provided by expert writers who have many years of experience in the financial markets and have written for other top financial publications. Every piece of information here is fact-checked.
Disclosure
Please note that we are not authorised to provide any investment advice. The information on this page should be construed for information purposes only. We may earn commissions from the products mentioned on this site.
Cryptocurrencies are fast becoming the commodity of the future. Cryptography and Blockchain technology facilitates faster and more secure payments. What's more, the immense volatility of certain coins has led to huge profits for investors – part of the reason there is such hype around coins like Bitcoin, Etherium, and Dogecoin. Cardano is no different and is the crypto we are going to be interested in covering as part of our Daedalus Wallet Review UK.
In this comprehensive guide, we are going to give you a broad insight into what Daedalus Wallet is, its pros, cons, supported coins, fees, and much more. So without further ado let's get started!
What is Daedalus Wallet?
When trading a digital asset, you need a secure place to store your cryptocurrency. This is done through the use of online wallets like Daedalus. Daedalus Wallet lets you store your Ada coins directly on the Cardano Blockchain. The Cardano Blockchain is an open-source, decentralised platform that enables peer-to-peer transactions using its internal currency ADA. It was founded in 2015 by the Etherium co-founder Charles Hoskinson, so has some serious crypto knowledge and expertise behind it. What's cool about Daedalus Wallet is the added security it gains from being a full node wallet. This means that it fully downloads the Cardano Blockchain for every transaction to validate the payment.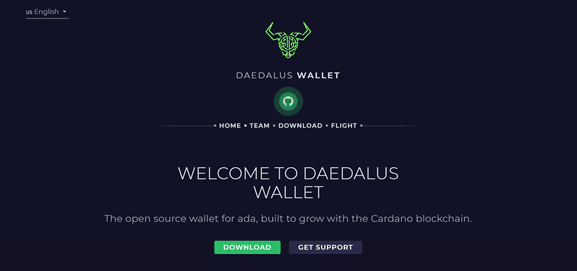 You can download Daedalus Wallet on all desktop platforms, including Windows, Linux, and macOS. However, Daedalus Wallet does not offer a mobile app, which is something to be aware of in case you are searching for a more remotely accessible crypto wallet. The wallet itself is very transaction orientated allowing you to use your Ada currency as a payment method. This is similar to Dash Wallet, which we have also reviewed.
Daedalus Wallet Pros & Cons
Our Daedalus Wallet Review UK has found the following pros and cons:
Pros
Easy Installation
High-level security through decentralised blockchain
Multiple wallet management
Trustless operation
Cons
Not available on mobile
Only gives access to Ada cryptocurrency
1-2 hours set up time
Daedalus Wallet Supported Coins
For the next part of our Daedalus Wallet Review UK, we are going to have a closer look at the supported coins the wallet offers. Daedalus only supports what it describes as its "native token of Cardano". Think of the Daedalus Wallet similar to the service offered by the likes of an e-wallet like PayPal. You add your ADA funds through a third-party broker, and once your account is funded you are ready to begin sending and receiving payments of Ada. One Ada currently equals around £1.2 at current prices. It has also risen in price by nearly 35% in the last 30 days!
Ada's current value is the highest it has ever been! Since coming into circulation in late 2017, the coin saw an initial jump to £0.7, before dropping all the way down to the sub £0.1 range. It has sat here for much of its time in circulation, before seeing a huge boom at the start of this year. This influx can be largely attributed to the ongoing crypto hype amongst investors in the past year. The crypto market proved itself 'pandemic proof' throughout much of last year, as prices were unaffected by the virus. This turned many investors to pour money into the digital assets, with coins like Etherium reaching all-time price highs. This places Ada in a great spot moving forward, especially considering its recent bullish activity.
Daedalus Wallet Fees
For the next part of our Daedalus Wallet UK review, we will be taking a look at the wallet's fees. The Daedalus wallet fees are calculated based on the number of bytes per transaction. It does this by using a UTxO model, similar to Bitcoin. Each wallet has a certain amount of UTxOs which will be employed when building a transaction. The amount of UTxOs used will determine the number of fees paid.
UTxO stands for unpaid transaction amount and is a system that works in a similar way to receiving physical change from a payment. They are simply the transactions left unspent after the completion of another transaction. An UTxO database is used to store all the excess 'change' from transactions. The database soon becomes populated with transaction records which add up with the outputs that aren't spent in transactions. Once these outputs are stored in the database, they become inputs, which can be used as 'change' for future transactions. Think of it as a similar concept to a cashier in a shop, whose stores leftover change (output) from transactions inside tills, and uses this change (input) again in future transactions.
Information on the size of the UTxO transaction will be used, alongside the ADA transaction size, to determine a fee for your payment.
Daedalus Wallet Safety & Security
At this stage of our Daedalus Wallet Review UK, we will now consider the safety and security that Daedalus provides for its wallet. It is worth explaining that cryptocurrencies in general offer exceptionally secure payments. Let's delve a bit deeper into what Blockchain technology is to explain this further. Transactional data is bundled into blocks and each block connected together (hence name Blockchain), creating a chain of unchangeable data. Blockchains work on two main principles:
Decentralisation
Cryptography
Decentralization allows the participation of members across a whole distributed network. Users cannot change any aspect of transactions once they have been added to a new block. This means there is a clear and eternal record of every transaction ever made. This adds massive security as records can be checked and authenticated as required. This is one of the many reasons people believe cryptocurrencies will be the preferred payment method of the future.
The second principle is that of cryptography. Every transaction that is recorded into bundles is done so using cryptographic codes. This means that only the person for which the transactional information was intended can read it. This makes cryptocurrencies near impossible to counterfeit or double spend.
Blockchains can be public – meaning anyone can join them and validate transactions – or private – which are restricted to a single entity with controlled membership. In addition to this, they can also be permissionless or permissioned. The former means there are no restrictions on processors and the latter means the blockchain is only granted to a set number of certified users.
Let's now have a closer look at Cardano, the Blockchain that ADA transactional data is stored upon. Cardano is an open-source, public Blockchain meaning anyone can set up a Daedalus Wallet account to start recording ADA transactions upon it. However, Cardano is a permissioned Blockchain, creating a separate decentralised network for ADA. The reason for this is that Daedalus is a full node wallet. This means it downloads a full copy of the Cardano Blockchain to independently validate every transaction. Daedalus Wallet is consequently extremely secure so you can trade ADA in safety.
Daedalus Wallet User Experience
We will now have a look at the Daedalus user experience. Upon opening the app, you will initially be greeted by the Wallet home page. This displays the amount of ADA you have in your wallet, as well as the basic functions of the wallet. These are displayed along the top tab of the homepage and include sending and receiving ADA, your transaction history, and settings.
If you look along the sidebar you will see some more options. These include an add wallet function. This will pop up an on-screen 'Add Wallet' selection box. What's cool about the Daedalus wallet is you can create more than one wallet on the platform. This means that if you wanted certain wallets to fund different things, you wouldn't have to download additional crypto wallets. You can also restore your wallet if you ever needed to switch devices. All you have to do is enter your unique access phrase. There is also an option to join groups, creating a shared wallet with up to 5 other users. This is great if you are trying to pool together money for a shared venture.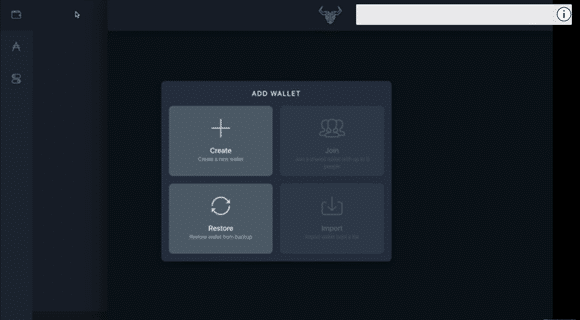 There is also a section to upload your ADA. This is under the 'ADA redemption' tab. Here you must upload a certificate or paste in your redemption key to show you have purchased the currency. It seems a little annoying that the wallet doesn't automatically connect you with a third-party broker and this is something users should be aware of. There are also options to redeem paper vended and force vended ADA currency into your wallet.
Finally, users should find another settings tab. This is comprised of language settings, terms of use, themes, and support. What's cool about the Daedalus Wallet experience is you can customise your wallet by changing your theme. The three available themes are 'Light Blue', 'Dark Blue', and 'Cardano'. Although this may seem like a minor feature, it isn't offered by many other wallets and is a nice consideration towards user preference! The terms of use page should be read and agreed to, as this will enlighten users into how the platform may use any personal data. The support section of the platform allows users to send logs to the central server to improve diagnostics.
Transferring Funds
For the next part of our Daedalus Wallet Review UK, we are going to take a comprehensive look into how you can transfer funds to and from your wallet. Let's first take a closer look at how you can send funds to other Daedalus wallet users.
To send ADA to another user, you must first have their unique wallet address. You can find your wallet address under the 'Receive' tab of the wallet. To send a payment, simply copy another user's wallet address to the address bar and select the amount of ADA you want to send with it. Your fees will be calculated at this stage too.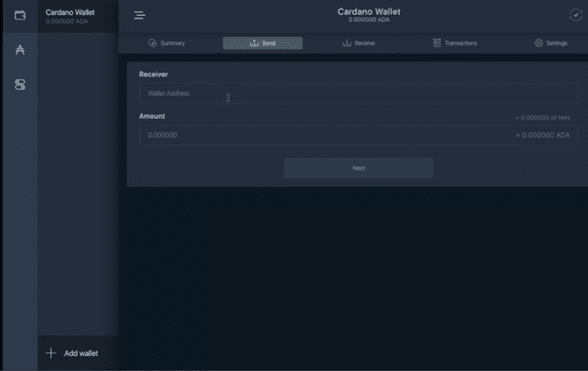 When receiving ADA you can either again use your unique wallet address, or use the QR code generated for your wallet. Every time you make a payment, a new wallet address will be generated to ensure security. You can also manually generate a new address by entering your wallet password and clicking the 'Generate Address' box. There is also a section on this page that shows you all previously generated wallet addresses if you ever want to refer back to a certain transaction. This section can be hidden if users require it.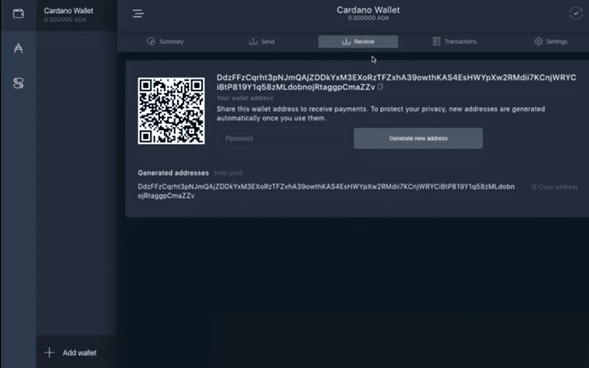 Overall transferring funds using the Daedalus wallet is very easy to do. The platform is set out in a very user-friendly way, meaning it is easy to navigate around when sending and receiving payments. You can also import and restore wallets meaning you can transfer over funds from other Daedalus Wallets. This is done on the wallet landing page.
Daedalus Wallet Features
Let's now take a closer look at the Daedalus Wallet features. There are some unique features that make Daedalus Wallet an appealing wallet to trade cryptos with:
1. Full node wallet – Daedalus is a full node wallet. This means that it verifies payments using a copy of the Blockchain. It can therefore independently verify every transaction without the need for a third party.
2. Allows multiple wallets – The platform is unique as it allows users to hold more than one wallet at a time. You can in fact hold up to 20 wallets on the platform. This is handy as it means that you can have certain wallets for certain functions/people.
3. Group wallets – Daedalus also supports the use of group wallets. This means that more than one user will have access to the unique access code and ADA can be pooled together into a single wallet. This is helpful if users want to group together their ADA for a shared transaction.
4. Multiplatform – Daedalus wallet can be downloaded on macOS, Linux, and Windows. However, there is currently no mobile version of Daedalus. This is due to the full node characteristics of the platform. However, there is an alternative wallet that also uses the Cardano Blockchain called Yoroi. This is a light wallet meaning that it isn't full node supported, however it can be downloaded on your mobile device, giving you more portability.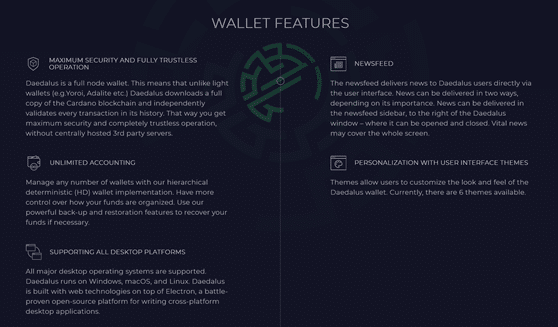 Daedalus Wallet Support & Customer Service
The Daedalus Wallet support is fairly limited when it comes to the platform itself. Under the settings tab in the app, there is a 'Support' function. When you enable this you will start automatically sending logs to the central server. This essentially entails sending the developers automated information from your Daedalus account. This is useful for the developers of Daedalus as it allows them to streamline the product by debugging any diagnostics issues. This may also indirectly benefit the user as the app will perform better as a consequence. No sensitive information will be included in your feedback.
A good way you can reach out to Daedalus is by visiting the Input-Output (IOHK) website. This is the Daedalus developer's website. They produce a broad range of articles covering various frequently asked questions and general wallet support. They also publish a report every time a new version of Daedalus or Yoroi wallet is released, meaning users can find out any new additions and/or changes made to the wallet. On this website, if you go to the 'submit a request' form in the top left corner, you can get in direct contact with the Daedalus team. Simply fill out the onscreen form and enter your email address. You can also upload a file showing any direct problems you have with products. There is also a support box in the bottom right which will open up a live chat function. This can be useful if you need to make any urgent inquiries.
You can also visit the Cardano website, which has a similar form you can fill out. Issues can be filtered by generic, or business orientated so Cardano can best help with your query.
Finally, you can visit the Daedalus wallet website itself. Here you can see a list of the team members of Daedalus. There is a small information section about each of them, along with external links you can contact these members on, for example, LinkedIn. In addition to this there a number of external links for Daedalus' social media, which you can use to reach out to them too. For your convenience, we have listed these below:
Cardano Community
Cardano Telegram
Cardano Forum
Cardano Reddit
IOHK
IOHK blog
IOHK YouTube
Cardano Foundation YouTube
Cardano Foundation Twitter
Daedalus Wallet Download Process
In the next part of our Daedalus Wallet Review UK, we will have a closer look at the download process. For your convenience we have formatted this into an easy to follow, step by step guide:
Step 1: Download Daedalus
The first step is to download the Daedalus wallet to your desktop. This can be done by visiting their website and navigating to the 'Download' section. You will then see options to download the wallet for Windows, Linux, and macOS operating systems. Click on your preferred operating system and you be guided through the download process. The website recommends certain hardware requirements for the wallet, so it worth checking these before proceeding with the download. The wallet itself occupies 6.5GB of storage space and should take between 1-2 hours to download.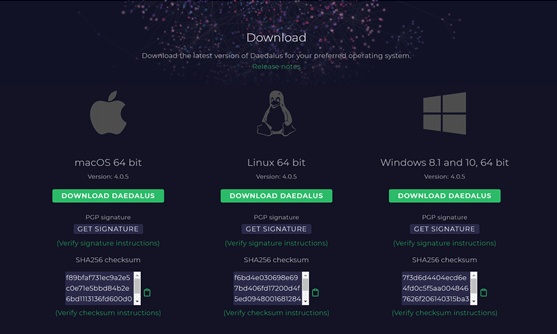 Step 2: Initial set up
Once the wallet is downloaded you will need to set it up. Begins by opening the Daedalus wallet. You will now have to fill in some of the basic settings functions. These include preferred language, whether or not you want to send logs to the central server, and an agreement to the terms of use. Once this is completed, you will have to wait a short time for the blocks to sync to the Cardano Blockchain. This stage is required as Daedalus is a full node wallet, so must copy over the Cardano Blockchain.
Step 3: Create a wallet
The next stage is to create your first wallet. Click on the 'Create' tab on the homepage to begin setting up a new wallet. You must then enter a wallet name and activate the wallet. You must now enter a 12-word wallet recovery phrase which will be used to recover your wallet if you ever change devices. It is important that you write this down for future reference and that you don't show anyone the phrase. A password can also be added to the wallet for additional security. Once this has been completed your wallet is created!
Step 4: Fund wallet and begin trading ADA
Now you have created a wallet, you must fund it with ADA cryptocurrency. You cannot directly buy ADA, instead, you must purchase Bitcoin or Etherium first, then trade them for ADA. This can be done easily through crypto exchanges like Coinbase and Kraken. You can easily set up a Coinbase account via their website, or have a read through our Coinbase review. Once your Coinbase account is funded with ADA, simply use the transfer section of the platform to transfer over your coins to ADA. Once your account is funded you will be able to start sending and receiving ADA payments!
Daedalus Wallet Review UK Verdict
We hope our Daedalus Wallet Review UK has given you a better insight into the Daedalus Wallet and its functions. The wallet is a great option for traders who are looking to make ADA transactions and want more than one wallet to do so. The full node nature of the wallet also helps with security and safety.
FAQs
What are other popular cryptocurrencies?
How do I download Daedalus Wallet?
How much does the Daedalus Wallet cost?
How do I send and receive funds in Daedalus?