Are you based in the UK and looking to buy stocks and shares from the comfort of your home? If so, you might have come across FCA broker eToro. The platform in question is popular with first-time buyers, as you can easily open an account, deposit funds, and buy shares with no commission in a matter of minutes. But is eToro right for you? Read this eToro review to find out more.
In this eToro review, we cover everything you need to know about eToro This includes the types of shares you can buy, fees and commissions, trading tools, payment methods, ease-of-use, regulation, and more. Let's find out whether eToro is the right broker for you.
What is eToro?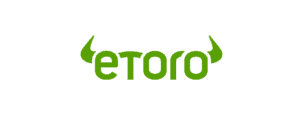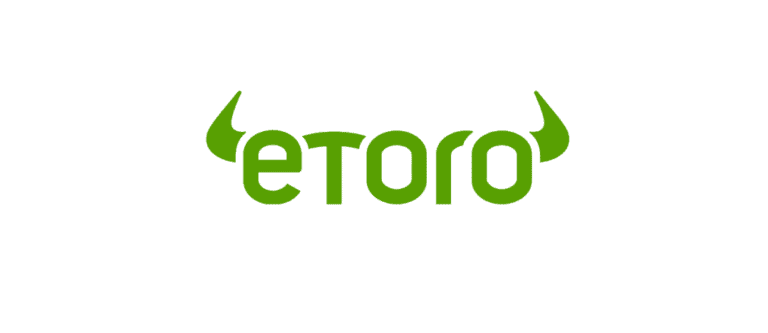 eToro is an online brokerage firm that was first launched in 2007. The platform offers a range of asset classes and allows users to buy assets in the traditional sense as well as trading contracts for difference (CFDs).
In the traditional ownership department, eToro allows you to buy shares, ETFs, and cryptocurrencies, while it offers CFDs for stocks, indices, bonds, hard metals, energies, and more
One of the most appealing aspects of eToro is its industry-leading pricing structure, as it's one of the few platforms in the space that allows you to buy shares on a commission-free basis. This is also the case for cryptocurrencies like Bitcoin and over 153 ETFs. As a share dealing platform that is targeted to newbie investors, eToro is suitable for those of you that are yet to buy stocks online.
This is because it takes just minutes to get set up with an account, and you can easily deposit funds with a debit/credit card, e-wallet, or bank account. Then, you simply need to choose which shares you want to buy, how much you want to invest, and then confirm the transaction.
We should also make reference to the social and copy trading features hosted at the platform, which are among the main reasons behind eToro's rapid rise in popularity. These allows you to interact with other investors in a Facebook-esque format, and even copy the trades of other users, adding a new dimension to traditional trading.
eToro lists over 800 companies from various stock markets. Although this is less than brokers such as IG or Hargreaves Lansdown, you still have a good number of companies to choose from, including many of the best shares in 2020. For example, if you are looking to invest in UK companies such as BP, Royal Mail, Tesco, or HSBC, you can do this with ease at eToro.
Additionally, if you are looking to add international stocks to your portfolio, eToro also gives you ample choice.
The international stock exchanges that eToro allows you to access are as follows:
Amsterdam
Brusells
Copenhagen
Frankfurt
Helsinki
Hong Kong
Lisbon
Madrid
Milan
NASDAQ (US)
NYSE (US)
Oslo
Paris
Saudi Arabia
Stockholm
Zurich
When it comes to the specific types of stocks that you can buy, this includes everything from tech stocks, retail stocks, banking stocks, food and beverage stocks, and even cannabis stocks! This also includes a good selection of dividend stocks for those of you that seek passive income.
ETFs
If you are interested in using eToro for commission-free access to the global stock markets but are not quite sure which companies to choose, it might be worth considering an ETF. This will allow you to invest in a basket of different stocks through a single investment.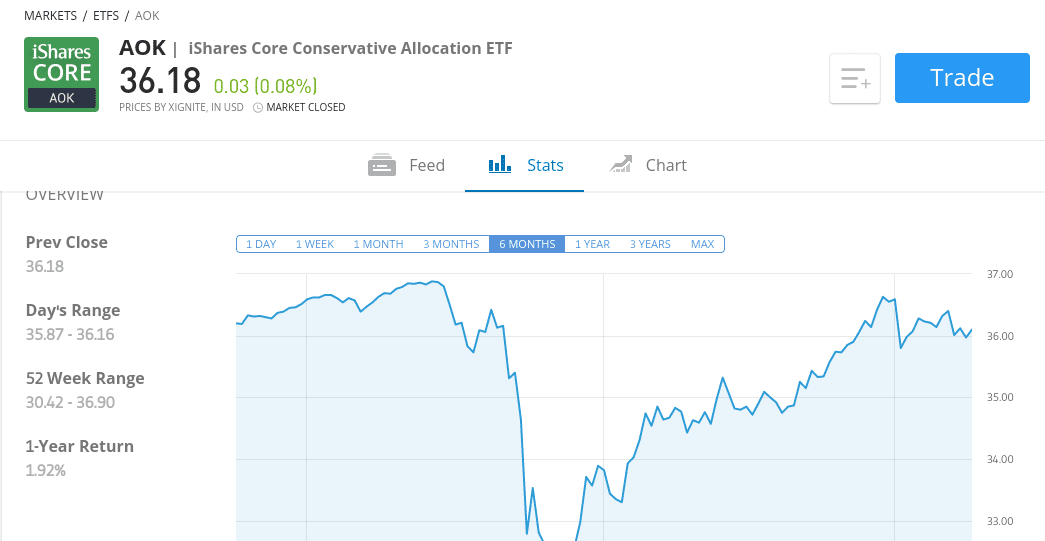 Once you allocate funds into an ETF at eToro, you won't need to do anything else until you decide to cash your investment in. This is because the ETF provider will buy and sell shares on your behalf. In total, eToro hosts 153 ETFs from a range of different sectors.
eToro Fees and Commissions
One of the most important metrics that you need to look in to before joining a UK stockbroker is that of its fee policy. This doesn't include just share dealing charges, as there are other fees that might be applicable.
As such, below we give you a full breakdown of what fees you will pay at eToro.
No Share Dealing Fees
The headline offering at eToro is that of commission-free stock trades. This is the case with each and every stock that eToro lists, whether that's in the UK or overseas. Such a generous fee policy is in stark contrast to some of the larger UK share dealing sites, which is one of the main reasons why eToro has since amassed a customer base of over 12 million investors.
For example, popular UK broker Hargreaves Lansdown charges an entry-rate of £11.95. You need to pay this when you buy your chosen shares and then again when you sell them. With that in mind, let's suppose that you wanted to buy £50 worth of Royal Mail shares. At a rate of £11.95, you would end up paying a nominal-rate of 23.9%! At eToro, that very same trade would cost you £0.
Take note, you will only avoid share dealing charges at eToro on the proviso that you:
Do not apply leverage
Do not short-sell the company
Either of the above actions would mean that you are trading stock CFDs, meaning that you are trading the asset as opposed to investing in it.
Buying £1,000 Worth of Shares at eToro vs Other UK Brokers
If you were to buy £1,000 worth of shares at eToro, IG, or Hargreaves Lansdown – below we list the fees that you should expect to pay.
| | | | |
| --- | --- | --- | --- |
| | eToro | IG | |
| UK Shares | £0 | £3 or £8 | £5.95 to £11.95 |
| | £0 | £0 or £10 | £11.95 or 1% (min £20 / max £50) |
Longing £1,000 Worth of Share CFDs at eToro for 1 Week vs Other UK Brokers
If you were to enter a £1,000 long stock CFD position at eToro, Plus500, or MarketsX – below we list the fees that you should expect to pay.
| | | | |
| --- | --- | --- | --- |
| | eToro | Plus500 | MarketsX |
| S&P 500 | £1.20 | £1.05 | £1.30 |
| Europe 50 | £1.35 | £0.65 | £1.25 |
| Apple | £3.15 | £4.45 | £3.20 |

The Spread
In the world of stocks and shares, the spread is the difference between the 'bid' price and 'sell' price of a company. This is an important concept to understanding, as it is an indirect trading fee that must be included in your end-to-end ROI (Return-on-Investment).
eToro does not have a specific structure on spreads, insofar that it will change depending on market conditions. In other words, if you trade during standard market hours then you will benefit from the most competitive spreads. To give you an idea of what you will pay, the bid and ask price on Royal Mail shares at the time of writing (during standard UK trading hours) is 174.24p and 174.80p.
This translates to a spread of approximately 0.32%. This is actually very reasonable when you consider there are no share dealing charges in play.
Deposit Fees and Withdrawal Fees
eToro does not charge a specific deposit fee per-say. But, there is an underlying currency conversion fee that you need to take into account. This is because all account balances at eToro are denominated in US dollars.
So, when you fund your eToro account with a debit/credit card, e-wallet, or bank account, you will incur a 0.5% currency conversion fee. This means that a £1,000 deposit would cost you £5.
When it comes to withdrawals, eToro charges a flat fee of just $5 – which is about £4.
In terms of buying and selling shares at eToro, the process is extremely simple. In order to find your chosen investment, you have two options.
You can either search for the specific company to be taken straight to its respective investment page
You can browse the eToro stock library and then filter-down by the exchange or sector of the company
Stock Orders
Although eToro is tailored to newbie investors, you will still have access to several orders when placing a trade.
This includes:
Market Order: This allows you to place a stock trade at the next available price. If the respective stock exchange is open, your share trade will be executed in a matter of seconds.
Limit Order: If you want to buy your chosen shares at a specific price, eToro allows you to set up a limit order. Take note, your order will only be executed if and when the trigger price is met. If it isn't, your share trade will remain pending until you cancel it.
Stop Loss Order: This particular order is more suited for those of you that wish to buy and sell shares on a short-term basis. Essentially, you can elect to have your trade closed automatically when your investment goes down by a certain amount.
Take Profit Order: This particular order is also more suited for short-term traders. This allows you to close your trade automatically when a pre-defined profit target is met.
In effect, if you are looking to buy shares at eToro and hold on to them for a number of years, a market order is likely to suffice.
eToro Social and Copy Trading
eToro is often referred to as a 'social trading platform' – and for good reason. For those that are new to the social trading phenomenon, this works much like a social media platform but for the stocks and shares investment space. In other words, you have the opportunity to discuss and shares trading ideas with your fellow eToro members in a public setting.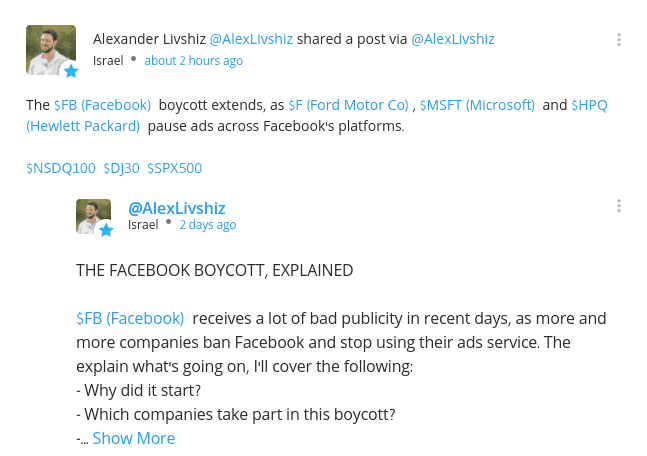 For example, let's suppose that an experienced investor at eToro published some trading ideas for the upcoming week. Not only would you be able to view the publication, but you can also post a reply. This is especially useful if you are super-new to the investment arena and you want to pick up knowledge and insights along the way. You can then add your chosen eToro members to your 'friend list' , which then allows you to follow the user's activity at the platform.
Copy Trading
As great as social trading at eToro is, nothing quite matches its copy trading feature. As the name suggests, this allows you to pick an eToro investor and then copy their trades like-for-like. You can copy the trader's entire portfolio, as well as all future investments,
This means you can essentially invest in stocks and shares without doing any of the research you would otherwise have to. So if you're a beginner learning how to invest in stocks but want to invest at the same time, you can back do so by using eToro's CopyTrader.
The best thing about it is that you can invest an amount that you feel comfortable with – as long as you meet a $200 minimum.
For example, let's suppose that you copy a trade that has £100,000 invested across 30 different stocks.
Of this figure, the trader has 5% in Facebook stocks – amounting to £5,000
You, however, invest just £1,000 into the copy trading portfolio
As everything is proportionate, your 5% investment in Facebook will amount to a holding of £50!
There are no additional fees to utilize the copy trading feature at eToro, and you can exit your position at any given time. In fact, you can manually cancel individual orders from within a portfolio, which gives you 100% control of your money.
CopyPortfolios
eToro also offers more advanced copy trading tools called CopyPortfolios. These are professionally managed portfolios that utilise artificial intelligence and algorithmic trading, and there are two types. Top Trader Portfolios are made up of the best performing traders on eToro, while Market Portfolios bundle together a number of assets under one chosen market strategy.
While these are more advanced than the Standard CopyTrader tool, you need to invest at least $5,000 into a CopyPortfolio.
Research and Analysis at eToro
eToro is slightly lacking when it comes to research and analysis. Although the platform has integrated its stock research page with TipRanks, this doesn't provide an abundance of information. For example, you are unable to view earnings reports, published accounts, or in-depth expert analysis.

You can, however, view a range of analytical data surrounding your chosen stock. This includes a plethora of charts and graphs around the stock's historical pricing action, as well as what the general consensus is from leading hedge funds. In terms of fundamental news, this again is lacking at eToro. This is limited to the 'sharing' of news developments by users of the platform.
As such, you are best advised to seek your research material from an external source such as Yahoo Finance or Morningstar.
eToro Investment App
If you're the type of trader that likes to keep tabs of your investments at all times, eToro offers a free stock trading app. The app is available to download on both iOS and Android devices. If you don't have one of the aforementioned operating systems, you will be able to access eToro from your standard mobile web browser.

Both the investment app and the mobile browser-based versions allow you to perform the same account features as the main desktop website. Whether that's buying and selling shares, checking the value of your portfolio, or depositing and withdrawing funds – everything can be facilitated via your mobile phone.
Payments at eToro
One of the best things about eToro is that it offers a wide selection of payment methods to choose from. These include:
Debit Cards
Credit Cards
Paypal
Skrill
Neteller
UK Bank Transfer
This makes it super easy to get money into the broker – especially if you want to buy shares straight away. All deposits are processed instantly unless you are using a bank account.
Is eToro Safe?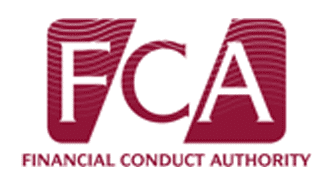 While tradable stocks and share dealing charges are super-important metrics to look out for when choosing a broker, it is imperative that you check the platform's regulatory standing. This will ensure that you are using a reputable and trusted UK broker that keeps your funds safe.
In the case of eToro, the platform holds three regulatory licenses:
Financial Conduct Authority (FCA)
Australian Securities and Investments Commission (ASIC)
Cyprus Securities and Exchange Commission (CySEC)
If you are a UK investor, then you will fall under the remit of the FCA. The good news is that eToro (UK) Limited is a member of the UK's Financial Services Compensation Scheme (FSCS). Although its advisory document states that UK investors are covered by up to £50,000, this has since been increased to £85,000 by the FSCS.
On top of its regulatory licenses, it is important to remember that eToro has been active in the online stock trading space since 2007. This gives it a track record of more than 14 years. As previously noted, this includes a customer base now than exceeds 12 million investors. All in all, you should have no concerns about the safety of your funds at eToro.
How to Get Started in eToro?
If you like the sound of eToro and wish to get started with a commission-free stock account today, below you will find the required steps.
Step 1: Open an Account
First, you will need to visit the eToro homepage and open an account. As with any FCA-regulated share dealing platform, this requires some personal details. This will include your name, home address, date of birth, and contact details. You will also need to supply your national insurance number.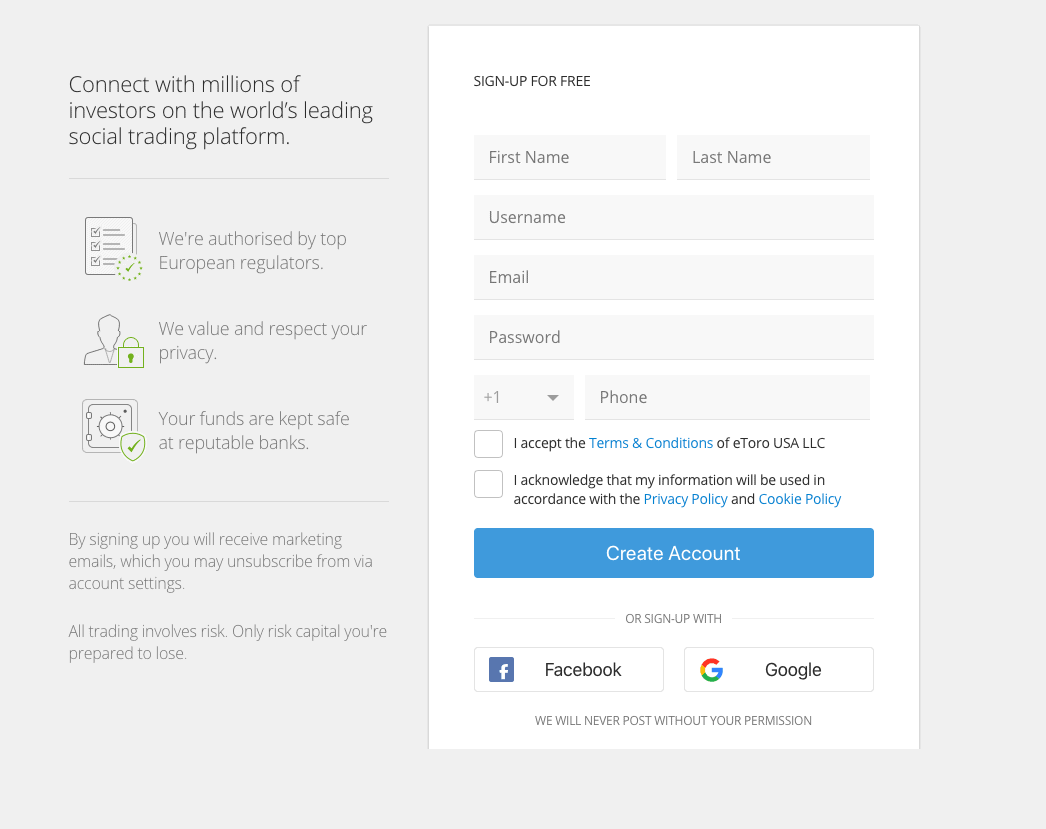 Step 2: Verify Your Identity
eToro will need to ensure that you are the true owner of your account. As such, you will be asked to upload a couple of verification documents.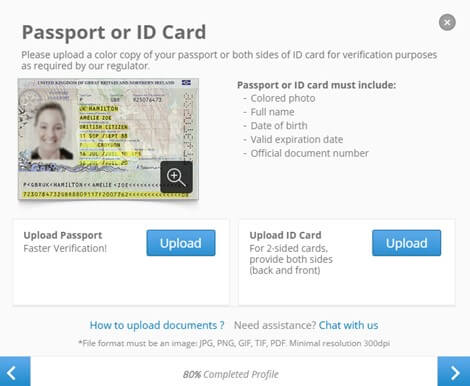 This includes:
A government-issued ID such as your passport or driver's license
A proof of address such as a recent utility bill or bank account statement
eToro will usually verify your documents within the hour. In the meantime, you can proceed to fund your account.
Step 3: Deposit Funds
Depositing funds at eToro is simple. You just need to select which payment method you wish to use (see above for a breakdown of options) and then determine how much you wish to deposit. The minimum deposit is $200 (about £160). Unless you are opting for a bank transfer, the deposit will be credited to your account instantly.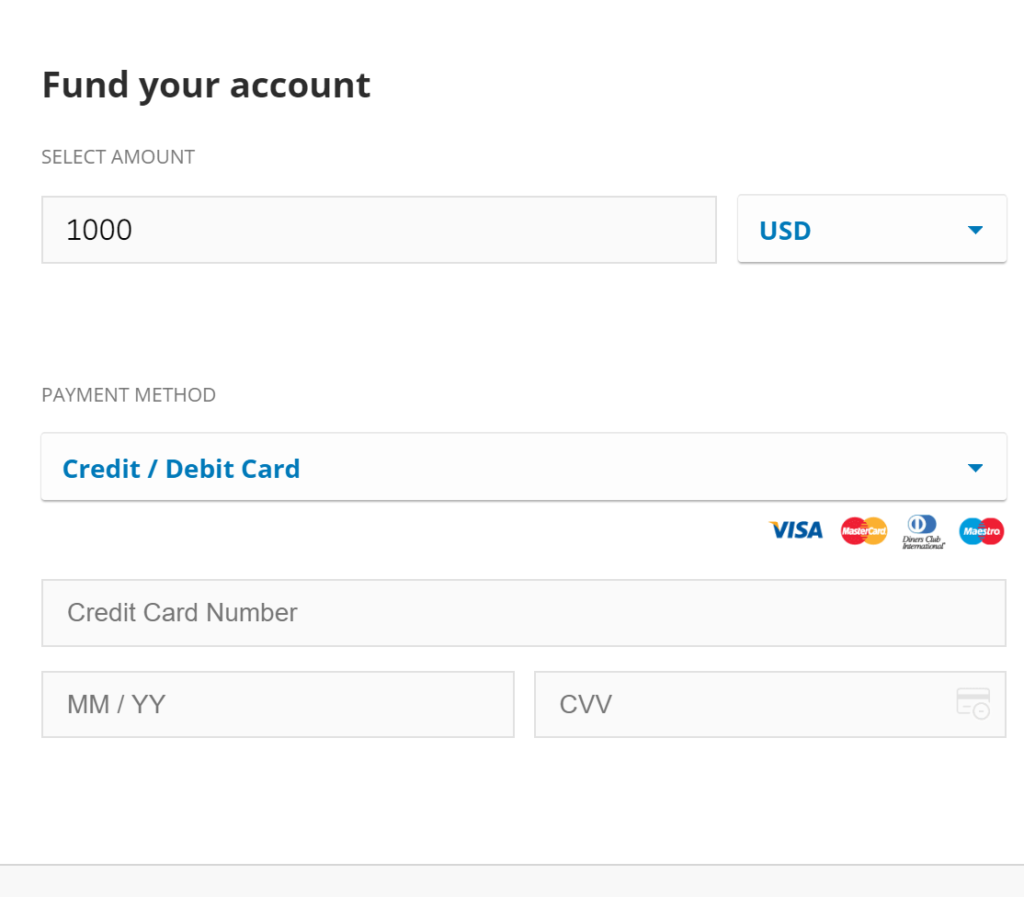 Now that your eToro account has been funded, you can proceed to buy some shares. If you know which company you want to invest in, enter it into the search box at the top of the page. If you want to browse the eToro stock library, click on the 'Trade Markets' button followed by 'Stocks'. You can filter this down by the stock exchange or sector that the shares are associated with.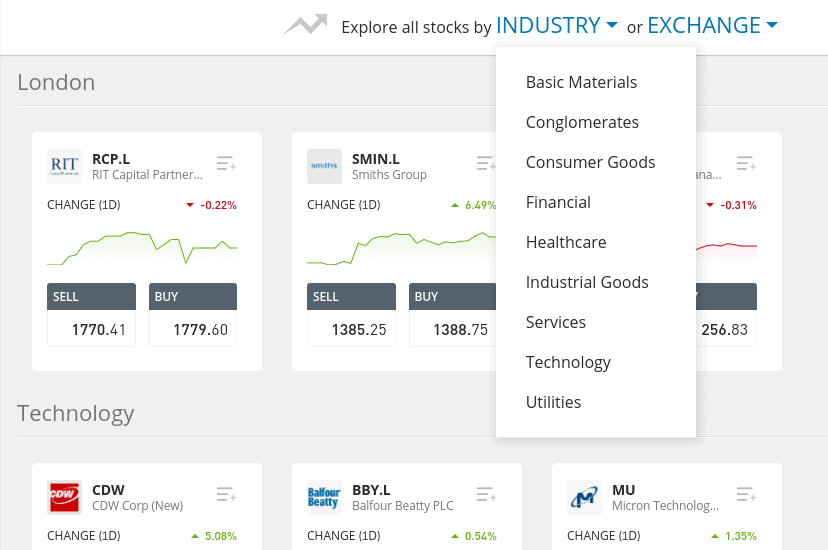 In our example, we are looking to buy shares in Nike, so we enter this into the search box and click on 'Trade'.

Then, it's just a case of specifying how much we wish to invest. As noted earlier, you need to state this in US dollars. You can invest a minimum of $50 into your chosen share, which is about £40.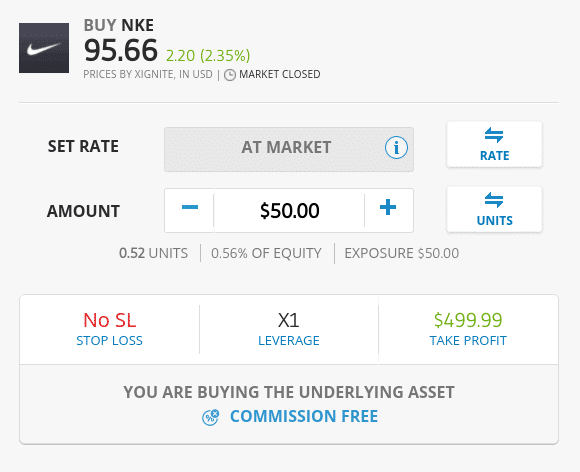 To complete your stock order, just click on the 'Open Trade' button during market hours, or the 'Set Order' button if the respective stock exchange is currently closed.
eToro Pros and Cons
Pros
Buy shares without paying any dealing charges
No annual fees
More than 800 shares to choose from
Copy and social trading features
Buy shares or trade CFDs
Access UK and international stocks
Very user-friendly
Supports debit/credit cards, e-wallets, and bank accounts
Minimum share investment of just $50 (£40)
Cons
0.5% currency conversion fee when you deposit
Limited research and analysis department
The Verdict
In summary, it is clear to see why eToro has amassed a customer base of over 12 million investors. Not only is the platform super-simple to use, but you can buy shares without paying any commissions or dealing charges. There is no annual fee to take into account either, and supported payment methods include debit/credit cards, bank accounts, and e-wallets.
For those of you that are looking to place more sophisticated trades, eToro also supports leverage and short-selling. This is available on its 800+ stocks, as well as indices, cryptocurrencies, bonds, forex, and commodities. All in all, eToro is ideal if you are looking to invest in the stock markets in a simple, safe, and cost-effective manner.
Like the sound of eToro? Simply click the link below to register an account today!
eToro – Our Number One Recommended UK Stockbroker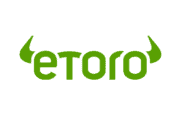 FAQs
When was eToro launched?
eToro was launched in 2007.
Is eToro regulated?
Yes, eToro is regulated on three fronts. This includes a license with he FCA, ASIC, and CySEC.
Does eToro pay dividends?
If you buy dividend stocks at eToro, then you will be entitled to your share of any distributions. This will be relfected in your eToro account as and when they are paid.
Does eToro offer a mobile app?
Yes, eToro offers a free mobile trading app on iOS and Android devices.
What is the minimum deposit at eToro?
eToro has a minimum deposit policy of $200, which is about £160.
Last Updated on