How To Buy Dogelon Mars Coin – Beginner's Guide
Fact Checked
Everything you read on our site is provided by expert writers who have many years of experience in the financial markets and have written for other top financial publications. Every piece of information here is fact-checked.
Disclosure
Please note that we are not authorised to provide any investment advice. The information on this page should be construed for information purposes only. We may earn commissions from the products mentioned on this site.
Looking to buy Dogelon Mars Coin? Some investors think that Dogelon Mars (ELON) might take over from $22bn Dogecoin (DOGE) as the pack leader of the dog-themed altcoins that have been the hot 2021 trend. But there is plenty of competition. 14 of the top 35 biggest meme coins are canine contenders for the title of 'Dogecoin Killer'. How do you choose which to invest in?
Below we assess whether Dogelon Mars is all bark and no bite. We review how the crypto works and analyse the history of the Dogelon Mars price as well as industry price predictions. We tackle where to buy Dogelon Mars Coin: we review a top broker and a top exchange that make buying crypto easy and affordable, and show you how to buy Dogelon Mars, step-by-step.
Key points on Buying Dogelon Mars Coin
Dogelon Mars Coin (ELON) is the third-biggest altcoin based on a dog theme – after Shiba Inu (SHIB) and top dog Dogecoin (DOGE).
The Dogelon Mars crypto has a market capitalisation of $622m and recent daily trading volume of $17m.
Founded in April, 2021, the Dogelon Mars coin put on a staggering 3,780% surge in price over the course of October, 2021.
You can buy crypto like Dogelon Mars Coin at reputable global broker Bybit.
How to Buy Dogelon Mars Coin UK – Quick Steps
Step 1: Open an account with Bybit – you can get started straight away online. Head to Bybit and fill in a few details, upload some ID, and get verified.
Step 2: Deposit –  Bybit accepts deposit in GBP and other currencies. (As with most brokers and exchanges, a currency conversion fee applies). You can deposit funds from the UK using bank transfer, credit/debit card, Rapid Transfer, Neteller, Skrill, or PayPal.
Step 3: Search for crypto – You can search for crypto by name or review Bybit's impressive selection of crypto coin by clicking the 'Buy Crypto' button on your homepage.
Step 4: Buy Dogelon Mars Coin – You can review stats, research and newsfeeds before you commit to a trade. When you are ready to buy crypto with Bybit, press the 'Buy' button to finalise your trade, enter the required amount of crypto, and press 'Open Trade'. Simple!
68% of retail investor accounts lose money when trading CFDs with this provider.
Where to Buy Dogelon Mars Coin UK
ByBit – Top exchange to buy Dogelon Mars Coin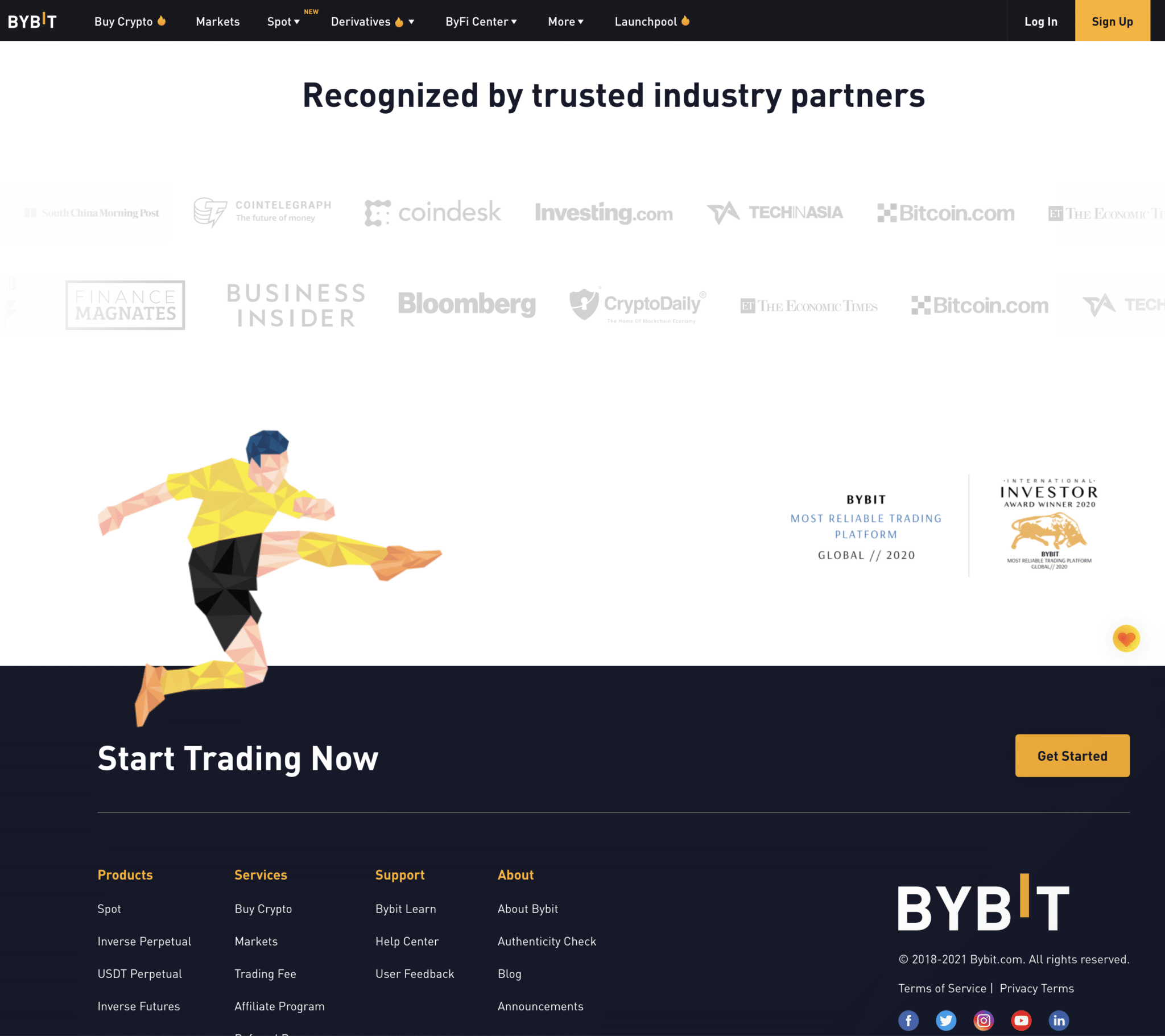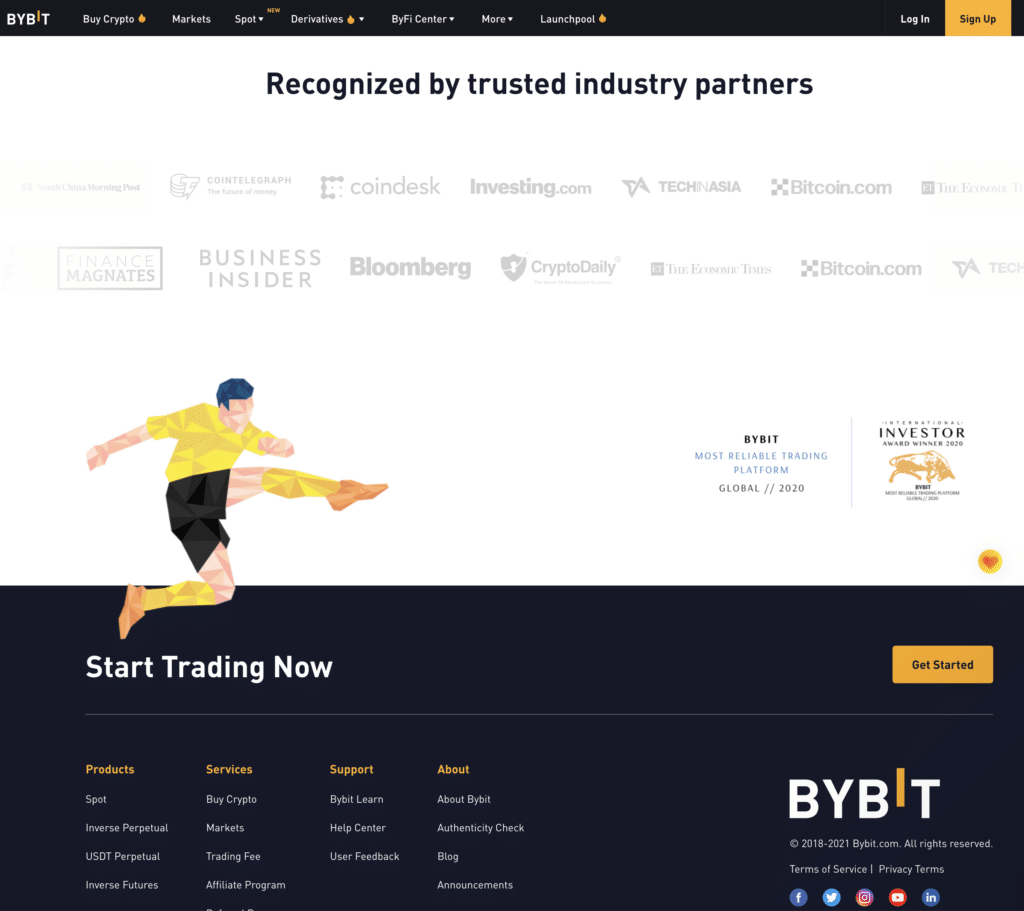 Established in 2018 in Singapore, ByBit boasts 3m registered users and a slick user-interface. Thanks to its 99.9% availability track record, ByBit was named Most Reliable Trading Platform in 2020 in the International Investor Awards. There are 3 main ways you can buy crypto with ByBit:
You can buy Bitcoin (BTC), Ethereum (ETH) and stablecoin (USDT) using fiat currency, including GBP. ByBit usefully offers a range of prices and payment methods via providers Banxa, MoonPay, Simplex, Mercuryo and Paxful.
You can use Bitcoin or stablecoins USDT and USDC to buy into 50+ crypto pairs. There's a very wide selection of crypto covered, including the two biggest crypto Bitcoin (BTC) and Ethereum (ETH). Also provided are pairs with DeFi coins like AAVE and SUSHI, Metaverse coins like MANA and SAND, meme-based coins like DOGE, as well as transaction-focussed crypto like XRP.
Crypto traders in some countries can get into crypto derivatives using ByBit's Perpetual and Futures Contracts. These cover a wide range of crypto and allow you to place entry and exit orders on a margin basis. The UK is currently not regulated for crypto derivatives.
You can link up your own crypto wallet to ByBit and the exchange offers a crypto app for trading on the move. Especially impressive are ByBit's many staking options: you can stake your coin in a variety of methods and earn rewards.

Pros
24/7 multi-lingual customer support
Client funds held offline in ByBit's cold wallet
Good choice of ways to buy key crypto
Uncluttered interface that is easy to use
Margin trading available
Cons
A lot of options to get to know
Your capital is at risk
How to Buy Dogelon Mars Coin UK – Bybit Tutorial
1. Sign up with Bybit
Go to the Bybit website. You will need to supply a username, password and your email address. Press the 'Create Account' to continue.
2. Deposit funds
Received your email from Bybit confirming that your details have been verified? If so, you are ready to deposit funds and get trading. Log into your Bybit account and press the 'Deposit Funds' button.
4. Search for Crypto
You can search for crypto by name using the top toolbar. Or, to check out all your crypto buying options, press the blue 'Buy Crypto' button on the left toolbar, then select 'Crypto' from the central menu that comes up.
6. Buy Dogelon Mars Coin
Buying crypto with Bybit is easy. Wherever you are onsite, press on a crypto's logo or name to access its homepage.
If you are ready to finalise your trade straight away, press the blue 'Trade' button at the top right. Otherwise, browse through the chatfeed, review stats and research or access powerful charting options. Pressing the blue 'Trade' button brings you to the final phase of the crypto buying process. You will then see a box.
Use the plus and minus buttons to choose how much USD from your account you want to spend, or input the amount by hand. If you do not have sufficient funds in your account, the blue button at the bottom will say 'Deposit Now' as it does above; otherwise, the blue button will say 'Open Trade' – press it to execute your trade. You will receive an onscreen notification when your market order has been fulfilled, which is usually instantaneous, but can take minute or so.
What is Dogelon Mars Coin?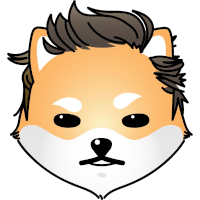 If you want to buy Dogelon Mars Coin, you need to know what you are buying. This, like all meme coins, is an ERC-20 token. That means Dogelon Mars is based on the Ethereum blockchain. It is not a governance token for a separate blockchain like EOS, Cardano or Solana, for example. The anonymous Dogelon Mars Coin founder claims cryptically that, 'technically, it is is a fork of Dogecoin, in the same sense that a knife is a fork of a spoon.' Tongue-in-cheek, perhaps? Certainly no evidence for the technological origins of Dogelon Mars has come to light.
Dogelon Mars Tokenomics
A quadrillion ELON were minted in April 2021. 50% of the supply was lodged with Uniswap and locked into ELON/ETH pairs. The Dogelon Mars founder explains, 'this ensures there is no way to remove any starting liquidity from the Uniswap pool therefore removing any possibility of initial liquidity drawdown by the devs.'
Following the example of fellow dog-token Shiba Inu (SHIB), the remaining 50% of the supply of Dogelon Mars coins was donated to Ethereum founder Vitalik Buterin. Instead of burning most of it as he had done with his Shiba Inu donation, Buterin unexpectedly donated close to 430 trillion ELON to the not-for-profit Methuselah Foundation, which is engaged in research to extend the human lifespan. The Methuselah Foundation has pledged to steward its 43% holding in the global supply of ELON until at least May 2022.
Upcoming dog token HUH is set to follow this donation trend, with 20% of initial supply earmarked for the spiritual father of dog memes, Tesla and SpaceX CEO Elon Musk. It is worth noting that Musk, whilst initially enthusiastic for Dogecoin and then Shiba Inu on his twitter page, has not given his endorsement to Dogelon Mars – despite its ticker, ELON, being named after him.
Why Buy Dogelon Mars Coin?
Massive Investor Support for Dog Tokens
15 of the top 35 meme tokens are dog-related. Dogecoin set a trend that has not stopped growing. First Shiba Inu took off, making millionaires of some investors overnight. Then it was the turn of Dogelon Mars to put on huge gains. Just because an area of investing is a trend does not mean, of course, that it represents a wise investment; but, equally, there are potentially staggering gains to be made here. One strategy used by investors is to buy small holdings in the top dog-tokens, thereby spreading risk whilst covering bases in the event of a few of them taking off in price massively.
Top 15 Dog Tokens ranked by Market Capitalisation
| Dog Token | Ticker | Market Cap ($) |
| --- | --- | --- |
| Dogecoin | DOGE | 22bn |
| Shiba Inu | SHIB | 19bn |
| Dogelon Mars | ELON | 622m |
| Samoyedcoin | SAMO | 106m |
| Doge Dash | DOGEDASH | 68m |
| Doggy | DOGGY | 18m |
| Woof | WOOF | 13m |
| Dogs of Elon | DOE | 12m |
| Dogey-Inu | DINU | 6m |
| Shibavax | SHIBX | 5m |
| Dogeswap | DOGES | 1m |
| Dogefi | DOGEFI | 350k |
| Dogecash | DOGEC | 320k |
| Floki Inu | FLOKI | <100k |
| Akita Inu | AKITA | <100k |
(Figures collated from Coinmarketcap.com)
Community
As with Dogecoin and Shiba Inu, Dogelon Mars has a robust and irreverent community following on chat hub Reddit. The coin has further attracted a 320k following on twitter.
The Dogelon Mars community conducted an 'airdrop' of ELON in May, 2021 in conjunction with Coinmarketcap.com.


The objective was to support fellow investors who had been caught out in 'rug' scams in which the price of a new meme coin had been pumped, only for the 'rug to be pulled' and the coin disappear.
Technological commitment
Development of this new cryptocurrency was announced in early November, 2021 on the Dogelon Mars twitter site. This can only be a good thing for its price prospects. A Dogelon staking and governance token xELON is reportedly on its way:


Not Just Small Investors Backing ELON
Backing for dog tokens is mostly from small investors. Analytics firm Coin Metrics say that the median trade size for Shiba Inu, for example, is $115. That is 'highly suggestive', they say, of retail rather than institutional activity.
But, in the case of Dogelon Mars, at least one large investor – a 'whale' – has got involved. A single investor snapped up $8.4m in ELON during the first fortnight in November.  Although this holding of 44 trillion ELON in a single pair of hands presents the risk that it could be sold in one go, thus destabilising the price a little, some investors believe the buying confidence displayed indicates good news in the pipeline for Dogelon in the form of a rumoured listing on the world's biggest exchange, Binance. The whale action has certainly offered some support for the Dogelon Mars price.
Dogelon Mars Price
Let's look at the price history of ELON as well as price predictions. The current price of one Dogelon Mars (ELON) coin is $0.000001169. That means, if you buy ELON, you get 855k in exchange for one USD.
Dogelon Mars Price History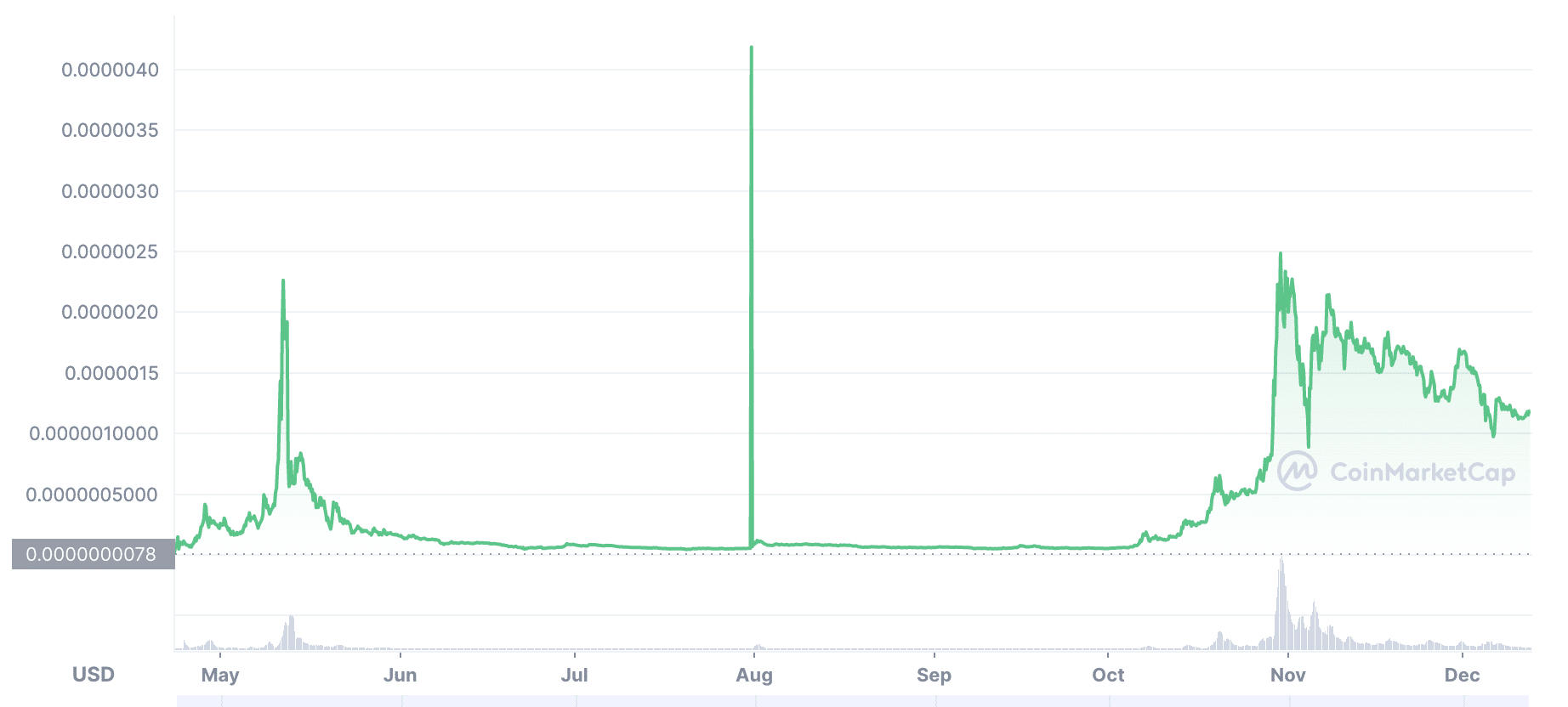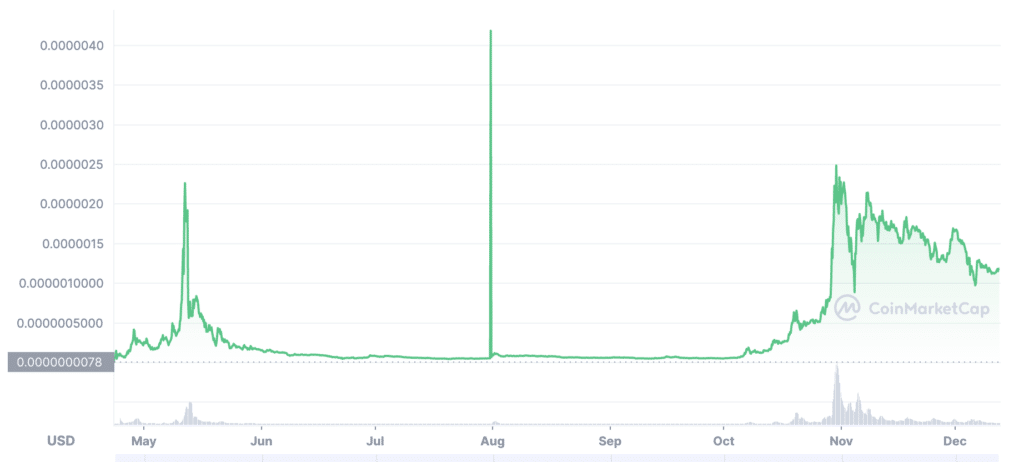 The first thing you will notice about the price chart above is the peculiar spike in price at the end of July 2021. This was down to a system error; it is not known whether any investors managed to off-load their coin during this blip.
The second thing to notice is that, whilst Dogelon Mars (ELON) has followed the May and November boom and busts of the general crypto sector, its decline in price since the beginning of November has been gradual in comparison to its two bigger dog-coins, Dogecoin (DOGE) and Shiba Inu (SHIB).
Over October 29th and October 30th, ELON jumped 200% on the news of listings with Crypto.com and OKEX.
Dogelon Mars has not collapsed in price because of two factors:
Unconfirmed speculation over a possible 2022 debut on Binance, the world's biggest exchange.
A 'whale' – or large investor – bought $8.4m of ELON in the first two weeks of November, fuelling this Binance speculation.
Dogelon Mars Price Prediction
Where to buy Dogelon Mars Coin and get the best deal is one question. But the first question investors must answer is: will the price of Dogelon Mars Coin rise?
Since 7th December, the price has fallen into a consolidating saucer pattern, suggesting a gradual rise in price may follow. With crypto, however, technical charting can only go so far in predicting price as so many factors are at play.
Dogelon Mars coin price predictions in the industry are unanimous that it is extremely unlikely that it will reach the $1 benchmark so aspired to by meme tokens. That's because of the unfeasible amount of investment to get there. Even for ELON to reach a price of a $0.01 would require a total investment of $5.5trillion – that is double the size of the entire global crypto sector.
But let's get that in perspective. There remains enormous interest in Dogelon Mars. On December 6th, ELON flipped UNI of Uniswap to be the top-traded Ethereum token (although achieving that was probably helped by the fact that, with such a low ELON price, investors tend to trade many millions of units at once).
Investing right now at a price of $0.000001169, investor can double their money with the ELON price only having to scrape past its all-time-high of $0.00000228. That is eminently possible. If a listing on Binance is confirmed in the new year, expect a price bump at the very least.
Bybit – Best Broker to Buy Dogelon Mars Coin
With over 115k investors already having made the decision to buy Dogelon Mars coin, the token is likely to be supported in the short-term. We further expect the price to spike if Dogelon Mars does get listed on the world's largest crypto exchange, Binance, as rumoured.
To buy Dogelon Mars coin and other crypto, we recommend Bybit as Best Overall Crypto Broker. With its zero commission, stiff regulation and ease of use, Bybit has a lot to offer the beginner and advanced trader alike.
Your capital is at risk.
Frequently Asked Questions on Dogelon Mars
How many Dogelon Mars holders are there?
Is Dogelon Mars a good buy?
How do I buy Dogelon Mars coin?
Where can I buy Dogelon Mars coin?