AMC Entertainment Holdings Inc. was one of the companies hit hardest by the COVID-19 pandemic. The company is the largest movie theatre operator in the world, with nearly 1,000 theatres in the US, UK, and Europe. As investors speculate over whether AMC will declare bankruptcy or come roaring back post-COVID, volatility has been high – which creates plenty of opportunities for trading.
In this guide, we'll show you how to buy AMC shares in the UK with a 0% commission. Whether you're looking to trade the shares for a quick profit or to invest in the theatre business long-term, we'll cover everything you need to know.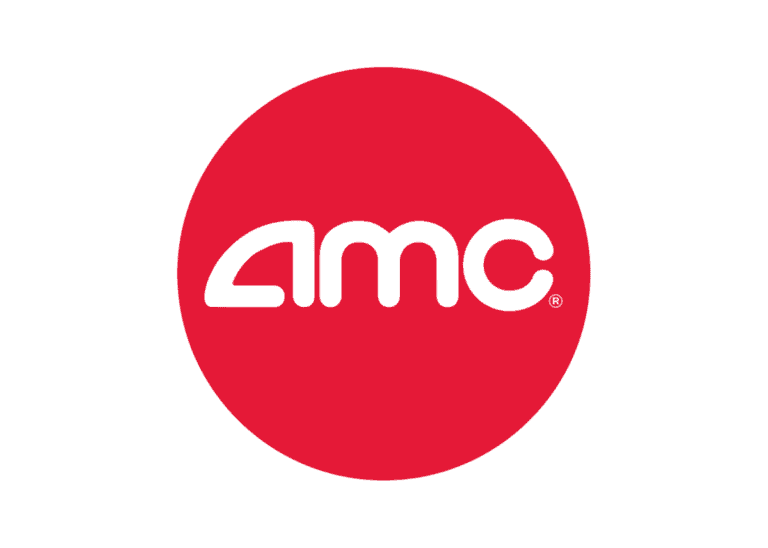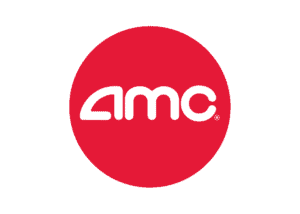 In order to buy or sell AMC shares, you'll need to find a UK stock broker that carries this company's stock. The good news is that most companies that offer US shares trading have AMC stock available.
Before you pick a brokerage, though, it's important to look at a variety of factors. How much trading costs, for example, can make a big difference in your profits at the end of the day. That's why we recommend buying AMC shares with a 0% commission brokerage.
It's also important to get access to charting and analysis tools, especially when trading a stock as volatile as AMC. Look for brokers that offer comprehensive trading platforms with tools to help you trade or invest more profitably.
With all that in mind, let's take a closer look at two of the best brokers you can use to buy AMC shares in the UK today.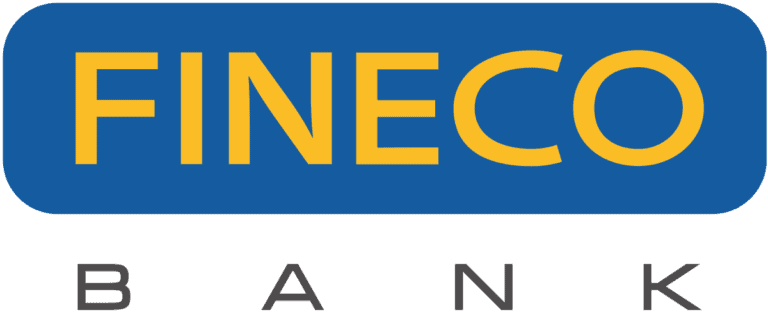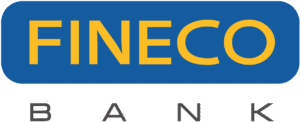 Fineco Bank is an Italian bank and brokerage that many UK traders aren't familiar with. However, this stock broker brings a lot to the table. You can access 13 stock markets from around the globe comprising thousands of different shares. In addition, Fineco Bank carries over 5,000 ETFs and offers stock options trading.
Fineco Bank caters to both short-term traders and long-term investors. Stock CFD trading is 100% commission-free, and you won't even pay a spread when trading US stocks like AMC. Leverage is available up to 5:1. You also have the option to buy shares outright with a share dealing account for a small commission. Fineco Bank charges £2.95 per deal for UK stock trades and $3.95 per deal for US stock trades.
To help you find trading opportunities, Fineco Bank puts a few tools at your disposal. The first is PowerDesk, a highly customisable trading platform that includes dozens of technical indicators and a market news feed. We think this charting interface is very robust and works well for both day trading and swing trading. Fineco Bank also offers a somewhat less involved charting interface through its mobile app.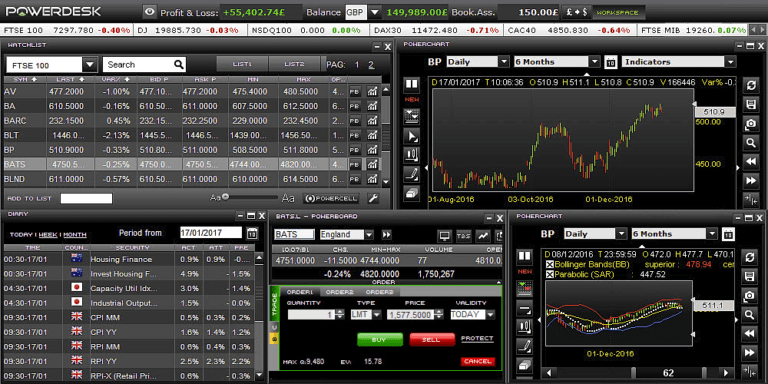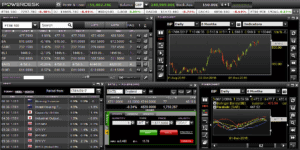 Fineco Bank also gives you a global stock screener. This is handy for finding new trading opportunities since you can filter stocks by country, market sector, recent performance, and more.
Fineco Bank is regulated by the Bank of Italy and is a publicly-traded company on the Milan Stock Exchange. Although it's not regulated in the UK, all UK clients are protected by the Financial Services Compensation Scheme.
Pros
0% commission and spread-free stock CFD trading
Buy shares and ETFs with low commission
Robust PowerDesk trading platform
Global stock screener
Regulated by the Bank of Italy
Cons
Only accepts deposits by bank transfer
Mobile charting could be better
Your capital is at risk.
2. Capital.com – AI-driven Trading Tools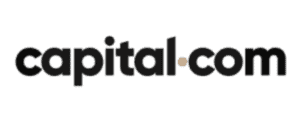 Capital.com is a CFD broker that offers trading on more than 3,000 US, UK, and European shares – including AMC. The broker charges 0% commission for every trade, so all you pay is a small spread. This is typically around 0.1% per stock trade. You can also leverage your stock CFD positions up to 5:1, which is a plus for aggressive day trading.
One of the best things about Capital.com is its trading platform, which leverages artificial intelligence (AI) in a way that few competitors do. Capital.com's AI algorithm will look at the market and find potential trading setups, then bring them to your attention for further analysis. You also get access to a charting interface with more than 75 technical indicators, as well as a news feed and economic calendar.
Despite being comprehensive enough for professional traders, Capital.com's platform is very easy to use. The trading platform is fully customisable, and you can trade on the go using a mobile trading app for iOS and Android. In addition, Capital.com offers a trove of resources for beginner traders, which makes it a great brokerage for those just getting into trading and investing.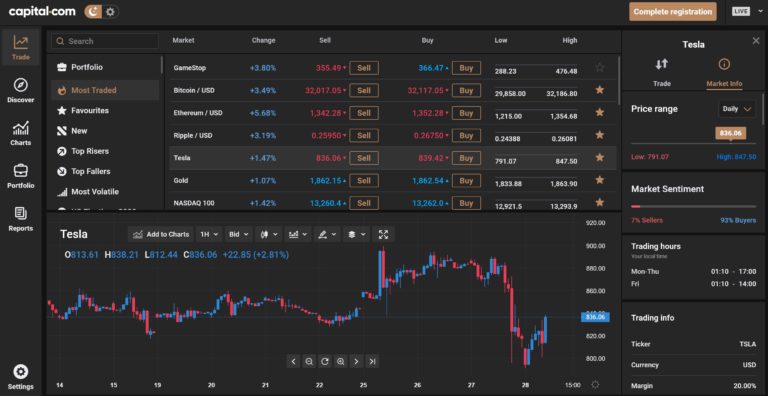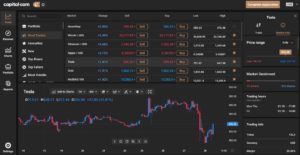 One thing to note is that Capital.com offers almost no fundamental data about stocks like AMC. This typically isn't a problem for active trading, and it makes sense given that Capital.com only offers CFD trading. That said, long-term investors may miss having this financial data available.
Capital.com is regulated by the UK's Financial Conduct Authority, one of the world's top-tier financial watchdogs. In addition, UK accounts are backed by the Financial Services Compensation Scheme, so you're insured for up to £85,000 if something happens to Capital.com.
Pros
0% commission CFD trading
Trade over 3,000 global stocks
75+ technical indicators
Excellent educational resources
Regulated by the UK FCA
Cons
No stock fundamental data
75.26% of retail investor accounts lose money when spread betting and/or trading CFDs with this provider.
AMC shares have had a difficult year thanks to the coronavirus. To make matters more complicated, the stock has been in the middle of a massive fight between day traders in the US and major hedge funds.
Those two things together have caused this to be one of the most volatile stocks on the NYSE. So, it's essential that you look closely at AMC shares before you buy.
Signs of trouble for AMC were brewing long before the coronavirus pandemic hit. In 2017, the company's financial reports showed that revenue from ticket sales declined by around 5% at the same time that AMC spent $2.2 billion to acquire some smaller European theatre chains.
The market reacted sharply, sending AMC shares down from a high of over $35 at the end of 2016 to just $11 in 2017. Over the whole of 2017, AMC shares lost a whopping 53% of their value.
Shares recovered to around $21 apiece through 2018, but the widespread switch to online video streaming started to take a toll in 2019. As Netflix announced a multi-billion-pound slate of new content production and Disney moved to launch Disney+ (not to mention additional streaming services from Paramount and HBO), investors grew wary of AMC's future prospects. The stock slid another 46% in 2019, down to just over $7 per share.
Just as things were already looking bad for AMC, the coronavirus pandemic hit. Shares dropped to $2.08 during the March stock market crash as AMC theatres shuttered across the US, UK, and Europe for months on end. The stock recovered slightly over the summer as theatres reopened, breaking $7 in August.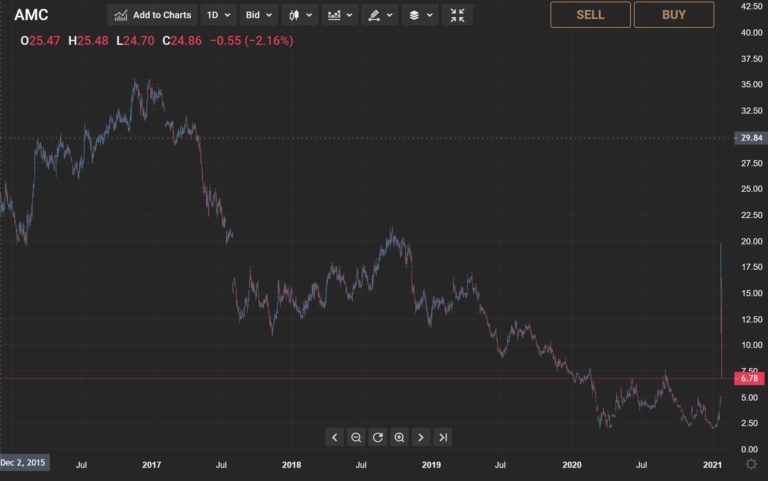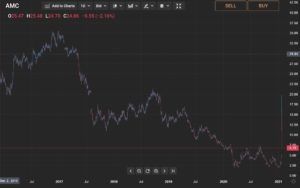 However, the AMC share price fell back below $2 after the second wave of COVID-19 hit in the fall. Renewed lockdowns in the UK and tightened restrictions in the US and Europe caused the company to warn in December that it could declare bankruptcy.
The AMC Short Squeeze
It was around this time that retail investors started to take note of AMC stock as one of the best most shorted stocks. Along with video game retailer Gamestop (GME), the stock was heavily shorted by Wall Street hedge funds, who thought that AMC was likely to declare bankruptcy in the next several months. Retail investors, using social media as a coordination tool, primarily the Reddit group WallStreetBets, invested heavily in AMC to force these hedge funds to buy back the stock to cover their short positions.
AMC shares skyrocketed. On Wednesday, January 17, AMC shares gained over 300% – not because of any news by AMC, but because of the fight between individual traders and hedge funds. The stock peaked at over $20, and, at the time of writing, sits at $16. Just a week ago, AMC shares were trading for less than $3 a piece. Numerous brokers, including Robinhood, then suspended retail trading on AMC and Gamestop stock.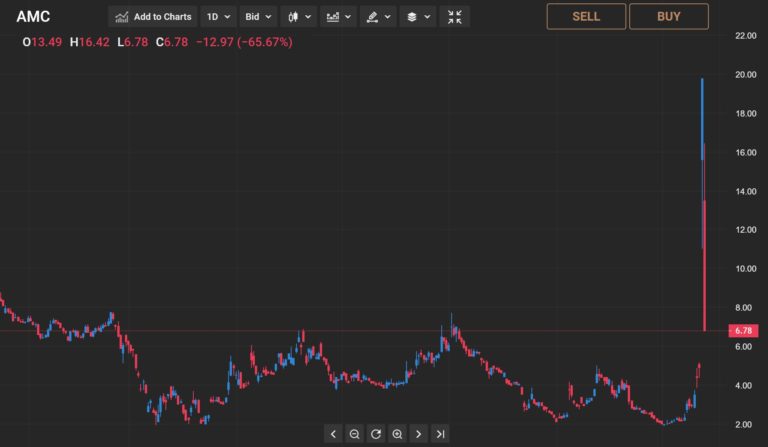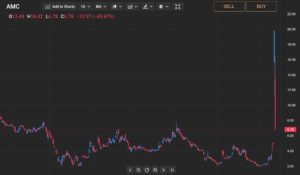 At the current share price, AMC has a market cap of nearly $6 billion. That's compared to its market cap of around $1 billion before the recent short squeeze. AMC has been losing money for the past year, so it does not have a price-to-earnings ratio at this time.
AMC historically paid a dividend of $0.20 per share, which equated to a dividend yield of around 2%. (The stock price has been very volatile over the past several years, so the dividend yield has varied a lot as well.)
However, AMC slashed its payout to $0.03 per share in March, and then suspended its dividend indefinitely to conserve cash during the coronavirus pandemic. It is unlikely that AMC will return to paying a dividend in the near future, particularly since it recently raised nearly $1 billion in new debt to stave off bankruptcy.
Should I Buy AMC Stock?
AMC stock has been in the center of an unprecedented fight between individual traders gathering on social media and Wall Street hedge funds. The stock just hit a fresh high of over $20 per share, and it's currently trading in a huge range from $10 to $15 per share.
There are a couple of ways to approach AMC right now:
Day Trading AMC
For day traders who are willing to take on a lot of risks, there's money to be made in AMC right now. The volatility is extreme, and the stock could easily pop on the second wave of the activity or come crashing back to earth in the next few days.
Day trading AMC in the middle of this fight is extremely risky – far riskier than most types of day trading, and the risk is more than most professional day traders are willing to accept. Watch out for trading delays, as many brokers have put restrictions on trading AMC stock or are having trouble making a market for the stock.
Swing Trading AMC
Over the coming days to weeks, short selling AMC shares could be a highly profitable strategy. The stock was trading at $3 per share just a few days ago, and nothing about AMC's financial situation or long-term outlook has actually changed despite all the recent trading activity. The company is still on the verge of bankruptcy, and almost no one – including the people buying AMC shares – questions that it is heavily overvalued at current prices.
However, be very cautious shorting AMC stocks. Hedge funds have lost billions of dollars in recent days on short-bets against the company, and a second wave of buying action could result in a margin call that forces you to sell your position. Short selling AMC is an obvious strategy on its face, but it can be very dangerous if you don't have very deep pockets to stick with your trade through another round of buying action.
AMC in the Long Run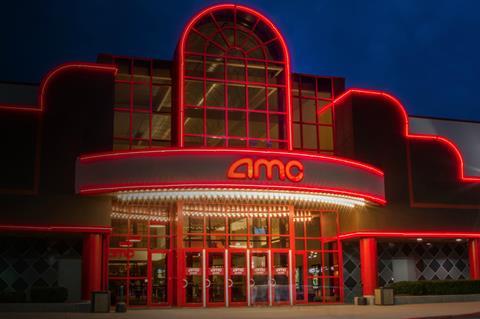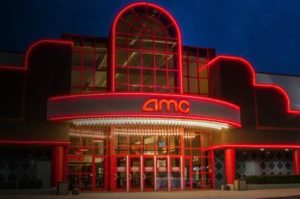 In the long run, we're bearish on AMC – at least at the current prices. The company has been hammered by the coronavirus pandemic. It entered 2020 with nearly $5 billion in debt, and it recently took on another $1 billion. It will take years for AMC to shake off all of this debt, assuming it can, in fact, avoid bankruptcy.
At the same time, AMC is up against another existential threat to the movie theatre industry: streaming. Consumers have been trained during the pandemic to turn to their televisions and computers for movies instead of going to movie theatres. It will take a lot of time and a lot of marketing to undo that training, and a large number of people may never go back to the movie theatre again.
Worse, AMC is losing its claim to exclusivity. Warner Bros. announced that it will be releasing all new movies straight to streaming on HBO Max at the same time they are released to AMC theatres. That disincentivizes anyone with an HBO Max subscription from going to the theatre. Other major studies, including Disney in particular, have already experimented with a straight-to-streaming model that could cripple AMC's business going forward.
AMC might have been able to fight back against this trend if it had the resources to do so. But with $6 billion in debt on the balance sheet, the company will be severely constrained. We expect AMC to slowly lose market share and to slowly sell off assets to remain solvent. In our view, AMC is headed in a spiral that can only lead to bankruptcy in the years ahead.
Step 3: Open an Account and Deposit Funds
Want to get in on the AMC trading action? We'll show you how to buy shares using Capital.com, which offers comprehensive trading tools for day trading this volatile stock.
Open a Capital.com Account
To get started, head to Capital.com's website and click 'Trade Now.' You can create a new account using your email address, or sign in using Google or Facebook.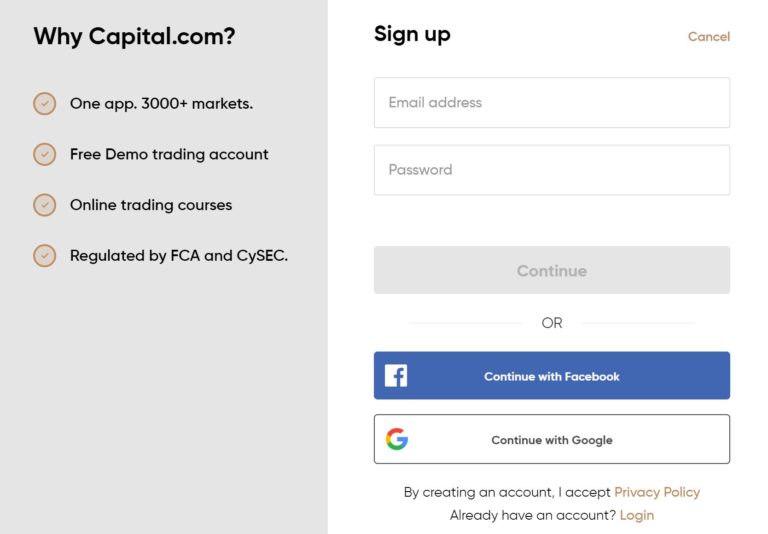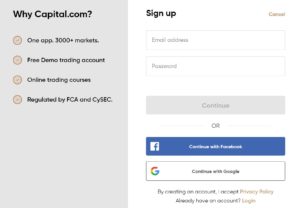 75.26% of retail investor accounts lose money when spread betting and/or trading CFDs with this provider.
Since Capital.com is regulated in the UK, it is required to follow the UK's anti-money laundering rules. So, you'll need to verify your identity before you can deposit funds and start trading. Upload a copy of your passport or driver's license along with a copy of a recent utility bill to complete this step online.
Fund Your Account
Next, you can deposit funds to your new Capital.com account. The broker requires a minimum deposit of just £15 if you pay by debit or credit card, or £200 if you fund your account with a bank transfer. You can also use Apple Pay. Debit, credit, and Apple Pay transfers are available instantly, while bank transfers can take up to 5 days to clear.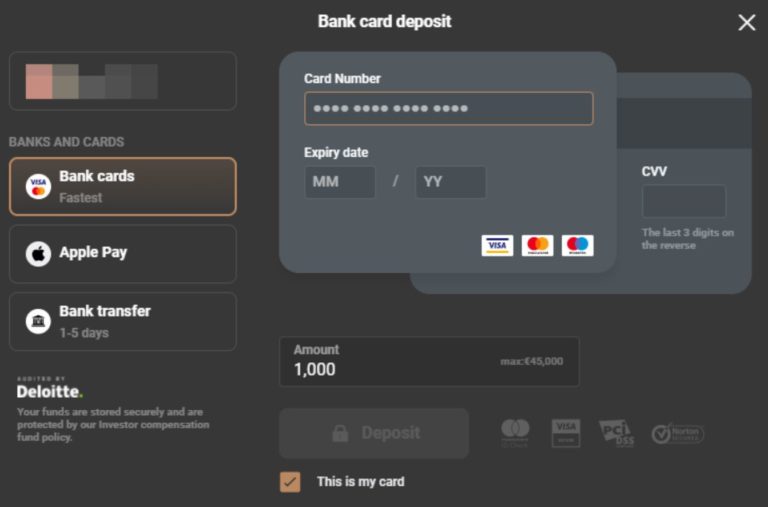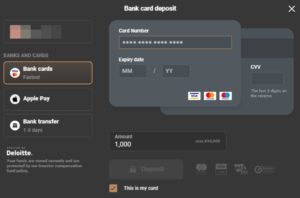 Now you're ready to start trading AMC shares with Capital.com. Open the web trading platform and search for AMC. When it appears in the market's pane, click on 'Buy' or 'Sell' to open the trading panel.
Select how many shares you want to buy or sell, keeping in mind that Capital.com automatically applies leverage of 5:1. You can select a limit price as well as set stop loss or take profit levels for your trade.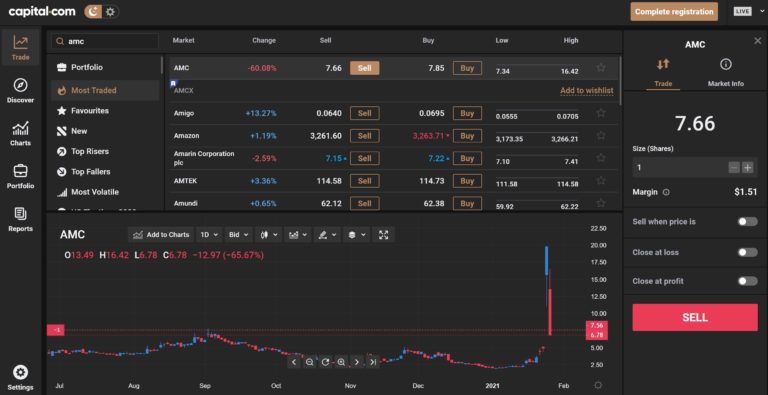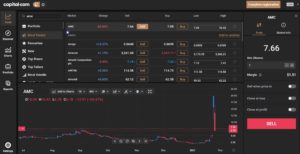 When you're ready, click 'Buy' or 'Sell' to execute your trade.
75.26% of retail investor accounts lose money when spread betting and/or trading CFDs with this provider.
AMC stock is extremely volatile right now, and it seems like it will stay that way for days or even weeks to come.
Short-term investors with a large appetite for risk have two options. You can buy AMC shares hoping that a second wave of buying activity sends the stock back to $20 or higher. Or you can short sell AMC shares to take advantage of the fact that it's highly overvalued right now.
Both approaches are extremely risky. Buyers face the prospect that the AMC bubble could burst at any moment and the shares could go back to trading around the $3 mark. Short sellers face the prospect of having to cover and exit their positions if the stock shoots upwards again.
Only trade AMC right now with money you're willing to lose. Long-term investors should probably avoid trading the stock altogether right now, and revisit it once trading activity dies down.
The Verdict
AMC stock was volatile before the coronavirus pandemic, and it became even more volatile thanks to the pandemic. Now, a fight between individual investors and Wall Street hedge funds has boosted the stock to new highs and made it one of the most volatile stocks in recent trading history.
It's impossible to overstate the risk that comes with trading AMC shares right now. The company is clearly overvalued, but it could shoot upwards at any moment thanks to a coordinated effort by retail investors who appear not to care about valuation.
That said, for traders who are willing to place big bets, AMC shares offer an opportunity for extreme profit if your bet is right. You should only trade AMC shares with money you're willing to lose.
Want to get in on the AMC trading frenzy? Click the link below to buy AMC shares today with Capital.com.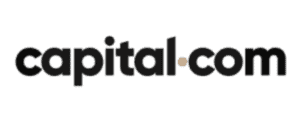 75.26% of retail investor accounts lose money when spread betting and/or trading CFDs with this provider.
FAQs
How much debt does AMC have?
Has AMC declared bankruptcy?
Are UK brokers suspending AMC trading?
How many movie theatres does AMC operate?
Read next