Exodus Wallet Review UK 2023 – Fees and Pros & Cons Revealed
Fact Checked
Everything you read on our site is provided by expert writers who have many years of experience in the financial markets and have written for other top financial publications. Every piece of information here is fact-checked.
Disclosure
Please note that we are not authorised to provide any investment advice. The information on this page should be construed for information purposes only. We may earn commissions from the products mentioned on this site.
If you are planning on buying and selling cryptocurrencies, the first thing you need to do is finding a digital wallet where you can safely store your coins. Exodus wallet is one of the most popular crypto digital wallets that supports a range of coins and provides users an extremely innovative and intuitive wallet desktop and mobile app.
In this Exodus wallet app review UK, we are going to analyze this wallet and help you find out if it's the right wallet for you. We cover the wallet fees, security features, supported coins, user experience, pros and cons, and more.
What is Exodus Wallet?
Exodus is a multi-asset crypto wallet that supports a wide range of over 130 digital currencies. The wallet – which is available on desktop, mobile, and external hardware devices – enables users to store, send and receive crypto funds at no cost. Additionally, you can use the wallet to exchange crypto for crypto without having to register and verify your identity.
The company itself was founded in 2015 by JP Richardson and Daniel Castagnoli and is currently headquartered in Nebraska, the United States. On April 8th, the company began offering Class A common shares in the Exodus wallet and already raised $60 million in a regulated crypto offering. 
Exodus Wallet Pros & Cons
Below, you can find a breakdown of the pros and cons of Exodus wallet.
Pros
Great user interface
Supports over 130 cryptocurrencies
Available on desktop wallet, mobile wallet app (both iOS and Android devices), and hardware wallet via Trezor hardware wallet
Easy to use
Offers to exchange over 70 crypto coins directly from the wallet
The app is free to download
Does not charge any fees for sending and receiving crypto funds
Supports staking
24/7 human support
Cons
Only supports crypto purchases with a fiat currency on mobile devices
Exodus does not enable users to withdraw funds directly to a bank account or exchanging crypto for cash.
High transaction fees at times of crowded network, complex pricing structure
Does not enable users to store fiat currencies
Exodus only offers custom fees for Bitcoin (BTC) and Ethereum (ETH)
Supported Coins
One of the main attractions of the Exodus wallet is the range of supported cryptocurrencies. Overall, the Exodus Bitcoin wallet supports more than 130 cryptocurrencies including the most popular coins in the market like Bitcoin, Ethereum, Bitcoin Cash, Cardano ADA, Dash, Litecoin LTC, Monero, Ripple, Ethereum Classic, Bitcoin Gold, and many more. In addition, it also supports a huge list of exotic altcoins. The Exodus wallet Ripple is also one of the most used wallets in the market that allows users send, receive, and exchange Ripple XRP.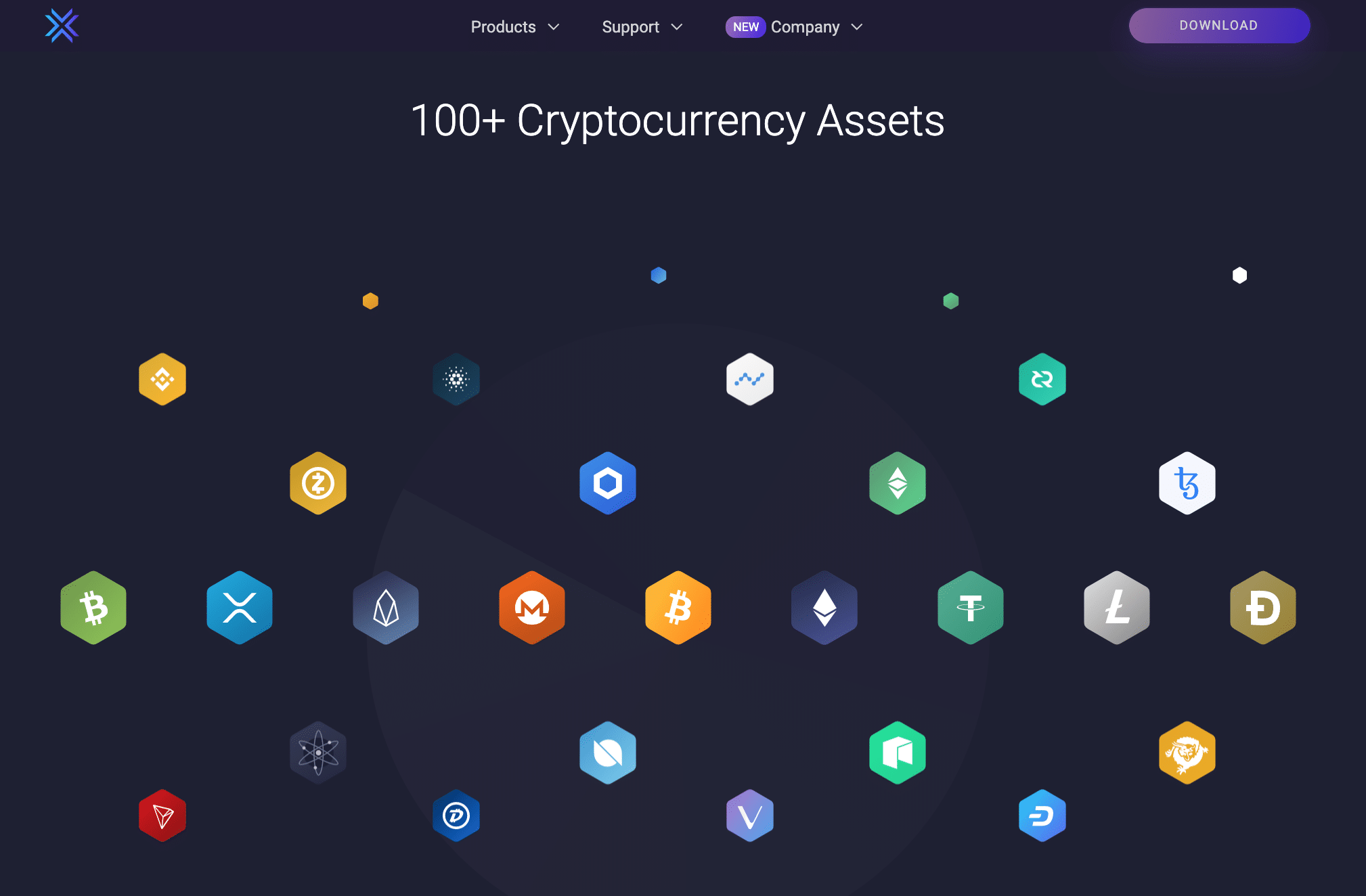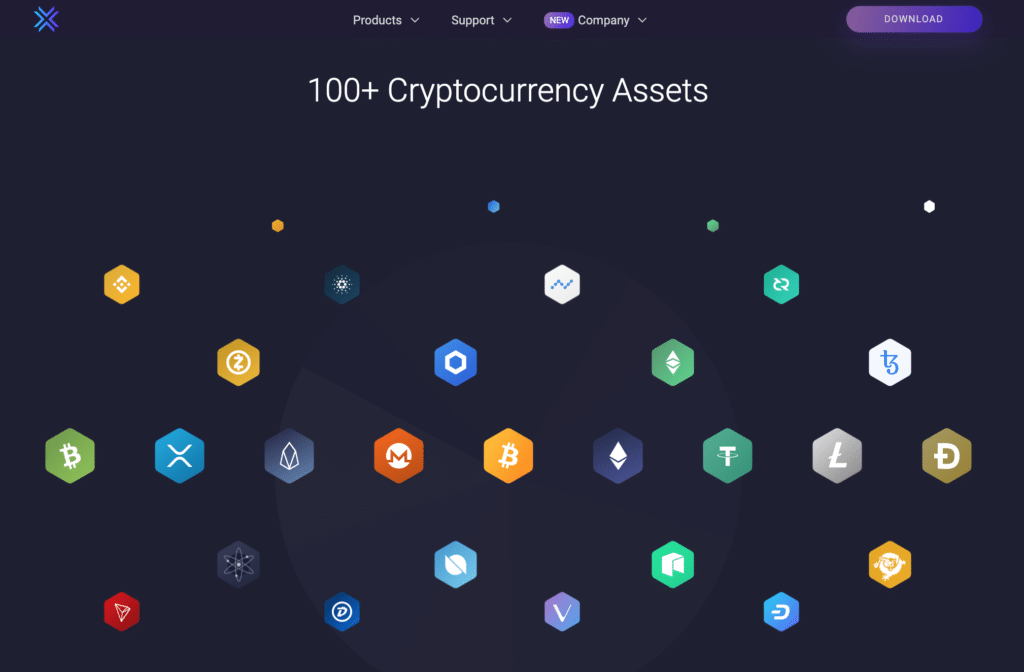 Exodus Wallet Fees
During this Exodus wallet app review we were a bit disappointed about the lack of information regarding the fees you need to pay when using the wallet. Exodus does make an effort to offer transparent service to customers, however, the Exodus wallet system works in a way that Exodus cannot guarantee for fixed fees and charges.
As such, perhaps the biggest problem of Exodus wallet, in our view,  is that you cannot know the fees you pay before you sign up for an account and make transactions. Presently, Exodus only offers fixed fees for Bitcoin and Ethereum transactions but for all other altcoins, you'll have to pay a fee that is automatically generated by the blockchain network. This could be a major problem when the network is crowded as you would have to pay extremely high fees. Evidently, you'll find lots of reviews online of users' claims of very high and unreasonable fees charged by the network that is connected to the Exodus wallet.
Still, Exodus has created a tool that enables users to set a range of custom fees for Bitcoin and Ethereum. This can be done from your mobile device or via the desktop app. However, you should take into account that when setting up the system to have lower fees, it may take longer for the transaction to get confirmed.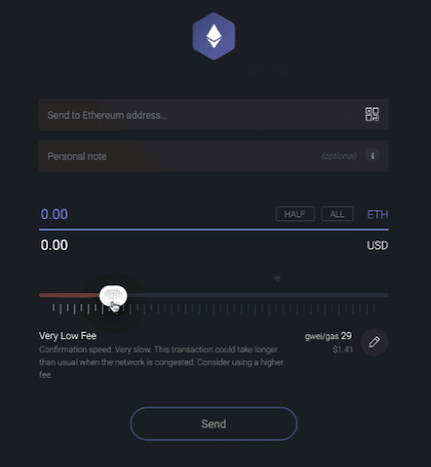 Exodus Wallet Safety & Security
In terms of security and the safety of funds, the Exodus wallet is a software wallet which means your private keys and funds are stored on your computer and mobile device and not on Exodus servers. Consequently, even in the case Exodus is hacked, your funds cannot be stolen. Yet, it is not as secure as a hardware wallet due to the fact that your electronic devices are always at risk of hacking and cyber threats.
Taking the above into consideration, there are pros and cons in the approach Exodus has taken to secure clients' funds. On the one hand, Exodus takes pride in giving its clients full control over funds – the company does not store any sensitive data (like 12-word recovery phrases, private keys, and public addresses) and cannot view, access, or control your funds simply because all of your wallet's data and information is stored on your computer or mobile device. However, while this type of wallet service is very unique and appealing for some people, it means you have to do all the hard work in order to secure you crypto funds as Exodus lacks essential security features like the Two Factor authentication.
As a recommendation, Exodus suggest you follow these protection measures:
Protect your secret 12-word recovery phrase
Do not copy your Private Keys
Create a unique, strong password for Exodus
Keep your your apps up to date, especially Exodus
Don't visit suspicious sites
Another way to solve this problem is to store your coins on Exodus hardware crypto wallet. Exodus partners with Trezor – which is an advanced cryptocurrency hardware wallet that allows you to store a wide range of crypto assets. Presently, Exodus supports the Trezor Model One and the Trezor Model T though you'll have to purchase these hardware wallets at the cost of $59 and $179 respectively.
Exodus Wallet User Experience
There's no doubt that Exodus has created desktop and mobile apps with beautiful design and seamless user experience. Everything is clean and smooth on the Exodus app, which makes it a perfect platform for managing your crypto funds. As for how the wallet is organized, you can easily navigate to all the tools and features that are available on Exodus from the main screen – viewing your portfolio, wallet, and exchange.
Further, the great thing with Exodus is that it is not only a wallet but it is also a platform where you can view live prices and charts of all the supported crypto coins.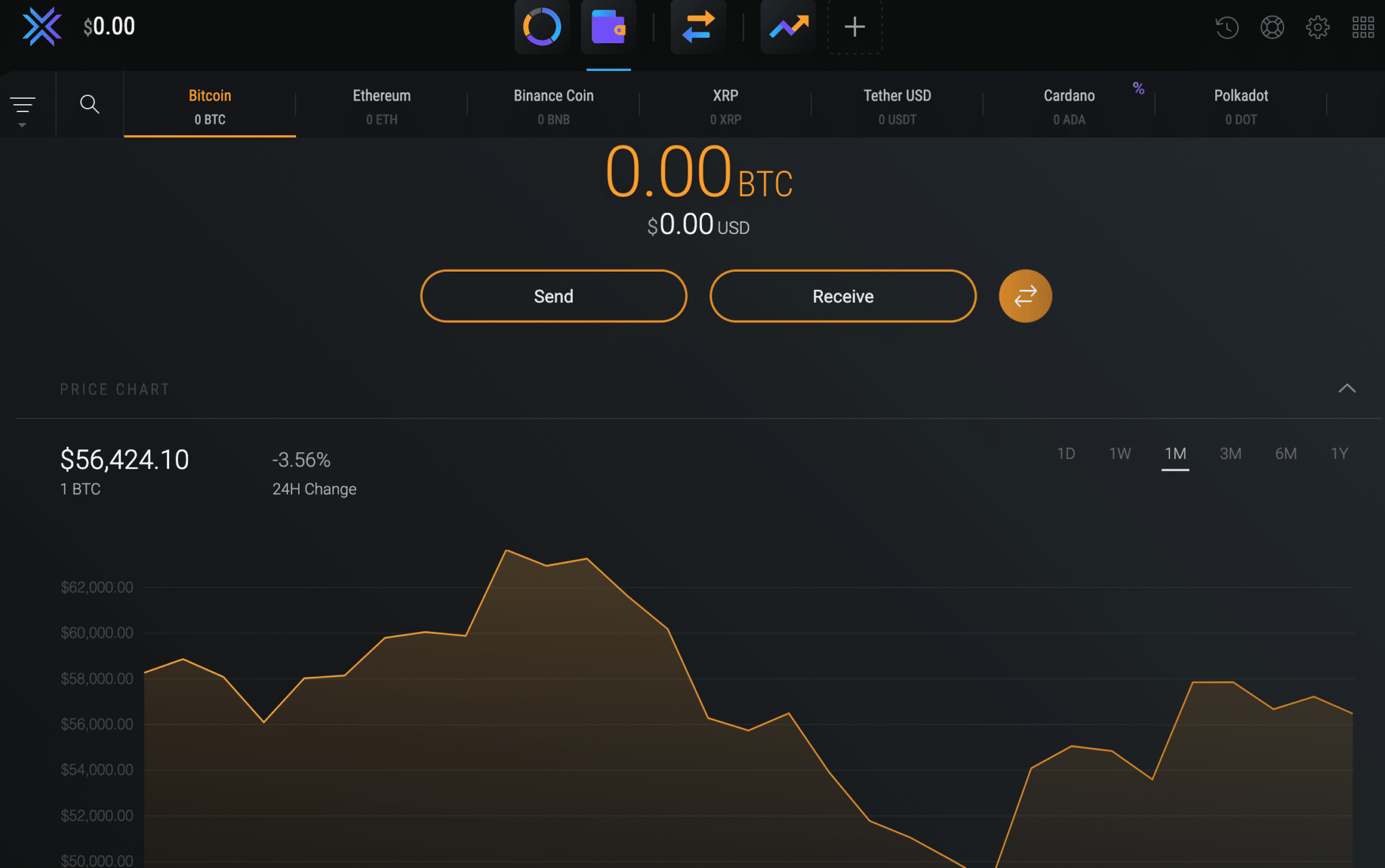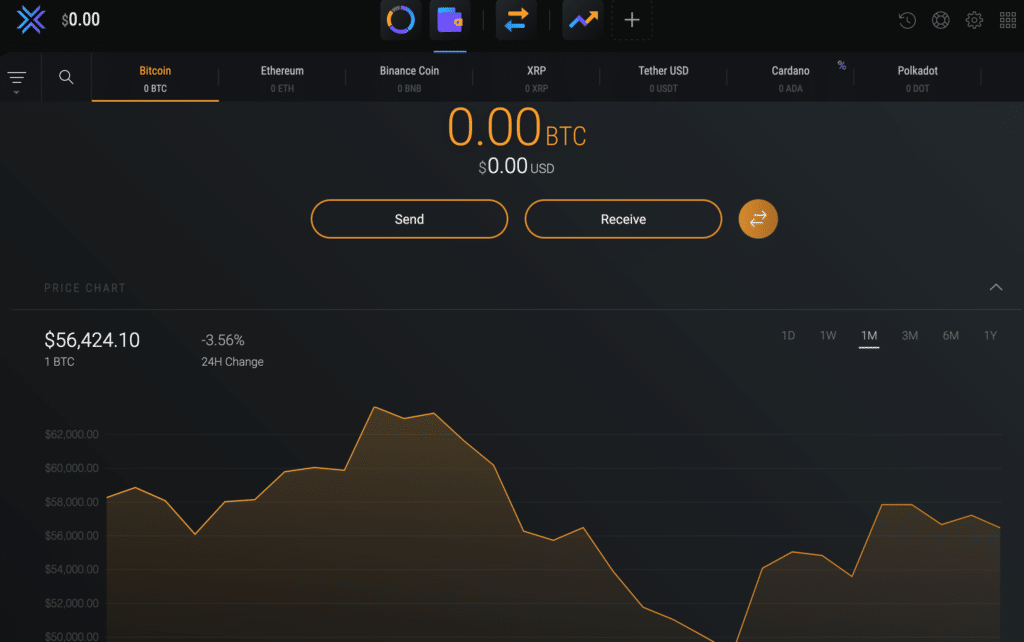 Additionally, you also get access to coins' stats like live prices, 24-hour change, market cap, 24 hours volume, and a basic 30 days chart. Another effective tool on this page is the APY rewards tab that shows you all the coins on the Exodus network that pay a fixed interest rate for staking your coins.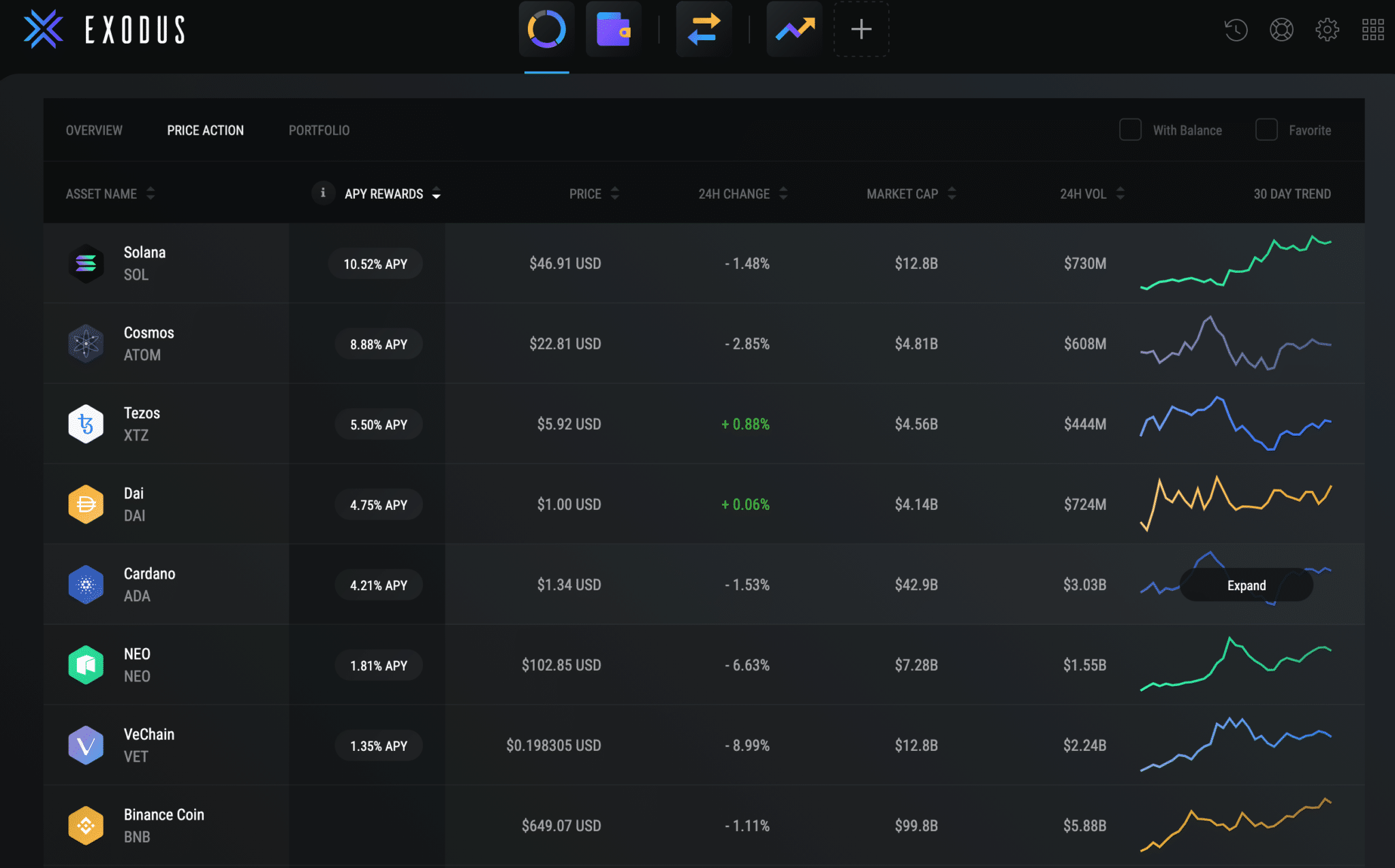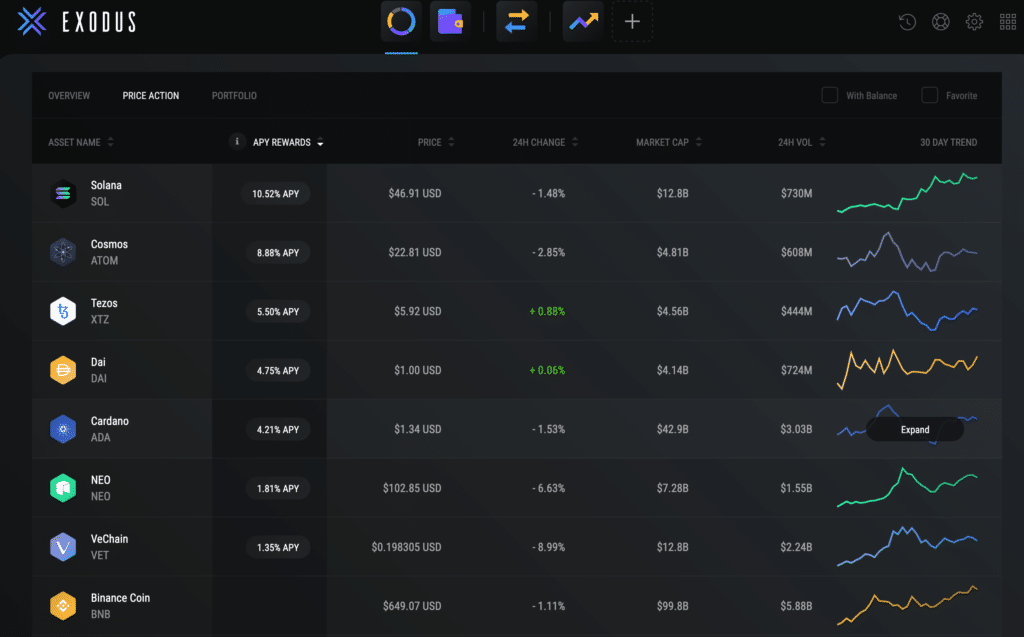 It also comes as no surprise that the Exodus Bitcoin wallet mobile application is one of the most popular among all bitcoin and crypto wallets available in the market. Once again, the user interface is intuitive and you get the same functionality and tools that are available on the desktop wallet version. Evidently, the Exodus wallet android has a high rating on Google Play (4.5 from 50,677 votes) and and the Exodus wallet iPhone also has a high score on Apple Store (10,450 reviews).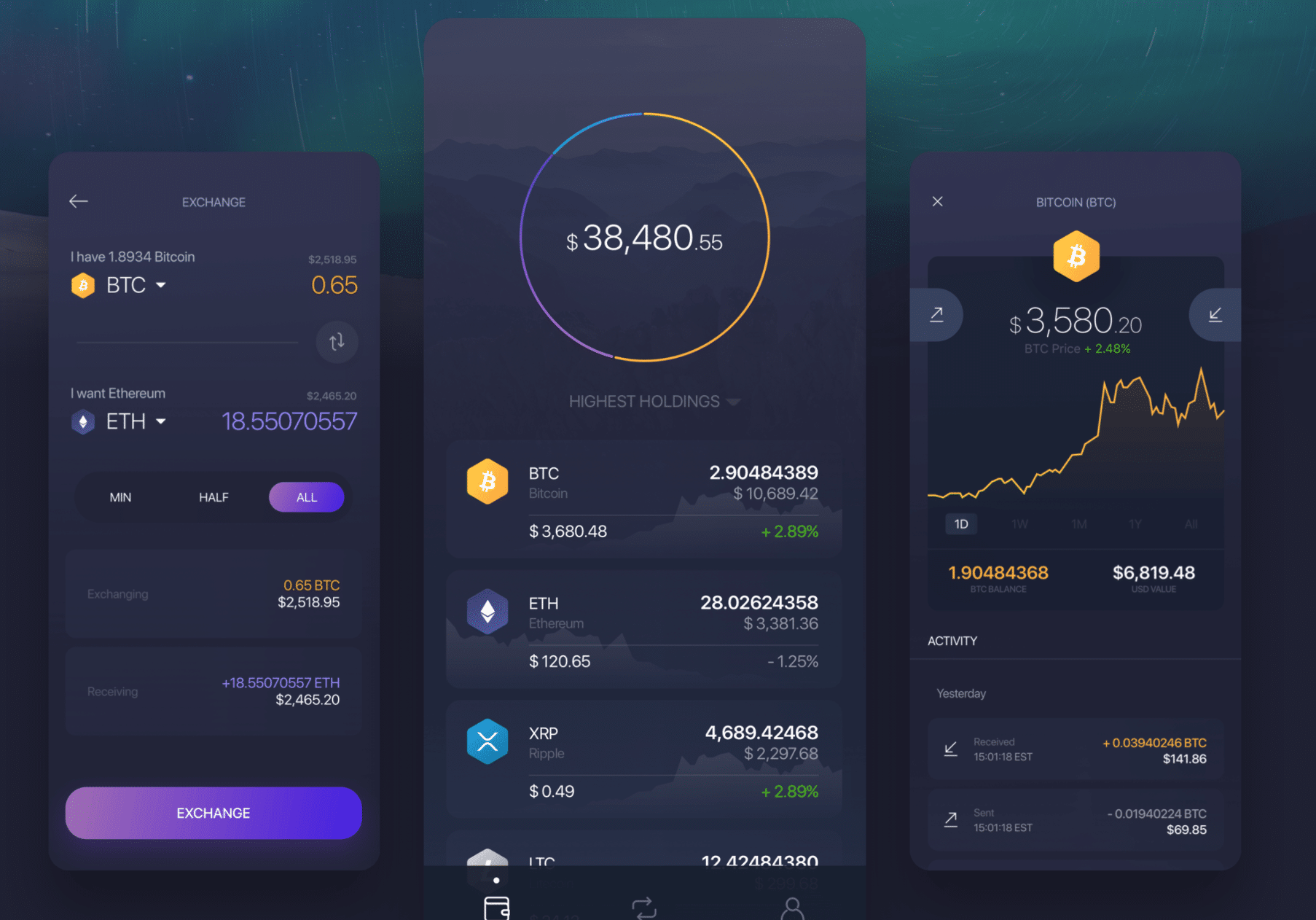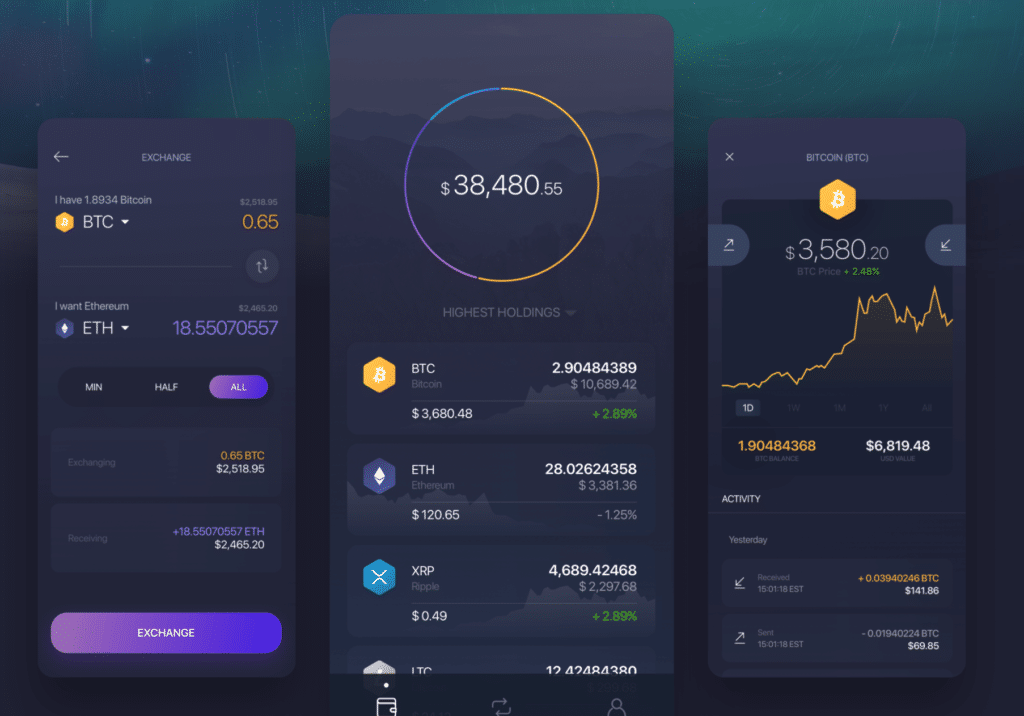 Transferring Funds
The process of transferring funds to Exodus is also very simple. If this is the first time you are using the wallet, then you'll see on your home page a 'Make Your First Deposit' button. Otherwise, you can navigate to the wallet tab where you'll be able to choose the coin in which you want to receive the funds.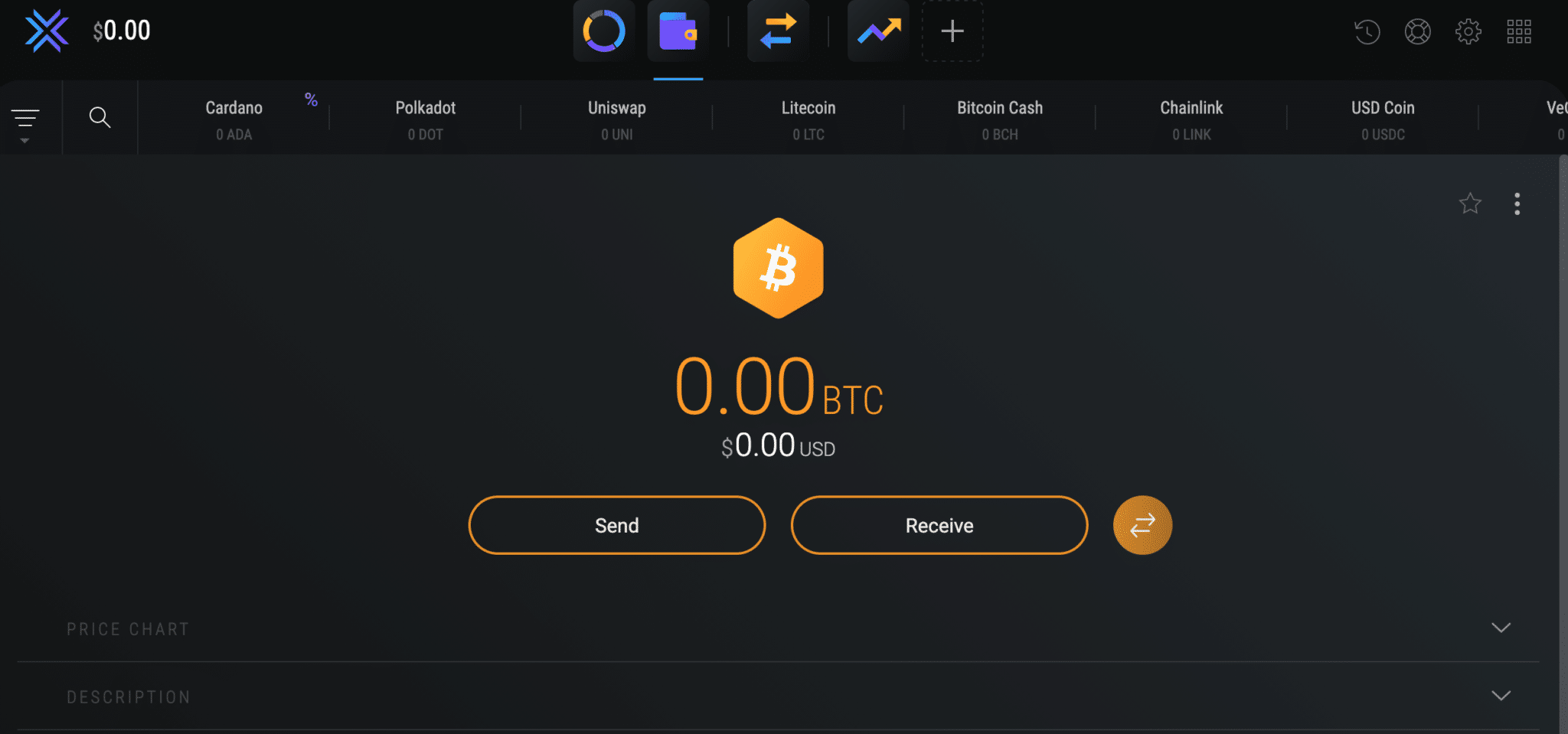 From this page, you can send and receive funds. However, as this is the first deposit you are about to make into Exodus wallet, you need to click on the receive funds button. Then, you simply need to scan the wallet address from the sender in order to receive the fund to your Exodus wallet.
Exodus Wallet Features 
The Exodus wallet comes with lots of interesting and unique features. These include:
Exodus Approved Apps
The main purpose of using the Exodus wallet is to store, send, and receive funds – however, you also get access to built-in apps that can be installed on the desktop and mobile apps. As such, you can navigate to the + button and install the following apps:
Exodus Shares – Allowing you to participate in Exodus Initial Public Offering
Rewards – This app gives users access to staking coins and enables them to get fixed interest for locking their coins.
Compound Finance – This is a protocol built on the Ethereum blockchain that enables users to lend Ethereum assets to a pool of assets. At the time of writing, Exodus only offers to lend the DAI coin.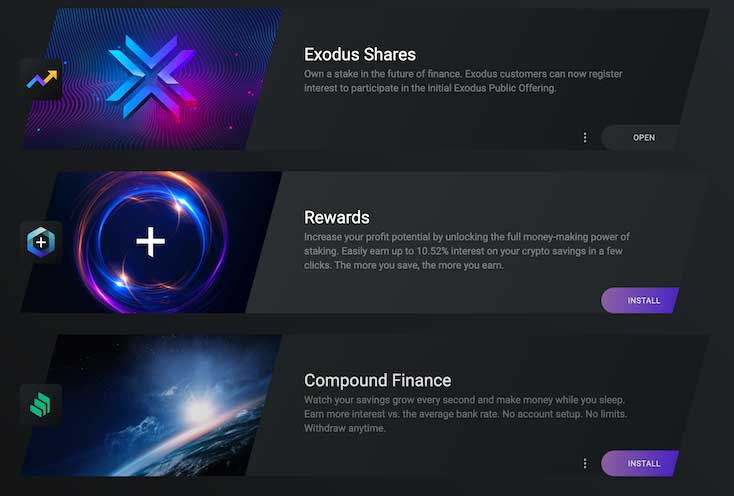 Staking
Staking cryptos is becoming one of the most essential features of any crypto exchange and digital wallet provider. In simple terms, staking crypto coins is a process that is very similar to traditional fixed income assets like bonds, Glits, etc. You essentially lock your crypto funds for a fixed duration of time in order to receive an annual return and thus, you can make passive income.
In terms of the selection of coins, Exodus offers you to stake any of the following coins directly on its wallet platform: Solana, Cosmos, Tezos, DAI, Cardano, NEO, VeChain, and Binance Coin.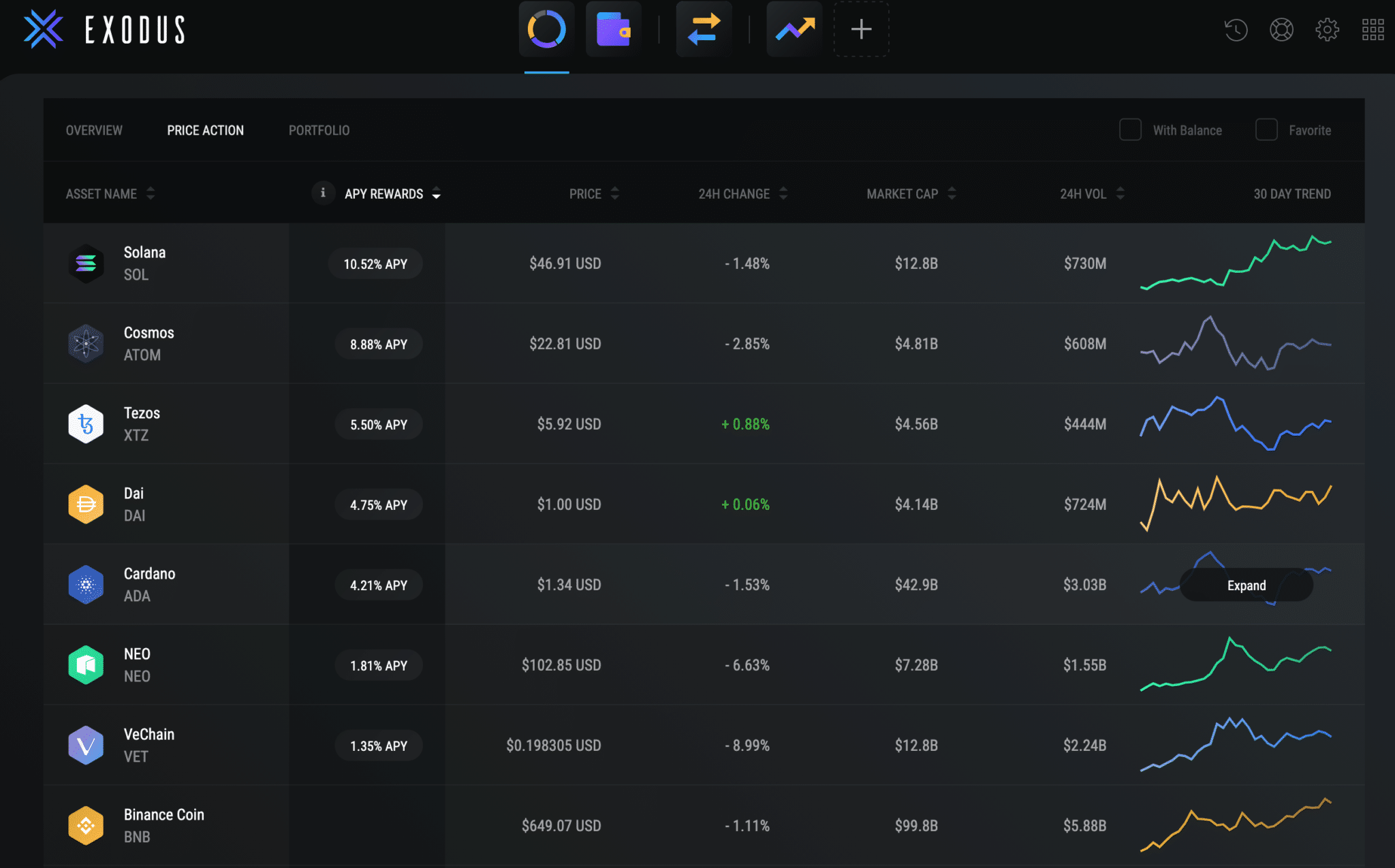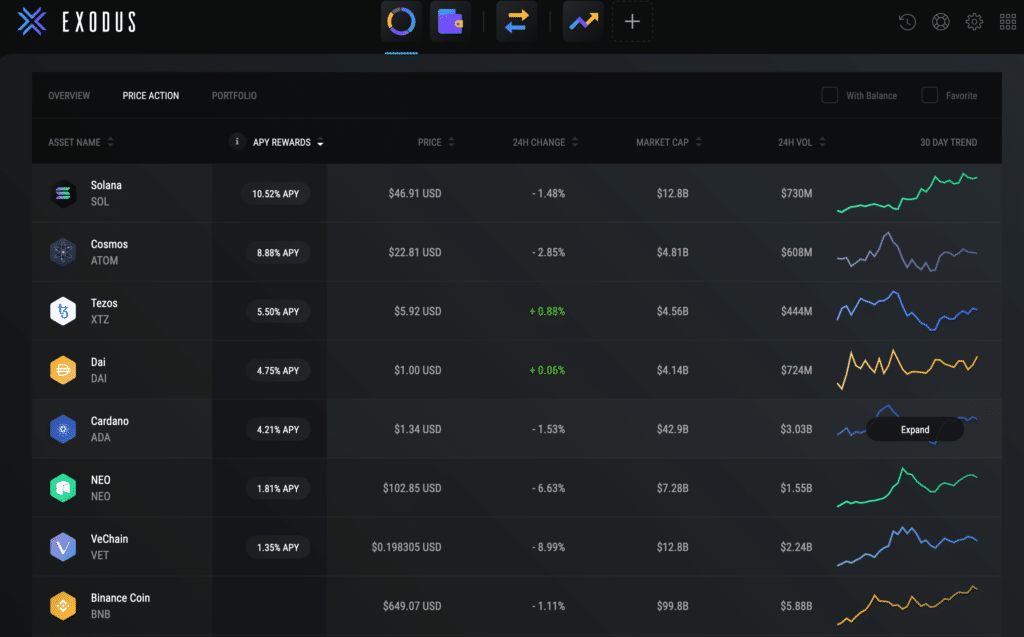 Exchange Cryptos Directly from the Wallet
Another great feature that is available on Exodus is the ability to exchange more than 70 cryptos directly on the wallet. This makes Ripple Exodus wallet sort of a digital asset exchange in addition to being a wallet service provider.
Exodus Wallet Contact and Customer Service
The Exodus wallet app comes with a customer portal feature that makes things very easy and convenient. On this built-in section, Exodus provides a range of helpful videos on a variety of topics and an FAQ section in and out of the app.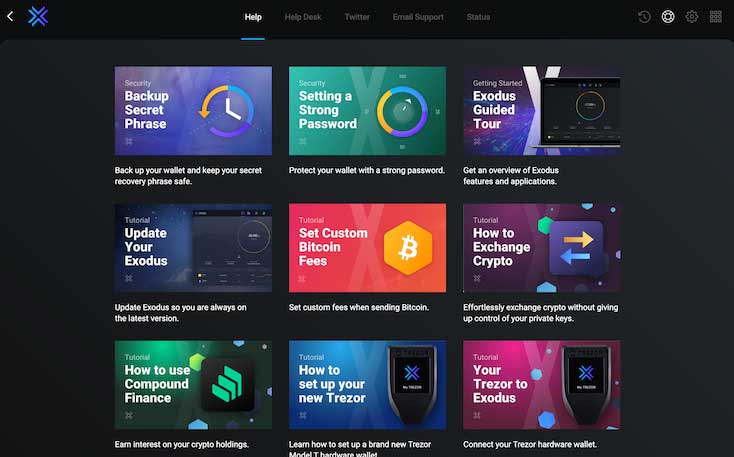 In terms of communication channels, Exodus does not offer customer support via phone, which is pretty much common in the crypto industry. Currently, the Exodus wallet app comes with two methods to contact their support team which are via email and live chat support. Additionally, the team maintains a very active social media presence on Twitter, Facebook, and Reddit.
Exodus Wallet Download Process
As mentioned above, the Exodus Bitcoin wallet is free of charge and can be downloaded from Exodus's website or from Google and Apple Stores. The process is fairly simple but if you need help to download the Exodus wallet and start using it, simply follow the steps below.
Step 1: Visit Exodus Website and Download the App
To get started, you need to visit Exodus's website and download the application to your desktop and/or to your mobile device.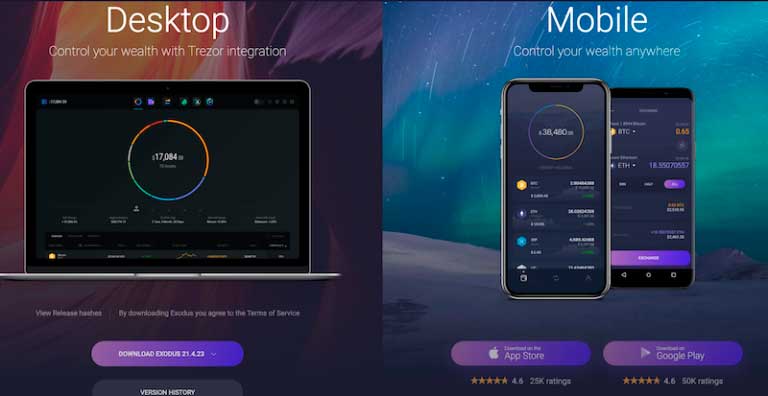 Then, when you download the app to your computer (Windows or Mac) or mobile device, you can access the app as an external application that works online and offline on your desktop and mobile phone.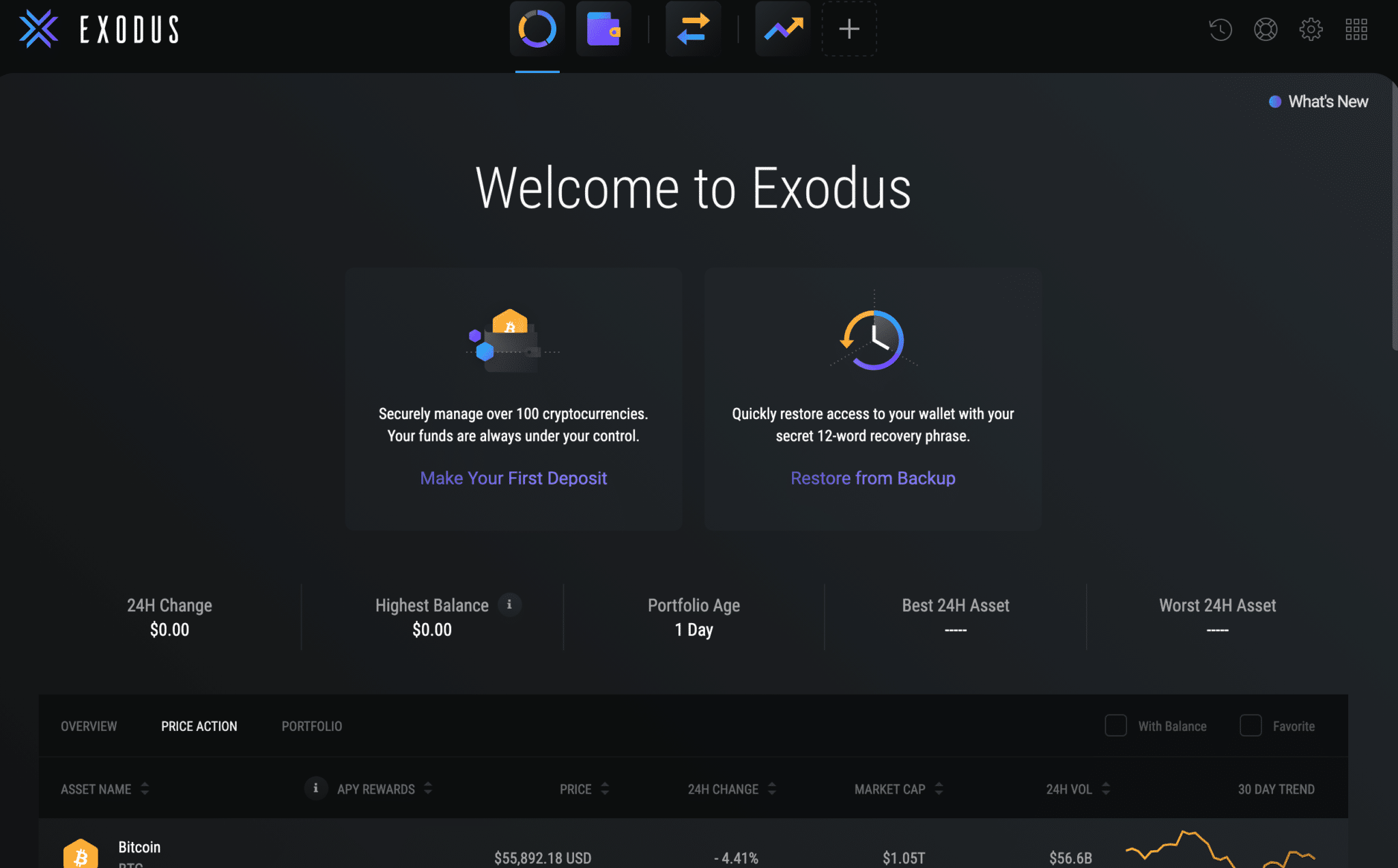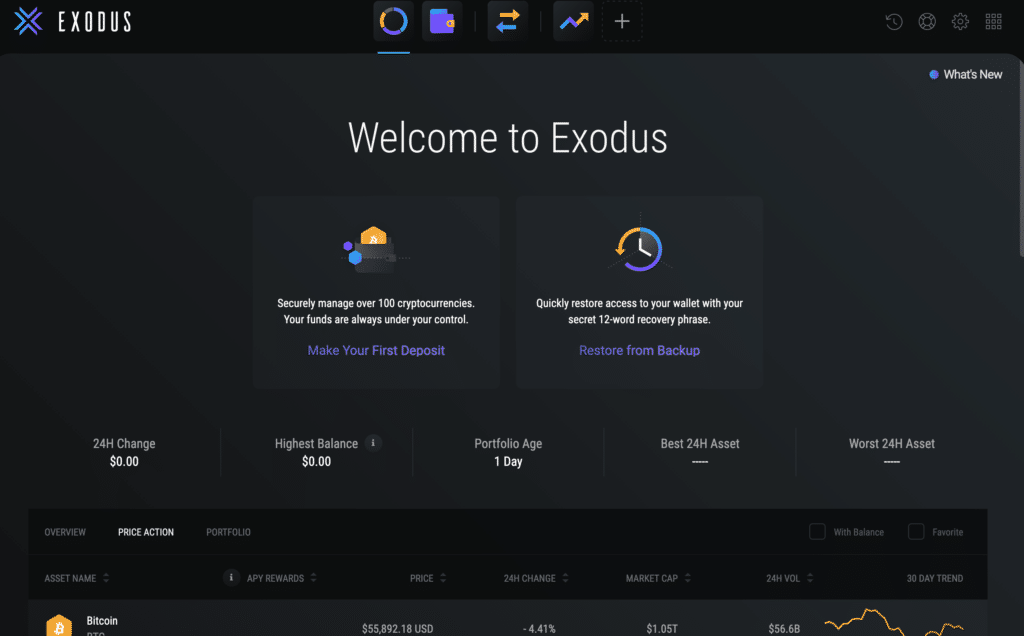 Step 2: Backup Your Wallet
The next thing you need to do is to backup your wallet in order to keep it safe. To do that, you simply need to navigate the Settings on the top right corner of the app and choose backup. Then, Exodus asks you to create a password.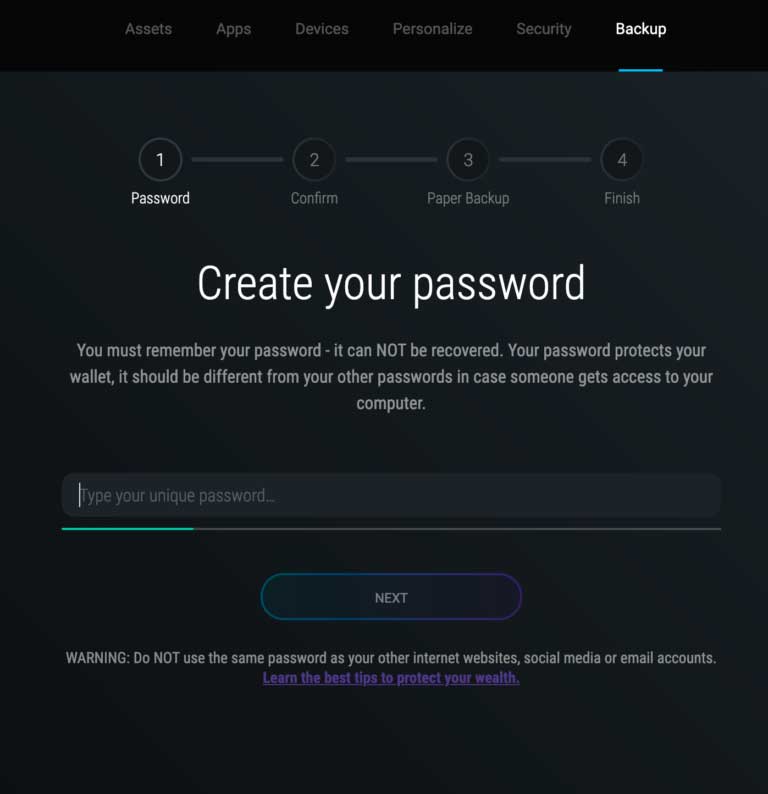 Step 3: Make A Deposit
At this point, you can make a deposit to your wallet. Exodus allows you to make a deposit with more than 130 digital currencies. In case you do not own a cryptocurrency, you'll have to buy cryptocurrency first on a crypto exchange and then transfer your coins to Exodus. The transaction will appear in your account after a maximum of one minute.
Step 4: Exchange Cryptos
One of the features that makes Exodus so popular is the ability to exchange crypto coins directly from your wallet. Presently, Exodus enables a selection of over 70 crypto coins on its platform, though you have to take into account the high fees for exchanging cryptos directly on the Exodus app.
Nonetheless, if you wish to do that, you need to navigate to the Exchange tab on the top menu bar.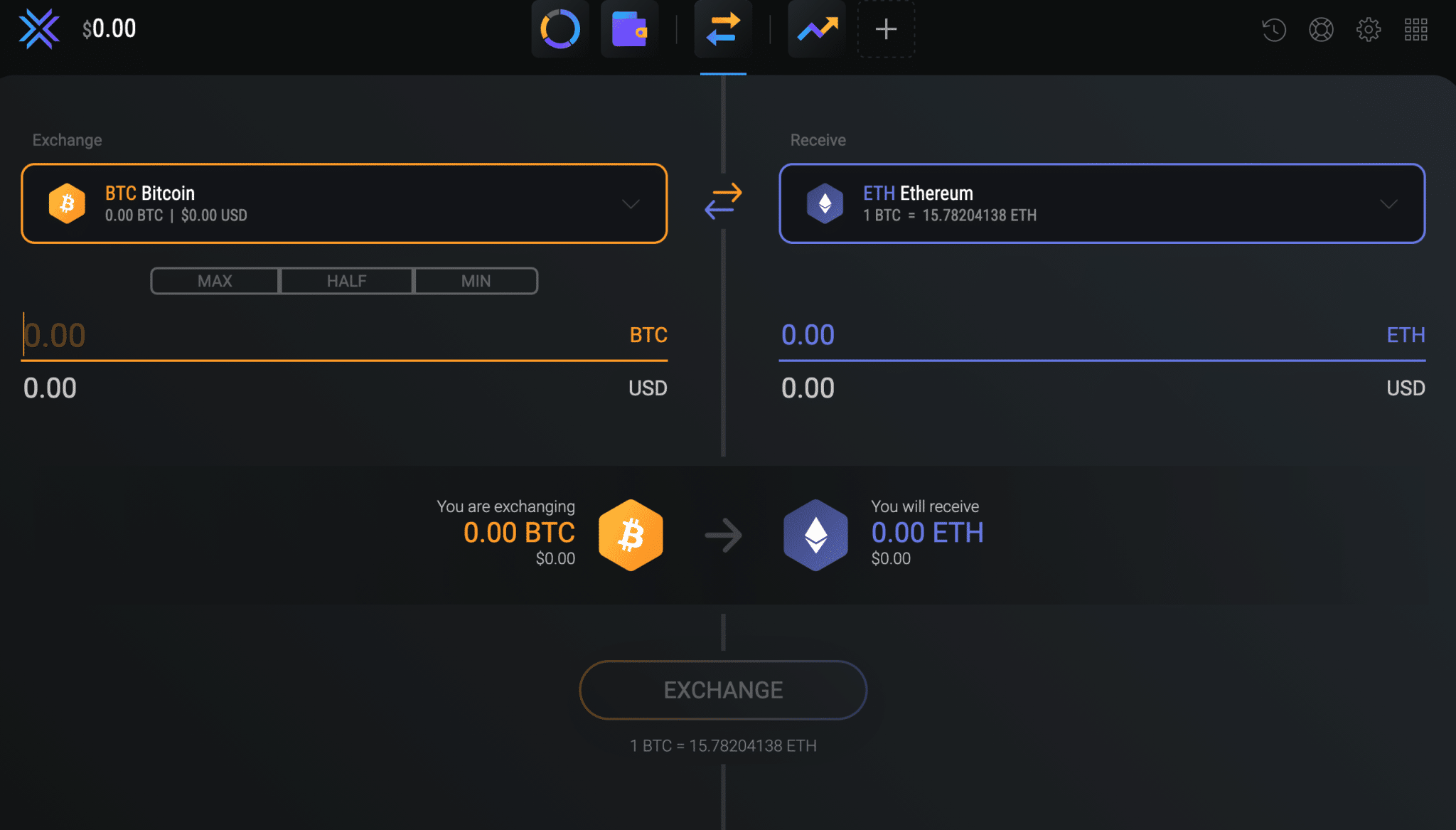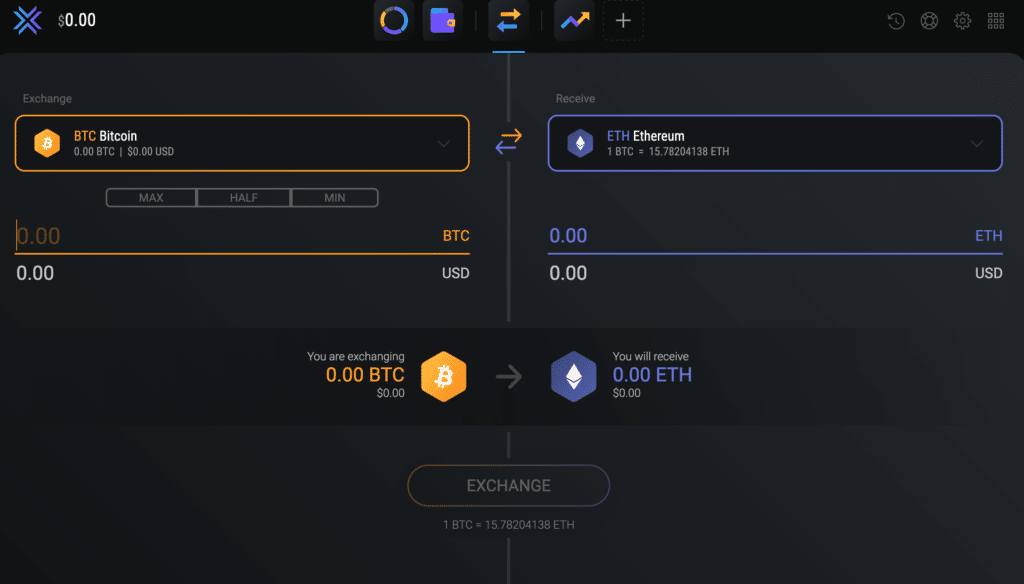 The Verdict
All things considered, Exodus is an effective wallet, mostly due to the design and the intuitive interface it provides. As such, if you are looking to store your crypto coins on an innovative wallet, then Exodus is a legitimate choice. After all, Exodus is one of the best bitcoin wallets in the market along with Jaxx, ledger, Trezor, Binance, and Mycelium. The app is easy to use and you get access to staking, a built-in crypto exchange, and to a hardware crypto wallet.
That said, if you are planning to often get your crypto money in and out of your wallet, then Exodus might be a bit pricey for some people. Also, the process of withdrawing funds is somewhat complicated as you need to transfer the funds to another crypto exchange like Coinbase, Bitstamp, or Bitfinex, and then to exchange the funds to fiat currencies and only then to be able to withdraw the funds to your bank account.
FAQs
How safe is Exodus wallet?
How to withdraw money from Exodus wallet?
How does Exodus wallet make money?
How to update Exodus wallet?
How much does the Exodus wallet cost?