In this guide, we explore some popular China stocks in 2022. Taking into account that not all UK brokers give you access to Chinese companies, we'll also discuss some share dealing platforms as well.
List of Popular China Stocks in
Here's a list of 10 popular China stocks based on trading volumes:
Tencent
Xinyi Solar
Bank of China
Meituan
Kunlun Energy
China Railway Construction
Alibaba
Melco Resorts & Entertainment
JD.com
iShares MSCI China ETF
China Stocks UK Reviewed
With China now home to the second-largest economy, there are thousands of stocks that you have at your disposal. However, you need to ensure that you choose a suitable broker too – which we cover in more detail later.
1. Tencent 
Tencent Holdings is a Chinese technology company that was first launched in 1998. As a conglomerate, it is behind a diverse range of products and services. At the forefront is these WeChat and QQ – which are the two biggest messaging portals in the Chinese domestic market.
It is also behind an online music service that is now home to 700 million users – 120 million of which are paying subscribers. Tencent Holdings is also involved in the video game industry. This includes subsidiaries linked to hugely popular titles like Clash of Clans and League of Legends.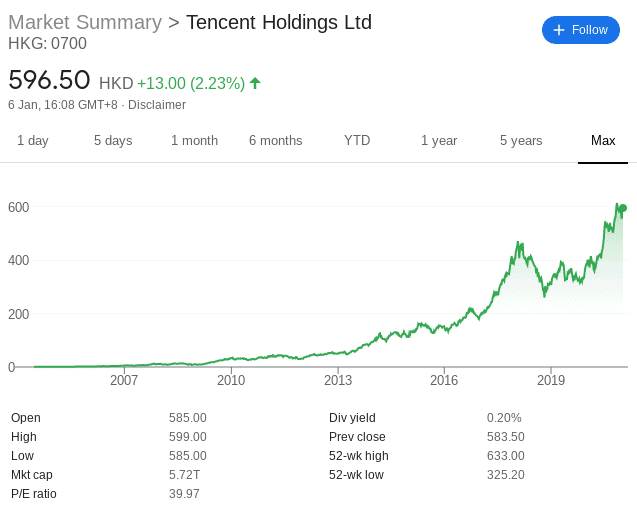 In terms of its shares, Tencent is listed on the Hong Kong Stock Exchange. When Tencent first went public in 2004, the shares were priced at just $0.81 HKD.
The shares were priced at $385 in the 12 months prior to writing this article, so that's gains of 45%.
2. Xinyi Solar
There is often a misconception that China is yet to embrace the world of green solar energies. However, this couldn't be further from the truth – there are plenty of China solar stocks that are active in the market. At the forefront of this is Xinyi Solar. As its name suggests, the firm is a global solar glass manufacturer.
It is involved in the entire end-to-end process of research and development, manufacturing, distribution, and after-sales support. Crucially, with a daily production capacity of 9,800 tons, Xinyi Solar is able to meet 35% of the world's demand for solar glass production.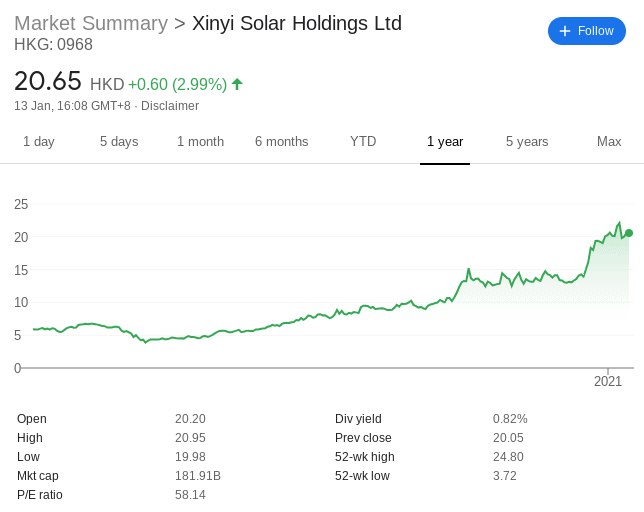 The recent success of the firm is fully evident in its stock price action. Listed on the Hong Kong Stock Exchange, Xinyi Solar first went public in 2014.
3. Bank of China 
The bank – which is a Chinese SOE (State Owned Enterprise), is one of the largest financial institutions globally. In the domestic arena, it is the second-biggest in terms of market capitalization.
Although Bank of China stocks has its primary listing in Shanghai, it also has a listing on the Hong Kong Stock Exchange.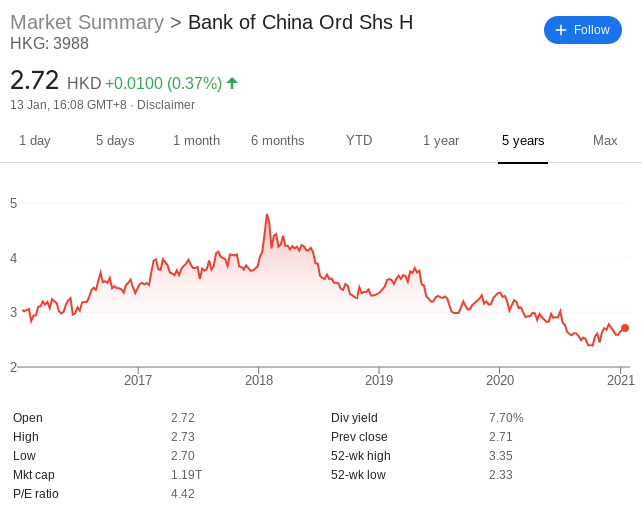 In terms of stock price performance, the shares have taken a slight tumble over the past couple of years. For example, you would have paid $3.61 HKD per share in January 2019. As of January 2021, the same shares are priced at $2.72.
Sponsored ad. 68% of retail investor accounts lose money when trading CFDs with this provider.
4. Meituan 
Meituan is behind a range of 'Groupon-style' mobile apps that are now hugely popular in the Chinese consumer marketplace.
This mainly centers on discounts and vouchers that can be attained by simply opening an account with the respective app. For example, Meituan offers promotions on everything from hotels and restaurants to entertainment complexes and consumer goods. Either way, on each and every voucher that Meituan sells through its app, the firm will make a commission.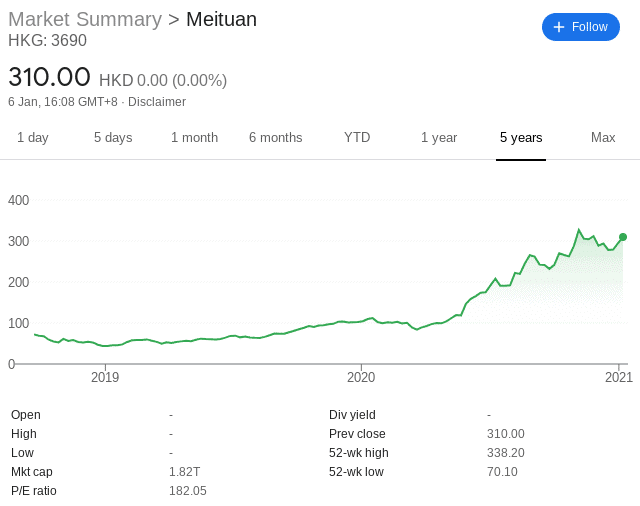 The shares are listed on the Hong Kong Stock Exchange. In terms of how the shares are performing, Meituan only went public in late 2018 and at an initial price of $72 HKD per stock. As of January 2021, the same stocks are worth over $330. That's gains of more than 330% in just over two years.
5. Kunlun Energy 
Kunlun is a Chinese energy company that specializes in oil and gas exploration.
The firm itself is owned by China National Petroleum Corporation – which is now one of the largest companies globally in terms of revenues. In the case of Kunlun, the shares are listed on the Hong Kong Stock Exchange.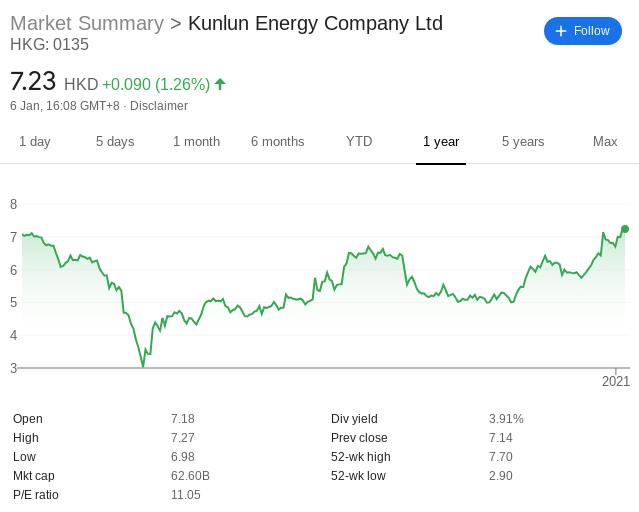 Looking at the charts, Kunlun Energy shares were priced at just $2.90 in March 2020. This means that the stocks have since grown by almost 150% in less than a year.
6. China Railway Construction 
The China Railway Construction is a huge player in the railway industry and is also involved in a range of other sectors.
This includes infrastructure construction, real estate development, financial trusts, and even scientific research. With a history that now spans over 120 years, China Railway Construction is behind some of the largest projects globally. This includes markets in Asia, the Middle East, Africa, and Europe.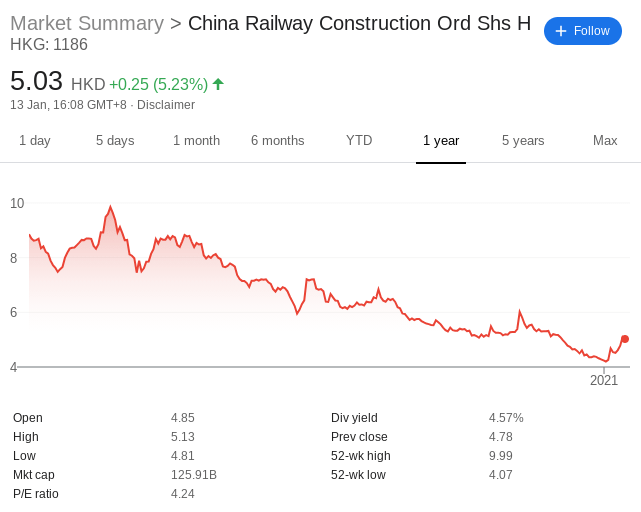 In terms of its shares, China Railway Construction stocks went public in 2008. It opted for a dual listing in both Shanghai and Hong Kong, with the latter opening up the doors for international investors. It should be noted that the stocks have had a tough time in 2020 – much like the rest of the construction industry.
7. Alibaba 
Alibaba is one of the largest companies globally and in some ways – very comparable to Amazon. This is because the firm is behind a huge online e-commerce store that allows Chinese wholesales to connect with the Western world. But, and much like Amazon, Alibaba is so much more than just an online retailer.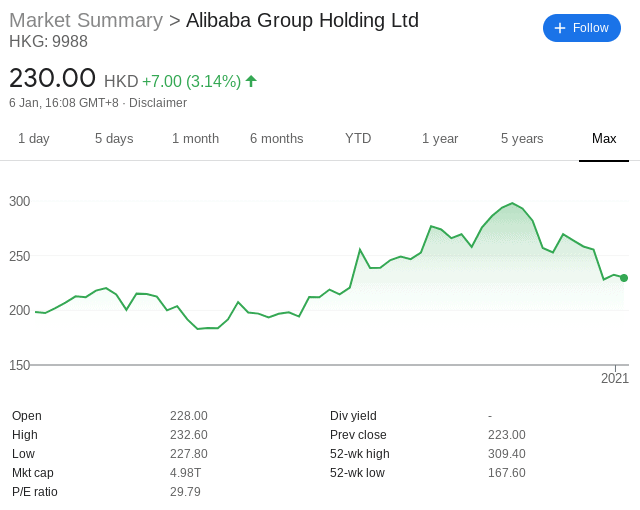 8. Melco Resorts & Entertainment 
Irrespective of the region, several industries, in particular, have been hit extremely hard by the pandemic. One such example is that of the hospitality industry – with restrictions in one, way, shape, or form still prevalent in most countries around the world.
The company is a major casino and hotel operator with a huge presence in Macau. Naturally, casinos were closed for some time now in the region, meaning that Melco has burned through a lot of cash.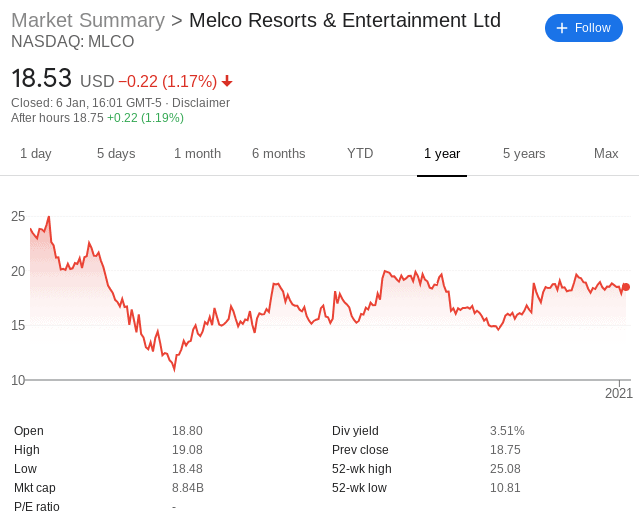 In turn, its stocks took a huge hit in 2020. For example, the shares went from $24 in early 2020 to just $11 in the space of 8 weeks, representing a decline of more than 50%. Right now, the shares are floating around the $18 mark.
9. JD.com 
Much like Alibaba, JD.com is behind a huge e-commerce business model. However, unlike Alibaba, JD.com stocks and distributes products internally, as opposed to acting as a third-party middleman. This puts it in full control of the customer experience and the specific marketplaces that it wishes to target.
Additionally, JD.com is not embroiled in a messy investigation with authorities in Beijing regarding anti-monopoly laws. The firm is already home to over 800 warehouses throughout China – serving more than 30 major cities.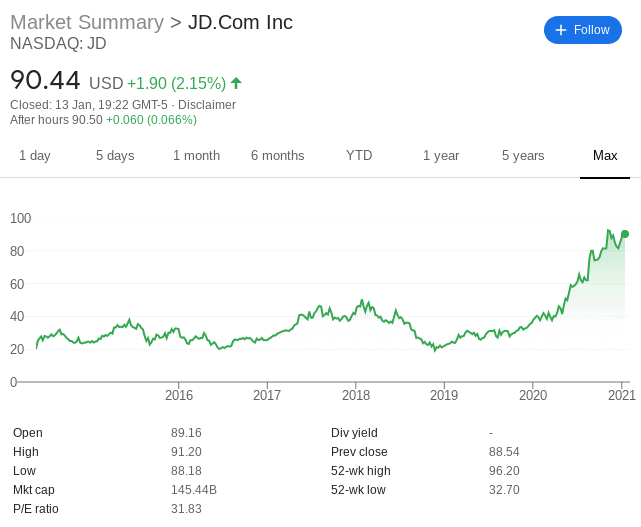 In a similar nature to Amazon, JD.com is placing a strong focus on innovative technologies to improve efficiency levels and ultimately – maximize margins. For example, the JD.com supply chain network benefits from driverless vehicles and automated warehouse robots.
As you might have guessed, there are thousands of China stocks scattered on several exchanges around the world. In turn, this can make it very difficult to know which shares to add to your portfolio. An alternative in this respect is to invest in an ETF that tracks leading Chinese stocks.
For example, the iShares MSCI China ETF holds a basket of almost 600 China stocks from a diverse range of sectors and industries. This includes many of China stocks that we have discussed today – such as JD.com, Tencent, Meituan, and Alibaba. However, it also contains hundreds of other Chinese stocks.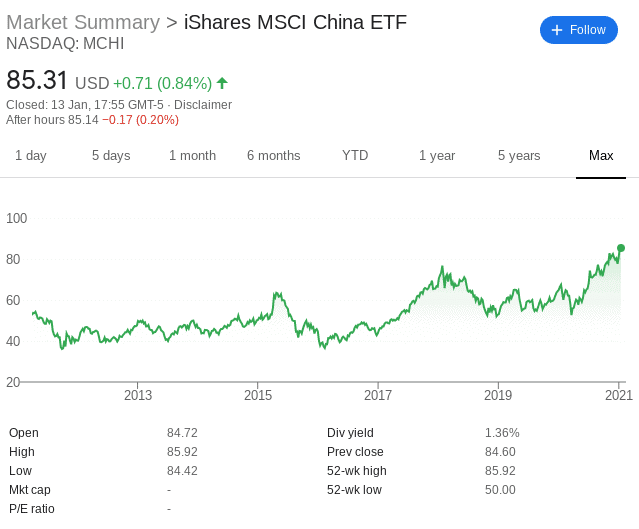 This includes the likes of Ping Insurance, Pinduoduo, China Construction Bank, and many others. The thing about taking the ETF route is that you can invest in stocks from heaps of different Chinese companies through a single trade. Plus, the iShares MSCI China ETF has an annual expense ratio of 0.59%.
Important Features of China Stocks
The internet is jam-packed with so-called investment experts that will tell you which China stocks to buy in 2021. However, you should refrain from choosing stocks based on somebody else's viewpoints. Instead, it's wise to get in the habit of performing your own research so that you can be sure you are choosing the right stocks for you and your financial goals.
Understand the Basics of China Stocks
First and foremost – and much like any emerging market that you are planning to invest in, it's really important that you understand the basics of the respective financial arena. In the case of China, some of the largest companies in the country are owned by the 'state', meaning that the government has an element of control over how the firm is run.
For example, while you can easily buy shares in the Bank of China – the financial institution is state-owned nonetheless. Additionally, we should also mention that some China stocks are actually listed outside of the Chinese markets.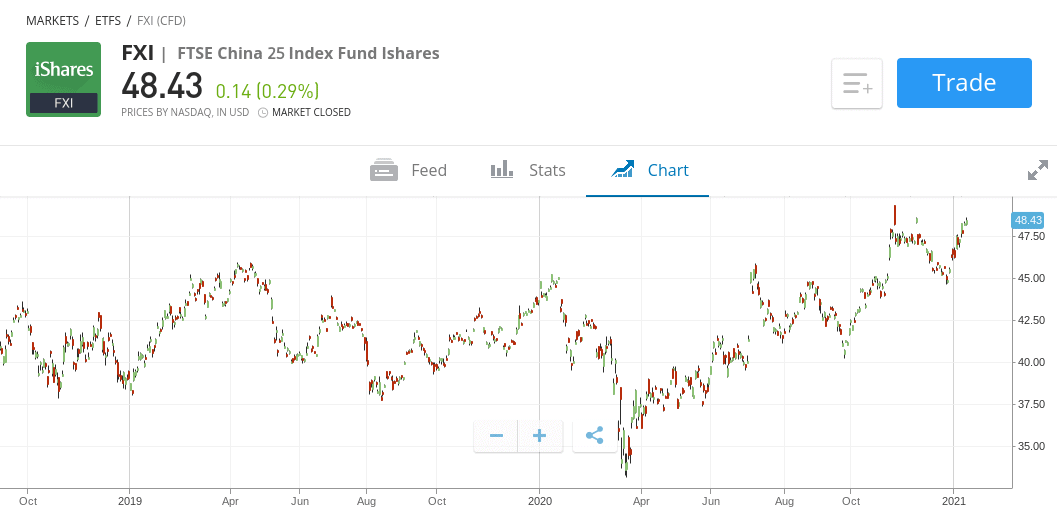 As we have discussed on this page, Chinese companies often opt for the Hong Kong Stock Exchange, as well as the NASDAQ and NYSE in the US. The reason for this is simple. Investors from outside of China will find it very difficult to access the Shanghai Stock Exchange and Shenzhen Stock Exchange due to capital controls.
As a result, China stocks go with dual-listings – one of which will include an exchange found in the likes of Hong Kong or the US.
Regarding the latter, we should also note that Donald Trump was previously looking to ban US citizens from investing in certain Chinese stocks. Although this shouldn't impact you as a UK investor, any US-led ban on Chinese companies can have a negative impact on the firm's stock price.
Diversify Into Several China Stock Sector
Much like any other financial market, you can buy China stocks from virtually every sector imaginable.
For example, you might decide to buy some China stocks that operate in the e-commerce, construction, banking, retail, and energy sectors. In doing so, you won't be overly exposed to a specific sector – meaning that you will be investing in a risk-averse manner.
Add Some Cheap China Stocks to Your Portfolio
The coronavirus pandemic has hit several Chinese sectors particularly hard so you don't have to look far to find cheap stocks to invest in.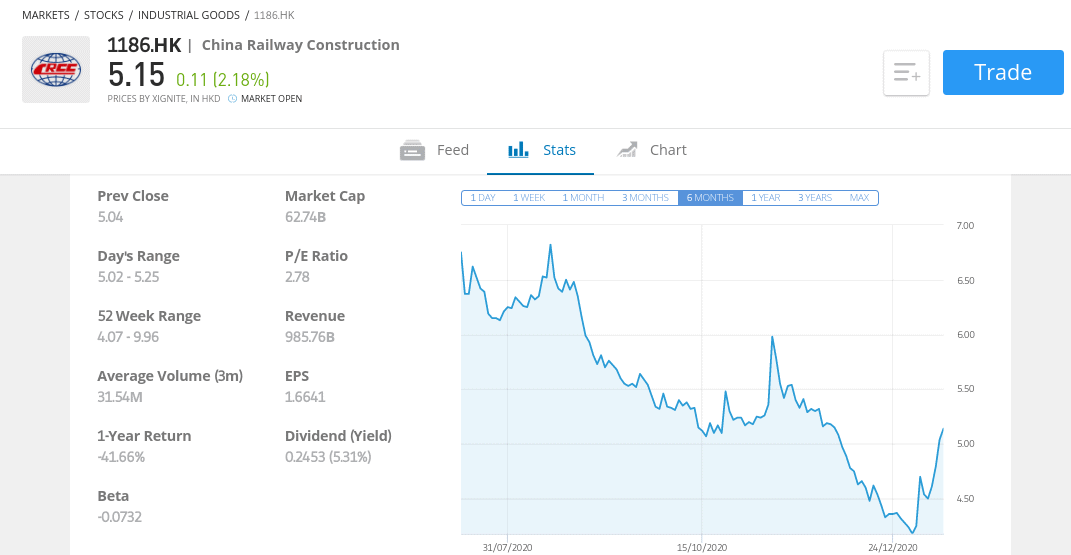 Don't put all of Your Eggs into One Basket
Although the Chinese stock markets continue to generate above-average returns for investors, you need to be careful not to overexpose yourself. After all, China might be the second-largest economy in terms of GDP – but is an emerging market nonetheless. As such, Chinese stocks can be a lot more volatile in comparison to exchanges based in the US and UK.
Fractional China Stocks
An additional way that you can gain exposure to China stocks in a risk-averse manner is to use an online broker that offers 'fractional shares'. This means that you don't need to buy a full Chinese stock. Rather, you can buy a 'fraction' of one share.
Stock Brokers Offering China Stocks
Not only do you need to think about which China stocks take your fancy, but you also need to find a suitable broker that gives you access to your chosen company(s). After all, very few share dealing sites in the UK allow you to buy China stocks online.
Even if you do come across a platform that offers the Chinese stock you are interested in, you still need to check things like fees and commissions, supported payment methods, and minimum account balances.
To point you in the right direction, below you will find two leading UK stock brokers and stock apps that offer markets on hundreds of China stocks to buy now.
1. eToro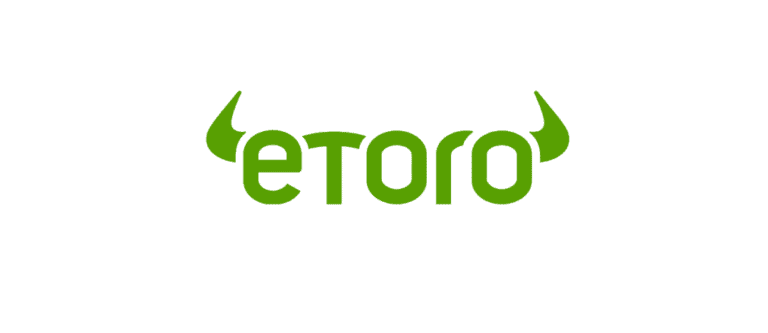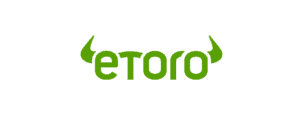 eToro is now one of the largest online brokers globally – with more than 20 million client accounts under its belt. It has a huge customer base in the UK – which is evident in its regular TV adverts and Premier League sponsorships. And of course, the broker is regulated by the FCA, and your funds are protected by the FSCS – so safety should be of no concern.
This ever-growing popularity of eToro in the UK is because of several key reasons. Firstly, the platform gives you access to over 2,400 stocks from 17 international markets. This means that you can buy heaps of leading China stocks from the comfort of your home. In fact, all of the 10 Chinese companies that we discussed on this page can be accessed at eToro.

Not only is eToro popular for its huge asset library, but it is also one of the cheapest stock brokers in the UK. This is because you can buy China stocks without paying a single penny in share dealing commission. There are no ongoing account fees either. And, if you decide to buy some UK stocks, you won't be required to pay stamp duty – which is usually charged at 0.5%. Irrespective of which China stocks you decide to buy, eToro requires a minimum investment of just $10.
Many investors in the UK also like eToro for its Copy Trading tools. This allows you to select an experienced investor that you like the look of, and then copy their portfolio like-for-like. Opening a share dealing account at eToro is simple and fast. Crucially, you can instantly deposit funds with a UK debit/credit card or an e-wallet like Paypal, Skrill, and Neteller. As such, you can buy your favorite China stocks without needing to wait for a slow and cumbersome bank transfer to be processed.
| | | | | |
| --- | --- | --- | --- | --- |
| Stock Broker | Minimum Deposit | Fractional Shares? | Pricing System | Fees & Charges |
| eToro | $10 | Yes – $10 minimum | 0% commission on ALL real stocks, spreads for CFDs | No Deposit fees, $5 withdrawal fee, $10 inactivity fee, no account management fees. |
Sponsored ad. 68% of retail investors lose money trading CFDs at this site
2. DEGIRO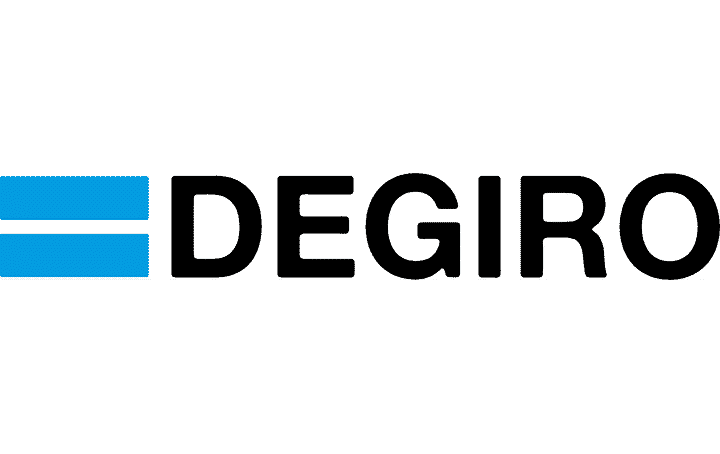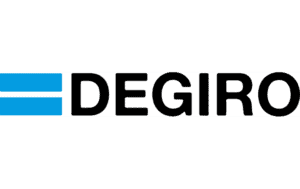 Degiro is another online brokerage site. One of the main attractions of this provider is the sheer size of its stock library. This includes tens of thousands of stocks across heaps of different marketplaces. Once again, all of the China stocks listed on this page can be accessed at Degiro at the click of a button.
When it comes to fees, Degiro isn't as competitive as eToro – as it isn't commission-free. Instead, you will pay a fee of €10.00 + 0.06% on each China stock that you buy. You will need to pay this fee again when you cash your stocks out. Additionally, you also need to pay an annual fee of €2.50 for each exchange that you buy shares from. For example, if you buy shares from companies active in Hong Kong and Japan, that's €5 for the year.
If you're interested in other Asian markets, Degiro also covers Japan, Singapore, and more. The trading platform is also home to a significant number of index funds and ETFs – many of which target some China stocks. When it comes to opening an account at Degiro, this can take several days as you need to transfer funds from your UK bank account as part of the verification process. There is no minimum deposit though, so you can start off with small amounts.
| | | | | |
| --- | --- | --- | --- | --- |
| Stock Broker | Minimum Deposit | Fractional Shares? | Pricing System | Non-trading Fees |
| Degiro | $0 | No | Low commissions on stocks and ETFs | None |
Sponsored ad. Investing at this trading platform involves risk of loss.
Conclusion
As the second-largest economy globally, interest in China stocks from the UK has never been stronger. While in previous timers investing in this emerging market was challenging, our guide has shown you that the end-to-end process can now be completed in minutes.
FAQs
How do you buy China stocks in the UK?
What fees are involved to buy China stocks in the UK?
Is there a China stock ETF?
What is the largest China stock market?