How to Invest in Polkadot UK 2023 – Beginner's Guide
Fact Checked
Everything you read on our site is provided by expert writers who have many years of experience in the financial markets and have written for other top financial publications. Every piece of information here is fact-checked.
Disclosure
Please note that we are not authorised to provide any investment advice. The information on this page should be construed for information purposes only. We may earn commissions from the products mentioned on this site.
FEver wondered why many crypto-hungry traders are looking to invest in Polkadot? The Polkadot ledger is a relatively new blockchain that facilitates interoperability between blockchains. Thus, making it easier for inter-ledger transactions. The blockchain's protocol has arisen as one of Ethereum's "killers", as it's posing a better means of profitability and ease-of-use than the existing protocols.
So, if you want to know how to invest in Polkadot, read on as we cover everything you need to know including the best crypto broker to use in 2021.
Key Points on Investing in Polkadot
Polkadot was designed to facilitate transactions in a much more anonymous and efficient way when compared to existing protocols.
It achieves this by using a pair of different blockchains – the relay chain and the parachain.
Polkadot is built on the Ethereum blockchain and was launched in 2016 by Gavin Wood.
Monitor the market movements of Polkadot and invest with as little as $25 with eToro today.
How to Invest in Polkadot – Quick Steps
The comparatively young protocol offers a promising financial future for crypto enthusiasts—you inclusive. Its native governance protocol DOT facilitates transactions within the blockchain and facilitates rewards for stakers and other users. Here are the steps in helping you purchase the token. Follow them, and you can invest as much as you desire.
Step 1: Open an account with eToro by tapping on the Join Now button. Provide your details and choose a username and password.
Step 2: Deposit – Once your account has been verified, click on the Deposit button at the bottom left side of your dashboard. Input your required details and deposit your desired funds.
Step 3: Search for Polkadot – After that, use the search bar to find Polkadot. Then click on Trade to enter your investment choices.
Step 4: Invest – Click on the Trade button again, follow the instructions to purchase the amount of Polkadot coins you want.
What is Polkadot (DOT)
While talking about programmable blockchains, most individuals believe Ethereum and Cardano are the only existing ones. No, they're not, and while Ethereum was the originator of the concept of a programmable blockchain, others seem to buy into the idea. These include the Polkadot blockchain, Tron, NEO, and even Cardano.
Polkadot (DOT) is a non-proprietary sharding blockchain that is built and hosted on Ethereum's ecosystem. The protocol bridges multiple blockchains via oracle technology, enabling interactivity between them. Basically, Polkadot aims at providing a fully decentralized network that allows for blockchain interoperability. Globally, the Polkadot coin is the ninth (9th) biggest coin by market cap.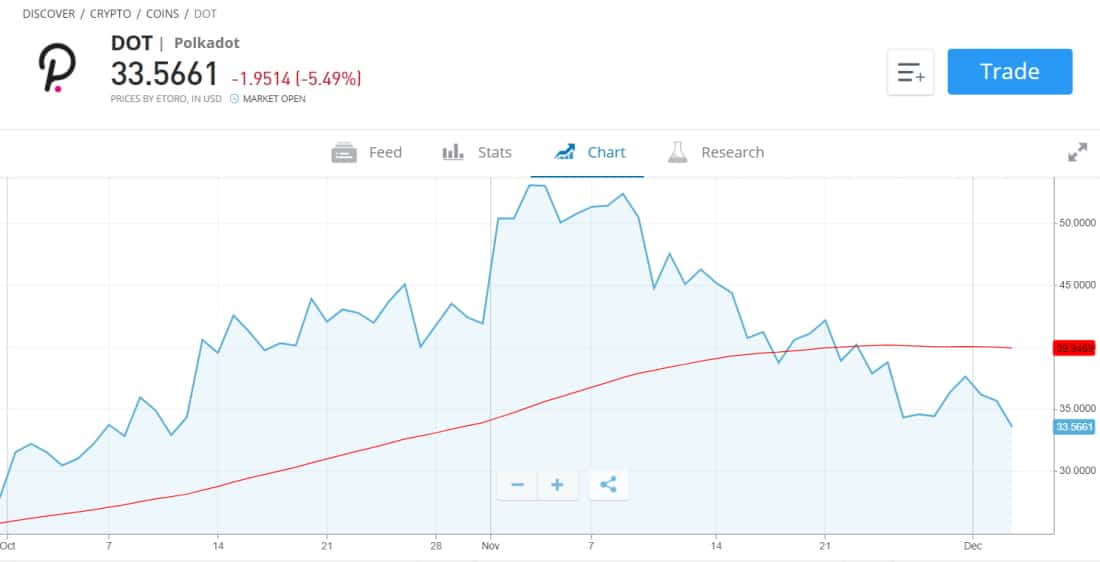 Polkadot provides a network that facilitates many transactions via a unique technique called Sharding. Sharding basically disintegrated enormous databases into relatively smaller, more accessible, and faster portions known as data shards.
Previously, the entire crypto sector operated in compartmentalization—every protocol existed in extreme isolation against all others. This compartmentalization made ledgers function as isolated islands that had very slim chances of scalability. Also, they couldn't access and leverage other blockchain data and technologies, thus becoming limited.
The introduction of Polkadot came with the utilization of innovative oracle technologies that link public and private blockchains together.
History of Polkadot
Polkadot results from three crypto and blockchain experts, Dr. Gavin Wood, Robert Habermeier, and Peter Czaban. Dr. Wood, the former co-founder and CTO (Chief Technology Officer) of Ethereum and the brain behind Solidity. Solidity is an Ethereum-hosted programming language dedicated to developing smart contracts. In 2016, Dr. Wood left Ethereum to begin a more fail-proof blockchain that is programmable.
One year after then, Polkadot deployed its ICO, which occurred from the 15th-27th of October 2017. Within that period, this was among the biggest ICOs that held. At the end of the event, Polkadot raised over $145M, but the feat was short-spanned.
Less than 14 days later, Parity Technologies—initially called EthCore—one of Polkadot's foundational development firms was attacked. This hack resulted in an overall loss of over $150M, and tragically, over 60% of the stolen fund was Polkadot's ICO funds. Consequently, this impeded the protocol's progress.
Polkadot returned strongly in 2018 by deploying BBQ Birch testnet. This deployment represented the organization's ability to develop and launch the Web Assembly contract platform using the Substrate framework. In December 2018, Web3 launched a grant program funding to enhance its network. Following that, Soramitsu and ChainSafe accessed grants to deploy the PRE (Polkadot Runtime Environment) via C++ and go programming languages.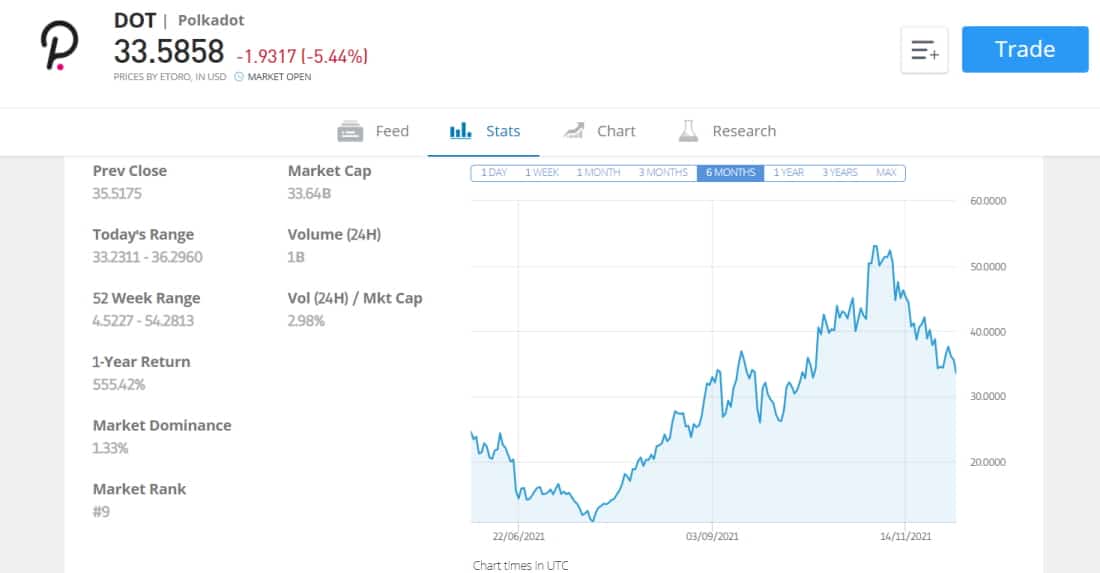 Moving towards 2021
In 2019, Polkadot sufficed a significant feat succeeding the deployment of the Alexander testnet and after completing the PoC-3 (Proof-of-Concept 3 mechanism). The platform also launched a finality agent called GRANDPA.
As time transcended and into 2020, Polkadot deployed its novel plans to release its mainnet. Polkadot launched Phase 1 on  May 27, 2017. This signified the original step in a multiple-stage implementation process containing Polkadot's blockchain deployment roadmap. The first phase of the mainnet launch functioned as a POA (Proof-of-Authority) network operated by six of Web3 Foundation's validators.
After that, Phase 2 kicked off with a Nominated PoS (Proof-of-Stake) network on June 18, 2020. This allowed the DOT token holders to access validator slots and staking rewards.
Then finally, Phase 3 & 4 occurred at the end of July 2020, which brought about the protocol's fully decentralized governance mechanism.
Why Invest in Polkadot?
Polkadot (DOT) coin has some notable advantages over other contending coins. These benefits might seem insignificant for beginners, whereas, for pundits and crypto analysts who understand, these are essential. Let's consider why you should invest in Polkadot below.
Salvages Interoperability Problems
One major challenge that Ethereum and several other programmable blockchains face is isolation. These protocols function independently without accessing data from other blockchains. This also creates a limitation for users of the protocols and restricts them to only using the coins available. However, if users wish to swap cryptocurrencies with other coins, it becomes a challenge.
Alternatively, users who desire to swap their crypto tokens do so using decentralized exchanges like Binance. The presence of DEXes depends on KYC (Know-Your-Customer) protocols that slow transaction times and incur expenses.
For instance, an individual has ETH tokens and wants to swap them for BTC. He will have to log in to one of the best bitcoin exchange like Binance and transfer the ETH to his Binance wallet (which will incur more costs). Also, while swapping the tokens in Binance, the user will still need to pay some transactional charges to swap the ETH to BTC. This ends up being more expensive and time-wasting.
Polkadot introduces a decentralized means of sharing data between different blockchains without needing third parties. It allows for a speedy transaction between multiple ledgers, and these transactions are decentralized and trustless.
Also, Polkadot allows multiple blockchains to collaborate to develop a more advanced system with complex services, all from the simple individual components. However, you will need the DOT token to make inter-chain transactions or even facilitate transactions within the Polkadot system.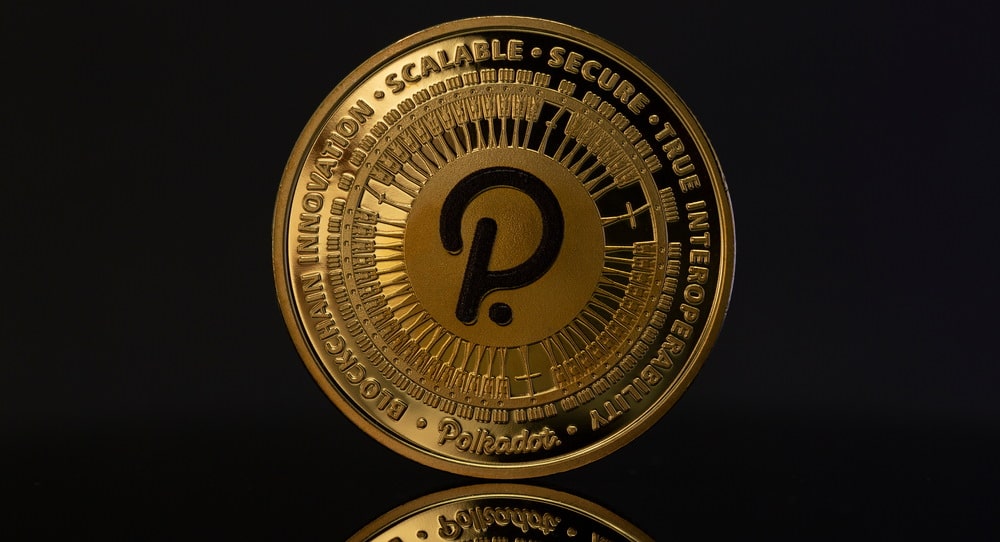 Enforces Sharding
Basically, blockchains process several huge transactions per second. Thus, slowing the transaction time of some individuals, as everyone is eagerly expecting the verification of their transaction simultaneously.
For Polkadot, the network uses a unique technique known as blockchain Sharding to process orders. Basically, sharding involves the breaking down of huge chunks of blockchain transactions into smaller, faster 'shards.' Then, the blockchain processes these shards separately. Thus, executing transactions faster and in a more simplified manner.
Now, this is very significant to deliberate on because, presently, Polkadot processes 1,000 TPS (Transactions per Seconds). When the protocol is fully functional, the protocol expects to process over 1,000,000 TPS. This is a pacesetter in the crypto sector.
This implies better scalability, quicker transactions, and cheaper transaction fees. Therefore, this sets Polkadot ahead of other contenders in the cryptocurrency industry.
Next-Generation Collaboration
Polkadot crypto has signed deals with notable tech and blockchain giants like Chainlink and Ankr. Chainlink provides Polkadot with the Oracle network, which offers real-time data for blockchains through smart contracts. Blockchains integrate these smart contracts into their platforms, and it gives users live data on prices.
Polkadot uses Chainlike as its main Oracle provider for the whole Polkadot ecosystem. A partnership like this is truly alluring to crypto investors. Also, pundits expect this collaboration to expand the crypto's adoption.
In addition, Polkadot has partnered with Ankr, thus allowing users to stake their coins and receive rewards. The StakeFi parachain enables this functionality for users of the coin. Users stake the DOT tokens and receive passive incomes for holding the token.
Polkadot Crypto Price
According to Coingecko, after the ICO, Polkadot's (DOT) token went live, trading at $2.70. Currently, the token is trading at $37.99—a 1311.1% growth since its All-Time-Low on August 20, 2020. Polkadot's All-Time-High price was $55 (37.14% decline as of the time of writing).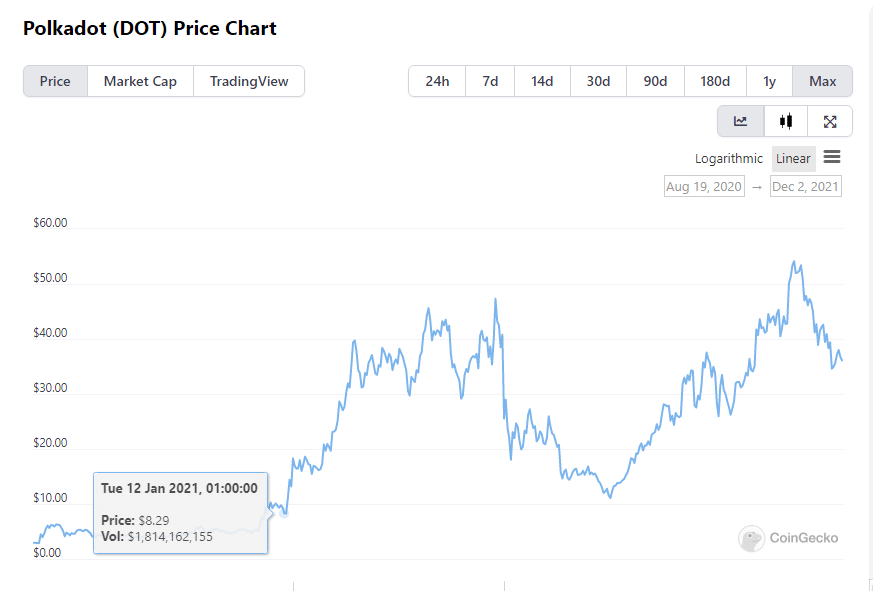 Polkadot sits as the #8 largest crypto in the market, with a market capitalization of $34.1B and a market dominance of 1.34%.
Polkadot Price Prediction
The past few months have shown an average uprise in the general cryptocurrency space, with most of the assets heading higher in value. Fortunately, the Polkadot (DOT) is not left behind.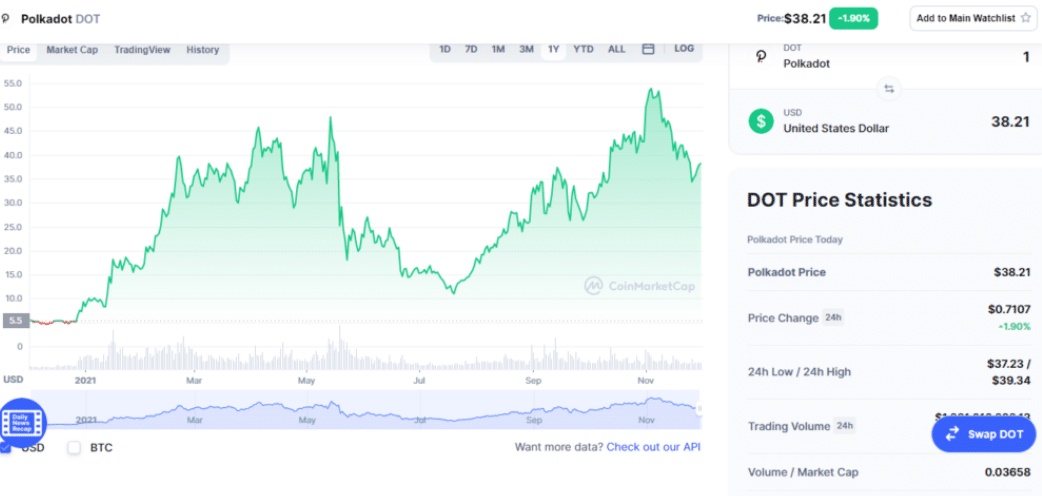 Through its functionality of adding value for blockchain technology, Polkadot price prediction depicts a future with high expectations of an increase. With DOT, its native token operational purpose of bonding, stalking, and governance, it empowers the value of Polkadot.
Polkadot Price Prediction for 2022
As a cryptocurrency that unifies different blockchains on a single network, Polkadot price prediction indicates a trend with complete swings. The flow in the value of the asset cuts across several bounds within 2021 through its alliances.
With new collaborations, DOT will turn to be the center ground for investment in 2022. From its past data, the Polkadot price prediction for 2022 shows an asset at $65. This overturning will manifest from the possible transition of its cross-blockchain support of assets and data. Also, it will be a cryptocurrency having a listing in major exchanges globally.
Polkadot Price Prediction for 2023 – 2025
With the continuous increase in crypto adoption, experts and analysts give a more hopeful Polkadot coin price prediction for 2023 – 2025. With more bullish forecasts, the Polkadot (DOT) value by 2023 could rise to about $74 to $80.
Similarly, between 2024 to 2025 could have the price of DOT scaling above $90. These forecasts lie in the hope of exponential growth with crypto adoption. Through such a process, the operability of Polkadot will speak for it.
Staking Polkadot
How it works
Staking is much similar to legacy saving in your bank account, where you store money for a while and receive some interest. However, in Polkadot, as you stake or deposit your tokens, you receive DOT tokens to provide liquidity for the network and validate transactions. On the flip side, before you stake, ensure the platform uses a PoS (Proof-of-Stake) consensus mechanism before buying the tokens. You can nominate (or stake) Polkadot and earn passive income from the token incentives.
Benefits of Staking Polkadot
Passive Income
Similar to every other blockchain, Polkadot rewards users for staking into the protocol. Users who store their crypto assets in any supported wallet connected to the ecosystem receive passive income occasionally.
Easy to use
Another benefit of Polkadot staking is that, unlike other blockchain projects, it's very much easy to stake tokens in the network. To stake in an exchange, you only need to sign up and purchase the DOT token. There you can stake the tokens easily.
Access to a larger community
Polkadot nominators and validators work actively to make sure the ecosystem is secure for performing transactions. When you stake the tokens, you get access to partake in the community, thus contributing to the entire efforts and accessing the rewards.
Where to stake?
To stake Polkadot (DOT) tokens, you can do so via Polkadot.js, your hard wallets, or in a decentralized exchange.
Polkadot.js
For the Polkadot.js platform, go to the website. On the main page, click on the Network tab on the dashboard and locate the Staking link. This will redirect you to a new page. Next, locate the account link by the top left and click on it. Then, click on the Nominator button. After that, you can choose your validators.
Then, once you are done, select the 'Bond and Nominate' button. The platform will request your password before you can select the 'Sign and Submit' button.
Staking through an Exchange
Alternatively, you can stake Polkadot (DOT) on a decentralized exchange like Binance, Kracken, or Crypto.com. To do this, create or log into your account on the platform (Binance), finalize your account verification so that you can stake coins on it comfortably.
Then, click on Wallet, then Fiat, and Spot. After that, search the DOT token and select Earn. Then, confirm by clicking the Locked Staking.
Alternatively, search for DOT and set the number of days you desire to stake your tokens on the platform. After that, click on Stake Now and confirm the number of DOT tokens you are staking. Once that is done, confirm the transaction.
Staking through a hard wallet
One simple way to stake your DOT tokens is to do so in a cold wallet. This is much simpler than staking via normal means. You need to download your hard wallet app. When you open the app in the marketplace UI, choose Staking. Then state the amount you want to stake.
Also, note that the APY (Annual Percentage Yield) varies with the number of coins you want to stake and the number of days you're staking. After pressing clicking on the Stake button, follow the next instructions on verifying your payment with your card, then confirm the stake.
How to Invest in Polkadot – Tutorial
If you want to invest in DOT seamlessly, it involves the use of a reputable, trusted, and regulated crypto brokerage for your investment. Let's cover the key steps to get you that one step closer to your crypto investment.
1. Choose a Crypto Broker
eToro – Overall Best Crypto Broker Offering Low Fees and Copy Trading Tools
Using a regulated and trusted platform while investing in Polkadot crypto is the right step to trade safely. eToro stands as one of the top brokers that offers you the best service to invest in DOT for several reasons and with benefits.
Since its inception in 2006, eToro has risen to be at the top among the best brokerages within the industry. The broker has a great reputation and trust with its operation and functionality. This's accountable to the strict regulations from some giant financial regulatory bodies such as the FCA, CySEC, ASIC, and others. Hence, it ensures tight security and safety of users' funds, transactions, accounts, and information. There is no fear of a third party disclosing or sharing from the broker. For these reasons eToro is considered one of the best FCA brokers out there.
Once you complete your online account opening process, the broker has a paper trading account that could assist beginners. The Demo account has $100,000 of virtual funds and functions with real-time trading values. Also, the interface is user-friendly and easy to navigate. Hence, the newbie can practice improving his investment knowledge before engaging with any real funds.
When it comes to eToro's fees it maintains a competitive edge over others. The broker offers low fees when it comes to cryptocurrency trading and other financial assets. Investing in DOT and other assets as CFDs with eToro attracts very low fees. The broker uses a spread calculation pattern for the charge. It has no fees on any form of deposit.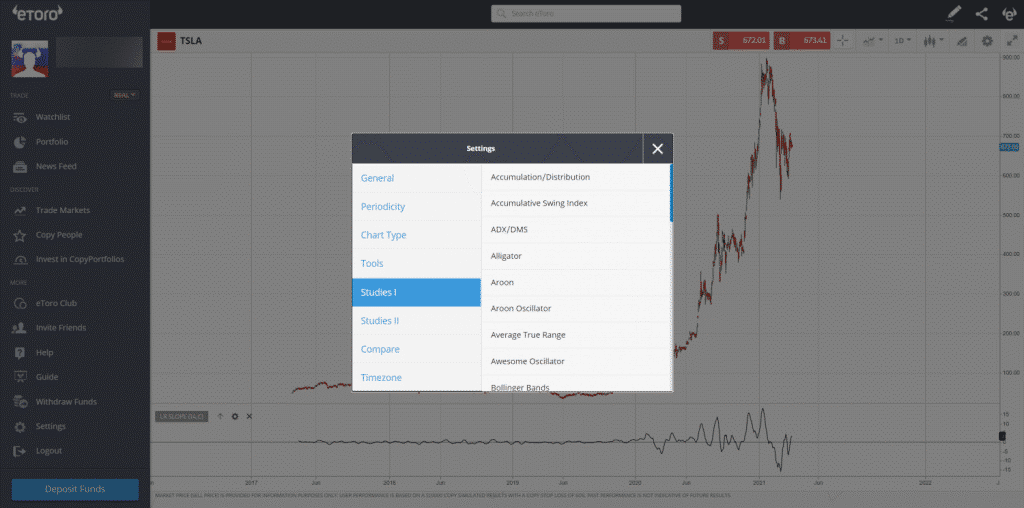 Also, the broker operates a social trading platform that connects more than 20 million users from over 140 countries globally. It stands as the world's biggest trading community for investment in different financial assets. In addition, it runs a News Feed where users interact, communicate and share investment strategies, insights and ideas.
Furthermore, eToro features its unique Copy Trading on its platform. With the CopyPortofolio, a user can conveniently copy the investment and trading patterns of some successful and professional traders on the platform. Hence, he can modify his schedules and strategies to reflect the trader that he wants to copy. This will improve his trading insights and possibly increase his profitability.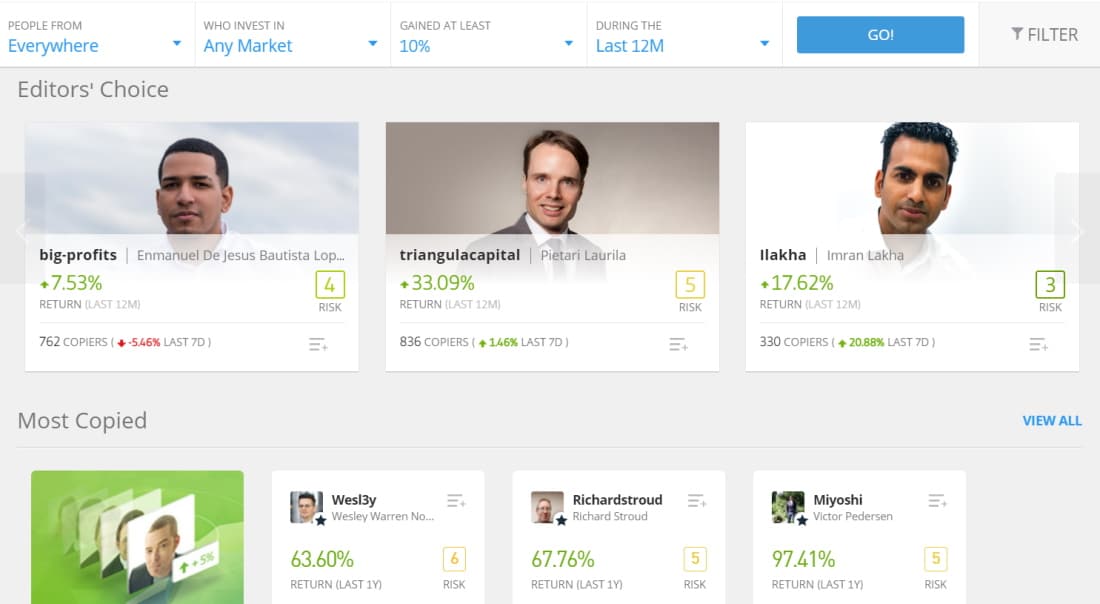 Past performance is not an indication of future results.
What's more, you have a wide range of cryFptocurrencies on eToro's platform for buying, selling, trading, and investment of all types. Besides investing in Polkadot, you can boost your crypto portfolio with other digital assets such as Bitcoin, Ethereum, Ripple, Litecoin, Tether, Dogecoin, etc. Also, the broker offers several other financial assets like Indices, Commodities, Forex, Stocks, and others.
Security on the eToro platform is top-notch. It uses both online wallets for warm storage and offline wallets for cod storage. Also, the broker includes some monitoring tools to checkmate fraudulent activities like double spending and money laundering.
Moreover, there is extended security through masking technologies and advanced encryption for users' details. One of the security measures from eToro is the Two-Factor Authentication (2FA) for accounts.
Pros
0% commission on real stocks and ETFs
Buy cryptocurrencies with tight spreads
Fully regulated
Great mobile trading app
User-friendly interface
Cons
There is a small $5 withdrawal fee
Don't invest in crypto assets unless you're prepared to lose all the money you invest.
2. Sign Up
eToro not only offers security, but it's also cost-effective. To sign up for an online account, visit the broker's official website and click on the 'Join Now' button.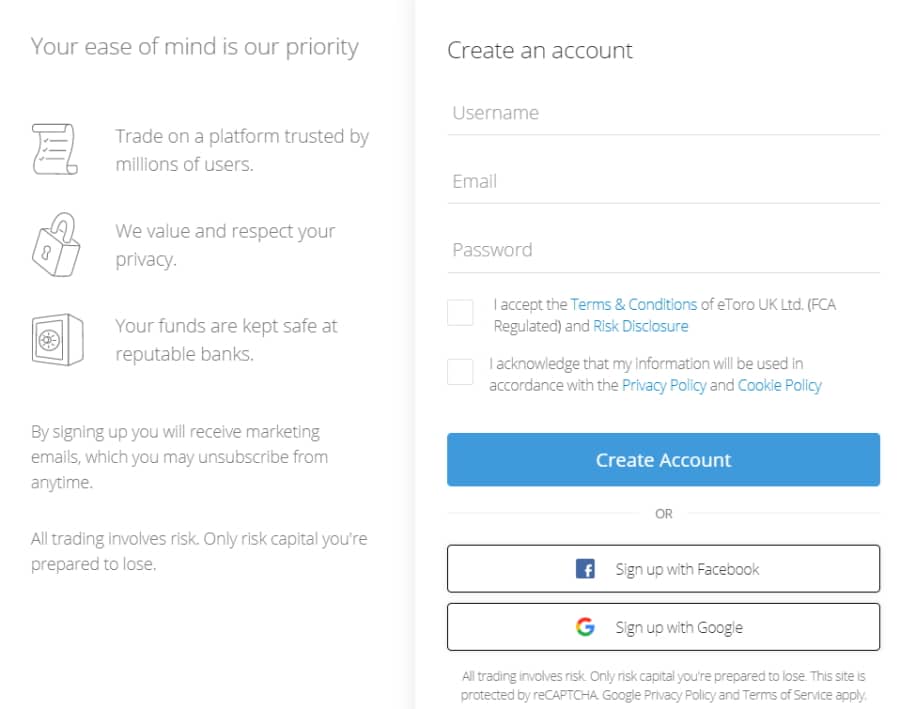 Proceed to fill out your name, phone number, email address, date of birth, etc. The broker will demand that you create a special username and password for your account. We recommend that you choose a strong password through the combination of numbers, special characters, upper and lower cases. This will enhance the security of your account. You should complete the entire account opening process within a few minutes with ease.
eToro is under the strict regulation of some top-tier financial agencies. So, the broker demands an account verification process which also serves as KYC documentation. The process requires an upload of any valid ID as well as a recent utility bill or bank statement. Once your documents are good, the broker will send you an instant confirmation that certifies your account's eligibility to invest in Polkadot and other assets.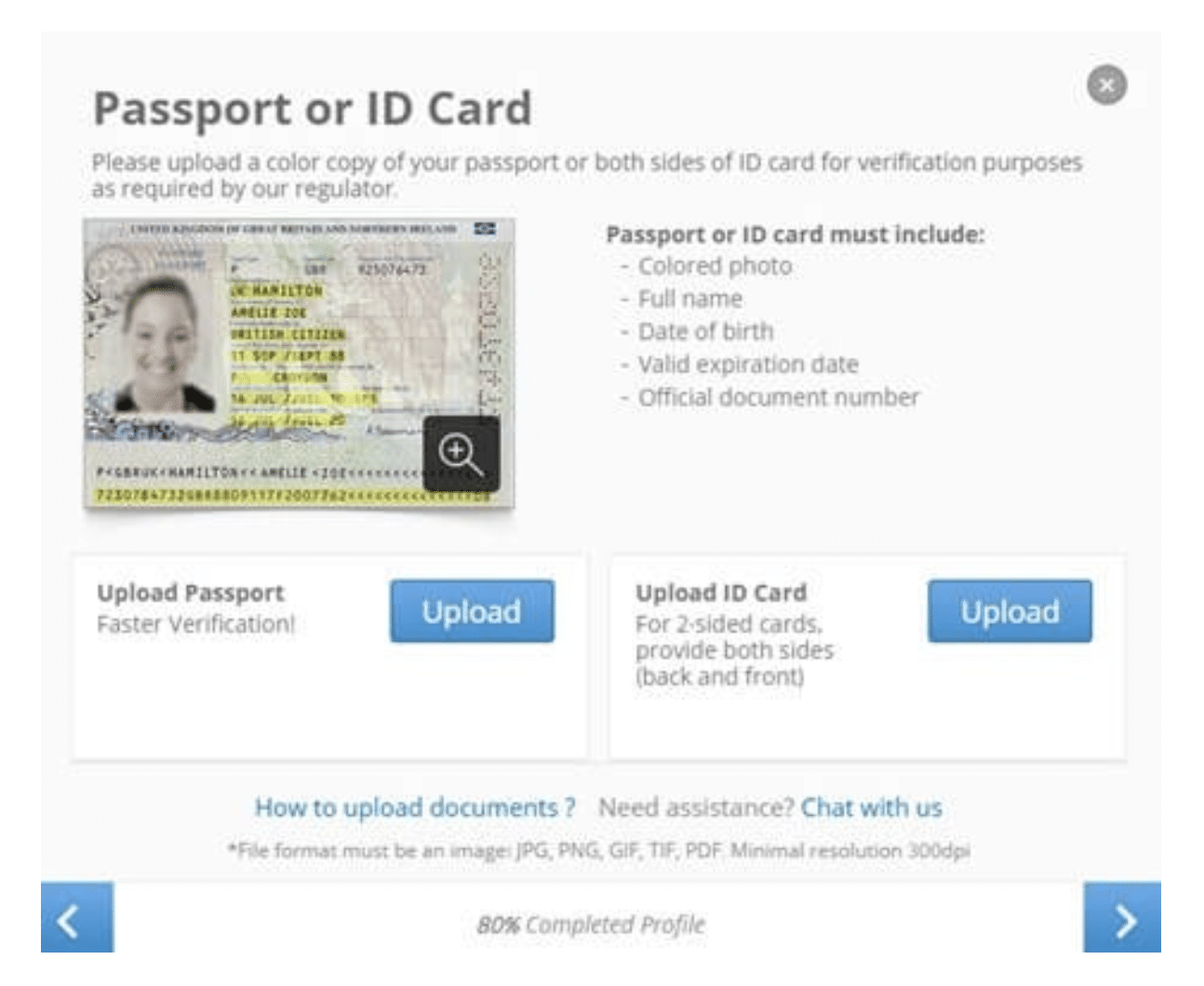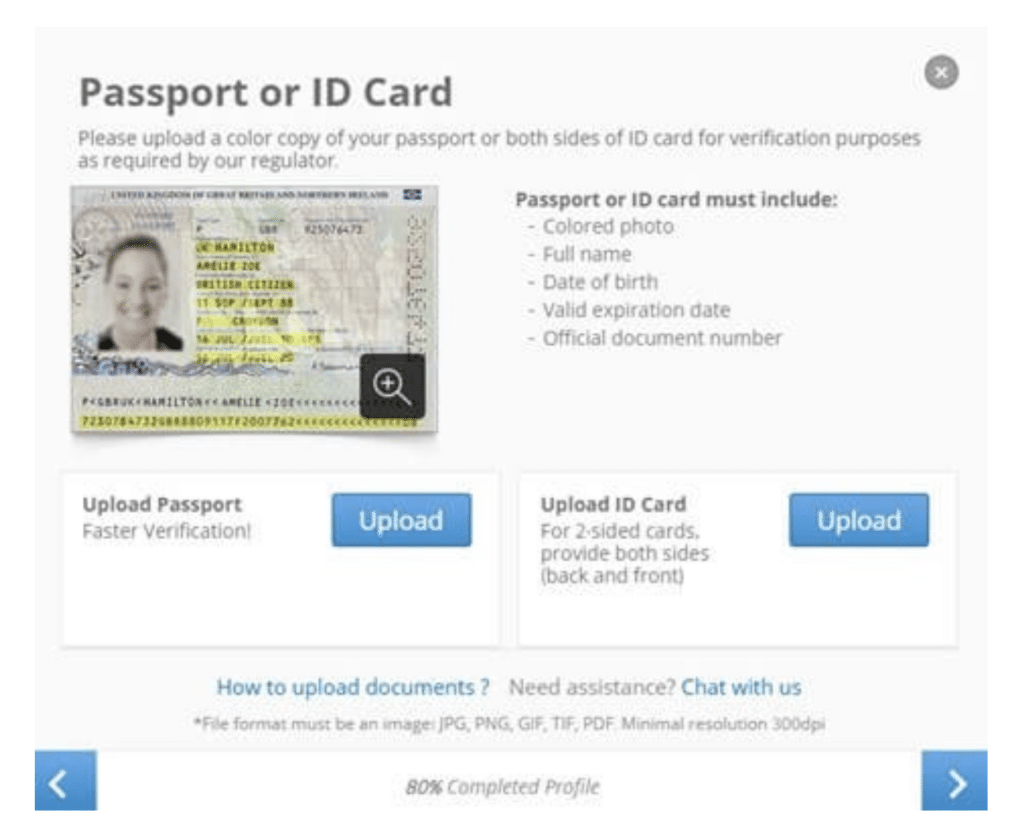 3. Deposit
You can proceed to deposit your funds after your account verification. eToro supports funds transfer through debit/credit cards, banks transfers, PayPal, e-wallets, and others. Deposits through all the options are instantaneous except for bank transfers that take days for clearance.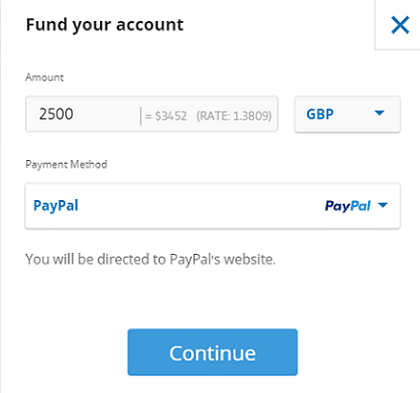 You can fund your account with eToro using the following steps:
Log in to your online account.
Hit the 'Deposit Funds' button.
Input the amount of money you want to deposit.
Choose the fiat currency to be deposited.
Choose your suitable method of fund deposit.
4. Search for Polkadot
When you get a confirmation of your deposit within your account, you can search for Polkadot crypto to buy. With eToro brokerage, you can decide to invest in Polkadot coins as CFDs. This removes any stress of having and maintaining a crypto wallet for the storage of your Polkadot investment. From the search box, type for DOT and click the 'Search' button.
5. Invest
After searching for DOT, go ahead to pick the coin. Then, click the 'Trade' button to initiate the buying of the token. eToro uses USD as its main transaction fiat currency. So, it will convert other fiat currencies to USD.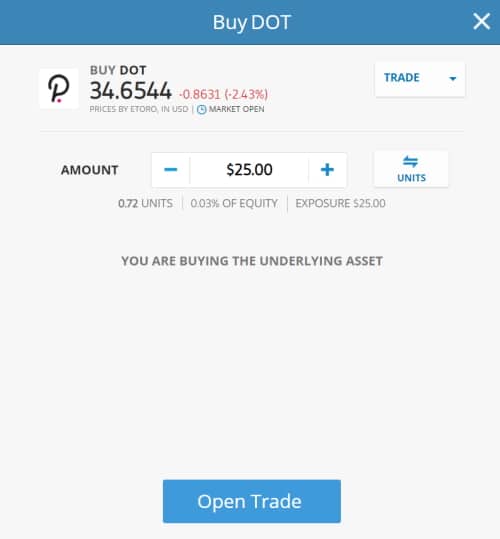 This means that you will choose the buying pair with USD/DOT for your transaction. Input the amount of DOT token you intend to buy. Once you've confirmed your order, complete the buying process by clicking the 'Open Trade' button.
Using the best Polkadot crypto price available in the market, eToro will execute your buying order.
Conclusion
Polkadot remains one of the fast-growing cryptocurrencies that you can invest in. Its interoperability maintains a blockchain that connects several blockchains for the ease of transactions scalability.
The Polkadot price prediction depicts a bullish trend that will attract your attention to investing in DOT. However, the volatility of the cryptocurrency space is an undeniable fact that any investor must consider his risk tolerance, among other factors.
Moreover, the reputation and security of the broker to use while investing in Polkadot are important. eToro is a top and trusted broker that offers you the best trading platform for your Polkadot investment and more. Also, its outstanding copy trading features and tools are of great assistance to investors and traders irrespective of their levels of experience.
Don't invest in crypto assets unless you're prepared to lose all the money you invest.
Frequently Asked Questions on Polkadot
What is Polkadot Cryptocurrency?
Does Polkadot have a future?
Is Polkadot a good investment?
How can I invest in Polkadot?
Should I invest in Polkadot or Cardano?