In 2020 silver bullion surged more than 150% higher from its lowest to its highest price for the year. The coronavirus pandemic wreaked havoc in the markets, causing investors to flee to safe-haven markets such as silver and other precious metals.
In this guide, we go through some popular silver mining stocks list from the UK, Canada, Mexico, Argentina, Peru, and the other regions where silver production is.
Popular Silver Mining Stocks 2021
Below is an overview of some of the popular silver mining companies around the world. These companies include some of the reputable junior silver mining stocks and popular silver mining stocks with dividends.
You can read a more in-depth analysis of each stock in the next section.
Fresnillo
Pan American Silver
Hecla Mining
First Majestic Silver Corp
Hochschild Mining
Fortuna Silver Mines
Polymetal International
Endeavour Silver Corporation
Wheaton Precious Metals
Newmont Mining
Silver Mining Stocks UK Reviewed
The impact of the coronavirus pandemic caused huge moves in the silver bullion market which, in turn, caused huge moves in junior silver mining stocks, as well as the higher market cap mining stocks.
However, identifying the popular silver mining stocks to watch, and potentially invest in, does take some research. After all, it's important to know the health of these silver miners before the pandemic to help understand the prospects of the company after the pandemic.
In the section below, we review 10 silver mining stocks in detail.
1. Fresnillo
Fresnillo, the UK incorporated company is the world's largest silver producer from ore, as well as Mexico's second-largest gold miner. The company currently operate seven mines and also own one of the largest precious metals land reserves based in Mexico.
The share price of the company has been on a rocky ride in recent years, as have silver bullion prices. However, the huge surge in the price of precious metals during the coronavirus pandemic has helped lift Fresnillo's share price.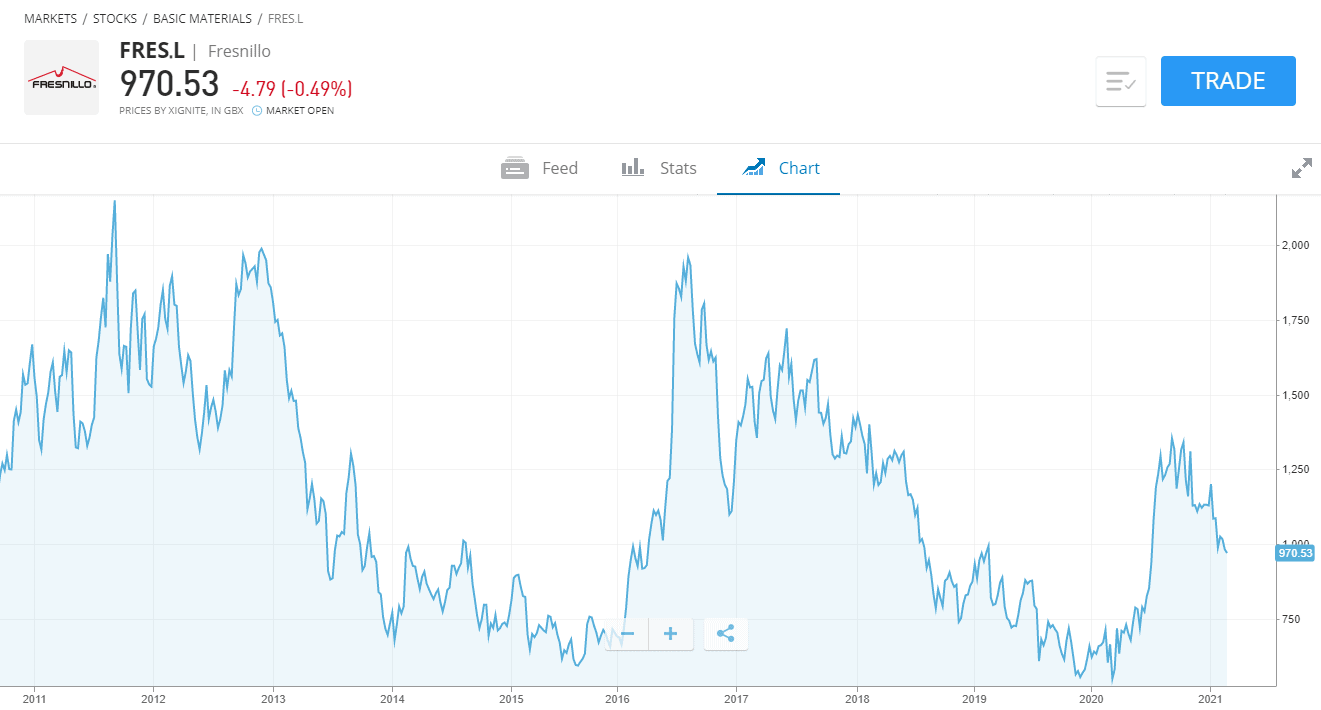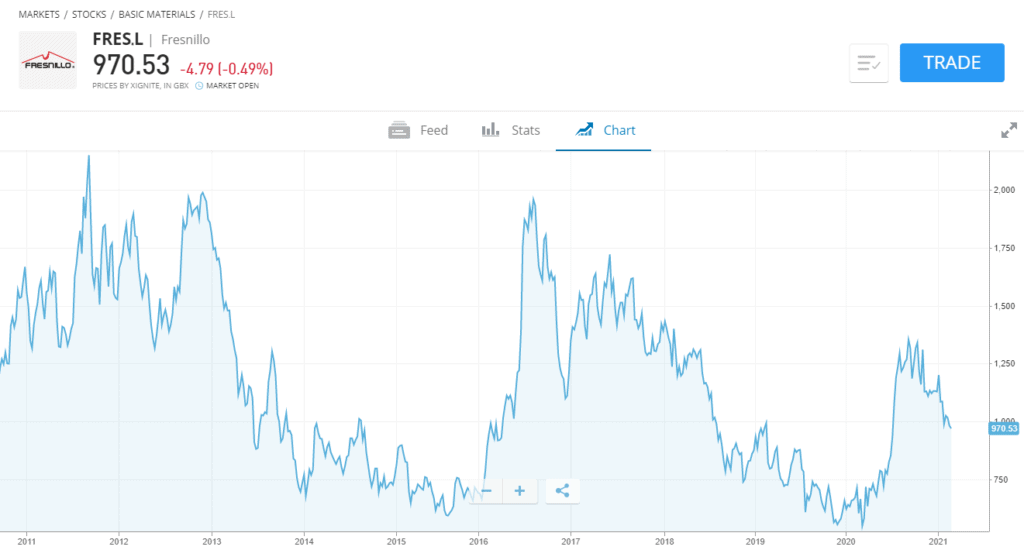 At the beginning of 2020, Fresnillo's share price rejected its previous ten-year low at 590p. Since then, the share price has surged more than 200% higher before pulling back in early 2021.
The company has a strong market cap of £7.2 billion and also has a dividend yield of 2.18%. The company's share price came under pressure in early 2021 due to a landslide and closure of some of its mines due to COVID-19.
Your capital is at risk.
2. Pan American Silver
Pan American Silver is one of Canada's most diversified mining companies. The company owns and operates mines in Canada, Mexico, Peru, Bolivia, Argentina and Guatemala. With a 26-year history, the company has a solid reputation for social responsibility and sustainability.
The company's share price has been outperforming most of the other mining companies since 2016, rising more than 600% from the low of 2016 ~$5.37 to the high of 2020 ~ $40.22. Investors have enjoyed the diversification of the company which produces and sells silver, gold, lead, zinc and copper.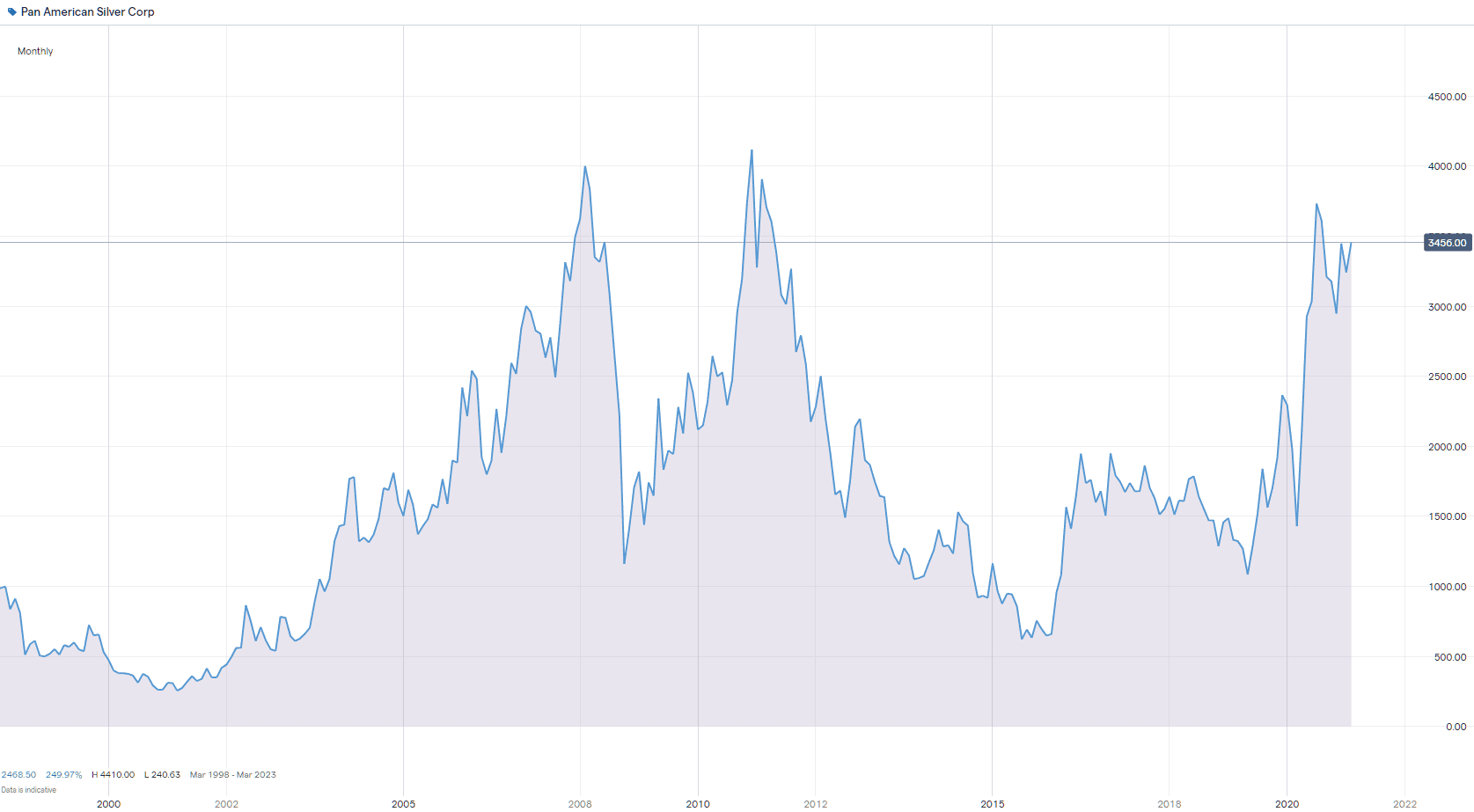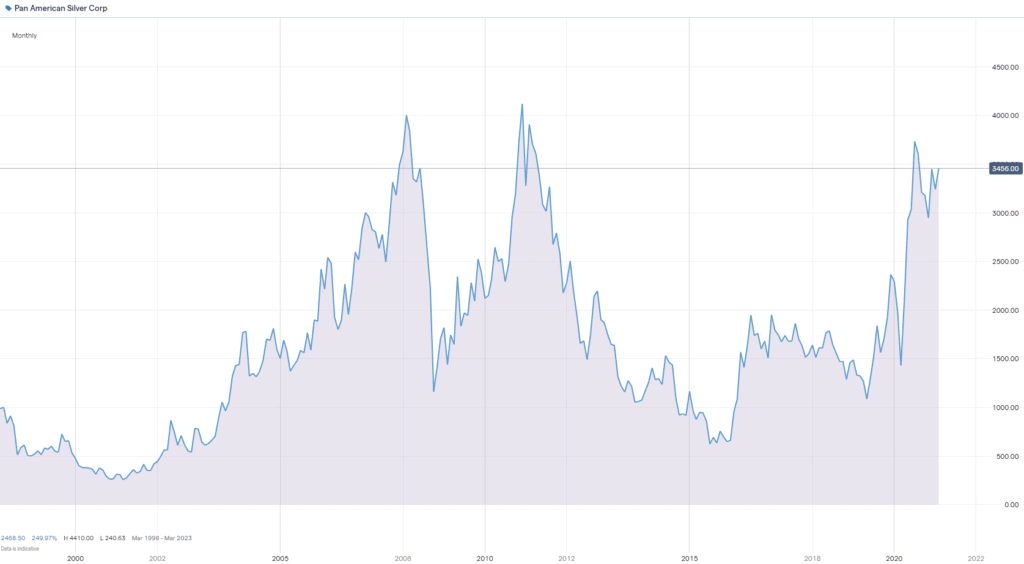 The company reported a record operating cash flow of $462.3 million in 2020 which helped the company to pay back all bank debt in full while doubling its quarterly dividend payment to shareholders.
Total revenue for 2020 was $1.3 billion and the company's shares trade on the Nasdaq Exchange and the Toronto Stock Exchange.
3. Hecla Mining
Hecla Mining has a $3.67 billion market cap and is the largest silver producer in the United States. It also happens to be one of the oldest precious metals mining companies listed on the New York Stock Exchange, listed since 1891.
While the company's share price has been quite rocky in the past it has outperformed some of the other silver mining companies in the industry. From its March 2020 low of around $1.40 to its high in February 2021 of around $8.45, its share price has risen nearly 500%.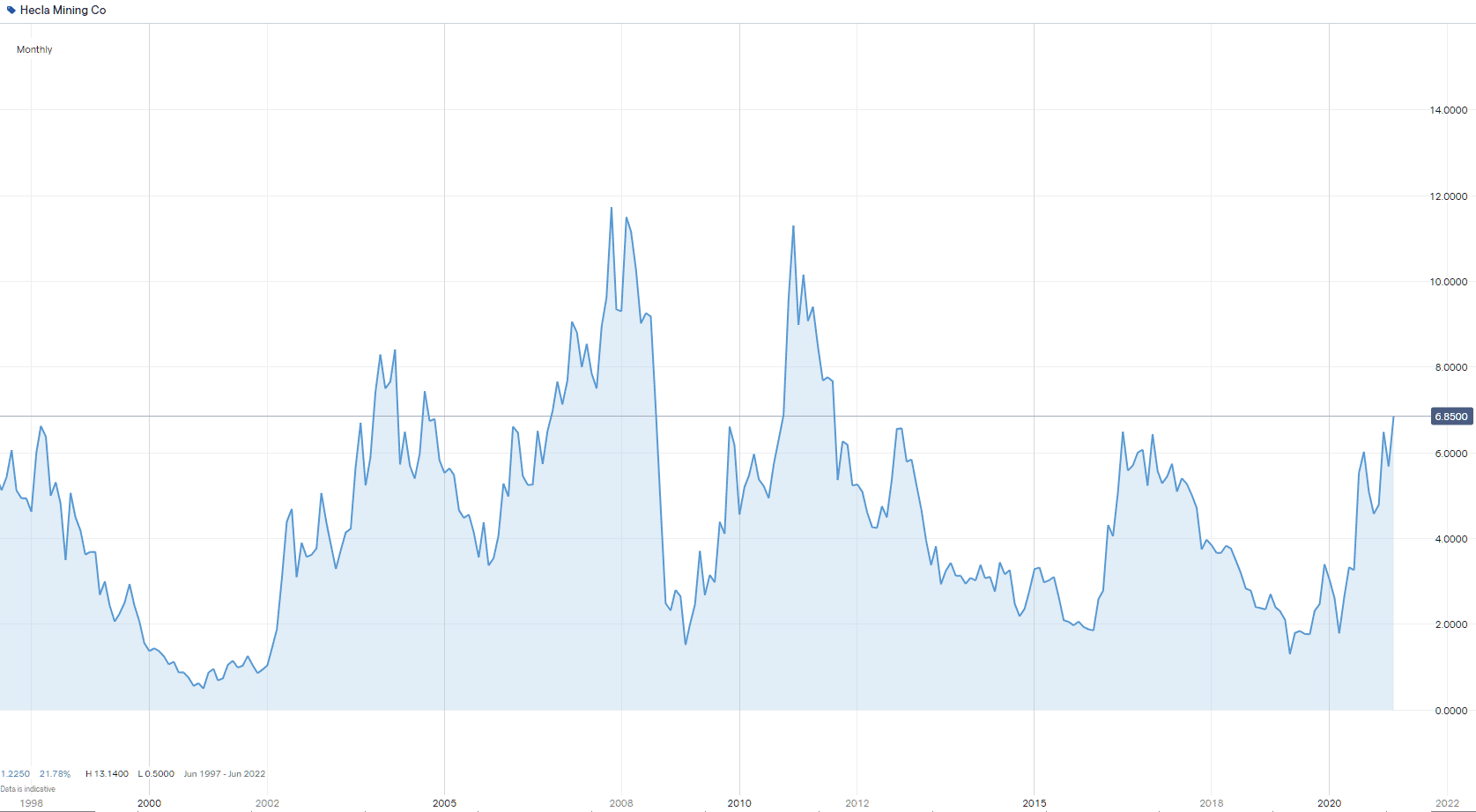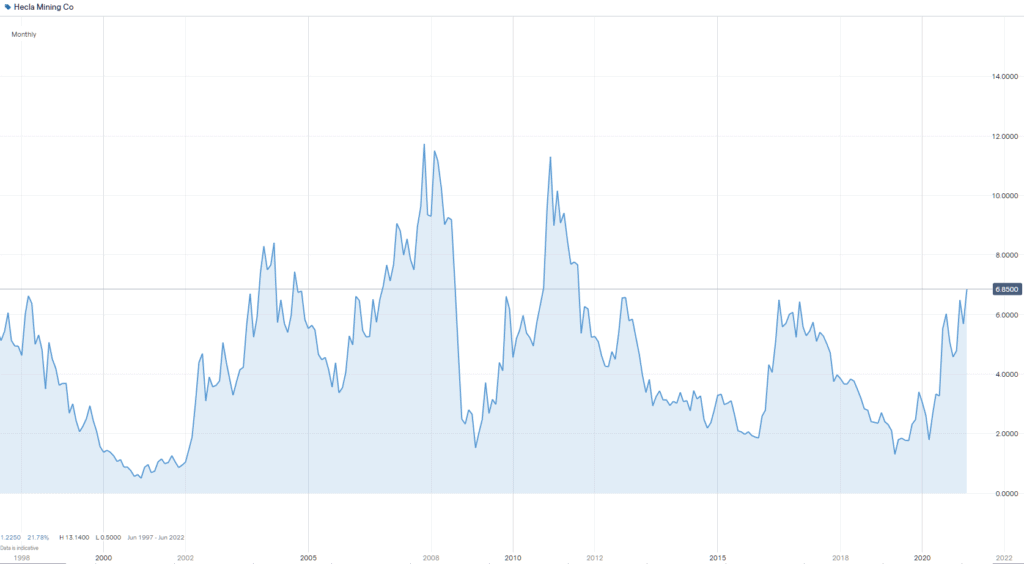 Analysts have also turned bullish on the company's prospects after they posted a 3% revenue increase to $691.9 million in 2020. Hecla managed to double its silver production after purchasing 100% of the Greens Creek from Rio Tinto in 2008.
While the company managed to refinance its long-term debt to 2028, it has also reduced the overall net debt and increased dividends to investors. Analysts are now eyeing the previous record highs for the share price around $13.13.
4. First Majestic Silver Corp
First Majestic Silver Corp has been ripping higher since the coronavirus pandemic. In fact, from its March 2020 low price of around $4.26 to its highest price in February 2021, the stock has risen nearly 500% higher.
The company is a pure silver play as they own and operate three silver mines in Mexico called the San Dimas Silver & Gold Mine, the Santa Elena Silver & Gold Mine and the La Encantada Silver Mine.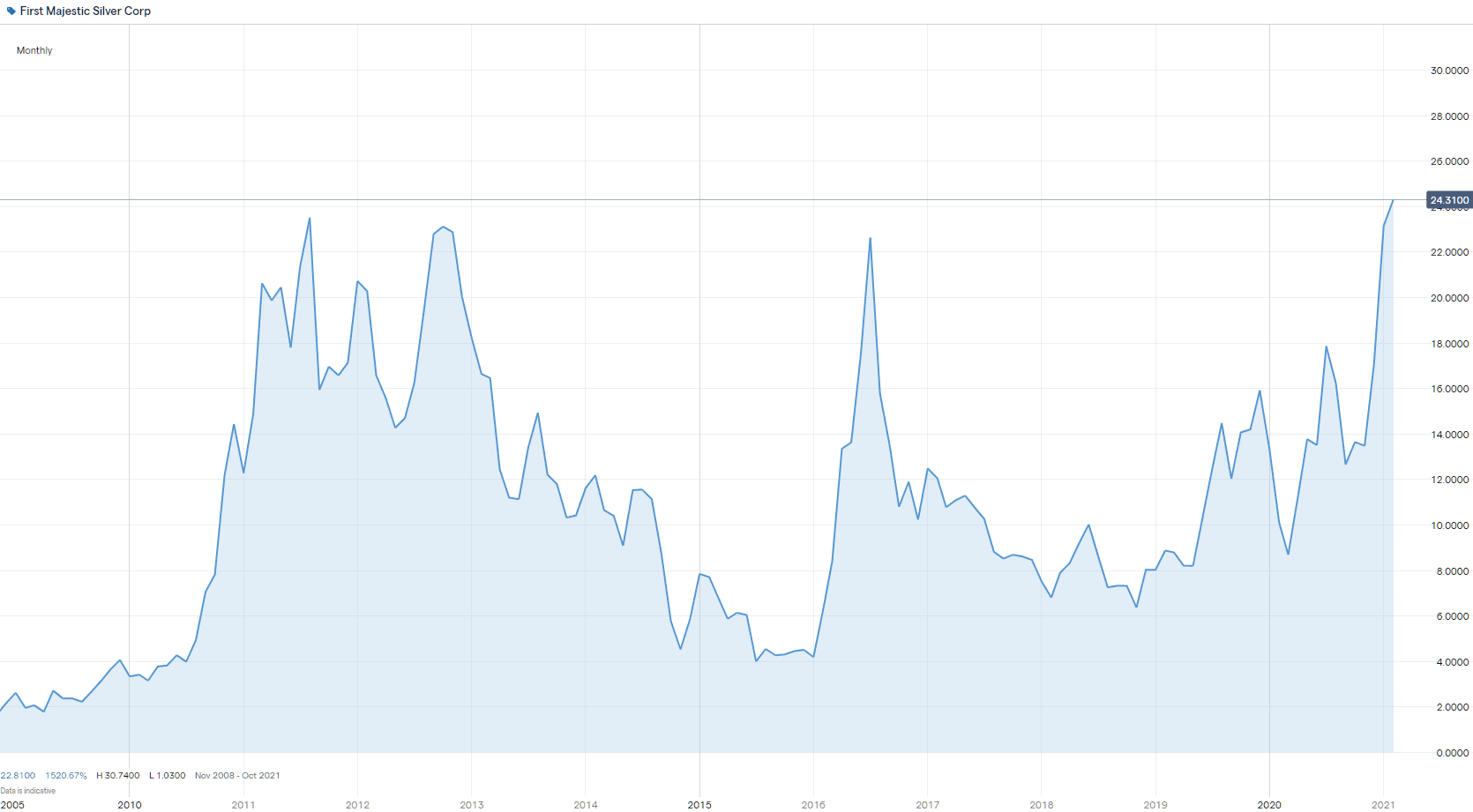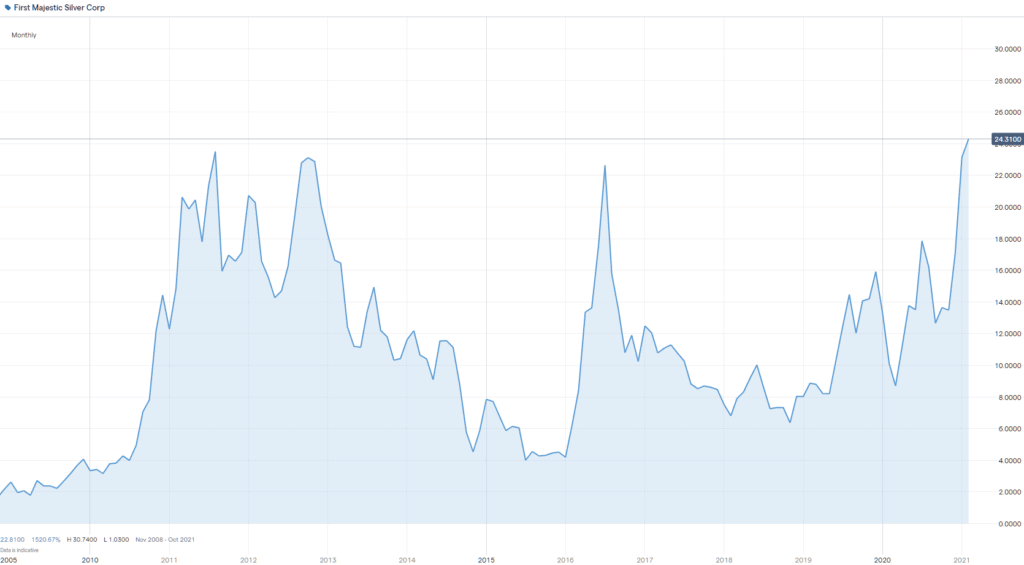 In 2020, the company posted revenues of $363.9 million which was largely attributed to the rapid rise in precious metals pricing, as well as a surge in silver production. The company also ended the year with a record cash amount of $238.6 million.
The President and CEO of the company, Keith Neumeyer, expects higher prices in silver to continue due to the transition into greener energy and electric vehicles.
5. Hochschild Mining
Hochschild Mining is a British-based operator of four underground mines in Peru and Argentina. With over 50 years of experience, they are one of the leaders in precious metals mining. While the company has been affected by the impact of the coronavirus pandemic, it has had an interesting earnings report.
As an example, in late 2020 the silver producer increased its dividend and finally managed to reach its first positive cash position in a decade. However, the profits and sales for the company fell well below 2019 levels due to its mines in Peru and Argentina shutting down over the pandemic period.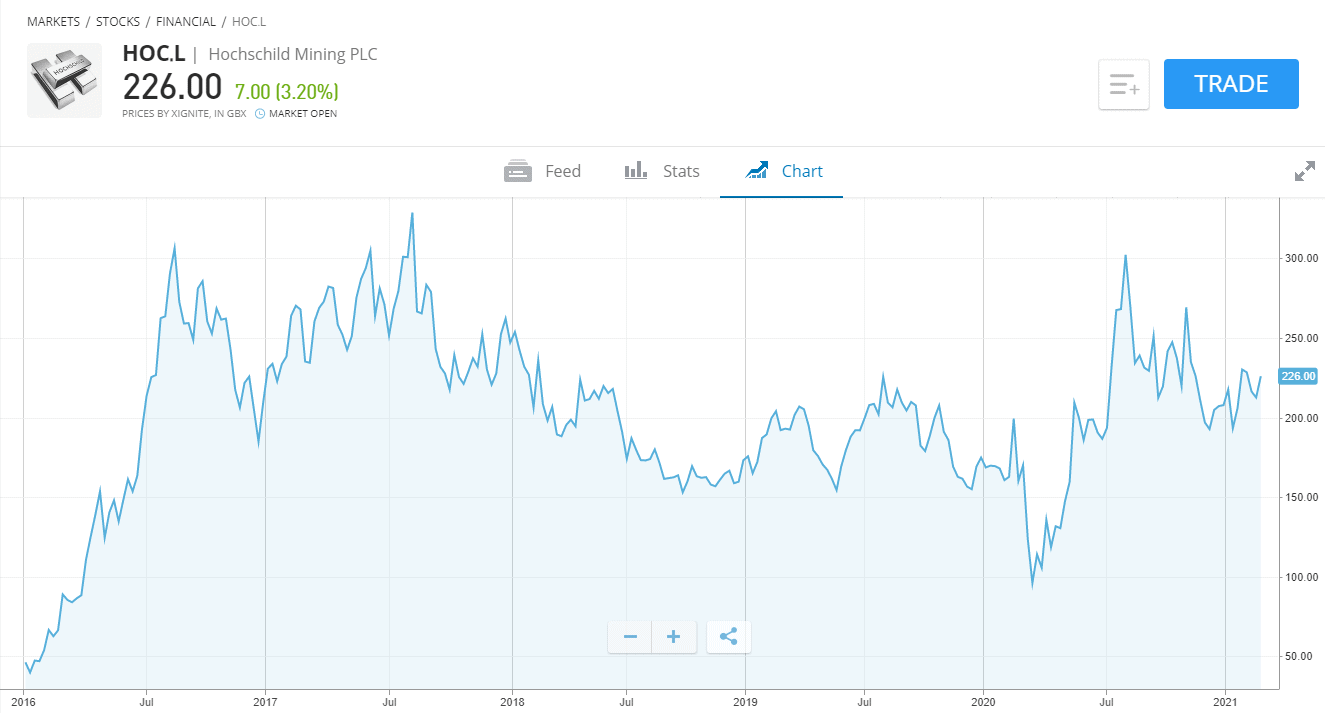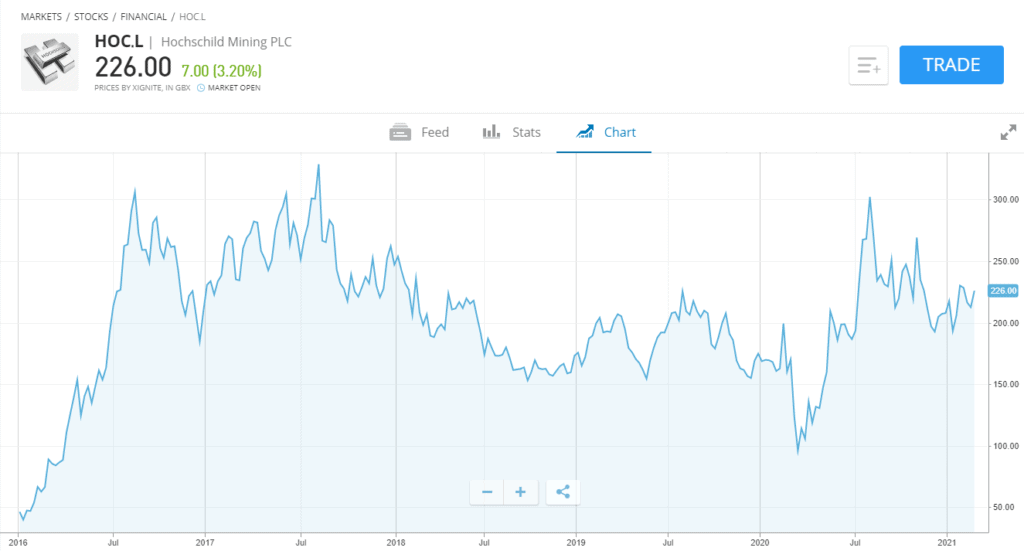 Despite its mines being shut down, Hochschild's share price surge more than 315% higher over the coronavirus pandemic period. However, at the start of 2021, the company's share price was down nearly 50%.
This hasn't deterred Chief Executive Ignacio Bustamente from given a bullish assessment of the company, citing that they have a strong financial footing. This has been echoed by analysts at RBC Capital Markets who believe the company could be seeing profits climb to $412 million this year.
6. Fortuna Silver Mines
Fortuna Silver Mines is a Canadian-based silver miner that operates two mines in Peru and Mexico. Most pure silver mining companies performed well over the coronavirus pandemic period and Fortuna was one of them. Its share price surged nearly 600% higher from its March 2020 low ~$1.45 to a February 2021 high of ~$9.86.
While the company benefitted from rising silver bullion prices, it also benefitted from a surge in demand from institutional investors in sustainable companies. Every year, Fortuna releases its annual sustainability report to protect its long-term economic, social and environmental standing.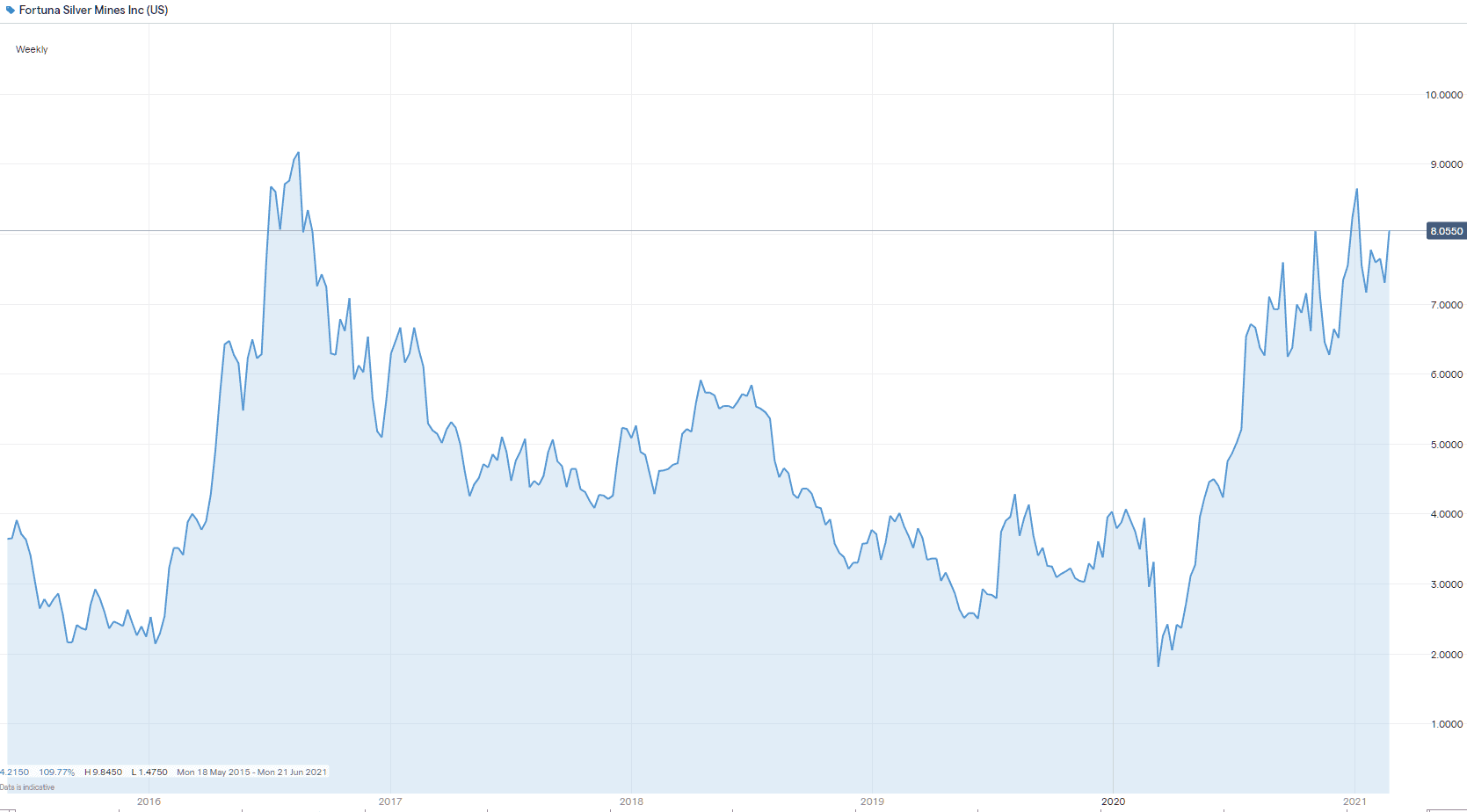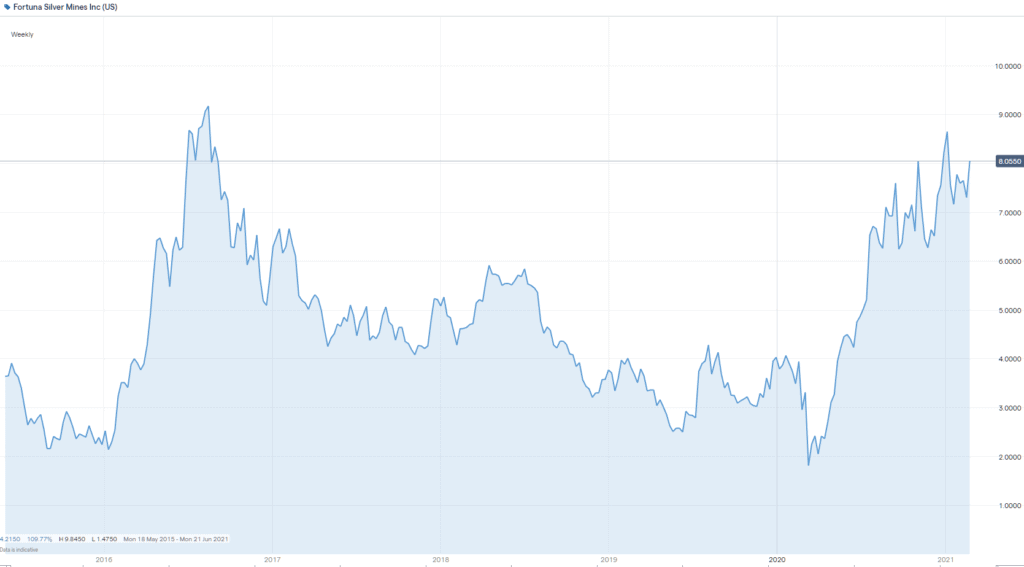 The surge in demand for silver and sustainable investing has had a positive effect on Fortuna's stock price. The fundamentals also stack up with the company generating revenues of $244.4 million in 2020 with a profit of $21.9 million.
While impressive, these figures were lower than previous years but this was largely due to the forced temporary closure of some of its mines due to COVID-19. Having said that, the company's latest earnings report provides guidance for 2021 forecasting an increase in silver production and gold production from its mines. That could translate into higher profits as well.
7. Polymetal International
Polymetal International is an Anglo-Russian precious metals mining company listed on the London Stock Exchange. The mining company has paid out more than $1.8 billion in dividends since its initial public offering (IPO) in 2011.
However, since its IPO the company's share price has struggled. It only managed to break above its IPO price during the surge higher in silver mining companies' share price over the coronavirus pandemic.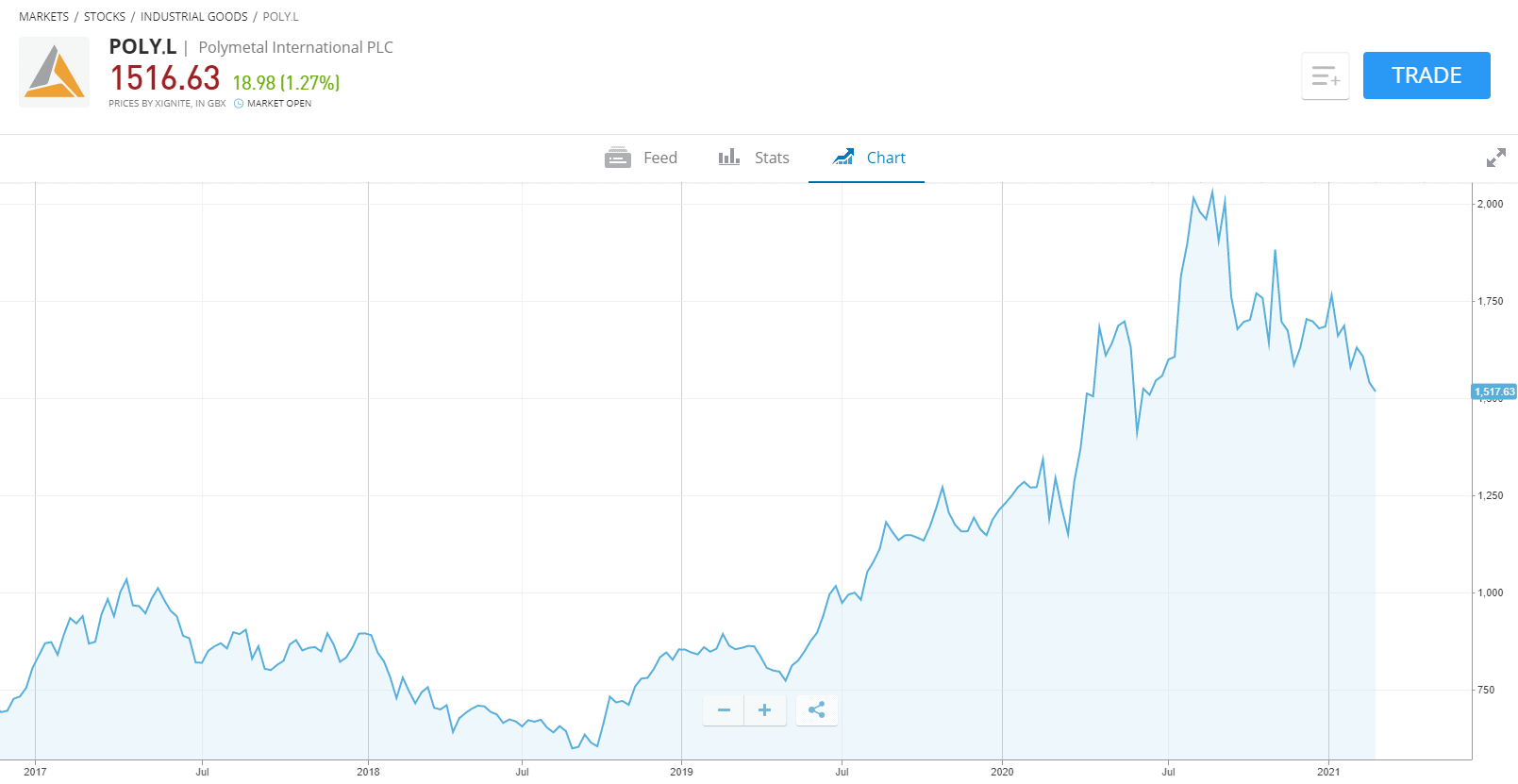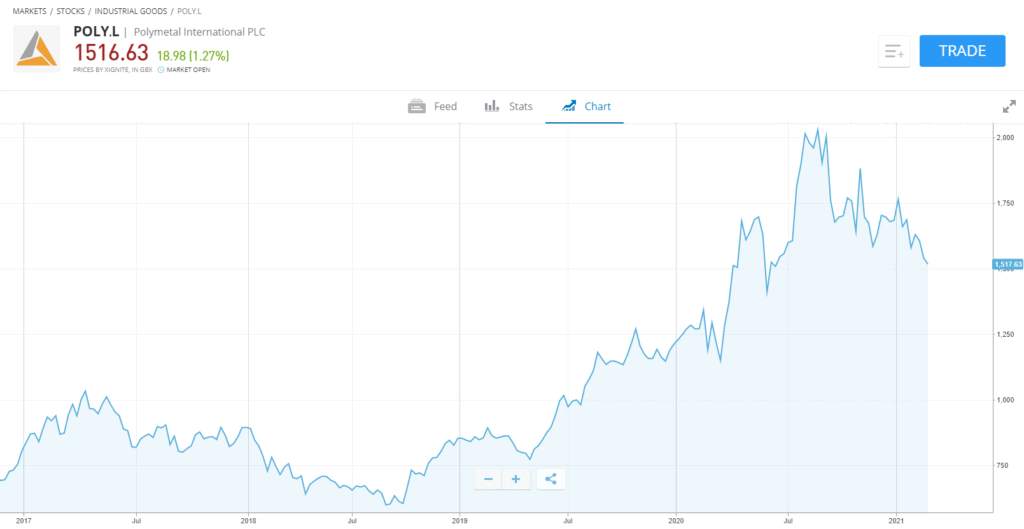 Analysts remain bullish on the prospects of Polymetal, largely due to the bullish nature overall in bullion and precious metals. Some analysts believe the earnings could surge more than 19% this year.
However, investors should make sure to conduct their own research and analysis before investing in any stock.
8. Endeavour Silver Corporation
Endeavour Silver Corp is a mid-tier precious metals miner that is a popular silver mining stocks. The company operates three high-grade silver and gold mines in Mexico, as well as other mines in Chile.
Just before the coronavirus pandemic, the company's share price was retesting a previous record low around the $0.99 price level. However, since then the share price has surged up more than 600% into early 2021.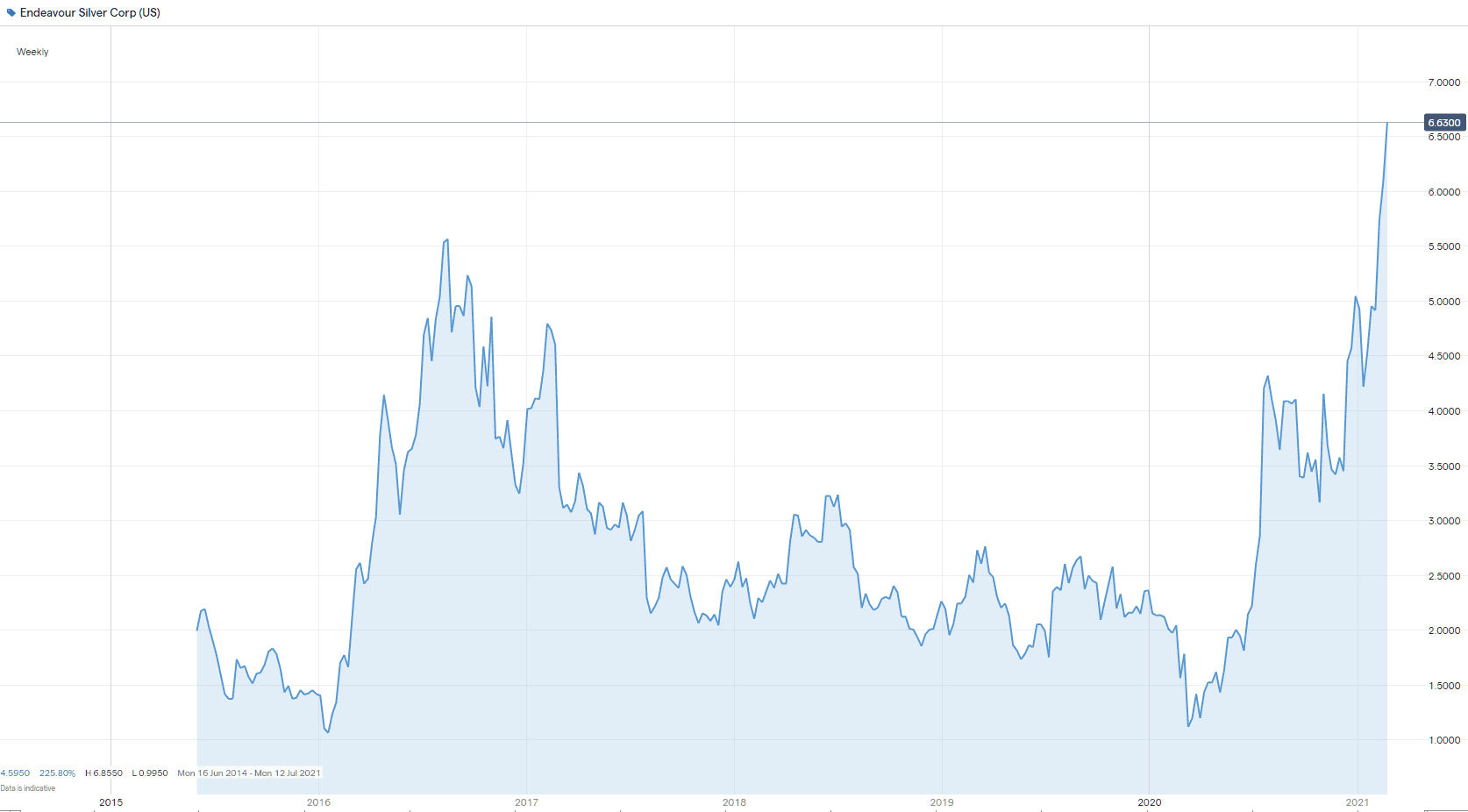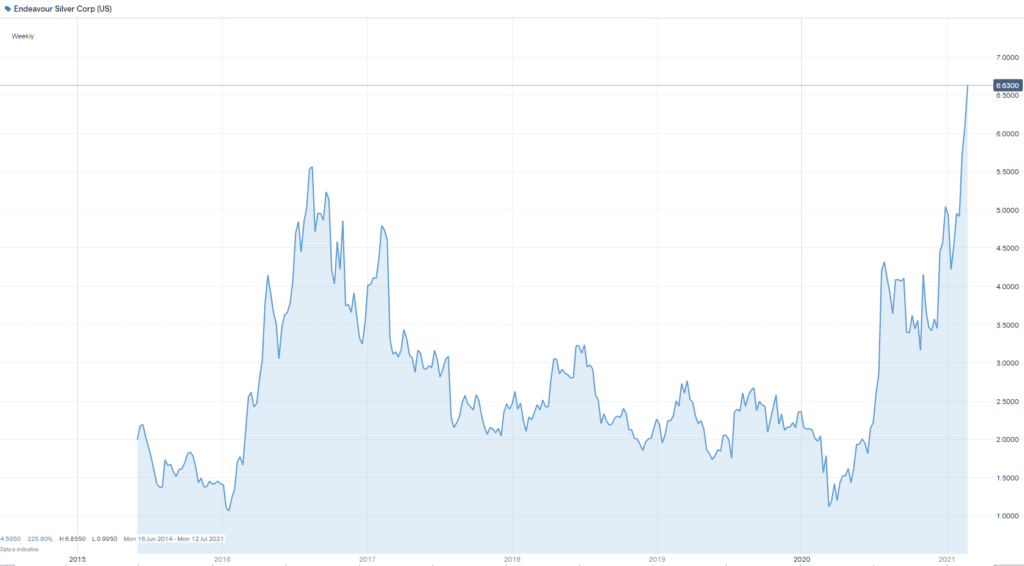 Not only has the company benefitted from a surge in demand in silver and gold but it also attracted investors focused on junior mining stocks and sustainable investing. The company produces an annual sustainability report for stakeholders to view which recently highlighted a 90% water recycling and reuse rate for its mining operations.
Endeavour is planning to invest $32.8 million on capital projects at its three operating mines.
9. Wheaton Precious Metals
Wheaton Precious Metals is a Canadian-based precious metal streaming company. The company is actually listed on the Toronto Stock Exchange, the New York Stock Exchange and the London Stock Exchange. Its business model is unique in that it doesn't own or operate silver or gold mines but has contracts with its owners.
For an upfront payment and additional payment upon delivery, Wheaton purchases by-product precious metals and cobalt from different mines all over the world. Some of these mines are owned by other larger operators such as Newmont Mining, Glencore, First Majestic and many others.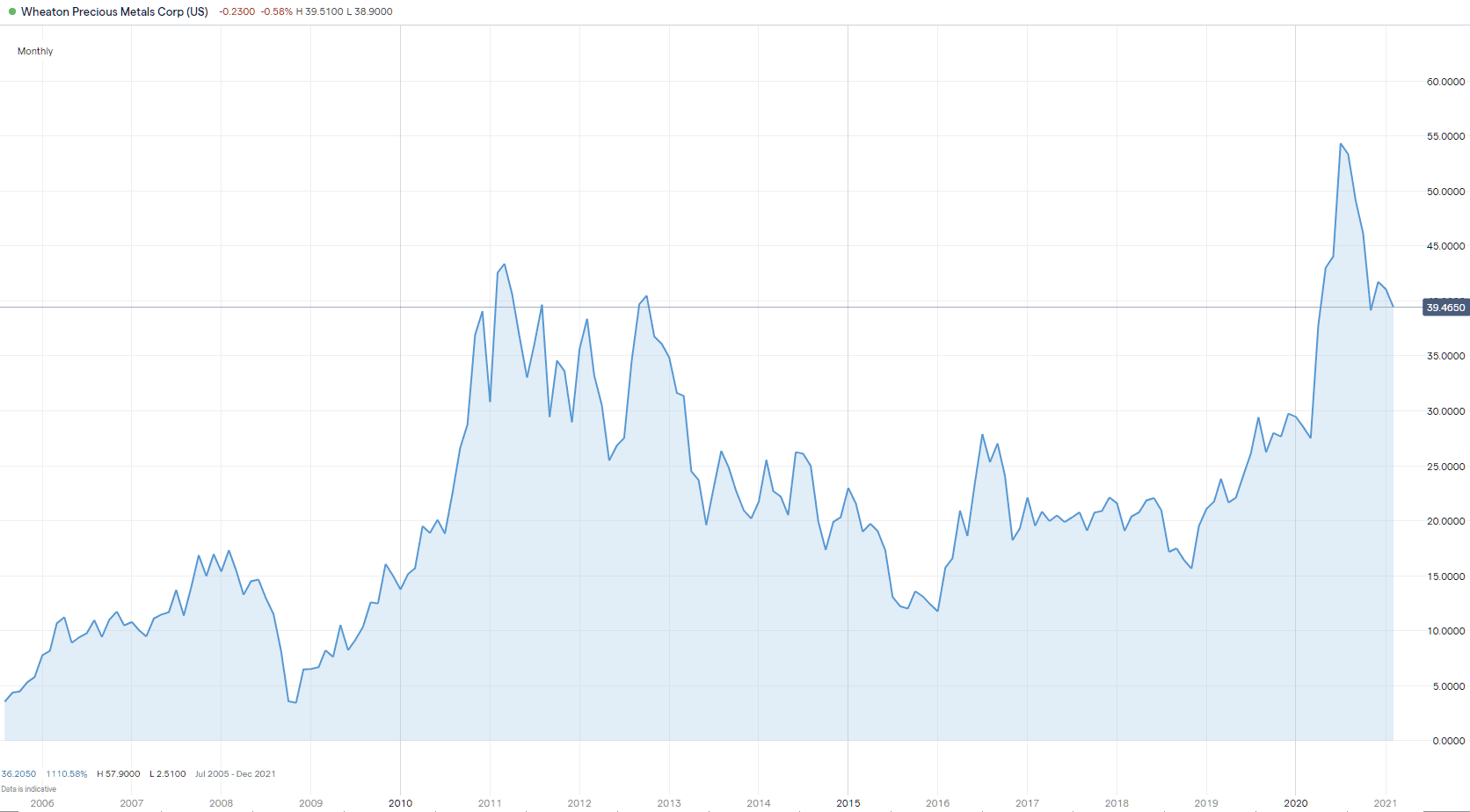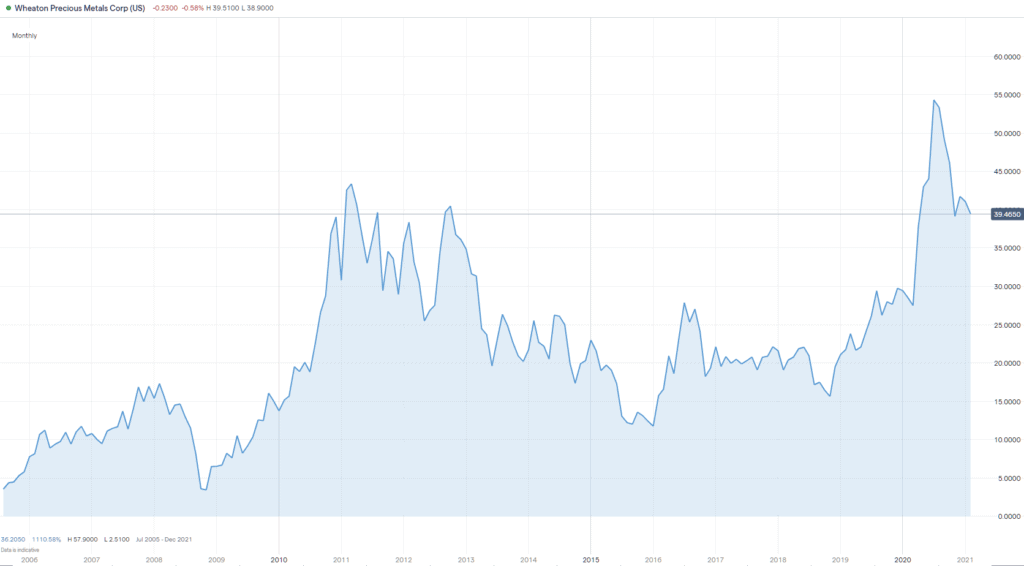 The company's share price performed well over the coronavirus pandemic period and was actually on a steady rise higher before. During this period, its stock price managed to record a new all-time high price of around $57.99. Since then, the price has pulled back, largely driven by a fall in gold prices and gold stocks.
A surge in silver and gold prices could help the company's bottom line as its business model allows them to purchase at an upfront cost that could be lower than future prices. The company's portfolio of mineral streams is diverse from different regions around the world and in different precious metals such as silver, gold, palladium, cobalt and others.
10. Newmont Mining
Newmont Mining is a popular gold mining stock and the largest gold mining company in the world and also produces silver, copper, zinc and lead. While headquartered in the United States, the company owns mines in Nevada, Colorado, Quebec, Ontario, Australia, Mexico, Argentina, Peru and in many other regions.
The company's share price has been rising steadily since reach near-record lows in 2015. Since then, the price has managed to rally nearly 400% higher before topping out at previous record highs around the $72.28 price level.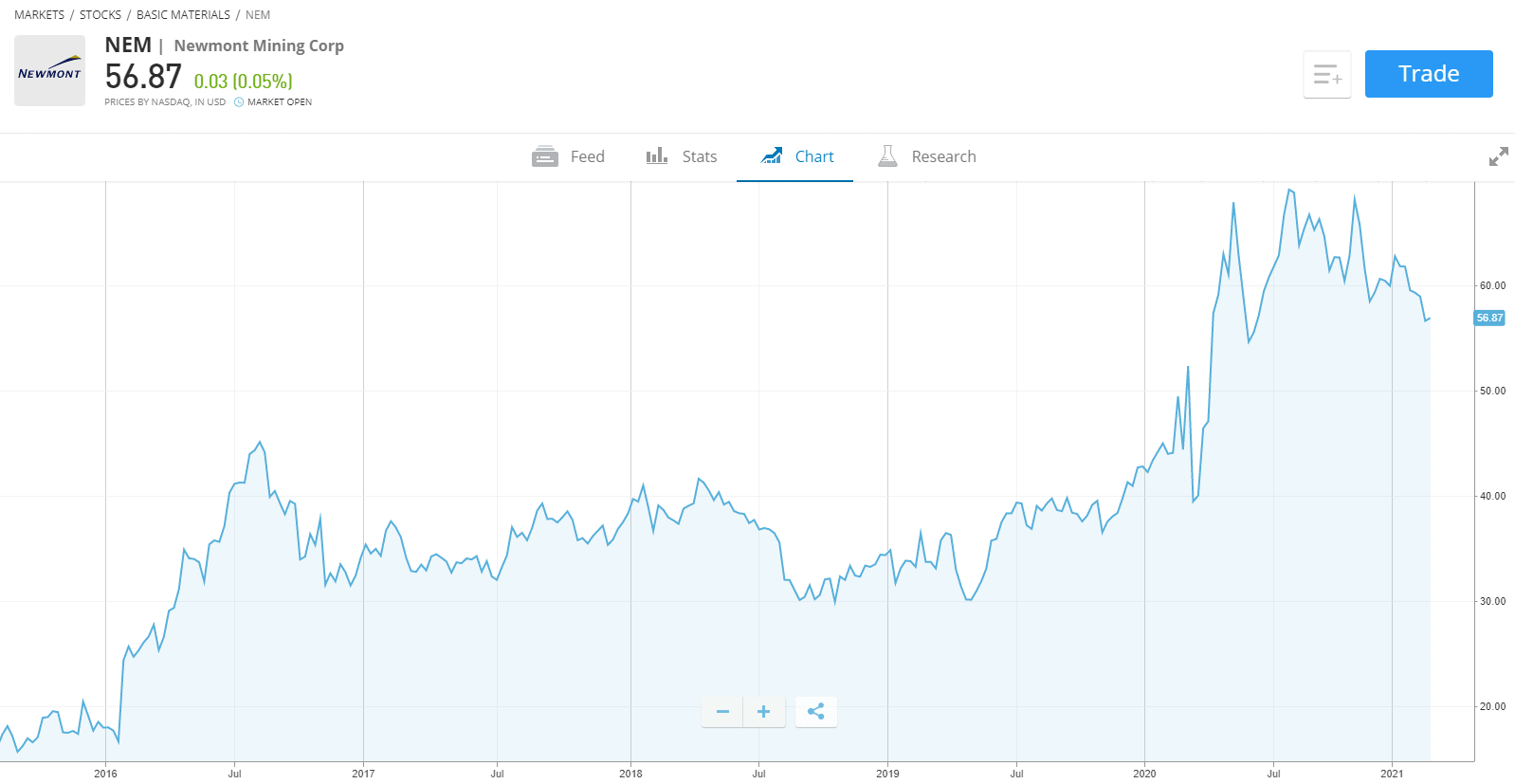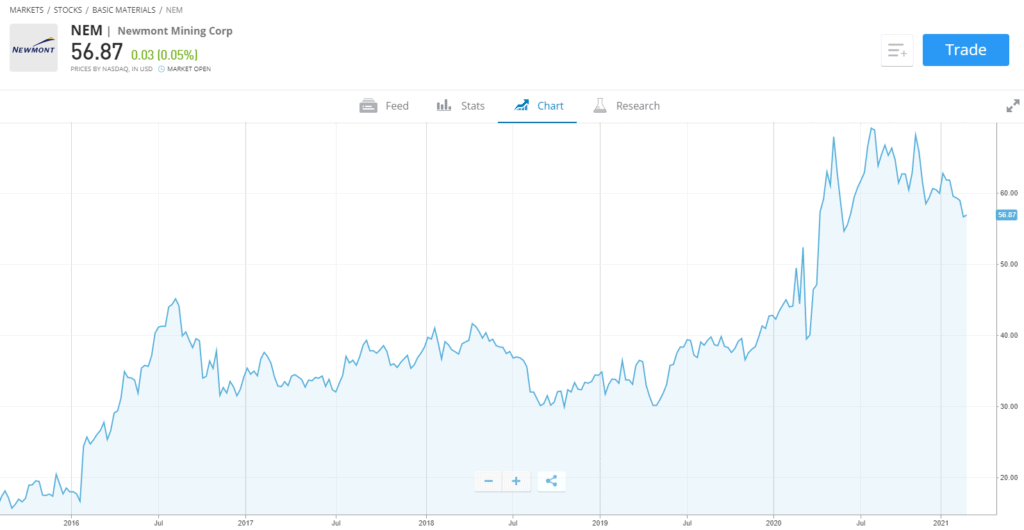 The share price accelerated during the coronavirus pandemic led by a surge in the price for precious metals. However, in early 2021 as base metal prices fell, so did Newmont's. With many analysts forecasting higher silver and gold prices in the future, Newmont is positioned well for the increase in demand.
In its latest quarterly earnings report, Newmont recorded profits totalling $824 million. This was a huge increase from the fourth quarter in the year before which came in at $565 million. For investors seeking a more diversified play in precious metals, Newmont could be the one.
Are Silver Mining Stocks a Valuable Investment?
If you've been reading any financial headlines over the past year, you will notice there has been a lot of talk about silver and precious metals. Most analysts, economists and hedge fund managers are now forecasting higher prices for silver in particular.
Silver is just like any other commodity – it is affected by supply and demand. When these start to shift, so do prices in silver. However, what is really exciting about silver is that there are pressures on BOTH the supply and demand side which are pointing towards higher prices in the future.
Let's take a look at some of the key factors for investing in silver stocks.
1. The supply of silver is rapidly falling. The supply of silver that is mined peaked in 2015 and has been rapidly declining over the past five years. In fact, mine production from the top ten largest silver-producing countries (Peru, Bolivia, Australia, Argentina, Mexico, Chile, Poland, China and Russia) have all been in steady decline.
2. The demand for silver for industrial purposes is rapidly increasing. The demand for silver has now moved far beyond fashionable jewelry. More than 50% of the global demand for silver comes from the industrial sector. Silver is the key component in electric vehicles and solar panels which are two sectors that are forecasted to rapidly grow in the future.
3. The demand for silver as an investment is at record highs. By the end of 2020, the holdings of silver from global ETFs (exchange-traded funds) reached a record high of 1 billion ounces. The holdings in these ETFs have been rising since 2015. Demand has also increased after silver was thrust into the mainstream media by the Reddit WallStreetBets movement who are trying to drive silver prices higher.
 Silver Mining Stock Brokers in the UK
Now that you know more about some of the popular silver mining stocks to purchase, it is now time to think about which stockbroker or stock app you should use.
Your broker should provide you with a wide range of markets, competitive fees, valuable customer service and a straightforward share dealing platform.
In the sections below, we have reviewed two popular brokerages that offer silver mining stocks in the UK.
1. eToro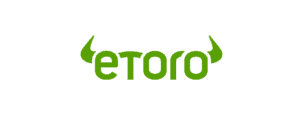 eToro offers users more than 2,400 stocks to trade and invest in through real stock investing accounts and CFD (Contracts for Difference) accounts which offer leveraged trading. This means traders can control a large position with a small deposit.
The option to both trade and invest in silver mining stocks is available through fractional sharing on eToro.  This means users can purchase a fraction of one share of the company instead of buying one full share.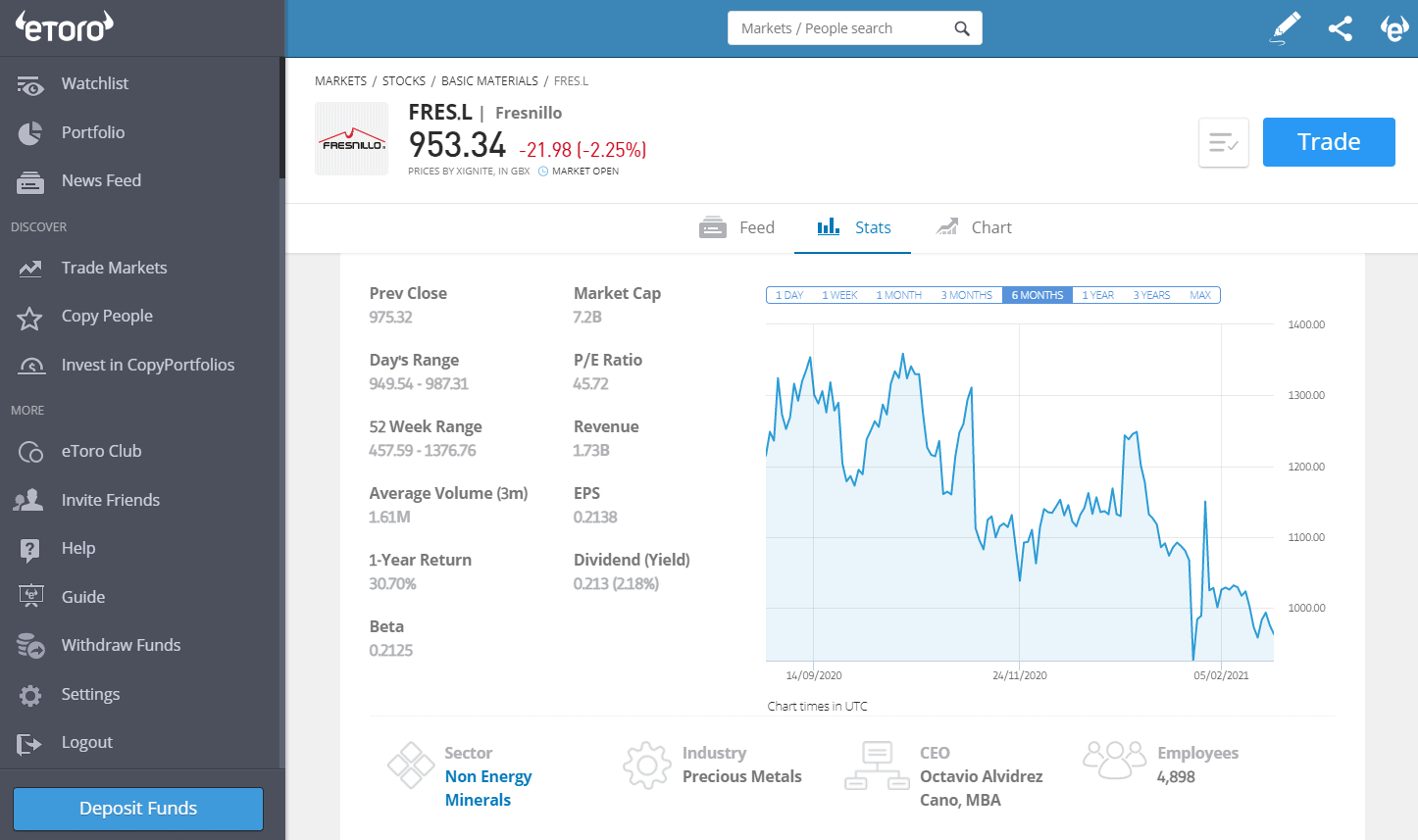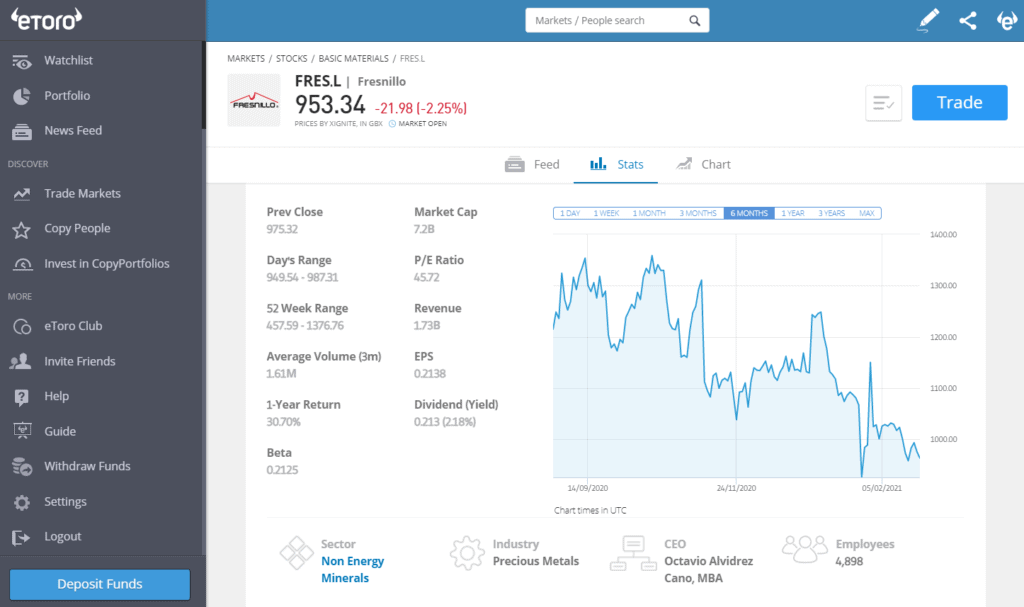 eToro also supports the ability to trade directly on the silver market and on silver ETFs (exchanged traded funds), providing a full range of options to capitalise on the price direction of silver. Fees are really competitive too with 0% commission on stocks.
The eToro trading platform is also very simple to use and you may get started in just a few minutes with a minimum deposit of only $50. Users can also access other features such as the Copy Trading function to find other high-performing traders to copy, as well as the Copy Portfolio function to invest in ready-made portfolios covering different themes.
| | | | | | |
| --- | --- | --- | --- | --- | --- |
| Stock Broker | Minimum Deposit | Fractional Shares? | Pricing System | Cost of Buying Stocks | Fees & Charges |
| eToro | $10 | Yes – $10 minimum | 0% commission on ALL real stocks, spreads for CFDs | Market spread is not included when buying real stocks | No Deposit fees, $5 withdrawal fee, $10 inactivity fee, no account management fees. |
Sponsored ad. 68% of retail investors lose money trading CFDs at this site
2. Plus500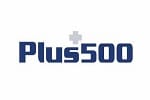 Plus500 provides users with the ability to speculate on the price direction of more than 2,500 financial CFD instruments including stocks, commodities, indices, ETFs, and currencies. Trading with Plus500 also offers peace of mind as Plus500 Ltd is a publicly listed company on the London Stock Exchange.
This commodity trading broker offers commission-free trading on all of its products with only spreads and overnight fees payable on certain trades. The spreads are competitive and can be viewed on the broker's website as they differ for each instrument.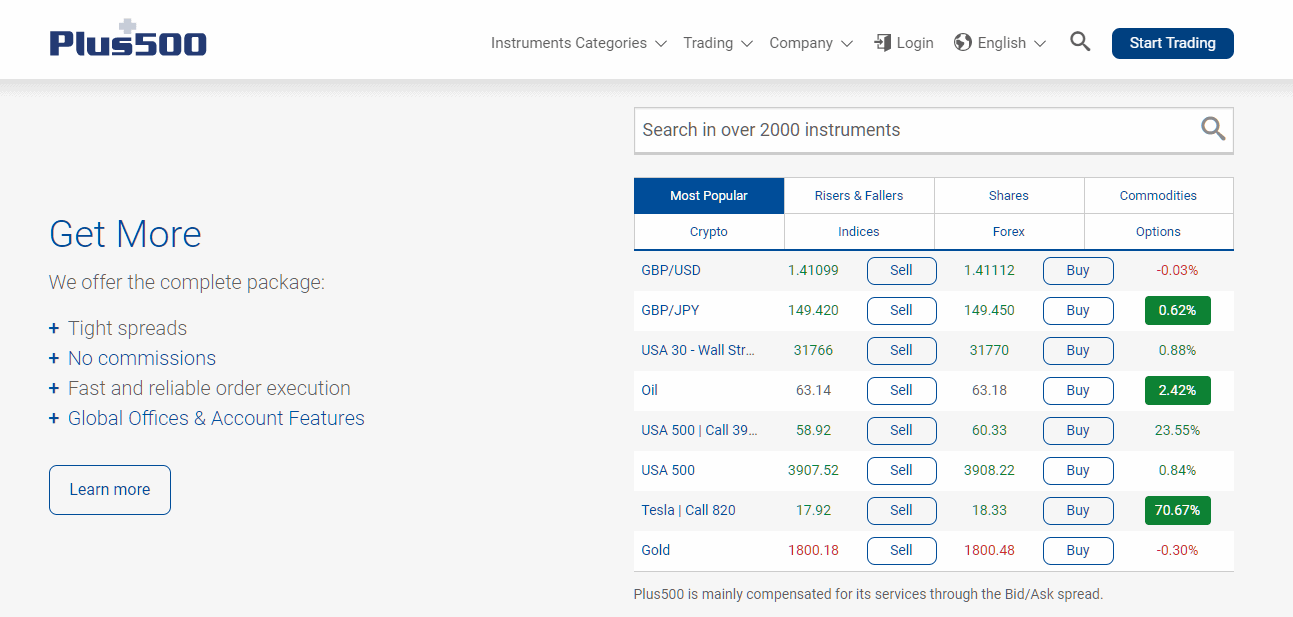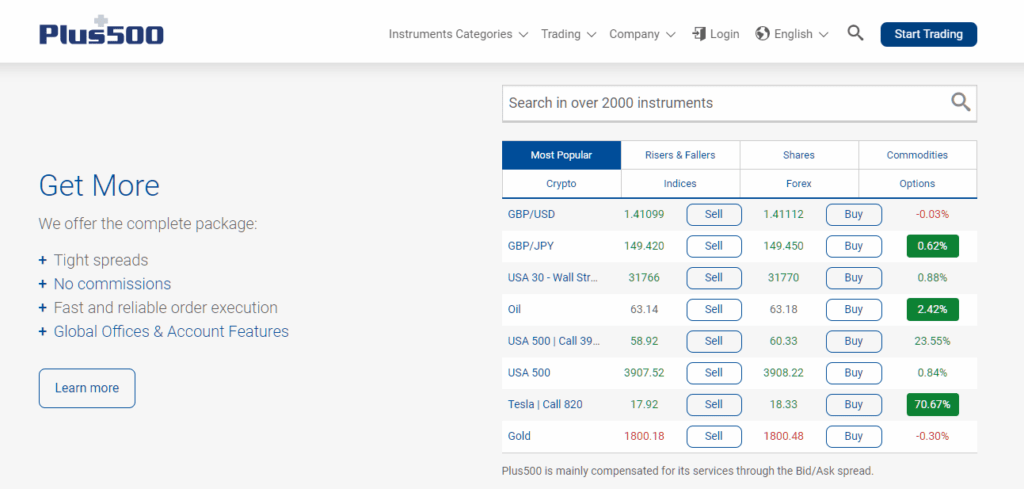 With Plus500, accessing markets is easy and you can trade from any browser or your phone. The broker also provides additional tools such as the Trader's Sentiment indicator so you can gauge the percentage of investors on Plus500 buying or selling an asset.
As Plus500 provides access to CFD trading accounts, this means you can trade on margin and control a large position with a small deposit. The margin rates vary depending on your categorisation as a client but retail clients can access a maximum of 1:30 leverage with professional clients 1:300.
72% of retail investors lose money trading CFDs at this site.
How to Invest in Silver Mining Stocks in the UK
In the section below, we walk through how to make your first trade from the comfort of your own home and wherever you are in the world. Should you decide to invest in silver mining stocks, make sure to pick a reputable broker that meets your investing requirements.
After picking your stock broker, here is how you may begin trading in Silver Mining stocks.
Step 1: Open an Account
Head over to the homepage of your chosen broker and begin the account set-up process. You will be required to fill in your personal details – including your full name, email address and mobile number. Create a username and password for the platform to continue.
Step 2: Verification
Most reputable brokers in the UK are regulated by the FCA – which is why users may be required to verify their accounts. To do this, simply upload proof of ID (a copy of your driver's license or passport) and proof of address (a copy of a bank statement or utility bill). Once these documents have been uploaded, your broker should verify them in a couple of minutes.
Step 3: Deposit funds
The next step is to deposit funds into your trading account. Most brokers may support 1 or more of the following payment methods:
Credit card
Debit card
Bank transfer
e-wallet
Choose your preferred payment option and deposit the funds into your account.
Step 4: Invest in Silver Mining Stocks
Once your account has been funded, proceed to search for any silver mining stocks or any other stock you wish to purchase on your platform's search bar. Fill in the amount you want to credit into the trade, and confirm your transaction.
Conclusion
Since the coronavirus pandemic, there has been huge pressure on both the supply and demand side for silver. With silver mines producing less and demand massively increasing due to increased industrial use (electric vehicles and solar panels) it is now a very interesting time for silver mining stocks.
Finding the right silver miners to invest in is the next challenge for most investors. This is why, it is important to research every single company's financials and figure out your investment strategy prior to your investment.
FAQs
What are some popular silver mining stocks?
Are there any silver mining stocks with dividends?
What are some popular silver mining stocks?
Can you invest in silver mining stock ETFs?