Ever wondered how to buy crypto with PayPal? Investors will typically look at buying their cryptocurrency with debit/credit cards or bank transfer, however, some prefer the use of PayPal.
In this guide, we will show you how to buy crypto with PayPal UK and take you through the investment process in an easy-to-digest walkthrough.
Key points on buying crypto with PayPal in UK
There are few places that facilitate PayPal deposits, our recommendation that does is eToro.
Buying cryptocurrency with PayPal offers another layer of security, thanks to Buyer Protection.
Directly via your PayPal account you can buy cryptocurrency; Bitcoin, Ethereum, Litecoin, and Bitcoin Cash.
You can buy cryptocurrency with Paypal via our recommended regulated UK broker eToro, which allows you to buy stocks with 0% commission.
How to Buy Crypto with PayPal UK – Quick Steps
Open an account with eToro – A massively popular regulated online broker that allows you to purchase cryptocurrency with PayPal.
Deposit – Set aside capital that you can afford to invest, then deposit the funds onto the eToro trading platform via PayPal.
Select your crypto – There are 120+ cryptocurrencies available to invest in on eToro's platform.
Buy – After depositing via PayPal on eToro, you can buy your cryptocurrency from the comfort of your own home within minutes.
68% of retail investor accounts lose money when trading CFDs with this provider.
Why Buy Crypto with PayPal?
Earlier, at the start of this guide, we detailed that most investors will look to buy cryptocurrency with a conventional debit/credit card or via bank transfer. With that said, PayPal's demand is ever-increasing to accommodate deposits and withdrawals, especially when it comes to buying digital currencies.
If you've got your eye on cryptos that could explode in 2022, then you'll need to choose a crypto broker that supports a range of payment methods. With an eToro account you can buy Loopring and Celo, two of the hottest new cryptos available this year, with PayPal and low fees.
If you have not used PayPal to buy cryptocurrency and or are unaware of its benefits, let's take a look at them below.
Security
Above everything is always security when it comes to your cash. Now one of the great benefits of buying with PayPal is that unlike when using your debit/credit card to buy cryptocurrencies, you do not need to enter your card numbers as you will already have a linked payment method to your PayPal account.


So once you have specified how much you want to deposit, all you have to do is enter your PayPal login credentials. As an additional advantage, PayPal offers something known as 'Buyer Protection'. As the name suggests, it gives you protection from purchases that are unauthorized and fraud. It operates like the chargebacks system offered by debit/credit card providers.
Ease of Use
Paypal is highly easy and convenient to use; for perspective, say you were out and about; however you left your debit/credit card at home and were keen to buy some cryptocurrency, usually you would have to get back home to obtain those details.
However, this wouldn't be an issue if you have an active Paypal account, as your debit/credit card will already be linked.
So long as you know your PayPal login credentials, you can still purchase cryptocurrency. It is because you will not be asked to enter your debit/credit card numbers – only if the respective card is linked to your Paypal account.
Instant Deposits
When you buy cryptocurrency with a regulated broker, such as eToro, the transaction is instant. You will either use your Paypal balance or fund the deposit with a debit/credit card.
In contrast to that, a bank transfer can take several days to arrive and clear; this would not be instant like PaPal.
On another note, which is at PayPal's discretion, you can also fund a Paypal transaction with a linked bank account; at times, you can benefit from an instant transfer. In terms of time delay on that, it usually depends on how long you have been a PayPal user.
No Fees Charged by PayPal
When you are set to deposit with your regulated broker or make any kind of online purchase with your Paypal account, you not be charged any fees. This is typically the case with debit cards and bank account transfers anyway, but also avoiding unnecessary fees is crucial when buying cryptocurrency.
Fast Withdrawals
Arguably one of the top benefits of using PayPal to buy cryptocurrency is that the withdrawal process to very fast. Typically speaking, brokers will process e-wallet withdrawals quicker than debit/credit cards and bank transfers. The timing around these tends to be slower, around 3-7 working days, depending on your banking institution.
When it comes to Paypal it is somewhat less bureaucratic, which means that fewer checks are needed to be made. Why? Because you would have already completed the PayPal ID verification when you first signed up. Your chosen cryptocurrency broker will be able to establish this, meaning they often process Paypal withdrawal requests on a same-day basis.
Upon the broker completing your withdrawal on their side, from there on, the speed is exceptional. It should appear in your PayPal account simultaneously.
Where to Buy Crypto with PayPal UK
As detailed earlier, there are very few platforms in the UK that allow you to buy cryptocurrency with Paypal.
Let's take a look at some of the options that are available to you.
1. eToro – Overall Best FCA Broker to Buy Crypto with PayPal in the UK

We recommend eToro when looking to get involved in crypto with Paypal, as it is a largely known broker with much credibility in the industry. It is popular with clients all over the world, across 120+ countries.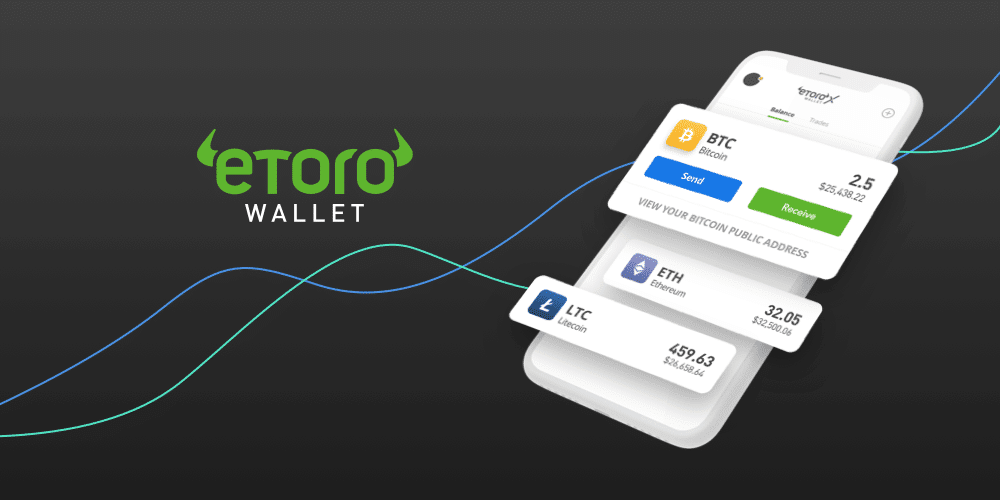 The platform caters to all, across asset classes; cryptocurrency, stocks, indices, commodities, forex, and ETFs. It also has mind-resting regulation across multiple justifications, so you do not have to worry about your funds being safe. Regulated by the likes of the FCA, ASIC, and CySEC.
eToro's experience is something to be confident in, they have been around with the early days of Blockchain, providing you with an all-around solution with crypto. If you are a beginner or a seasoned investor with cryptocurrency, all needs are covered, accessing a world of crypto services. eToro currently has a wide portfolio of cryptocurrencies, with over 45 to choose from. As such, you can gain exposure to the hottest cryptocurrencies on the market and buy Chiliz, 0x, dYdX, and more with low fees. 
Another solid feature is the eToro Money crypto wallet, it has a strong range of cryptocurrencies that it supports, some 120+ cryptocurrencies, where you can change crypto to crypto, and facilitate on-chain address: transfer your crypto anywhere on the blockchain, plus much more. 
If you are looking for some guidance in the crypto market, eToro offers a copy trading solution, where you can follow and mirror the best crypto traders. A good way to passively participate in the market. 
eToro charges very competitive fees, just 0.5% to get funds into your cryptocurrency trading account, being able to use PayPal, plus debit cards, credit cards Skrill, Neteller, bank transfers, and more.
Pros
Accepts PayPal
Chunky library of cryptocurrencies
Regulated by respectable tier-1 global bodies
CopyTrader feature to follow the best crypto-traders
Excellent platform very user-friendly
Quick deposits and withdrawals
Cons
Lack of advanced technical charting tools
68% of retail investor accounts lose money when trading CFDs with this provider.
2. PayPal – Great Solution for Cryptocurrency Beginners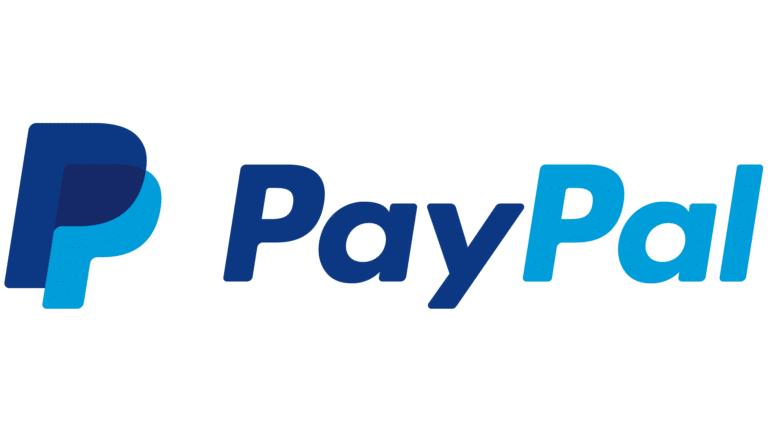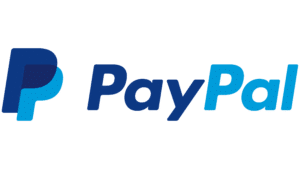 PayPal launched its own service within the digital currency space, allowing users to buy, sell, and hold cryptocurrencies with as little as £1 invested.

They are making crypto more accessible, which is a major draw for many beginner investors. If you have a PayPal balance, and you want to buy cryptocurrency, you can open PayPal, click crypto, and within seconds own some cryptocurrency.
There are four coins that are available to you for purchase on the PayPal app: buy Bitcoin, buy Ethereum, buy Litecoin, and buy Bitcoin Cash.
For the completion of your purchase, you'll need to have the funds available, a linked debit card, or a bank account. You can spend as little as £1 or as much as £100,000 a week. Like many crypto exchanges, there's a fee for buying and selling crypto on PayPal, which varies depending on how much you buy.
Investing in crypto using PayPal is easy— especially if you already use the app for online payments. However, it does have limitations. When you buy cryptocurrency through PayPal it is not the same as buying crypto on an exchange. When you buy cryptocurrency with a traditional exchange, you choose to transfer it to a wallet for secure storage or even to another person — a key distinction when it comes to full cryptocurrency ownership.
This is not the case with PayPal. You are not able to transfer crypto from your account to other accounts on or off PayPal, and you need to sell your crypto on PayPal to make a withdrawal.
If you want full control over your coins, a cryptocurrency exchange could be a better choice. Still, PayPal can make sense for new investors who want to experiment with a small crypto balance on a familiar platform.
Pros
PayPal is a user-friendly option for most people to make online payments
PayPal is trusted as a secure platform for online payments
Many people already have a PayPal account
Cons
Buying cryptocurrency with PayPal has higher fees
There are strict limits on how much cryptocurrency users can buy via PayPal
3. Coinbase – User-Friendly for Buying Cryptocurrency
Coinbase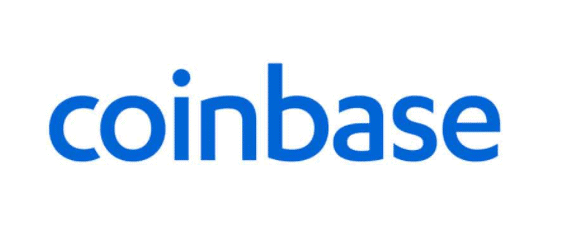 is one of the most established crypto exchanges and places to buy cryptocurrency that is particularly popular with inexperienced traders. As soon as you make your way over to the provider's website, you'll see that the platform is very much user-friendly, simple, clean, and easy to navigate.
Coinbase with the use of PayPal – Currently, only US customers are able to buy cryptocurrency or add US dollars using PayPal. The UK and all other customers are only able to use PayPal to cash out or sell, and transaction availability depends on the region.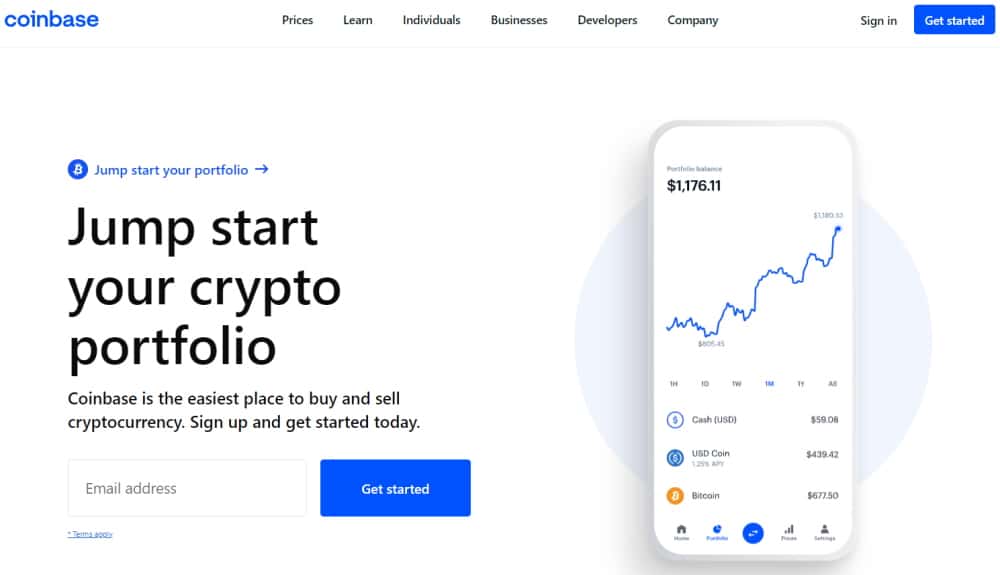 Users of Coinbase are able to trade on two platforms: the original Coinbase platform, which allows users to use fiat to buy a cryptocurrency. The other is Coinbase Pro. This has more advanced charting functions and allows users to make crypto-to-crypto transactions, as well as place market, limit, and stop orders.
Coinbase allows for the deposit of funds with ease. In terms of methods, you are able to choose from a UK debit card or bank account transfer. However, it is important to note that Coinbase charges 3.99% when you deposit funds with a debit card. This is in comparison to the nominal 0.5% you will need to pay with eToro.
Commissions with Bitcoin and generally with trading cryptocurrencies with Coinbase is typically higher than other competitors. As an example, if you bought £1,000 worth of Bitcoin, Coinbase would charge you £14.90, which marks 1.49%.
Despite the higher fees at Coinbase, you know to have peace of mind with the service as a whole and its security. Once you have purchased your cryptocurrency, you can keep the funds within your cryptocurrency account/wallet or withdraw them to a private wallet.
Pros
Over 35 million users and highly popular
User-friendly
Funds can be deposited with a debit card or via bank transfer
Withdraw your tokens out to a private wallet
Ease to use mobile app
License with the FCA
Cons
Cannot deposit with PayPal
A fee of 3.99% on debit card deposits & 1.49% Bitcoin trading fee
eToro vs PayPal – Which is Best
Putting these two easy to use places to buy cryptocurrency up head to head; eToro versus PayPal, and explore which may be the ideal option for you.
eToro vs. PayPal: Features
eToro offers more in terms of the overall trading and investing experience, thanks to the wide range of features and capabilities when it comes to buying cryptocurrency, lets take a look now at the breakdown:
eToro:
Easy and accessible – Buy, sell, and hold cryptos with the secure eToro Money Crypto Wallet.
Cryptocurrencies supported – eToro has a wide number of cryptocurrencies available for you to access. It has over 120+ that are supported on its platform. Easy to buy, hold, send over 120 cryptocurrencies on the eToro Money crypto wallet, and change any of more than 500 pairs.
Social Trading– One of the great features with eToro is that it's the social trading, access unique copy trading tools, allowing you to simply copy the best crypto portfolios of top traders. These enduring tools are a solid option for beginners that are entering the crypto market for the first time.
Charting tools – Can perform basic technical analysis, set personal watchlists and price alerts.
Paypal:
Buy/sell/hold crypto – Supporting only Bitcoin, Ethereum, Litecoin, and Bitcoin Cash.
Education – Read the latest articles and know the basics about crypto directly from the app.
Crypto protections – There's no digital key to lose and PayPal will replace your crypto in whole if your account gets hacked.
eToro versus PayPal Comparison
| | | | |
| --- | --- | --- | --- |
| Best trading platform Ireland | Account offering | Cryptocurrencies supported | Fees |
| eToro | Crypto wallet/exchange | Supports 120+ cryptocurrencies | Commission-free to trade cryptocurrencies. Nominal 0.5% FX fee when you make a deposit |
| PayPal | Crypto wallet | Supports 4 cryptocurrencies | 1.50 – 2.30% fee to trade cryptocurrencies, which depends on the amount |
Bottom line
eToro has a much broader capability, supports more cryptocurrencies, and has more competitive fees in comparison to PayPal. Both are very good for beginners given how easy and user-friendly their respective platforms are; however, we would lean in favor of eToro given the extensive cryptocurrency offering versus PayPal.
How to Buy Crypto with PayPalUK  on eToro – Tutorial
If you want to buy crypto with Paypal UK – while benefitting from competitive fees and strong regulation, eToro is a great option for you. The platform facilitates for you to buy crypto online with PayPal without any commissions.
Here are the simple steps to follow to buy crypto with PayPal today.
Step 1: Open a Brokerage Account at eToro
Firstly, go through the simple process of opening an eToro account, providing a few details on the website.
You will need to enter some personal information:
Name
Nationality
Date of Birth
Home Address
Contact Details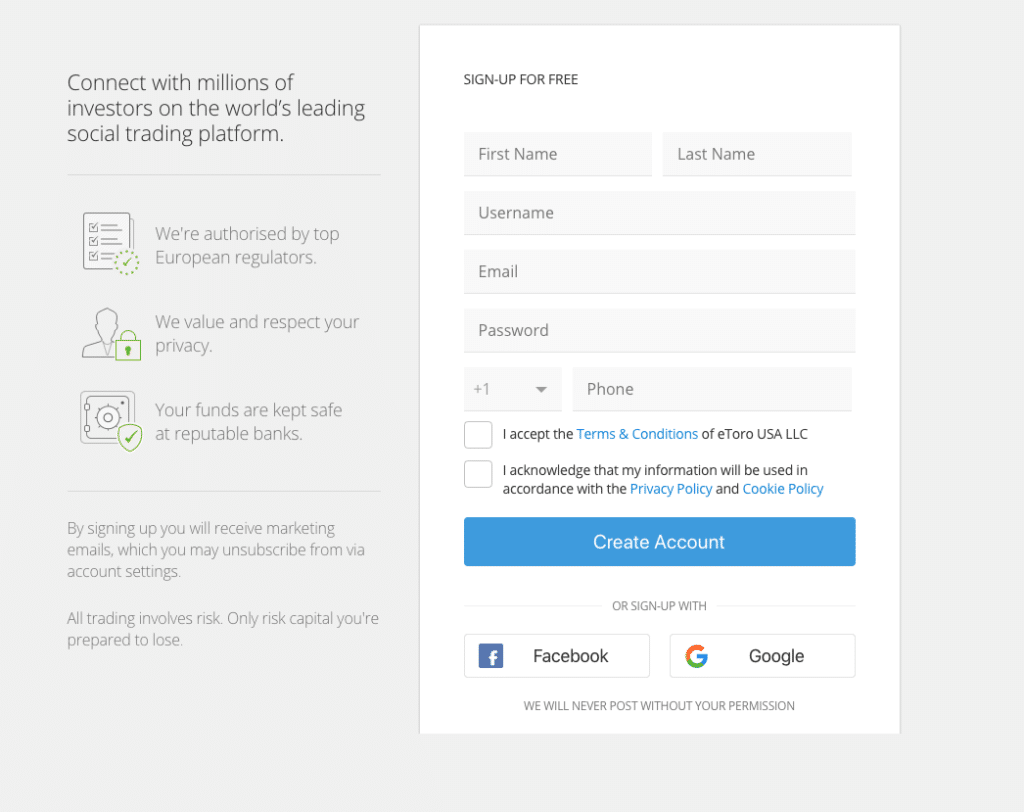 Once your email address and a mobile number have been verified, then need to upload a copy of your government-issued ID. It is a requirement for all regulated brokers.
Step 2: Upload ID
Once you have opened your account, eToro will ask you to upload some ID. Once again, this is to ensure that it remains compliant with anti-money laundering laws.
The two documents that are needed are:
Your passport or driver's license – Government-issued ID
Recent proof of address, such as a utility bill or bank account statement
You are able to upload the documentation at a later date, but do note that it will need to be completed prior to you making a withdrawal or deposit of more than $2,250.
Step 3: Deposit Funds With PayPal
Now it's time to deposit some capital. eToro offers a wide range of payment methods. If you're looking to deposit with PayPal, select this from the dropdown list.
Enter the amount that you want to deposit – meet with the deposit minimum, $200 (about £150).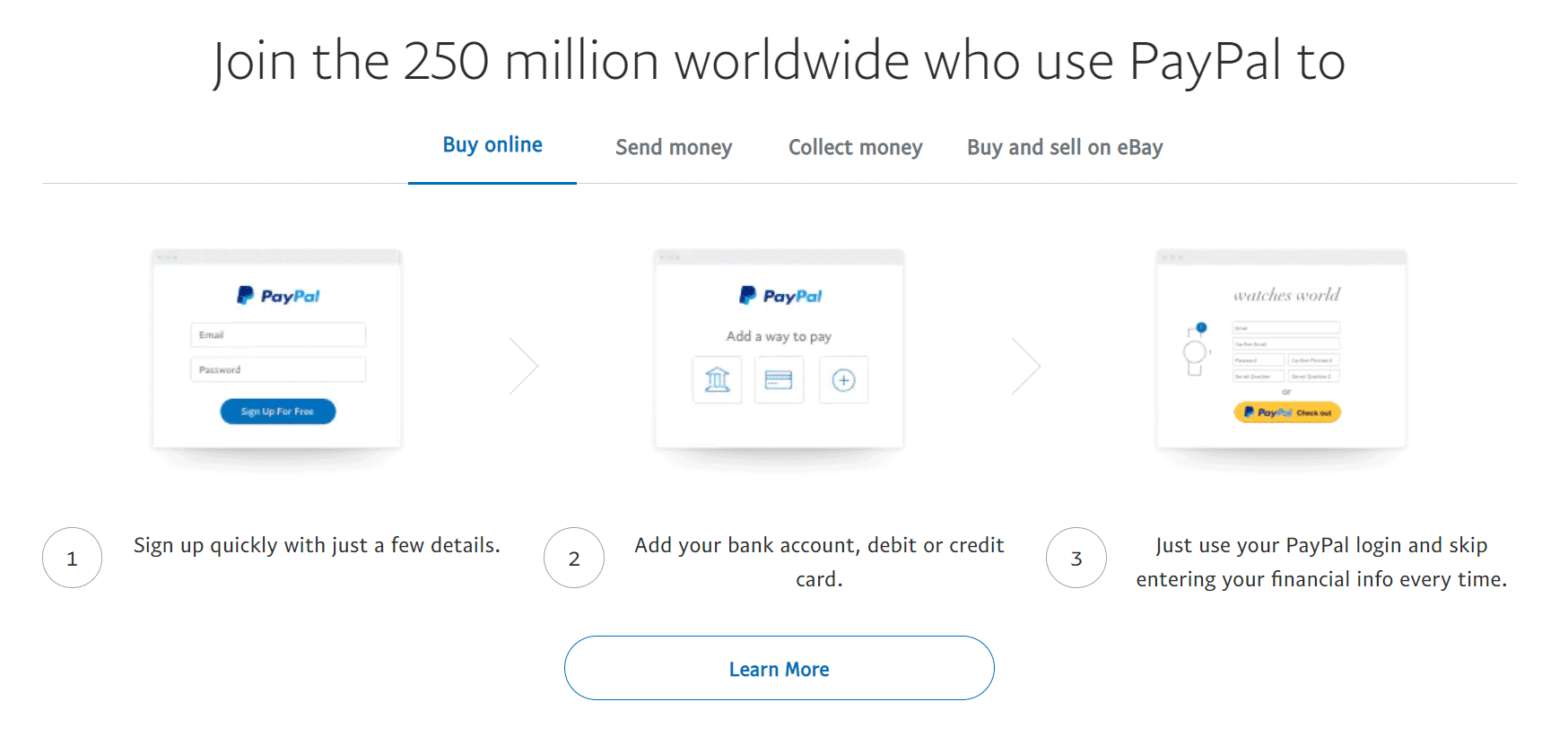 Once you confirm the trading amount, you will be redirected over PayPal via a pop-up box. You will then need to input your Paypal login details, which will show you how much you are set to deposit.
This will need to be completed to an already linked debit/credit card if you want to buy crypto with PayPal UK instantly. Or, if you already have the funds available in your Paypal account, this can also be used.
Step 4: Buy Cryptocurrency
Now it's just a case of buying your chosen crypto. As an example, enter 'Bitcoin' or 'BTC' into the search box at the top of the dashboard, then click the top search result (like below).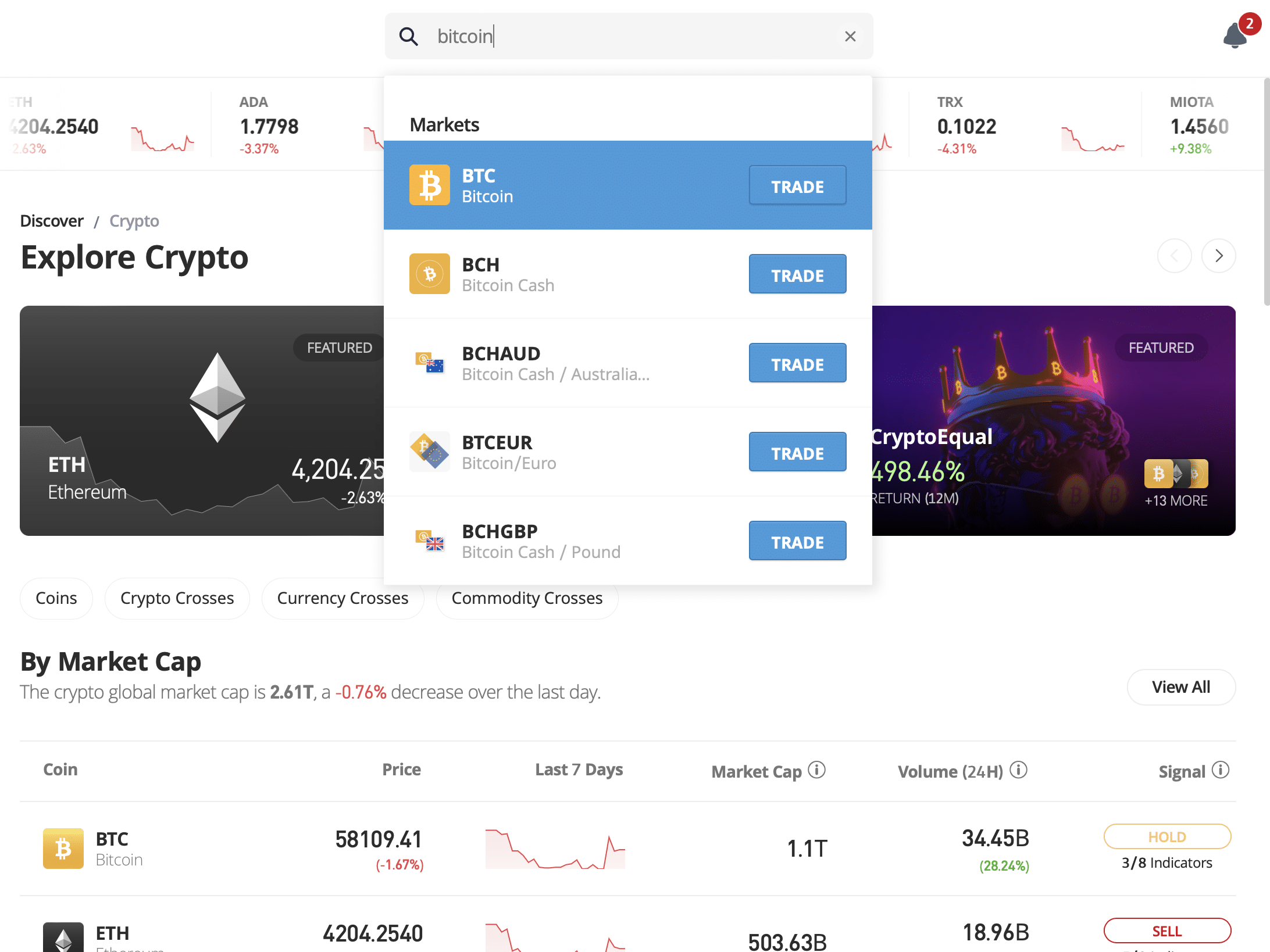 On the final page, click on the 'Trade' button. You will be able to view a Bitcoin buy order form pop-up. All you need to do here is enter the amount of Bitcoin that you want to buy. The minimum is just $25, which is about £18.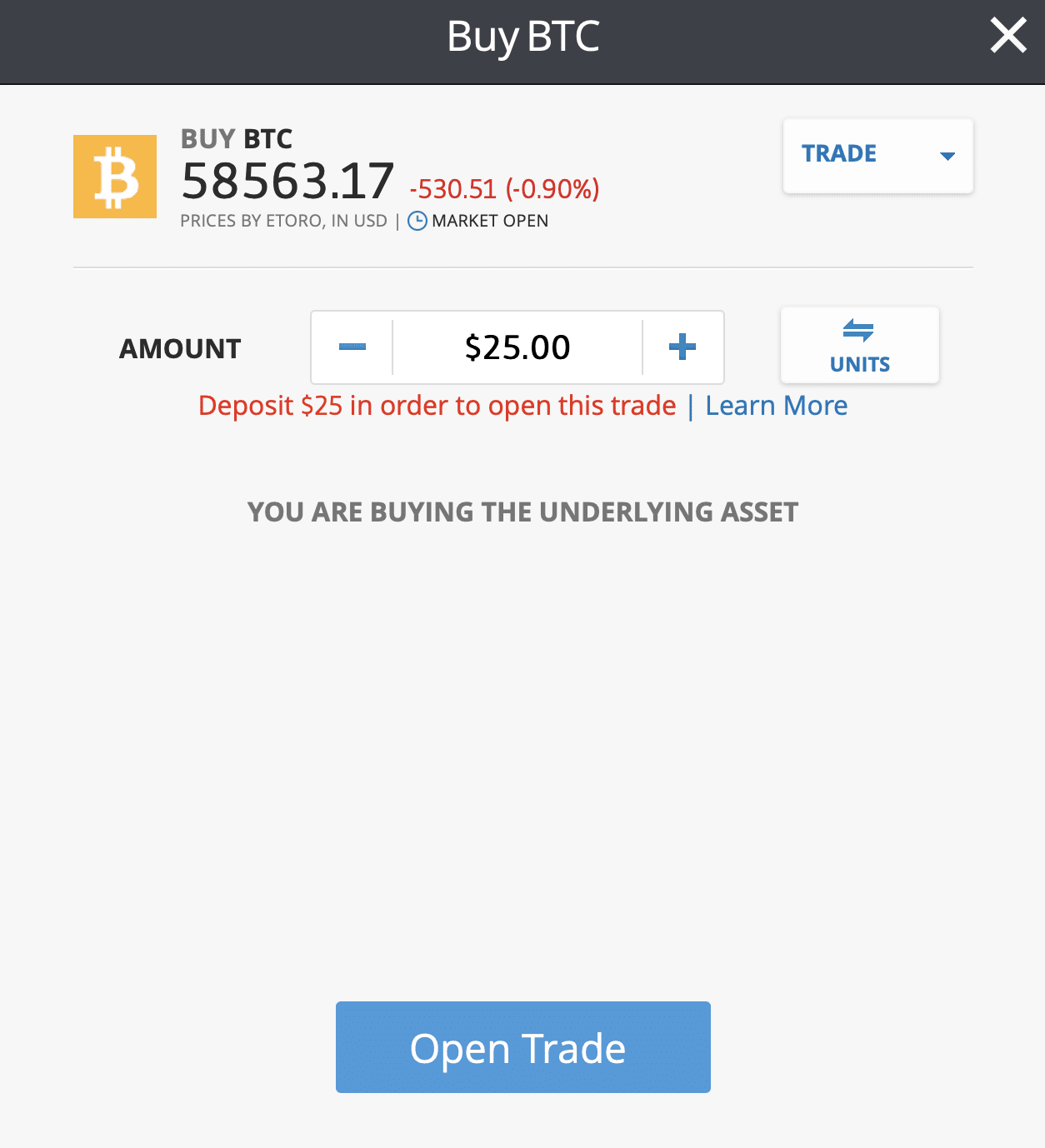 To complete your Bitcoin purchase, click on the 'Open Trade' button. And that's it – you've just bought Bitcoin with Paypal without paying a single penny in commission!
Can You Buy Crypto with PayPal Credit?
PayPal does not allow users to purchase cryptocurrency via the PayPal Credit option. Nor do they allow the use of a credit card or other credit products (including, without limitation, those offered by PayPal) to purchase Crypto Assets. When you buy Crypto Assets, you agree that you have enough available funds in your selected funding source to complete your purchase, according to PayPal.
eToro – Buy Cryptocurrency With Paypal UK
In summary, if you want to buy cryptocurrency with Paypal in the UK, very few options are available in the market. This is a surprise given that PayPal is used by millions of people around the globe. Fortunately, FCA-regulated broker eToro allows you to deposit funds with Paypal.
You can buy crypto by meeting with the minimum investment of just $25, with all trades being commission-free. You can buy cryptocurrencies online with PayPal at eToro in around 10 minutes by clicking the link below!
68% of retail investor accounts lose money when trading CFDs with this provider.
Frequently Asked Questions on Buying Crypto with PayPal
Can you buy crypto with PayPal?
How do I buy crypto with PayPal in the UK?
What crypto exchanges accept PayPal?