Owning an Ethereum wallet to store your ETH is important for your investment and you should ensure that you use the best Ethereum wallet UK to maximise your investment.
This article will walk you through all the procedures involved in getting the best wallet for Ethereum that is easy to open and secure to use.
Key points on the best Ethereum wallets
You can manage your Ethereum account, send, receive, transfer funds, and carry out other transactions with an Ethereum wallet.
Ethereum wallets have a private key or password to authorise transactions on the wallet.
Ethereum wallets usually have a 'seed phrase' which allows users to recover their wallets if the password is lost.
eToro is a trusted platform that offers a secure Ethereum wallet and digital storage for over 120 virtual assets.
Best Ethereum Wallets UK List
Here's a quick look at the best Ethereum wallets to store your ETH in
eToro – Overall Best Ethereum Wallet UK – Open Account
ByBit – Best Free Ethereum Wallet – Open Account
Coinbase – Best Ethereum Wallet for Beginners
Metamask – Best Ethereum Wallet Online
Binance – Best Ethereum Wallet for Asset Diversity
Dash – Best Ethereum Wallet for Instant Sending of Digital Assets
Exodus – Best Ethereum Wallet for Swapping Assets Directly
Neo – Top Ethereum Wallet for Top-Notch Security
Jaxx – Best Ethereum Wallet for Private Key Recovery
Mew – Best Ethereum Wallet for Safety and Decentralised Features
The Best Ethereum Wallets UK Reviewed
1. eToro Money Crypto Wallet – Overall Best Ethereum Wallet UK
The eToro Money crypto wallet is the best wallet for Ethereum funds. With all transactions done online, users can easily transfer crypto from the eToro trading platform, send, receive crypto to and from other wallets, and convert one crypto to another.
However, it is not currently possible to send cryptos from the wallet to the eToro trading platform. But you can directly send cryptocurrencies from your eToro trading account to store on the eToro money crypto wallet.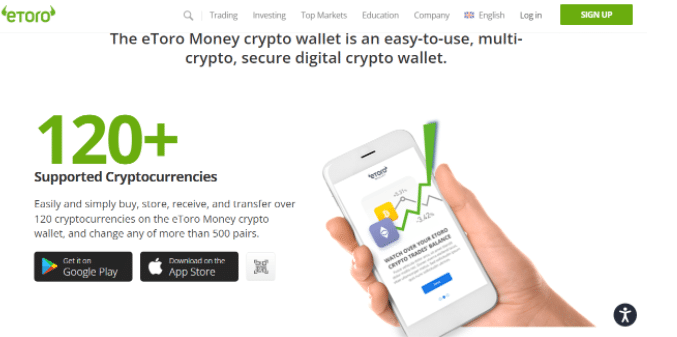 Meanwhile, the crypto asset you wish to transfer must be non-leveraged and not be traded as a CFD product. eToro charges a crypto–to–crypto conversion fee of 0.1%. For crypto transfers, the minimum withdrawal is 0.107588 ETH, charged at 0.5%.
eToro money crypto wallet is regulated by the Guernsey Financial Service Commission (GFSC) adding a much-needed layer of security to safeguarding your crypto funds. In terms of cryptocurrencies supported, eToro money crypto wallet is able to store over 120 digital assets.
In addition, The broker supports up to 500 crypto-crypto conversion pairs giving you more flexibility in your digital asset options. eToro crypto wallet also offers private key recovery services for when users lose access to their security key.
eToro money crypto wallet uses a multi-signature solution utilising smart contracts to facilitate transactions on the Ethereum network. You can easily download the eToro money crypto wallet on your Android or iOS device and login your regular eToro credentials to get started.
Pros
Regulated by the GFSC
Smart contracts enabled
Offers support for over 120 cryptocurrencies
Comes with password recovery service
Enables up to 500 crypto pairs
Cons
Not available in some locations
Cryptoassets are highly volatile and unregulated in the UK. No consumer protection. Tax on profits may apply.
2. Bybit – Best Free Ethereum Wallet
Bybit is a cryptocurrency exchange platform to create Ethereum wallet address. The Bitcoin exchange's user-friendly approach to digital assets trading has seen it attract over 2 million global users.
Based in Singapore, Bybit is available in over 20 countries with some countries like the US excluded from its services.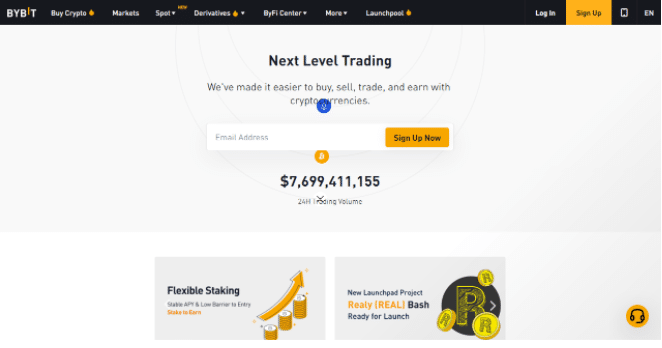 Bybit does not offer a standalone Ethereum wallet download however, users' funds are stored in a Deterministic Cold Wallet System, with only a small portion of these funds kept in hot wallets to cater for immediate withdrawals.
To further boost its wallet security process, Bybit uses a multi-signature cold wallet system and manually processes withdrawals three times daily to reduce the likelihood of a malicious attack. The platform charges 0.01 ETH for mining fees and supports crypto-to-crypto conversions.
Pros
Over 2 million users
Secure cold wallet
Hot wallet feature enables rapid withdrawal requests
Security-conscious
Cons
Cryptoassets are highly volatile unregulated investment products. No EU investor protection.
3. Coinbase – Best Ethereum Wallet For Beginners
US-based crypto exchange Coinbase has the best Ethereum hardware wallet for beginners.
Coinbase is a popular crypto exchange that provides services for over 56 million users worldwide. Coinbase wallet is one of the best Ethereum wallets in the crypto community.
The firm operates under very strict regulation and is a licensed service provider in the UK. Coinbase is registered by the Financial Crimes Enforcement Network (FinCEN) as a 'money services business'.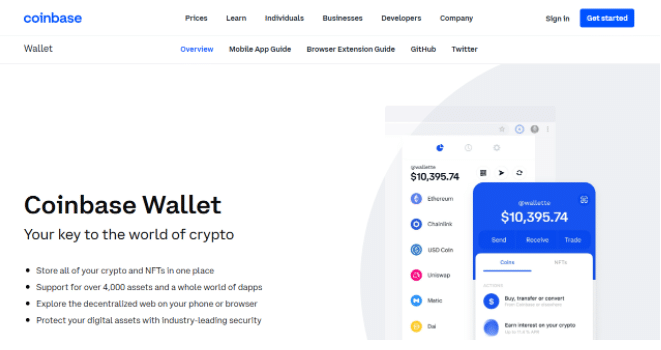 As a regulated service provider, Coinbase Ethereum hard wallet requires users to complete a know-your-customer (KYC) form by providing valid means of identification like a passport before they can begin to trade.
In terms of details, the Coinbase wallet supports over 4,000 crypto assets as well as non-fungible tokens (NFTs). You can also directly explore decentralised applications (dApps) from your Coinbase wallet.
The self-custody crypto wallet allows you to retain full custody of your digital funds while also allowing you to tap into DeFi protocols to borrow or lend your crypto assets.
Pros
One of the most popular cryptocurrency exchanges
Secure
More than 56 million users
Self-custody wallet
Cons
Debit card deposits are expensive at 3.99%
You will pay a standard trading commission of 1.49%
4. MetaMask – Popular Ethereum Wallet App
MetaMask is a non-custodial Ethereum wallet that offers one of the best Ethereum wallet apps on the crypto market.
Metamask operates as a browser extension (supports Google Chrome, Firefox, and Brave) and as a mobile app. Users on MetaMask get a key vault, a secure login, a token wallet, and token exchange on one platform. The platform enables users to buy, store, send and swap digital assets.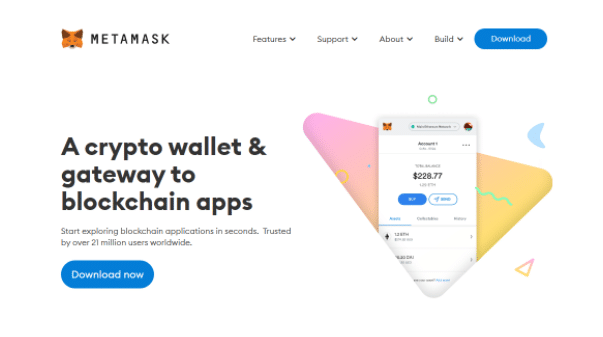 Users of MetaMask Ethereum wallet can store almost all Ethereum-based assets, including ERC-20 and ERC-721. Tokens not listed on MetMask can easily be added by importing the contract address, token decimals, and the token ticker symbol.
MetaMask gives access to any Ethereum-based application and any decentralised finance (DeFi) applications. One of the advantages of Metamask's browser extension is that it does not enter your private key on the website.
It can also identify phishing attempts and block them, thereby protecting your portfolio from attacks. These are some features that have seen Metamask rise to one of the best Ethereum wallets online.
MetaMask generates passwords and keys on your device, giving you exclusive access to your accounts. The platform charges a service fee between 0.3% to 0.875%.
The Metamask Ethereum wallet is open-source, meaning that developers and community members can review the code to verify the wallet's security and earn rewards for finding bugs and other loopholes.
Pros
Very secure
Can detect malicious websites and phishing attempts
Supports almost all Ethereum-based tokens
Cons
Supports only Trezor and Ledger wallets
No hardware wallet
Set-up process is a bit complicated
Cryptoassets are highly volatile and unregulated in the UK. No consumer protection. Tax on profits may apply.
5. Binance – Best Ethereum Wallet for Asset Diversity
Binance is a high-ranking cryptocurrency exchange that serves over 100 million people globally, making Binance wallet one of the safest Ethereum wallets.
Binance is known for offering the best Ethereum wallet in the UK for diverse classes of assets. Many other cryptocurrencies are available on Binance, with many trading pairs that users can select.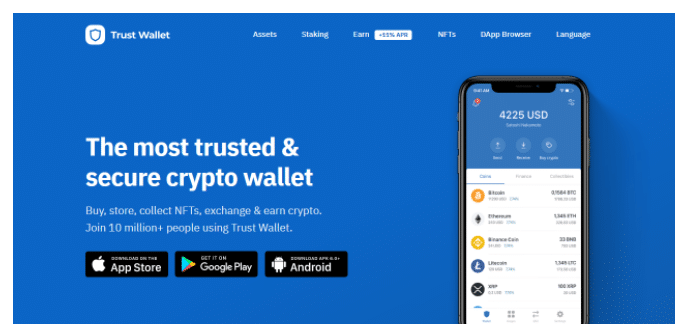 The firm allows users to trade cryptocurrencies under different categories like proof-of-work (PoW), proof-of-stake (PoS), decentralised finance (DeFi), non-fungible token (NFT), Binance smart chain (BSC), and many others.
Like Ethereum, Binance also features a standalone wallet offering called Trust Wallet. Trust Wallet works similarly to MetaMask, and users can easily send, receive, and swap all kinds of assets. Users can also input details on the digital assets they want if Trust Wallet does not generically support them.
Trust Wallet comes with support for digital collectibles popularly known as NFTs, and users can easily connect to NFT marketplace OpenSea to buy and sell their unique tokens. Trust Wallet also offers an expansive ecosystem for dApps and decentralised exchanges (DEXes).
Pros
Supports hundreds of digital asset pairs
Trading commission starts at just 0.1%
Send, receive, and swap tokens easily
Perfect for both beginners and experienced users
Multi-signature account for withdrawals
Self-custody wallet
All encompassing wallet experience
Cons
Fees can often be steep and vary according to asset type
Best Ethereum Wallets Comparison
They say a picture is worth a thousand words. We believe a table has the same capability. Given this, we place all our top picks for the best Ethereum wallets side-by-side to highlight their key offerings and strengths.
| | | | |
| --- | --- | --- | --- |
| Wallet Provider | Fees for sending ETH | No of supported cryptos | Regulations |
| eToro | 0.5% | 120 | Guernsey Financial Service Commission (GFSC) |
| Bybit | 0.1% | 23 | Not regulated |
| Coinbase | Free transfer between Coinbase wallets  | 4000+ | FCA |
| MetaMask | 0.875% | ETH and ETH-based tokens (including ERC20 and ERC721)  | Not regulated |
| Binance | Varies | 150+ | Not regulated |
How do Ethereum Wallets Work?
The best Ethereum wallet check in the UK works by enabling users to store their digital assets safely. There are different Ethereum mist wallets of varying sizes and shapes, and many of them have features that differ.
While some will only allow you to interact with only Ethereum-based tokens, others allow the transfer of all different asset types.
Some Ethereum wallets are available as mobile phone apps, hardware devices, or software wallets. All these wallets work similarly and store records of your Ethereum assets on the blockchain network.
Types of Ethereum Wallets
As we mentioned earlier, there are different types of Ethereum wallets. In this section, we go into more details.
1. Software Wallets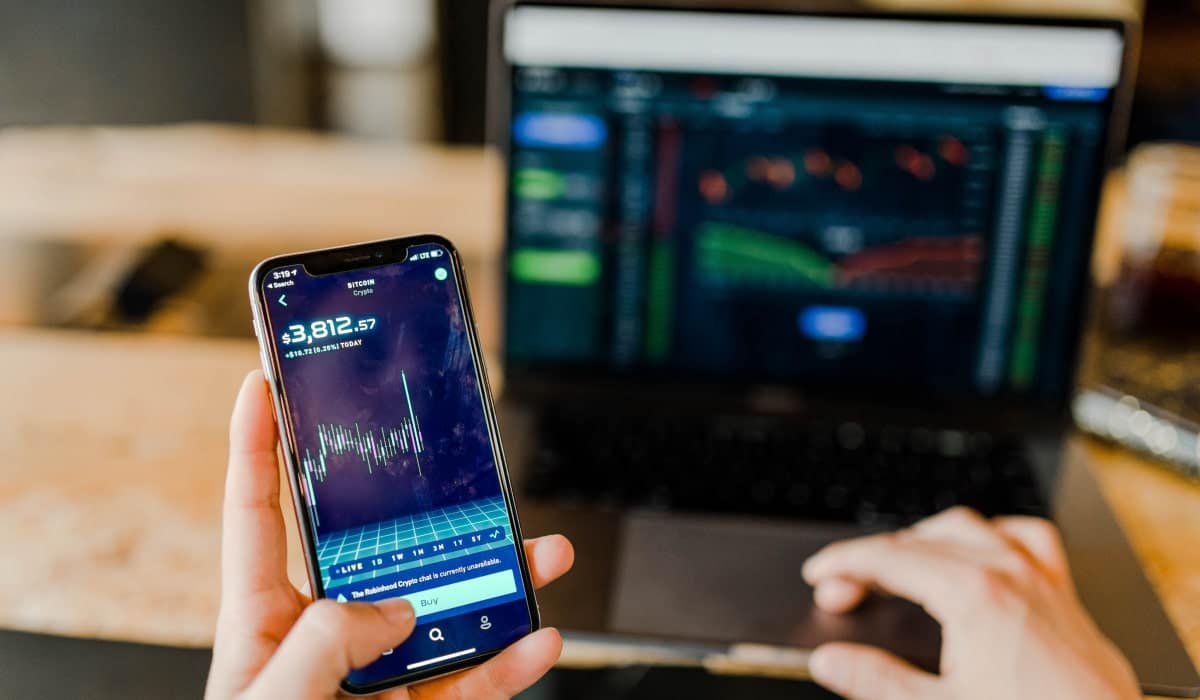 Software wallets use computer applications to store your digital assets safely on the internet. You have to log in to gain access to your portfolio. Most crypto exchange wallet offerings are software wallets, as they require access to the internet before you can view your ETH holdings.
The crucial benefit of using a software wallet is that you don't have to worry about losing your private key and access to your account since the wallet safely takes care of this. Another is that you can make and execute transfers anywhere and anytime there is internet accessibility.
However, this wallet option might be vulnerable to attacks, as hackers can send phishing emails or click-baits through which they can gain access to your wallet.
The best way to combat this issue is to use a digital wallet with a proven track record in securing funds like eToro money crypto wallet. The crypto broker has never fallen victim to a malicious attack and has over 23 million users.
2. Mobile vs Desktop Wallets
Mobile wallets have the advantage of speed and convenience because they can be accessed at any time. On the other hand, desktop wallets are not accessible anytime since they can only be logged into when a user is at home and has access to their desktop computer.
Users of desktop wallets might miss out on profitable trades when away from their desktops, while users of mobile wallets can check their portfolio time and receive real-time price alerts.
Although desktop wallets might be considered safer because users might restrict access to their desktop, mobile wallets users can also restrict unauthorised access to their mobile apps through third-party privacy applications.
3. Hardware Wallets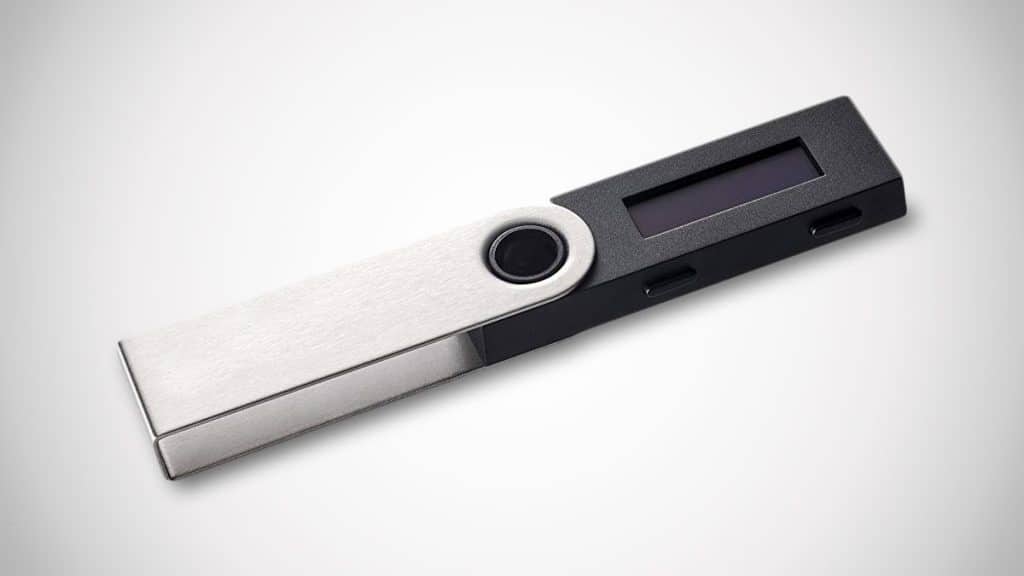 A hardware Ethereum wallet is a physical device like a Universal Serial Bus (USB) memory stick that can be plugged into your computer's USB port.
The hardware Ethereum wallet is used to store your private key to authorise transactions securely.
Hardware wallets are regarded as one of the best and safest Ethereum wallets in the UK because they store your private keys offline Ethereum wallet and away from prying eyes.
They are a type of cold storage and are considered secure because your digital assets are kept offline and less vulnerable to hackers.
However, misplacing your hardware wallet can see you lose access to your ETH funds forever. We recommend keeping your cold wallet in a highly secure place.
4. Paper Wallets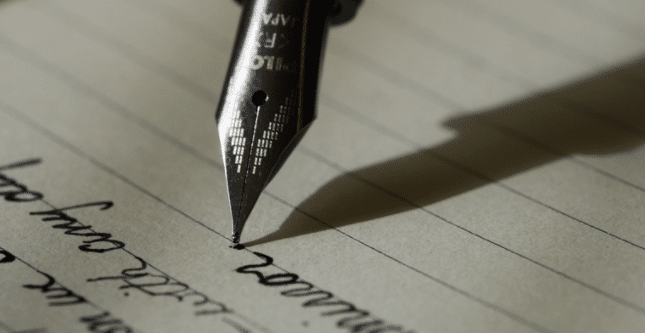 Paper wallet is another type of cold wallet. Here, your private keys are printed on a piece of paper and stored.
The major challenge with this wallet type is that anyone that gains access to the private key on the paper can authorise transactions on the wallet account.
The ease of accessibility is the major advantage of this type of wallet, but it is also prone to attacks, especially if the user is careless with the private keys.
How to Choose the Right Ethereum Wallet for You
Making a choice on the best Ethereum wallet for you can be tedious, given the large amount of Ethereum wallet download offerings currently in the crypto space.
To help you sieve through the options, we highlight some crucial factors you should keep in mind when selecting the right Ethereum wallet to use in storing your crypto funds.
1. Reputation
The reputation of the best Ethereum wallets in the UK is a necessary factor that you must consider. Some wallet providers are well-known to be susceptible to attacks by hackers, while others have a reputation for being well-secured and trusted. eToro money crypto wallet belongs to the latter group. The eToro wallet employs industry-leading security measures to safeguard your crypto assets.
2. Regulation
Storing your funds with a wallet provider that is not regulated by an authorised body can be dangerous. Regulatory agencies play an oversight function, ensuring that crypto exchanges and wallet providers safeguard investors' funds.
eToro is a trusted crypto broker that is regulated by the UK's Financial Conduct Authority (FCA), Cyprus Securities and Exchange Commission (CySEC), Australian Securities and Exchange Commission (ASIC) and Financial Industry Authority (FINRA).
Your digital assets remain safe with Distributed Denial of Service (DDos) protection, standardisation protocols, and multi-signature facilities. Moreover, if you lose your personal key or password, you can recover your account using the private key service.
3. Security
Security is very important when searching for the best Ethereum wallets in the UK. Everyone wants to secure their investment portfolio, so you must carefully choose only Ethereum wallets that have top security measures in place.
The eToro crypto money wallet is a very secure Ethereum wallet and comes with two-factor authentication (2FA) and mobile number verification of all transactions. This ensures that you are the only one who validates transactions in your wallet.
4. Mobile Experience
The ease of carrying out transactions on your Ethereum wallet should be of concern to you. Choose only Ethereum wallets with a great user interface and support in case of any difficulty.
5. Governance
The best Ethereum wallets allow community members to vote on how issues are resolved.
Developers alone may not identify all the bugs and loopholes present on their platforms. This is why the best Ethereum wallet service providers allow the participation of community members to make contributions that will further enhance the reputation and security of the platform.
6. Compatibility
The best Ethereum wallets are usually well-suited to diverse kinds of operating systems like Linux, Windows, Android, iOS, etc. This ensures more accessibility to the billions of users globally.
How to Get an Ethereum Wallet UK – eToro Tutorial
eToro is our number one pick for the best Ethereum wallet UK due to the top-notch security and the strong reputation the crypto broker enjoys. Given this, we will itemise steps on how you can get started and store your ETH funds easily on the platform.
Step 1. Open an account with eToro
The first step is to register for a free account, and you can easily do this by heading to the eToro homepage and clicking on the 'Join Now' button. Input your full name, email address, mobile phone number, and select a username and a strong password. You can also fast-track this process by signing up with your Google or Facebook account.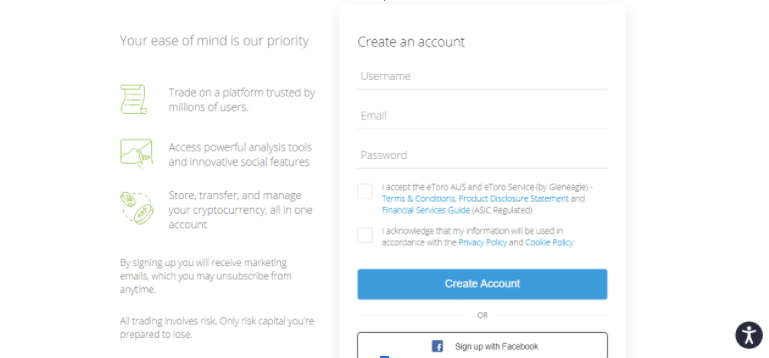 Step 2. Verify account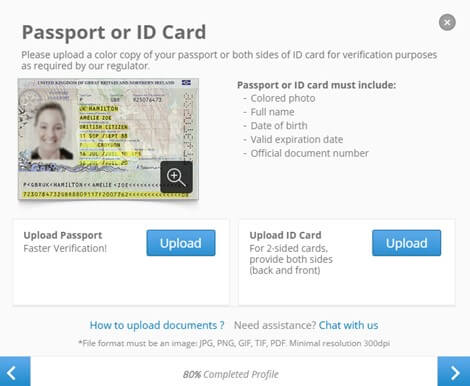 Like most trusted crypto brokers, eToro will require you to complete a compulsory KYC process largely for regulatory compliance. The process in itself is easy, and all you need to do is upload a snapshot of your driver's licence or government-issued ID card.
You will also need to upload a recent copy of your utility bill or bank statement of account for proof of address. Once these documents are submitted, your eToro account will be verified and unlocked for full trading.
Step 3. Deposit
Depositing on eToro is also easy, and you can do this through the everyday payment solutions the eToro platform offers. You can make a minimum deposit of $50 (about 37 GBP) through a bank wire transfer, credit/debit card, PayPal, Skrill, Neteller, and several others while paying zero fees for deposits.
To do this, tap on the Action tab and click on 'Deposit Funds' to open the deposit page. Toggle the payment option and select your preferred payment method. Input the amount you want to deposit and follow the on-screen prompts.
Step 4. Buy Ethereum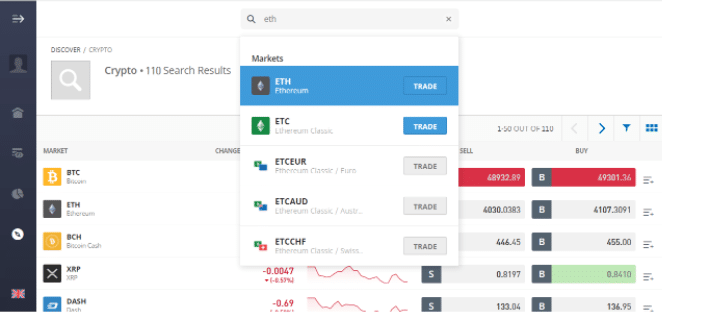 After depositing on eToro, you can buy Ethereum. Just type 'ETH' into the search bar and click on 'Trade' to be taken to the Ethereum dashboard. Here, you will insert how much ETH you want to buy with fiat and click on 'Open Trade' to complete the purchase process.
Step 5. Transfer Ethereum
After making your ETH purchase, you can transfer your funds to the eToro money crypto wallet. All you need to do is tap the action tab and click on 'Portfolio.' You will be redirected to your portfolio holdings, where you can select the crypto you want to transfer. In this case, ETH.
Click on 'ETH' and tap the 'Edit Screen' button. Then click on 'Transfer to Wallet' to initiate the transfer request. When you have reviewed the transaction and are satisfied, click on 'Transfer' to complete the migration of your funds.
Conclusion
There are various options from which you can choose the best Ehereum wallet in the UK. However, we recommend that you do your due diligence before choosing any.
The best Ethereum wallet has to be secure, regulated, and with a good reputation. eToro money crypto wallet is our recommended best Ethereum wallet because it is regulated, and your funds will be in safe hands.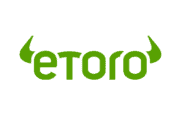 Cryptoassets are highly volatile and unregulated in the UK. No consumer protection. Tax on profits may apply.
Frequently Asked Questions on Ethereum Wallet UK
Which Wallet Is Best for Ethereum?
What Is an Ethereum Wallet?
Do I Need a Wallet for Ethereum?
What Is the Best Ethereum Wallet?
What Ethereum Wallet Should I Use?
Are Ethereum Wallets Free?
How Do I Protect My Ethereum Wallet?
Does It Cost Money to Create an Ethereum Wallet?