How to Buy Celo Crypto in UK
Fact Checked
Everything you read on our site is provided by expert writers who have many years of experience in the financial markets and have written for other top financial publications. Every piece of information here is fact-checked.
Disclosure
Please note that we are not authorised to provide any investment advice. The information on this page should be construed for information purposes only. We may earn commissions from the products mentioned on this site.
If you're interested in learning how to buy Celo coin, then you're in the right place. Interest in the coin has massively increased in recent months and is now one of the top 40 most popular coins on Coinbase. 
This is pretty good considering it only launched in May 2020 after raising $40 million to fund its blockchain platform Celo's cLabs. With a market cap of now over $1 billion, it's a very interesting time to learn how to buy Celo coin. 
In this guide, we go through why Celo coin is increasing in popularity, its future price prediction and where and how to buy Celo in UK with the lowest fees around. 
Other crypto guides:
---
Key Points on Celo
Celo is a mobile-first platform that makes crypto payments and financial dApps accessible to anyone with a smartphone.  

Celo is in the top 40 most popular coins on Coinbase with a market cap that has grown to more than $1.4 billion in just a few years. 

The coin's founders come from Stanford, MIT, Google, Bank of America, the World Bank and other well-known financial and technology institutions. 
---
Where to Buy Celo in the UK
To purchase cryptocurrencies safely it is important to use the best cryptocurrency exchanges around that provide a high level of safety and security, as well as a top-notch trading platform and best crypto app. 
Furthermore, you want to make sure it is easy to deposit and withdraw funds, as well as store and transfer your crypto coins. Below is the review of a top cryptocurrency broker to consider when buying Celo coin. 
Coinbase – Popular Crypto Exchange to Buy Celo Coin
The top option on 'where to buy Celo' is to look at a Coinbase review. This is one of the world's most recognised cryptocurrency exchanges as it is a public company that trades on the New York Stock Exchange. As such, the exchange provides a high level of safety and security for its more than 73 million users. 
UK users are also offered further protections from the exchange. If your account is hacked and your crypto is stolen, the UK account has a reimbursement value of up to £150,000. This is very unique and a great feature for crypto users.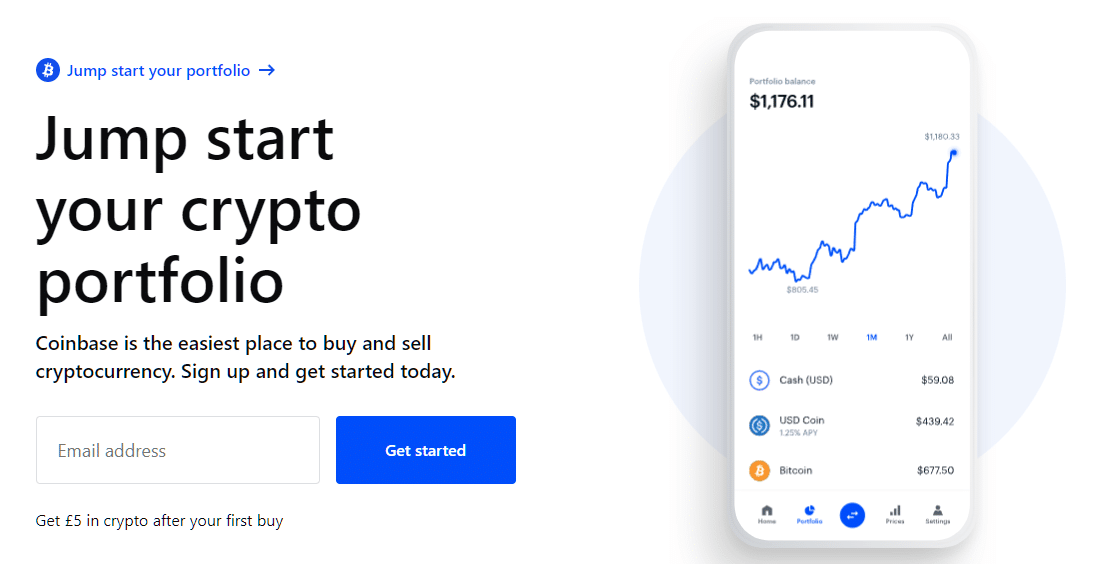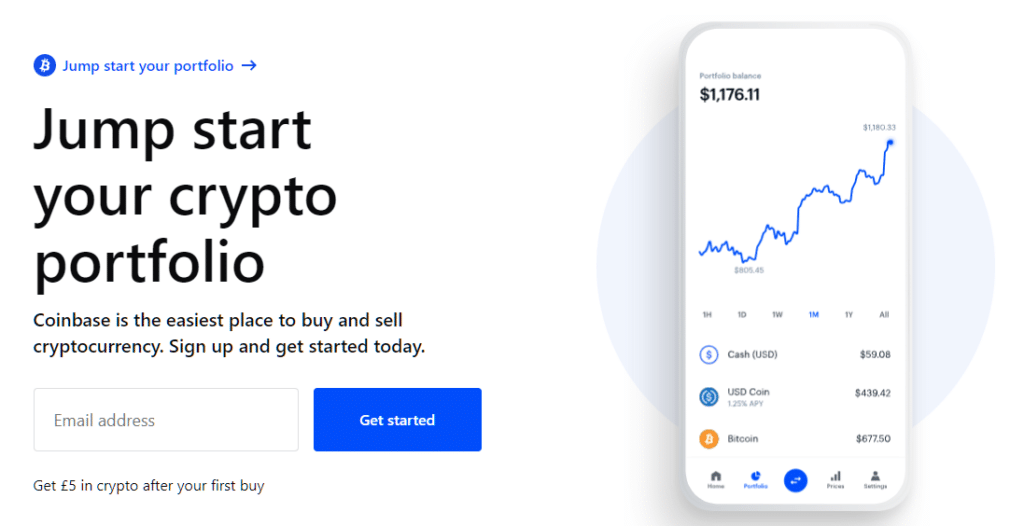 The Coinbase platform has great functionality and it is very easy to buy, sell and convert cryptocurrencies. Currently, the nearly 100 cryptocurrencies for users to trade on with the list growing exponentially. This includes all the well known coins, such as Bitcoin (BTC) and Ethereum (ETH), as well as many other alt coins that are up and coming. 
Coinbase's trading fees for digital assets are higher than some others but the platform also comes with a much a higher level of safety and security. The trading fees include the spread and a Coinbase commission, with a $2 minimum to buy or sell.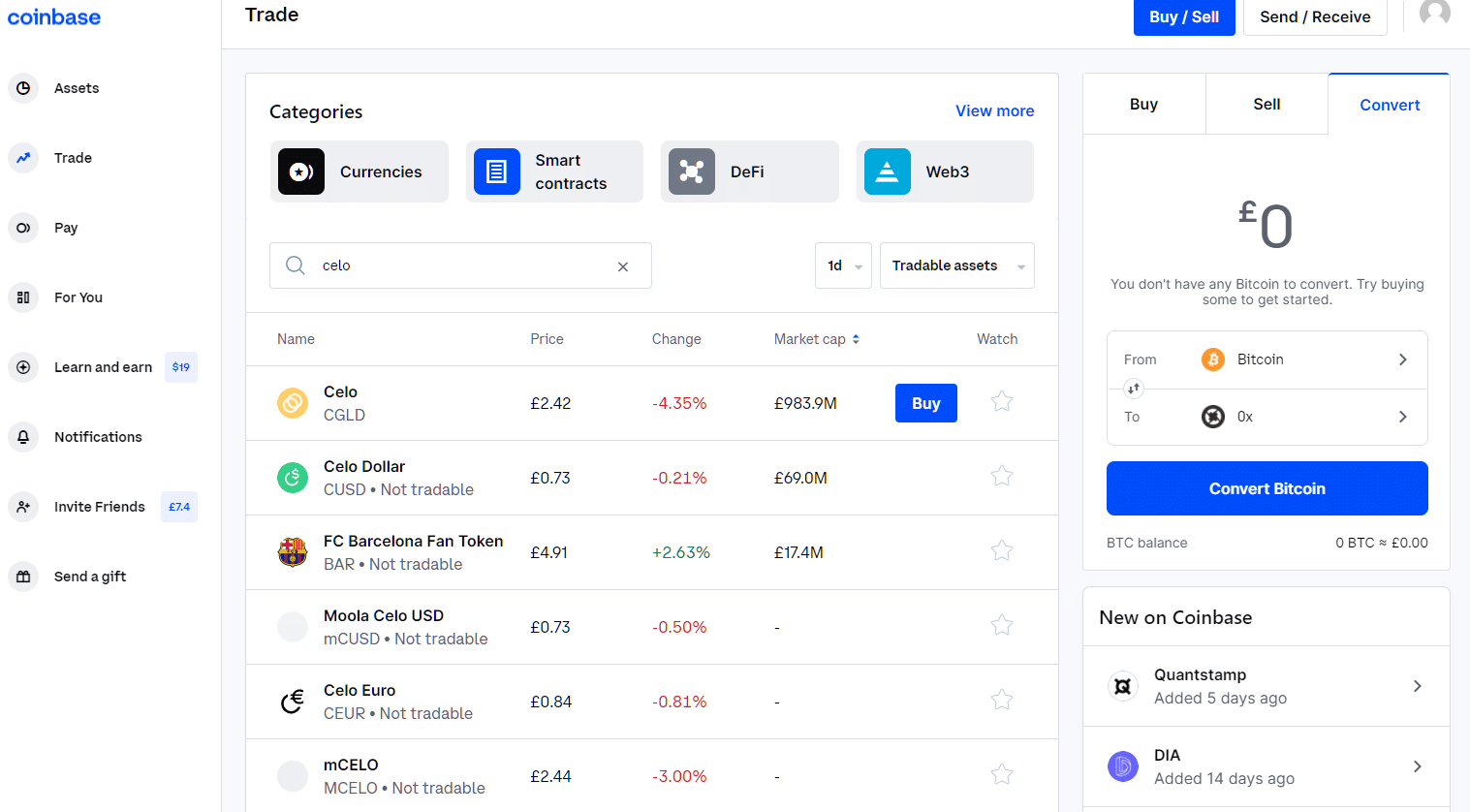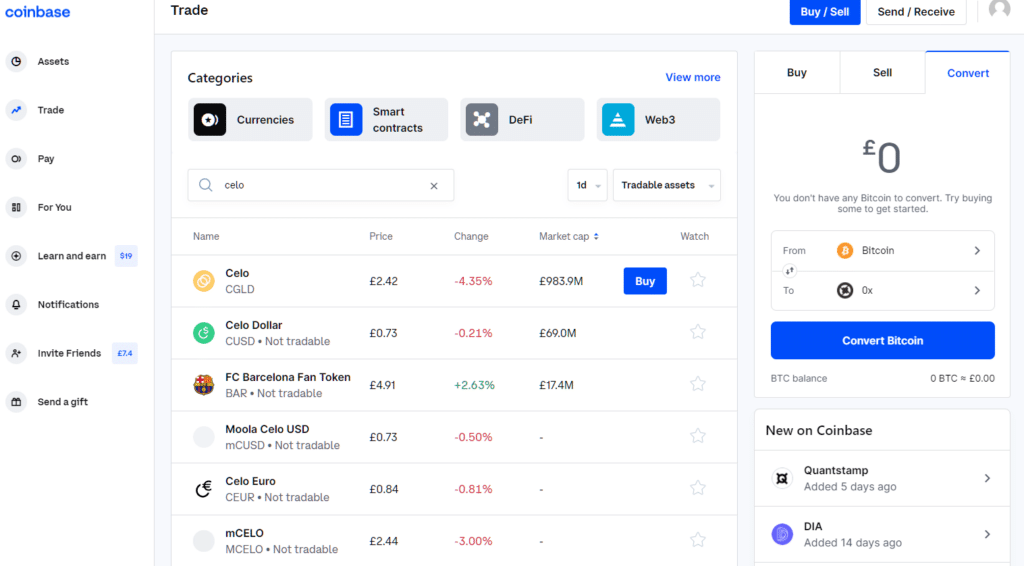 Deposit fees by debit card are also quite high at 3.99%. There are a few different options though such as debit card, bank transfer and other e-wallets. You can buy crypto with PayPal here too. It's also good to know that UK bank transfers are fee-free. There is also a 2% debit card withdrawal fee to consider. 
Coinbase also provides a good range of educational materials for beginners to learn about cryptocurrencies, how to invest in blockchain and how to use the best cryptocurrency staking platforms in more detail.  
Pros
Publicly traded company listed on NYSE

Simple to use web and mobile platform

Excellent security and safety features

Lots of educational materials

Good selection of major coins and altcoins
Cons
Trading fees are higher than industry average
Cryptoassets are a highly volatile unregulated investment product. No UK or EU investor protection.
What is Celo?
Celo is a blockchain platform that aims to make crypto payments and the use of financial dApps accessible to anyone with a smartphone. As there are more people in the world who own a smartphone than a cryptocurrency, the opportunities for Celo are huge. 
So how does the Celo blockchain work? Essentially, Celo will use your phone number as the key to your public wallet. This makes it easy to send money to anyone on your contacts list. Most users are still using centralised applications like Venmo to make payments, whereas Celo offers a decentralised way to make payments easily. 
The Celo network uses the CELO native token for gas power fees and governing protocol votes. The platform also operates Celo Dollars (cUSD) which is a stablecoin that mirrors the value of the US dollar. Celo's proof of stake network is the world's first carbon-neutral blockchain and is just one reason it has gained in popularity. 
Should I Buy Celo Coin?
There are a variety of reasons why you should consider buying Celo coin. Let's have a look at a few of these.
The Mobile-First DeFi Platform Can Reach Billions of Users
For most people around the world, using cryptocurrency and decentralised finance (DeFi) applications is still quite challenging. For the people who can access these products, they are likely to still use a centralised platform to do so which takes away the control and power of the user. 
The Celo platform is a unique solution in making crypto payments and the use of decentralised finance applications much easier. This is because the key to your public wallet is based on your mobile phone number. As there are more people with mobile phones than ever before, it means there is a huge audience that can use Celo. Learning how to invest in Celo is like learning how to invest in DeFi.
Celo is the First-Ever Carbon-Neutral Blockchain System
Cryptocurrencies have come under fire in recent years due to the amount of energy that is needed to mine coins. This was one of the reasons Elon Musk backtracked Tesla accepting Bitcoin. The world is now more focused on sustainability and the environmental impact. 
Celo is the world's first carbon negative blockchain system. Celo's proof of stake (POS) network only requires a fraction of the energy used in proof of work (POW) algorithms that are used by Bitcoin and Ethereum. So far, Celo has managed to offset 2,285 tons of carbon through Project Wren. 
New Projects Using Celo is a Huge Sign of Confidence
Last year was a busy period for the Celo platform. Kickstarter announced plans that they are working with Celo to build a decentralized protocol for crowdfunding. Celo also launched a stablecoin that is tied to the Brazilian Real under cREAL with several crypto exchanges already starting to accept it but not on major ones such as Binance just yet. 
These types of projects provide a good sign of confidence in the adoption of Celo and could help the coin to grow in value over time.   
Celo's Founders are Experts in the Field of Finance & Technology
Celo was founded by a team of experts that have worked in some of the world's top institutions for finance and technology. This means there is a lot of talent and know-how behind the Celo platform and how it can be applied around the world. 
Celo's team have come from Stanford, MIT, Google (Alphabet), Visa, Bank of America, Federal Reserve, World Bank, the US Department of Justice and the Gates Foundation, among others. 
Celo Crypto Price
In 2021, the Celo price surged more than 800% higher between January and August. The price of the coin against the US dollar (USD) rose from 1.22 to 11.11 in a matter of months. However, since then the price of the coin has fallen in line with the rest of the cryptocurrency market. 
The price of Celo coin currently sits around 3.29. The drop in the value of Celo coin came amid an exodus in the general cryptocurrency sector. Even the larger coins such as Bitcoin and Ethereum experienced declines during this period. 
From a technical analysis perspective, Celo coin is currently testing a long-term trend line from the lows of January 2021 and July 2021. Historically, the price of the coin has turned higher from these levels and this will be a good test if buyers are willing to turn up again. 
The 14-day relative strength index (RSI) is also showing signs of recent strength as it has been moving higher. But, it still currently sits at the 43 level on the index. If the relative strength index can move above 50, it could be a sign of more strength building in the price action. 
Celo Crypto Price Prediction
Given the recent decline in cryptocurrency, many coins have now come to some very attractive long-term price levels. However, it's now more important than ever for investors to focus on crytpos that have real world adoption and are scalable. Celo is a coin that fits the bill. 
The long term price forecasts for Celo are still bullish with analysts citing the carbon negative effect as being very attractive to long term environmental, social and governance (ESG) investors. The most recent price action shows that Celo coin has already struggled to go below the 3.00 price level. 
In the short-term, the price has already broken through key technical resistance at the horizontal line around 3.25. If the price can stay above here then there could be a quick run to the next level major resistance level around 5.00 which would represent a more than 50% move higher.
From a longer-term perspective, analysts are forecasting for Celo coin to return to its record high around 11.11 by the end of 2022. While the sentiment is weak overall in the crypto sector it presents a good opportunity to invest in undervalued cryptos for the long-term. 
To mitigate any risks of further downside, investors may consider scaling into the move through buying a small number of coins first and then building the position as the market moves higher or lower. This type of dollar cost averaging strategy is used by many institutional traders to build long term investment positions. 
Conclusion – Buy Celo UK
Celo coin has risen in popularity over the years due to its carbon negative blockchain ecosystem and ability to reach billions of users with a smart phone. Recent projects with crowdfunding companies show that Celo is providing real world application.
With Celo trading at very attractive price levels, many investors have been searching where to buy Celo. From our research, investors can buy this cryptocurrency with the Coinbase exchange. 
Frequently Asked Questions on Celo
What is Celo crypto used for?
How can I buy Celo crypto?
Is Celo a good investment?
Does Coinbase support Celo?