How to Invest in Polygon UK 2023 – With Low Fees
Fact Checked
Everything you read on our site is provided by expert writers who have many years of experience in the financial markets and have written for other top financial publications. Every piece of information here is fact-checked.
Disclosure
Please note that we are not authorised to provide any investment advice. The information on this page should be construed for information purposes only. We may earn commissions from the products mentioned on this site.
Want to invest in Polygon (MATIC)? The Polygon crypto price has shown a staggering growth of 20,000% this year and is on the rise again after hitting an all-time-high in May. Crypto-hungry investors have been enthusiastic about Polygon's business model of providing a home for Ethereum-based blockchains that outperforms Ethereum on fees.
Below we examine the ins and outs of investing in Polygon. We show you how you can lay your hands on Polygon (MATIC) right now with a minimum investment of just $25 by using a reputable broker such as eToro.
Key points on Investing in Polygon
Polygon is a level 2 interoperability framework that allows Ethereum-based blockchains to work together.
The Polygon coin (MATIC) price rose from just $0.017 on 01/01/2021 to an ATH of $2.43 on 18/05/2021 (figures from Coinmarketcap.com).
Polygon crypto's rise in value is grounded in Polygon's utility as an answer to Ethereum's scalability challenges.
Did you know that you can buy Polygon with a minimum amount of $25 on eToro?
How to Invest in Polygon – Quick Steps
Step 1: Open an account with eToro – You can get going fast with eToro. Provide proof of address and ID, and get verified.
Step 2: Deposit – You can deposit up to 15 fiat currencies with eToro using a range of payment methods including credit/debit card, bank transfer, Neteller and Skrill. There is no deposit fee to worry about.
Step 3: Search for Polygon (MATIC) – Enter 'Polygon' or 'Matic' in the search bar to access Polygon's homepage onsite.
Step 4: Invest – Buying Polygon crypto takes seconds. Simply press the blue 'Trade' button at the top of the Polygon homepage in eToro to access the buying screen. To invest in MATIC, enter the funds you want to allocate and press 'Buy'.
Don't invest in crypto assets unless you're prepared to lose all the money you invest.
What is Polygon (MATIC)?
Like Cosmos and Polkadot, Polygon is an 'interoperability' framework. It is a platform where Ethereum-compatible blockchains can talk to each other.
Polygon has been taking business from Ethereum since Polygon's launch in February 2021. But Polygon is actually based on the Ethereum blockchain and calls itself 'Ethereum's Internet of Blockchains.' Whilst being based on Ethereum, Polygon aims to outdo Ethereum for 'gas' fees and scalability.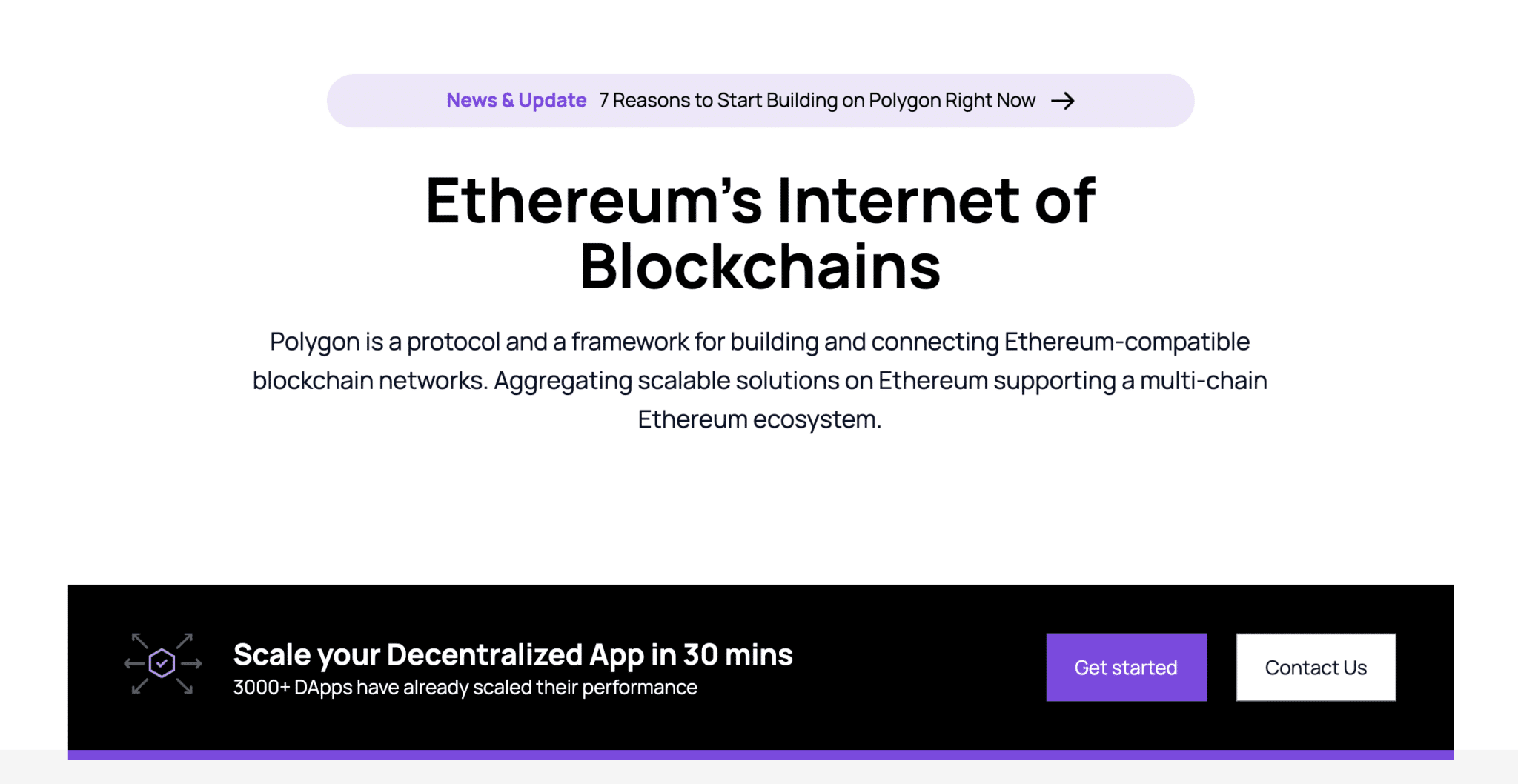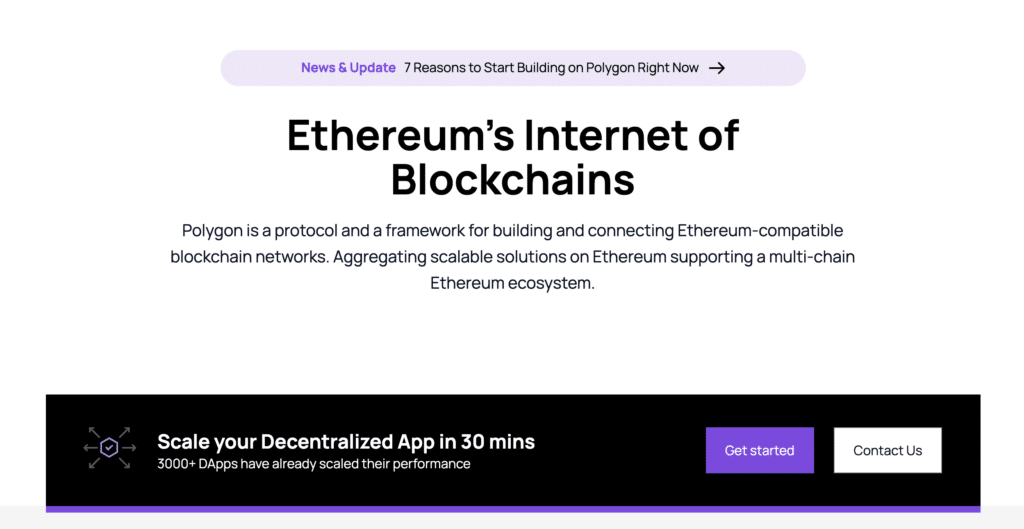 MATIC is the Polygon crypto coin used for fees, staking and governance. Prior to an expansion of product focus and rebrand in February 2021, Polygon was called Matic.
Polygon's predecessor Matic aimed to tackle the scaling problems of the Ethereum blockchain. When there is too much activity, Ethereum transaction fees rocket. The price of Ethereum (ETH) crypto hit an all-time-high on November 10th this year of $4,878. But transaction fees for businesses using the blockchain also hit an all-time-high of almost $70 in May 2021.
Polygon is one of many companies aiming to exploit Ethereum's popularity, whilst solving its scalability issue with off-chain transaction processing. Matic uses Plasma technology to process Ethereum transactions off the main Ethereum blockchain and then return them for finalisation. As a scaling solution, Matic remains a feature of the more ambitious Polygon which is a platform in its own right.
Four layers are provided as the Polygon architecture. Two of these layers – the Ethereum layer and security layer – developers do not have to use. The mandatory layers are the Polygon networks layer (which is the Polygon ecosystem) and the execution layer, which is Polygon's implementation of the Ethereum Virtual Machine.
Polygon's main chain is the Matic POS Chain. This provides Proof-Of-Stake (POS) security to all chains launched on Polygon. Scaling solutions off-chain are provided by the Plasma 'bridges' that were formerly the extent of the Matic system, and being introduced right now are ZK-rollups, a form of Zero Knowledge authentication which bundle ups transactions off-chain for bulk authentication.
Why Invest in Polygon?
Aside from sophisticated arbitrage strategies favoured by institutional investors, there are two mainstream reasons to invest in Polygon: to get involved in crypto staking or to speculate on the Polygon crypto price.
Polygon coin staking
You can stake Polygon coin (MATIC) for an average annualised adjusted return of 9.5% (figures from independent staking hub stakingrewards.com). Crypto staking is a popular way of earning rewards from your owned crypto. Crypto staking works to the same principle of banks rewarding cash investors with financial interest. The staking process involves becoming a 'delegator' and lending your crypto to a 'validator' within a specific crypto ecosystem. After a given period, you will have your crypto returned, plus interest. Global broker eToro allows you to stake Ethereum, Cardano, and Tron. Currently, you can stake Polygon coin via the Polygon wallet, or by using a staking hub.
Polygon – no flash in the pan
You may not want to get involved in staking Polygon. You may rather want to invest in Polygon coin (MATIC) in the expectation that the Polygon crypto price will rise and you can then make a profit. In this case, it is important to understand that analysis of crypto prices is different from analysis of conventional share prices. That's because much of each coin is owned by 'whales' – large-scale investors – whose private strategies and even whims can influence the coin price unpredictably.
A sound analysis of price cannot, unfortunately, account for the whales. But we can review what benefits are offered by the underlying Polygon system. The Polygon crypto price is too affected by hype like all other crypto, but its large market capitalisation of $13.8bn is anchored in the utility it offers to DeFi developers and users. So what key advantage does Polygon offer other developers?
Polygon offers Ethereum-based transactions without high Ethereum fees
This year saw Energa Group, a Malaysian commodities firm with $28bn in net asset value, move its equity-tied security tokens from Ethereum to Polygon. Thanks to Polygon being based on Ethereum, owners of Energa Group's EGX tokens have not faced any disruption as a result of the migration and can now trade their tokens on Polygon minus Ethereum's high gas fees. The tokens remain recognised as being part of the ERC3643 standard.
The process of tying equity to tokens is considered by industry experts to be the Next Big Thing for DeFi. And Polygon, chosen in this instance by tokenisation experts Tokeny Solutions to host transferred equity token EGX, offers a natural new home for equity-tied tokens.
Polygon continues to attract Ethereum-based business
Unlike crypto like Solano, Cardano, NEO and EOS, Polygon has not set itself up as a rival to Ethereum – but rather as an adjunct to it. This makes Polygon attractive to developers accustomed to building apps in Ethereum with the programming language Solidity.
Polygon's platform, boasting Total Value Locked (TVL) of $8.4bn (Coinmarketcap.com), has already attracted some highly-reputable DeFi enterprises:
Other significant outfits on Polygon include stablecoin decentralised exchange Curve, trading platform Balancer and decentralised exchange hub Matcha. Polygon has agreements too with ZED RUN, Neon District, Atari, Decentraland, OpenSea and Sandbox.
Venture Capitalists VYSYN Ventures launched a $30m investment fund in September 2021 focussing on blockchain gaming projects that use Polygon. VYSYSN was an early investor in hit game Ultra (now worth over $600m) and has a significant stake in Axie Infinity coin AXS. Nakamoto Games' much-hyped new metaverse and gaming platform called the 'Nakaverse' uses Polygon, as will DraftKings Marketplace.
Polygon – Ethereum Killer or Ethereum Reviver?
Industry analysts talk of blockchains like Cardano (ADA), Solano (SOL) and Polkadot (DOT) being potential 'Ethereum Killers'. That means they are systems which could challenge Ethereum's dominance as the number one blockchain.
Polygon is not so much an Ethereum Killer as an Ethereum Reviver. Because it is based on Ethereum, Polygon benefits from the global uptake of Ethereum as the defining blockchain of much DeFi development as well as by offering much lower fees than the congested Ethereum system.
Polygon boasts excellent price predictions grounded in an upswell of business interest this year, and is definitely a crypto purchase worth considering. But, as with all crypto, the future of Polygon is uncertain. Any one of the alternative blockchains to Ethereum could rise to prominence and lower the price of Ethereum (ETH) and associated crypto like Polygon (MATIC). That is just the way the markets go; if there were no uncertainty, there could be no profit.
A sensible investment strategy would be to spread your investments across all rival blockchain crypto – as well as being sure to balance your total crypto investment with investments in less volatile assets like stocks and low-risk ETFs.
Polygon Crypto Price
Price history to date
The Polygon crypto price has followed the trend of the wider crypto sector. The price peaked in May, fell sharply, peaked again then gradually fell off to start building steadily again until the present time.
In the image below you can see how the price of Polygon has outperformed the price of Bitcoin since Mid-August 2021. (Polygon: green line, Bitcoin, yellow line).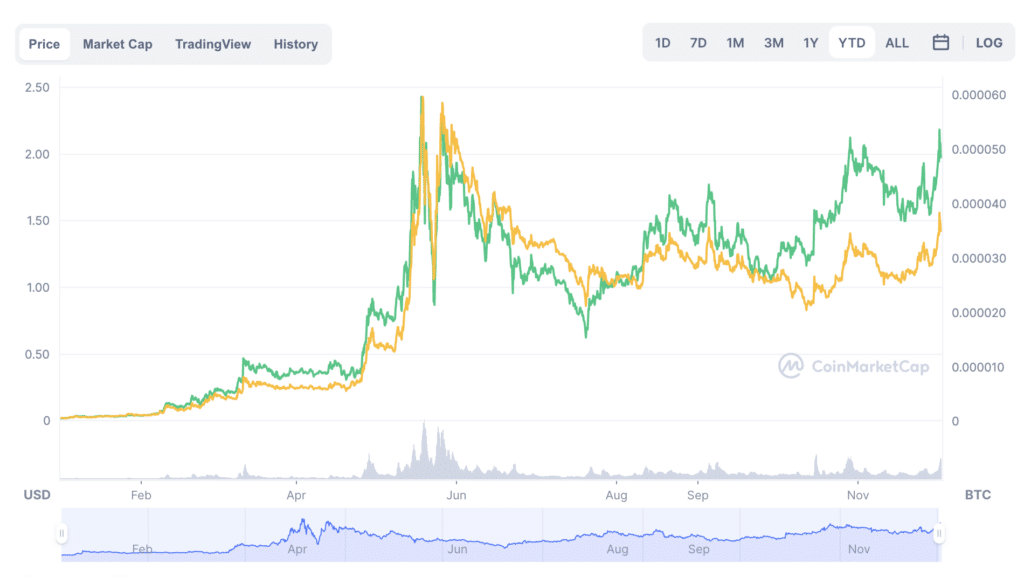 Current price
The Polygon crypto price on December 3rd, 2021 is $2.33 (Coinmarketcap.com). That is a 14% rise in the last 24 hours. Why has this happened?
On the one hand, the price rise is part of the general crypto sector's recovery from its late-November dip caused by news of the latest Omicron Covid variant. But, on the other hand, the price rise reflects the news that Automatic Money Maker giant Uniswap (TVL: $10.55bn) is set to migrate to Polygon. In late November, 7.79m holders of Uniswap governance token UNI voted in approval of the plan to make the move; that's 100% of the voting body.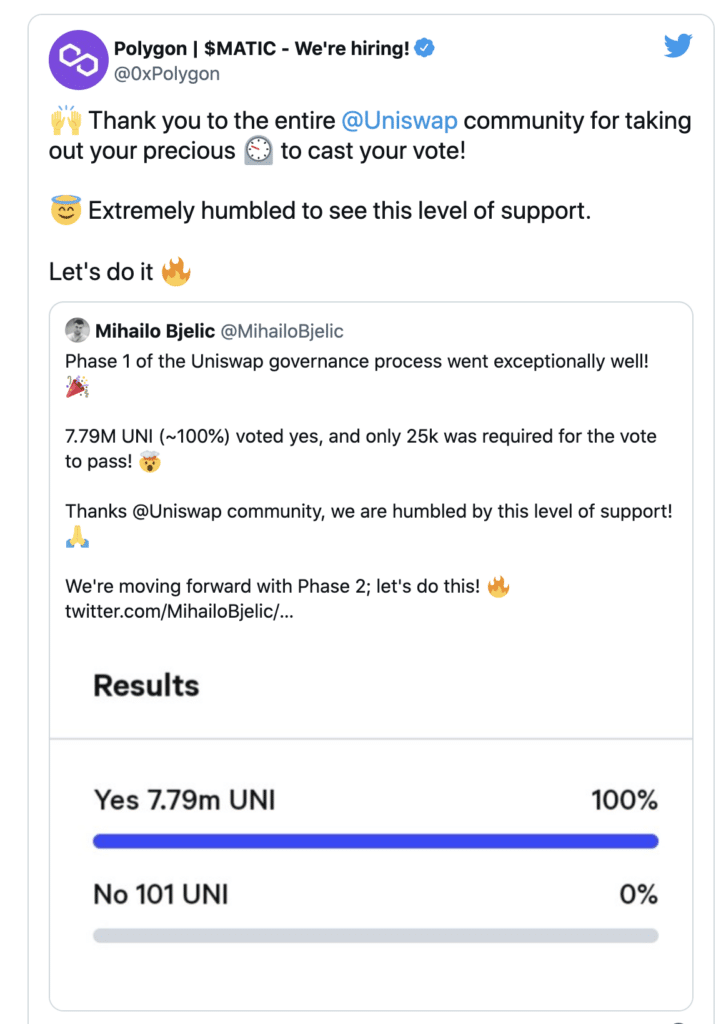 Factoring into the price spike also is the December 2nd news that Polygon is entering into a partnership with game provider Gameon.
Polygon Coin Price Prediction
2022 Polygon price prediction
Technical chartists assess that this December 2021 spike in the price of Polygon might represent a bull break-out. Pushing now against the upper ceiling of its all-time-high of $2.43, some in the industry have presented a Polygon price prediction of $3.00 by the end of the year.
It all depends on whether this recent surge in price continues or turns out to be what is known as a 'head fake' i.e. a rapid move in one price prediction followed immediately by a rapid move in the other direction.
2022-2026 Polygon price prediction
Polygon price predictions across the industry are bullish, Citing Polygon Studio's recent announcement to invest $100m in Polygon-user projects as well as Polygon's expanding user-base of top DeFi developers, industry analysts predict a 2022 target price of $7.50. AI predictive algorithms from different sources posit a 2026 Polygon price prediction of around $10.
How to Invest in Polygon – Tutorial
If you want to invest in Polygon, you can get signed up with the best FCA brokers and purchase the MATIC coin by following six easy steps:
1. Choose a crypto broker
With its market capitalisation of $13.8bn, Polygon is a popular coin. The question investors face is which broker to go with. We recommend a broker that charges low fees, is easy to use, offers a good choice of crypto investment options, copy trading tools, stiff regulation and a large existing user-base.
eToro – best overall crypto broker with copy trading and low fees
With over 20 million investors already signed up from over 120 countries, eToro has gained a great reputation as a friendly, regulated space for investing of all kinds: stocks, commodities, 250+ ETFs and, of course, crypto. As one of the best ETF brokers, eToro offers further regulation by the UK's FCA, CySEC of Cyprus and ASIC of Australia.
eToro offers the crypto-hungry investor over 120 crypto coin to buy and sell commission-free, as well as crypto pairs (with which you can trade the price of one crypto against a fiat currency or another crypto).
With eToro you can invest in Polygon and the broker will automatically hold the coin for you until you sell. Or you can transfer your MATIC to your eToro Money Crypto Wallet. eToro's wallet is free, comes with an unlose-able passkey, and allows you to hold and transfer crypto.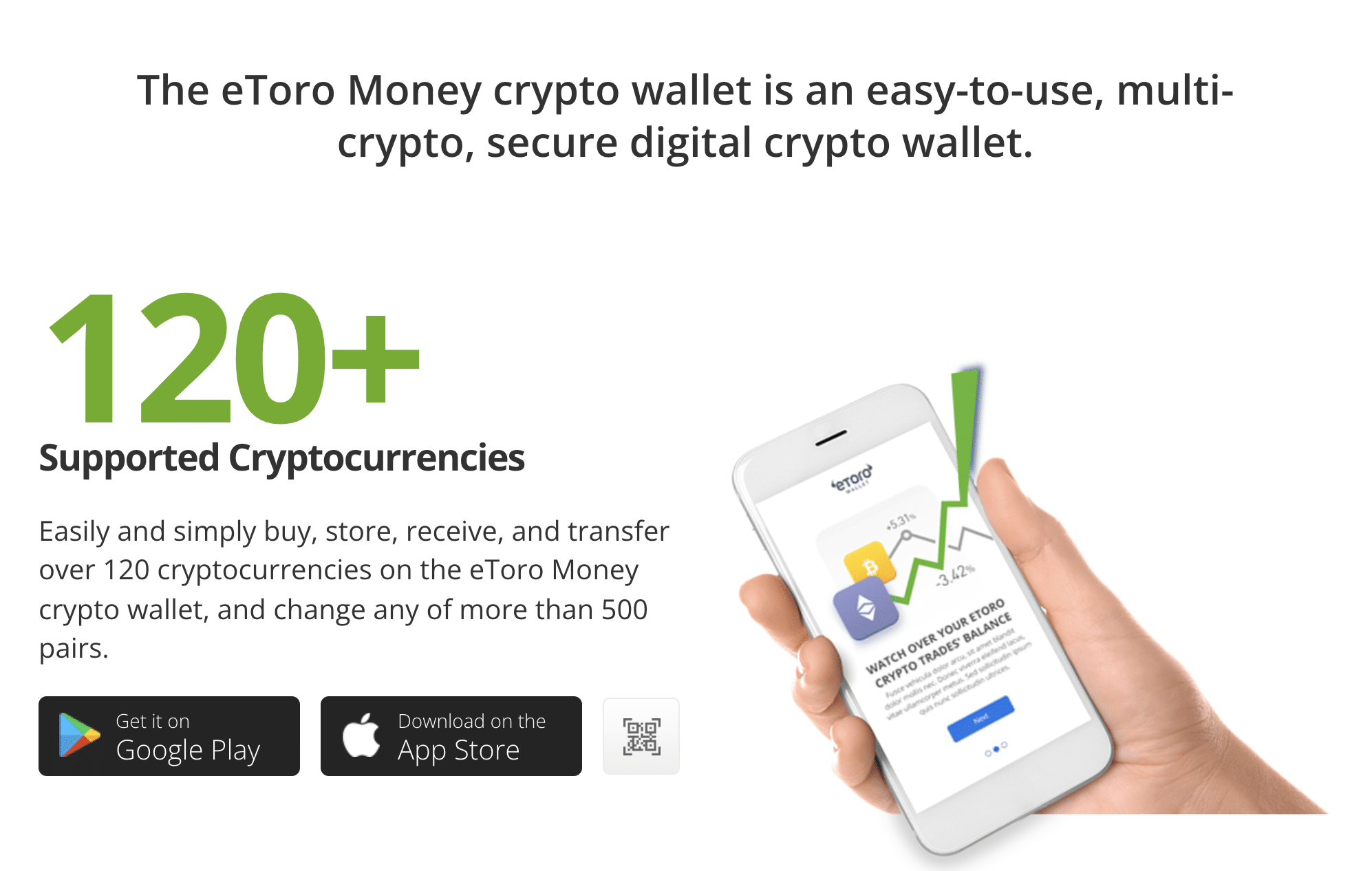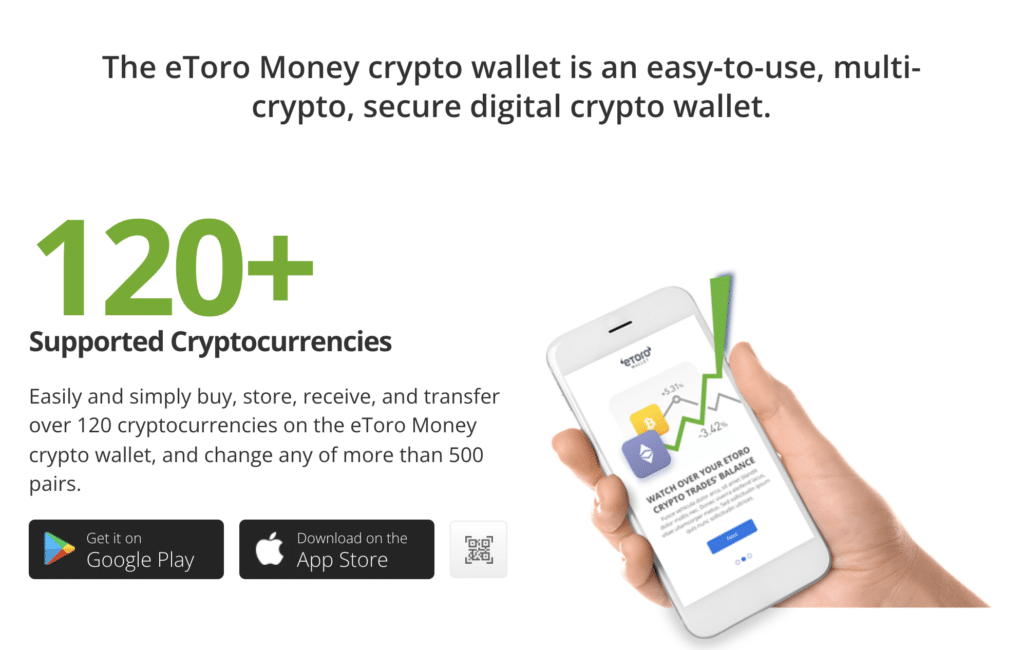 Fees
As with all brokers and exchanges, a spread fee applies to your eToro crypto purchase. The spread fee is the difference between the price you can buy at and the price you can sell at. To cover costs, brokers offer a buying price that is slightly higher than the list price, and a selling price that is slightly less. For Polygon (MATIC), eToro's spread fee – which describes the difference between the two prices as a percentage of the buy price – is 2.9%.
Copy Trading
eToro offers a wealth of tools for the new investor in particular. With eToro's CopyTrader, you can benefit from the experience of other traders by copying their trades for free. You review other traders on the basis of past performance and risk rating, allocate a set amount of funds and the CopyTrader software will use your funds to copy their trades in real-time. Standard spread fees apply for transactions, but the copying service is free – and a lot more convenient than using one of the giant copy trading providers like ZuluTrade or DupliTrade.
eToro's CopyPortfolios work in a similar way, allowing you to buy into a strategic portfolio position devised by experts for free. Several crypto CopyPortfolios are available.

Pros
Regulated by the FCA, CySEC and ASIC
20 million existing customers
120 crypto to choose from, including Polygon (MATIC)
Deposit in 15 fiat currencies using a variety of deposit methods
Cons
Flat withdrawal fee of $5
Don't invest in crypto assets unless you're prepared to lose all the money you invest.
2. Sign up with eToro
Head to the www.etoro.com website. You will be asked to fill in a few key details: username, email and password. Press the blue 'Create Account' button to continue. Or sign up with Google or Facebook.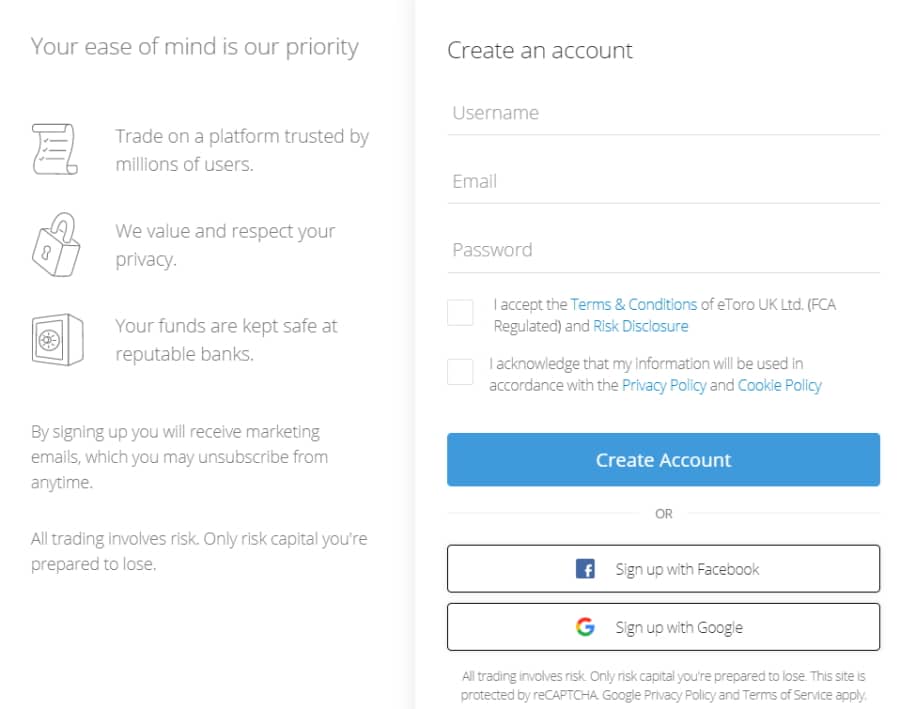 Don't invest in crypto assets unless you're prepared to lose all the money you invest.
3. Get verified
Getting verified means proving your identity as well as your place of residence. This is a standard process required by all reputable brokers. With 20 million existing investors, eToro has had plenty of practice in making this regulatory KYC (Know Your Customer) process as pain-free as possible. You will need to upload two scans of relevant ID, or screenshots of digital ID for proof of identity and proof of address.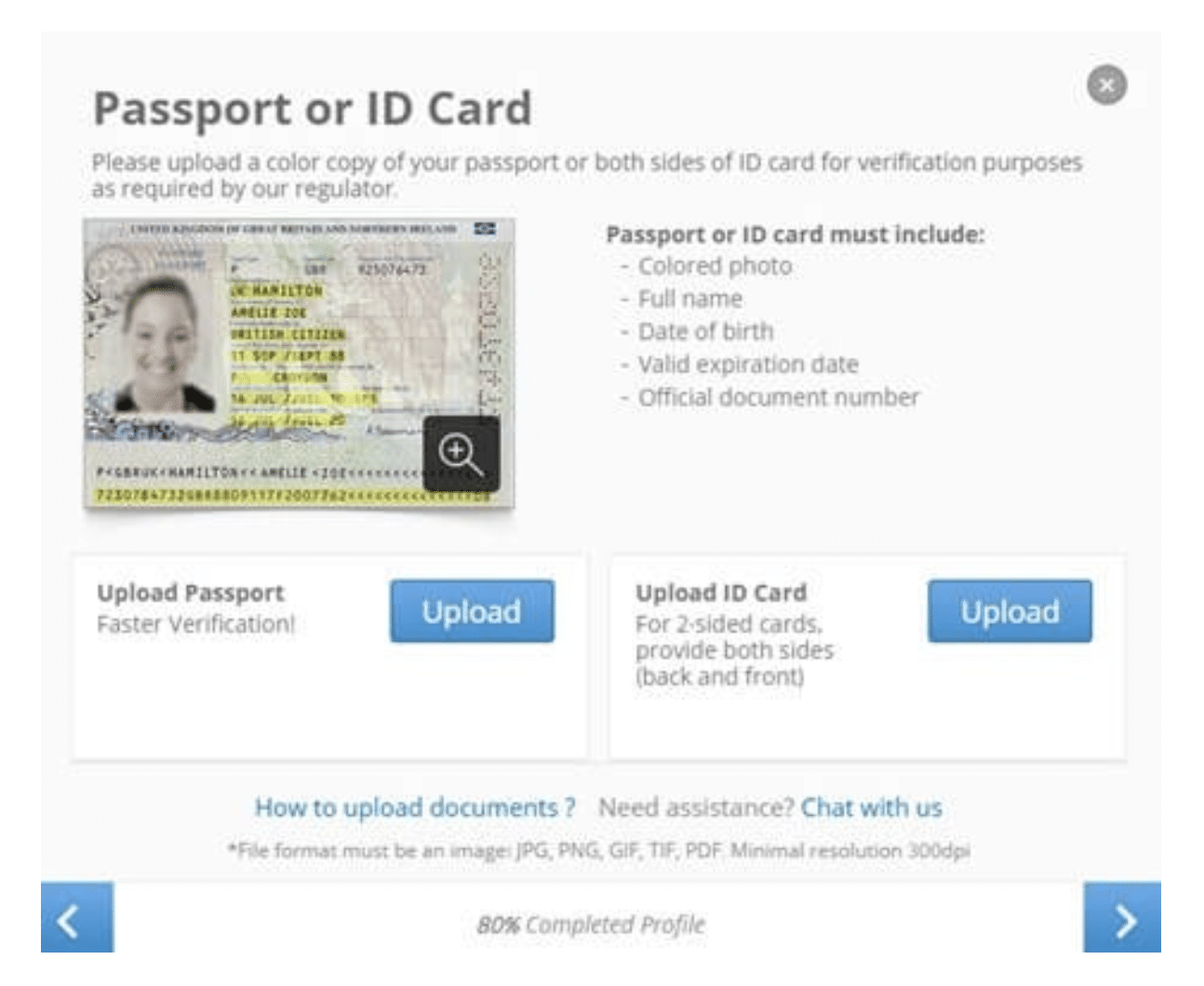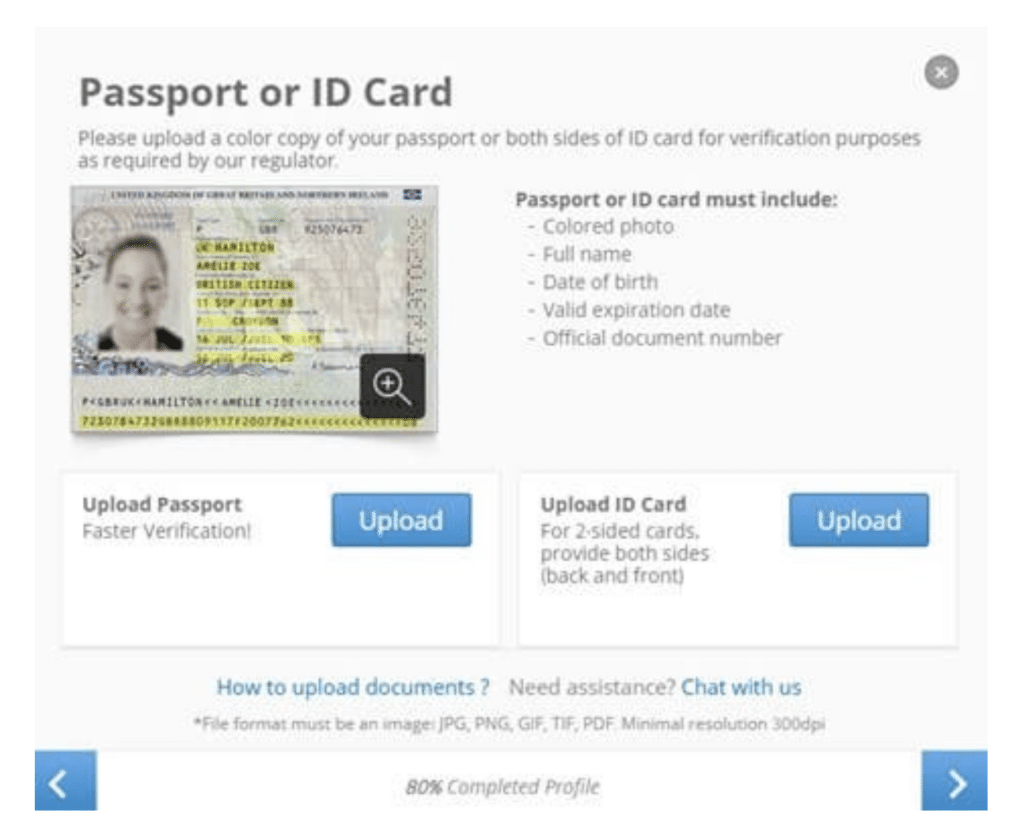 To get your ID verified quickest, use a valid passport. Otherwise you can use photo ID (driver's licence, ID card) provided it shows your photo, your full name, valid expiry date and evidence of the issuing authority.
For proof of address, you need to supply ID that shows your full name, address, date of issue and proof of an issuing authority. You can use a bill from your local municipality/council, a bank/credit card statement, a driving license, utility bill or a social insurance statement.
Once your scans are uploaded, you will receive an email notifying you of verification. It is a good idea to hold fire from depositing funds until you are fully verified, to avoid confusion.
4. Deposit funds
As soon as you are verified, you can deposit funds with eToro and go ahead to invest in Polygon.
Click the blue 'deposit funds' button at the bottom left of the eToro interface. Then you will see this box: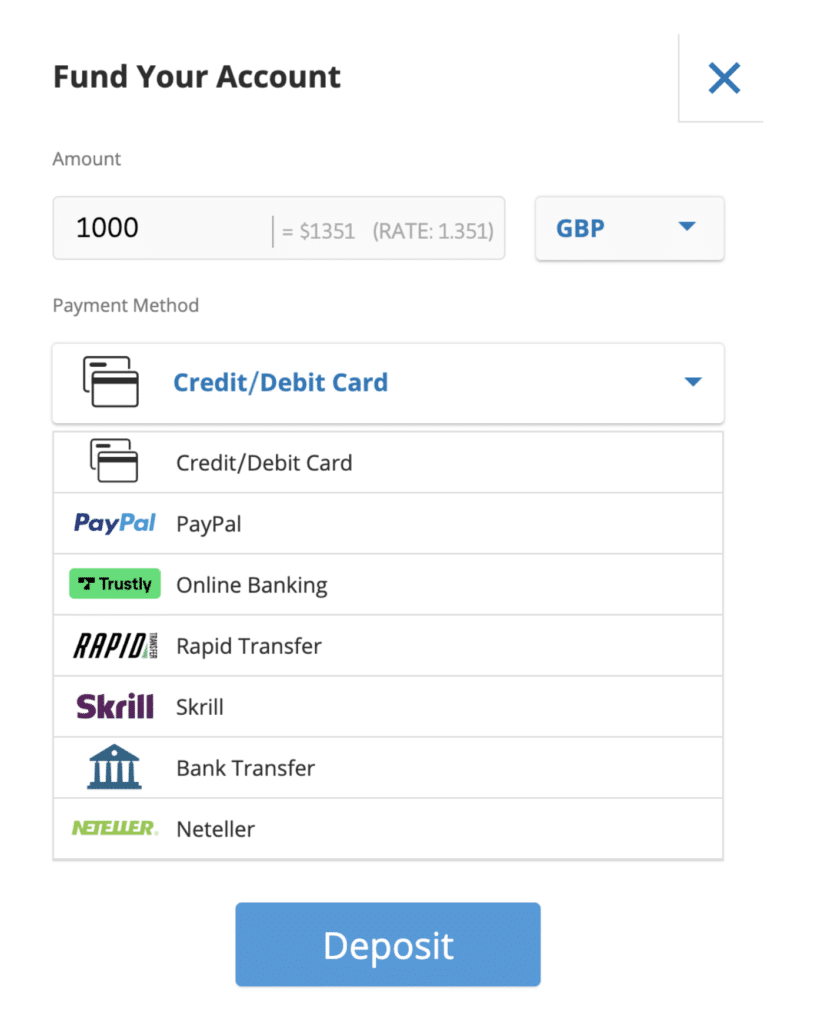 As well as the major fiat currencies – USD, GBP, EUR – you can deposit in VND, PHP, THB, DKK, NOK, PLN, AUD, SEK, CZK, RMB, MYR and IDR. Just select the currency you want and enter the amount in the top left box. It's worth noting here that eToro only operated in US dollars. This means that non-USD deposits will incur a conversion fee which is typically 0.5%. Then choose your payment method. From the UK, you can deposit with direct bank transfer, credit/debit card, PayPal, Neteller or Skrill. Using credit card will get funds into your eToro account fast. But note that, when it comes time to withdraw funds, eToro will pay you via your initial deposit means. So plan ahead.
Press the blue 'Deposit' button at the bottom of the box to proceed.
5. Search for Polygon (MATIC)
You can find Polygon on eToro by entering 'Polygon' or 'MATIC' in the top toolbar.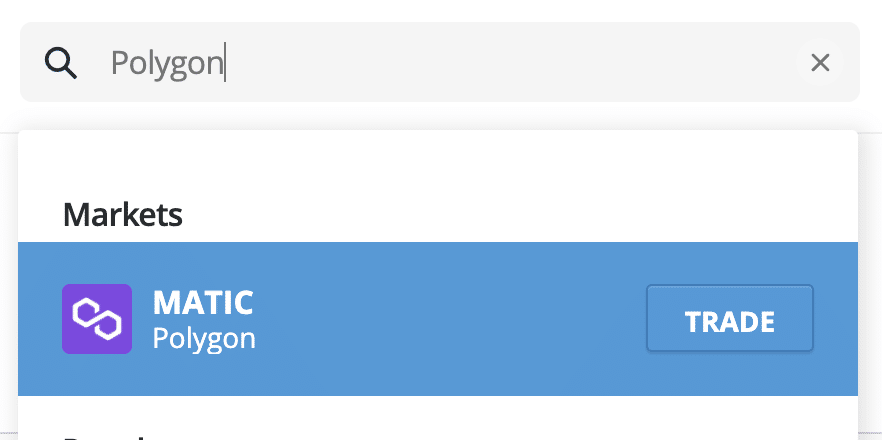 Or, if you want to invest in Polygon but also want to review other crypto options, you can browse all eToro crypto by pressing the 'Discover' button your left toolbar and then selecting 'Crypto' from the menu bar that comes up in the centre of your screen:


You can then review a list of all eToro's crypto, including single crypto coins and crypto pairs: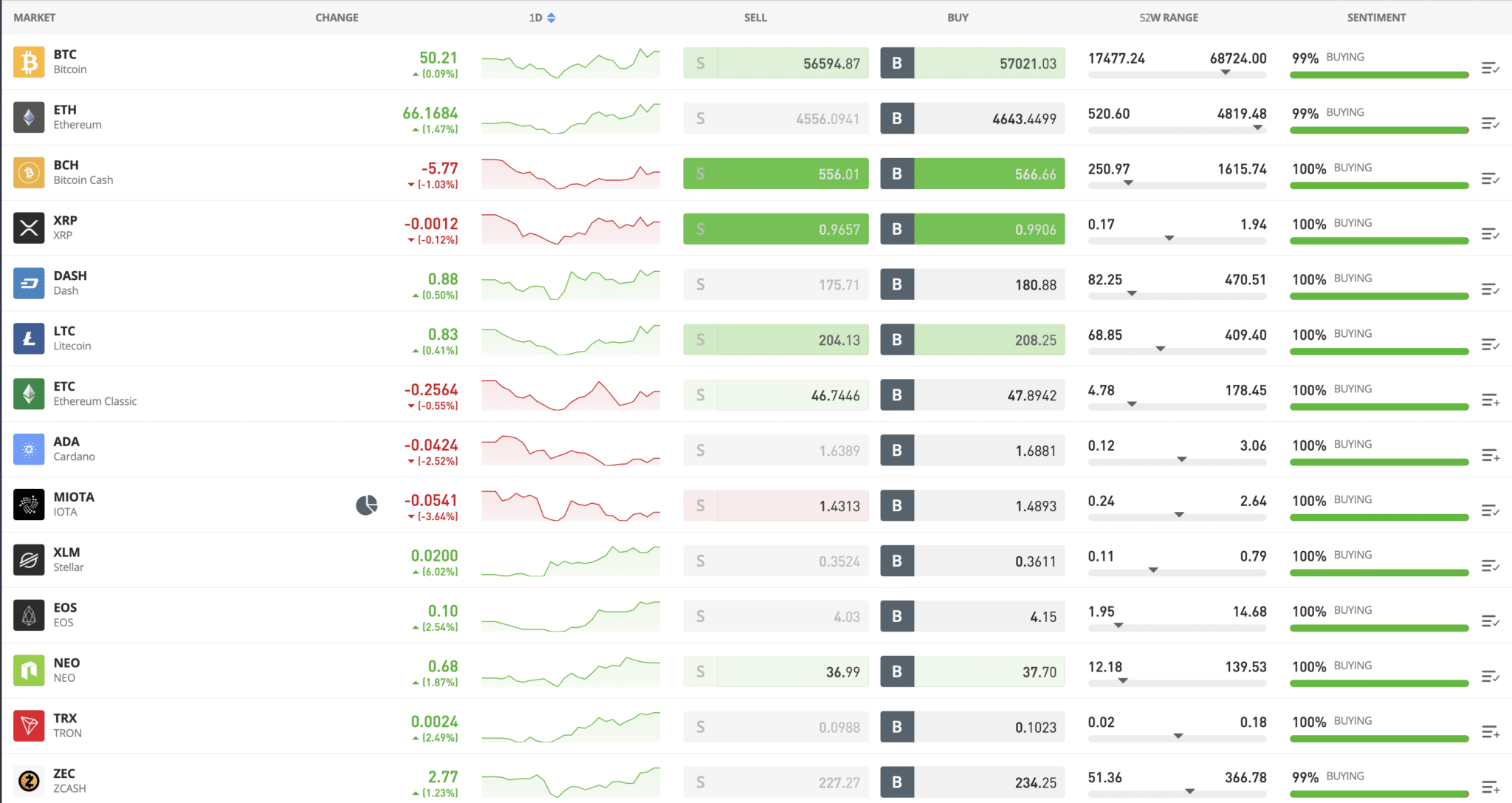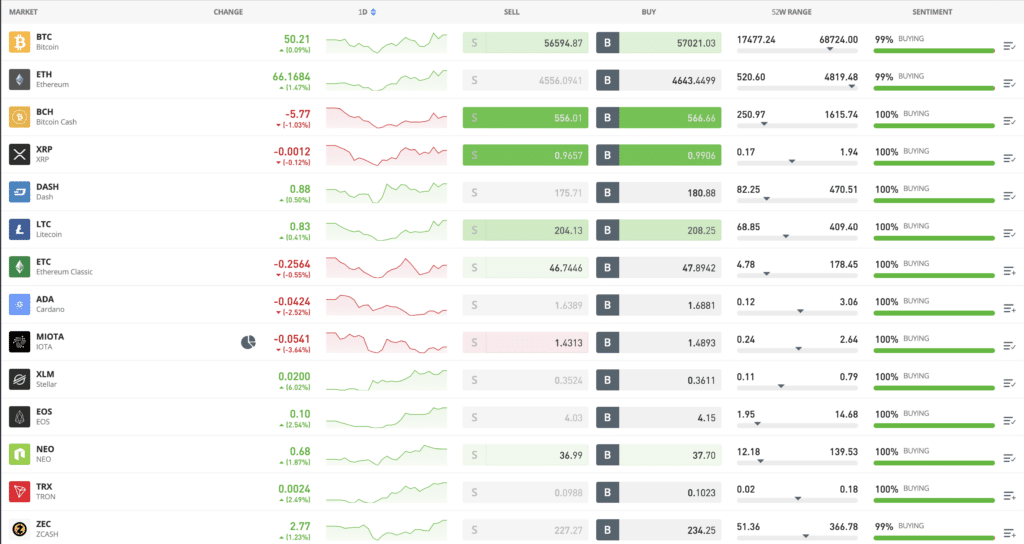 6. Invest
If you want to invest in Polygon, click on the Polygon logo.
This will take you to the Polygon homepage on eToro. Here you can review a newsfeed and stats as well as experiment with powerful charting options. Press the blue 'Trade' button at the top right to proceed. You are seconds away from purchase. Simply select how much MATIC you want to buy and press 'Open Trade'. Your purchase will be executed immediately.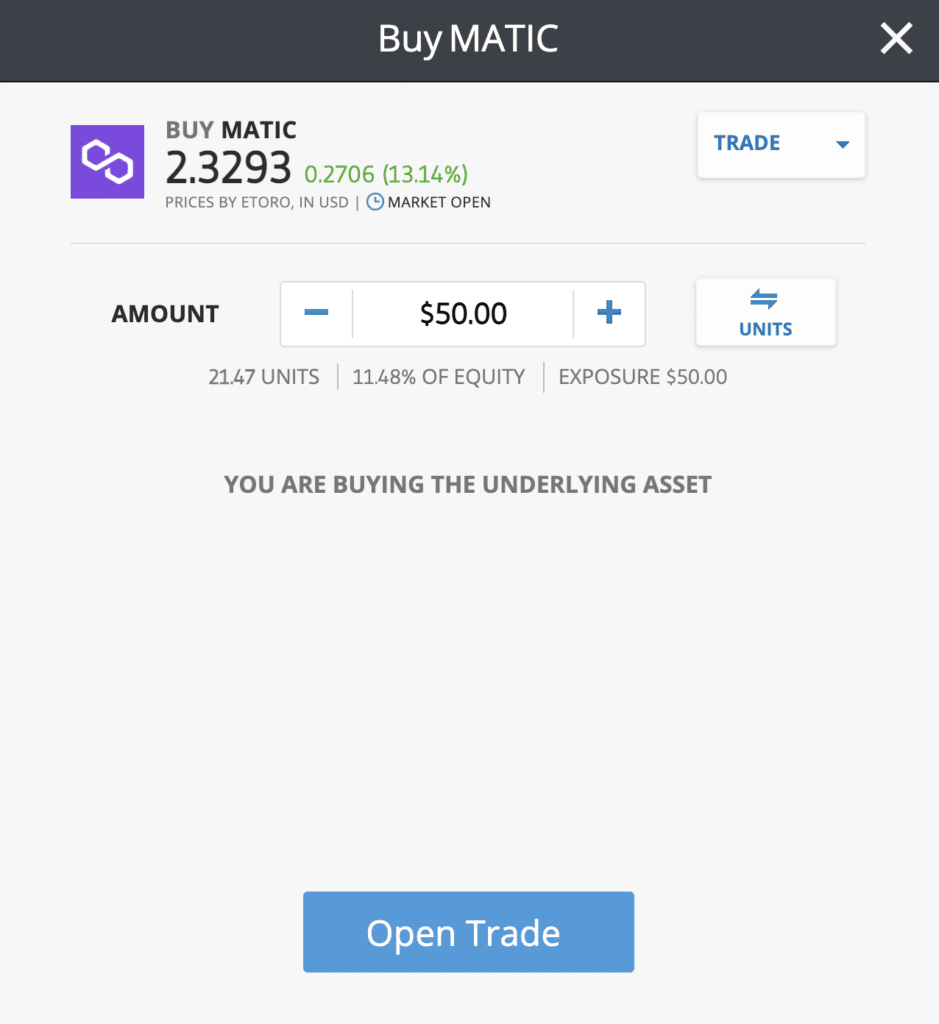 Conclusion
To invest in Polygon, we have no hesitation in recommending global broker eToro. Fully-regulated with a huge following, eToro offers a super-easy interface, painless sign-up and very convenient deposit options. A small downside is the flat withdrawal fee of $5 – which could become a problem for disorganised investors.
But, generally, eToro is great news for crypto-hunger investors because it gives the impression of a broker that is continually improving its service offering. Certainly eToro has shown its commitment to crypto with its ongoing expansion of available coins, its free eToro Money crypto wallet and its Crypto X exchange for institutional investors.
Don't invest in crypto assets unless you're prepared to lose all the money you invest.
Frequently Asked Questions on Polygon
How do I invest in Polygon crypto?
Can you stake Polygon (MATIC)?