Over the past decades, lithium has become an essential commodity and in-demand product for technology firms and electric vehicle manufacturers. This is because lithium is an important component of batteries for mobile phones, laptops, and any other digital device. Moreover, the role of lithium in electric driverless cars is expected to be enormous, which may affect the future price of the commodity and the success of lithium mining and production companies.
As buying a physical stock of lithium is almost impossible and investing directly on the new cash-settled lithium futures contract on the London Metal Exchange that will be available only in June 2021, you would therefore need to invest in publicly traded lithium producing companies or Exchange Traded Funds that track lithium stocks.
In this guide, we'll show you everything you need to know about How to Invest in Lithium in the UK. We'll suggest popular UK brokers that offer lithium shares, we'll analyze lithium's historical price performance, and help you find the most popular methods to invest in lithium including suggestions of the most popular lithium stocks and ETFs to buy.
How to Invest in Lithium UK Tutorial
Below we discuss in detail the process of investing in lithium, however, if you are ready to make an investment without reading our full guide, here's our tutorial to make your first trade.
Find an online trading platform – The first thing you need to do in order to invest in lithium is to find an online trading platform that is regulated in the UK. From our research, eToro is one of the most popular UK brokerage firms offering users to buy the most popular lithium stocks and ETFs.
Open an account – Visit eToro's website and sign up for an online trading account.
Verify your account and deposit funds. To start trading, you first need to verify your identity. This means you'll have to submit personal information and upload your ID. Once eToro approves your account, you can add funds to your account. In the UK, eToro has a minimum deposit requirement of around £140.
Invest in lithium – Find a lithium stock or ETF on the eToro trading dashboard and place a buying order.
Cryptocurrency is now one of the most popular financial assets and offers the potential for huge growth and big returns in a quicker time than traditional stocks. Investing in crypto to diversify is also an effective way to hedge a portfolio over the long term. However, the volatility of crypto means there are some risks, so make sure you do your research before investing.
Step 1: Choose a Lithium Investment Platform
At the time of writing, there's only one major exchange that is expected to launch lithium future contracts in the near future – The London Metal Exchange. Yet, buying a lithium future contract is not an ideal solution for long or short-term investors as it is mainly used by large tech companies and lithium producers in order to exchange the commodity and hedge their risks. Instead, the most effective way to invest in lithium is by buying lithium stocks or ETFs.
To help to get started, below we suggest popular UK brokers and investment apps that offer you a selection of lithium financial assets.
1. eToro – Overall Most Popular Online Trading Platform to Invest in Lithium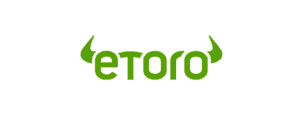 eToro is the most popular stock broker in the UK to invest in lithium. This broker, which was founded in 2006 and has grown to become the largest social trading network in the world, is offering users to buy and sell more than 3000 shares from 17 different stock exchanges. Notably, eToro is a CFD platform, meaning the process of buying assets via this platform is different than traditional brokerage firms. At eToro, you do not own the shares but simply can speculate on the price of the asset. This allows you to trade financial assets without any fixed trading commissions and get leverage trading. 

eToro is mostly known for its social trading tools and the unique interface that is more similar to other well-known social applications rather than a trading platform. As such, the learning process is simpler and the user-friendly platform simply shortens the learning curve. From the eToro dashboard, users get access to shares, ETFs, FX currency pairs, commodities, stock indices, and cryptocurrencies. In addition, eToro offers CopyPortfolios, which allow you to invest in a basket of different assets based in a certain sector region, or market.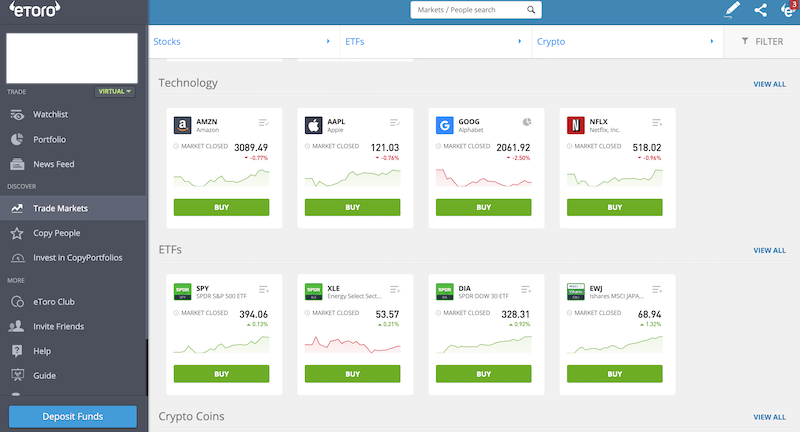 Your capital is at risk.
If you want to invest in lithium on eToro's platform, there's a selection of lithium stocks and ETFs you can find. This includes, among other assets, the Albemarle Corporation, EnerSys, FMC Corporation, and Global X Lithium & Battery Tech ETF. When it comes to fees, eToro offers commission-free trading, which means you do not have to pay any fixed fees when you go in and out of a position. Having said that, there are other costs you need to take into consideration such as an overnight fee and a withdrawal fee.
As we mentioned above, eToro also offers in-house managed investment funds called CopyPortfolio for those who want to diversify their portfolio. These are basically a collection of stocks, ETFs, and commodities that enable a user to invest directly in a managed portfolio. This is one of the features offered by eToro though you'll have to meet a minimum deposit requirement of $5000 to use this service.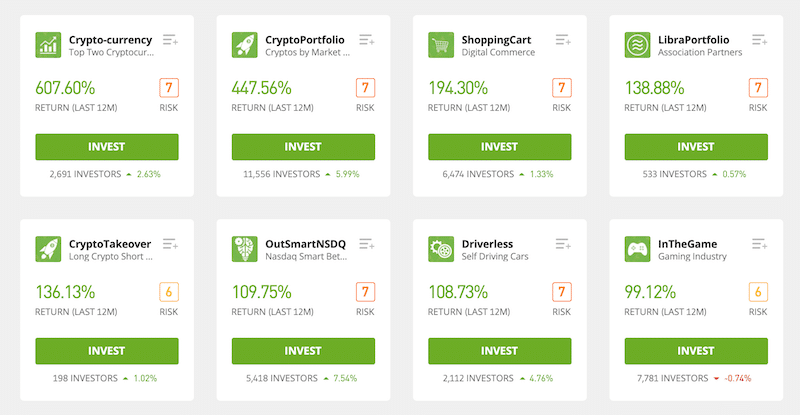 If you wish to get started with buying lithium shares and ETFs at eToro, you need to deposit a minimum of £140. The broker also gives you the option to test the platform and practice with virtual money on a demo account.
Your capital is at risk.
2. Plus500 – Low-Cost Regulated CFD Trading Platform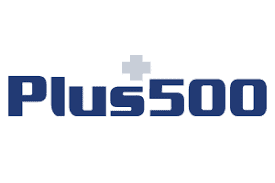 Plus500 is another UK reputable stock brokerage firm offering investors to buy shares, including lithium-related products. This broker has distinguished itself from other brokers in the industry by offering a convenient trading platform, which is available on any web browser as well as on a mobile device. With Plus500, you get access to more than 2000 stock CFDs from all major exchanges around the globe.
Among the stocks that Plus500 offers, you'll be able to buy various lithium-related stocks like QuantumScape, which is a San Jose-based company specializing in the production of lithium-ion batteries for electric cars. Additionally, the broker offers the most well-known lithium ETF – the Global X Lithium & Battery Tech.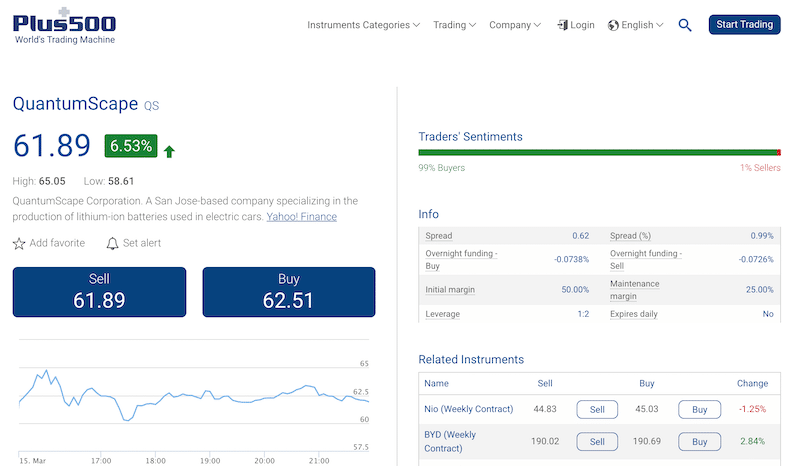 Much like eToro, Plus500 is regulated by the FCA and thus, is allowing users to leverage their stock and ETF positions with up to 5:1. Also, Plus500 does not charge fixed fees for trading shares or any other financial instrument for that matter. Instead, the broker charges a spread and overnight fee only.
In general, Plus500 is ideal for beginner investors that want to get access to the markets with a wide range of risk management and analysis tools. On this platform, users can insert the trailing stop order, and use the guaranteed stop function. More than that, the broker offers email and push notifications on market events and alerts on price movements, percentage change and traders' sentiments.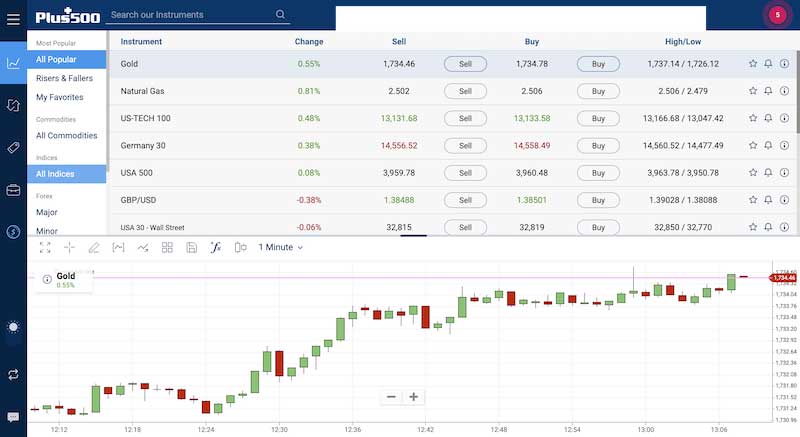 The minimum deposit to start investing in lithium via Plus500 is $100 (or currency equivalent). The broker also offers a paper trading account for potential users that want to test the platform before risking real capital. Finally, Plus500 is offering users one of the most popular free stock trading app for those who want to trade on-the-go with a user-friendly mobile app.
Step 2: Research Lithium Investment
Now that you have chosen a platform to utilize your trading activity, it's time to make in-depth research about lithium and the ways in which you can invest in this material. In general, you need to see the big picture before you invest in Lithium and realize that this is not an ordinary investment. At the same time, lithium has huge upside potential for the upcoming decades, similar to other commodity booms like gold, silver, coal, natural gas, and oil.
In the section below, we'll help you find the most popular ways to invest in lithium and decide whether lithium is a long-term investment.
Ways to Invest in Lithium
There are two primary ways in which you can get exposure to lithium – by investing in lithium production and mining public traded companies and ETFs that collect various stocks of lithium firms.
Lithium Stocks
In recent years, Lithium stocks have been soaring due to the increasing demand for electronic devices and electric cars. And, when we look ahead to the future, these stocks are likely to become more widely traded as the electric car industry is expected to grow exponentially in the next decades.
To help you find some of the most popular lithium stocks in the market, below we present 7 lithium public traded companies.
QuantumScape (NYSE: QS) 

Albemarle Corporation (NYSE:ALB)
EnerSys (NYSE: ENS)
Energizer Holdings, Inc (NYSE: ENR)
Sociedad Química y Minera (NYSE: SQM)
Livent Corporation (NYSE: LTHM)
FMC Corporation (NYSE: FMC)
Lithium ETFs
Another option to invest in lithium is through exchange-traded funds (ETFs). If you're looking for diversification in your portfolio, ETFs can help you achieve this goal. And, even though there aren't many ETFs that track lithium stocks out there in the market, you can still find ETFs that meet your search requirement. Below, we have listed the most popular lithium and battery tech Exchange Traded Funds you can invest in.
The Global X Lithium & Battery Tech ETF (NASDAQ: LIT)
ETFS Battery Tech & Lithium ETF (ASX: ACDC.AX)
Amplify Lithium & Battery Technology ETF (NASDAQ: BATT)
Your capital is at risk
Is Lithium a Popular Investment?
First of all, we must inform you that lithium is not like any other metal (or battery metal) in the market. Analyzing lithium price might be a challenge as there's currently no benchmark price for lithium on any exchange. Essentially, there are two types of lithium – lithium carbonate and lithium hydroxide – each of the lithium materials trades in different markets and has different prices on various marketplaces, which makes the analysis task harder. In that regard, if you decide to invest in lithium via stocks and ETFs, the price of lithium is somewhat irrelevant to the success of lithium companies and ETFs' performance.
While this might change when lithium future contracts will be available on the London Metal Exchange, the best way, in our view, to follow lithium prices is through the Solactive Global Lithium Index that tracks the largest lithium production and mining companies in the world. As you can see from the chart below, the index was trading at a range in the past decade but then spiked from around 80 during the coronavirus pandemic crisis to its current price of 243 after reaching the all-time high of 289.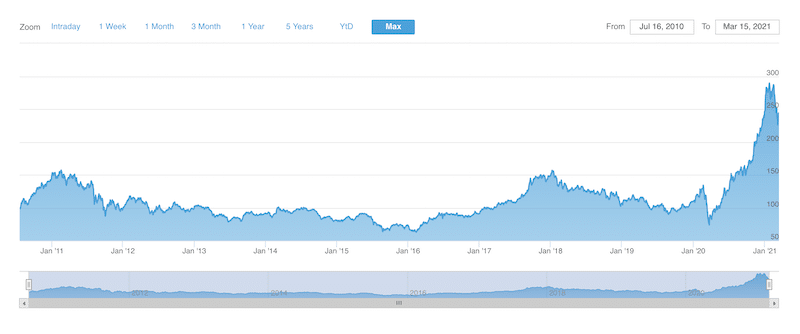 Clearly, this does not come as a surprise – the demand for lithium is set to soar in the next decades with the rise in the production of electronic devices and more importantly, electric cars. As electric vehicle battery manufacturers extend their request of lithium demand, the outlook for the lithium market is generally positive. Overall, the global demand for lithium is expected to double (or even more than that) by 2024, according to a GlobalData report.
According to said Asa Bridle, a lithium developer from Savannah Resources: "If forecasts for EV penetration are to be believed – along with the billions of dollars car companies have sunk or will sink into EV development and production – then lithium demand is set to increase 10-fold over the next decade,"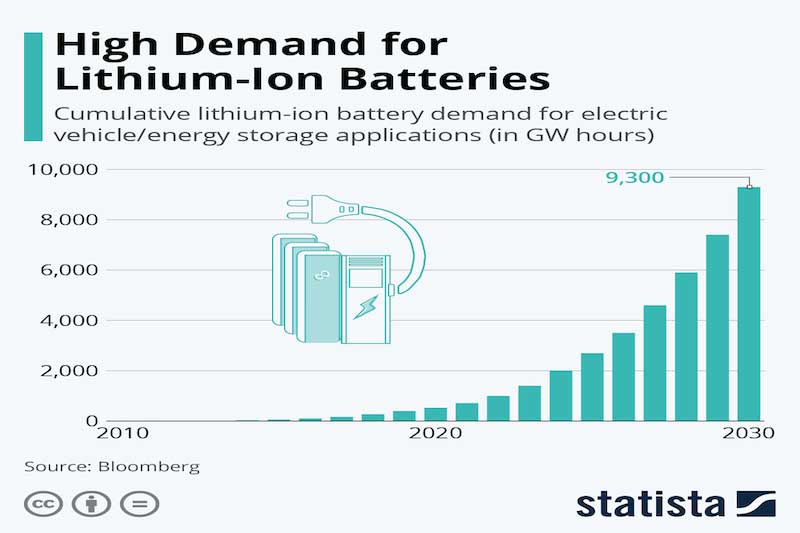 As lithium is a metal mined from brine hard rock, the supply side of lithium has also a tremendous impact on the lithium markets and the revenues of lithium producers. Much of the world's lithium supply comes mainly from Australia, Chile, China, Argentina, and Portugal. Consequently, battery production makers face a shortage of lithium and are, therefore, willing to pay higher prices for the commodity.
To sum up, there's no doubt that lithium is one of the most in-demand commodities in the world these days and the longer-term projection for lithium is positive. Lithium-ion batteries are likely to become the most used energy storage technology that is viable for the progress of technological change like autonomous cars and solar panels and renewable technology.
How to Make Money from Investing in Lithium 
There are a variety of investment strategies you can use when investing in Lithium. As such, you'll have to plan your trading strategy and the duration of your position. For instance, if you plan to buy lithium for a short-term strategy, then you simply aim for capital gains. This is basically the profits from the sale of an asset.
Otherwise, if you are planning to buy lithium on a long-term basis, you might want to consider investing in a stock or ETF that pays an annual dividend. For that matter, lithium-related companies like Albemarle Corporation (NASDAQ: ALB) and EnerSys (NYSE: ENS) pay steady annual dividends. In that aspect, you can also use compound investing to work in your favor. This investment strategy will boost your returns over the long term as it enables you to increase the size of your position when you reinvest the interest payment you receive from dividend payments and capital gains.
Step 3: How to Invest in Lithium with a Regulated Broker
From our research, eToro is the broker of choice for investing in lithium stocks and ETFs. So, if you are ready to get started, simply follow the steps below to make a lithium investment.
Step 1: Open an Account
The first step you need to take to get started is to visit eToro's website and sign up for an online trading account. From the broker's homepage, click on the 'Join Now' button and fill in your personal data that include your first and last name, email address, and password.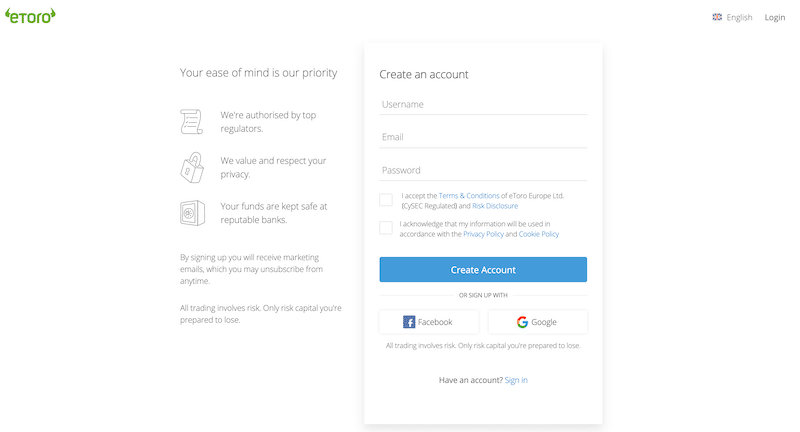 Your capital is at risk.
Step 2: Verify Your Identity
Now that you have signed up for an online trading account with eToro, you must verify your identity in order to be able to place orders in the market. This is because eToro is regulated by the Financial Conduct Authority (FCA) in the UK and thus, it must ask all clients to go through a simple form of KYC procedure. To do that, you need to upload a copy of your passport or driver's license and proof of your address.
Step 3: Fund Your Trading Account
Once your account is verified, you can add funds to your account to start trading. In the UK, eToro has a minimum deposit requirement of around $50 and the broker offers several options to deposit funds. These include credit and debit cards, bank wire transfers, and e-Wallet payments like PayPal, Neteller, and Skrill.
To make a deposit, you need to navigate to the deposit button on the trading dashboard, choose one of the payment options, and enter the amount you want to deposit.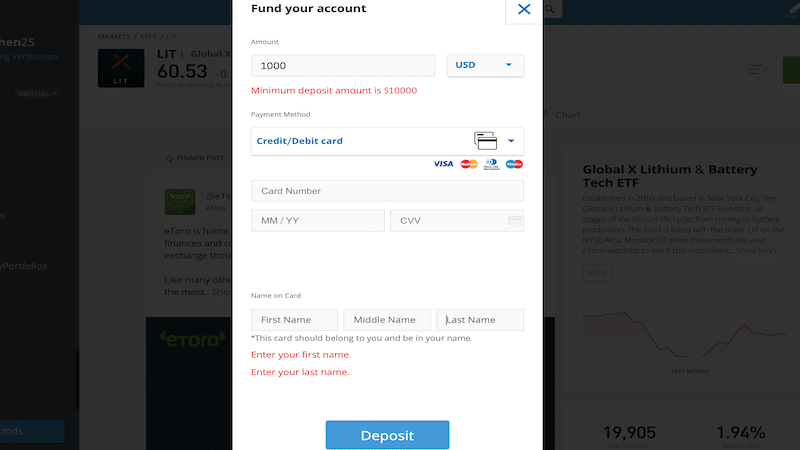 Step 4: Invest in Lithium
Now, you can place an order to buy lithium stock or ETF on eToro's platform. For this matter, we'll show how to buy Global X Lithium & Battery Tech ETF, which is one of the most popular lithium ETFs in the market.
To get started, navigate to the search bar and type in lithium. Then, click on the first result that pops up as seen in the image below.

On the instrument page, you'll be able to analyze the asset using users' Twitter feed, stats, and an interactive chart. Additionally, you can add the instrument to your watchlist.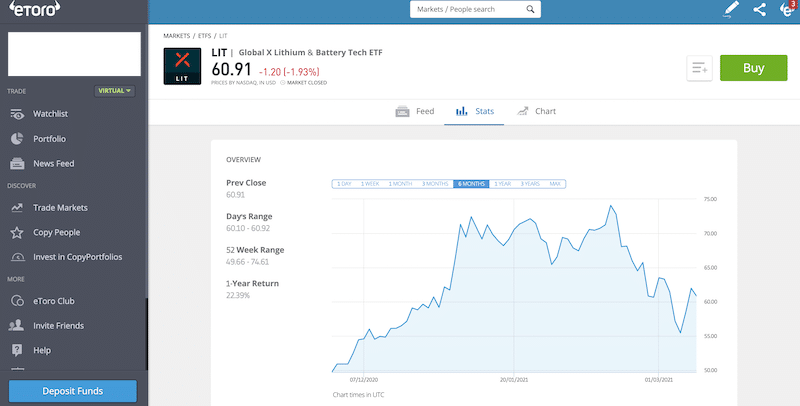 Your capital is at risk.
Whenever you want to make a trade, click on the 'Buy' button on the instrument page and you'll be channeled to an order form. From there, you can specify the amount of your transaction, and the order type. To place the order in the market, click on the Buy button.  Take note that you are using the leverage of 5:1 when you buying shares and ETFs on the eToro platform. Thus, you'll have to calculate the value of your transaction and insert a stop-loss order to mitigate any potential losses.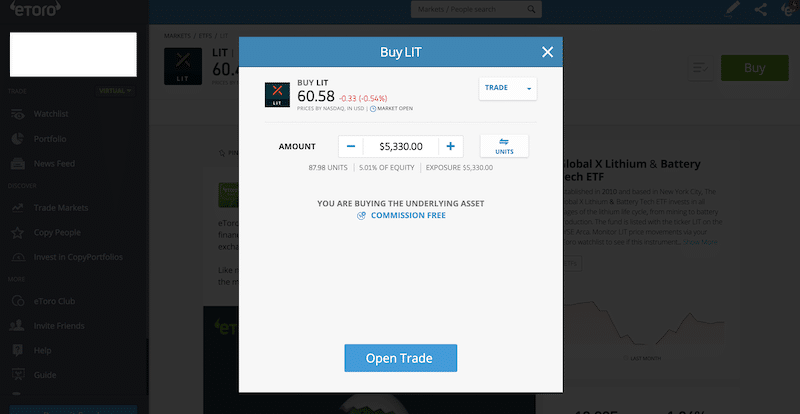 Conclusion
in this guide on how to invest in lithium UK, we have covered the most crucial things you need to know about this material. We came to the conclusion that lithium, much like water, could be the new gold in the upcoming decades, particularly given the fact that electric vehicles from Tesla (TSLA), Nio, Ford Motors, and others are going to be a huge industry in the near future.
If you are looking for a way to invest in lithium, you'll have to find an online trading platform that gives you access to shares of lithium producers and miners or invest directly in lithium ETF. One popular brokerage firm that offers you this service is eToro, a zero commission-free social trading platform that is safe and secure.
eToro – Invest in Lithium with 0% Commission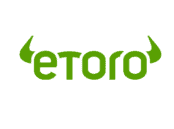 Your capital is at risk.
FAQs
Can I invest in lithium as a commodity?
What's the most popular way to invest in lithium?
Is lithium a popular investment?
How to invest in lithium with little money?
How do you short sell lithium?
What are the most popular lithium indices to follow?