Best Dogecoin Wallet UK
Fact Checked
Everything you read on our site is provided by expert writers who have many years of experience in the financial markets and have written for other top financial publications. Every piece of information here is fact-checked.
Disclosure
Please note that we are not authorised to provide any investment advice. The information on this page should be construed for information purposes only. We may earn commissions from the products mentioned on this site.
Looking for the best Dogecoin wallet? Dogecoin (DOGE) has taken the world by storm. DOGE is the crypto that started out as a joke and rose to be the 12th-biggest crypto with a current market capitalisation of $23bn. DOGE was the number one crypto searched for online in the USA this year. It has made millionaires of some investors.
With DOGE you have two choices. You can invest in DOGE via an online broker/exchange and let the broker hold your DOGE. Or you can get a Dogecoin wallet and actually own the crypto. You can then send it, receive it, exchange it, and stake it for rewards. Below we review the top 5 best Dogecoin wallets to get you set up with these powerful crypto options. We analyse the pros and cons of each wallet, with a focus on security, fees, range of functions and accessibility with other blockchains.
Key points on Dogecoin Wallets in UK
Dogecoin wallets are virtual applications that allow you to house your DOGE and other crypto safely. The best Dogecoin wallets give you powerful options to transfer, receive, swap and stake crypto.
Crypto wallets are provided by brokers, crypto exchanges and third-party specialists.
There are 3 main types of Dogecoin wallet: software-only, hardware and paper.
Best Dogecoin Wallets UK List
Coinbase – Best for Dogecoin wallet security
Bybit – Best offline Dogecoin wallet
Metamask – Best for ERC-20 tokens
Binance – Best for supported crypto
Dash – Best for Dash support
Exodus – Best for anonymous use
Neo – Best for NEO support
Jaxx – Popular wallet with low fees
Mew – Best for ETH support
The Best Dogecoin Wallets UK Reviewed
Below we review 4 of the best Dogecoin wallets from leading online brokers, exchanges and one third-party supplier. 
1. Coinbase Wallet – Best for Wallet Security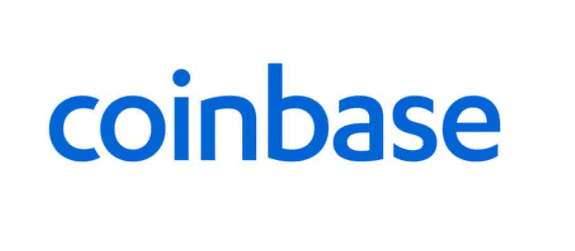 Supporting 4,000 crypto assets, the Coinbase Wallet can handle all ERC-20 tokens, and is compatible with standalone crypto blockchains Bitcoin, Bitcoin Cash, Litecoin, XRP, XLM and, of course, Dogecoin. You can also store any NFTs you may have purchased.
Coinbase is the biggest US-based exchange, so it is not surprising that their wallet comes packed with security features. As well as your regular password, for example, a one-time password is required each time you use your wallet – which you will need to set up with a third-party provider like Google Authenticator. Email confirmation of unexpected logins and fingerprint ID are also supported.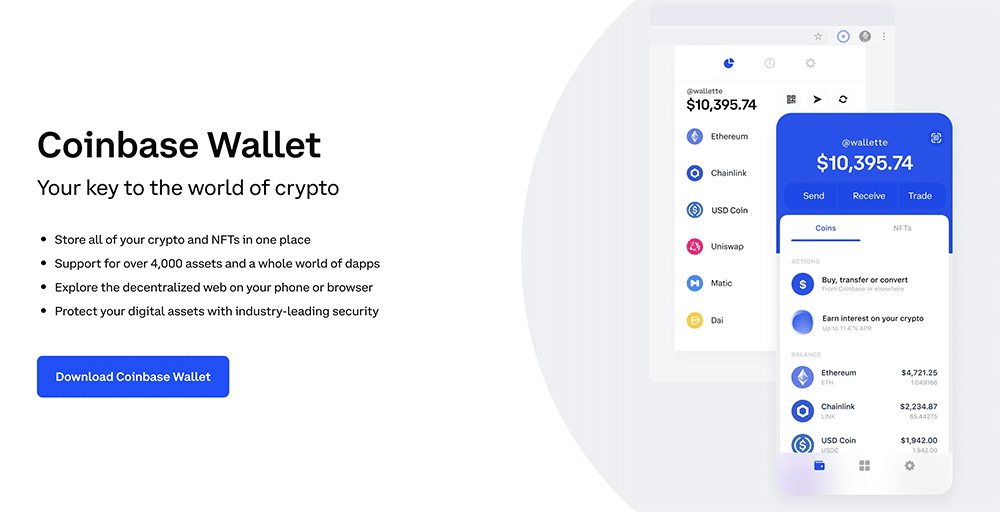 From your Coinbase wallet, you can send as much as 1,250,000 DOGE in a single transaction. (You can buy DOGE from Coinbase direct from your wallet, or import it from another source). To make receiving crypto easy, Coinbase uses a QR code to label your unique Dogecoin wallet address which you can then share with the click of a button with the sender. Just like with the ByBit wallets, you can also use your Coinbase wallet to access crypto staking opportunities, as well as swap certain crypto using pairs.
The Coinbase wallet is free to download and works with Windows and MacOS operating systems.
Pros
Supports 4,000 crypto
Supports NFTs (ERC21 tokens)
Allows staking on DeFi liquidity pools
Buy crypto direct from the wallet with credit card
Free to download
Cons
Relatively high fees for crypto transactions
2. Bybit Wallet – Best Offline Dogecoin Wallet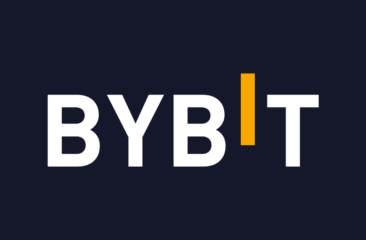 Bybit is a top crypto exchange based on Singapore with over 2 million global users that offers a highly-secure wallet arrangement. Instead of offering a standalone wallet, ByBit holds all customer funds and crypto in a Deterministic Cold Wallet System. This means assets are largely kept offline, making this a Dogecoin hardware wallet. This drastically reduces the likelihood of malicious attacks via the internet which are the plague of crypto exchanges generally.
Only a small proportion of assets are kept in ByBit hot wallets to accommodate instant withdrawals. Otherwise, ByBit runs a withdrawal schedule that manually processes withdrawals three times a day. Some say this would make ByBit the safest Dogecoin wallet.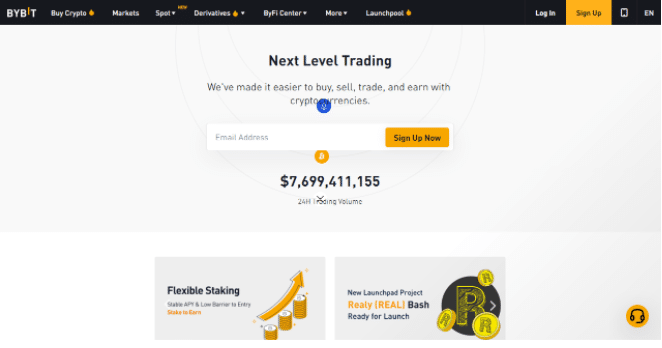 With ByBit you can trade DOGE as a DOGE/USDT pair. You can buy the necessary USDT as a spot purchase with a range of payment methods including ApplePay and credit card. Investors from countries with appropriate regulation can trade DOGE/USDT as a derivative perpetual futures contract. Crypto staking is well-provided for by ByBit, with 120,000 investors already use the ByBit ByFi Centre to stake crypto for rewards, using flexible staking, dual asset mining and DeFi mining.
Pros
Over two million ByBit users
Secure cold wallet arrangement
3x daily withdrawal schedule
Many ways to trade in crypto, including DOGE, on the ByBit platform
Easy-to-use website
Cons
Cryptoassets are highly volatile unregulated investment products. No EU investor protection.
3. Metamask – Best Dogecoin Wallet for ERC-20 tokens

The Metamask wallet is unusual in the wallet sector because it is based on open-source code and developed by a global community. It boasts over 21m users worldwide, and is available as both a mobile app and a browser extension. That means you can use your Dogecoin wallet online. And the Metamask wallet, like the Bybit wallet and the Coinbase wallet, is a free Dogecoin wallet.
Metamask is unlike the other wallets we have reviewed in that it is not directly supported by a broker or exchange. It is a standalone facility for the management of digital assets billed as 'the most trusted way to access, store and swap Ethereum tokens'. As well as Ethereum, the Polygon and Binance blockchains are supported.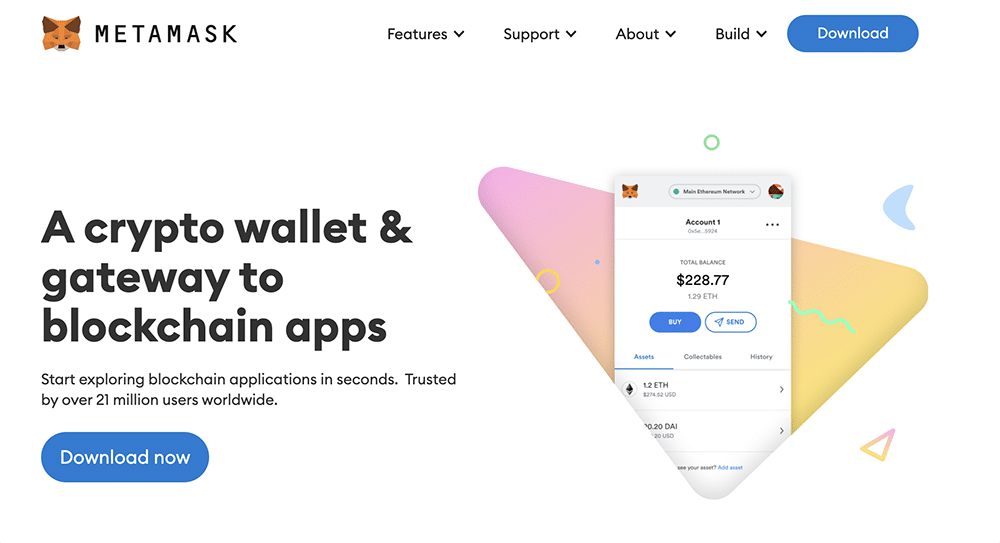 The focus here is on ease of use. You can use Metamask's 'swaps feature' to swap Ethereum tokens with what Metamask calls a 'dynamic service fee' of between 0.3% and 0.875% factored into every quote. Or you can do swaps by using any of a number of supported decentralised exchanges like Uniswap, Matcha and 1inch. You can buy Ethereum from your Metamask wallet via Coinbase.
Offering itself as a browser extension makes Metamask potentially vulnerable to unexpected browser behaviour wrecking your session. To compensate for this, Metamask issues a secret recovery phase which can be used to recover your wallet.
Pros
Support for ERC-20 tokens
21m users worldwide
Adjustable ETH 'gas' fees as with Coinbase
Metamask Institutional add-on for pro DeFi activity
Attractive easy-to-use website
Cons
4. Binance – Best for Supported Crypto

With Binance being the biggest crypto exchange worldwide, it makes sense to round up our Dogecoin wallet check with a look at Binance's Trust wallet.
The Trust Wallet is compatible with 35+ individual blockchains – including ETH, BTC, LUNA, BNB and DOGE, of course. A full range of ERC-20 tokens are supported, and NFTs can be stored here too. Although the Coinbase wallet supports the main blockchains, it cannot match the Binance Trust Wallet for blockchain scope. From inside your Trust Wallet, you can buy crypto direct from the Binance exchange as well as swap and stake crypto. You get your own private security keys (in the form of a seed phrase). This wallet even has its own governance token called TWT; you can get discounts on crypto purchases if you hold TWT.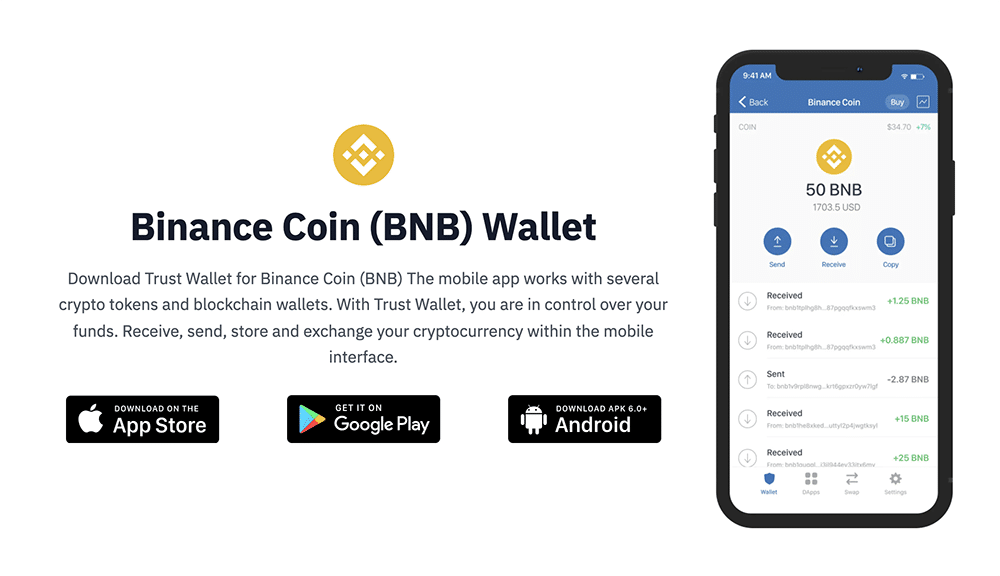 Crypto investors sometimes get confused between Binance's Trust Wallet – which is the official exchange wallet – and the Binance Chain Wallet. That's because there are two Binance blockchains which run in parallel: the Binance Chain, and the Binance Smart Chain. There is a separate wallet for each, although both are compatible with each other. The Trust Wallet relates to the Binance blockchain, and the Binance Chain Wallet relates to the Binance Smart Chain blockchain. The Binance Coin (BNB) works with both wallets, and you can use Binance's Direct Wallet function to transfer crypto from the exchange to the Binance Chain Wallet.
Pros
Best choice of supported blockchains, including DOGE
Purchase crypto via Simplex and Moonpay
No fees for sending/receiving/swapping crypto
Easy to use
Backed by the biggest global crypto exchange
Cons
With Direct Wallet, Trust Wallet and Binance Chain Wallet, it can get confusing
Best Dogecoin Wallets Comparison
| | | | |
| --- | --- | --- | --- |
| Wallet | Send/Receive Crypto Fee | # of Crypto | License |
| Bybit | Doesn't apply | 100+ | None |
| Coinbase | Zero | Main blockchains + ERC-20 tokens | FinCEN |
| Metamask | Service fee of 0.875% | All ERC-20 tokens | None |
| Binance | Zero | 40+ blockchains + ERC-20 tokens | None |
How do Dogecoin Wallets Work?
Dogecoin wallets work like any other crypto wallet – they offer a safe place for your digital currency so you can hold it like you would a conventional currency. With a Dogecoin wallet, you can send and receive your DOGE and other crypto using your unique wallet address. With the best Dogecoin wallets, you can also stake DOGE and other crypto to earn rewards.
Types of Dogecoin Wallets
Dogecoin wallets come in 3 types:
Dogecoin software wallets
Hardware DOGE Wallets
Paper Wallets for Dogecoin
(Note that there is no 'Dogecoin Mist Wallet'. Crypto newbies often search for this because they have heard of the 'Ethereum Mist Wallet', which is the original Ethereum wallet created by the Ethereum team in 2017.)
1. Dogecoin Software Wallets
All crypto wallets are software-based, but many do not have a hardware element: these are called software wallets. Software wallets are virtual applications, often bristling with security, that act as hosts for your DOGE and other crypto. Usually they are available as downloads, but some – like Metamask reviewed above – work as browser extensions too (which comes with risks). Software wallets are called 'hot' wallets because they are permanently connected to the internet.
Mobile vs. Desktop Wallets
Many Dogecoin wallets are available for smartphone operation only. This is to cater for people's need to manage their crypto on the move. Some wallets, on the other hand, are available as desktop apps, and Exodus – which makes our top ten Dogecoin wallet list – is one of them.
2. Hardware DOGE Wallets
Hardware DOGE wallets are USB dongles which plug into desktop computers. These are characterised as 'cold' DOGE wallets because they are not permanently connected to the internet. Trezor and Ledger are big names in the cold-storage field. Although hardware DOGE wallets offer the advantage of being shielded from hacking for most of the time, they suffer the disadvantage that you could simply lose your physical wallet just as you might lose a set of keys. Also, for the time they are online to execute transactions, hardware wallets are as vulnerable to other wallets to hacking.
3. Paper Wallets for Dogecoin
Paper wallets for crypto are printed pieces of paper with QR Codes and key codes for making crypto transactions happen. Being removed from the internet entirely, they are a form of cold storage for key data that is entirely resistant to malicious hacking. That is because you can store your private key in your paper wallet and, unless somebody actually finds your paper wallet and reads it, your private key is unhackable. You can create a Dogecoin paper wallet using various apps online.
How to Choose the Right Dogecoin Wallet for You
If you are looking for the best Dogecoin wallet app, you can organise your search around 5 key criteria:
Regulation
Security
Versatility
Fees
Compatibility
1. Regulation
There is no getting around it – storing your Dogecoin and other crypto on a wallet that is not provided by a regulated company can be asking for trouble. A company that lacks regulation is not forced to jump through the security hoops that a regulated company is. And, if there is a hack into your wallet or the providing company, your funds are unlikely to be retrievable.
Cryptos in general lack the extent of regulation that characterises the conventional stock market, so it is no surprise that only 1 out of our 4 reviewed top Dogecoin wallets come from regulated providers: the Coinbase wallet.
Of course, even a regulated wallet system can get hacked into. Even cold wallets can get hacked into, because they must link with the internet sporadically to execute transactions.
2. Security
Many of the best Dogecoin wallets come with impressive security. As an exchange, Coinbase has a good name for security, with 97% of client funds held in cold storage. ByBit's cold storage communal wallet system offers advantages too (although strictly speaking ByBit does not offer a standalone Dogecoin wallet).
3. Versatility
It is all very well tracking down a Dogecoin wallet app – but what can you do with it? If you are just going to invest in Dogecoin and then hold it, you may as well buy your DOGE with a broker like Coinbase and let them look after the actual coins whilst you just expose your portfolio to changes in its price.
Versatile Dogecoin wallets allow you to send and receive DOGE/other crypto to other crypto wallets;Coinbase and Binance do not charge fees for this service. Swapping one type of crypto for another is another service supported by all our reviewed Dogecoin wallets.
Crypto staking is a key feature that will become increasingly ubiquitous with all crypto wallets. Staking is a way of earning rewards from the crypto you hold by lending it out and earning interest (in the form of more coins) – exactly as banks lend out fiat currency and gain financial interest in return. Currently, opportunities to stake DOGE are few and far between, with big liquidity pool provider PancakeSwap having run a Dogecoin staking fortnight earlier this year.
4. Fees
The Dogecoin wallets supplied by Coinbase and Binance do not charge fees for sending and receiving crypto. However, blockchain 'gas' fees do apply with all wallet providers. 'Gas' fees are also known as 'mining fees' and are what the blockchain itself charges as a service fee for each transaction. When blockchains are congested, gas fees go up; Ethereum's gas fees hit an all-time-high of $70 this May. With Coinbase and Metamask, you can adjust how fast you want your transactions to happen and avoid the most expensive gas fees.
5. Compatibility
All the top Dogecoin wallets we have reviewed are set up to work with both Windows and MacOS systems. If you look further afield, it is worth checking that your new wallet is actually available for your smartphone.
Conclusion
Above we have reviewed the best Dogecoin wallets and unearthed what a wide range of options are available for investors wanting a home for real DOGE and other crypto. We place a high premium on regulation and range of function when it comes to Dogecoin wallets.
Some of the top Dogecoin wallets include the Coinbase wallet, Bybit wallet, MetaMask, and Binance wallet.
Frequently Asked Questions Dogecoin Wallets
What wallets hold Dogecoin?
How do I get a Dogecoin wallet?
What is the official Dogecoin wallet?
Do I need a wallet for Dogecoin?
What is the best Dogecoin wallet?