Are you exploring adding a Clean Energy ETF into your portfolio? Now, over the last few weeks or so, alternative-energy companies have been rising dramatically.
With a Clean Energy ETF, you are able to expose your portfolio to several companies that are involved in sustainable energy at once. Whether you are a preacher of environmental action or not, it offers added diversification for any existing portfolio. There are a few key considerations ahead of investing in the sector, we will provide clarity in this guide by reviewing the best clean energy ETFs UK for 2021.
Key points on Clean Energy ETFs
Clean energy ETFs are now one of the most popular ETF types among investors as governments and companies around the world seek clean energy solutions.
Some of the most popular clean energy ETFs include the iShares Global Clean Energy ETF (ICLN), SPDR S&P Kensho Clean Power ETF (CNRG), and the Invesco Solar ETF (TAN).
You can easily invest in the best clean energy ETFs on eToro, our recommended ETF broker that offers 0% commission.
Clean energy ETFs can be volatile, so make sure you do your research before adding one to your portfolio.
Best Clean Energy ETF UK 2021 List
Take a look at our picks that appear appetizing to us for the best clean energy ETF UK, further down we will break down with analysis into each investment into bitesize form.
iShares Global Clean Energy ETF (ICLN) – Overall Best Clean Energy ETF UK
SPDR S&P Kensho Clean Power ETF (CNRG) – Best for Technology Creator Stocks
Invesco Solar ETF (TAN) – Best for Solar and Wind Stocks
ALPS Clean Energy ETF ACES – Best for Lower Carbon Stocks
Invesco Wilderhill Clean Energy ETF (PBW) – Best Paying Dividend Stocks
You can invest in all these clean energy ETFs with 0% commission on eToro, our recommended stock broker.
Best Clean Energy ETFs UK Reviewed
The clean energy boom is very much current, and it may be somewhat tricky to know what companies individually will be the big beneficiaries of this.
But rather than trying to predict which specific companies will prosper, we have broken down which the best clean energy ETFs are and to gain wider exposure to the industry as a whole.
It is key to note that prior to the pandemic the clean energy ETF sector generally speaking had been largely heading north. However, as detailed by the International Energy Agency (IEA), "The Covid-19 pandemic is having a major impact on energy systems around the world, curbing investments and threatening to slow the expansion of key clean energy technologies. Before the crisis, progress on clean energy technologies had been promising."
However, as economies have gotten back going again and picked up momentum globally, this is being brought to the forefront of many global leaders' agendas. With all that being said, it does appear to be an opportune time to start getting involved.
Let's start with our first pick and conduct an Ishares global Clean Energy ETF review. It is the largest ETF by almost double, having some $6 billion in assets under management. ICLN is one of the oldest funds which has been dedicated to clean energy. Founded in 2008, when climate change was not so much of a priority for many people.
The largest iShares Global Clean Energy ETF stock is Vestas Wind Systems, a huge organisation and is the energy industry's global partner on sustainable energy solutions. We design, manufacture, install, and service wind turbines across the globe.
The fund had a powerful 2020, producing around 140% in gains, additionally, iShares Global Clean Energy ETF dividend was 0.83% for the year. However, it has under performed in 2021 as things have cooled off for the sector.
Technically speaking, the price of the ETF has found support and appeared to have bottomed out around $21.75, having held there firmly for some six months. Resistance is capping price action around $23.65, a break of this region should invite a nice wave of upside momentum.
If you were to invest $1000 from around the current price and ICLN was to head back up to the heights seen in early 2021 ($34.15), then your investment will turn into $1450 (45% gain). Worth noting from the current price level, it took just two months to previously reach the note high. (Past performance is not indicative of future results).
67% of retail investor accounts lose money when trading CFDs with this provider.
2. SPDR S&P Kensho Clean Power ETF (CNRG) – Best for Technology Creator Stocks
Now onto our next pick which in our view is the best for technology creating stocks, SPDR S&P Kensho Clean Power ETF.
It focuses on global stocks that are driving innovation in the clean energy sector, across both products and services. It was an exciting pick for us given that the fund includes companies manufacturing revolutionary technology used for renewable energy.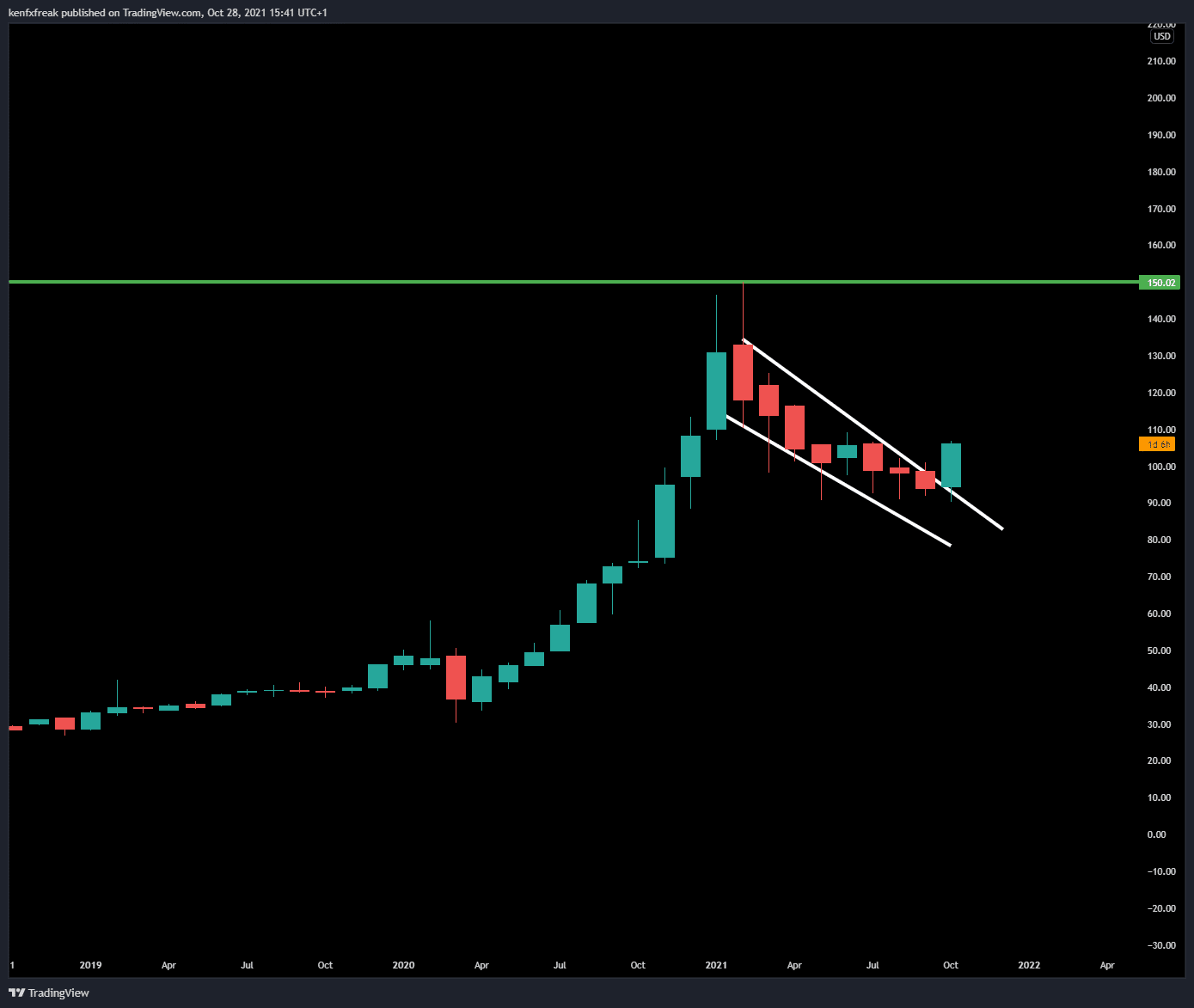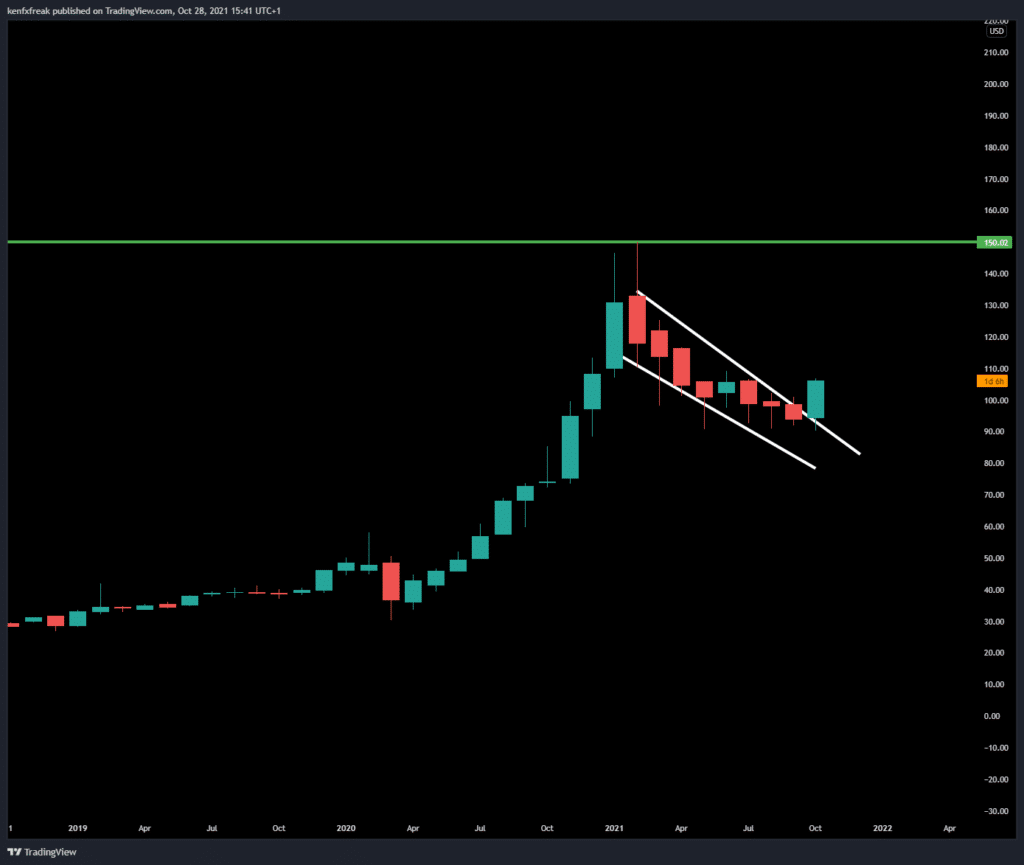 Given the earlier detailed refocus across the globe with clean energy, the demand for the technology being crafted in this environmental mission will largely increase.
Moreover, many policymakers have also factored into their latest stimulus packages that will also allocate a budget to drive stronger development and deployment of clean energy technologies.
Technically, price action has been consolidating over the past six months, moving within a narrow range. However, there are signs of a breakout to the upside, given the formation of a technical chart pattern, known as a flag. There is potential room for a fast return to the high print in February 2021 up at around $150.
67% of retail investor accounts lose money when trading CFDs with this provider.
3. Invesco Solar ETF (TAN) – Best for Solar and Wind Stocks
The Invesco Solar ETF (TAN) is one of the forefathers in the clean energy ETF space and when these funds are on the up, TAN tends to be one of the pilots of those moves.
If you like solar energy stocks, you can put all your chips in on this narrow segment of the green energy marketplace with a dedicated clean energy ETF. This one is provided by asset manager Invesco and has a chunky $3 billion in assets under management.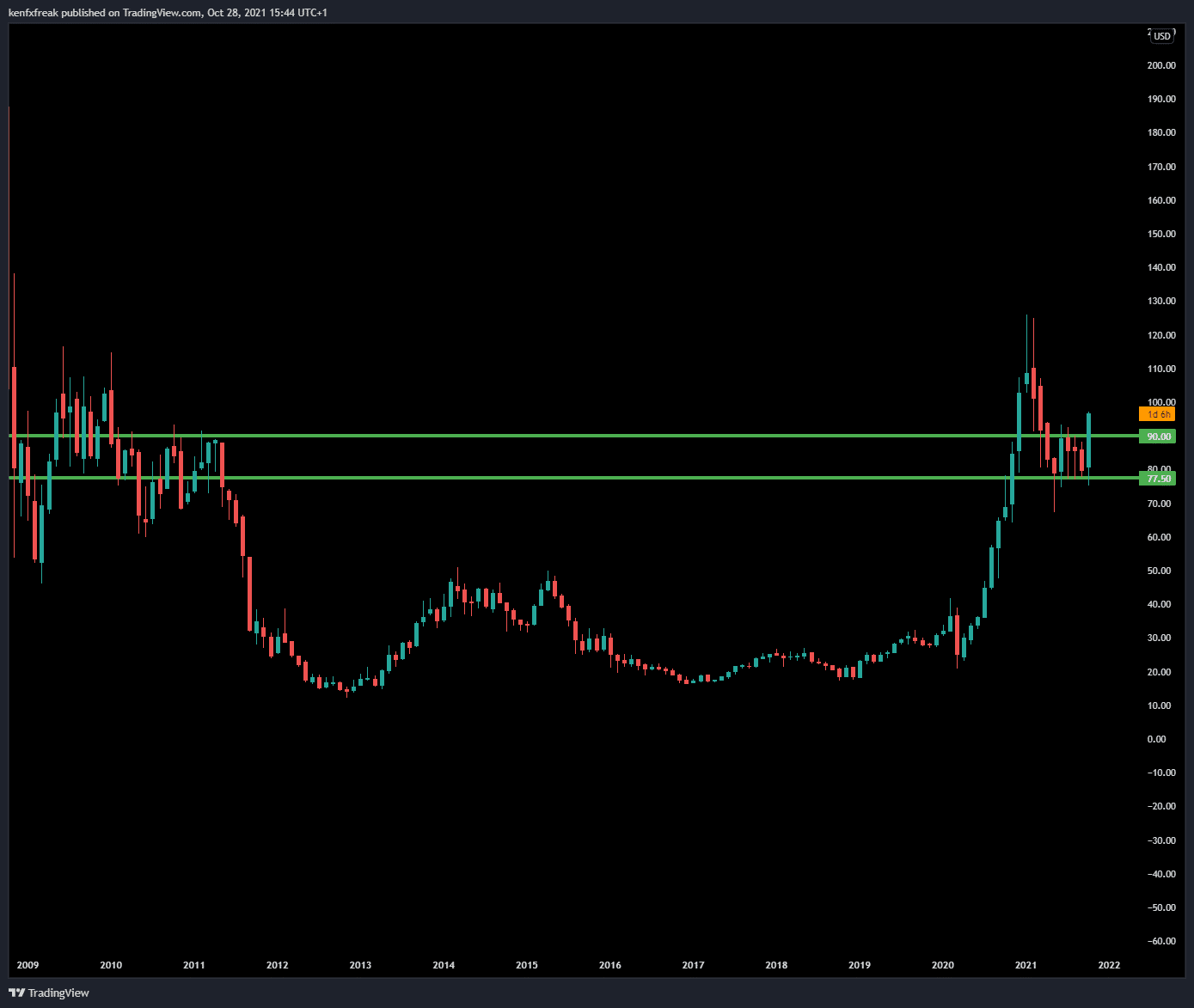 Similar to the other best clean energy ETFs detailed, price action has been narrowing, subject to a potential breakout to the upside. Support should be noted at around $21.75, resistance is seen around $23.65. A breach of the latter could see a retest of the highs up at $34.30 printed in January 2021.
An investment of $500 at around the current levels could see a gain of $225, should a rally of 45% be observed, taking your investment to $725. Worth noting from the current price level, it took just three months to previously reach the note high. (Past performance is not indicative of future results).
67% of retail investor accounts lose money when trading CFDs with this provider.
4. ALPS Clean Energy ETF (ACES) – Best for Lower Carbon Stocks
The funding is allocated to the US energy transition is significant, which does present a nice buying opportunity for our next pick ALPS Clean Energy ETF (ACES). Some $1.2 trillion in total spending has been marked as necessary by 2030 in order to meet goals set in the Paris Climate Change Agreement.
It does bolster the case for ACES, given it has plenty of depth as it features exposure to nine industry groups. Moreover, among the individual clean energy stocks is Elon Musk's Tesla. The electric vehicle (EV) giant is the top holding in ACES at a weight of 5.73%. The bank is also bullish on some solar equities, including Sunrun (RUN).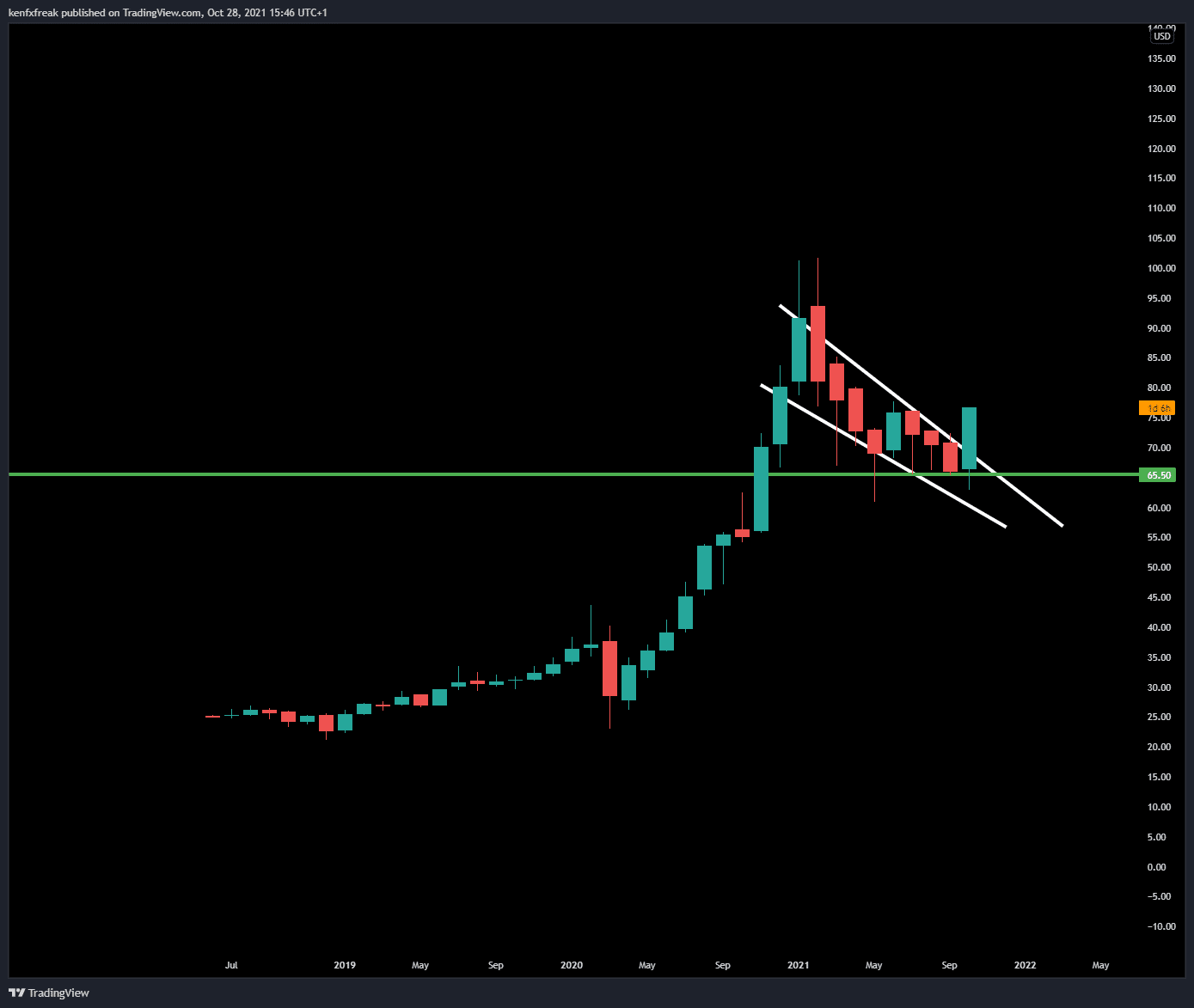 In terms of the price technically, decent monthly support has been found around $65, with price action looking set for a renewed bout of buying pressure. A technical flag pattern can be observed via the monthly chart view. The high print similar to many of the other best clean energy ETFs noted is some 45% away, but as previously detailed a move which has been seen over three months previously during the last bull-run. (Past performance is not indicative of future results).
67% of retail investor accounts lose money when trading CFDs with this provider.
5. Invesco WilderHill Clean Energy ETF (PBW) – Best Paying Dividend Stocks
This ETF has some decent-paying dividend stocks involved in clean energy and conservation. Invesco WilderHill Clean Energy ETF has around $2 billion in assets under management.
The fund has often been a bit overweight in solar stocks, including some big U.S.-based names, in addition to international solar stocks such as China's JinkoSolar Holding Co. (JKS) and India's Azure Power Global (AZRE), which pop up in its top holdings. The Outperformance of solar has historically paid off for PBW.
In 2020 PBW enjoyed a red-hot year, having jumped as much as 300% thanks to the booming momentum, before losing some ground as an aftermath of the pandemic. The price has cooled just over 40% from the high print in 2021 around $138, however showing encouraging signs of renewed buying interest.
Key support for PBW has been found technically around $70.50 via the monthly, which shows no sign of being breached. Similar to our other detailed best clean energy ETF picks, price action has seemingly formed a bullish flag pattern, which could be an indication of a breakout to the upside to come.
67% of retail investor accounts lose money when trading CFDs with this provider.
Other Clean Energy ETFs to Consider
iShares ii plc Global Clean Energy UCITS ETF (INRG) – Best for Utility Stocks
Invesco Global Clean Energy ETF (PBD) – Best for Growth Stocks
iShares Global Clean Energy UCITS ETF (INRG) – Best for Diversification of Stocks
Lyxor New Energy (NRJL) – Best for World's Largest Stocks in Renewable Energy
L&G Clean Energy UCITS (LGIM) – Best for Dividend Growth
What is a Clean Energy ETF?
Clean energy ETFs are exchange-traded funds that are ever-growing in interest from beginners to expert investors. ETFs invest in stocks in the alternative energy sector, which can cover the likes of; solar energy, wind, hydroelectric and geothermal companies. Similar to other types of funds, clean energy ETFs can be a good way to bring some diversification to your portfolio. They are also considered to be very much cost-effective in comparison to mutual funds.
If you are not an expert in the clean energy sector, then investing in exchange-traded funds is one way to gain exposure to this sector.
Are Clean Energy ETFs a Good Investment?
Over recent years the concerns over the environment have grown and continue to do so, which is seeing an increasing number of renewable energy ETFs emerging.
Global leaders are making strong pledges and plan to boost infrastructure around clean energy, which is much to be excited about for the sector. For example, in April, U.S. President Joe Biden announced a new goal of reducing greenhouse gas pollution 2005 levels from 50% to 52% reduction by 2030. In terms of achieving the goal, it will be supported by all sorts of green initiatives, from offshore wind farms to incentives for alternative energy production.
Now there is a lot going on and much promising for clean energy, but let's take a look at a few pros and cons of investing in clean energy ETFs:
Pros
Growth potential/higher returns – Given the large plans and efforts across the globe around clean energy, with huge funding being allocated to the sector, there should be great upside to come. Prior to the pandemic, there had been decent momentum with environmental action, however, a slowdown was seen, understandably. It is again being brought to the forefront of minds and agendas, so decent upside should be anticipated.
Unstable fossil fuels price – As a result of the Covid-19 pandemic, demand for oil did largely, at one point it did briefly result in a massive price reduction which saw Crude oil prices fall to negative for the first time in history in the US. The fuel industry suffered a lot during the pandemic. Also, the stock prices of fuel companies dropped significantly.There has been substantial divestment by financial institutions, moving away from fuel companies given their observations of financial risks in the long term. Global warming and climate change are signs of it. Several manufacturing companies have commenced the production of low-emission products. Renewable energy is growing.
Surging stats globally – In terms of addition in power capacity, they saw their highest year-on-year increase in over two decades last year — 45% to nearly 280 GW. With high capacity additions becoming the new norm, renewable energies now make a chunky 90% of the current power capacity expansion across the globe. Moreover, solar power system development is breaking pre-pandemic records, and it's estimated to reach 162 GW by 2022. At the same time, wind capacity additions have increased 90% globally. The market growth for both is nearly 50% higher than it was on average back in 2019.
Cons
Over-inflated stock pricing – There are a number of companies with the clean energy space that many analysts believe that should have naturally small caps, however, their current market caps are inflated several times over by mass demand and an under-supply of clean energy equities ready to service this demand.
Higher risk – ETFs in general can be volatile, depending on the stocks they hold, even with the diversification they offer. We have to keep in mind just how much of a trend this sector is, clean energy, given this, does make it somewhat of a bet. The year 2020 did see a huge push in public policy and corporate objectives toward the goal of carbon neutrality. It is just whether the momentum can pick up the progress of where it left off. It does present itself as a higher risk sector, but with that being said and the potentially promising outlook, does come with a higher reward pay-out.
Excessive volatility – Most clean energy ETFs do contain what is known as high-beta stocks, meaning they are expected to be more volatile compared to the broader market and typically under perform to the downside. Beyond concerns of the pace in the global economic recovery, issues such as rising inflation as a global trend and climbing interest rates do represent headwinds for all risk assets. Clean Energy ETFs will remain exposed to such macro trends.
Where to Buy Clean Energy ETFs
Here are our recommended brokers for investing in clean energy ETFs in the UK.
1. eToro – Top Broker to Buy the Best ETFs with 0% Commission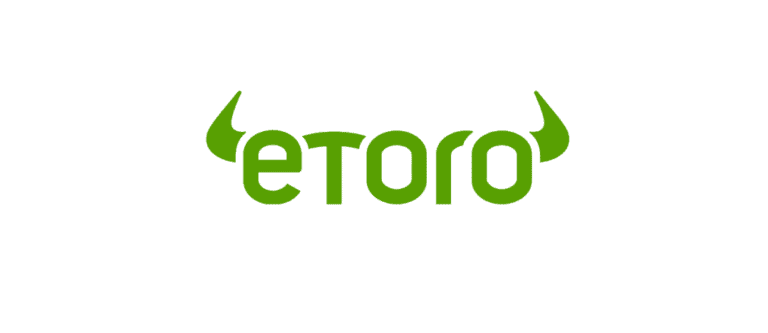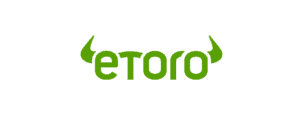 We like eToro, as they serve over 20 million traders across 120+ countries. A recognized global stock broker that offers a full suite of financial products such as stocks, crypto, indices, forex, commodities, and ETFs. eToro has managed to establish a strong reputation given the simplicity of its user interface and easy-to-understand fee structure. Another huge plus is that you will not pay anything in fees, it is zero commission.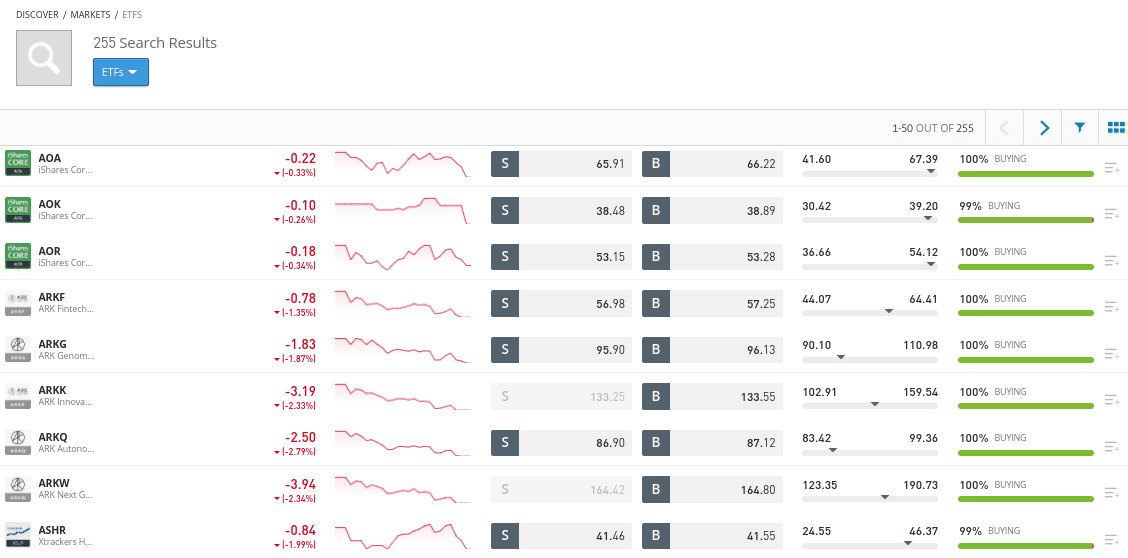 Regulation
eToro is regulated in Australia by the Australian Securities and Investments Commission (ASIC). The Financial Conduct Authority (FCA) regulates eToro in the UK. And in Cyprus, regulation is covered by the Cyprus Securities & Exchange Commission (CySEC).
Products
eToro offers a wide variety of ETFs, some 250+, with the majority being index ETFs. Index ETFs track the stock exchange index of a particular country, for example, such as the UK's FTSE 100, or US's S&P 500, or a specific sector index. Other types of ETFs covered by eToro include commodity ETFs, real estate ETFs, bond ETFs, inverse ETFs, and leveraged ETFs.
We also appreciate the accessibility in terms of the minimum ETF investment amount, which is just $50. This means that you can buy the best energy ETFs UK with a nominal amount of capital. Once your investment has been completed, you are able to monitor the value of your clean energy ETF whenever you want via your eToro portfolio. When you wish to cash out your clean energy ETF, this is very simple at the click of a button – as long as the respective market is open.
Copy Trading
eToro has another great feature which is CopyTrader, its eToro's proprietary system for copy trading or also known as social trading. It is completely free of charge, you can review the performance of top traders on the platform and then instruct CopyTrader to apply their trading activity using an allocation of your own funds. This happens in real-time. You are able to set aside whatever amount of funds that you want to be used. You can copy many traders at once.
Pros:
120+ countries serving 20 million investors.
Regulated by FCA, ASIC, and CySEC.
250+ ETFs.
Strong selection of ETFs available.
CopyTrader – for copying successful traders.
The fee structure is very clear.
Straightforward and intuitive user interface.
Cons:
No support for MT4 or MT5 platforms.
67% of retail investor accounts lose money when trading CFDs with this provider.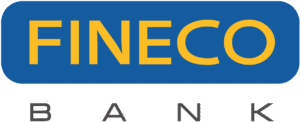 Fineco Bank is a solid alternative given the sheer size of its asset library. To quantify that as an example, eToro is capped at around 250+ of the best ETFs to buy, whereas Fineco offers thousands of markets.
If you are a price-conscious trader, Fineco Bank is a highly competitive share dealing option with a broad range of investment options. But it does come with a price: a substandard offering of educational materials and research reports.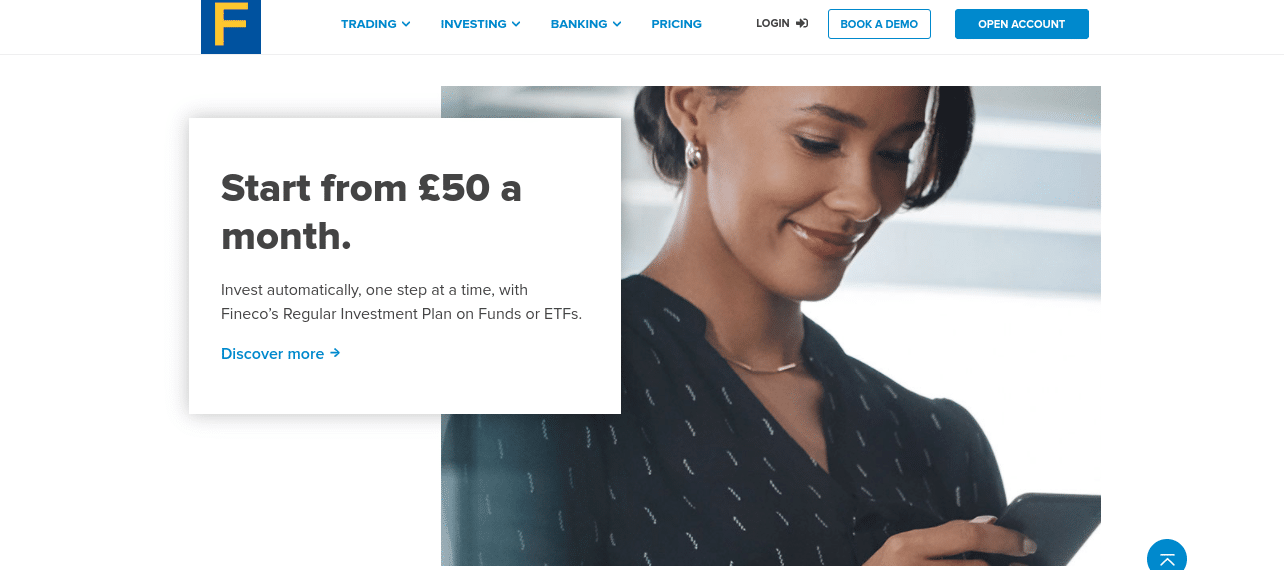 Fineco allows you to trade thousands of not only UK products, but also international ones too; exchange-traded funds (ETFs), stocks, bonds, and more complex instruments such as contracts for difference (CFDs), commodities, currencies, futures, and options.
With regards to the pricing, you pay a flat trading fee regardless of order size and can trade multiple products in local currencies from a single multi-currency account, with only one password and PIN to remember. The site currently offers new customers a £500 trading commission to use in the first three months.
Pros:
Highly Regulated With A Long Track Record
Excellent Mobile Platform
One-Stop Solution All From One Account
Multi-Currency Trading Allowed
Cons:
Only bank transfer for deposit
Limited educational tools
Your money is at risk.
How to Invest in a Clean Energy ETF
As we draw to an end of our guide on the Best Clean Energy ETFs UK for 2021 – we are now going to take you through the simple process of making your first investment.
In this demonstration, we will be using our preferred provider FCA regulated broker eToro – allowing you to participate in the best ETFs UK commission-free and from a minimum stake of just $50.
Step 1: Open an Account and Upload ID
Visit the eToro website and open an account. This will require some personal information and contact details – and should take you no more than 5 minutes to complete.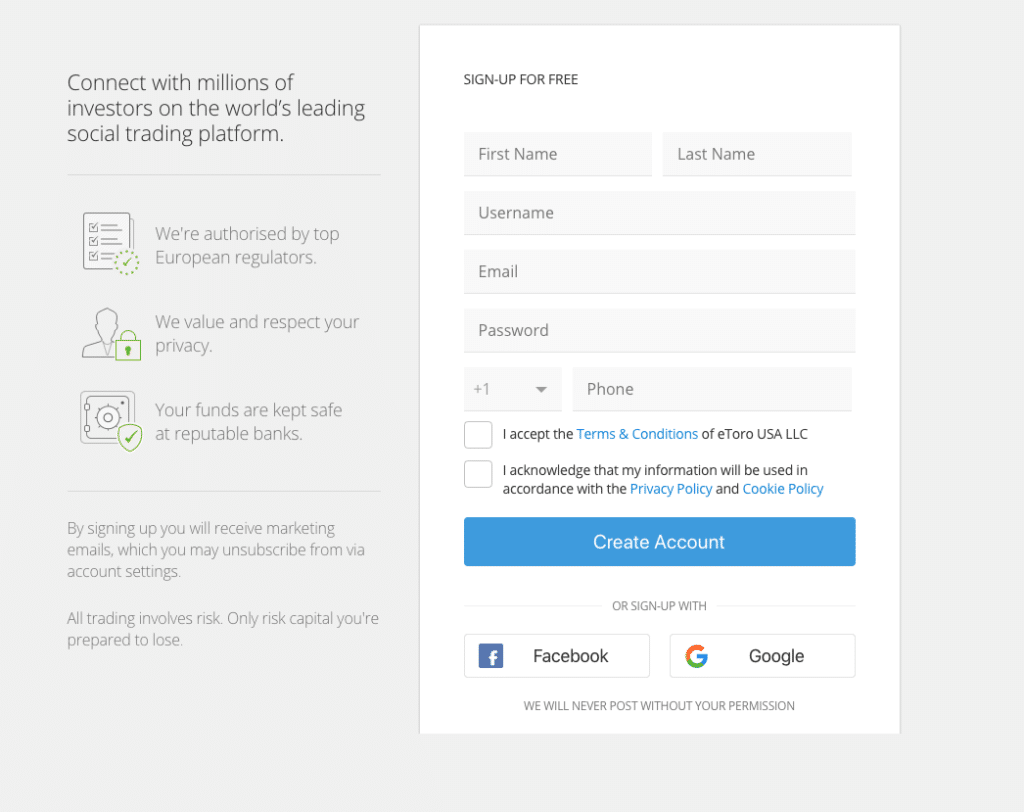 This is a regular practice that all FCA-regulated brokers request, requiring some personal information from you.
Step 2: Verify your identity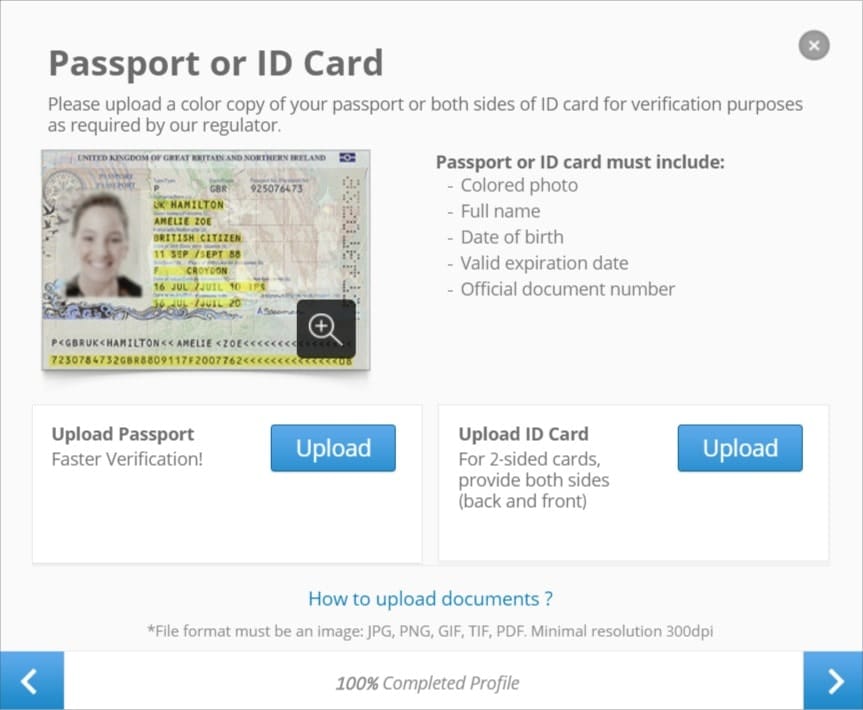 The next step is to go through the basic information questionnaire. You will simply provide your name, birth date, address, nationality.
Additionally, you will need to upload a copy of your passport or driver's license. eToro will require a recent bank account statement or utility bill to verify your home address.
You do have the option of uploading the documentation at a later date. However, it's worth noting that this needs to be done before you can make a withdrawal or deposit of more than $2,250.
Step 3: Make your first deposit
Once your account is confirmed and opened, you can start trading.
You can choose from the following payment methods:
Debit/Credit Card (Visa, MasterCard, Maestro)
Paypal
Skrill
Neteller
UK Bank Transfer
Step 4: Place an ETF Order
Finally, the moment you have been waiting for, execution time. Place an order on your chosen ETF. See from the example below, the minimum is 50 US dollars – so you can enter any amount as long as it meets with this minimum.
Lastly, click on the 'Open Trade' button for the completion of your commission-free ETF investment!
eToro – Buy the Best Clean Energy ETFs at 0% Commission
To summarise, through this guide we have detailed the top 10 best clean energy UK ETFs. We broke down the analysis for our picks and the opportunities within the clean energy sector.
As detailed, at present, the industry is very much a trend one, so there are of course risks, but given the potential, it does present decent upside possibilities.
If you're looking to get your ETF investing journey rolling, then eToro is a great place to start your ETF investing journey right now, eToro is a solid broker to consider. The FCA-regulated provider does offer a decent variety of ETFs to get involved and invested in, which can be traded commission-free. Moreover, the minimum investment is very much nominal, just $50 per ETF.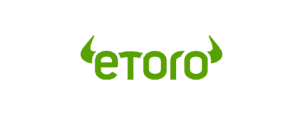 67% of retail investor accounts lose money when trading CFDs with this provider.
Frequently Asked Questions on Clean Energy ETFs
Which clean energy ETF is the best?
Are clean energy ETFs a good investment?
Are clean energy ETFs overvalued?
Is ishares clean energy a good investment?
Where can I invest in clean energy ETFs?
Read next