AQRU Review UK 2023 – Features, Fees, Pros & Cons Revealed
Fact Checked
Everything you read on our site is provided by expert writers who have many years of experience in the financial markets and have written for other top financial publications. Every piece of information here is fact-checked.
Disclosure
Please note that we are not authorised to provide any investment advice. The information on this page should be construed for information purposes only. We may earn commissions from the products mentioned on this site.
Due to the growth of cryptocurrency in the past decade, more people than ever hold digital currency alongside their FIAT. This has prompted numerous innovative platforms to launch 'crypto savings accounts' – with AQRU being one of the most exciting.
This article presents our in-depth AQRU review, covering everything you need to know about the platform and its rates before showing you how to get started with AQRU today – all in a matter of minutes!
What is AQRU?
First thing's first – what is AQRU? AQRU is a platform owned by Accru Finance Ltd, a London-based financial services company. The platform offers a beginner-friendly way for those who buy cryptocurrency to generate a yield on their holdings. This works in much the same way as traditional bank deposits – hence the term 'crypto savings account'.
The AQRU crypto lending platform has been designed and constructed by a team of experienced investment, payment, and technology experts to provide a simple way to generate a return on crypto holdings. At present, AQRU supports both stablecoins and non-stablecoins – more specifically, BTC, ETH, USDT, USDC, and DAI.


The company behind AQRU, Accru Finance Ltd, is regulated by the Republic of Lithuania. Although this may not be directly applicable to UK-based investors, it does add a considerable degree of credibility to the platform. Furthermore, AQRU has a $30 million reserve fund in case of cyberattacks and partners with Fireblocks, the leading crypto wallet security firm, to protect customers' holdings.
Although AQRU doesn't offer an 'AQRU exchange' per se, it does provide high yields on supported cryptos. Investors who buy Bitcoin or Ethereum will be glad to know that AQRU offers an impressive 7% per year on these two cryptos. Notably, AQRU provides yields of 12% per year on the stablecoins mentioned earlier. The most appealing thing is that investors can withdraw their holdings at any time – there is no lock-up period with AQRU.
Cryptoassets are highly volatile unregulated investment products.
How Does AQRU Work?
Before our AQRU review dives into the platform's features, let's take a look at how it works. As investors interested in cryptocurrency trading will know, generating a yield on crypto holdings is much easier said than done. AQRU's platform looks to solve this issue by providing a quick and easy way to deposit crypto and offer a consistent return.
AQRU does this by lending out customers' deposits to institutional and retail borrowers, alongside providing liquidity to decentralised exchanges (DEXs). Funds loaned to retail or institutional borrowers are 100% collateralised, whilst funds loaned to DEXs are also fully insured. Thanks to this approach, AQRU offers scope for depositors to access their holdings whenever they please.

AQRU can offer such impressive yields because digital currencies are still challenging to obtain through traditional channels. This means that borrowers who require crypto must acquire it through lending platforms such as AQRU – with depositors compensated for the risk through high rates of return.
Ultimately, this means that investors can use AQRU's web platform (or their handy AQRU app) to generate interest on their holdings instantly. Our research for this AQRU review noted that the sign-up process only took a few minutes to complete, after which you're all set to make your first deposit. Interestingly, AQRU is currently running a sign-up offer where new users receive 10 USDT for free – and a further 75 USDT for referring a friend!
Supported Coins
Now that you've got an idea of how AQRU can offer such impressive yields, let's look at the supported coins. As noted earlier in this article, AQRU currently supports BTC, ETH, USDC, USDT, and DAI deposits. The first two, BTC and ETH, fall under the category of 'non-stablecoins', whilst the last three are categorised as stablecoins.
Stablecoins are dubbed by many to be the best cryptocurrency to invest in, as they are pegged to an underlying asset – usually the US Dollar. As such, these cryptos remove much of the volatility from trading and tend to be in high demand from various parties. As such, AQRU can offer a whopping 12% return per year on stablecoin deposits, with non-stablecoin deposits returning an impressive 7% per year.
FIAT Currencies
Through our research for this AQRU review, we also noted that the platform accepts deposits in FIAT, too. Specifically, AQRU accepts GBP and EUR deposits – although these don't offer a yield in the same way as the five supported cryptocurrencies. Instead, AQRU allows investors to deposit in these FIAT currencies and buy crypto – which investors can then use to generate a yield. The entire process is facilitated through MoonPay, a respected third-party payments provider specialising in crypto.
AQRU Interest Rates
As you'll now be aware, AQRU offers a way to generate interest payments that are far higher than what you'd expect to receive with a traditional bank. These interest rates are presented in the table below for easy reference:
| | |
| --- | --- |
| Coin Name | Interest Rate |
| USDC | 12% per year |
| USDT | 12% per year |
| DAI | 12% per year |
| BTC | 7% per year |
| ETH | 7% per year |
AQRU Fees
Given the impressive features offered by the platform, you'll likely want to know what the applicable AQRU fees are. The most important thing to note is that AQRU doesn't charge any fees to make a deposit and begin generating a return. No commissions are charged, and no fee is taken from the accrued interest.
Furthermore, withdrawals made in FIAT currency are also entirely free to complete. The only fee charged by the AQRU platform is when crypto withdrawals are made, which comes with a $20 (£14.95) charge. Finally, as crypto purchases through AQRU are facilitated by MoonPay, there may be some transaction fees for this service – although these are charged by MoonPay and not by AQRU.
Fee Type
Fee
Commissions
Free
Deposit Fee
Free
Withdrawal Fee
FIAT Withdrawals: Free

Crypto Withdrawals: $20 (£14.95)

Crypto Purchases
Facilitated through MoonPay; third-party fees may apply.
AQRU Wallet
When you buy BTC, you'll need to find the best Bitcoin wallet UK to store your holdings in. However, AQRU makes the process even easier by handling the storage and safety aspect for investors through a partnership with Fireblocks, a leading wallet infrastructure firm.
When you deposit crypto to the AQRU platform, AQRU will store your holdings using Multi-Sig technology to ensure the safety of your assets. Furthermore, in the unlikely event that funds are stolen, AQRU also has a $30 million reserve fund for insurance purposes. Finally, as AQRU stores all customer holdings in high-security wallets, customers can withdraw their funds safely at any time.  
AQRU Mobile App
The yield-generating services that AQRU offers can be actioned through the web platform or the mobile app – with the latter being ideal for investors who spend a large portion of the day away from their computers. The app is available through the App Store or Google Play and is completely free to download and install. Users can sign in using the credentials they have created through the website or create a new account from scratch in minutes.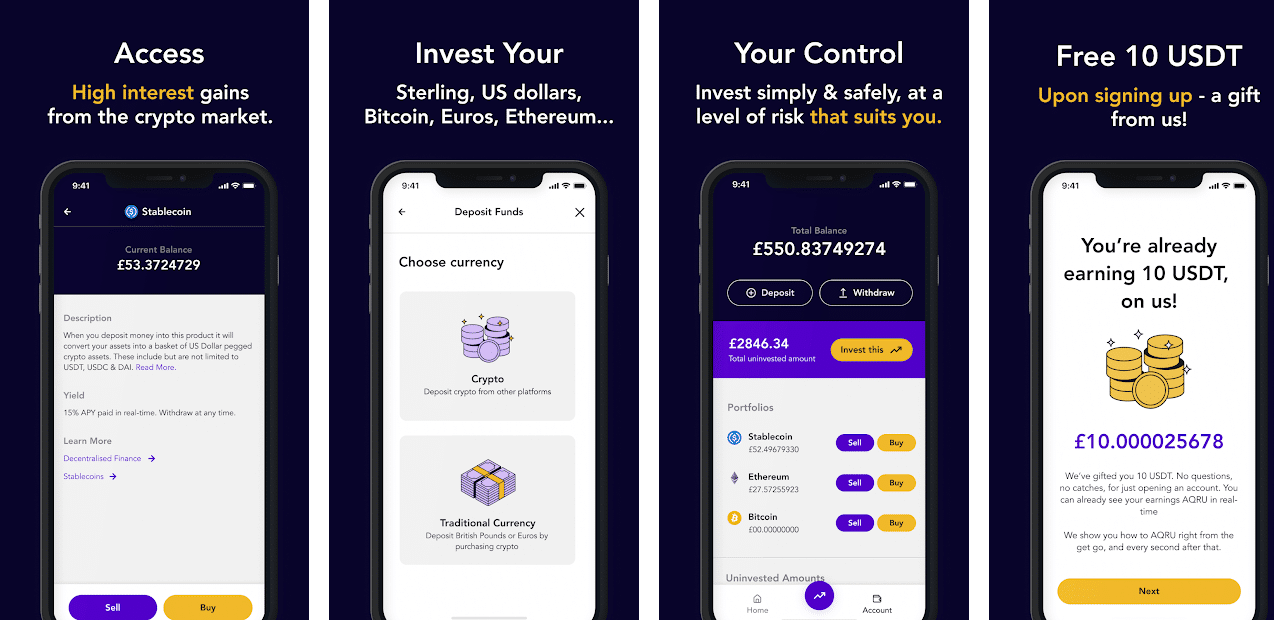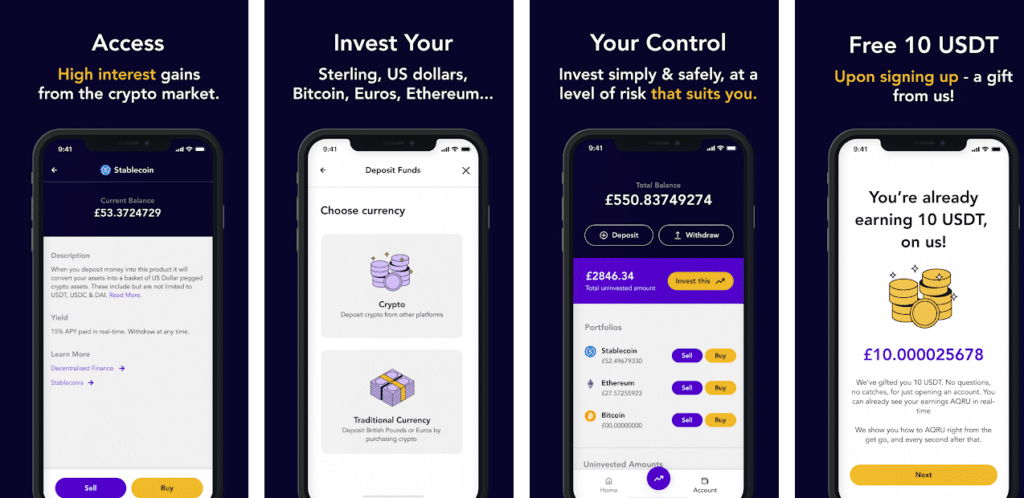 In terms of features, the AQRU app allows users to deposit crypto or FIAT and then begin generating a yield right away. New users will receive a 10 USDT bonus, which can also be used to earn interest. The interface allows for easy navigation and doesn't have any advanced jargon or complicated features – making it ideal for beginner investors. Finally, the app clearly shows your invested and uninvested amounts and highlights the interest you are earning and the amount earned on your deposit.
AQRU User Experience
Like most of the best investment platforms UK, the user experience with AQRU is streamlined and will appeal to beginners and advanced investors alike. Through our research and testing for this AQRU review, we found both the web-based platform and the mobile app to be incredibly user-friendly. As soon as you log into the web platform, you can see your total balance, along with your total earnings and your earnings per day.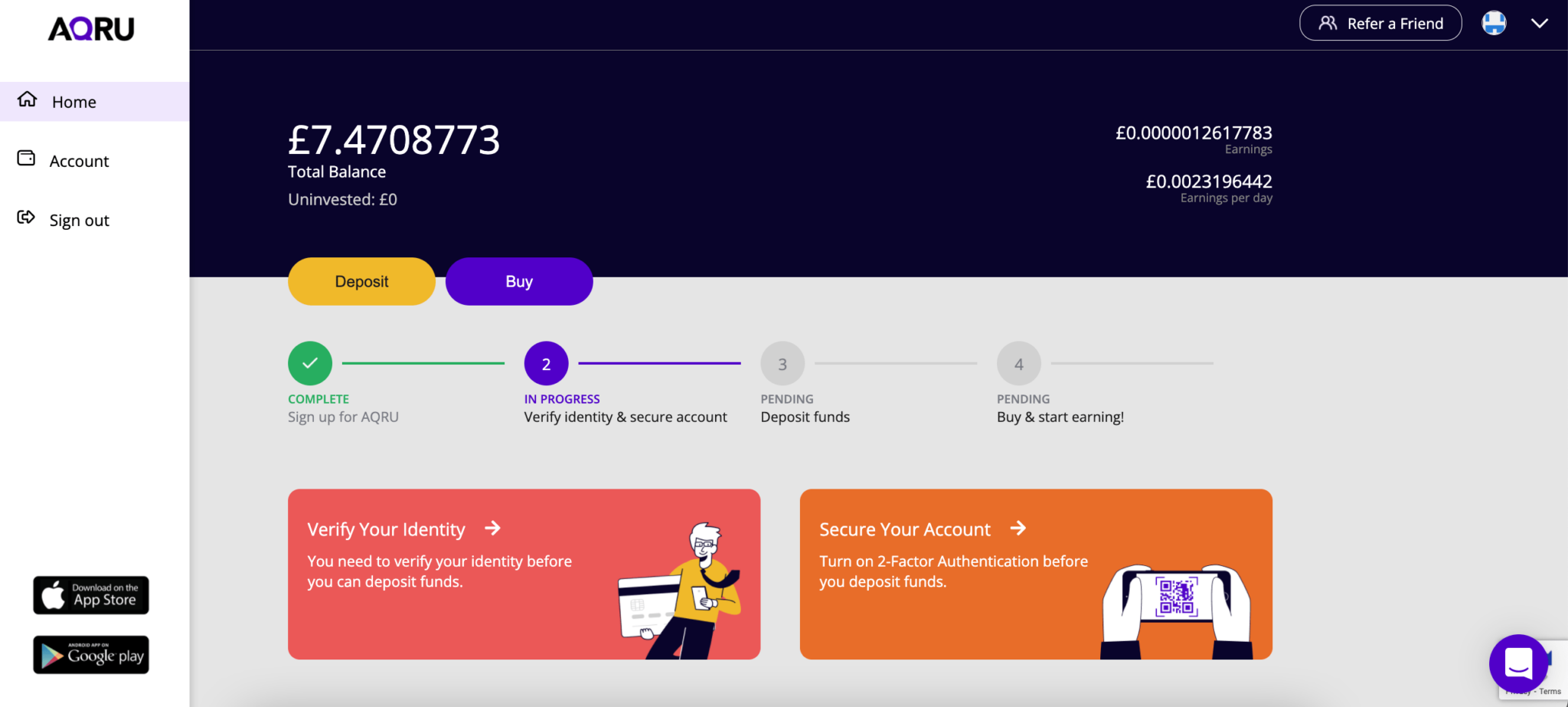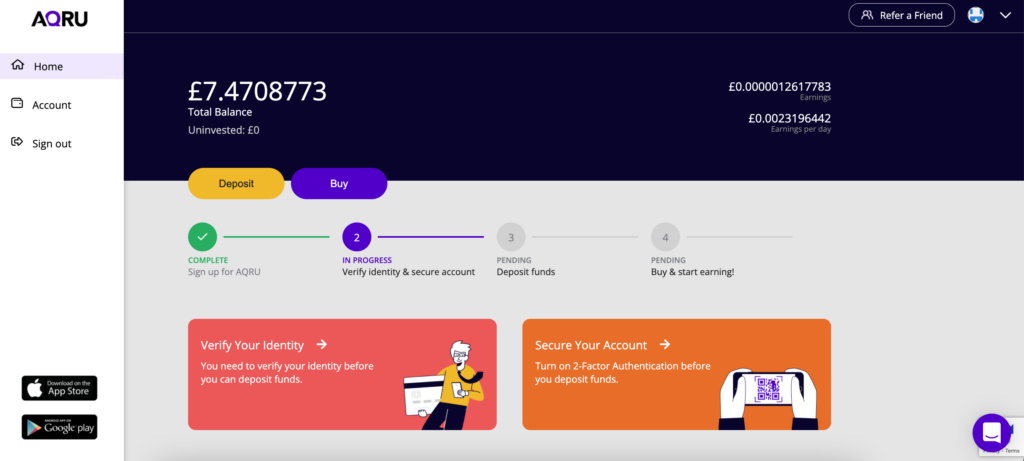 AQRU requires you to verify your identity before depositing funds, which can be completed online and only takes a few minutes. Following this, AQRU also offers two-factor authentication to secure your account before depositing, helping to improve the safety level of your investment. Once these aspects have been handled, you can deposit in seconds via bank transfer, credit/debit card, or crypto.
It's also easy to begin generating a return, as all you have to do is click 'Buy' and choose between USD Stablecoins, Ethereum, or Bitcoin. In just a few clicks, you'll be able to start generating interest payments on your holdings, which are calculated daily. If you require any help whatsoever, there is a handy live chat feature where you can ask questions – with response times averaging less than ten minutes. Let's say you buy Bitcoin on AQRU via the mobile trading app. You can then start earning interest on your BTC holdings with ease.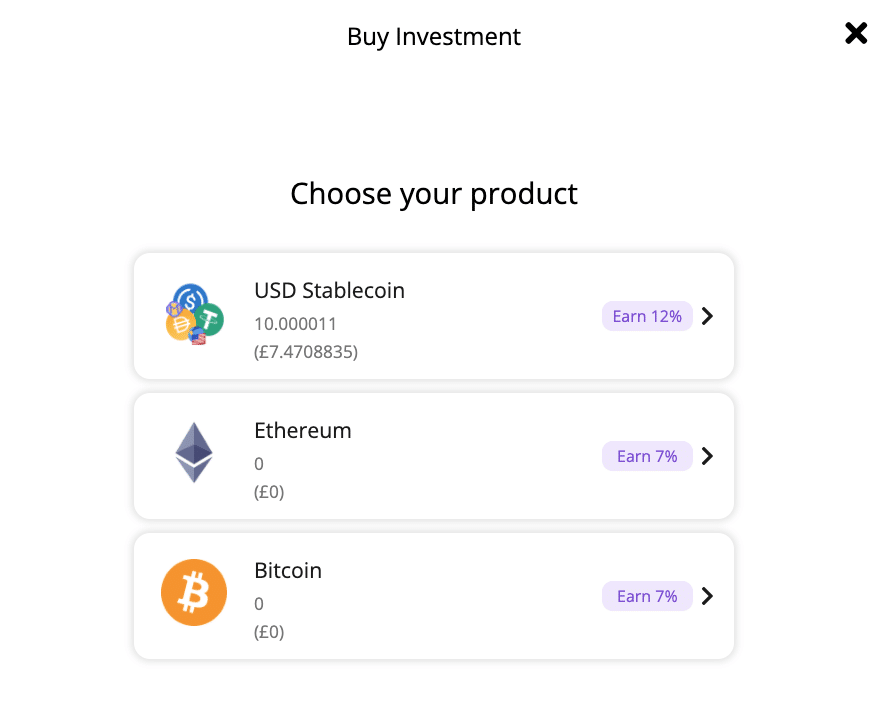 The app itself boasts all of the same features that the web-based platform has, with complete breakdowns of your balances and earned interest. You can easily add more to your deposited amounts by tapping 'Buy' and also view the holdings that are currently uninvested. You can also obtain your unique referral code in the settings section, which will net you a 75 USDT bonus if someone signs up using it. Finally, you can even turn on 'Privacy Mode', which will hide your balances – ideal if someone else is using your phone.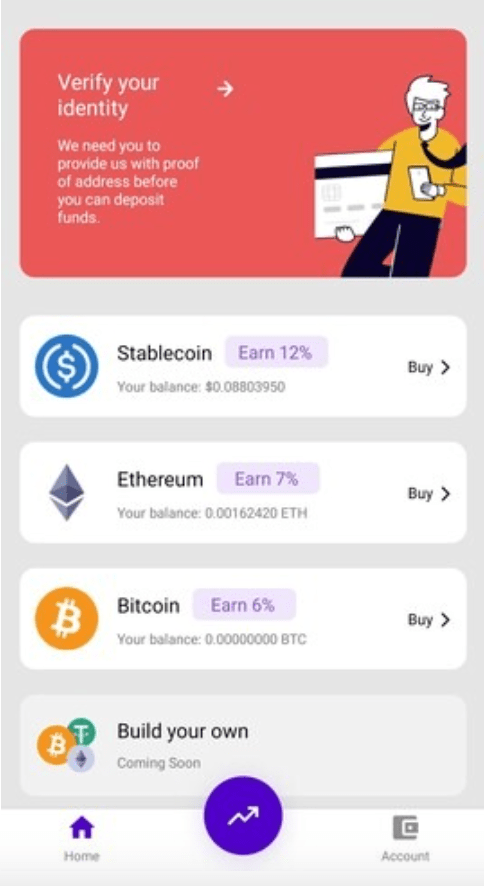 AQRU Tools & Features
As you'll be aware by now, AQRU offers a variety of handy features designed to make the yield-generation process as simple as possible. Let's dive in and explore some of the main elements in more detail: 
High Interest Rates
As noted previously, the interest rates that AQRU offers are far higher than those offered by traditional savings accounts. According to The Guardian, interest rates on personal accounts continue to fall, with the average rate offered by instant access accounts being less than 0.2%! This contrast highlights how attractive AQRU's yields are and how they can help grow your funds over time.
No Lock-Up Period
Many crypto savings accounts require users to 'lock-up' their crypto holdings for a specified period, meaning they cannot withdraw it (or are heavily penalised if they do). AQRU does not employ this lock-up structure, meaning that investors can withdraw their capital at any time. This is ideal when the crypto market is volatile or if the investor requires the crypto for other endeavours.
Solid Security Features
The partnership with Fireblocks ensures that all of AQRU's customer holdings are safe. According to the Fireblocks website, the software is trusted by over 800 institutions worldwide and has secured the transfer of over $2 trillion in digital assets so far. Furthermore, Fireblocks employs proprietary technology with next-gen protocols to provide the highest level of safety possible for crypto holdings.

Experienced Leadership Team
The AQRU Board of Directors and Senior Management team comprises numerous people who have decades of experience within the tech sector. Mike Edwards, the Non-Executive Chairman, has worked with multiple tech startups that were sold to the likes of Google and Twitter. Furthermore, AQRU's CEO Philip Blows has over 15 years of fintech and asset management experience and was formerly the Head of Trading at Moneycorp. 
Education & News Section
Finally, AQRU also has a dedicated 'Insight's section on their website, filled with blog articles related to numerous areas of the crypto industry. Alongside educational articles, AQRU also has content related to the AQRU platform itself, making it easy for users to keep up to date with the latest innovations.
AQRU Minimum Deposit
Another appealing aspect that we noted during our AQRU review is that the minimum deposit to begin generating interest is only €100 (£83.55). As deposits are free to make via bank transfer or crypto, the entire amount can be used for yield-generating purposes. Furthermore, since the minimum deposit threshold is so low, this makes AQRU accessible to casual investors with lower amounts of capital.
AQRU Regulation & Licensing
AQRU ensures it is one of the best crypto apps in terms of safety by boasting regulation from the Republic of Lithuania. Although this doesn't offer direct investor protection within the UK, it does add a considerable degree of credibility to the platform. Furthermore, AQRU is also authorised to act as a Virtual Assets Service Provider (VASP) under Lithuanian law. 
AQRU Contact and Customer Service
Like the best crypto exchanges UK, AQRU has stellar customer service options. Our AQRU review noted that the web-based platform has a dedicated live chat feature, which is accessed by clicking the icon in the bottom right. Users can type in questions about any aspect of the AQRU platform and receive a speedy reply – with response times stated to be less than ten minutes.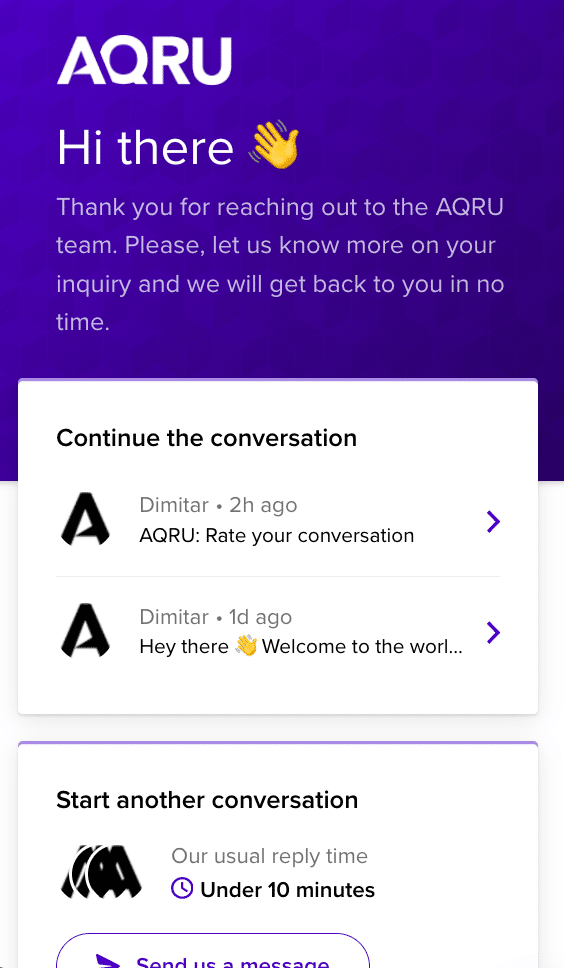 Notably, the responses from AQRU are from a dedicated team and not bots, so queries are handled in a personal manner. Aside from the live chat feature, AQRU also has a detailed FAQs section that provides answers to many common questions. Finally, users can even contact the AQRU team through the contact form on the AQRU website, with responses received via email.
How to Earn Crypto Interest on AQRU
Before concluding this AQRU review, let's take a look at the sign-up process. The entire process has been designed to be as streamlined as possible and can be completed in a matter of minutes.
With that in mind, the five quick steps below will show you how to get set up with AQRU today – all from the comfort of your own home.
Step 1 – Open an AQRU Account
Head over to the AQRU website and click 'Sign Up'. Enter your email address, choose a password, and decide which currency you'd prefer your account to be denominated in. Click 'Create Account', and AQRU will send you an email with a link to verify your email address.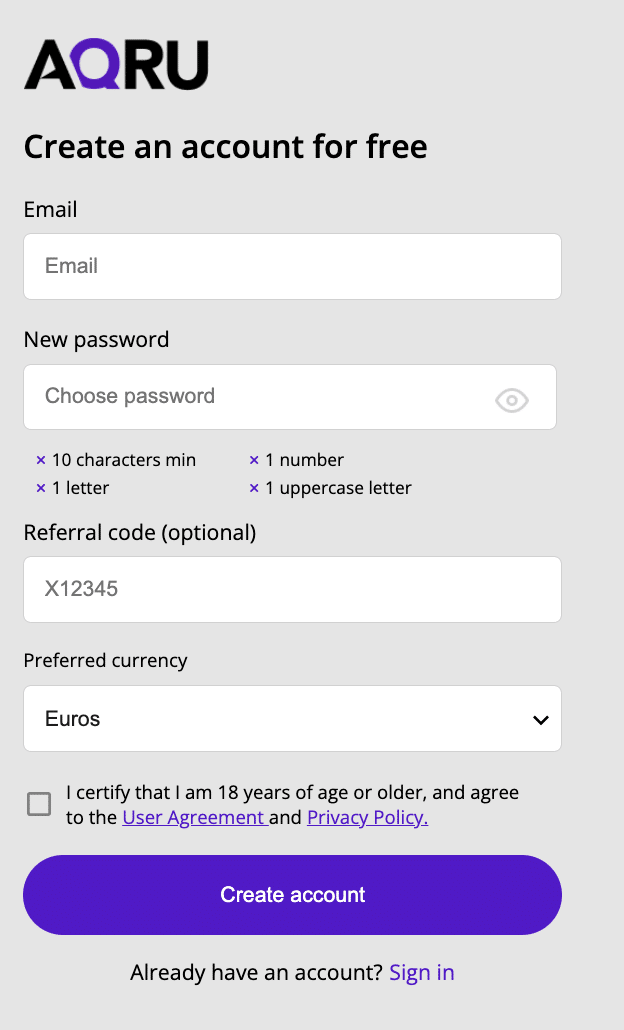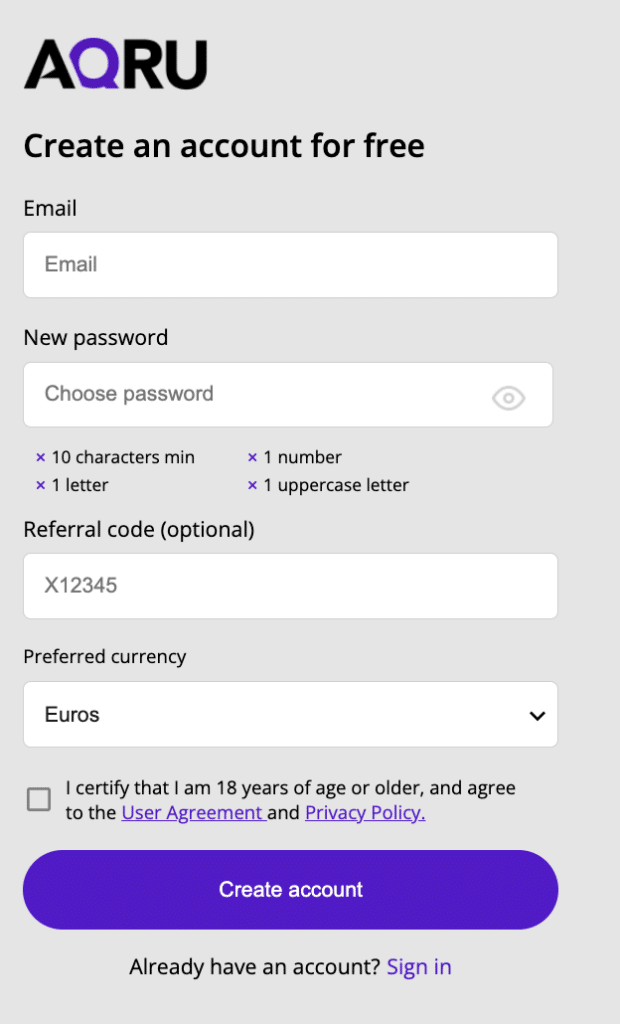 Cryptoassets are highly volatile unregulated investment products.
Step 2 – Verify Identity
Before you can make a deposit, you'll have to verify your identity. This can be completed through your account dashboard and requires you to complete some KYC checks and then upload proof of ID (e.g. passport) and proof of address (e.g. utility bill). Finally, you'll also have to take a selfie for verification purposes.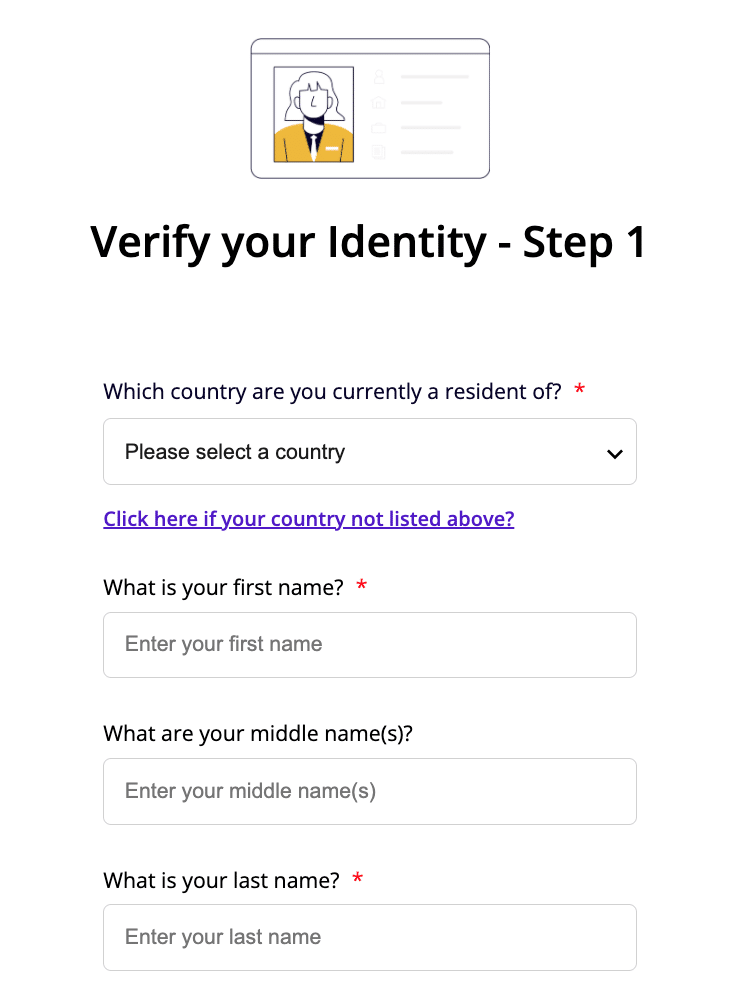 Step 3 – Download App
Head over to the App Store or Google Play and search for 'AQRU'. Download the app and then log in using the credentials you created in Step 1.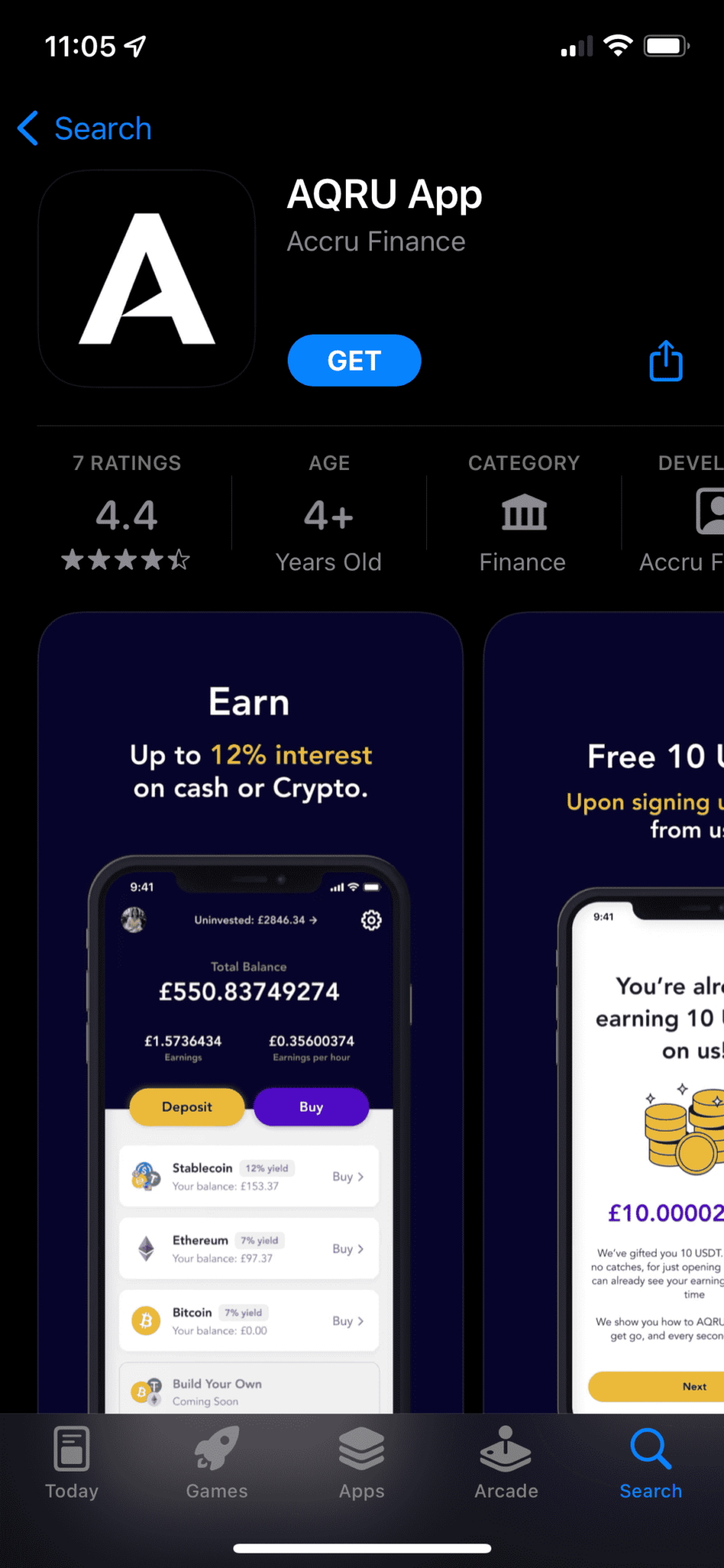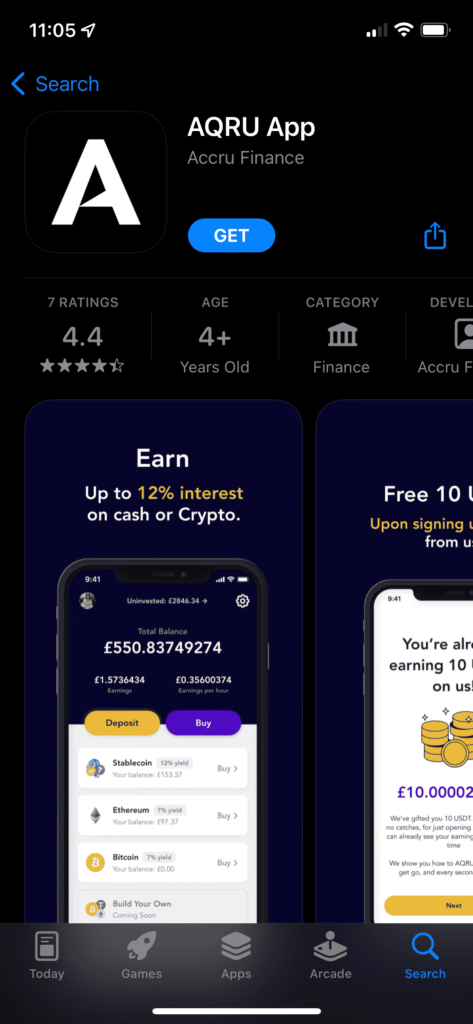 Step 4 – Make a Deposit
Click 'Deposit' on the homepage and choose whether you'd like to fund your account via credit/debit card, bank transfer, or crypto:
Credit/Debit Card – Facilitated through MoonPay. Can purchase supported cryptos to begin generating interest. Transaction fees may apply, although these are charged by MoonPay.
Bank Transfer – EUR and GBP deposits are supported. EUR deposits are facilitated through SEPA, whilst GBP deposits are completed through FPS. Bank transfer deposits usually take up to 48 hours to appear in your account.
Crypto – AQRU will supply a QR code and a wallet address to make your crypto transfer. Transfers are free to make and will arrive immediately after the transaction has been verified.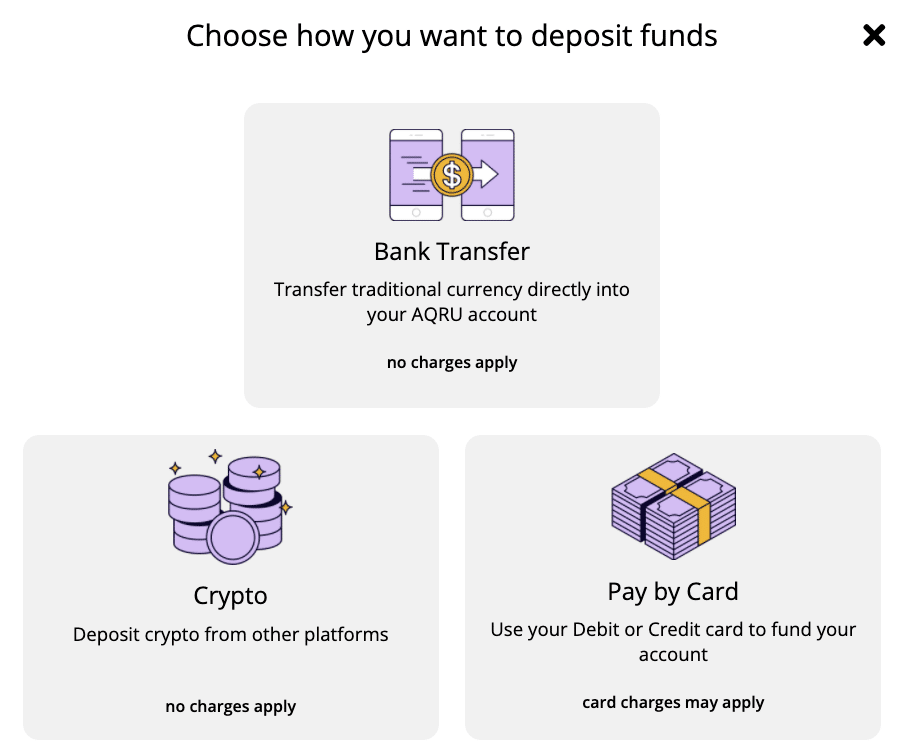 Step 5 – Begin Earning Interest
Once you have funded your account, you can begin generating interest. Click 'Buy' and choose whether you'd like to deposit a stablecoin, Bitcoin, or Ethereum. In the order box that appears, decide on the amount of the digital currency that you'd like to invest and click 'Buy Investment'. Your funds will then be moved to the 'Invested Amounts' category, where they will begin generating a return immediately.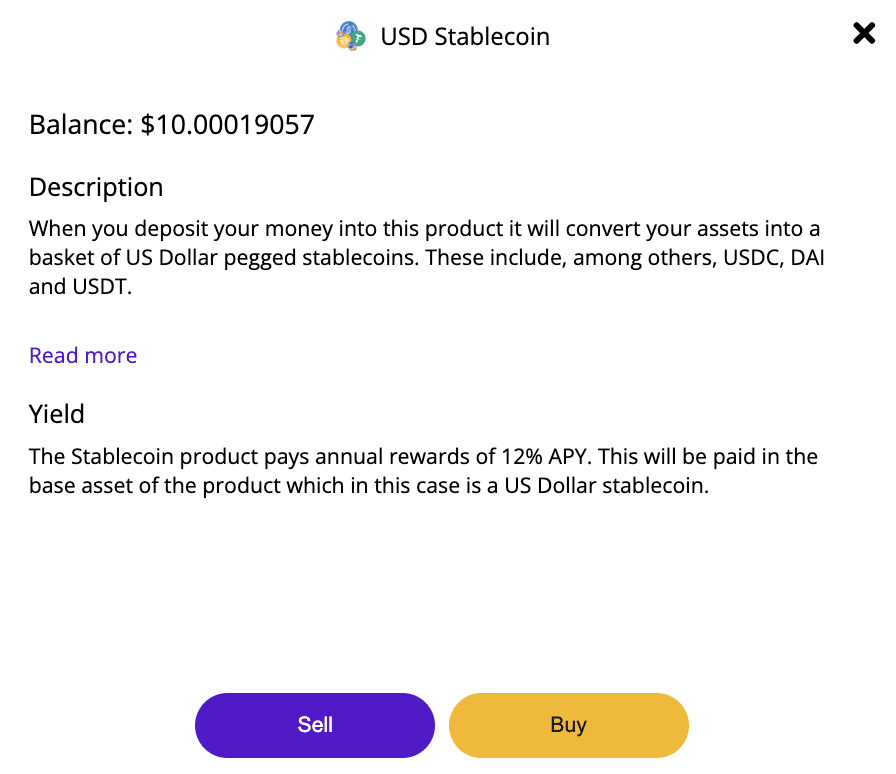 Cryptoassets are highly volatile unregulated investment products.
AQRU Review – The Verdict
To summarise, this AQRU review has covered everything you need to know about the platform, highlighting its features and showing you how to begin generating a yield right away. As more and more people start holding crypto, services like those AQRU offers are set to become in high demand – meaning now could be the ideal time to begin generating interest on your holdings while yields are high.
If you'd like to get started with AQRU today, you can do so by clicking the link below. As a new user, you will receive 10 USDT just for signing up – and a further 75 USDT if another user signs up using your referral code!
Cryptoassets are highly volatile unregulated investment products.
Frequently Asked Questions on AQRU
What interest rates does AQRU pay?
What fees does AQRU charge?
What is the minimum deposit with AQRU?
What cryptos does AQRU support?