How to Buy Shares Ireland – Beginner's Guide 
Fact Checked
Everything you read on our site is provided by expert writers who have many years of experience in the financial markets and have written for other top financial publications. Every piece of information here is fact-checked.
Disclosure
Please note that we are not authorised to provide any investment advice. The information on this page should be construed for information purposes only. We may earn commissions from the products mentioned on this site.
If you're like the thousands of beginner traders looking athow to buy shares in Ireland , you'll know it can be overwhelming at times. But what are the best shares to buy right now? And what's the best stock broker to use in 2022? 
In this beginner's guide, we'll cover everything you need to know about how to buy shares in Ireland. We'll explore the cheapest way to invest in shares in 2022 with a regulated broker. 
How to Buy Shares in Ireland
Open an account with eToro – Visit the eToro website and tap on the button marked 'Join Now'. Enter your details and choose a username and password for your new brokerage account. 
Verify your account- As part of the KYC process you'll need to verify your account by uploading proof of identity (a copy of your passport or driver's license) and proof of address (a copy of a bank statement or utility bill).
Deposit- You can fund your account with a minimum deposit of just $50 via credit/debit card, bank transfer, or e-wallet.
Select your shares- Use the search bar to type in your preferred shares. Alternatively, you can click on 'Discover' to browse through heaps of shares spanning across 17 international stock markets. 
Buy Shares- Tap on the 'Trade' button next to your preferred share. Enter the amount you wish to invest and click on 'Open Trade' to complete your order. 
68% of retail investor accounts lose money when trading CFDs with this provider.
The Basics of Buying Shares
As the global economy begins to resume pre-pandemic activities, many beginner investors are trying to learn how to buy stocks in Ireland. But with so many equities out there figuring out how to buy shares in Ireland can be a daunting task.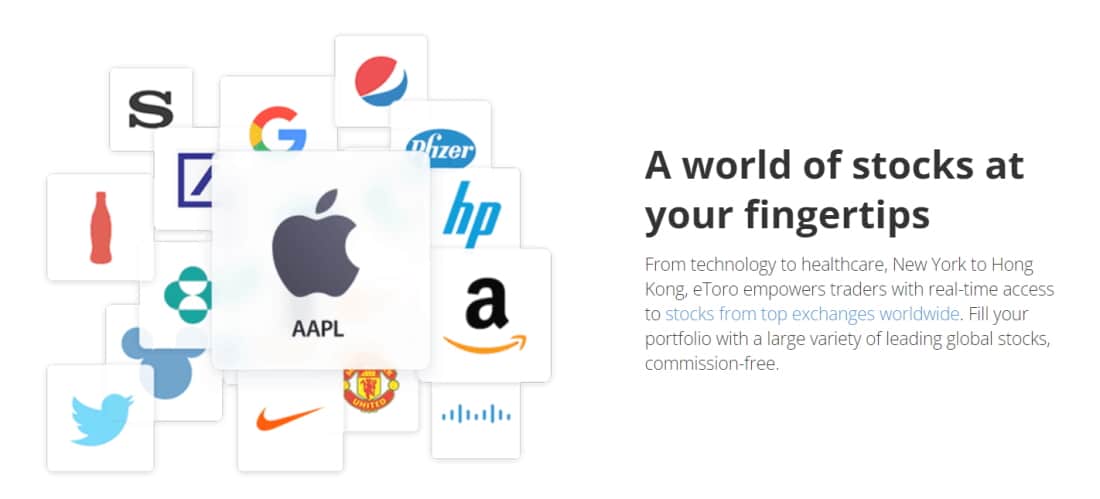 To add stocks to your investment portfolio you'll first need to open an account with a top-rated and regulated stock broker. Nowadays, there are loads of free trading platforms that offer 0% commission stock trading, as well as other innovative trading features. 
In this beginner's guide, we'll cover how to buy shares in Ireland in the most cost-effective way possible.
We'll also examine the basics of how to buy stocks and shares, as well as all the key metrics, the buyer's journey, and tax regulations. By familiarizing yourself with the fundamentals of how to buy shares in Ireland you'll be able to take that one step closer to achieving your investment goals.  
What are Shares? 
Shares typically refer to units of ownership in a publicly traded company. For instance, you could own five Microsoft shares. When you buy shares you'll become a shareholder. Some shares pay dividends to their shareholders, while others also offer voting rights.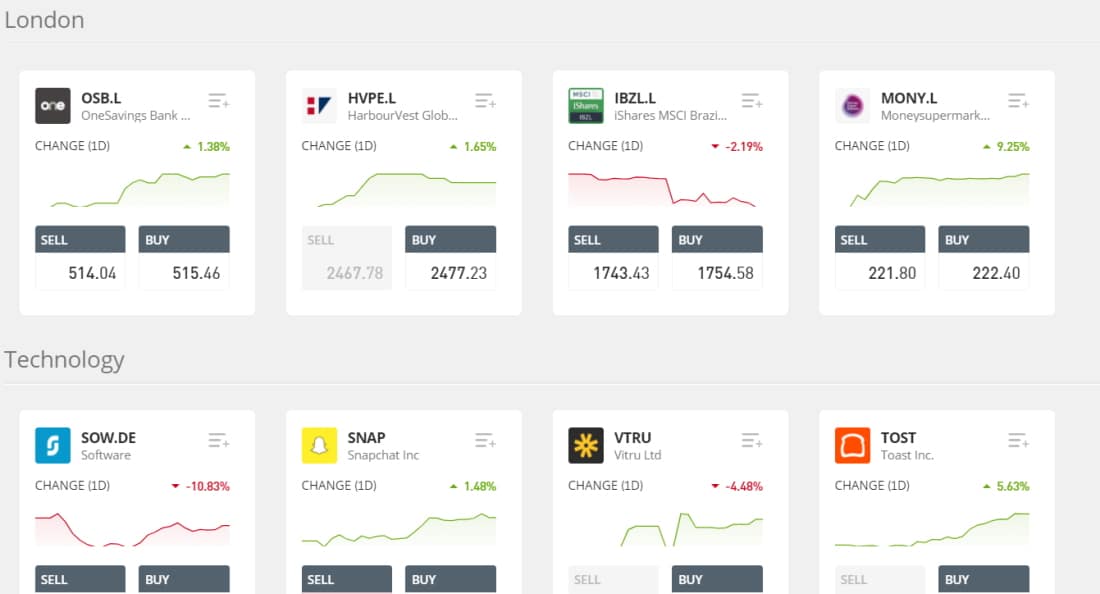 Shares work by giving you direct access and exposure to a company's market performance. Share prices typically increase when a company is performing well, and they usually drop in market value when the company is struggling. 
Stock exchanges act as the medium of exchange where shares in publicly-listed companies are bought and sold throughout the standard market hours. There are many ways a company can become publicly traded. But the most common is for companies to hold Initial Public Offerings (IPOs). 
How Much Money Can You Make from Buying and Selling Shares?
Try out our easy-to-use investment calculator to see how much money you may make while learning how to buy shares in Ireland. Keep in mind that the average annual return on stocks per year is around 10%. 
Capital Gains
Capital gains occur when the value of your shares rises above the price you paid when you first bought them.
For example: 
Let's say you purchase one thousand shares of a company at 200 cents per stock
This means that your total investment equals €2,000
Ten years down the line, the shares you bought are now worth 400 cents per stock
Your long-term investment has increased by 50% so you decide to sell your shares
You made 200p per share, meaning you earned a net profit of €2,000. 
According to revenue.ie , your payment for CGT (Capital Gains Tax), is due before you file your return. You can pay CGT online using the Revenue Online Service (ROS).  
Dividends
You'll also be able to earn a passive income from your shares in the form of dividends. Dividend stocks, in their most basic form, allow large businesses to split their profits with their shareholders.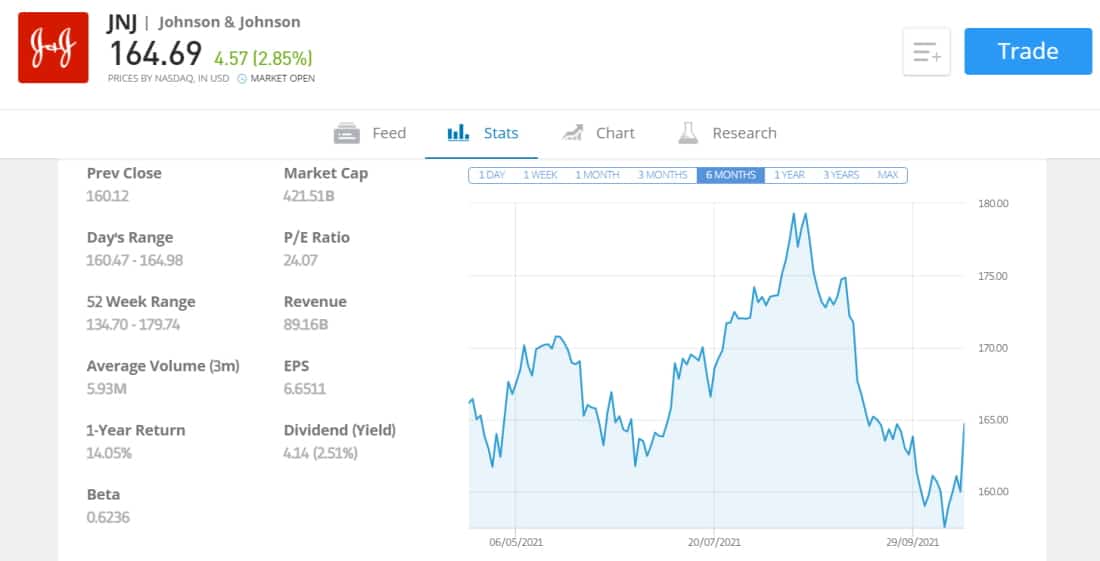 You will be entitled to your share of dividends which are typically paid out on a monthly or quarterly basis. The amount of dividend income you receive will fluctuate depending on the company's performance. Dividends are not paid on every share, but if they are, they are usually paid every three to six months.
Here's how dividends stocks work:
Let's imagine that you hold 100 shares in BP
If the company pays out 5 € in dividends per share and the shares are currently priced at 150 €
This would mean that its dividend yield would be 3.33%
Therefore you'd stand to receive 5 € times 100 which equals 500 €. 
The best part about dividends is that they are paid on top of your capital gains. In a perfect world, you'd find out how to buy shares in Ireland that appreciate while also paying out regular dividends. 
While previous performance is never a guarantee of future results, the average annualised returns of the S&P 500 over the last ten years are shown in the table below.
| | | | | | | |
| --- | --- | --- | --- | --- | --- | --- |
| Year | Average Closing Price | Open | High | Low | Close | Annual % Change |
| 2021 | 4,174.97 | 3,700.65 | 4,536.95 | 3,700.65 | 4,486.46 | 19.45% |
| 2020 | 3,217.86 | 3,257.85 | 3,756.07 | 2,237.40 | 3,756.07 | 16.26% |
| 2019 | 2,913.36 | 2,510.03 | 3,240.02 | 2,447.89 | 3,230.78 | 28.88% |
| 2018 | 2,746.21 | 2,695.81 | 2,930.75 | 2,351.10 | 2,506.85 | -6.24% |
| 2017 | 2,449.08 | 2,257.83 | 2,690.16 | 2,257.83 | 2,673.61 | 19.42% |
| 2016 | 2,094.65 | 2,012.66 | 2,271.72 | 1,829.08 | 2,238.83 | 9.54% |
| 2015 | 2,061.07 | 2,058.20 | 2,130.82 | 1,867.61 | 2,043.94 | -0.73% |
| 2014 | 1,931.38 | 1,831.98 | 2,090.57 | 1,741.89 | 2,058.90 | 11.39% |
| 2013 | 1,643.80 | 1,462.42 | 1,848.36 | 1,457.15 | 1,848.36 | 29.60% |
| 2012 | 1,379.61 | 1,277.06 | 1,465.77 | 1,277.06 | 1,426.19 | 13.41% |
| 2011 | 1,267.64 | 1,271.87 | 1,363.61 | 1,099.23 | 1,257.60 | 0.00% |
You can invest in the best ETFs that track the performance of benchmark indices like the S&P 500 and the FTSE 100. 
Compound Growth
Instead of cashing out capital gains or waiting for dividends, many investors prefer to reinvest an asset's earnings to achieve higher returns. Compounding is the financial term for this. You can generate a compounding effect by owning a stock for a long time and regularly reinvesting your gains, allowing you to make gains using your earnings.
Let's take a look at an example of how compound growth works. The table below shows the impact your capital's growth rate can have on your net profits, as well as what annual investments of 10,000 € can grow to: 
| | | | |
| --- | --- | --- | --- |
| Length of compound growth | 4% growth | 8% growth | 10% growth |
| 15 years | 208,245 € | 293,243 € | 349,497 € |
| 30 years | 583,283 € | 1.2 million € | 1.8 million € |
What does this mean for investors? 
Because you profit on the earnings you reinvest as well as your original investment, your investment grows exponentially. This means that you will receive more income on your initial investment as well as your compounding earnings each year.
Compound growth needs patience because while the initial benefits are small, it can be extremely profitable in the long run. Of course, you must account for share volatility, inflation, and fees, but compound interest can be one of the most effective ways to grow your wealth through stocks if done correctly.
Costs & Fees of Buying Shares
Another key factor you need to keep in mind when it comes to learning how to buy shares in Ireland is that of costs and fees. There are several main fees and costs you need to be aware of such as commissions, bid-ask spreads, and the UK stamp duty tax. 
What are trading commissions?
Stock trading platforms charge trading commissions for opening and closing positions on a trader's behalf. 
The amount of commission varies depending on the asset class and the type of financial instrument. For example, execution-only brokers charge cheaper commissions since they do not make investment decisions on behalf of their clients or provide financial advice. 
What are market spreads? 
Traders will face a variety of charges in addition to commission. Spread betting, for example, does not charge a commission and instead includes a spread. Simply put, the spread is the difference between the bid and ask prices.
CFD trades on stocks are subject to commission, while CFD trades on other financial markets, such as the London Stock Exchange are also subject to a spread.
What is stamp duty reserve tax (SDRT)? 

You will be familiar with stamp duty tax if you've been on the property ladder recently. For those who are unfamiliar, it is a sum of money that you must pay to the government when you purchase real estate.
Stamp duty tax is also charged when you invest in the stock market, and this is known as Stamp Duty Reserve Tax (SDRT).
More on the Stamp Duty Tax
When learning how to buy and sell stocks, you'll learn that a 0.5 percent tax is applied. The tax is also charged to non-electronic transactions worth more than 1,000 €. It may not seem like much at 0.5 percent, but it quickly adds up for short-term investment strategies such as day trading.
Some brokers like eToro, absorb the SDRT meaning you can save that 0.5% tax whenever you trade stocks on the platform.
Furthermore, when you invest in a small-cap company listed on the London Alternative Investment Market, otherwise referred to as AIM shares, there isn't any SDRT to pay.  
What are the Best Shares to Buy Now in Ireland?
Ireland has grown in recent years, surpassing other EU member states, as one of the fastest-growing economies in the European Union, with a Gross Domestic Product (GDP) growth of 3.5 percent in 2020. 
Combined with the upbeat forecasts of many market analysts which expect Ireland to weather any issues caused by the Northern Ireland backstop, Brexit, the Covid-19 pandemic, and the emerging fuel crisis.
What does this mean for traders wondering how to buy stocks in Ireland?
Bullish market conditions often call for investors to start buying stocks and shares in Irish companies and other leading giants such as big tech stocks. These can include the likes of FAANG stocks, Google, Facebook, Netflix, Alphabet, and Apple, but several key Irish shares have been catching the attention of many investors lately. 
Irish companies such as CRH plc, Johnson Controls International plc, Kerry Group plc, and Kingspan Group plc, are all top-rated companies that are on market analysts' radars at the moment. For example, Kerry Group plc has delivered positive earnings growth for the past five years. At the time of writing it has a market cap of €19.90 billion. 
How to Buy Shares in Ireland – Best Shares to Buy Top 10 List
Here are the best stocks to buy in Ireland right now:
Microsoft (NASDAQ: MSFT)- Up by 41.16% in YTD gains – Visit eToro
Alphabet (NASDAQ: GOOGL)- YTD return for the blue-chip stock is 65.43% – Visit eToro
Amazon (NASDAQ: AMZN)- How to buy Amazon Shares with just $50 – Visit eToro
Snap (NYSE: SNAP)- Up 47% in YTD gains 
Tesla (NASDAQ: TSLA)- How to buy Tesla shares with 0% commission 
Ryanair Holdings plc (LON: RYA)- How to buy Ryanair shares with zero commissions
Netflix (NASDAQ: NFLX)- Leading FAANG stock in 2022
Facebook (NASDAQ: FB)FB stock has YTD gains of 24.69% 
AT&T Inc (NYSE: T)- Best stock to invest in for exposure to largest telecoms company
CRH plc (LON: CRH)- YTD gains of 8.93% 
Best Ireland Stock Brokers 
Now that we've covered how to buy stocks and shares, let's explore some of the leading and fully regulated stock brokers to use in 2022. These include eToro and Libertex, and they're perfectly suited to beginner traders. 
1. eToro – Best Stock Broker for 0% Commission on Real Stocks
Launched in 2006, eToro is a leading copy trading platform that boasts a client base of over 20 million investors. Arguably one of the best selling points of this broker is that you can buy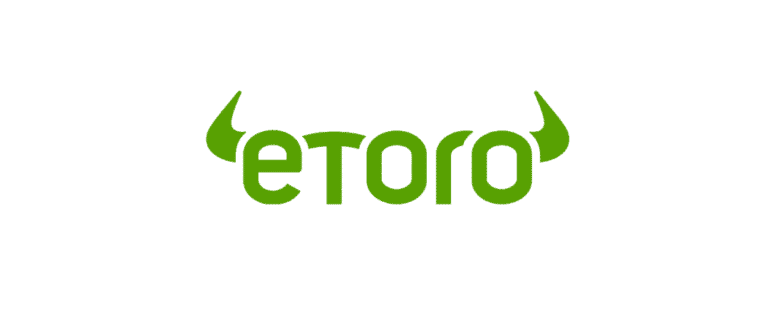 shares listed on 17 international exchanges with 0% commission. eToro also absorbs the stamp duty tax, helping to keep your trading costs low.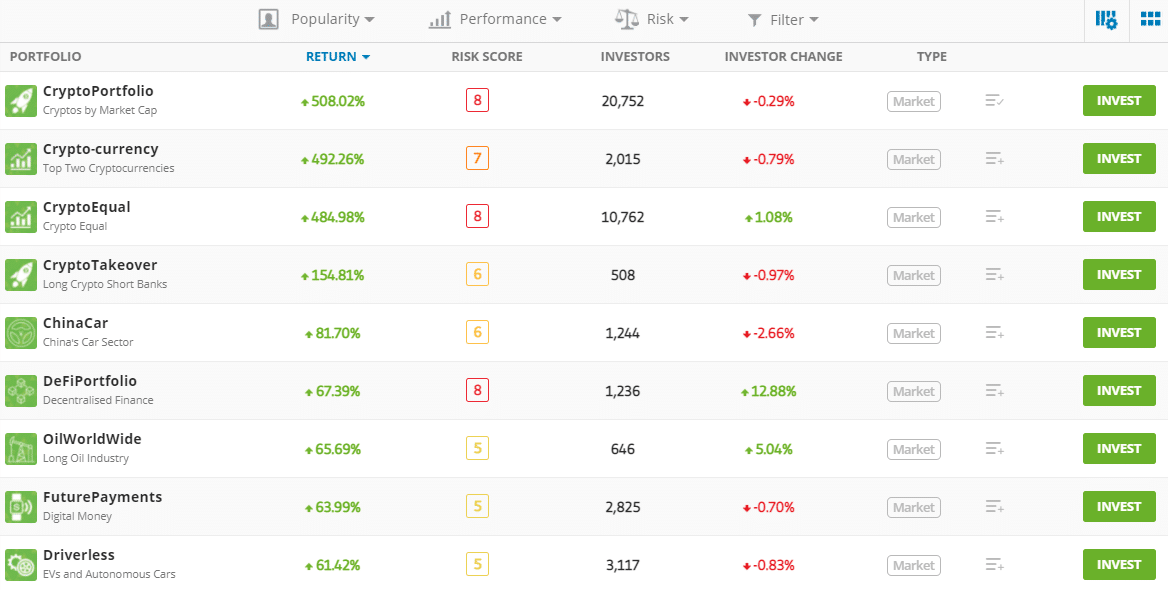 Fees and commissions
eToro is one of the most affordable brokers across the board. There are no deposit fees or account fees to worry about and there are 0% commissions on stock and ETF trades. Moreover, with a minimum investment of $50, you can purchase fractional shares of major stocks with the click of a button. 
What is copy trading? 
eToro offers two innovative copy trading features: CopyTrader and CopyPortfolios. These trading tools allow you to copy the trading strategies and CFD portfolios of other experienced traders. 
Is eToro safe? 
The UK's FCA, CySEC, and ASIC all regulate eToro. This means that your funds and trading account are protected by top-tier financial authorities including the FCSC.
In the U.S eToro's online investment platform is offered by eToro USA LLC, which is registered with the Financial Crimes Enforcement Network (FinCEN) as a Money Services Business (MSB), as well as with applicable state-level regulators.
68% of retail investors lose money trading CFDs with this provider.
2. Libertex – Best CFD Broker Offering Low Spreads on Stock CFDs 
Established in 1997, Libertex is a top-rated CFD broker offering more than 250 financial instruments. This global CFD trading platform is ideal for beginners who are looking for a simple and easy way to gain exposure to the stock markets. 
Fees and commissions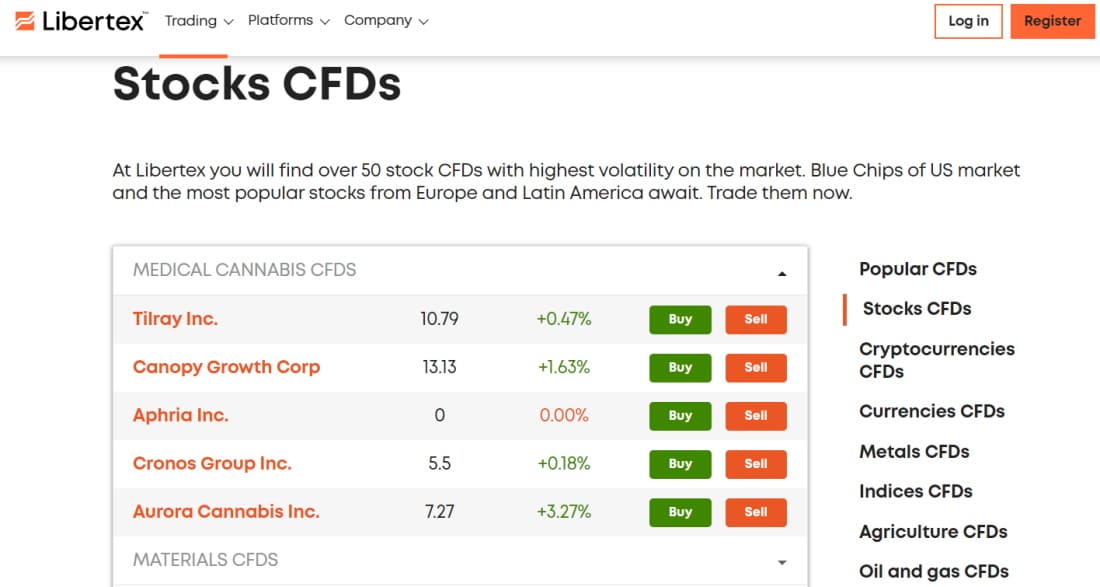 The fact that you don't have to pay the bid-ask spread is the most remarkable aspect of Libertex's trading fees.
This is rare amongst CFD brokers, as spreads are usually levied when commission rates begin at 0%. In other words, with low spreads there are also competitive trading commissions. 
Wide range of stock CFDs
When you open a Libertex trading account you'll have access to more than 50 stock CFDs with the highest market volatility and liquidity. These include blue-chip equities traded on US exchanges as well as the hottest stocks traded on European and Latin American exchanges.
Is Libertex safe? 
Libertex is a trading platform used by Indication Investments Ltd., a Cyprus investment firm authorised by CySEC (the Cyprus Securities and Exchange Commission) and operating under CIF licence number 164/12.
75.3% of retail investor accounts lose money when trading CFDs with this provider.
Tutorial – How to Buy Tesla Shares on eToro
Let's go through everything you need to know to buy shares on eToro without paying a penny in commissions. 
Step 1: Create an eToro Account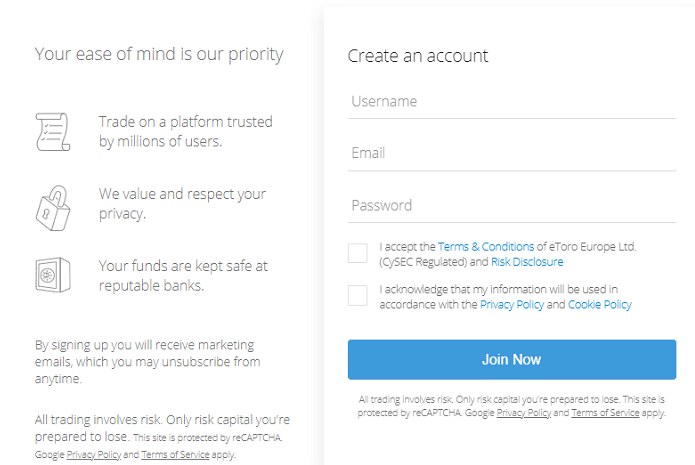 Head over to the eToro website and tap on the 'Join Now' button. Enter an email address, and pick a username and password to sign up for a brokerage account. 
Step 2: Verify your Account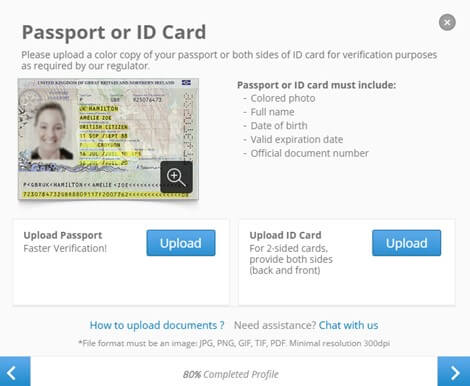 Since eToro is regulated by the Financial Conduct Authority, CySEC, and ASIC, new users must authenticate their accounts before trading.
This is a simple process that is fully digital. Upload proof of ID (a copy of your passport or driver's licence) and proof of address (a copy of a bank statement or utility bill) using the 'Complete Profile' option on your account dashboard. 
Step 3: Deposit funds
For new clients, eToro's minimum investment is just $50. The following choices are available as deposit methods: credit cards, debit cards, bank transfers, and e-wallets such as PayPal and Neteller. 
Step 4: Search for Shares to Buy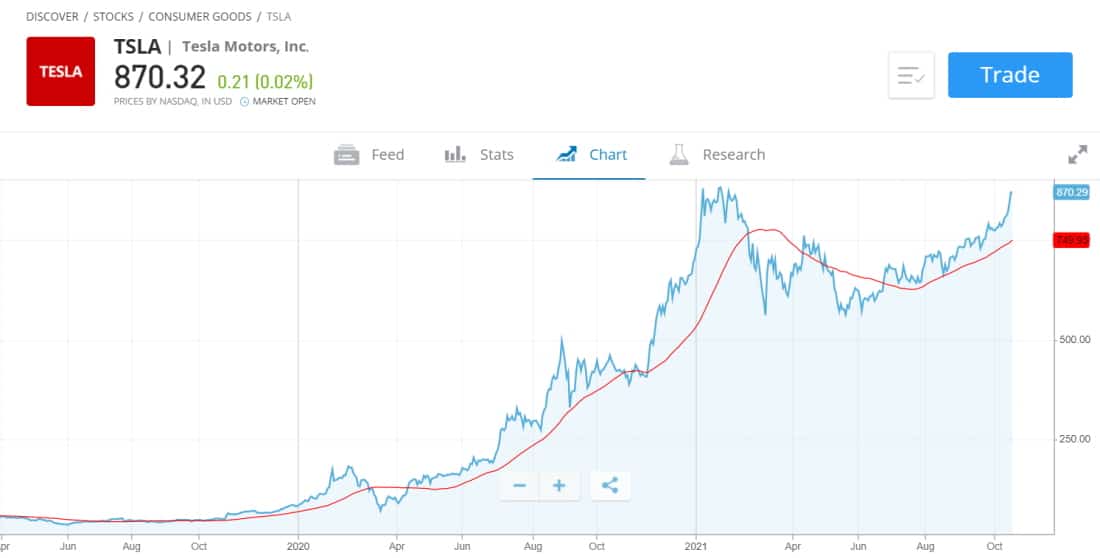 After you've funded your account, you can start investing right away! Simply type the company's name or ticker symbol into the search field and click 'Trade.'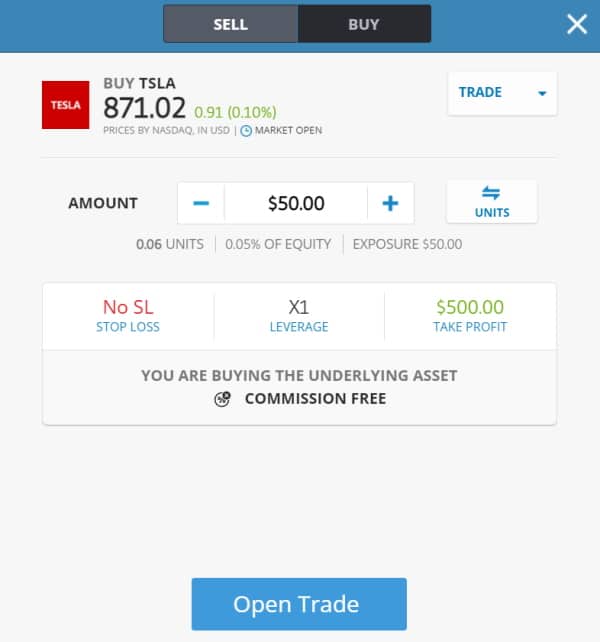 After that, you'll see an order box where you may specify how much you want to invest and whether or not you want to use leverage. Click 'Open Trade' once you're happy with everything.
How Are Shares Taxed in Ireland?
You'll have made a capital gain if you sell shares (or any other type of real estate) for a higher price than you paid for it. This capital gain is subject to a tax known as Capital Gains Tax (CGT), which in Ireland is currently charged at a rate of 33%. 
How to Choose the Right Shares for Your Portfolio
Diversification is your friend when it comes to mitigating risks
Diversification is the polar opposite of placing all of your eggs in one basket. Rather than investing in just one or two companies, a well-diversified portfolio might include dozens, if not hundreds, of different stocks. Not only that, but you'll be investing in companies from a variety of industries, ensuring that you're not overly focused on a particular sector.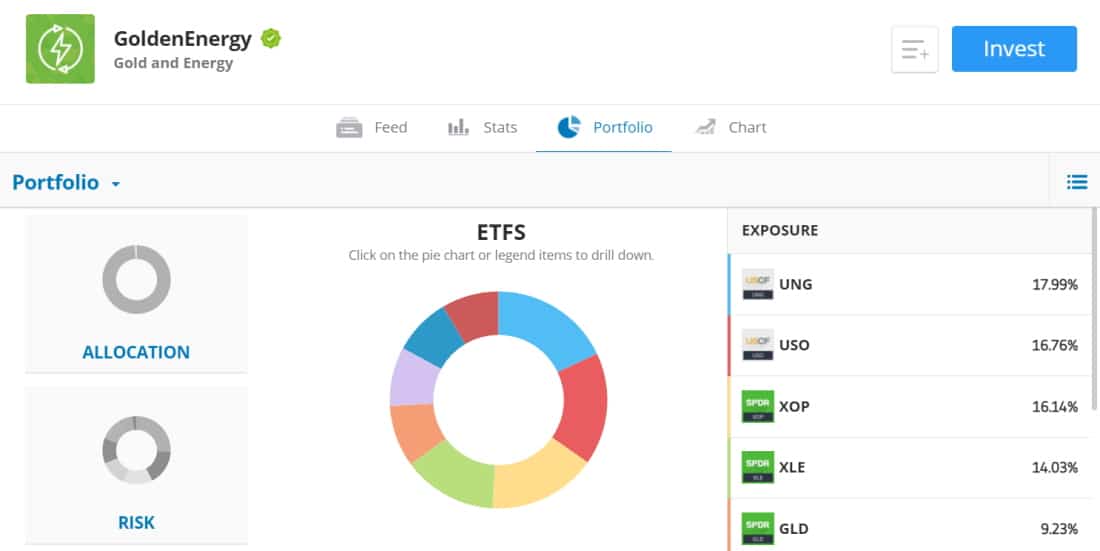 Consider the following scenario: 
You have 10,000 € to invest in the stock markets.
A beginner trader with little to no trading experience might use the entire funds and invest in one or two stocks. 
An experienced investor will likely invest in 100 different companies spanning across several exchanges and industries at 100 € each. 
This way you'll be offsetting any potential losses as your investment portfolio will be well-diversified, covering a range of stocks and financial instruments. 
Start with fractional share trading
Fractional share trading allows you to invest in a portion of a whole stock. This is useful when you consider the market price of some blue-chip stocks such as Amazon and Alphabet, whose price per share is $3,437.70 and $2,854.12 respectively. 
With that said, eToro allows you to buy shares in top-rated stocks with a minimum investment of just $50. Therefore, you can still gain exposure to the big tech stocks without spending a fortune. 
Don't rule out a copy trading portfolio
If you have little to no investment experience, a copy trading portfolio may be worth exploring. User-friendly trading platforms, such as eToro, allow you to copy the trades of more experienced investors.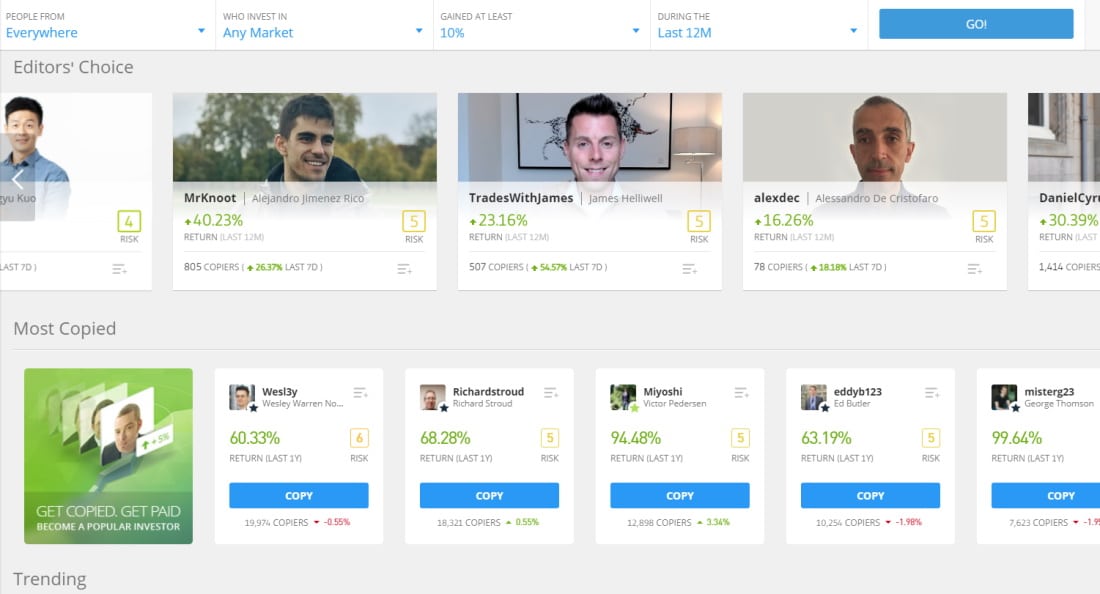 The best part is that you can browse through hundreds of public profiles before committing any funds. Copy trading allows you to invest in stocks without having to do any of the technical or fundamental research, which is why it's so popular among beginner investors.
How to Sell Shares in Ireland
When you're ready to sell your shares, eToro makes this a straightforward process. Here's how you can sell shares in Ireland from the comfort of your own home: 
To see all of the instruments you're actively trading, go to "Portfolio."
Click on the corresponding instrument to examine the individual positions, 
To close an open position, click on the red X next to it. (Swipe left on the position you want to close on the eToro mobile app and touch the red X.)
It's important to note here that your request will be executed during standard market hours. 
How to Buy Shares in Ireland – Conclusion
With the average US stock market return being about 10%, many investors want to know how to buy stocks and shares right now. The stock market can be volatile but a well-diversified portfolio can help hedge against potential losses and volatility. 
If you're wondering how to buy shares online, then we recommend opting for eToro. This CySEC-regulated online broker offers copy trading and 0% commission on real stocks as well as CFD trading. You can also buy and sell shares via the fully-fledged eToro mobile app.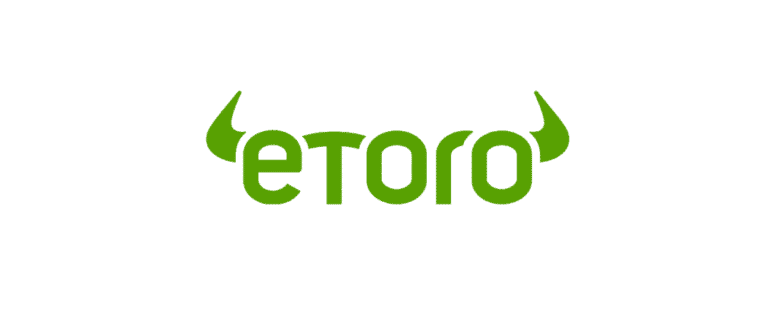 68% of retail investor accounts lose money when trading CFDs with this provider.
Frequently Asked Questions on How to Buy Shares in Ireland
How do I buy shares in Ireland?
How do I buy shares in the Irish stock market?
Can I buy shares without a broker?
What is the easiest way to buy shares?
Where is the best place to buy shares in Ireland?
How do I buy shares on DEGIRO?
How do I buy shares on Revolut?