Sainsburys Share Price UK
Fact Checked
Everything you read on our site is provided by expert writers who have many years of experience in the financial markets and have written for other top financial publications. Every piece of information here is fact-checked.
Disclosure
Please note that we are not authorised to provide any investment advice. The information on this page should be construed for information purposes only. We may earn commissions from the products mentioned on this site.
Sainsbury's is the UK's second largest supermarket chain by market share and a long-standing titan in this industry with more than 150 years in business.
The recent armed conflict between Russia and Ukraine has been affecting the valuation of equities within Europe and shaping every Sainsburys share price forecast as the company is not exempt from being affected by a potential escalation of this situation.
In this article, we will be analyzing the latest developments concerning the business along with assessing the technical situation as portrayed in the Sainsburys share price chart to outline plausible scenarios for this grocery store chain.
Sainsburys Company Share Price UK
The Sainsburys stock price has been on a downtrend since August last year back when the stock surged 15.4% in a single day on the back of rumors that the company might be acquired by Apollo Global Management – a US-based investment fund.
However, these rumors proved to be unfounded as no bid has been proposed by the US firm thus far and that has led to a sustained decline in the Sainsburys live share price.
So far in 2022, the stock has shed 7% of its value and temporarily broke below the 250p support area but quickly regained some of that lost territory as market participants continue to assess the impact that the Russia-Ukraine war could have on the firm's financial performance.
Another factor weighing in the performance of Sainsburys (SBRY) stock is inflation in the United Kingdom. Prices within the economy are expected to jump by 8% in April based on forecasts from multiple research firms.
In January, the country's Consumer Prices Index (CPI) went up 5.5% as energy costs continue to climb substantially and even more so now that Russia's participation in the global markets is being hurt by sanctions from multiple countries.
Higher prices could result in a reduction in the demand for certain product categories sold by Sainsbury's. The extent to which higher prices offset lower volumes will ultimately determine the impact that persistent inflation may have on the firm's financial results.
Sainsburys share price forecast – fundamental analysis
On 12 January, Sainsburys published a trading update covering the third quarter of the 2022 fiscal year. These are the 16 weeks ended on 8 January 2022.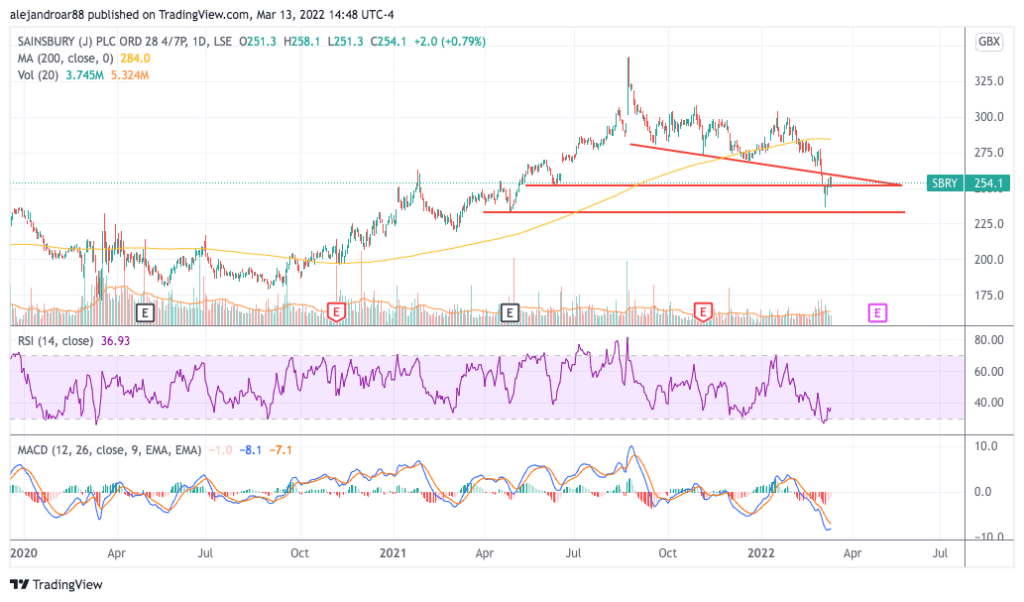 The company reported a decline in the sales of most of its categories including a 16% year-on-year drop in general merchandise sales compared to the same period a year ago while online grocery sales dropped a similar 16.5%.
Meanwhile, groceries and clothing sales were down 1.1% and 2.7% respectively while sales in the entire retail category excluding fuel experienced a 5.3% year-on-year drop.
The company said that it expects to report £720m million in pre-tax profits for the entire 2022 fiscal year ended in March this year.
Sainsbury's Analyst Commentary
Following the release of the company's latest trading update, analysts from Hargreaves Lansdown commented the following:
"We must admit, we weren't expecting a profit upgrade. We've been relieved to see the group target a more specific market". However, analysts from HL also stated that Sainsbury's is facing some important challenges down the road.
In this regard, they mentioned that the global supply chain crisis is "partly to blame" for the decline in some categories but that there have also been "structural declines in some markets".
HL's commentary ends as follows: "We are pleased with the direction of travel at Sainsbury, and we haven't said that for a while. For now, though, we'd like to see exactly how successfully the group turns its plans into a longer run of profitable action".
Sainsburys Share Price Forecast for end 2022
According to data compiled by MarketBeat, the consensus for Sainsbury's shares at the moment stands at hold with 2 out of 6 analysts currently covering the stock rating it as such while 3 of them has rated the Supermarket stock a buy.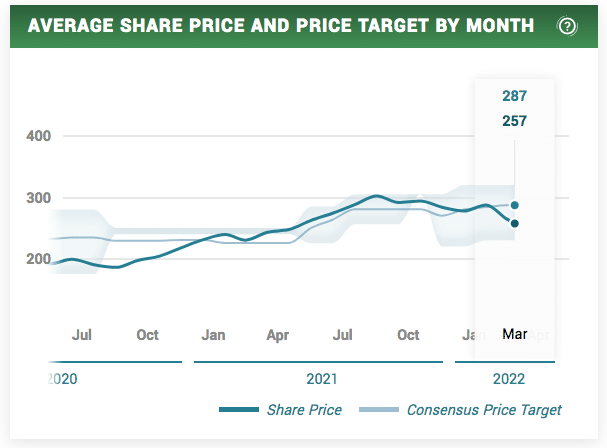 Recently, two financial services firm, Barclays and Berenberg Bank, increased their 12-month Sainsburys stock price prediction to 320p and 285p respectively.
Wallet Investor, a third-party forecasting service, is predicting that the price of Sainsburys shares should end the first semester of the year in a range between 247p and 250p implying a 2.7% drop based on today's closing price.
Meanwhile, this same service is predicting that the price could decline to a range between 251p and 254p resulting in a potential 1.2% drop in the share price in the next 9 months.
On the other hand, Gov.Capital, another algorithm-based forecasting service, has made predictions for the price of Sainsbury's shares based on the American Depositary Receipts (ADRs) traded on the New York Stock Exchange – which represent 4 common shares of Sainsbury's.
By the end of the first semester of 2022, this forecasting service expects that the price could land somewhere between $11.2 and $15.2. This can be translated to a range between 214p and 290p for the London-listed shares based on the prevalent GBP/USD exchange rate of 1.31.
Meanwhile, by the end of this year, Gov.Capital has drafted a Sainsburys share price forecast ranging between $12.34 and $16.7 per share. That results in a range between 235p and 319p per share for the London-listed common shares.
Sainsburys Share Price Forecast for 2024
Wallet Investor predicts that the price of Sainsbury's shares may start the year at around 258p per share and should end the year somewhere between 259.7p and 262.5p per share.
According to this provider's estimates, February 2024 has the potential to provide a forecasted loss of 2% while April might potentially provide an estimated 2.3% increase.
Meanwhile, Gov.Capital estimates that the price of Sainsbury's ADRs has the potential to start the year at $24 per share. This results in an implied opening price of 460p per share based on the current GBP/USD exchange rate. Meanwhile, this same service is forecasting that the price could rise to as much as $41.3 per share (around 792p per share) once the year ends implying a 72.2% annual return if that target is hit.
Sainsburys Share Price Forecast for 2026
Wallet Investor is forecasting that the price of Sainsbury's shares may start 2026 at 267p per share and may even end the year somewhere between 268.2p and 270.8p per share resulting in a maximum annual upside potential of 1.4%.
Meanwhile, Gov.Capital is anticipating that the price of Sainsbury's shares to begin 2026 at $51 per share (around 978p for the London-listed shares) and could rise to as much as $72.4 per share once the year ends implying a 42% annual return if that target is hit.
Sainsburys Share Price History
Sainsbury's primary listing is in the London Stock Exchange (LSE) under the ticker symbol SBRY. However, the company has also listed American Depositary Receipts (ADRs) on the New York Stock Exchange. Every ADR represents 4 common shares of Sainsbury's and the designated custodian for the instrument is The Bank of New York Mellon.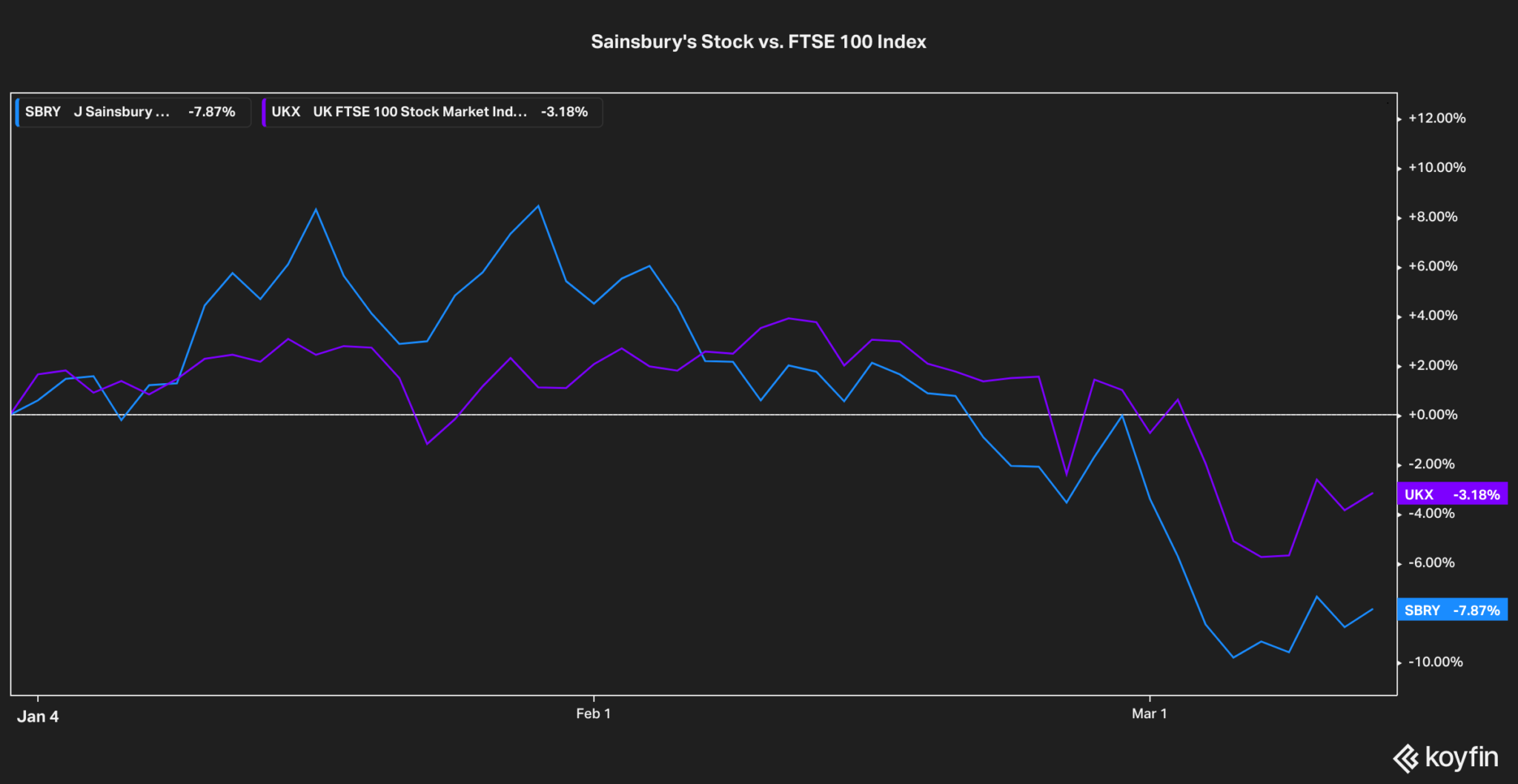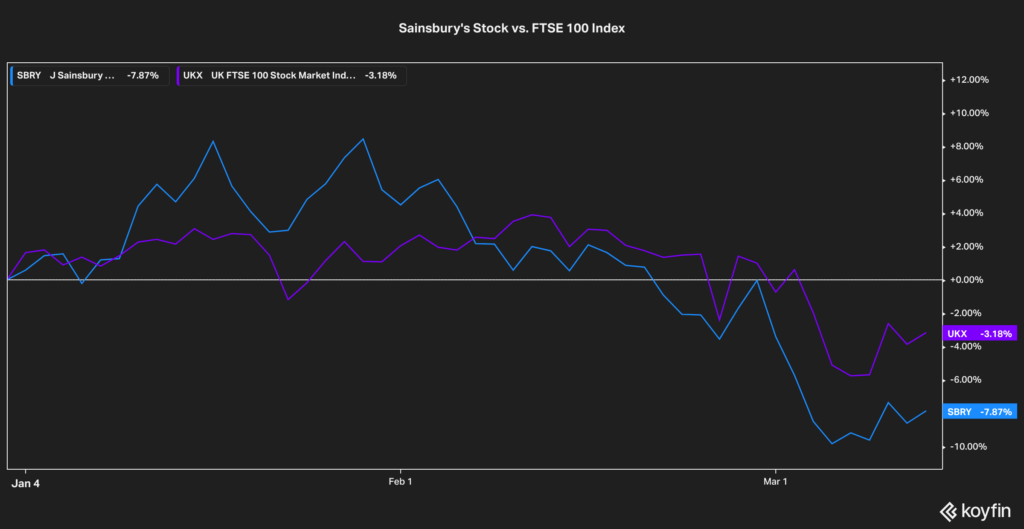 The price of Sainsbury's shares in pounds can be easily obtained by looking up the stock on Google by its ticker symbol or directly on the website of the LSE or your preferred brokerage firm.
Last year, the price of Sainsbury's shares rose 22.3% as this supermarket stock progressively recovered from the hit it took during the pandemic. One of the reasons for this positive performance was the introduction and strengthening of the firm's online channel.
Where to Purchase Sainsbury's Shares UK?
If you choose to invest in Sainsbury's in the UK, users should do so with a suitable broker that meets their requirements. Below, we have reviewed a popular broker that allows users to trade in Sainsbury's stock.
Conclusion
Sainsbury's is a well-known supermarket chain that operates primarily in the United Kingdom. According to statistics, the company has a 16.5% market share in the grocery store industry in this country.
Meanwhile, the stock currently offers a 4.2% dividend, which could potentially be beneficial for users looking to purchase dividend stocks.
The pandemic prompted the management to optimize its online offering to the point that it is now becoming a relevant and growing side of the business and that could improve the firm's financial performance down the road. However, users should conduct their own research and analysis before investing in the stock market.
FAQs
What is the highest Sainsburys stock price?
Does Sainsburys pay a dividend?