Best Crypto Loans Platforms in UK
Fact Checked
Everything you read on our site is provided by expert writers who have many years of experience in the financial markets and have written for other top financial publications. Every piece of information here is fact-checked.
Disclosure
Please note that we are not authorised to provide any investment advice. The information on this page should be construed for information purposes only. We may earn commissions from the products mentioned on this site.
Crypto loans are a new form of lending that is powered by blockchain technology. It is an alternative to traditional lending and it has been on the rise in the past few years.
The idea behind crypto loans is that you can borrow money using your digital assets as collateral. This type of loan is available to people who have cryptocurrency holdings (ie: borrow against bitcoin) and it provides them with liquidity in times of need. These crypto-backed loans are taking the cryptocurrency world by storm. But what are the best crypto loans UK? How do you qualify for a crypto loan and what are some of the benefits and risks of crypto loans?
What you need to know about crypto loans
Crypto loans are a relatively new form of lending that is becoming popular. They are facilitated through the use of cryptocurrency and blockchain technology. There are many benefits to crypto loans including:
No need for credit checks
No need for paperwork
Easier access to funds
Lower interest rates
Quicker processing times
Potential for higher returns on investment
Best crypto loans in UK
Let's have a quick look at some of the top providers for crypto loans UK.
Binance – Best Platform for Zero Transaction Fees on Crypto Loans
BlockFi – Best App for Crypto Loans with Zero Prepayment Penalties or Fees
Nexo – Top Rated Crypto Loans with 20 Cryptocurrencies Available as Collateral
Celsius – Top Rated Crypto Loans Provider with Transparent Fees
---
1. Binance – Best Platform for Zero Transaction Fees on Crypto Loans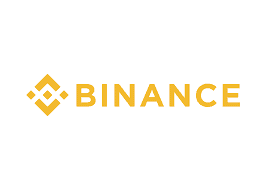 Binance is one of the largest cryptocurrency exchanges in the world in terms of volume. The platform offers a wide range of services related to cryptocurrencies. This includes simple buying, selling, and converting, as well as trading on margin and crypto futures and options.
The platform also provides a decent range of crypto loans. For example, you can borrow against crypto assets which include Bitcoin, Ethereum, Binance Coin, Cardano, and more than 15 others. The initial loan to value ratio is around 65% which is some of the highest in the business.
For some users getting an anonymous bitcoin loan, or a Bitcoin loan without verification is important. While they may be difficult to do with the top crypto loan players, the only qualification you need on Binance is to be a registered user. So, while it may difficult to get a crypto loan without collateral, Binance offers the best chance of getting an easy Bitcoin loan through its platform.
The crypto loans platform is super easy to use and you can repay your loan at any time with zero transaction fees. Furthermore, the interest is calculated on an hourly basis and you can borrow more than 50 different cryptos which some people use to invest or for staking to earn high annual interest, or APY.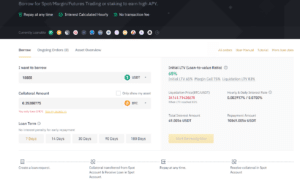 Your money is at risk.
---
2. BlockFi – Best App for Crypto Loans with Zero Prepayment Penalties or Fees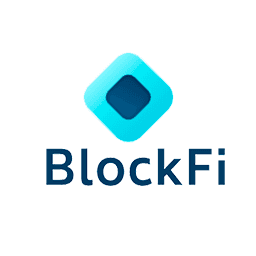 BlockFi is another top-rated crypto loans provider, offering some of the best crypto loans in the industry. For example, you can access crypto loans with an APR as low as 4.5% and you don't need to sell your crypto to do so. The minimum loan amount is $10,000 which is higher than some of the other crypto loans providers.
However, with BlockFi you can do so much more. You can earn up to 3.5% back in Bitcoin on every purchase you make through the BlockFi Rewards Visa Signature Credit Card but this is an introductory offer.
You can also earn up to 7.5% APY from your cryptocurrency using the BlockFi Interest Account (BIA) which has no minimum fees and no minimum balances. The app also lets you buy, sell and store your crypto 24/7/365.
Furthermore, you can receive your crypto loans on the same business day and pay them back earlier without any penalties.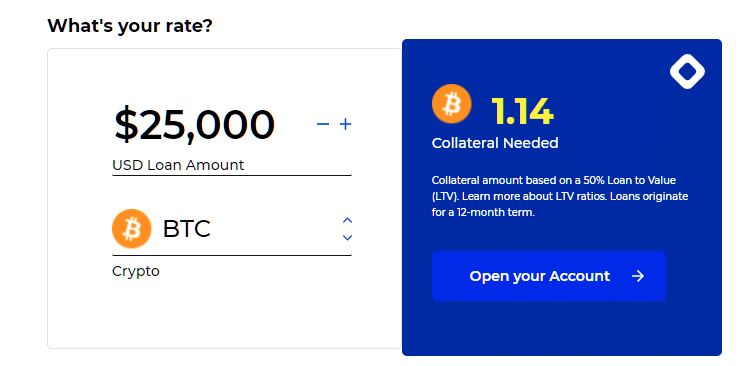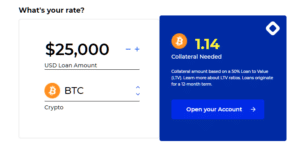 ---
3. Nexo – Top Rated Crypto Loans with 20 Cryptocurrencies Available as Collateral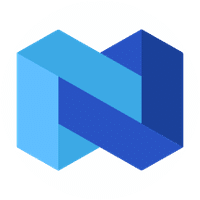 Nexo is another top-rated crypto loans provider where you can borrow cash instantly against 20 different cryptocurrencies which can be held as collateral. Nexo is a regulated digital asset institution with more than 2 million clients and $375 million insurance on custodial assets.
With Nexo, you can access a range of crypto services. This includes borrowing cash backed by your crypto from 6.9% APR, as well as earn 12% APR via crypto interest which is paid out daily. The Nexo Card also allows you to manage your funds simply and use them with more than 40 million merchants worldwide.
---
4. Celsius – Top Rated Crypto Loans Provider with Transparent Fees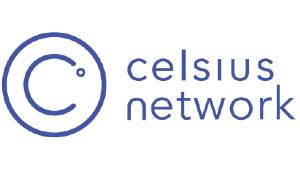 Celsius is another top-rated crypto loans provider where you can borrow cash using your crypto as collateral at 1% APR. There are also zero origination fees and no credit checks. With this provider, you could get instant Bitcoin loans.
You can borrow USD, USDC, USDT, TUSD, MCDAI, GUSD, and PAX using more than 40+ crypto assets as collateral including BTC, ETH, CEL, LINK, ADA, DOT, AAVE, DAI, and many others. Loans can be received in as little as 30 seconds in the mobile app. Stablecoins can also be withdrawn or left in the account to earn rewards.
By holding crypto with Celsius you could earn up to 17% APY interest that is paid weekly. However, the range of interest is from 0% to 17% so it's important to choose the correct one. For example, up to 1 BTC provides earned interest of 6.20%, whereas after 1 BTC it does down to 3.51%.
---
Best Crypto Loans Lenders Comparison
If you're looking for a quick comparison of the best crypto loans UK then look no further! In the table below, we compare Bitcoin loans.
| | | | | |
| --- | --- | --- | --- | --- |
| | BlockFi | Celsius | Nexo | Binance |
| Collateral | BTC | BTC | BTC | BTC |
| Loam amounts | $10,000 – $1,000,000 | $1 – $2,000,000 | $500 – $1,000,000 | $100 – $1,000,000 |
| Collateral LTV | 50% | 50% | 75% | 65% |
| APR Interest | 6.5% | 8.95% | 5.9% | 2.5% |
| Loan Period | 12 months | 6 months | 12 months | 7 – 180 days |
| Fees | Loan origination fee 2% | Zero | Margin call 15% | 0.1% |
What is a crypto loan?
A crypto loan is a way to borrow money using the cryptocurrency you own as collateral. It's similar to a loan that you may borrow from a bank using your home as collateral. This can be great for a long-term crypto investor (HODL) as it means they can receive liquid cash without selling their cryptocurrency.
Many users will then use the funds for business purposes (known as Bitcoin business loans), for personal use or they may choose to reinvest those funds and buy more crypto to capitalise on any potential rises in price.
How do does it work?
While the idea of a Bitcoin loan may sound complicated it is actually quite simple and works the same way for any type of other crypto loans. Let's break it down.
1. A borrower visits a crypto loan platform to get crypto backed loans and requests a certain amount of currency (fiat or coins) they want to borrow over a certain period of time. You can check in the platform if you are able to get a Bitcoin loan without verification.

2. The crypto loan platform will then tell you how much crypto you need to be held as collateral for the loan (know as loan to value, LTV) which can vary from 50% to 75%. It will also tell you the interest you will need to pay.

3. For the investors involved in lending crypto, they will receive regular interest payments. Many platforms also allow you to become a lender, as well as a borrower.

4. Once the borrower has paid back the loan amount, the crypto which was held as collateral is now unlocked and can be used to buy, sell, transfer or convert. Some crypto loans will have fees if you pay them back early while some will not.
---
Type of Crypto Loans
There are two types of crypto loans: custodial crypto loans (CeFi) and non-custodial crypto loans (DeFi).
Custodial Crypto Loans (CeFi)
Centralized Finance (CeFI) loans are a situation where a central entity takes custody of the collateral. In this instance, the lender controls the asset and the original owner of the collateral has no control over it.
The centralized lending provider will enforce the terms of the loan. This type of custodial loan is the most common and also the easiest to access.
Non-Custodial Crypto Loans (DeFi)
Decentralised Finance (DeFi) loans are known as non-custodial. This means there is no central entity that controls the collateral or enforces the terms of the loan. Instead, the loan is enforced by smart contracts using blockchain technology.
This is a much newer field and because of its complexities and risks has a higher interest rate.
Crypto Loan Fees & Rates
Crypto loans have different rates and fees depending on which platform you use. Binance has one of the most flexible offerings as you can choose your loan term from 7 – 180 days and there are low borrowing minimums.
The loan fee is essentially the interest that the crypto loan provider will charge you to borrow a currency (fiat or coins). The fees vary depending on what you are borrowing and what collateral you are giving but can vary from 1% to 15% APR.
You should also be mindful of any other fees associated with borrowing such as platform fees and margin call fees. This is where the value of your cryptocurrency used as collateral drops too much bringing your loan to value ratio too high.
Benefits of Crypto Loans
Compared with traditional loans there is a wide range of benefits when using crypto loans.
Almost instant loans. As everything is done digitally you can receive your funds almost instantly.

Low-interest rates. Crypto loans can sometimes offer better interest rates than traditional personal loans or credit card loans.

Wide range of loan currencies and growing. You can borrow in US dollars or a wide range of other cryptocurrencies.

No credit check. Typically, you just need to register an account to get a loan and the platform won't perform a credit check.

Be a borrower or a lender. Most crypto loan platforms also allow you to be a lender where you can earn interest on your crypto.
Risks
As crypto loans are relatively new and cryptocurrencies and have high volatility there are some risks to know about.
No access to your crypto. If you put up your crypto as collateral it means you will not have access to it until you repay the loan.

Margin calls. If the value of your collateral drops below a certain amount, the lender will require you to put more collateral to maintain the loan to value ratio or you may face

liquidation.

Repayment fees. There are some crypto loan providers that will charge you a fee if you want to repay the loan early. However, there are some that don't charge this.

Insurance. If you are lending crypto, then it's worthwhile making sure the platform offers a certain level of insurance just in case they go bust where you could lose everything.
How to Choose the Right Crypto Loan for You
As the crypto loans sector grows there is more and more choice every day. However, it's best to stick to the bigger players such as Binance, and BlockFi as they offer some of the best protection due to their size. There are also platforms that offer free bitcoin loans.
Choosing the best crypto loan and the right one for you will depend on what you are looking to achieve and the level of risk you are willing to take. It's best to start very small first to learn how it all works before borrowing too much with all your crypto locked away as crypto collateral.
Crypto Loan Qualifying Requirements
Unlike traditional loans, there are generally no crypto loan qualifying requirements. This means you could get a Bitcoin loan without verification but it will be rare.
For example, with Binance you just need to register an account to start borrowing but to register you will need to provide some personal details such as name and address.
However, most crypto loan providers that offer the possibility to get a Bitcoin loan will not run any credit checks, thereby not impacting your credit score.
Conclusion
While crypto loans may be a new phenomenon in the world of finance, it is growing exponentially and will become more and more common. They are especially popular with people who want to invest their Bitcoin in other currencies. The loans are given out by crypto-to-crypto exchanges and the interest rates can be very low. However, as there are some risks involved it's best to work with the biggest providers as they can offer more protection. Some countries have made it illegal to use crypto as collateral for loans. This is because they are worried about the volatility of crypto prices and how this could affect a borrower's ability to repay their loan. The conclusion on crypto loans is that they can be a great way to borrow money if you need it quickly or if you want to invest your Bitcoin in another currency.
Frequently Asked Questions on cryptocurrency loans
Can you get a loan for crypto?
How can I get an instant bitcoin loan?
Can I get a bitcoin loan without verification?