Did you know you can buy Bitcoin with Skrill? While some crypto-hungry investors will typically look at buying Bitcoin with debit cards or bank transfers, some prefer to use Skrill.
In this guide, we will show you how to buy Bitcoin with Skrill and take you through the investment process in an easy-to-digest walkthrough. We'll also cover alternatives that let you buy Bitcoin in a low-cost and safe way. Keep reading as we reveal all.
Key points on buying Bitcoin with Skrill
There aren't many platforms that allow Skrill deposits, our recommendation that does is eToro.
Buying Bitcoin with Skrill can offer added security, given the FCA authorization and Electronic Money Regulations.
Skrill allows you to buy Bitcoin directly via your account, and it supports 30+ other tokens.
Our recommended broker, eToro, allows you to buy Bitcoin with Skrill with no deposit fees.
How to Buy Bitcoin with Skrill – Quick Steps
Step 1: Open an account with eToro – Make your way to the eToro homepage and click on 'Join Now' to create a new brokerage account. Enter your email and choose a username and password.
Step 2: Verify your account – Since eToro is a fully regulated broker you'll need to go through the KYC process which involves uploading proof of ID and proof of address.
Step 3: Deposit – Set aside capital that you can afford to invest, then make a minimum deposit of $50 via Skrill, bank wire transfer, or debit card with zero deposit fees.
Step 4: Buy Bitcoin – After depositing via Skrill on eToro, you can buy Bitcoin from the comfort of your own home within minutes. Just search for BTC, enter the amount you want to invest and tap on 'Open Trade'.
Why Buy Bitcoin with Skrill?
Many Bitcoin investors would look typically look at buying Bitcoin with a debit card or via bank transfer. But do note, Skrill is becoming largely more popular and demand is ever-increasing to accommodate deposits and withdrawals, especially for getting involved in Bitcoin and other cryptocurrencies.
You may be yet to use Skrill to buy Bitcoin and perhaps unaware of its benefits, let's explore those key points below.
Instant Deposits
When you buy Bitcoin with a regulated broker, such as eToro, the transaction is instant. This is because you will either be using your existing balance with Skrill or funding the deposit with a debit card.
In contrast, a bank transfer could take several days to process; this would not be simultaneous like Skrill.
Fast Withdrawals
One of the advantages of using Skrill to buy Bitcoin is that it is a quick process when it comes to withdrawing your money. When brokers are processing e-wallet withdrawals, these tend to be faster than debit cards and bank transfers. It tends to take more time and can be around 3-7 working days; it depends on the banking institution that you use.
Skrill can be great and more efficient when it comes to using as a withdrawal method because fewer checks will be needed. The increase in speed is down to the fact that you would have already done all the necessary Skrill ID verification when you first signed up to them. So, the chosen broker, such as eToro is able to establish this, which means they can typically process Skrill withdrawal requests within the day.
Security
One of the most important factors when it comes to your investment is security. One of the substantial benefits when you buy Bitcoin via Skrill, is that you do not need to enter your debit card details, as these would already be stored with Skrill.
Once you have entered how much you are deposit you have specified how much you want to deposit, all you have to do is enter your Skrill login credentials. Additionally, Skrill is authorized by the FCA and under the Electronic Money Regulations 2011, adding further peace of mind with your funds.
No Fees Charged by Skrill
When you are all ready to deposit your investment with your regulated broker, such as eToro, Skrill will not be charging you any fee. When investing your capital, it is, of course, essential to be as cost-effective as can be.
Ease of Use
Skrill is very simple and very much convenient to use. For perspective, say you were out and about; however, you left your debit card at home and were keen to buy Bitcoin; usually, you would have to get back home to obtain those details. However, this would not be such a problem if you have an active Skrill account, as your debit card will already be stored.
Where to Buy Bitcoin with Skrill
1. eToro – Overall Best FCA Regulated Broker to Buy Bitcoin with Skrill in the UK

We like eToro if looking to buy Bitcoin with Skrill. The platform is top-rated and known worldwide. They serve a vast 20 million traders across 120+ different countries. eToro has a very strong offering across asset classes such as cryptocurrencies, global stocks, global indices, forex, commodities, and ETFs.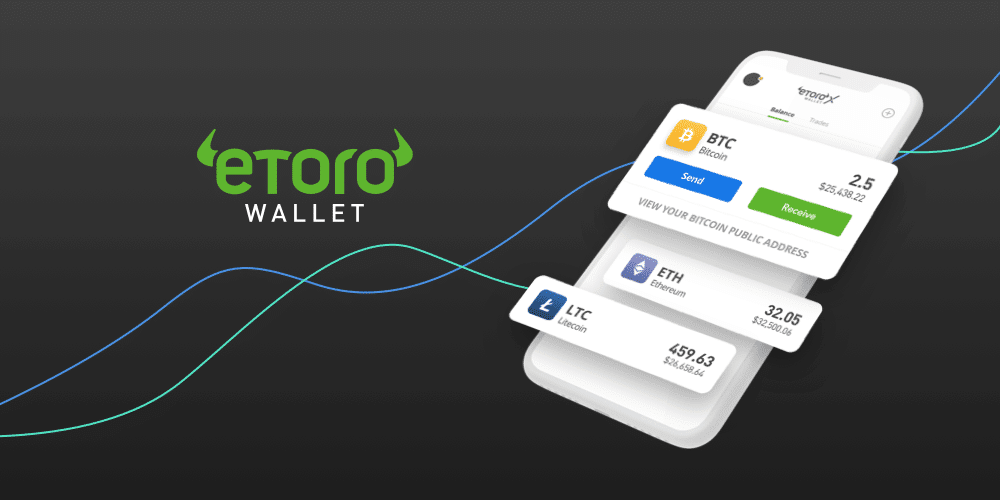 eToro is very safe. The crypto trading platform is one of the few cryptocurrency providers that have good regulation with the likes of; the FCA, ASIC, and CySEC. You can be sure your funds are safe.
eToro's has been a leader globally within the fintech sector since the early days of Blockchain; the experience here is very mind reassuring. If you are a Bitcoin beginner or a seasoned investor, the platform is accommodating for all.
Additionally, the eToro Money crypto wallet is supporting of 120+ cryptocurrencies of which you can access if you wish to deposit via Skrill as well as other payment methods; you can change crypto to crypto and facilitate on-chain address: transfer your crypto anywhere on the Blockchain, plus more.
eToro also offers a social trading feature, copy trading, which is great for passive trading, something particularly good for newbies. You can check out some of the best performing Bitcoin traders and investors and set your account to copy what they are doing with your capital size.
Fees are highly competitive with eToro, zero commission on your trades, and they charge a nominal 0.5% to get funds into your cryptocurrency trading account. Deposit methods include Skrill, debit cards, PayPal, Neteller, bank transfers, and more.
Pros
It offers a variety of different cryptocurrencies
Regulated by top-tier financial regulators
No deposit fees
A social trading leader with CopyTrader functionality
Excellent mobile trading app
Cons
Charting tools are limited.
Cryptoassets are highly volatile and unregulated in the UK. No consumer protection.Tax on profits may apply.
2. Capital.com – Trusted CFD Broker with Low Fees
Capital.com is a 0% commission CFD broker with an extremely user-friendly for trading Bitcoin and cryptocurrencies via its platform.
Capital.com is regulated by several top-tier financial institutions including the FCA, CySEC, ASIC, and NBRB.

You are able to access many cryptocurrency pairs via Capital.com such as; Bitcoin/USD, Ethereum/USD, Litecoin/USD, and many more, offering 200+ pairs in the form of CFDs that can be traded. When trading CFDs on cryptocurrencies, they allow for leveraged trading and higher liquidity.
In addition to cryptocurrency products, there is also a big range of 3000 liquid assets across; forex, stocks, indices, and commodities for users to trade. Gaining access to all the above can be done with Capital.com when you deposit via the convenient method of Skrill, it is very fast and simple, you just need to enter you Skrill credentials. You can also deposit via other payment forms such as credit/debit card, bank transfer, and more.
We also like its Investmate feature, seeing a decent offering of educational tools, which is largely helpful for new traders and seasoned traders to polish up on their knowledge—a substantial library of videos that run you through the basics of investing and trading.
Pros
Low fees
Supports wide range of payment methods
Fully regulated
24/7 customer support
Cons
Limited product portfolio of CFDs and real stocks for FCA traders
83.45% of retail investor accounts lose money when trading CFDs with this provider. You should consider whether you can afford to take the high risk of losing your money.
3. Coinbase – User-Friendly for Buying Bitcoin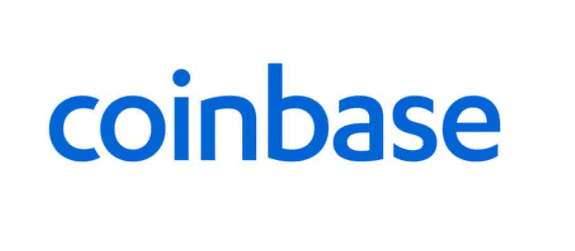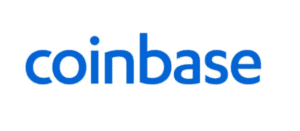 Coinbase is one of the leading crypto exchanges and best places to buy cryptocurrency for beginner traders. As soon as you make your way over to the provider's website, you'll see that the platform is very much user-friendly, simple, clean, and easy to navigate.
Coinbase users do not have the option to deposit via Skrill. However, they can do so via bank transfer, credit/debit cards, and PayPal.
Users of Coinbase can trade on two platforms: the original Coinbase platform, which allows you to use fiat to buy a Bitcoin and other cryptocurrencies. The other is Coinbase Pro, which has more advanced charting functions and will enable users to make crypto-to-crypto transactions and place market, limit, and stop orders.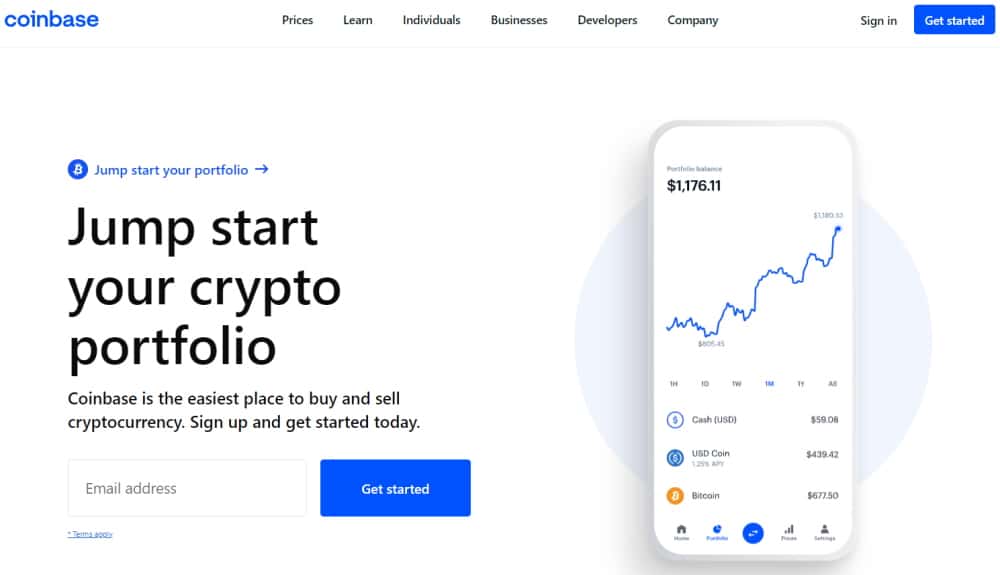 Coinbase allows you to deposit your capital with ease. In terms of the funding methods, you can choose from a debit card or bank transfer. However, keep in mind that Coinbase charges 3.99% for depositing your funds with a debit card. This is in comparison to the small 0.5% you will need to pay using eToro.
Trading commissions with Bitcoin and generally with cryptocurrencies with Coinbase is somewhat higher than others within the market. For example, if you were to buy £1,000 worth of Bitcoin, Coinbase would charge £14.90, marking a 1.49% fee.
Despite the higher fees at Coinbase, you can be assured with the service you will receive and its security. Once your Bitcoin has been purchased, you can keep the funds within your personal Bitcoin account/wallet or withdraw them to a private wallet.
Pros
A solid reputation with over 35 million customers
Simple and easy to use platform
Straight forward deposits with a debit card and bank transfer
Withdraw your Bitcoin and other cryptos to a private wallet
User-friendly mobile app
Authorised by the UK's FCA
Cons
Cannot deposit with Skrill
Debit card fee of 3.99% fee on deposits & with a 1.49% Bitcoin trading fee
Your capital is at risk.
eToro vs Skrill – Which is Best for Buying Crypto?
Now, let's put a couple of user-friendly places to buy Bitcoin and other cryptocurrencies up head to head; eToro versus Skrill, and establish which is the best option for you.
eToro vs. Skrill: Features
eToro is by far the more superior with regards to features and general capabilities when it comes to buying Bitcoin and cryptocurrency. You are able to do much more than just simply, buying, selling and holding, which is offered by Skrill. Here is the breakdown:
eToro:
Exchange crypto to crypto – Ability to change over 500 crypto pairs to other crypto assets, via the eToro Wallet.
Unlosable Private Key – eToro has cutting-edge private keys to ensure top-tier security and safety of digital assets.
On-chain address – Hold, receive and send your Bitcoin and any crypto on the Blockchain, using your own unique and private on-chain address.
Supported cryptocurrencies – eToro has a broad number of tokens available for you to trade, 120+ supported cryptocurrencies on their platform. Very easy to buy, store, receive and transfer over 120+ cryptocurrencies on the eToro Money crypto wallet.
Copytrading – One of the best things about eToro is that it's a social trading broker with unique copy trading tools, so you can easily copy the portfolios of top Bitcoin traders. Ability to passively participate in the market if you are new or even a seasoned investor.
Chart tools – You can conduct technical analysis in basic form, create your own personal watchlists and set alerts of prices.
Skrill:
Buying/selling/holding Bitcoin – Skrill has an array of supported cryptocurrencies some 30+ available, as well as Bitcoin via the Skrill wallet.
Educational materials – Digest educational blog articles, and know the basics about cryptocurrencies within the Skrill app.
Easy to use app – The app is great for beginners, straightforward to use, and navigate around. Simple process for the exchanging of fiat to crypto.
eToro versus PayPal Comparison
| | | | |
| --- | --- | --- | --- |
| Provider | Account offering | Cryptocurrencies supported | Fees |
| eToro | Crypto wallet/exchange | eToro Money Crypto Wallet Supports 120+ cryptocurrencies | Commission-free to trade cryptocurrencies. Nominal 0.5% FX fee when you make a deposit |
| Skrill | Crypto wallet | Supports 30+ cryptocurrencies | 1.30 – 1.90% fee to trade cryptocurrencies, which depends on the amount |
Bottom line
eToro is capable of so much more, the support of a large number of cryptocurrencies, the fees are highly competitive versus Skrill. Both are very great for newbies, thanks to the how their respective platforms are, however, we would recommended eToro given is strong cryptocurrency offering versus Skrill.
How to Buy Bitcoin with Skrill on eToro – Tutorial
If you want to know how to buy Bitcoin with Skrill – while at the same time benefit from low fees and strong regulatory standing, eToro is your best option. This platform allows you to buy Bitcoin online with Skrill commission-free – and it is licensed by the FCA, ASIC, and CySEC.
Here are the steps that you need to follow to buy Bitcoin with Skrill right now!
Step 1: Open a Brokerage Account at eToro
eToro is a well-regulated brokerage site, so it makes sense that when you open an account to provide some identification.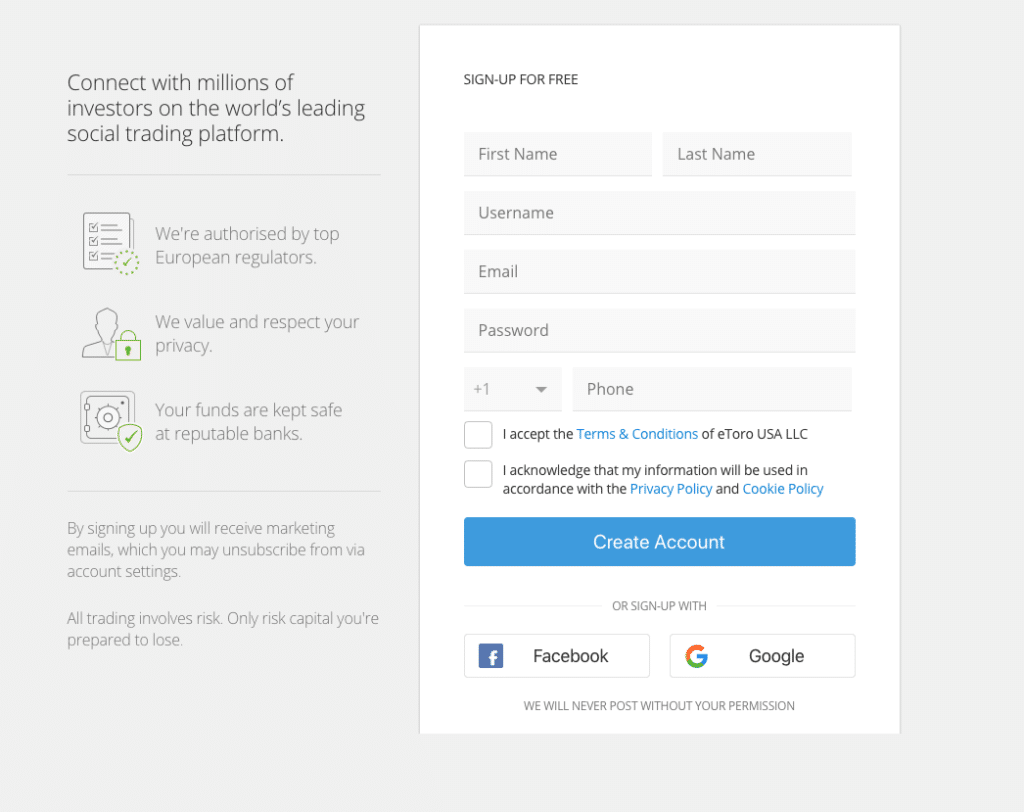 To get things started, you can head over to the eToro website and register for an account. Click on the 'Join Now' button. It will be prompt you to enter some simple personal information, such as; full name, home address, date of birth, and your national tax number. You will also need to input and confirm your email address as well as your mobile number.
Step 2: Upload ID
Upon opening your account, eToro will request for you to upload some ID. This for enduring that they remain compliant with the laws of anti-money laundering.
You need to upload two documents:
Passport or driver's license – government-issued
Proof of your address, such as a utility bill or bank account statement
It is important to note that eToro gives you the option of uploading the needed documents at a later date. This will, however need to be completed before you can make a withdrawal or you deposit more than $2,250 (around £1,700).
If you do have these documents available, you probably should get the needed KYC process done as soon as possible. At least then, you will not run into any delays when it comes to withdrawing any profits from your Bitcoin investment.
Step 3: Deposit Funds With Skrill
Ok, time to deposit some capital. eToro offers a range of payment methods; if you're looking to deposit with Skrill, you can select this from the drop-down list. Additionally, enter the amount that you want to deposit – you will need to meet the $50 minimum.
Upon confirming the amount to be deposited, you will be redirected to the Skrill website via a pop-up box. Once here, you need to input your Skrill login credentials. The details of your deposit will then be shown.
Once everything looks correct to you, choose the funding method that you wish to use to cover the Skrill deposit. It will need to be a previously linked debit card if you want to buy Bitcoin with Skrill immediately. The other option is that if you already have sufficient funds in your Skrill account, then this can be used. Keep in mind that eToro charges a nominal 0.5% exchange rate fee on all non-UK deposits.
Step 4: Buy Bitcoin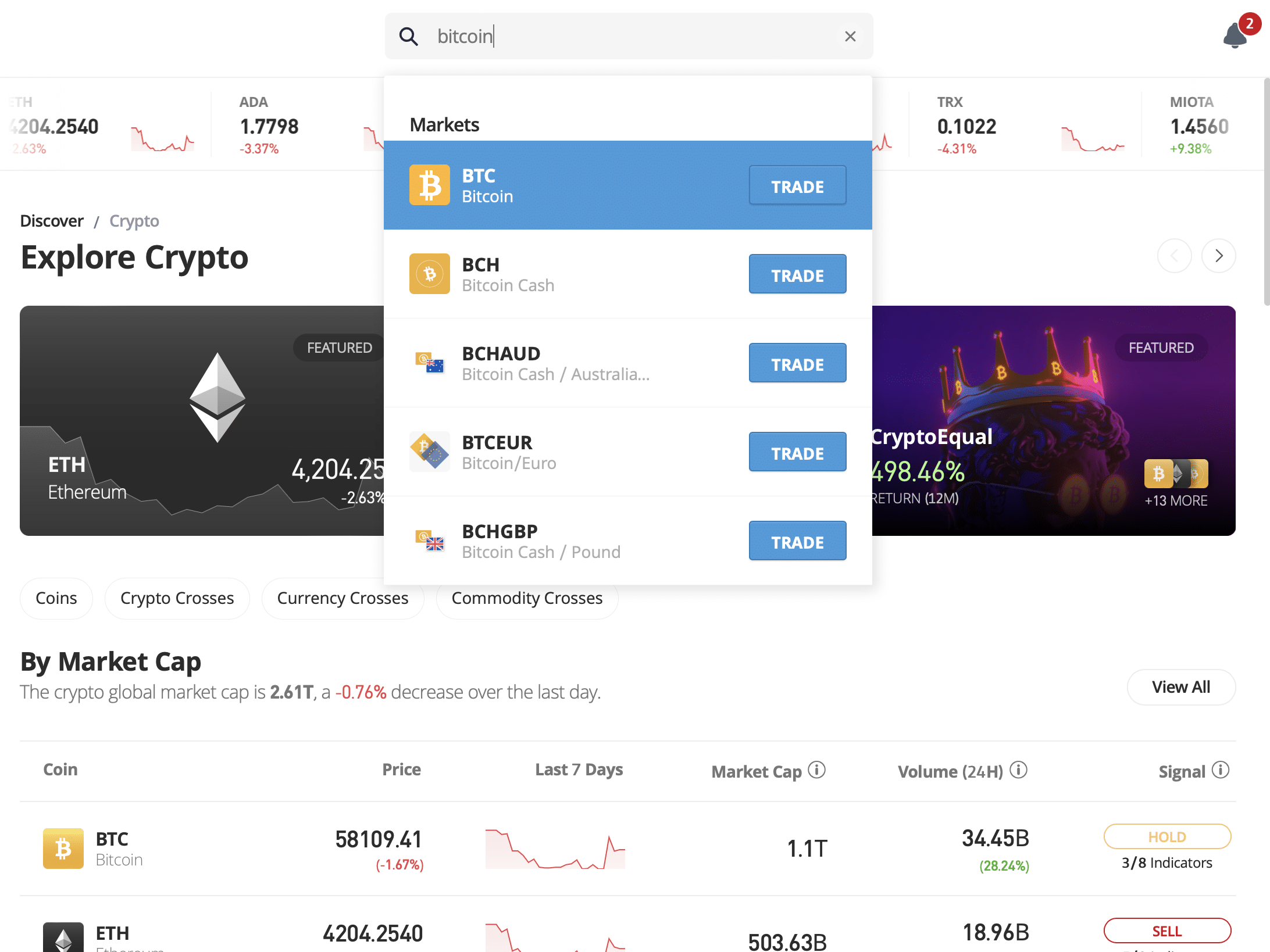 Should all have been correctly done, then your eToro account should be funded with your desired amount of capital. Now it's time to buy Bitcoin. Enter 'Bitcoin' or 'BTC' into the dashboard search box at the top of the page, and click on the top result (example below).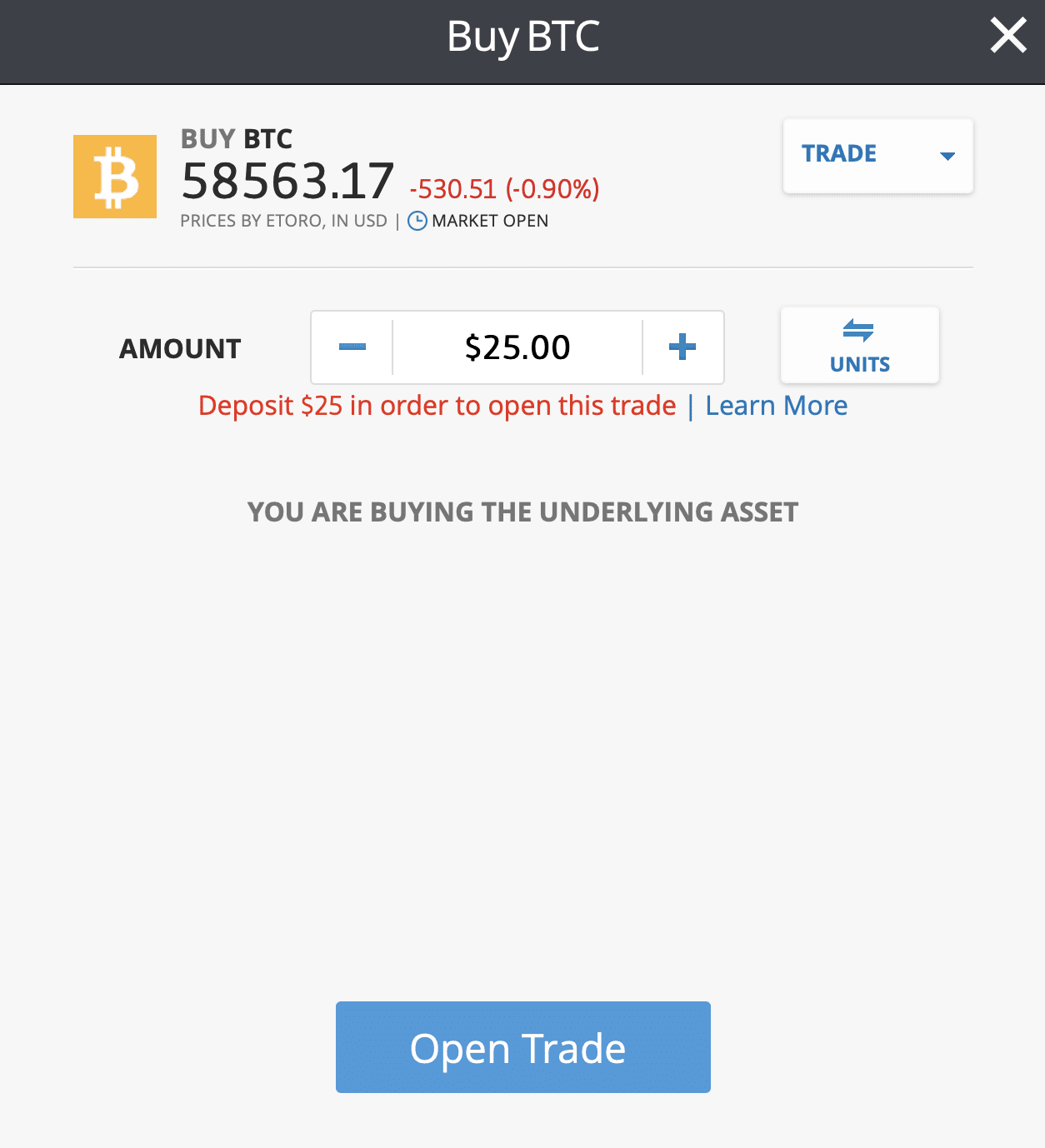 You should now see the Bitcoin buy order form appear. Now you just need to enter the amount of Bitcoin that you want to buy.
For the completion of your Bitcoin purchase, click on the 'Open Trade' button. And that's it – you have now successfully just bought Bitcoin with Skrill without having to pay a single penny in commission!
Buy Bitcoin with Skrill – Conclusion
In summary, if you want to buy cryptocurrency with Skrill in the UK, very few options are on the table. This is surprising, as Skrill is used by millions of people around the world. With that said, you're not completely out of luck – as FCA-regulated broker eToro allows you to deposit funds with Skrill, PayPal and Neteller.
Once you do, you can buy Bitcoin from the comfort of your own home. Another great feature is you can follow top cryptocurrency traders and copy exactly what they are doing. You can buy cryptocurrencies online with Skrill at eToro in less than 10 minutes by clicking the link below!
eToro – Best Copy Trading Broker to Buy Bitcoin with Skrill 
Cryptoassets are highly volatile and unregulated in the UK. No consumer protection.Tax on profits may apply.
Frequently Asked Questions on How to Buy Bitcoin with Skrill
Can I buy Bitcoin using Skrill?
Where can I buy Bitcoin with Skrill?
How do I use Bitcoin with Skrill?
How do I buy Bitcoin with Skrill?