Dogecoin has been one of the hottest cryptocurrencies on the digital market in 2022. This cryptocurrency, which originally sprung from a meme, was endorsed by Elon Musk on Twitter and has been an incredibly popular speculative investment.
Want to get in on the Dogecoin boom? In this guide, we'll show you how to buy Dogecoin in the UK and cover everything you need to know about this red hot cryptocurrency.
How to buy Dogecoin (DOGE) in UK – Quick 4 Steps Tutorial
Want to learn how to buy Dogecoin (DOGE) in the UK right away? Just follow these 4 steps to buy DOGE instantly.
✅ Step 1: Open an eToro account
Visit eToro's official website and tap on 'Join Now'. Enter your details and choose a username and password.
🔎 Step 2: Verify your account
As eToro is fully regulated in UK by top-tier financial authorities you'll need to verify your account by uploading proof of ID and proof of address before buying any crypto.
💳 Step 3: Fund your account
Deposit a minimum of $10 (around £7)  into your trading account via debit card, bank wire transfer, or e-wallets such as PayPal or Skrill.
🛒 Step 4: Buy Dogecoin (DOGE)
Search for "Dogecoin" or "DOGE", click 'Trade,' and place your order. It's as simple as that!
What is Dogecoin (DOGE)?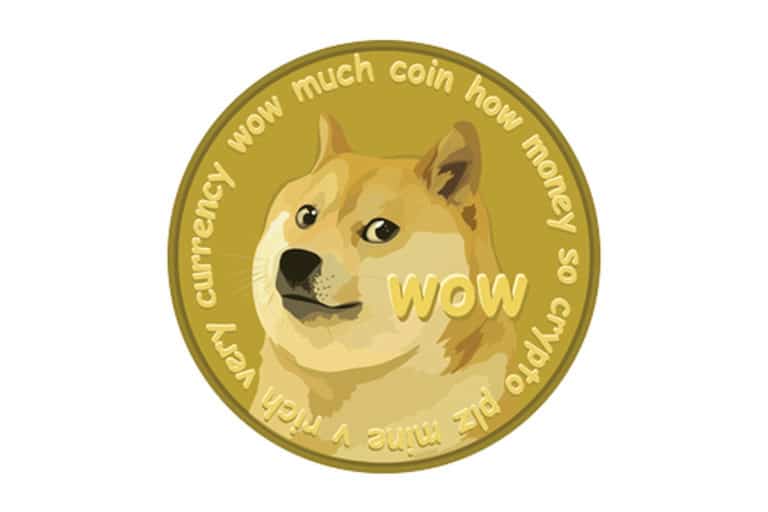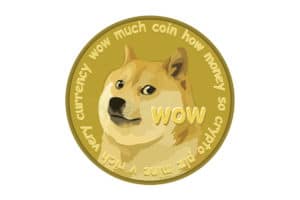 If you're interested in Dogecoin, chances are you'll be looking for the best meme coins to buy right now. As such, you can also read our in-depth guide on everything meme-related.
Dogecoin is a cryptocurrency created in 2013 by software engineers Billy Markus and Jackson Palmer as a joke. This digital coin was meant to enshrine a popular meme of a Shiba Inu, named 'Shibe,' looking skeptical – a meme that has remained popular over many years.
Dogecoin has a lot in common with Bitcoin, the world's most popular and valuable digital currency. Like Bitcoin, Dogecoin allows for peer-to-peer transactions. Dogecoin also uses a proof-of-work mining system, which means that miners are rewarded with Dogecoin for verifying transactions to the coin's blockchain.
In fact, the original creator of Dogecoin copied Bitcoin's code and simply replaced the word 'Bitcoin' with 'Dogecoin.'
However, one big difference between Dogecoin and Bitcoin is that there is no limit to the number of Dogecoin that can be released into circulation. Bitcoin, on the other hand, has a limited supply of 21 million coins that will ever be released.
Why Buy Dogecoin (DOGE) in the UK? Dogecoin Analysis
Although Dogecoin was intended as a joke, the coin became an instant hit. It was widely used on Reddit, a social media platform with tens of millions of users around the world. Very quickly, Dogecoin became a cryptocurrency that people invested in as opposed to just a digital token to be used for fun.
Still, with over 100 billion coins currently in circulation, a single Dogecoin was never very valuable. For most of last year, the price of a single Dogecoin hovered at around $0.0025. The joke never quite died, but it had faded.
Then, at the end of 2020, Elon Musk – the founder of Tesla and SpaceX – tweeted about Dogecoin. That renewed interest in the altcoin and set off a buying spree. Over the first two months of 2021, Musk continued to tweet about Dogecoin and other celebrities, like Snoop Dog, also backed the cryptocurrency.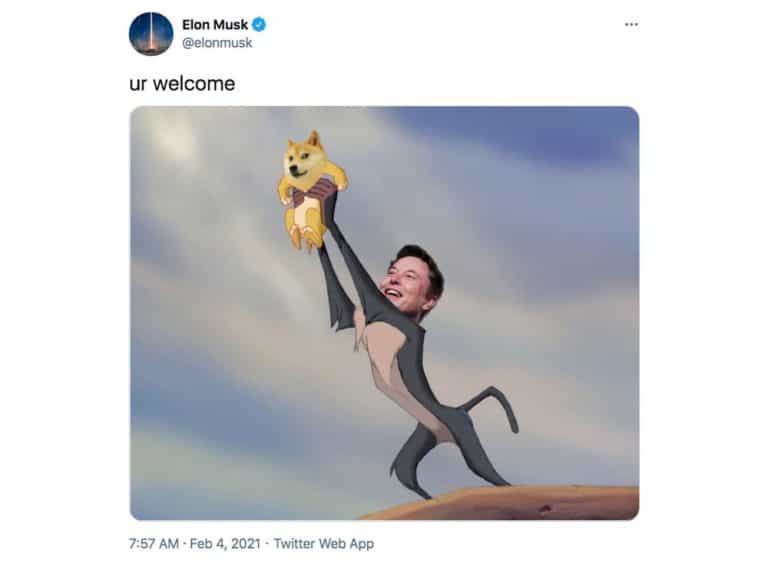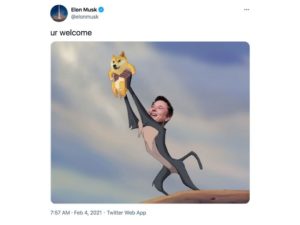 The celebrity spotlight and attention from Reddit traders have pushed Dogecoin to a recent high of $0.087. That's a gain of more than 3,000% in the span of a few months. Dogecoin has since fallen significantly, to $0.051 per coin.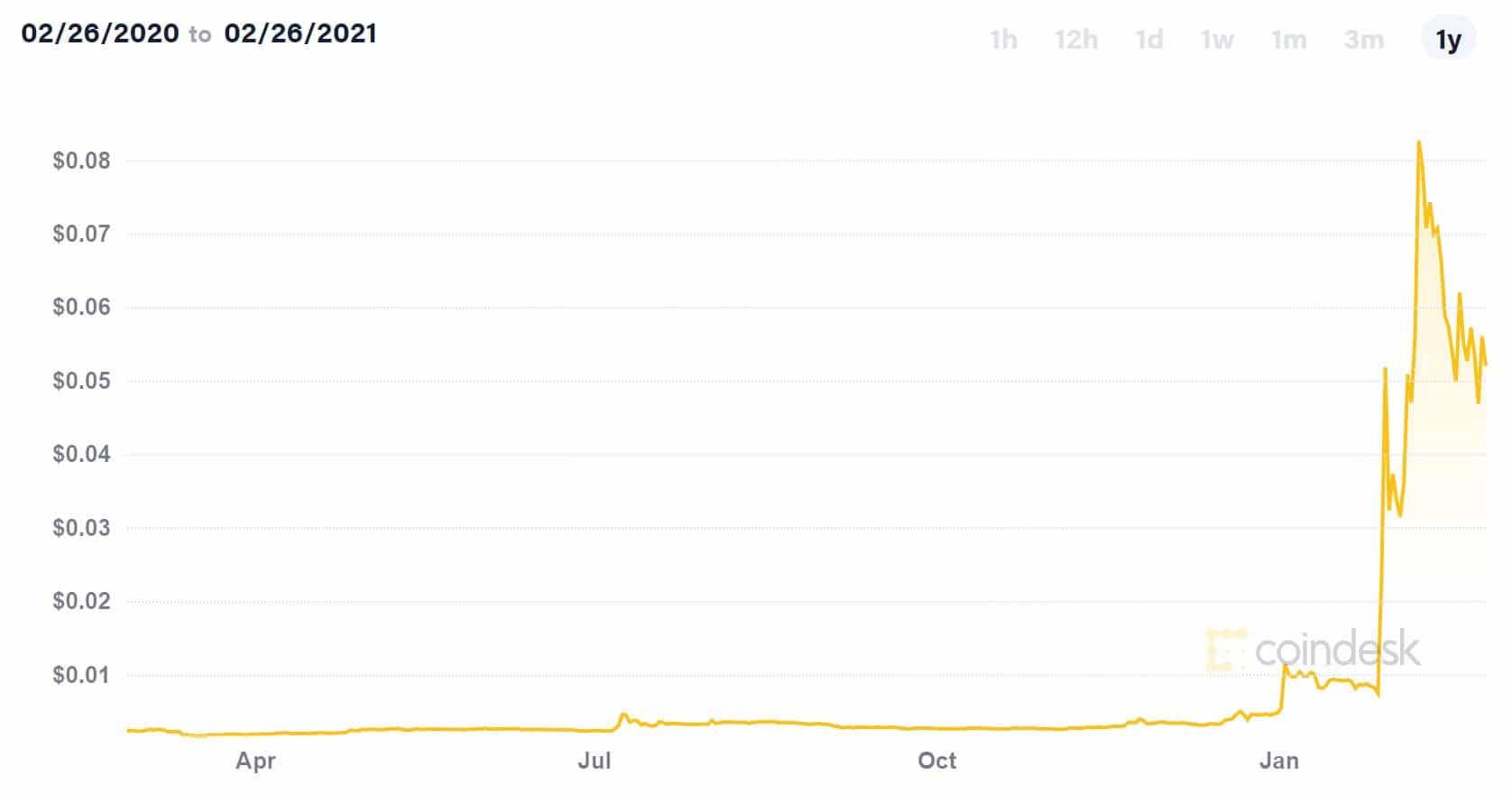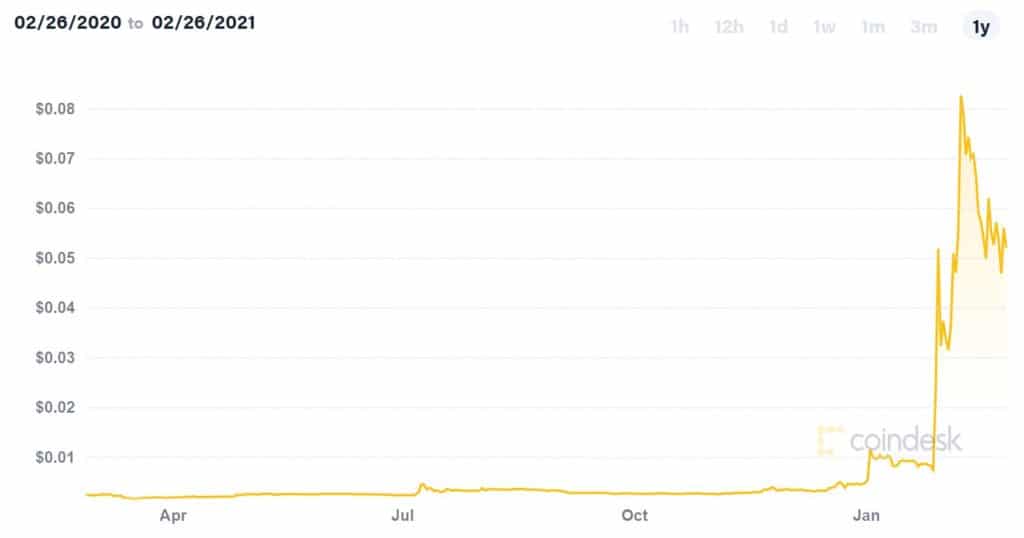 Past performance is not an indication of future results Past performance is not an indication of future results 
So, should you buy Doge?
If you're interested in a long term investment, the answer is probably no. There's nothing fundamentally valuable about Dogecoin. While the same could be said about Bitcoin, at the very least Bitcoin has a limited supply and has gained traction in the traditional financial world. Dogecoin has a massive supply with no cap, and it's difficult to see how it could ever catch up to Bitcoin in user adoption.
However, if you're interested in a short term investment, Dogecoin has more potential. Clearly, the coin's value can spike on a tweet alone. While the joke appears to have faded slightly, the forces that pushed Dogecoin to new all-time highs haven't subsided.
So, all it could take for Dogecoin to soar again is another tweet or a renewed push on social media. There's no guarantee that will happen, so buying Dogecoin right now is extremely speculative.
On the other hand, you could consider other new meme coins such as Baby Doge Coin and Shiba Inu that could gain traction moving forward.
Dogecoin Price – How Much Does it Cost to Buy DOGE?
Dogecoin is currently trading at a price of $0.051 per coin. So, you could buy almost 28 Dogecoins for a single pound.
Investing in Dogecoin vs. Trading Dogecoin
The massive gain in the price of Dogecoin has many crypto enthusiasts wondering whether they should be investing in Dogecoin or trading Dogecoin. While many cryptocurrencies can be good long term investments, Dogecoin should be reserved strictly for trading.
That's because Dogecoin doesn't have any mechanism to retain its value over the long-term. While Bitcoin and Ethereum have limited supplies, which ensures their value will rise over time as long as demand increases, Dogecoin is limitless. If demand increases, the supply of Dogecoin tokens can always increase to match. So, Dogecoin's price can only rise temporarily, when the pace of mining hasn't yet caught up with demand.
Given that, we recommend that you focus on trading Dogecoin. The coin is extremely volatile, which makes it an ideal target for day trading. Keep an eye on the news and on the Dogecoin Reddit message board, which tends to drive the price of the coin up or down.
Ways of Buying Dogecoin with GBP
In order to buy Doge, you'll need to sign up for a cryptocurrency exchange and get a Dogecoin wallet. Once you have these things in place, you can buy Doge using either fiat currency like GBP or a cryptocurrency like Bitcoin.
Buy Dogecoin with PayPal
PayPal allows you to buy some cryptocurrencies, including Bitcoin and Ethereum. However, you cannot currently buy this crypto directly through PayPal.
The best way to use PayPal to buy Doge is to purchase Bitcoin using your PayPal funds and then to convert that Bitcoin to Dogecoin through a cryptocurrency exchange.
Alternatively, some cryptocurrency exchanges allow you to fund your trading account using PayPal. In that case, you can deposit GBP from PayPal and then buy DOGE instantly.
Buy Dogecoin with Debit Card
Many cryptocurrency exchanges allow you to fund your trades using a debit card. This is simple since you don't have to roll from one digital currency into another. Just keep in mind that you may pay higher fees for using a debit card to buy DOGE.
Buy Dogecoin with Bitcoin
If you already own Bitcoin, you can use that digital currency to purchase Dogecoin. Many cryptocurrency exchanges enable you to deposit Bitcoin without verifying your identity.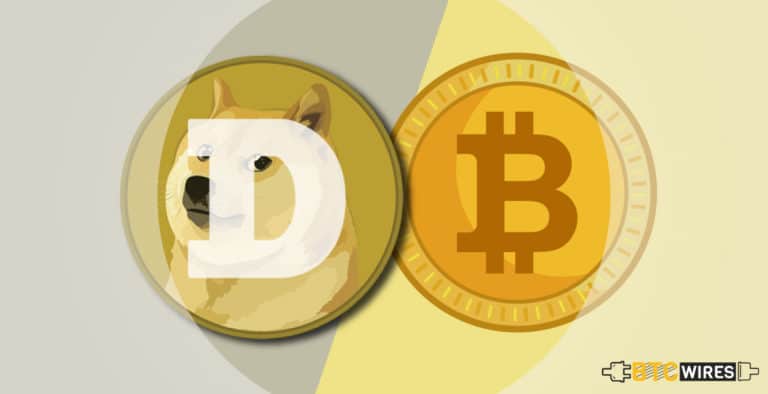 You can also buy Dogecoin (DOGE) in the UK using a bank transfer. All you have to do is open an account with eToro, deposit funds, and choose your preferred payment method (i.e bank transfer) and buy DOGE with a typical spread of just 2.9%.
Where to Buy Dogecoin in the UK
Wondering where to buy DOGE in the UK? Then you'll need a cryptocurrency exchange that offers trading on this meme altcoin.
There are a lot of things to consider when picking a cryptocurrency exchange, including what digital currencies you'll have access to, how much it costs to trade, and what trading tools are available. To help you pick the best place to buy DOGE instantly, let's take a closer look at 2 of the top crypto brokers/exchanges in the UK.. While we've only focused on eToro and Binance, there are heaps of other popular crypto exchanges such as Coinbase, Kraken, Huobi, Crypto.com, and Gemini. Coinbase in particular is listed on the NASDAQ exchange and offers a user-friendly mobile crypto app with a fully fledged crypto wallet.
1. eToro – Overall Best Cryptocurrency Exchange in the UK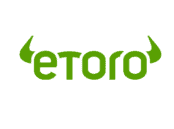 eToro is our most highly rated cryptocurrency exchange in the UK. This platform offers trading on 15 different cryptocurrencies, among them ultra-popular coins like Bitcoin, Ethereum, and Litecoin.
All cryptocurrency trading with eToro is 100% commission-free. You just pay a spread, which ranges from as little as 0.75% for Bitcoin to 2.90% for some lesser-known coins.


Cryptoassets are highly volatile and unregulated in the UK. No consumer protection. Tax on profits may apply.
Perhaps the best thing about trading crypto with eToro is that you have access to a social trading network. Since Dogecoin's popularity is driven by social media, this puts you right in the heart of the action for trading this coin. Plus, you can share tips on how to trade digital currencies and follow more experienced crypto traders to hone your strategy.
On top of that, eToro enables you to copy other crypto traders' trades. So, if you find a trader who has been extremely profitable trading Dogecoin or another cryptocurrency, you can commit a portion of your portfolio to auto-trade based on their moves.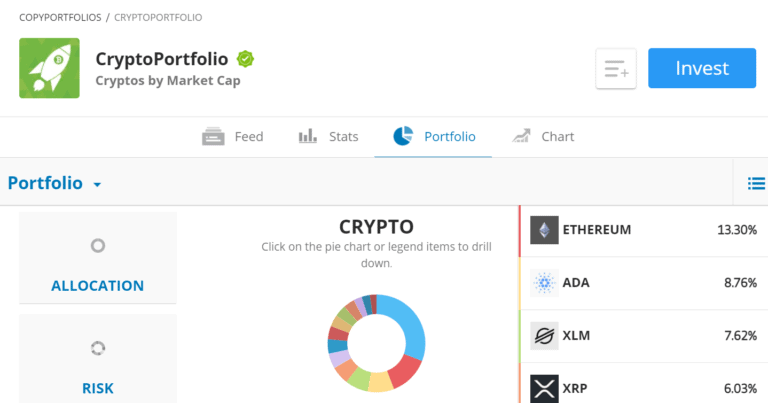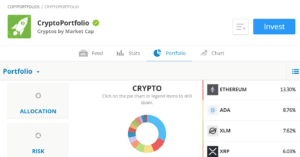 eToro has a robust technical analysis platform complete with fundamental information and professional analyst research. You have access to over 100 technical indicators, plus a market news feed. The only thing eToro doesn't show is the crypto order book, so it can be hard to know how liquid a cryptocurrency is at any time.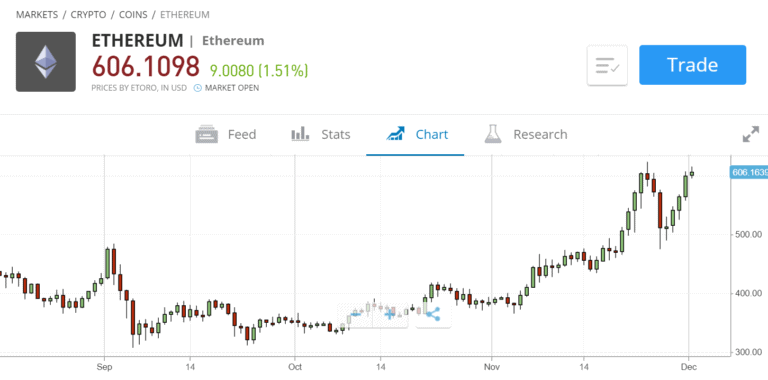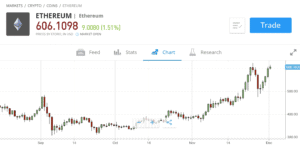 This platform is regulated by the UK's Financial Conduct Authority. It offers its own digital wallet, which is compatible with a wide range of hardware wallets for extra security. eToro also provides 24/5 customer support, which is a huge advantage if you ever have an issue with your account.
Pros
Low spreads for crypto trading
Built-in social trading network
Copy other crypto trader's positions
Advanced technical analysis platform
24/5 customer support
Sell Dogecoin easily and securely
Cons
Crypto order book isn't visible
Limited selection of altcoins
Cryptoassets are highly volatile and unregulated in the UK. No consumer protection. Tax on profits may apply.
2. Binance – Trade a Wide Range of Digital Currencies
Binance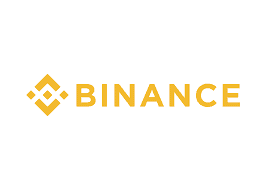 is one of the most popular cryptocurrency exchanges for anyone looking to get into day trading or swing trading digital currencies. In that sense, it's perfect for trading Dogecoin, since most positions in this meme token will be short-lived.
What makes Binance so good for short-term trading is that it offers a powerful suite of analysis tools. The trading platform includes dozens of technical indicators and leaves plenty of room for customization. In addition, you can connect Binance to third-party tools to enable automated trading strategies or to deploy trading robots.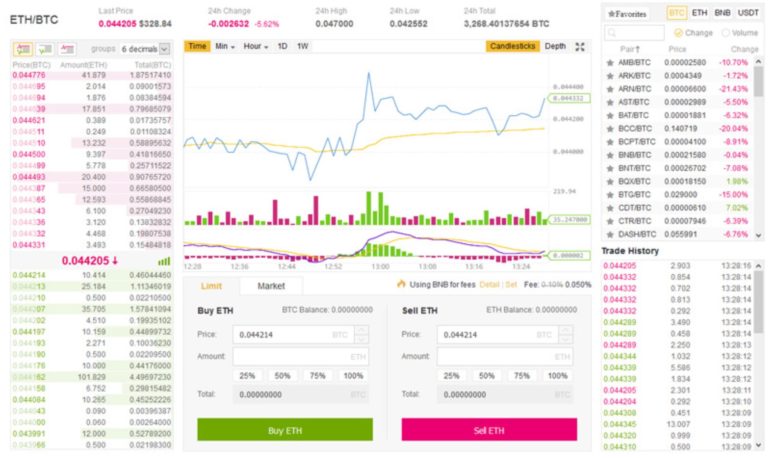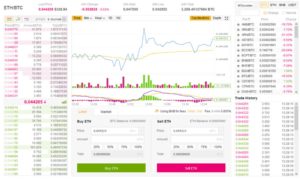 Binance's platform also shows you the entire order book for each cryptocurrency. This is critical since you can immediately see when the momentum around a coin is shifting, and respond accordingly with your trades.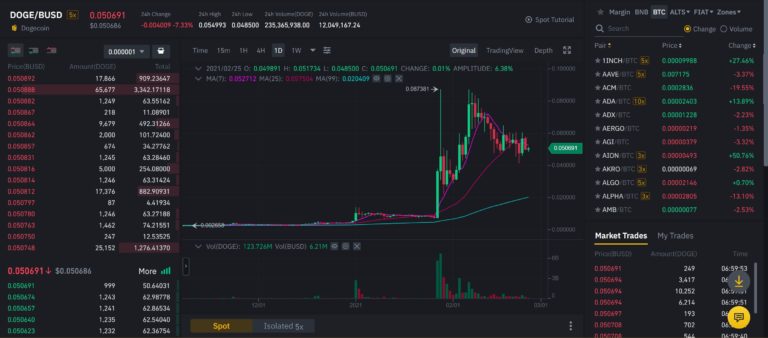 Binance also has a very wide selection of cryptocurrencies – over 100 in all, meaning you can buy and sell Dogecoin from the comfort of your own home.
Another thing we like about Binance is that it's incredibly cheap to trade with – as long as you fund your account ahead of time. Trade commissions start at just 0.10%, and you can reduce your fees even further by trading large volumes or holding Binance's BNB cryptocurrency.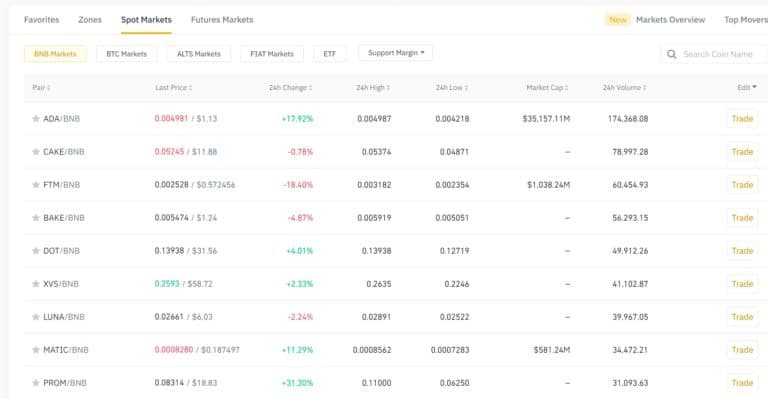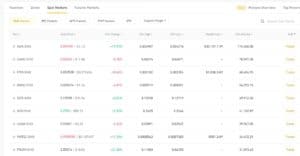 That said, be careful trying to buy DOGE with a credit card at Binance – the commission shoots upwards to 2%.
Binance isn't a regulated cryptocurrency exchange, but this US-based firm does have a strong reputation for customer safety. It also offers its own highly secure Bitcoin wallet that you can use to store Dogecoin. The biggest downside is that Binance doesn't offer customer service by phone or live chat – you'll have to send an email to get in touch.
Pros
Excellent technical analysis tools
Includes access to order book data
Extremely low trade commissions
Includes a custom crypto wallet
Connects to trading robot tools
Cons
Not regulated
Customer support by email only
High fees for funding with a credit card
Your money is at risk.
Dogecoin Wallets
One key thing you'll need in order to buy DOGE is a cryptocurrency wallet. This is the digital home for your cryptocurrency. When choosing a wallet, it's important to consider factors like what cryptocurrencies it supports, how secure it is, and whether it comes with any extra features.
We think the overall best Dogecoin wallet is the eToro cryptocurrency wallet. It supports more than 150 digital tokens, including Dogecoin, and it's available for iOS and Android. eToro manages your wallet's encryption key for you, ensuring that your cryptocurrencies are safe while enabling you to log into your wallet using just your eToro username and password. We also like that you can exchange cryptocurrencies within the wallet at any time, so it's easy to move between Dogecoin and other currencies.
If you want even more functionality, the Binance Trust wallet is worth a look. This wallet supports all of the more than 500 cryptocurrencies that Binance offers and leverages BinanceDEX, a decentralized crypto exchange, to enable you to seamlessly switch between cryptocurrency tokens. Notably, the Binance wallet also has a built-in marketplace for decentralized financial apps (dApps). So, you can take advantage of features like banking and lending right from inside your crypto wallet.
The eToro and Binance wallets are among our top picks, but they're not your only options for a Dogecoin wallet. The Exodus wallet is a top choice for beginners since it's extremely simple to use and supports over 100 popular cryptocurrencies. Mycelium is also easy to use and enables you to connect to a hardware wallet, so you can store your coins offline and keep them safe from potential attacks.
---
How to Buy Dogecoin (DOGE) Tutorial – Step by Step Tutorial
Ready to buy this meme coin? We'll show you how to trade this popular cryptocurrency with eToro, which offers zero trading commissions, advanced technical analysis tools, and a wide range of cryptocurrencies.
Step 1 – Open an eToro account
To open an eToro account, head to the exchange's website and click 'Join Now' at the top of the homepage.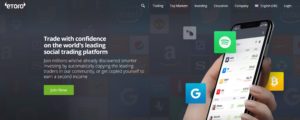 Enter your email address and a password, and then click on the link in the email that is sent to you to verify your email address.
Cryptoassets are highly volatile and unregulated in the UK. No consumer protection. Tax on profits may apply.
Step 2 – Verify your account
eToro requires you to verify your identity in order to comply with UK regulations. Take a photo of your driver's license or passport and upload it to your account. You will also need to upload a copy of a bank statement or utility bill to verify your address.
Step 3 – Fund your account
Now you can add funds to your account using cryptocurrency, a bank transfer, or debit cards, or an e-wallet like PayPal or Skrill. eToro requires a minimum deposit of $10.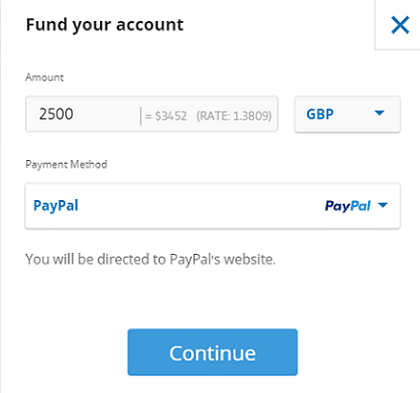 Step 4 – Buy Dogecoin (DOGE)
To buy this crypto, search 'Dogecoin' from your eToro dashboard. When it appears, click 'Trade' to open a new order form. Enter the amount of Dogecoin you want to buy and then click 'Open Trade' to complete your trade.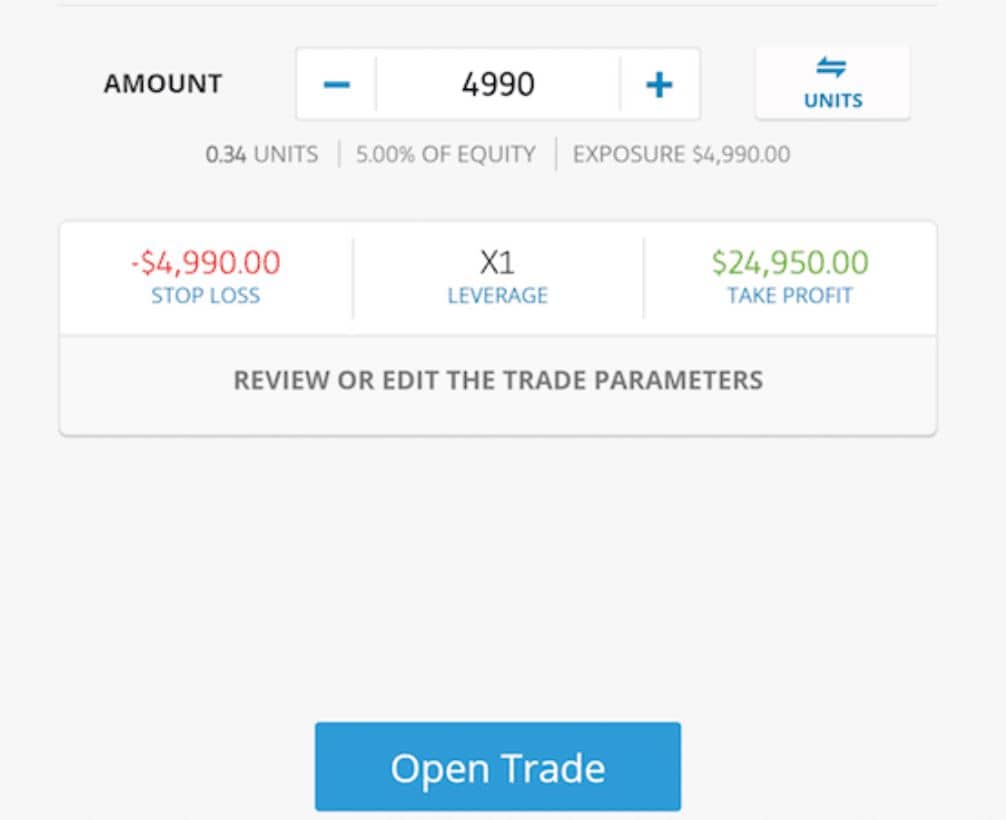 Conclusion
Although Dogecoin was created as a joke, this cryptocurrency has now thrived for more than 8 years. The meme coin received a recent lift thanks to Elon Musk – and while the excitement has died down, it may be only a matter of time before Dogecoin gets a spotlight from social media once again.
Ready to buy DOGE in the UK? Click the link below to sign up for an eToro account today and start trading cryptocurrencies!
eToro – Overall Best Place to Buy Dogecoin (DOGE) Right Now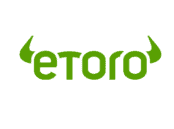 Cryptoassets are highly volatile and unregulated in the UK. No consumer protection. Tax on profits may apply.
Frequently Asked Questions on Dogecoin
How can I buy Dogecoin instantly?
How can I buy DOGE anonymously?
What can I buy with Dogecoin?
What are the risks of buying Dogecoin?